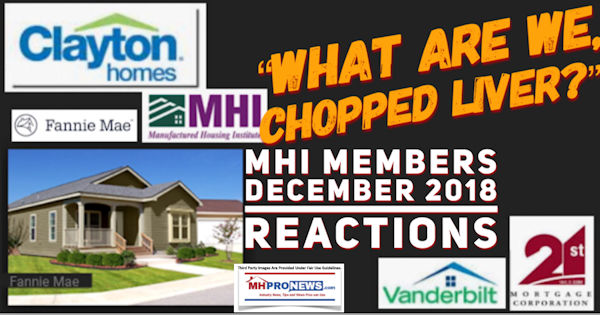 It should be a given that the upper management of Clayton Homes, and their Arlington, VA based Manufactured Housing Institute (MHI) are in favor of their stated agendas.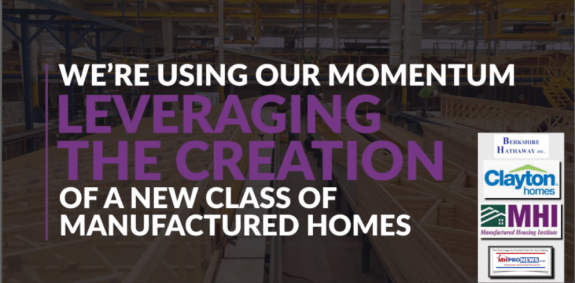 No sooner than MHI released their self-promotion video, than the industry's new home shipments data – those nettlesome facts below – indicated that for all of MHI's claims of millions of readers, their own emailed statement yesterday reflects the opposite results of what they've claimed.
Here are the claims, and the evidence, according to MHI.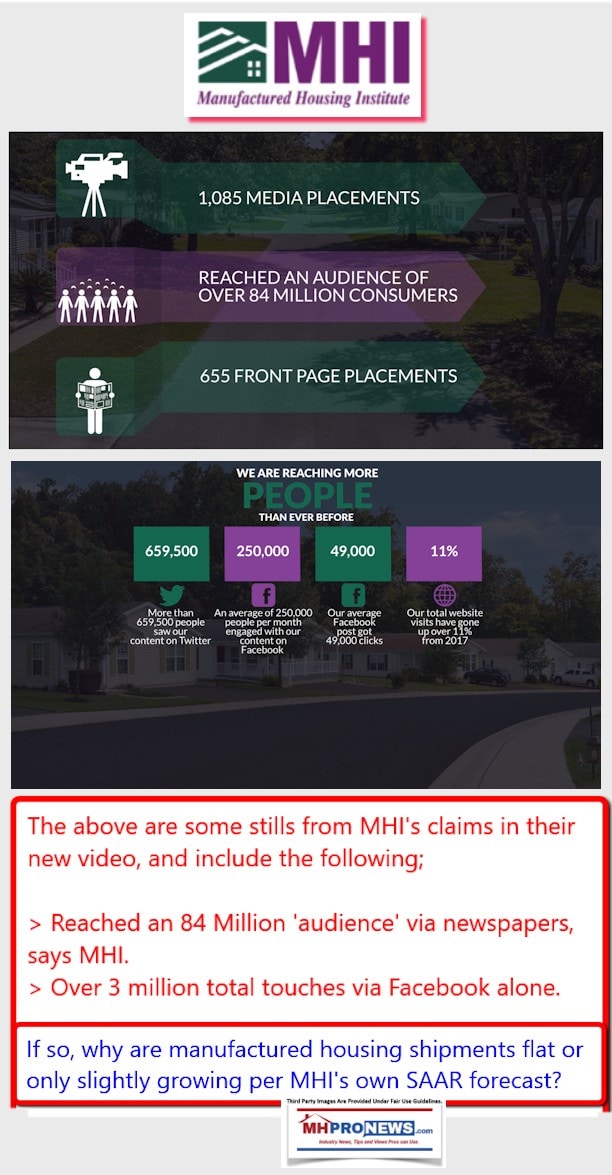 Here below is a screen capture of MHI/National Community Council (NCC) Vice President Jenny Hodge's email on the latest data, per MHI.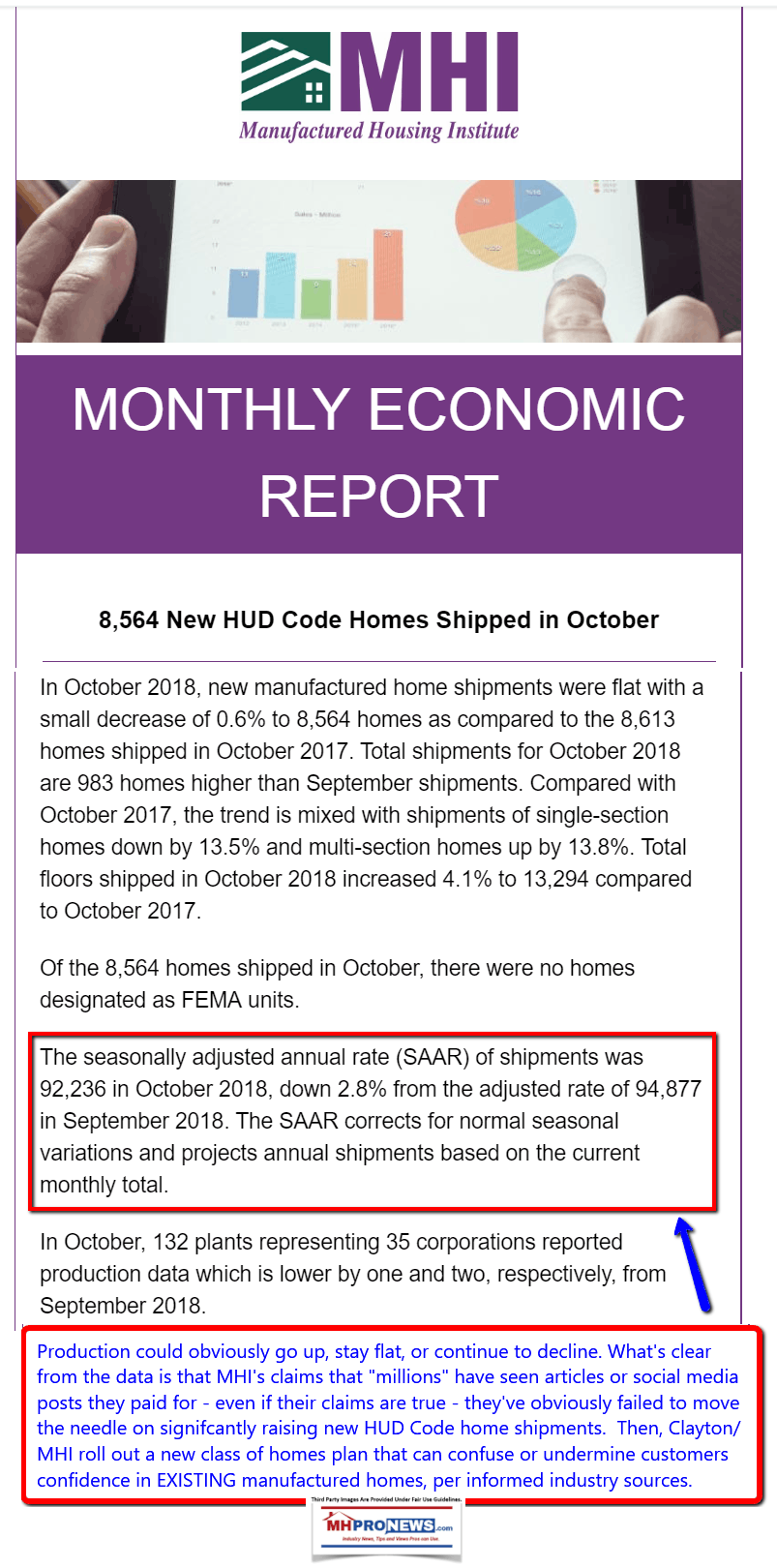 What MHI's own data and claims logically prove is that for all their bluster, new HUD Code manufactured shipments measured by the seasonally adjusted shipment rate (SAAR) – as of the above – are flat for 2018.  Even if the manufactured home industry finishes strong in the final quarter, what actual good has MHI's promotions done so far?  
But there's more sobering words from MHI members.
"What are We, Chopped Liver?"
An MHI member producer, in a long phone call to MHProNews, argued that the so-called MHI led "new class of homes" makes no sense, because it would have been easier to have simply built state-coded modular homes.
Another MHI producer said that "KEVIN CLAYTON" supported this "new class of homes" plan – which in that professional's view – harms the interests of the majority of current manufactured housing plants. 
That source said, "What are we [meaning the balance and majority of HUD Code manufactured housing production], chopped liver?" 
The American Dream is more than housing that someone owns, but that is a key element to it. Properly understood, this story could bridge much of the left-right divide. Properly told, and it would likely need to be a series, it could win a Pulitzer or other prize for reporting.
The Genesis…
Here's how a MHI-only member producer explained it in a message to the Daily Business News on MHProNews.
"Three years ago I took a group from Fannie Mae through a plant to tour to show what we were building… they were blow away… made you feel they don't get out much to see what we are building… Surely, good would come from this to obtain better financing on our homes for all [of the manufactured home] industry," said the message to MHProNews' tip line.
"Fast forward to the roll out of the new class of homes financing…This a slap in the face," said that production veteran, adding "…what are we chopped liver! Our HUD code is not good enough?"
"Why [a] 5:12 pitched roof? Many, many factories today will not build that when they have back logs of 3 to 6 months." He added a laundry list of specs between standard HUD Code production, and the specs that Fannie Mae and Freddie Mac want to see in this Clayton/MHI led "new class of homes," including, "100% drywall… Why? You cannot see that from the street… let the consumer chose that."
A number of professionals said that this plan was not only developed by Clayton, it obviously could benefit their new conventional housing subdivisions, which that from has been purchasing in recent years.
Warren Buffett has said that they expect to buy more site building opportunities.
Fannie Mae, Clayton, and MHI – to name but three key organizational players – are attempting to move the industry in a direction that arguably contradicts Kevin Clayton's own statement from a few years ago.  Some may recall Clayton saying that the industry should not to forget those "that brought you to the dance."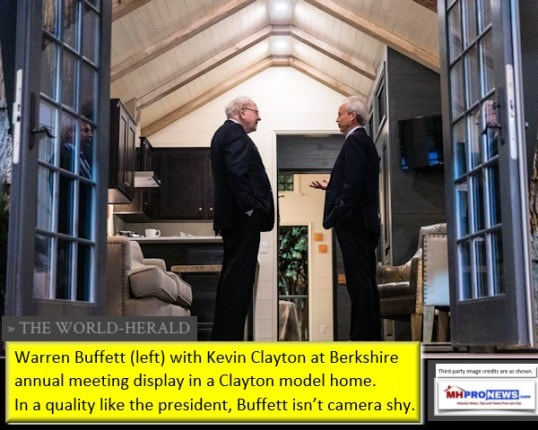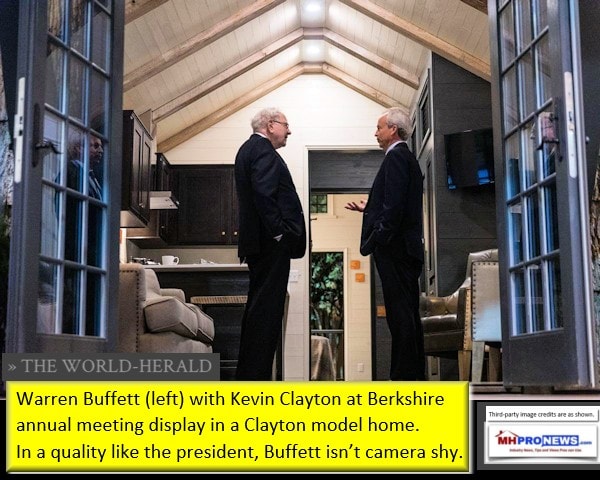 But that new class plan is arguably just what the new GSE connected lending does. It ignores the majority of the industry's products and consumers in favor of a minority. 
Furthermore, the industry's HUD Code producers have long been able to build entry-level or residential style products. MHLivingNews articles and videos have made that consumer choice option apparent.
As more than one HUD Code builder proves, you can have residential style homes that are less expensive than these new class of homes will be, and they are proven to attract conventional new home buyers.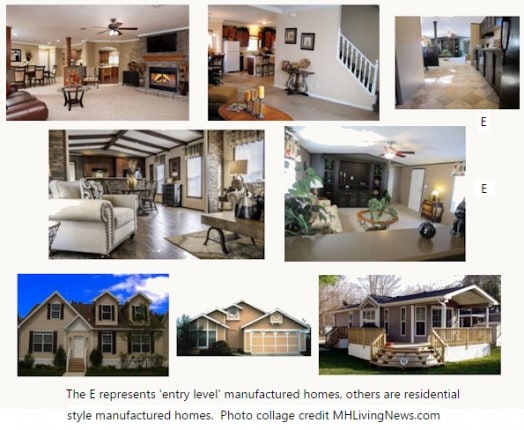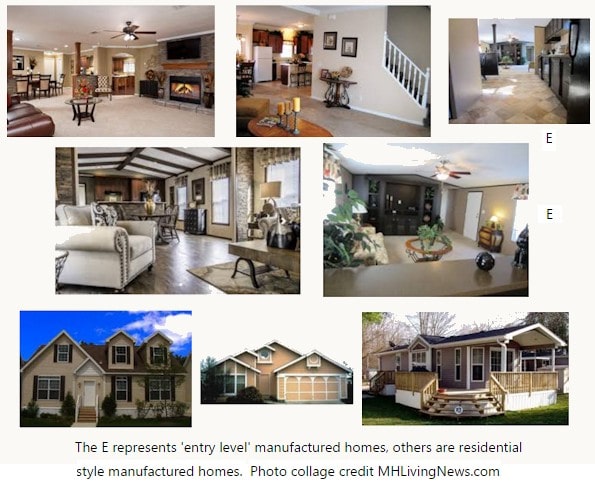 For example, award-winning retailer Stan Dye said that half of his sales are to people that previously owned a conventional house.  Isn't that good enough for Clayton, the GSEs, and MHI?
Logically, given that
•      FHFA,
•      the National Association of Realtors,
•      HUD's PD&R
•      plus other research shows that the millions of current manufactured homes can and do appreciate,
•      where is the logic for creating these new and unproven standards?
Consider the Track Record… 
Consider the track record Clayton Homes has in such "innovative" product roll-outs. Our sources at Clayton remind readers that the Clayton's iHouse and the iHouse 2.0 – which were both rolled out with great fanfare, and got significant media attention – both flopped.
Oops.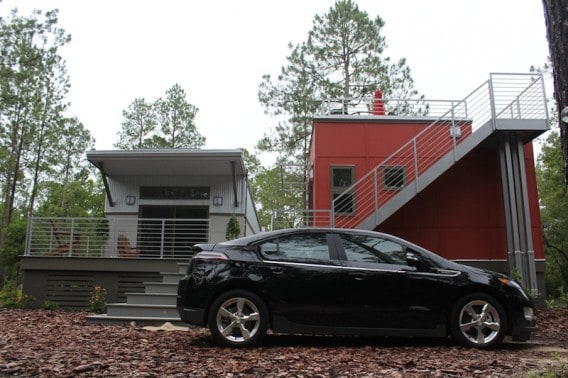 Thus far, the GSEs are leaving the vast majority of producers and all other HUD Code manufactured homes essentially out. The indications are that this plan purportedly came from Clayton and is obviously being promoted MHI. Why didn't they back chattel and other lending for millions of proven HUD code standards homes instead? 
Isn't backing all HUD Code manufactured homes what the Duty to Serve Manufactured Housing part of the law clearly implied? Where in the Housing and Economic Recovery Act (HERA) of 2008 – which gave us the Duty to Serve (DTS) did it say that the GSEs should compel manufactured housing to create entirely different homes before they get lending?
It's an outrage, which is why that MHI builder said it is "a slap in face."
It Gets Worse
This plan, which MHProNews said last year could be a Trojan Horse, is sadly developing in just that fashion. Because sources say that this plan arguably undermines the acceptance – and thus the value – of millions of existing HUD Code homes.
Who says? A parter and association member in a community operation. He's not alone.
Beyond complaints about the new class and related GSE lending, one source said that when you factor in the additional costs of building to this new class or homes standards that Clayton-MHI are leading, the consumers who buy them are not going to save money, or get lower payments, even with the GSEs lower interest rate.
Recall that in San Antonio last year, in a room with a few dozen MHI members, Tim Williams of 21st said that the Berkshire Hathaway lender's wants to make sure that the GSEs don't take only their top tier credit "traunch."
Well, it seems that this plan currently avoids taking any loans away from 21st or Vanderbilt. So Tim Williams, former MHI Chairman and still 21st President and CEO, will get his wish.
Put differently, this plan if it fails or succeeds, purportedly harms the bulk of would be and existing consumers. It does so to the benefit one major conglomerate that also does site building. The plan is finding quiet resistance on several fronts from MHI's own members.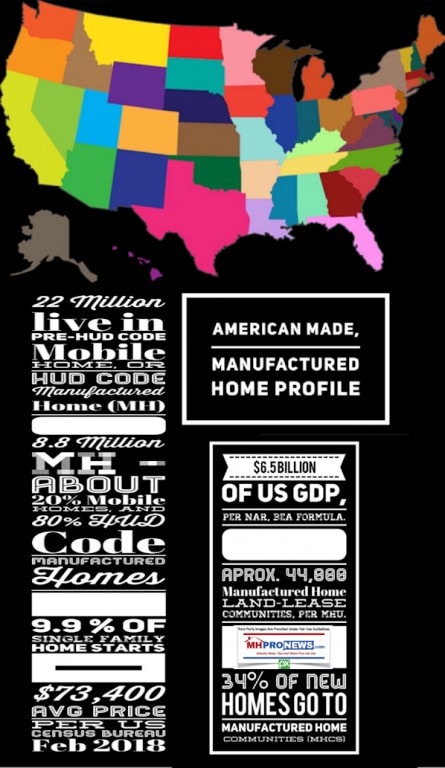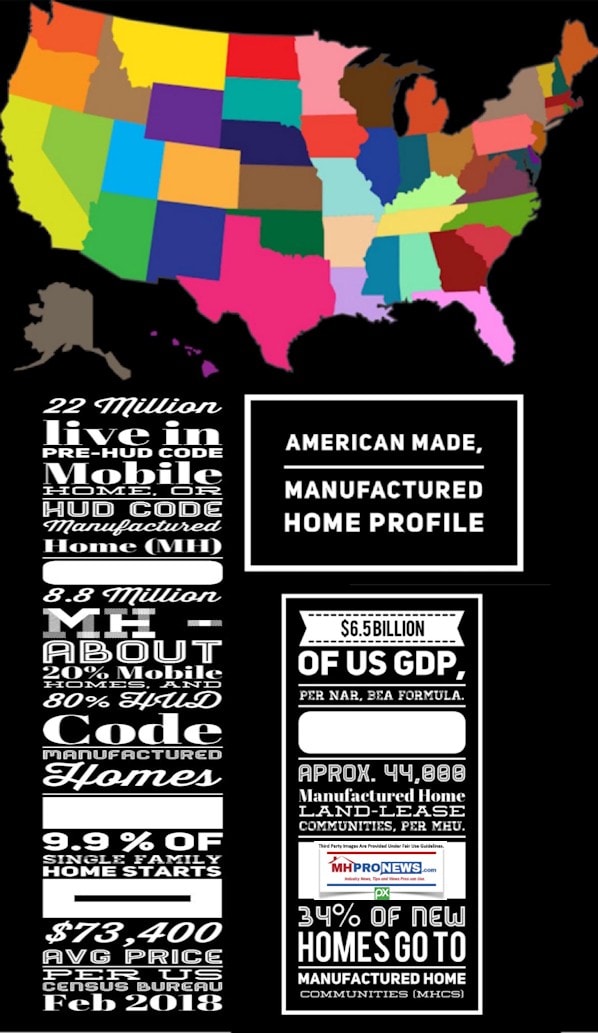 But the voices are muted because of the Smoking Gun track record.   You can learn more about that by clicking the linked box, below, for that report.
Smoking Gun 3 – Warren Buffett, Kevin Clayton, Clayton Homes, 21st Mortgage Corp Tim Williams – Manufactured Home Lending, Sales Grab?
These are some of the explosive comments signaled last week, in the prior report that is linked from the box below.
Explosive Comments on Duty to Serve Manufactured Housing Lending from Well Placed Sources
Clever Moat Building?
This new class of homes is arguably clever as a tool to eliminate over time more of Berkshire's competition. By causing some industry firms to invest in a product, it will tend to get those producers 'dug in' to continue the plan. They may be following a lead whose Clayton iHouse and iHouse 2.0 both failed. 
But in the meantime, how many thousands of consumers who wanted to refinance 21st Mortgage Corp or Vanderbilt Mortgage and Finance loans – Berkshire Hathaway brands – at a lower interest rate will be left out in the cold? Millions of their HUD Code homes don't qualify for a program that Congress mandated?  How is that possible, or even sufficient to meet the legal mandates?
Rephrased, this is de facto a head shot against the interests of:
•     millions of existing manufactured home homeowners,
•     aims at any plants and companies that don't participate in the plan,
•     bending Fannie Mae and Freddie Mac to the will of Berkshire Hathaway, and it was accomplished in closed door meetings that the GSEs, and MHI won't release the minutes to.
The standards arguably fail in the essence of the Duty to Serve, namely, to provide more lower cost financing for millions of renters.
"Let the Consumer Choose"
The Daily Business News on MHProNews last Saturday said that #HousingChoice should be part of the mantra of the industry's independents. 
#HousingChoice
Housing Choice, Where Modular, Manufactured, Tiny, Conventional Housing Crisis, MHI and MHARR Intersect
Consumers need to be educated to accept what millions have already benefited from. What's good for consumers is also a strong market for investors, lenders, sellers, communities, suppliers, and others.
Mark Weiss, JD, President and CEO of the Manufactured Housing Association for Regulatory Reform (MHARR) said months ago that the Duty to Serve was a mandate.

Weiss also argued that this roll out of the GSE program was set to benefit only a few companies.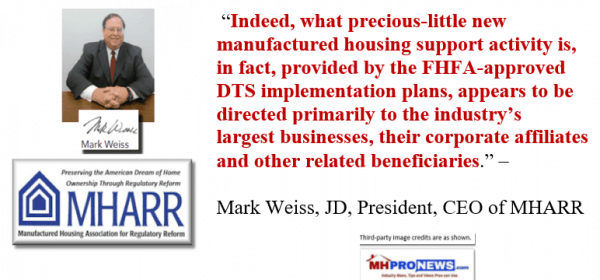 It's not MHI's VP Jenny Hodge's fault if new manufactured home shipments are declining. MHI's president is said to "turn red" when embarrassed or upset. So, how "red" does Richard 'Dick' Jennison glow today, after he's done reading this analysis? 
How red with anger will resident groups become once they figure out that Berkshire Hathaway and MHI – which they arguably dominate – plus the GSEs have ignored them in favor of more expensive housing?
How mad will community owners be if they map out the trend lines, and realize that this plan shafts them too?
Clayton, MHI, and the GSEs won't formally respond to such concerns. But MHProNews has had tips from 'inside' this program, on the GSEs side of the fence.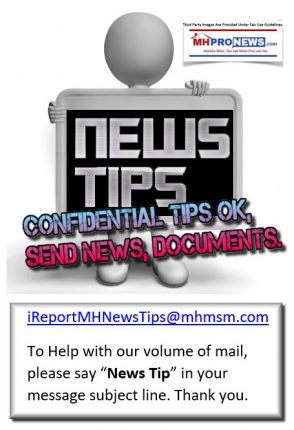 As one of those sources experienced in financing told MHProNews, the way this program was developed was "completely backwards." Instead of listening to the industry, and finding ways to meet the needs, the GSEs dictated standards that were set only for this new class of homes. 
The evidence and the comments from an array of sources suggest that this is no accident. It was an arranged plan. It was rigged from the GSE side, and from the producers side. This plan was unveiled in Las Vegas, we are told that many walked out of the presentation in disgust or protest.
Manufactured Housing Institute "Walk Out," "Cover Up," and Shock at their Vegas Event
It's as that MHI producer said, a slap in the face of the industry. And MHI now wants members to open up their checkbooks and renew their association membership for a plan their biggest member logically engineered, aimed at harming their own interests.


It was on a different topic that Marty Lavin said it, but doesn't it apply here?  As an MHI Producer said, "This program clearly was not "duty to serve."
Based upon the evidence and the track record, MHProNews advises the industry's members to explore their options with MHARR, MHIdea and NMHCO. More on this in the links below and the days ahead. "We Provide, You Decide." © ## (News, analysis, and commentary.)
NOTICE: Readers have periodically reported that they are getting a better experience when reading MHProNews on the Microsoft Edge, or Apple Safari browser than with Google's Chrome browser. Chrome reportedly manipulates the content of a page more than the other two browsers.
(Related Reports are further below. Third-party images and content are provided under fair use guidelines.)
1) To sign up in seconds for our MH Industry leading emailed news updates, click here.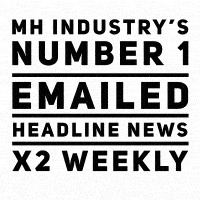 2) To provide a News Tips and/or Commentary, click the link to the left. Please note if your comments are on-or-off the record, thank you.
3) Marketing, Web, Video, Consulting, Recruiting and Training Re-sources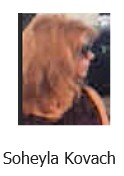 Submitted by Soheyla Kovach to the Daily Business News for MHProNews.com. Soheyla is a managing member of LifeStyle Factory Homes, LLC, the parent company to MHProNews, and MHLivingNews.com.
The American Dream is more than housing that someone owns, but that is a key element to it. Properly understood, this story could bridge much of the left-right divide. Properly told, and it would likely need to be a series, it could win a Pulitzer or other prize for reporting.
Related Reports

: Click the Boxes Below to Read More...
"It's a Terrible Idea," Comments from Manufactured Home Community Owners, Senior Management, and Investors
Whistleblower! Ex-Clayton Homes Team Member on TV Denounces Manufactured Housing Giant's Practices
"Pants on Fire" – Latest New Manufactured Housing Shipment Report
#$2Trillion U.S. GDP Growth via Affordable Housing Plan Few Discuss – Introducing #YimbyVictory2020
Nathan & Mary Lee Chance Smith, Leaders in 'Anti-Trump Resistance,' Manufactured Housing Impact?