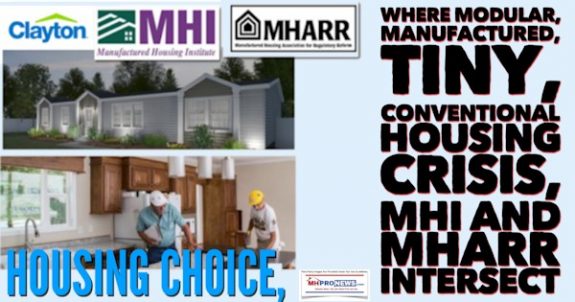 It is one of the most controversial issues in the manufactured housing industry today.  Through their apparent power at the Manufactured Housing Institute (MHI), Clayton Homes has backed the notion of a "new class of manufactured homes."
It is a thorny issue, as there are various, divided views on the matter.
Certainly, every company has the right and ability to act according to its own perceived interests, within the norms of the law and ethical restraints.
If a production company so desires, it can build widget shaped homes and call it a new class of manufactured homes.
A firm or organization could say that all new homes should have bull-nosed exterior corners or inverted pyramid shaped roofs in order to get special financing from Fannie Mae or Freddie Mac.
Or one could use less esoteric notions, and opt instead for making gutters, downspouts, higher-pitched roofs, and garages available options.
But such details have arguably been incorrectly framed from the start.  Shouldn't buyers of whatever kind of home they want that meets basic safety, energy, and durability standards be given equal choice for housing in the marketplace, and for financing too?
Rephrased, shouldn't there be a simple mantra of 'housing choice' applied?
The Government Sponsored Enterprises (GSEs) of Fannie Mae and Freddie Mac have a federal legal mandate since 2008 that they somehow managed to dodge for a decade. Now, instead of offering the lower-cost home-only lending that about 80 percent of manufactured home customers select, instead, they provided a program that is only useful for a new, untested, and special kind of HUD Code home?
That special kind of home is what Clayton said they wanted, why?
And why is that GSE lending pushing a program that is only for land-home loans, which leaves most land-lease communities and the bulk of the retail sales of manufactured homes out in the cold?
How do those forced-fits foster housing choice?
Housing Choice Should Become Part of the MH Industry's Mantra
Shouldn't those who want to buy an already federally regulated HUD Code manufactured home be allowed to choose that or any other kind of safe and durable housing they want and are able to purchase?
Shouldn't all housing shoppers who can demonstrate the decades of proven durability of their housing choice be allowed to have the same kind of financing options that conventional housing buyers have been able to access for decades?
Shouldn't home buyers have the right to buy an entry-level or residential-style HUD Code manufactured homes with parity of financing?
Isn't parity of financing an important part of how potentially millions of more price- and payment-sensitive renters can afford to buy a home of their own?
So if the clear logic of all of the above are obvious, why did MHI, Fannie Mae, and Freddie Mac hold closed door meetings – refusing to release the minutes of said closed door meeting discussions – which resulted not in more chattel lending, but rather in loans geared only to this so-called, 'new class of manufactured homes' that are backed by Clayton?
Affordable quality housing is one of the most critical issues of our time. So too is affordable home ownership, which should be the ideal goal over rental housing. A challenge is zoning and land use, which is highly politicized, and thus is often misunderstood. What follows is adapted from the comments letter addressed as shown below.
Isn't this new class of homes – and their accompanying Fannie and Freddie lending – just another back-door or oblique way of blocking access to more low-cost lending? Isn't that effort obviously being led by the Berkshire brands in manufactured housing?  Doesn't it remind you of the blast-from-the-past, courtesy of 21st Mortgage Corp, that is shown in their letter below?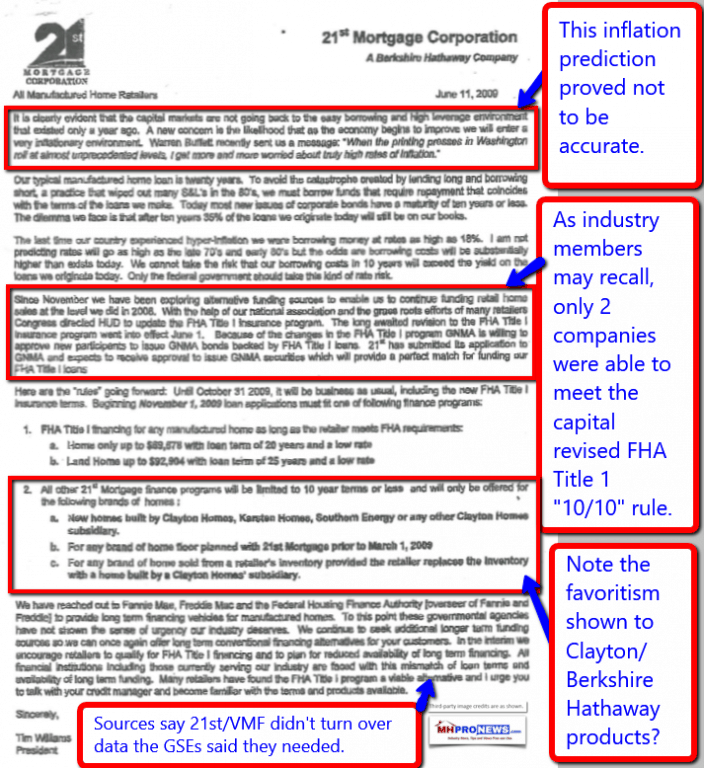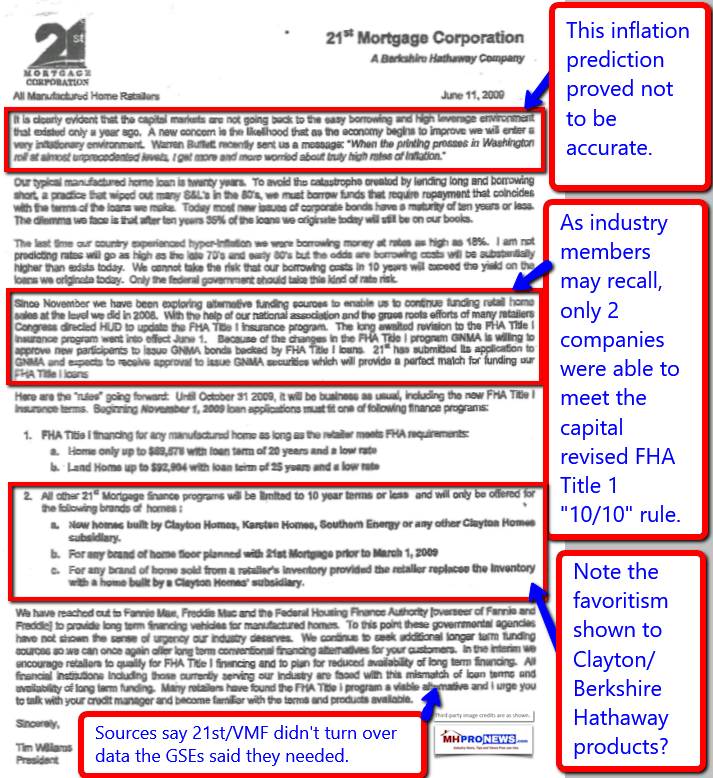 Isn't this new class of homes merely a revised and open version of Smoking Gun 3, where 21st Mortgage cut off lending to thousands of operations that didn't carry Clayton product?  See the linked report that follows immediately below, plus more related reports further below for added details.
Smoking Gun 3 – Warren Buffett, Kevin Clayton, Clayton Homes, 21st Mortgage Corp Tim Williams – Manufactured Home Lending, Sales Grab?
We Already Have Had State Coded Modular Homes for Decades, So, Why this 'New Class' of HUD Code Homes?
Several voices from various parts of the industry have noted that modular housing already – on paper – had access to the same land/home mortgage lending that conventional housing enjoys.
Indeed, FHA, VA, and USDA already give parity of lending to HUD Code manufactured homes, as well as modular housing, so long as a proper installation and other lending guidelines are met.
Many manufactured home producers already built both "HUDs" and state-coded modular homes.
But HUD Code manufactured homes have widely outsold modular home building for decades. MHI's own periodic data reflects that point.
When the goal for thousands of land-lease manufactured home communities, hundreds of manufactured home retailing independents, and MHARR has long been to get the GSEs to fully support manufactured homes with personal property loans, where was the logic of MHI pushing 'behind closed doors' the use of GSE lending only [???] for this new class of homes?
Hold that thought.
Hold that notion closely, because what the stated goal of MHARR and MHI began with on Duty to Serve seemed on the surface to be the same thing.  That was the apparent intersection, on paper, that virtually everyone in MHVille said they wanted more lending from the GSEs.
But what MHI ended up doing was redirecting their energy to get GSE lending only for their so-called 'new class of homes.'  Even the new MHI self-defense, self-promotion video makes that reality a key point, as the screen capture from their new video below reflects.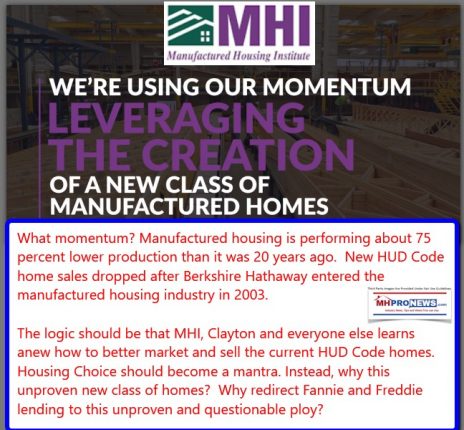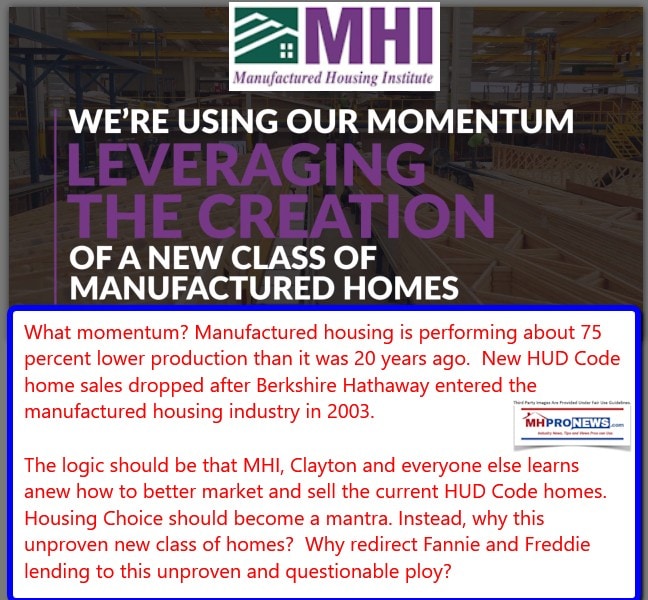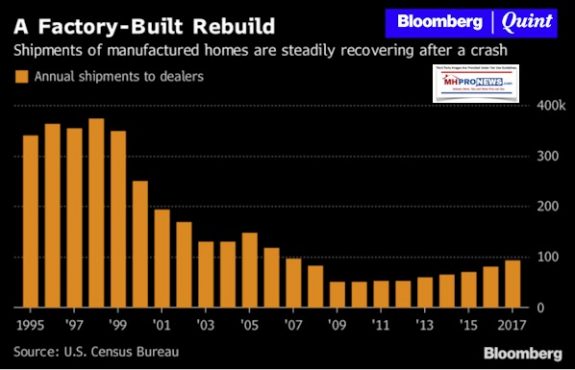 If you want to sell more manufactured homes, this new class of homes is utterly illogical on the surface.  Manufactured housing roared during the 1990s compared to today.  Some claim it was only a sugar-high, based only on bogus lending.  But that claim ignores the reality that those home buyers wanted a manufactured home in the first place. In the mid-to-late 1990s and early 2000s, numerous researchers believed that the EXISTING class of HUD Code manufactured homes was the solution to the affordable housing crisis.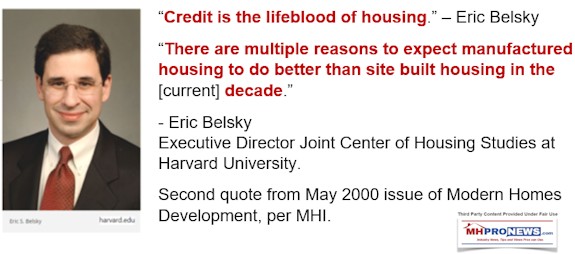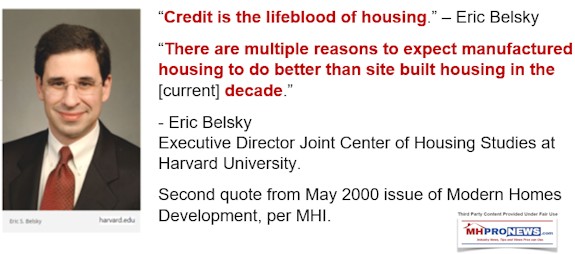 So why this need for a new class of homes?  Why not rediscover the proven affordable HUD Code homes, already improved by the Manufactured Housing Improvement Act of 2000?
Two Great Laws Already on the Books NOW,  Can Unlock Billion$ Annually for Manufactured Housing Industry Businesse$, Investor$
If you want to encourage the acceptance of HUD Code manufactured homes, then this Clayton/MHI backed 'new class of homes' is demonstrably counterproductive on the surface.
Keep in mind that a researcher for the Fannie Mae Foundation some two decades ago already noted back then that manufactured homes merited better lending, placement, zoning, and other treatment. Such facts alone should make it hard for a GSE today to backtrack on their own foundation's research.  For that report, see the link below.
"Why Advocates Need to Rethink Manufactured Home Quality," Harvard, GSE, Genz, "High Satisfaction"
So, this new class of homes makes no sense, unless – unless – there is a hidden or unstated agenda?
Is this new class of homes just another monopolistic ploy to expand Berkshire's Moat in MHVille?
And as has been noted previously, isn't this once more using access to capital or lending to harm the interests of the majority of producers, in favor of one that is also selling site built housing?
Machiavellian "Godfather" – Sam Zell, Warren Buffett, Capital, Lending and Crossed Lines in Manufactured Housing
The Risk to Existing Manufactured Home Owners
Furthermore, isn't there an obvious risk that the value of millions of existing manufactured homes will be undermined by this so-called new class of homes?
That isn't a merely rhetorical question.  Because a senior contact with one of the GSEs admitted to MHProNews that it was a potential hazard.
How would millions of manufactured home owners react to not only not getting GSE chattel lending, but instead, having Clayton-led MHI working in a fashion that undermines the resale values of their homes?  Doesn't that open the door to a possible class-action lawsuit, against the GSEs, MHI, and Clayton?
An MHI-only member messaged the following to our publisher this week, "You seem to have [a] conceptual IQ that is more important than spelling ability." That's nice and clever, but the matter is simply deductive reasoning or logic.
Everything that MHI has done with respect to their so-called new class of homes has been aimed to sideline opposition to it. That isn't 'forging consensus,' is it? Isn't that silencing opposition or reason-based concerns?
Isn't what Clayton/Berkshire Hathaway lenders in manufactured housing want is to keep their choke-hold on lower-cost home lending, while promoting their own growing interests in conventional housing, all at the same time?
WHERE IS THE LOGIC OF HAVING MANUFACTURED HOMES THAT MAY AS WELL BE MODULARS?
Unless it was to derail GSE lending, and harm independents, all by another slight-of-hand?
All magic tricks are gimmicks, ploys – tricks. The hand is quicker than the eye. Something looks or sounds cool and good, and razzle dazzle presentations are built around it with high-cost consultants who will naturally say what the ones who wrote the check want said. That's what a state association executive, an MHI member, has told MHProNews.
Some people will always follow a given con, that's why tricks exist – they work on some people.
This new class of homes is a purported trick, and that is arguably why Richard 'Dick' Jennison would not go on with his public presentation at Louisville last January. He apparently feared having to answer questions from the Daily Business News or from members of the audience, who came armed with questions supplied by MHProNews.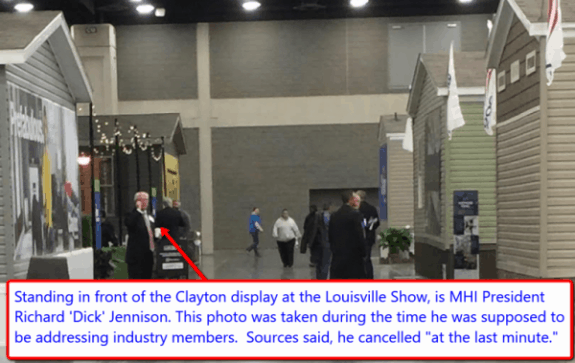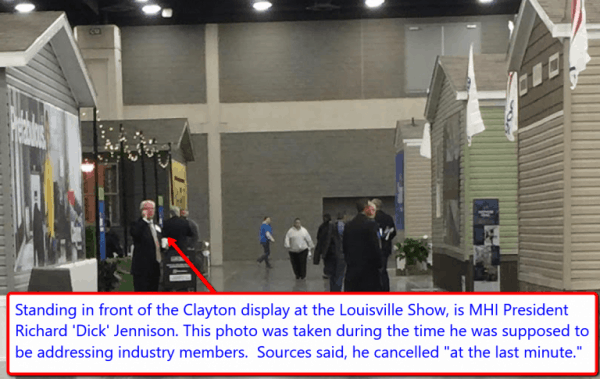 What Happened-Manufactured Housing Institute (MHI), Richard "Dick" Jennison Presentation Day 1, 17.2018, Louisville Manufactured Housing Show?
It is also why Fannie Mae arguably cancelled an interview with MHProNews that their media contact had already agreed to do.  What caused that last minute cancellation?  Note that they cancelled only after they knew that among our questions would be some that focused on the genesis of how this new class of homes.
It's Clayton and MHI, isn't it?  How else does one explain that BOTH GSEs wanted the same thing?
FOR IMMEDIATE RELEASE (202) 783-4087 Contact: MHARR Washington, D.C., September 27, 2018 – The Manufactured Housing Association for Regulatory Reform (MHARR), in a submission (copy attached) to the House of Representatives' Financial Services Committee in conjunction with a September 27, 2018 oversight hearing on regulation of the two "Government Sponsored Enterprises" (GSEs) – Fannie Mae and Freddie Mac – strongly criticized the Federal Housing Finance Agency (FHFA), for failing to implement federal law and, instead, sanctioning the GSEs' continuing discrimination against lower and moderate-income American consumers seeking to purchase manufactured homes through personal property, or chattel loans.
What's Overlooked
The genius of the HUD Code is performance-based standards that superseded other local housing code stipulations. That performance based method keeps housing costs lower for marginal buyers who won't qualify for $150,000-$225,000 priced housing. Yet the HUD Code achieves that without sacrificing safety or durability.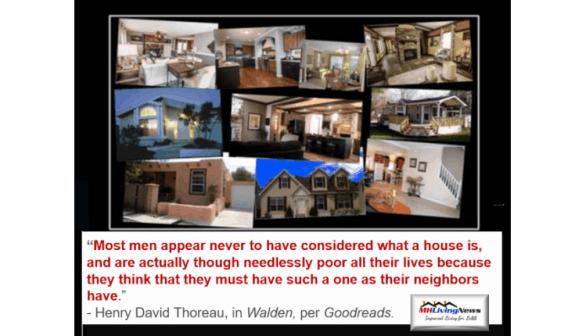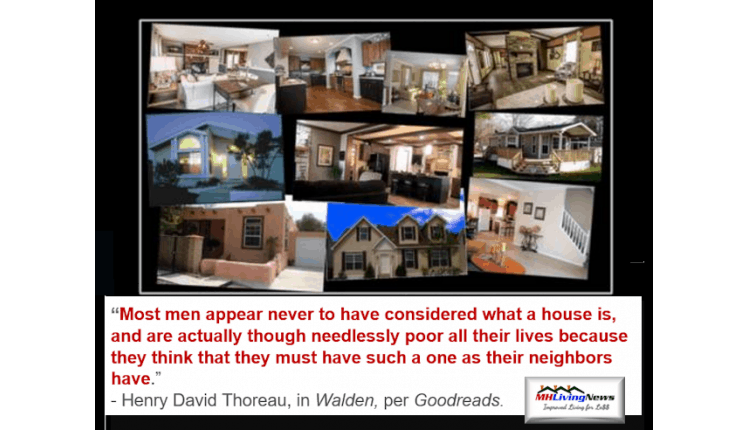 There have long been those who argue the HUD vs MOD matter.  Our publisher said years ago that all of factory-built housing should agree not to undermine each other's products.  Automakers don't undermine entry-level cars when selling a Rolls Royce. Besides, more expensive modular homes can have their own headaches, as do site built housing, as a new report yesterday underscored.
"No Good Deed" – Brad Pitt, Make It Right Foundation Sued for Defective Modular Housing, NBC News, More Video
Let modular builders do whatever the law allows.
Let HUD Code builders build entry-level or more residential-style homes, in any ethical manner that they wish.
Ditto for tiny housing, prefab, conventional builders, and so on down the list of legitimate, safe and durable housing providers.
But the Housing and Economic Recovery Act of 2008 (HERA) which gave the Government Sponsored Enterprises (GSEs) of Fannie Mae and Freddie Mac the Duty to Serve Manufactured Housing didn't mandate any changes to the federal HUD Code.  The GSEs should be providing lending on entry level HUD Code homes, including chattel loans, not just on these pricey new semi-modular housing units.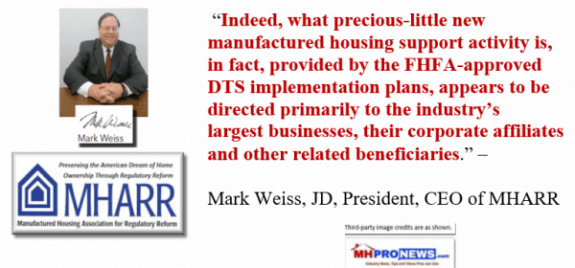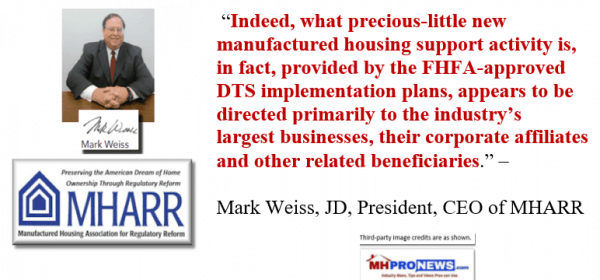 This new class of homes is arguably a Trojan Horse, a blind alley, a grifters trick.


And sadly, the money trail and evidence – see links below – point to Clayton, 21st and Vanderbilt engineering this via MHI. That means that better lending would be unavailable to the majority of potential manufactured housing customers, as well as to those in communities or private land that may want to refinance their high cost Berkshire Hathaway loans at a lower rate.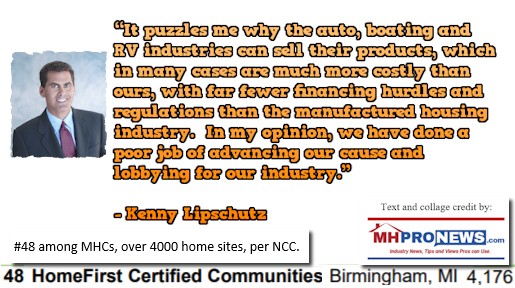 The charade calls for a federal investigation into MHI and the manufactured housing industry's Berkshire brands, which sources suggest may already be underway.


Housing Choice should become part of the industry's mantra. For our part, we will spotlight those issues that obscure the common-sense of making manufactured housing another 'affordable housing choice' that home seekers can make with their heads held high, without having to jump through any special and limiting hoops.
Duty To Serve, "Complete Waste of Time" per Tim Williams, CEO/21st Mortgage; POTUS Trump, Warren Buffett Insight$
There's more to come on this in the days ahead, so stay tuned to the only source in manufactured housing trade media that tackles the tough topics with facts, evidence, money trail, reason, and moxie. See the related reports, further below. "We Provide, You Decide." © ##(News, analysis, and commentary.)
NOTICE: Readers have periodically reported that they are getting a better experience when reading MHProNews on the Microsoft Edge, or Apple Safari browser than with Google's Chrome browser. Chrome reportedly manipulates the content of a page more than the other two.
(Related Reports are further below. Third-party images and content are provided under fair use guidelines.)
1) To sign up in seconds for our MH Industry leading emailed news updates, click here.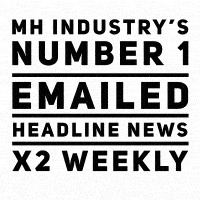 2) To pro-vide a News Tips and/or Commentary, click the link to the left. Please note if comments are on-or-off the record, thank you.
3) Marketing, Web, Video, Consulting, Recruiting and Training Re-sources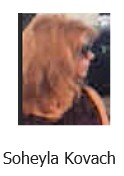 Submitted by Soheyla Kovach to the Daily Business News for MHProNews.com. Soheyla is a managing member of LifeStyle Factory Homes, LLC, the parent company to MHProNews, and MHLivingNews.com.
Related Reports

:
"Take the MH Advantage Challenge – Can You Tell the Difference?" Fisk of Sarah Edelman, Director of Duty to Serve, Single-Family Mortgage Business for Fannie Mae
TO: INDUSTRY MANUFACTURERS, RETAILERS, COMMUNITIES RE: GSEs' "DUTY to SERVE UNDERSERVED MARKETS" PLANS FHFA REQUESTS INPUT ON PROPOSED MODIFICATIONS TO AND FINANCE COMPANIES Attached for your review and information is a copy of a notice issued by the Federal Housing Finance Agency (FHFA) on October 3, 2018, seeking public comment on proposed revisions to the initial "Duty to Serve Underserved Markets" (DTS) implementation plans submitted by Fannie Mae and Freddie Mac to FHFA in 2017.
Fannie Mae Touts MH Advantage Program, But Manufactured Housing Association Slams Plan as "Illegitimate," "Bait and Switch"
Warren Buffett, Charlie Munger, Fannie Mae, Freddie Mac, Berkshire Hathaway Backstory
Machiavellian "Godfather" – Sam Zell, Warren Buffett, Capital, Lending and Crossed Lines in Manufactured Housing
Bloomberg "New Home for $90,000? Manufactured Housing Is Making a Comeback" Reveals MH Media Challenge
Secretive "NEW" Class of Manufactured Housing Raises Serious Concerns