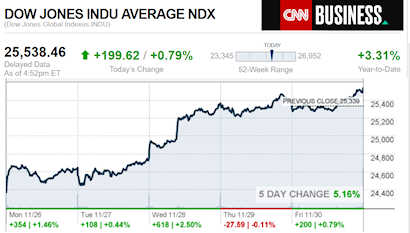 There is more industry and other interconnected news than we could possibly cover as we are currently configured.  Actually, that's true for any news organization. The New York Times and/or Fox News could each cover more news than they do, but it would take more time, talent, and treasure.  Here in MHVille trade media, MHProNews totally dominates in every possible way for content, readership, breadth of topics, and more.  We say thanks to readers and supporter alike, but it also means we must be curating – selecting – topics that our industry's professionals and investors are finding useful and of interest. Periodically, that includes news and views share by the White House, which will be the case in our featured report tonight.
If you're new, already hooked on our new spotlight feature – or are ready to get the MH professional fever – our headline report is found further below, after the newsmaker bullets and major indexes closing tickers.
The evolving Daily Business News market report sets the manufactured home industry's stocks in the broader context of the overall markets.  Headlines – at home and abroad – often move the markets.  So, this is an example of "News through the lens of manufactured homes, and factory-built housing." ©
Part of this unique evening feature provides headlines – from both sides of the left-right media divide – which saves busy readers time, while underscoring topics that may be moving investors, which in turn move the markets.
Readers say this is also a useful quick-review tool that saves researchers time in getting a handle of the manufactured housing industry, through the lens of publicly-traded stocks connected with the manufactured home industry.
This is an exclusive evening or nightly example of MH "Industry News, Tips and Views, Pros Can Use." © It is fascinating to see just how similar, and different, these two lists of headlines can be.
Want to know more about the left-right media divide from third party research?  ICYMI – for those not familiar with the "Full Measure," 'left-center-right' media chart, please click here.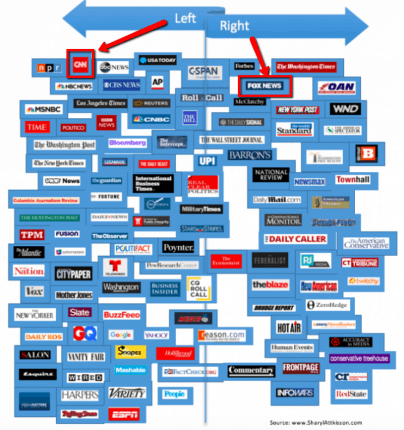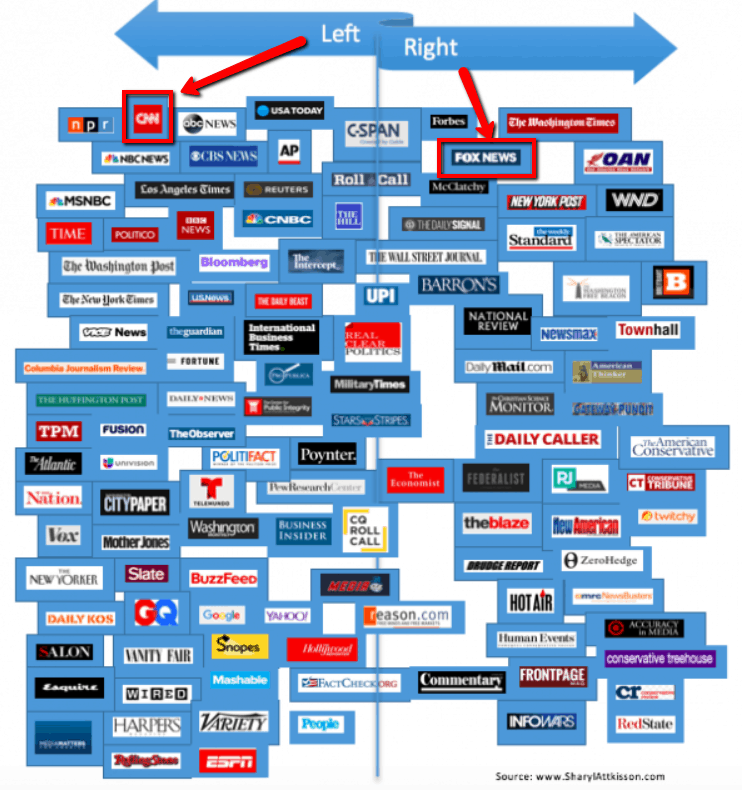 Select bullets from CNN Money…
Microsoft passes Apple to become most valuable company
Richard Branson says Virgin Galactic will take people to space before Christmas
Virgin Galactic bounces back from tragedy with big plans for the future
Apple Music is coming to Alexa
Marriott data breach FAQ: What to do if you're affected
Fed reportedly probing Goldman's role in Malaysian scandal
Amazon explores identifying burgulars with facial recognition technology
PERSPECTIVES China isn't playing fair. Trump and Xi can change that during G20
These giant US companies could suffer if China trade talks go south
The economy is hot. Shouldn't that slow down T.J. Maxx and Burlington?
More police raids at Deutsche Bank spell trouble for its new CEO
India's economy just suffered a sharp slowdown
GM workers will have job options — but they may not be as good
ANALYSIS After Carlos Ghosn, Japan may never hire another foreign CEO
PERSPECTIVES What happens when CEOs have too much power
A tax-efficient way to grow your investments and give to charity
This photo taken on January 11, 2018 shows a Marriott logo in Hangzhou in China's Zhejiang province.
Marriott reveals one of the biggest data breaches ever
TIMELINE He started out with a record company in 1970. Now Richard Branson is launching rockets into space
A Google official speaks at a developer conference in San Francisco. Google is cooperating with Samsung Electronics Co. to develop foldable smartphones.
Samsung's folding screen tech has been stole
Patagonia donating tax cut for climate change
These companies are leading the fight against climate change
These homes can withstand hurricanes, earthquakes and fires
Ikea has a plan to fix the pollution crisis in India's cities
Alphabet spinoff wants to turn your lawn into your heater and air conditioner
WHAT'S AHEAD FOR GENERAL MOTORS
The company's future without cuts would be even tougher
GM will no longer make these 6 cars
The existential threat facing the auto industry
Without GM, this town will never be the same
Trump threatens to cut GM subsidies. Here's the real story
Select Bullets from Fox Business…
Stocks close higher ahead of Trump-Xi meeting at G-20
Facebook woes: A timeline of scandals plaguing Zuckerberg's company
US-China dominance struggle creates 'possibility of war': Dalio
Trump's team: Here's how much top officials made last year
Honeywell moves HQ out of NJ despite $40M in tax credits
Multiple dog food brands recalled for elevated vitamin D
USMCA is signed, now companies, unions and activists weigh in
Trump-backed food stamps work requirement reform dropped by lawmakers
America first? Mexico, Canada push back on name of new trade deal
The NRA lost $55M in income in 2017
Retirement, Savings and Tax Relief Act of 2018, right bill at right time
Why G-20 may be bigger for oil markets than OPEC meeting: Opinion
Obama's alternate energy reality: Opinion
GM CEO Mary Barra to meet with lawmakers amid Trump threats
Tesla producing 1,000 Model 3 cars per day: Report
These states spend the most money on welfare
Trudeau slams GM closures, urges Trump to remove tariffs
Marriott discloses data breach that could affect up to 500M guests
Here's how much your stolen info is worth on the black market
The worst cyber attacks of the past 10 years
What cybercriminals really want to steal from you
These colleges have the most Fortune 500 CEO alumni
The average Social Security benefit might surprise you
Mic will reportedly be sold for $5M despite recent $100M valuation
Here are the new tax brackets for 2019
China reports weakest factory growth in over 2 years
Farmers growing impatient amid US-China trade dispute
The US-China conundrum: Larry Summers
The real winner from the romaine E.coli outbreak: Iceberg lettuce
Time for law enforcement to end the cash grab: Kennedy
These six figure jobs don't require a college degree
US new-home sales plunged 8.9% in October[overlay type]
US new-home sales plunged 8.9% in October
These cities are home to the most millionaires per square mile
Why 2019 could be a tough year for home buyers and sellers
Today's markets and stocks, at the closing bell…

Manufactured Housing Composite Value (MHCV)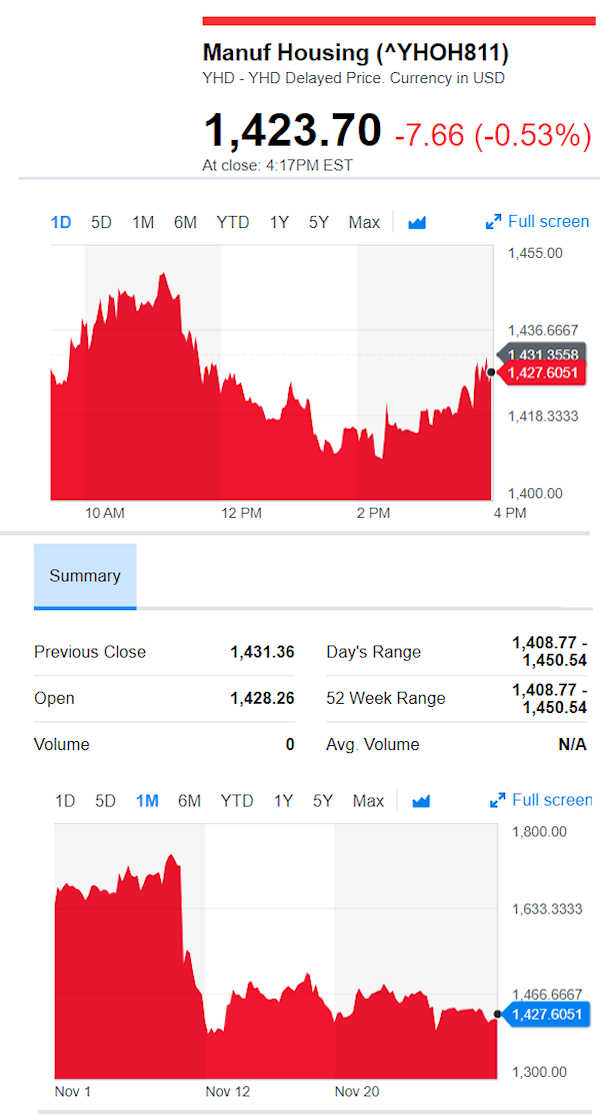 Today's Big Movers
For all the scores and highlights on tracked manufactured home connected stocks today, see the Bloomberg graphic, posted below.
Today's MH Market Spotlight Report –
This evening's report is an assortment of topics, which is precisely what the White House provided us on MHProNews in the last roughly 30 hours. We get daily updates from the White House, along with reports from HUD, and numerous other federal offices and agencies.  Then, there are associations, companies, reader news tips, and so much more.  Plus, our own research on issues that experience tells us matters to manufactured housing.  But tonight, its a mix, including some lighter side for the Christmas season.  We wish our Jewish friends and colleagues a happy Hanukah.

President Trump Signs NAFTA Replacement Deal with Mexico, Canada
Earlier this morning, President Donald J. Trump signed a three-way trade deal with Mexico and Canada that will replace the outdated NAFTA if it is approved by Congress. "Trump signed the U.S. Mexico Canada trade agreement in Argentina on the side of the G-20 summit," Pete Kasperowicz reports in the Washington Examiner.
"This is a model agreement that changes the trade landscape forever, and this is an agreement that first and foremost benefits working people, something of great importance to all three of us here today," the President said.
"The International Labor Organization estimates that worldwide, nearly 25 million children and adults of all ages and backgrounds are victims of human trafficking, including forced labor and sex trafficking. Every government in the world has a moral obligation to do all in its power to stop these heinous crimes within its borders," Advisor to the President Ivanka Trump writes in The Washington Post. "That is why President Trump took strong action on Thursday to hold accountable those governments that have persistently failed to meet the minimum standards for combating human trafficking in their countries."
"Son-in-law and senior adviser to the president Jared Kushner received Mexico's highest honor awarded to foreigners on Friday. Mexican President Enrique Pena Nieto bestowed the Mexican Order of the Aztec Eagle to Kushner in a ceremony that President Trump made an unscheduled stop at Friday morning," Katelyn Caralle reports in the Washington Examiner. "I believe we are at a historic place in the relationship between our two countries," Mr. Kushner said during the ceremony.
"U.S. Border Patrol agents have arrested a member of the infamous Salvadoran MS-13 gang who admitted to authorities that he traveled with a caravan of Central American migrants who were hoping to qualify for asylum in America," Mairead McArdle reports for National Review. "During questioning at the El Centro station, the Honduran citizen confessed that he is an active member of MS-13 and had intended to enter the country illegally after traveling to the U.S. with the caravan of thousands of other migrants. He is in custody pending his deportation back to Honduras."
"New numbers from the Department of Homeland Security show that just 9 percent of asylum claims made by individuals from Central America turn out to be legitimate," Katie Pavlich reports for Townhall. "The fact that only 9 percent of those who initially claim asylum are found eligible, indicates that we are expending most of our limited resources – detention space, court space and the time of our asylum officers and immigration judges – denying frivolous or illegitimate claims of asylum from the 9 out of 10 who are found ineligible," DHS said in a statement.
The 96th lighting of the National Christmas Tree
Last night, President Donald J. Trump and First Lady Melania Trump celebrated a classic America tradition: the lighting of the National Christmas Tree.
"This is a time of the year for rejoicing with our family and friends, for spreading charity and goodwill in our commitment all over this country in all of our communities, and for giving thanks for all of the blessings in our lives," the President said from the Ellipse at President's Park, just steps from the White House.
"No matter one's faith or beliefs, the Christmas season reflects all that is best in the American spirit."
Every year, crowds withstand the sometimes frigid D.C. temperatures to witness the ceremony put on by the National Park Service and the National Park Foundation. Amid multiple musical performances by a range of guests, including the U.S. Army Band, the President and First Lady led a countdown to the tree's first lighting of the season.
"On behalf of Melania and myself and the entire Trump family—many of whom are with us tonight—I want to again wish you all a very, very Merry Christmas."
Watch President Trump and the First Lady lead the National Christmas Tree lighting.
More: The First Lady unveils this year's White House Christmas decorations
First Lady Melania Trump talks opioid abuse at Liberty University
Yesterday morning, First Lady Melania Trump joined Eric Bolling, Health and Human Services Secretary Alex Azar, and Homeland Security Secretary Kirstjen Nielsen at Liberty University in Virginia for a town hall on opioids.
"When I took on opioid abuse as one of the pillars of my initiative BeBest, I did it with the goal of helping children of all ages," the First Lady said.
To a full stadium of students, she explained the scale of the problem and how each person can make a difference. More than 130 Americans die each day from opioid overdoses. Last year, those overdoses accounted for over 72,000 deaths—more than any previous year on record.
Under President Trump's leadership, signs of hope are emerging. "The results speak for themselves," Counselor to the President Kellyanne Conway wrote last month. "Seizures of several kinds of illicit drugs are up, the number of new 30-day prescriptions is down and overdose deaths attributed to prescription pain medications have started to level."
Watch highlights of the First Lady's talk at Liberty University.
Kellyanne Conway: We can bring the opioid crisis to an end
Official White House Photo by Andrea Hanks
President Donald J. Trump and First Lady Melania Trump wave to the crowd after lighting the National Christmas Tree on the Ellipse | November 28, 2018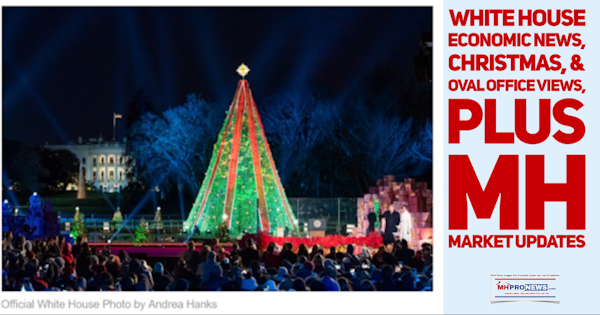 Bloomberg Closing Ticker for MHProNews…
NOTE: The chart below includes the Canadian stock, ECN, which purchased Triad Financial Services.
NOTE: The chart below covers a number of stocks NOT reflected in the Yahoo MHCV, shown above.
NOTE: Drew changed its name and trading symbol at the end of 2016 to Lippert (LCII).
Berkshire Hathaway is the parent company to Clayton Homes, 21st Mortgage, Vanderbilt Mortgage and other factory built housing industry suppliers.
LCI Industries, Patrick, UFPI and LP all supply manufactured housing.
AMG, CG and TAVFX have investments in manufactured housing related businesses.
Your link to industry praise for our coverage, is found here.
For the examples of our kudos linked above…plus well over 1,000 positive, public comments, we say – "Thank You for your vote of confidence."
"We Provide, You Decide." © ## (News, analysis and commentary.)
(Image credits and information are as shown above, and when provided by third parties, are shared under fair use guidelines.)
Submitted by Soheyla Kovach to the Daily Business News for MHProNews.com.