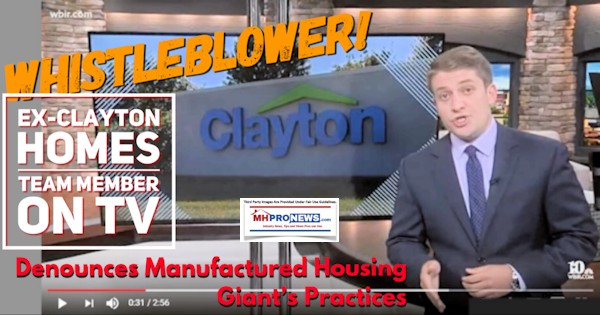 Foreword: a Manufactured Housing Institute (MHI) member messaged our publisher, "You seem to have conceptual IQ [and] that is more important than spelling ability."
That there are divisions in manufactured housing ought to be self-evident. That's true for any industry or large group. But among the many questions that ought to be asked, are those divisions in manufactured housing (MH) bad?
Are some distinctions within the MH Industry useful — or even good?
Within companies there are different points of view too.  The larger the organization, the more points of view will exist.
It goes without saying that Clayton denies recurring allegations that have surfaced in 2018, that have been visible for some years in mainstream media. Before we get into the Clayton whistleblower mainstream TV news video, this topic is serious enough where it merits a giant step back for perspective.
MH Divisions
It goes without saying that neither MHI, nor the Manufactured Housing Association for Regulatory Reform (MHARR), are entirely monolithic organizations. Because there are some dual members of both national trade groups, there have at times been some in MHVille that mistakenly believe that the two are one in the same.
Hardly. A close look at the track records of the two trade groups make it abundantly clear that there are real differences in style, goals, and more.
There are those in manufactured housing who believe there should only be one national trade group.  To that point – we ask, if that is logical – then why are there so many trade groups in:
Mainstream housing: National Association of Home Builders (NAHB), National Association of Realtors (NAR), Mortgage Bankers Association (MBA), and on down the list or remodeling, finance, and more.
Automotive – According to Wikipedia, there are some 29 pages of associations in the automotive field. Just starting with A: Auto Care Association. Alliance of Automobile Manufacturers. American Automobile Association. American Highway Users Alliance. American Hot Hod Association. American Motor League. Association of Global Automakers.
How about RVs? There are producers, dealers, owners, suppliers, and a plethora of trade groups that represent the varied interests of Recreation Vehicles (RVs). FYI – for those who aren't into RVing, an RV is not just a motorized vehicle, towable RVs are a huge part of the RV business. Some of those towable RVs are de facto a competitor to manufactured housing.  FEMA orders for RVs vs. MH are but one example.
So, if there are so many trade associations in other industries, why are there so few manufactured housing national trade groups?
That is arguably a problem for the manufactured housing industry.  There are inherent conflicts of interest in having manufactured home (MH):
Communities
Producers
Suppliers
Lenders and Financial Services
Retailers
Transporting and Installation
Professional Services and more
all in one trade association.
The proof is found in the results vs. the claims of MHI.  For all the bluster and what one ex-MHI member called their 'Razzle Dazzle' at appealing getaway spots, the declining sales of HUD Code manufactured housing for two straight months is all the evidence needed that MHI is at its core ineffective at best.  The report hot-linked via the box below can be read later for greater depth of understanding of this issue.
"Pants on Fire" – Latest New Manufactured Housing Shipment Report
As fabled author Adam Smith said in the Wealth of Nations, "People of the same trade seldom meet together, even for merriment and diversion, but the conversation ends in a conspiracy against the public, or in some contrivance to raise prices." Merely readingantitrust guidelines at an MHI meeting doesn't automatically mean that monopolistic activity isn't at play. When a high-profile congressional representative (see further below) and others in Congress raised that very concern about monopoly, why haven't others in manufactured housing trade media done the same, save MHProNews?
The Elephant in the Room 
It was almost funny when some years ago when a now-former MHI leader said at one of their meetings that the 'elephant in the room' was Danny Ghorbani and MHARR. That's a tip of the hat to the outsized-shadow they've cast, but the obvious actual elephant in the room is Clayton Homes, and the array of Berkshire Hathaway brands working in manufactured housing.
There is one kind of value to having Berkshire in manufactured housing, but it arguably already existed with Sam Zell of Equity LifeStyle Properties (ELS) fame and is limited to this next point.
Warren Buffett has given his seal of approval on the common sense value of manufactured housing.
But beyond that, there has been years of "consolidation" of manufactured housing production, retail, lending, supply, and more in our industry ever since Buffett-led Berkshire Hathaway entered our industry.
Our HUD Code manufactured home industry's sales have overall declined – not rose – since Clayton and Oakwood were acquired by Berkshire.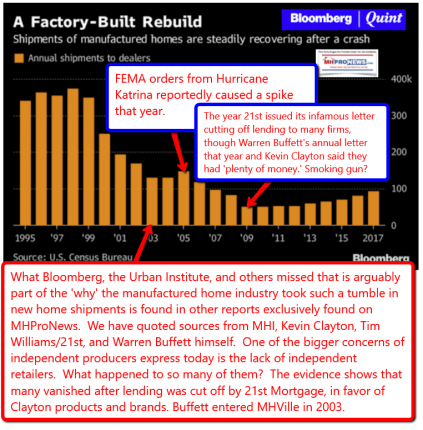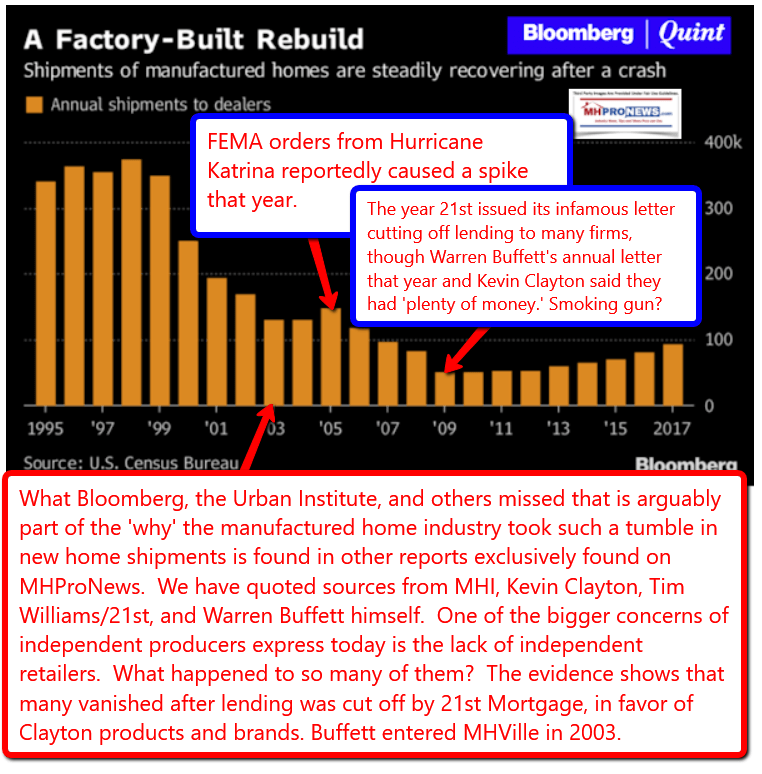 There are a variety of reasons why the Washington, D.C. based Manufactured Housing Association for Regulatory Reform (MHARR) has argued that there must be one or more new post-production trade groups. We'll refer readers to MHARR's report, when they declined expanding to compete with MHI, because they believe that the industry should be more like housing, automotive or other industries with a myriad of representative bodies.  That is a natural way of blocking conflicts of interest that are arguably evident at MHI.
Washington, D.C., November 15, 2017 – The Board of Directors of the Manufactured Housing Association for Regulatory Reform (MHARR) has authorized the public release of a comprehensive internal study by the Association of the past, present and future representation of the post-production sector (PPS) of the federally-regulated manufactured housing industry.
It should be noted that the Manufactured Housing Improvement Act of 2000 (MHIA) was achieved when MHARR, MHI and state association came together on areas of mutual interest.  But that is different than unity under one umbrella, which has demonstrably resulted in far lower shipment levels than existed in the late 1990s.
Kevin Clayton has been in the mainstream news several times in recent weeks, since the MHProNews exclusive in the hot-linked box below was published.
Like millions of others, during my high school days and at the university, computer geeks used the acronym, GIGO. "Garbage In, Garbage Out ." It simply means that if your input is bad, then the output is bad. Similarly, when using logic, if the premise is flawed, then the conclusion is flawed too.
But the reality is that what could have been done in 2011 to promote the industry and growth – according to Kevin's own statement in a friendly video interview – has been allowed to drag on until 2018.  For whatever reasons, there is no denying that what MHI and Clayton have done in the last two years has had no appreciable change in the modest growth the industry has had, especially when compared to the strong growth of the RV industry.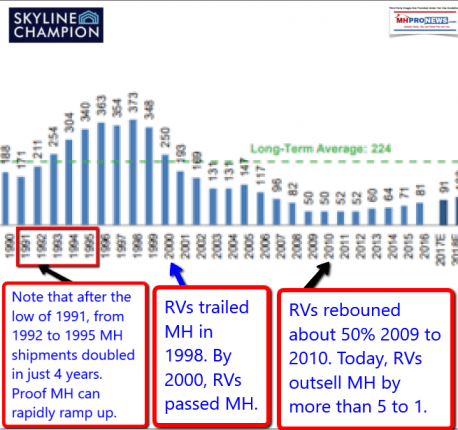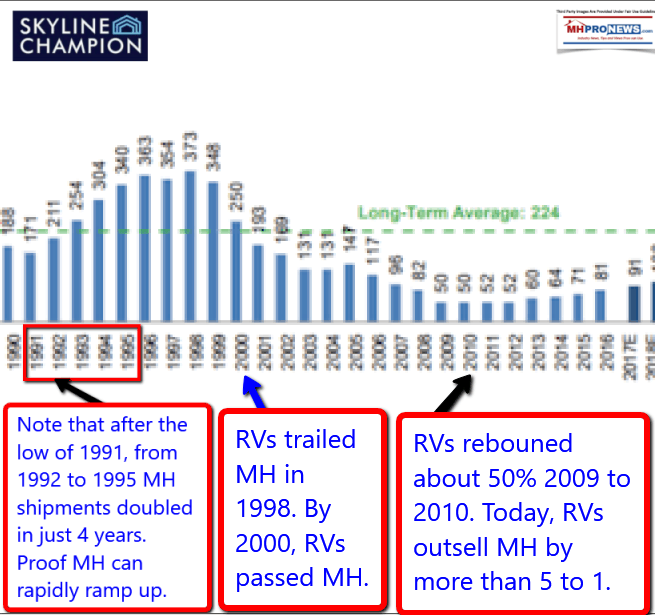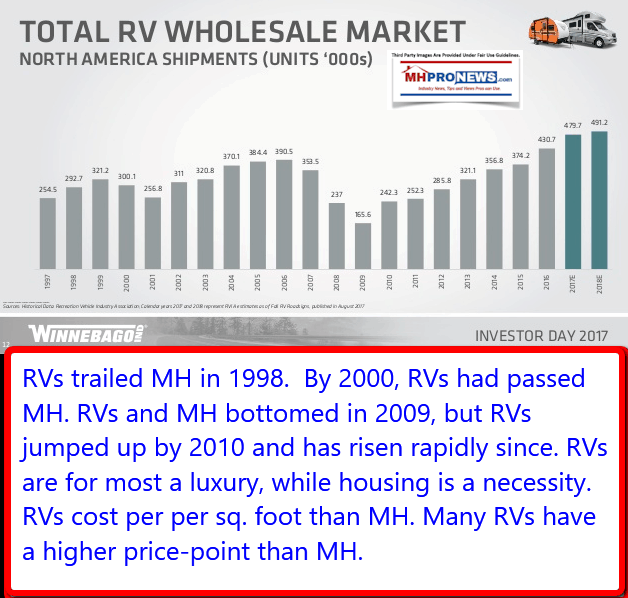 So while
MHI's Lesli Gooch has defended Clayton/Berkshire against charges of monopolizing the industry in a response to Doug Ryan at Prosperity Now, or
Clayton Homes has denied to local, regional, and national media the varied allegations against them,
there is also no denying that the claims keep popping up. In fact, when MHProNews offers MHI or Knoxville's brands the opportunity to respond to reports like this, they've passed.  Why, if they had a good defense, would they miss out on the opportunity?
It is arguably absurd that the elected leadership of MHI's current and prior 2 chairman have had serious negative media coverage, and yet have been allowed to continue as chair.  What image does that give the outside world about manufactured housing, or MHI?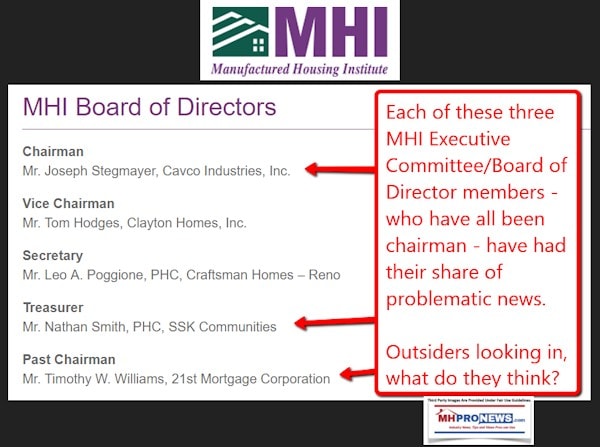 It is also absurd that that all three of the current and prior chairs have clear and deep ties to Berkshire Hathaway.  The real elephant in the room is Clayton and the Berkshire brands. If they want to claim leadership of the industry – and MHI and Clayton repeatedly do so – then the results of the industry logically fall at their feet.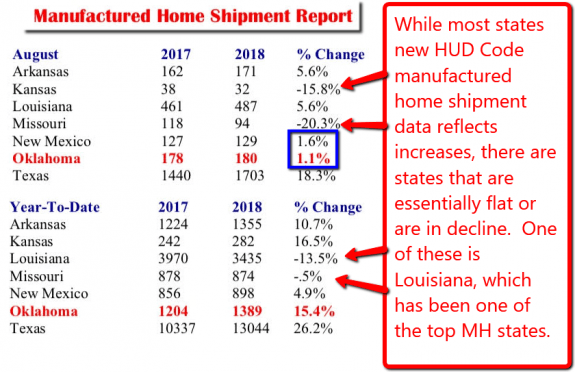 And those results have been towards ever more consolidation of the industry in the hands of a few, including Clayton Homes and their sister companies involved in manufactured housing.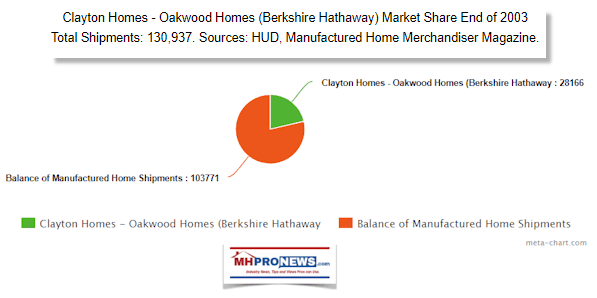 One more point must be made. When the allegations of racism and other claims of financing malfeasance were lodged against Clayton and their related lenders – 21st Mortgage and Vanderbilt Mortgage and Finance – first surfaced, MHProNews and MHLivingNews leapt to their defense. Why?  Because we knew of no such examples, and asking some industry pros, they said similarly.
account simply follows the long-time line of denigrating "trailers," all in the name of selling more papers and creating notoriety. The fact that the story can be directed to ensnare Warren Buffett, billionaire investor, just adds to the article's appeal to the public; his involvement with the industry posed as a negative catch point."
But as the claims have continued, and other facts emerged, we looked deeper.  Our understanding of the issues has matured, in part with input from others in manufactured housing.  Unlike MHI or Clayton, which rarely wants to admit in public an error, our publisher has said 'mea culpa' several times, as we have pivoted to our clarified understanding.
With that tee up, we now show the video from the Clayton headquarters – the Knoxville metro's own TV news media – is shown below.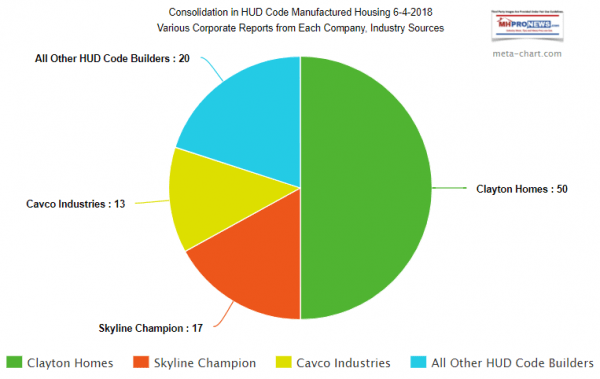 Former Clayton Team Member Blows the Whistle on TV on Clayton Homes Business Practices
With that backdrop is this ongoing controversy about Clayton Homes and concerns over racism and unjust lending practices.
111
Maxine Waters is among those who signed the letter that this local Knoxville TV news media report reflects.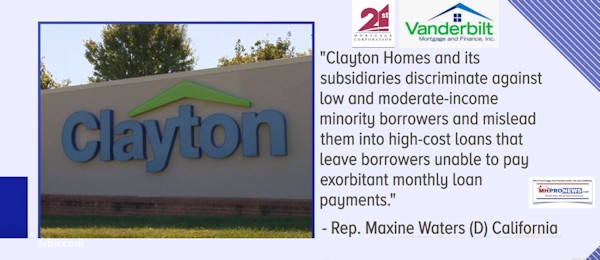 One of several reasons to provide this to 2018 Knoxville TV news report to industry members at this time is that Waters will likely become the next chairperson for the important House Financial Services Committee.

Waters has called Clayton and Berkshire 'near monopolies.' That charge may take on new meaning in 2019. The Democrats have an anti-monopoly plank in their revised platform.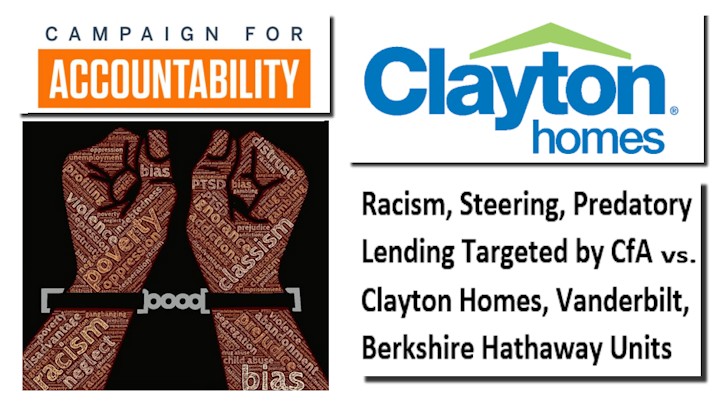 As the Daily Business News on MHProNews has previously documented, there are voices across the left-right divide that are seeing the challenges to small and independent businesses from monopolies.
Monopolies and growing consolidation over time causes ripples in costs to consumers, and for employment opportunities and thus wages too.
Some will act out of habit and 'stroke the check' to renew their MHI membership.
Others will feel compelled for reasons that sources say are akin to RICO related concerns.
For those who don't want to be part of feeding the hand that bites them, this is a good time to step back and decide to cancel membership in Berkshire dominated MHI, and explore other options.
To learn more, see the related reports, and click on the hot-linked boxes further below.
Finally, it should be noted that Berkshire vice-chairman, and longtime Warren Buffet partner, Charlie Munger has said on camera that he doesn't doubt that some wrongdoing has occurred.
While denying the thrust of the anti-Clayton claims, Warren Buffett has said similarly to what Munger has said.
It's a complex puzzle.  But MHProNews is committed to providing the facts that unravel the fog in a way that no others in MH trade media will give you.  That way, you can make more informed decisions to operate your business.

"We Provide, You Decide." © ## (News, analysis, and commentary.)
NOTICE: Readers have periodically reported that they are getting a better experience when reading MHProNews on the Microsoft Edge, or Apple Safari browser than with Google's Chrome browser. Chrome reportedly manipulates the content of a page more than the other two browsers.
(Related Reports are further below. Third-party images and content are provided under fair use guidelines.)
1) To sign up in seconds for our MH Industry leading emailed news updates, click here.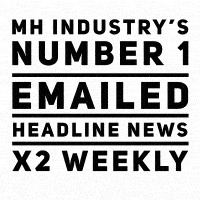 2) To provide a News Tips and/or Commentary, click the link to the left. Please note if your comments are on-or-off the record, thank you.
3) Marketing, Web, Video, Consulting, Recruiting and Training Re-sources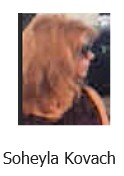 Submitted by Soheyla Kovach to the Daily Business News for MHProNews.com. Soheyla is a managing member of LifeStyle Factory Homes, LLC, the parent company to MHProNews, and MHLivingNews.com.
Related Reports

: Click the Boxes Below to Read More…
Center for Public Integrity – Stunning Clayton Homes-Warren Buffett-Berkshire Hathaway Manufactured Home Lending Truth Outs
Machiavellian "Godfather" – Sam Zell, Warren Buffett, Capital, Lending and Crossed Lines in Manufactured Housing
Manufactured Housing – MHVille, It's Not a Matter Open to Interpretation
Housing Choice, Where Modular, Manufactured, Tiny, Conventional Housing Crisis, MHI and MHARR Intersect
Crisis of Misinformation, Fact Checks, and Manufactured Housing
New York Times-David Leonhardt-"The Monopolization of America," Manufactured Housing Slant
Whatever your position is on Nancy Pelosi (CA-D), she is proving you can't beat someone with no one. That principle applies in numerous aspects of one's business or professional life too, including our once far-greater in scope industry. Affordable housing advocates need more than a lament.