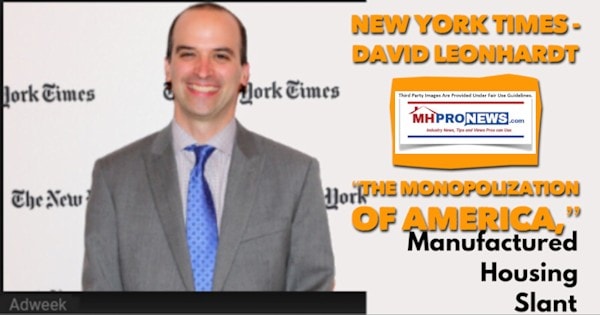 "In one industry after another, big companies have become more dominant over the past 15 years, new data show." reads the subheading for "The Monopolization of America" by David Leonhardt.
"Like an onion, many political issues have layers within layers, and sometimes they make you want to cry. This is no exception," said Richard D. Turnquist, in discussing an issue that will interrelate to our industry, through a topic linked below.
Manufactured housing is not alone as an industry or economic sector that is experiencing a growing level of consolidation or monopolization.
That said, in manufactured housing, it has been:
Manufactured Housing Association for Regulatory Reform (MHARR) that politely has laid out facts,
MHIdea that pointed their finger at the 'powers that be' monopolizing manufactured housing, and in the last few years,
MHProNews that have explored the facts and evidence.
Frank Rolfe was a critic of MHI on several issues, until he announced about a year ago that he would go silent on the subject.
Blogger, former community owner. and retired Marine Lt. Col. George F. Allen has vacillated for years on the subject, which rises or falls – some have observed – depending on who is paying him for what at a given time.
Then there is Prosperity Now's Director of Affordable Housing, Doug Ryan – for the non-profit formerly known as CFED – who thrashed as monopolistic

Clayton Homes and their Berkshire Hathaway affiliated manufactured home lending units. More on Ryan later, but noting for now that he's been vocal on abuses by Clayton, Vanderbilt Mortgage and Finance (VMF), and 21st Mortgage Corp.
Then there is:
Maxine Waters and other Democrats,
are just some of those who've very specifically targeted in some fashion Clayton Homes, Warren Buffett, and Berkshire Hathaway related lenders as consolidating, monopolizing or behaving in a manner they've argued reflects how their "strategic moat" stratagem builds over time Clayton's monopolistic control in manufactured housing.
Scott Galloway is among the voices with connections within the tech sector who has specifically called for a breakup of what he calls the Big Four, FANG companies.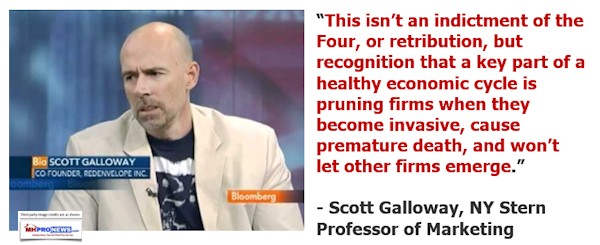 Now, as Leonhardt explains, is the latest in a growing chorus on either side of the left-right divide that gives both history and facts about the trend of monopoly in America.
With that tee up, we will review the entire op-ed by Leonhardt, which the original is found at this link here. Then, we will unpack some manufactured housing related points.
Let's dive into Leonhardt new column.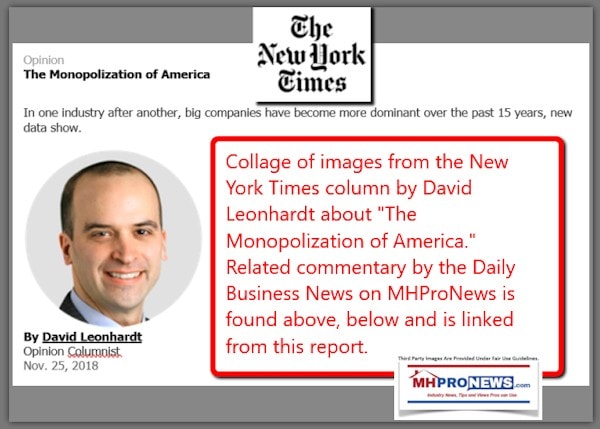 The popular telling of the Boston Tea Party gets something wrong. The colonists were not responding to a tax increase. They were responding to the Tea Act of 1773, which granted a tea monopoly in the colonies to the well-connected East India Company. Merchants based in the Americas would be shut out of the market.
Many colonists, already upset about taxation without representation and other indignities, were enraged. In response, dozens of them stormed three ships in Boston Harbor on the night of Dec. 16, 1773, and tossed chests of East India tea — "that worst of plagues, the detested tea," as one pamphlet put it — into the water. 
A major spark for the American Revolution, then, was a protest against monopoly. 
A strong strain of anti-monopoly sentiment has run through our politics ever since. America was born as "a nation of farmers and small-town entrepreneurs," the historian Richard Hofstadter once wrote, "anti-authoritarian, egalitarian and competitive." Hostility to corporate bigness animated Thomas Jefferson and Teddy Roosevelt, as well as the labor movement, Granger movement, Progressive movement and more.  
Of course, monopolies and other corporate giants have fought back against these assaults on their power, and sometimes succeeded for years or decades at a time. It happened during the age of Rockefeller and Morgan. Over the past 40 years, it has happened again.
The federal government, under presidents of both parties, has largely surrendered to monopoly power. "The 'anti' in 'antitrust' has been discarded," as the legal scholar Tim Wu puts it in his new book, "The Curse of Bigness." Washington allows most megamergers to proceed either straight up or with only fig-leaf changes. The government has also done nothing to prevent the emergence of dominant new technology companies that mimic the old AT&T monopoly.  
This meekness has made possible the consolidation of one industry after another. For a long time, though, it's been hard to figure out precisely how much consolidation. The available statistics just aren't very good, which isn't an accident. In 1981 — around the time that the Reagan administration was launching the modern pro-monopoly era — the Federal Trade Commission suspended a program that collected data on industry concentration. 
Fortunately, researchers in the private sector have recently begun filling in the gaps. On Monday, the Open Markets Institute — an anti-monopoly think tank — is releasing the first part of a data set showing the market share that the largest companies have in each industry. You can see the main theme in the charts here: Big companies are much more dominant than they were even 15 years ago. 
Dominance of Corporate Behemoths
The combined market share of the two largest companies in many industries has grown in recent years, often because of mergers.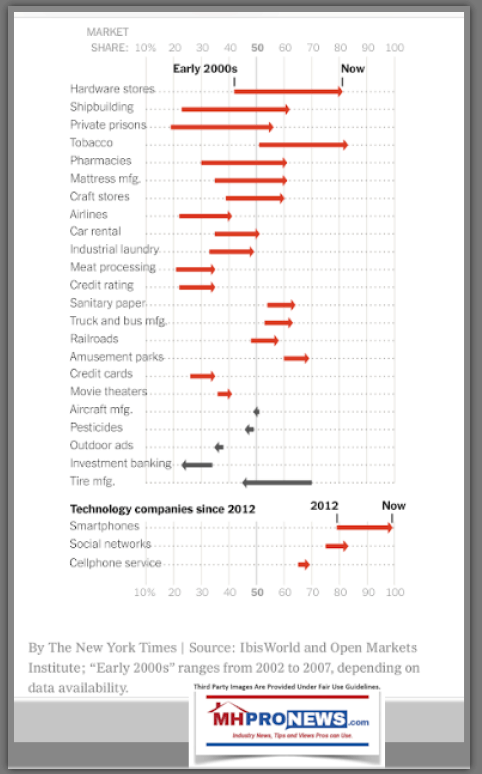 By The New York Times | Source: IbisWorld and Open Markets Institute;
"Early 2000s" ranges from 2002 to 2007, depending on data availability. 
Mergers are one big reason. Another is the power of so-called network effects — in which the growth of, say, Facebook makes more people want to use it. True, a few industries have become less concentrated, but they are exceptions. If anything, the chart here understates consolidation, because it doesn't yet cover energy, telecommunications and some other areas. It also doesn't cover local monopolies, such as hospitals that are dominant enough to drive up prices. 
The new corporate behemoths have been very good for their executives and largest shareholders — and bad for almost everyone else. Sooner or later, the companies tend to raise prices. They hold down wages, because where else are workers going to go? They use their resources to sway government policy. Many of our economic ills — like income stagnation and a decline in entrepreneurship — stem partly from corporate gigantism. 
So what are we going to do about it? It's time for another political movement, one that borrows from the Boston Tea Partiers, Jefferson, T.R. and the other defenders of the economic little guy. 
The beginnings of this movement are now visible. Top Democrats believe that anti-monopolism can be a political winner for their party. It's a way to address voters' anxiety over high drug prices, digital privacy and more. "The control of business over certain segments of the economy," says Senator Amy Klobuchur of Minnesota, a potential presidential candidate, "I think it will be a much bigger thing going into 2020." 
Klobuchar has offered a good bill that would raise the legal standards for merger approval. But preventing future mergers won't be enough. Eventually, the government will probably need to break up existing giants, as it did to the old AT&T and Standard Oil. One obvious candidate is Facebook, which has gobbled up Instagram, WhatsApp and other businesses.
And corporate bigness doesn't need to be a partisan issue. Senator Mike Lee of Utah is among the Republicans who have expressed concern about it. Conservatives, after all, are supposed to care about the ideals that monopolies undermine — like market competition, economic dynamism and individual freedom. Ultimately, monopolies aren't only an economic problem. They are also a political one. 
"We may have democracy, or we may have wealth concentrated in the hands of a few," Louis Brandeis, the Supreme Court justice and anti-monopoly crusader, said a century ago, "but we can't have both."
More from Opinion on big business:
Opinion | Tim Wu: Be Afraid of Economic 'Bigness.' Be Very Afraid.Nov. 10, 2018
Opinion: Is Amazon Bad for America?Nov. 15, 2018
Opinion | David Leonhardt: The Charts That Show How Big Business Is WinningJune 17, 2018 
David Leonhardt is a former Washington bureau chief for the Times, and was the founding editor of The Upshot and head of The 2020 Project, on the future of the Times newsroom. He won the 2011 Pulitzer Prize for commentary, for columns on the financial crisis. @DLeonhardt • Facebook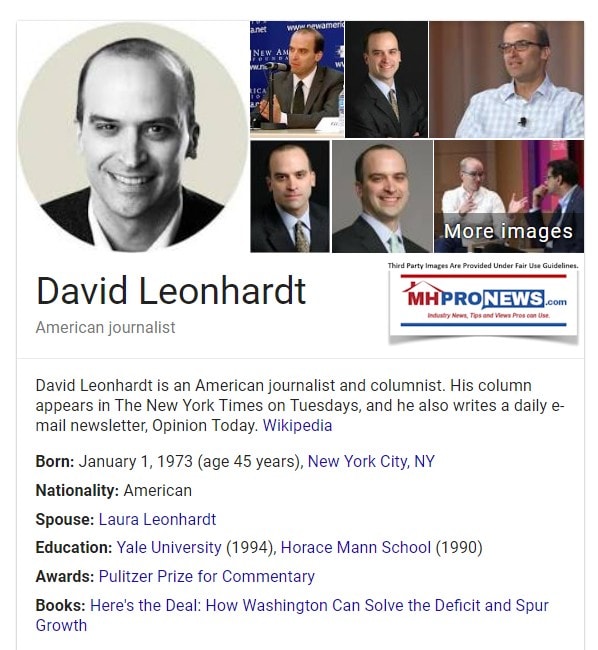 The Slant from the Independent's Resistance Tower in MHVille
What's been uncovered by following the money trail, facts, tips, and evidence in manufactured housing could be summed up like this.
Warren Buffett's "strategic moat" principle is arguably more than just waiting for some business or economic circumstances to provide him with 'value' or 'bargain' acquisitions in sectors that make sense to him and Berkshire Vice Chairman Charlie Munger.
Buffett has supported political candidates whose platforms promise more regulation that are harder for small companies than bigger ones.
Buffett's Berkshire brands not only allowed negative news coverage to create negative headlines that spur headwinds. His own donations to non-profits like the Tides Foundation have funded the protestors, opposition groups, and even negative news on Clayton/et al.
The Manufactured Housing Institute (MHI) is not the only non-profit that a Berkshire manufactured housing brands have opted to fund and dominate, arguably for their own benefit.
All of this has been documented, argued, and underscored using Warren Buffett's, Tim Williams', and Kevin Clayton's own words.
See the reports, linked above and below.
The Impact of Monopolistic Moats on MHVille and America 
The cost to our nation is estimated at $2 trillion dollars in lost economic activity.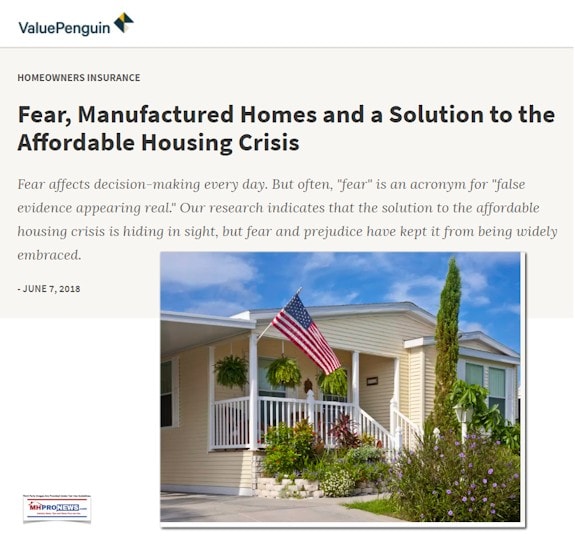 What the New York Times op-ed by Leonhardt does is provide is yet another reason why honorable and thoughtful professionals, business owners, investors, home owners, renters – and the homeless – could come together on.
End the monopolies.  "We Provide, You Decide." ©  (News, analysis, and commentary.)
NOTICE: Readers have periodically reported that they are getting a better experience when reading MHProNews on the Microsoft Edge, or Apple Safari browser than with Google's Chrome browser. Chrome reportedly manipulates the content of a page more than the other two.
(Related Reports are further below. Third-party images and content are provided under fair use guidelines.)
1) To sign up in seconds for our MH Industry leading emailed news updates, click here.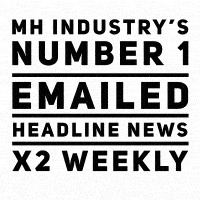 2) To pro-vide a News Tips and/or Commentary, click the link to the left. Please note if comments are on-or-off the record, thank you.
3) Marketing, Web, Video, Consulting, Recruiting and Training Re-sources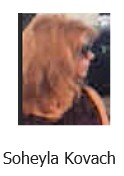 Submitted by Soheyla Kovach to the Daily Business News for MHProNews.com. Soheyla is a managing member of LifeStyle Factory Homes, LLC, the parent company to MHProNews, and MHLivingNews.com.
Related Reports

:
The truth can be stranger than fiction. Prepare to scratch your head in wonder, to be stunned, or both. But the evidence will be provided, and you can decide for yourself whatever you think it means to you, your business, the manufactured home industry, and our nation that is seeking quality, safe, and affordable housing.
" This [saying] has frequently been ascribed to Sun Tzu and once in a while to Niccol ò yet there are no distributed sources saying which was its origin before its utilization by "Michael Corleone" in The Godfather Part II (1974), composed by Mario Puzo and Francis Ford Coppola: "My dad taught me numerous things here – he educated me in this room.
Brad Says POTUS Trump is Right: More than Facebook & Twitter, Google Threatens Democracy, Online Freedom
Seattle Times -Federal Investigations-Berkshire Hathaway's Clayton Homes, GuruFocus Spotlights Buffett's Clayton's "Unethical," Monopolistic Moat