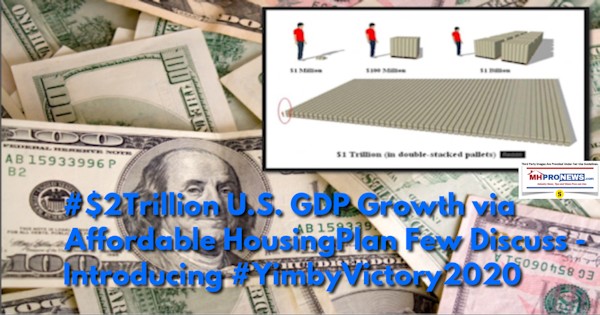 Whatever your position is on Nancy Pelosi (CA-D), she is proving you can't beat someone with no one.  That principle applies in numerous aspects of one's business or professional life too, including our once far-greater in scope industry.
Affordable housing advocates need more than a lament. Those who want more affordable homes can't just be opposed to NIMBY. There should be an affirmative case made for YIMBY.
NIMBY = "Not in My Back Yard."
YIMBY = "Yes in My Back Yard."
That case is arguably #YimbyVictory2020 and #$2Trillion. Before diving in, bear in mind, these concepts originate from experts outside and inside of our industry.
Put differently, important groundwork for YIMBY is already in place. For example, research summarized in the graphics below from real estate giant Trulia demonstrate that affordable housing doesn't harm the values of nearby existing housing.  The reason that is good news is that is what causes many to oppose affordable homes.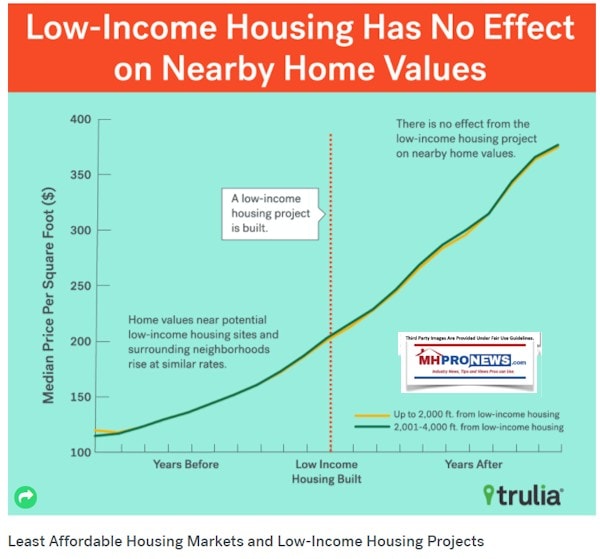 For federally regulated manufactured housing supporters, the research done by third parties – like the HUD PD&R linked below – reveals that despite contrary belief, conventional housing and manufactured homes appreciated side-by-side.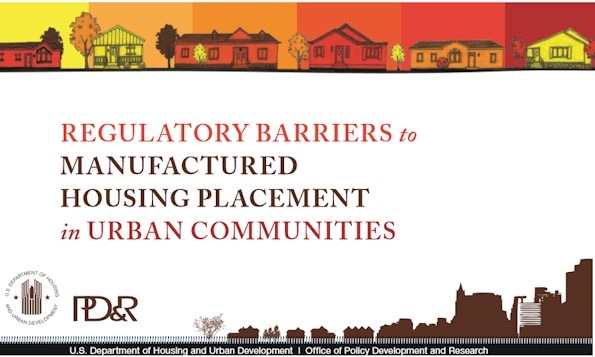 That was the lived experience of manufactured housing advocate, and factory-built home owner, the Rev. Donald Tye, Jr.
Affordable quality housing is one of the most critical issues of our time. So too is affordable home ownership, which should be the ideal goal over rental housing. A challenge is zoning and land use, which is highly politicized, and thus is often misunderstood. What follows is adapted from the comments letter addressed as shown below.
Value Penguin features an article by business-in-small-towns expert Tom Egelhoff and MHProNews publisher L. A. 'Tony' Kovach that explains how correcting the false impressions about modern manufactured homes could unleash another $2 trillion dollars a year in U.S. Gross Domestic Product (GDP). They cited the third-party experts that generated that $2-trillion-dollar PER YEAR Additional GDP estimate, plus other sources named in their research, make an unambiguous case for what our part of the affordable housing industry should be cheering and gearing up to do.
That case by Egelhoff-Kovach is based upon existing laws being enforced.  ICYMI, or need a refresher, click the linked article, below.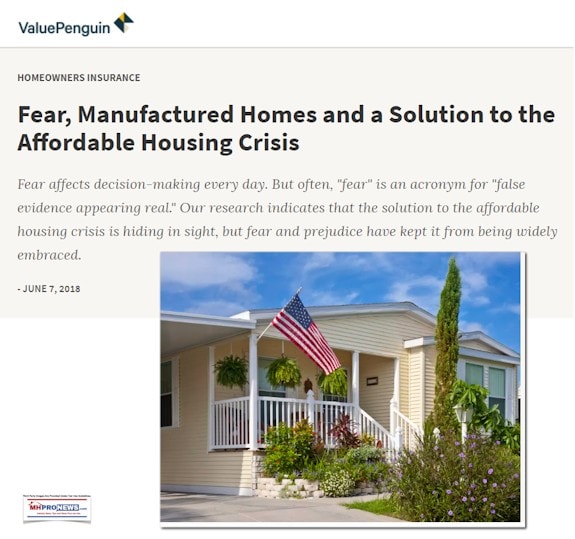 What is increasingly clear is that the Manufactured Housing Institute (MHI) and Clayton Homes purported claims of 'promoting the industry' are either
ineffective,
a smokescreen (diversion),
incompetent,
or some combination of factors that have arguably produced no demonstrable good results for the bulk of the industry, but have benefited a few 'MHI insiders.' Click the link on the image below to learn more.
Clayton's Miss, Kevin and Tim's Manufactured Housing Kill Shot, More
Clarity vs Ambiguity or Misinformation
For years, not unlike others in MHVille – a.k.a. manufactured housing land, or the MHIndustry – Tony Kovach asserted that virtually every major concern about contemporary manufactured homes was based upon misinformation.
But unlike others, Kovach and his colleagues went beyond asserting to what industry professionals is an obvious claim. They proceeded to launch what today is known as MHProNews.  Later, they added MHLivingNews. Now after years online, those twin pro-industry trade publications have been acknowledged as dependable sources for accurate information on manufactured homes.
Interviews and videos,
Third party research,
Fact checks – fisking – or analysis of flawed information,
and periodic exposes on what are factors behind our industry's decline are often found only on MHProNews among the industry's trade media.
But the good news about manufactured homes, and factory-built housing has not been overlooked either. Quite the opposite, arguably no one in MH trade media has done more to promote the industry as the solution hiding in plain sight than MHProNews and MHLivingNews. As Skyline's Terry Decio said, our publications are among the best things the industry's got. See Decio's comment in the video below.
PEP can = More Honest Profits and Opportunities
Deer Valley's Chet Murphree and James McGee said near the end of the video interview below that education is the key. They also said that MHLivingNews and MHProNews are leading the charge on education.
All of that is done here on MHProNews and MHLivingNews have been accomplished in conjunction with sponsors, clients, and reliable industry sources that provide useful news tips.
We're far from alone.  Today, in a now modest industry – well over 10,000 readers like yourself will logon and read an average of 4½ articles per visit, per recent Webalizer data of our top two URLs, and we have dozens.
Understanding the Challenges Helps Clarify the Needs and Solutions
As long as most people who hear the words "manufactured home" (MH) have a knee-jerk negative reaction, that's a problem.  When people hear "manufactured home" relate it to pre-HUD Code "mobile homes" –  or shudder, to the totally inappropriate 'trailer houses' – the MH industry has an image problem.
With respect to all of those who think that we should drop all terminology, that's just not practical. First, it is a mistake to merely run away from who we are.  Manufactured housing has a great story to tell, it just hasn't been told with the ongoing vigor that is needed.
It's self-evident from the latest two months of declines in new HUD Code home shipments that whatever Clayton or MHI claim to be doing to advance manufactured home acceptance hasn't worked.
Washington, D.C., December 3, 2018 – The Manufactured Housing Association for Regulatory Reform (MHARR) reports that according to official statistics compiled on behalf of the U.S. Department of Housing and Urban Development (HUD), HUD Code manufactured home production declined slightly, once again, in October 2018.
But that 2 month drop in new HUD Code manufactured home shipments shouldn't be accepted as the end of the story.
Rather, it should be what it is, proof that the industry's co-called leaders – Clayton and MHI – are demonstrably unproductive.
Let that sink in.
Ironically, anyone who watches their own self-defense/self-promoting new video and does so with a questioning mind, will come to the conclusion that their own claims disprove their effectiveness.  Want evidence?  For more on that see a related report with examples, in the box linked below.
Crisis of Misinformation, Fact Checks, and Manufactured Housing
If Amazon/Jeff Bezos' Alexa Fund is Right,
There's Over $300 Billion A Year in Affordable Housing Opportunities
The opportunities in affordable housing are enormous. The industry should be – and could be – one of the hottest sectors in the entire U.S. economy. Keep in mind, that a third-party organization named the U.S. the hottest market in the world for the first time in years.
For more details on the potential for affordable housing in America, see the report linked in the box below.
$300 Billion Market, As Predicted, Jeff Bezos' Amazon Alexa Fund Dives Deeper into PreFab Homes
That's why there is a need for a forward-looking effort, which we will hereby dub #YimbyVictory2020.
Part of that #YimbyVictory2020 must include an ADL type wing for manufactured housing, to protect the industry from errant media and avoidable problems from outside of our industry, or within.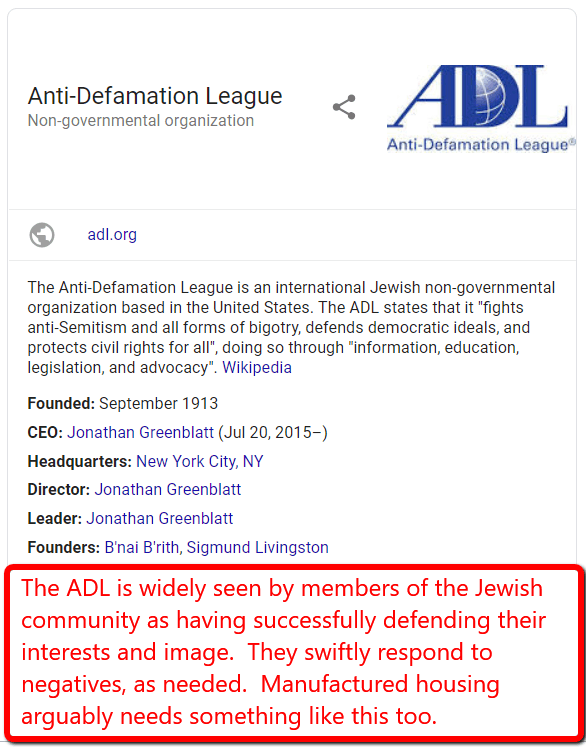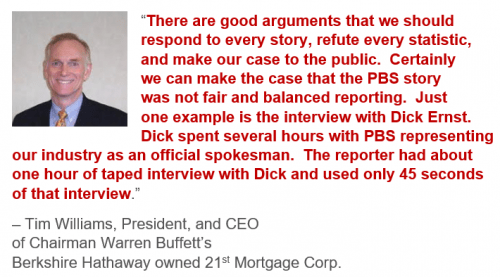 What Can You Do?
Everyone has options to support an organization that is not beholden to the Manufactured Housing Institute (MHI), and arguably their most powerful backer, the various Berkshire Hathaway brands operating in our industry. Those organizations include, but are not necessarily limited to:
The NFIB, less industry focused than MHARR, but nevertheless reportedly has hundreds of manufactured housing industry member independents, per NFIB sources to MHProNews.
NMHCO,
MHIdea,
are among the options already on the table.
The first two bulleted organization above have already demonstrated years of pro-growth policies. The next two are nascent, but arguably can only be better than MHI, because they've both publicly rejected MHI's track record and lack of performance.
We as the industry's leading trade media have been – and/or could be – supportive of any or all of the above. As needed, other new option(s) could also be established.
There are already some new HUD Code production independents taking shape in the wake of the 2016 election.
It's clear that Warren Buffett and the Claytons have and are supporting those who favor higher taxes and more regulations. Buffett and his MHI/industry allies – like Nathan Smith – clearly oppose the lower regulations, lower taxes, pro-growth agenda of the Trump Administration. For the latest example, see the report found in the box linked below.
Nathan & Mary Lee Chance Smith, Leaders in 'Anti-Trump Resistance,' Manufactured Housing Impact?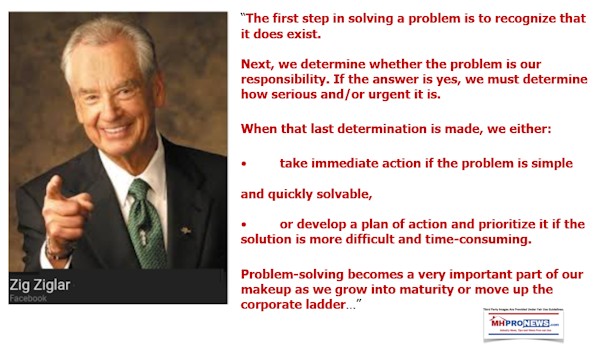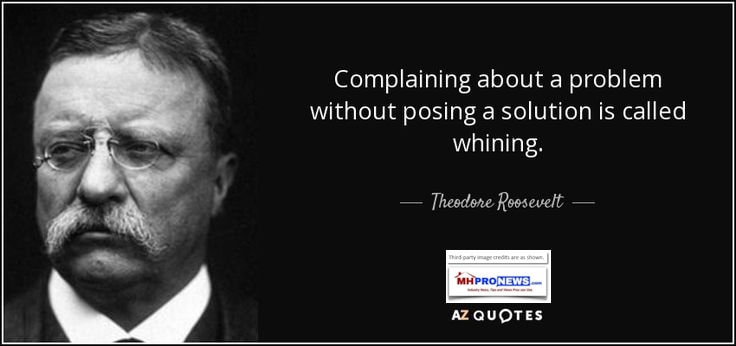 Simple Concepts for Understanding, that Lead to Simple Concepts for Growth
Pay more attention to what people have done, than what they claim or say. That's a paraphrase of what MHI award winner, Marty Lavin, JD has said. Here are some others…
Follow the Money. We've been doing that on MHProNews for some time, as links further below reflect.
You get more of what you encourage, less of what you discourage. The ways that Buffett and his billionaire friends have encouraged high regulation, high tax candidates, should speak volumes to the industry. So long as people take a clear eyed look at MHI's leadership, the reality of how MHI has arguably deceived the industry's independent companies becomes more clear.
Positive approaches to end the stranglehold of big-government supporting Democratic billionaires are already underway on numerous fronts, both within and beyond manufactured housing. Let's note that while we are non-partisan, facts-are-facts. There are some in the GOP that are closer to the Democratic position than they want to admit.  There are some in the Democratic party that are closer to the GOP than they want to admit.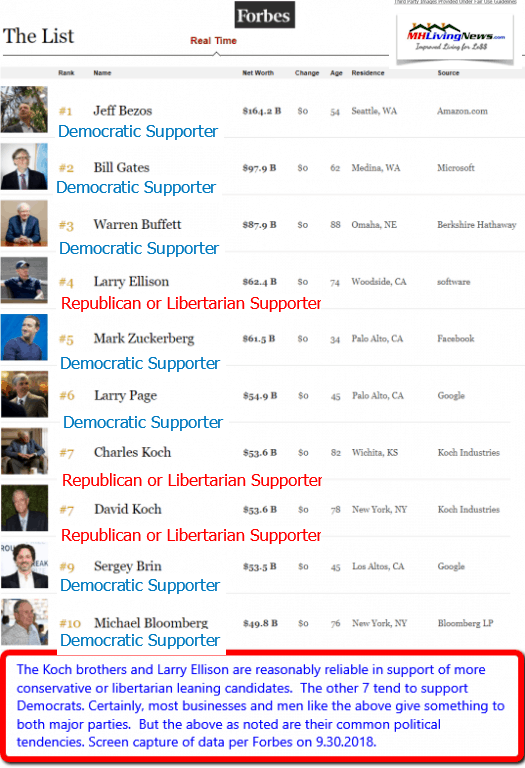 But overall, the Democratic Party of today is the party of the uber rich, as the graphic above illustrates. They have successfully postured being for the little guy for years.  That's been accomplished in part by wide segments of the media being de facto pro-Democratic, as are the giants of FAANG.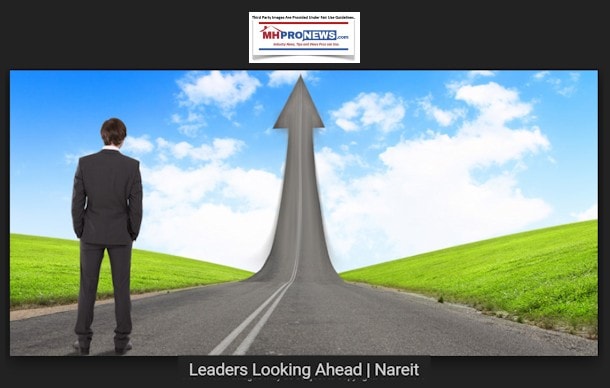 Manufactured housing advocates can easily ally with:
Potentially millions of Democrats who want to see wage growth, affordable housing, who on paper claim to be anti-monopolistic (antitrust), but it will require a sustained educational effort.
Investors that want their piece of that $2 trillion dollar a year in economic growth message, which manufactured housing is uniquely positioned to achieve.
With limited government GOP and Libertarian supporters.
With all people of good will, who want a level playing field and their shot at the American Dream, which includes home ownership.
The capital, NGOs, residents, downsizers, and renters can be attracted that will be needed to make #YimbyVictory2020 a reality.
It will take sustained messaging and engagement.
This is the continuation of a process that is already underway among dozens of potential allies, some of which MHProNews has already contacted and established initial relationships with. This methodology has proven potential.
Consider your role in the #YimbyVictory2020 effort, as we build up a positive plan for independent businesses success that is good for consumers, home owners, professionals, and public policy. "We Provide, You Decide." © ## (News, analysis, and commentary.)
NOTICE: Readers have periodically reported that they are getting a better experience when reading MHProNews on the Microsoft Edge, or Apple Safari browser than with Google's Chrome browser. Chrome reportedly manipulates the content of a page more than the other two browsers.
(Related Reports are further below. Third-party images and content are provided under fair use guidelines.)
1) To sign up in seconds for our MH Industry leading emailed news updates, click here.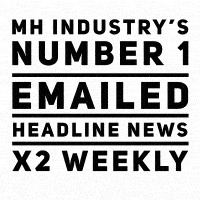 2) To pro-vide a News Tips and/or Commentary, click the link to the left. Please note if comments are on-or-off the record, thank you.
3) Marketing, Web, Video, Consulting, Recruiting and Training Re-sources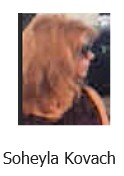 Submitted by Soheyla Kovach to the Daily Business News for MHProNews.com. Soheyla is a managing member of LifeStyle Factory Homes, LLC, the parent company to MHProNews, and MHLivingNews.com.
Related Reports

:
Back to Basics – What is Classical Liberalism, and What Can It Mean for Manufactured Housing Growth?
Nathan & Mary Lee Chance Smith, Leaders in 'Anti-Trump Resistance,' Manufactured Housing Impact?
" In one industry after another, big companies have become more dominant over the past 15 years, new data show." reads the subheading for " The Monopolization of America " by David Leonhardt. " Like an onion, many political issues have layers within layers, and sometimes they make you want to cry.
" Best vote ever ," said one manufactured home resident as he took a sandwich, water and thanked President Donald J. Trump. " I knew right from the beginning," said another resident in the Naples, Florida manufactured home community as he shook the president's hand, and thanked him.