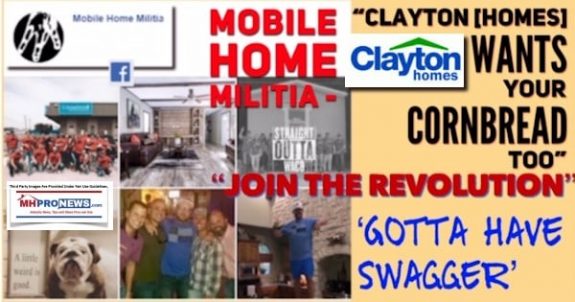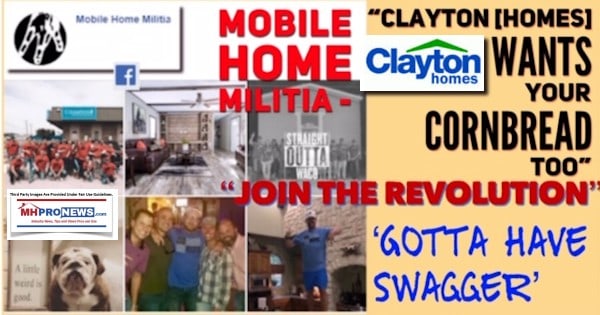 They are industry professionals that currently hail from primarily south-central or southern states. They may hunt, fish, go to the honky-tonk, or go four wheeling in the mud for fun.  They're routinely patriots – people of faith, flag, and family, who love the constitution and their second amendment protected guns.
They sell, build pads, transport, install, and service factory-built homes.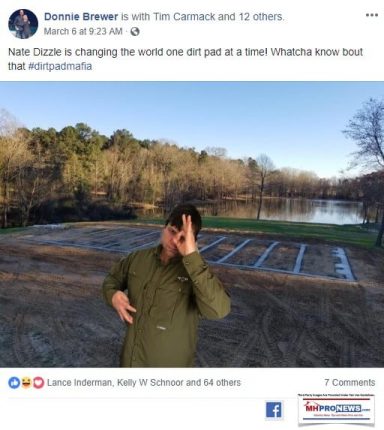 They are manufactured housing industry independents, but for swagger's sake, they use the handle, "Mobile Home Militia" or #MHM.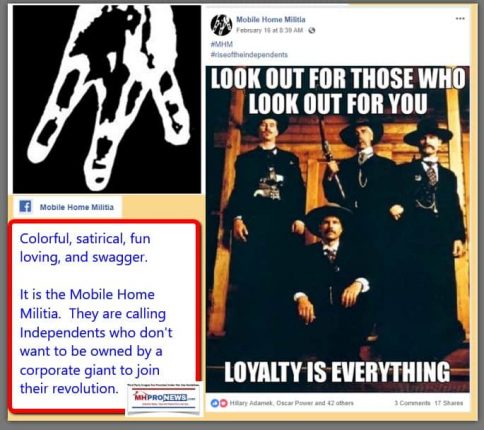 And if you have the courage and swagger, they want you to join their revolution. That phrase, 'you gotta have swagger,' comes from a thread with ties to #MHM.
ICYMI, or need a refresher, the article linked below was the runaway most read on the Daily Business News on MHProNews in February. That also means that it was the most read article in all of manufactured housing in 2.2019. It can be accessed by clicking the hot-linked text/image box below.
https://www.manufacturedhomepronews.com/mobile-home-militia-retail-production-sources-sound-alarm-against-clayton-homes-cmh-new-anti-competitive-practices-allegation/
Omaha, Knoxville, and Arlington, look closely. These folks are part of your wake-up call too.
The following are posts mostly from Facebook, on the dates and times as shown. The connections of the various people range from the curious to the engaged, and the specifics of the connections to #MHM or the Mobile Home Militia are known to their participants.
Their posts and quotes as shown paint a picture, in the words and images of those who shared them. We put the meat of their quotes in brown and bold text, but the words are all theirs.
"Mobile Home Militia" #MHM and Connected Posts
Mobile Home Militia
February 27 at 4:17 PM ·
"You ever had your feelings so hurt you turned down millions of dollars? Clayton just did that. They are refusing to sell TRU homes to Triple C in Conroe because he quit Clayton to become an independent. A threatening email from Clayton retail to Clayton manufacturing sealed the deal. Ask yourself this question…Could you as an independent call Clayton and get them to not sell homes to another store because the manager once worked for you? It won't be long before Clayton wants your cornbread too." 
#mhm
#independent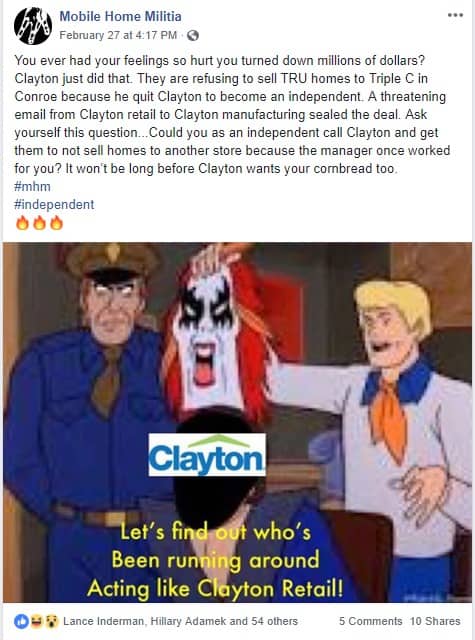 Not unlike their warning to their followers about what they allege occurred between Clayton Homes, Heath Jenkins and Regional Enterprises, they are raising possible antitrust issues.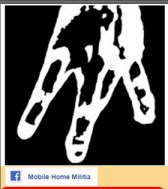 Mobile Home Militia
February 1 ·
"It's not just a T-shirt to us. Yesterday Clayton met with Heath Jenkins of Regional enterprises and informed him they would no longer be paying him rebate (essentially cutting them off without having to repurchase) Regional purchased $40m from Clayton in 2018, making Heath their largest retailer. Why would Clayton do something like this? Because he opened a plant and hired some of their people. If they would purposely go out and rape their largest dealer, what chance do the rest of us have? Clayton has convinced hundreds of independents they are your business partner, but make no mistake, they are your largest competitor." 
"The greatest trick the Devil ever pulled was convincing the world he didn't exist."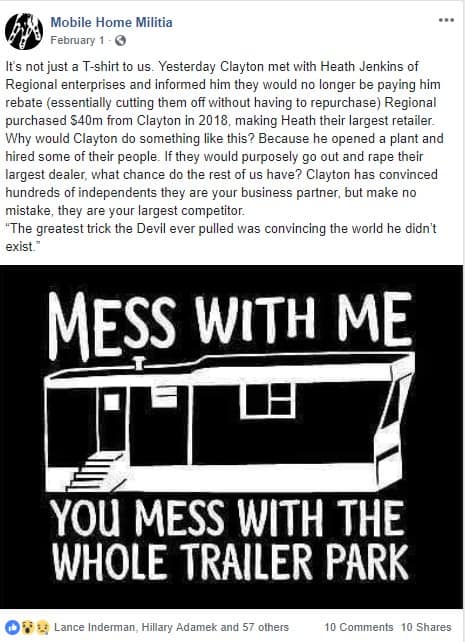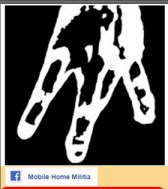 Donnie Brewer is with Lance Inderman and 13 others.
January 26
 "We have deeper pockets and we are gonna run Donnie Brewer out of town."
– Robert Burnett and Mike Quinn of Titan Homes
"First of all, I didn't know who either of you were before someone told me, but now I do. Secondly, you don't have deeper pockets, you are employees at a corporation and I'm sure they wouldn't appreciate you pledging their money to "run me out of town." Titan and Champion are too smart to employ a couple of geniuses like you two. I bet they realize it sooner rather than later. If you had first done some research, you probably would have second guessed poking the bear."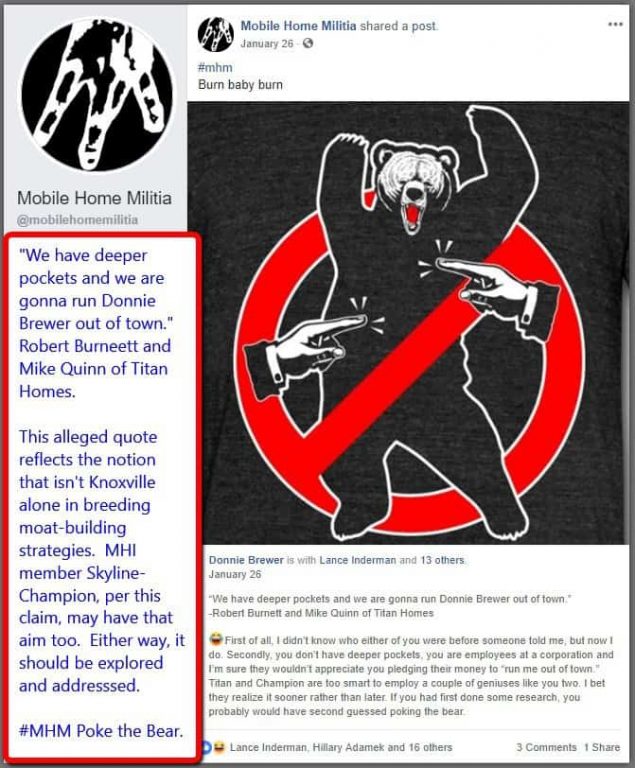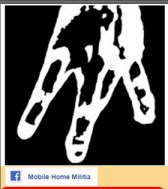 Mobile Home Militia
February 18 at 10:11 PM ·
"What if I told you that corporate sign is an anchor?
You want to become an independent retailer? We can help.
Join the revolution!"
#independent
#mhm
In Medieval Times this next post's #worldofpain could be construed as throwing down the gauntlet. But from #MHM? Surely, they jest! Satire!
Or not…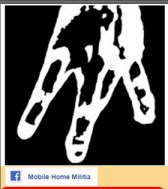 Mobile Home Militia is with Lance Inderman and Donnie Brewer.
February 15 at 9:56 PM ·
"MHM VPs of public relations" 
#worldofpain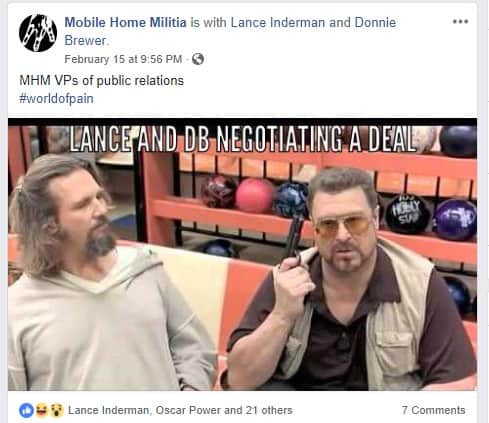 Or check this one out.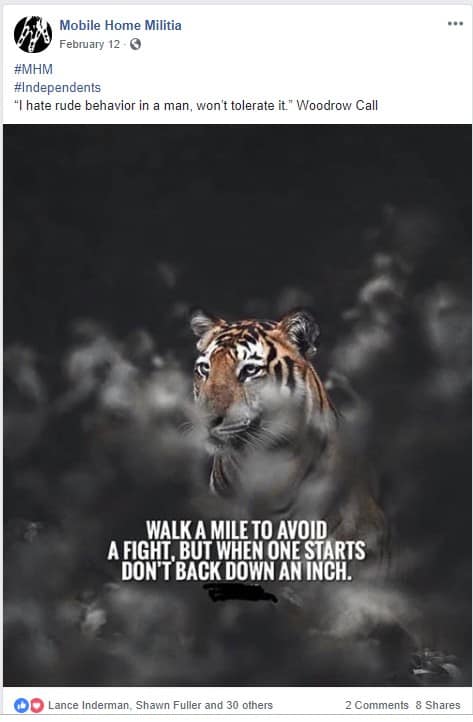 Get a feel for DB – Donnie Brewer.
But this will give you a better sense of the man's thinking when it comes to the 'big boys' of MHVille.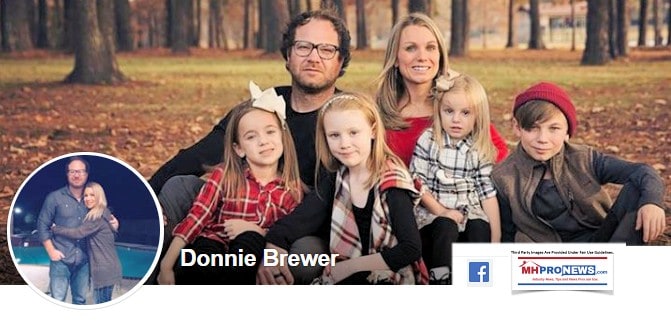 Donnie Brewer shared a post.
February 27 at 3:41 PM ·
"And they would have gotten away with it if it wasn't for us meddling kids!"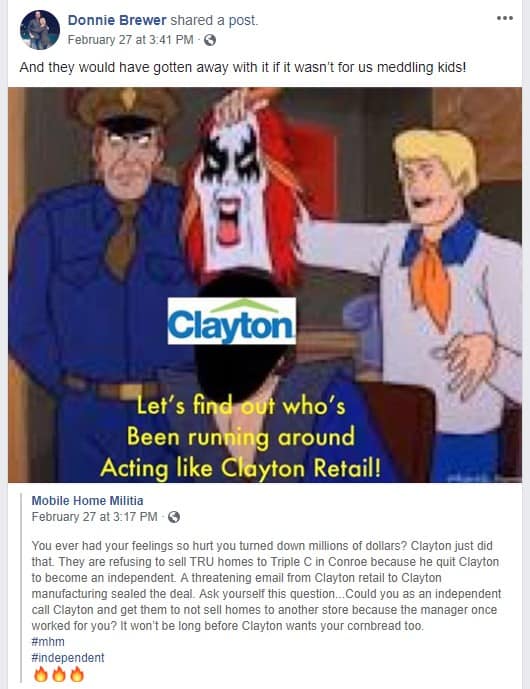 Can you spell, rebel with a cause?  Back to the #MHM…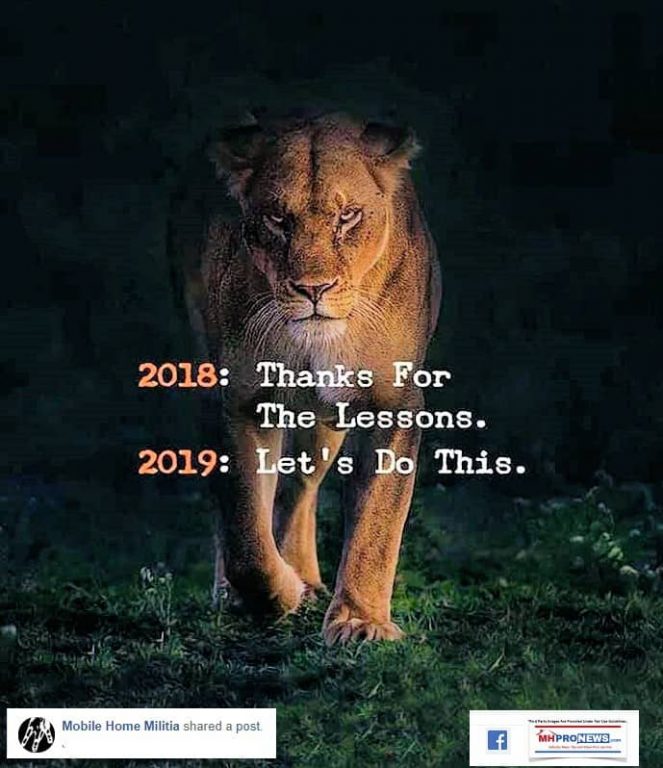 Which is a good place to segue to Lance Inderman, a partner with Jessup Housing, who has his own retail centers and is an anchor in the #MHM movement. Let's look at some of his non-manufactured housing posts, to get a sense of the man, and how that might shape his thinking in being a manufactured home independent.
Lance Inderman – FB
No, we didn't cut his head off in the screen capture below. It is what it is, see the collage below from his Facebook page.
Lance Inderman
March 11 at 12:24 PM ·
"Castro eventually made it to number seven on Forbes' list of richest world leaders, which estimated his wealth at $900 million" — Maxim Lott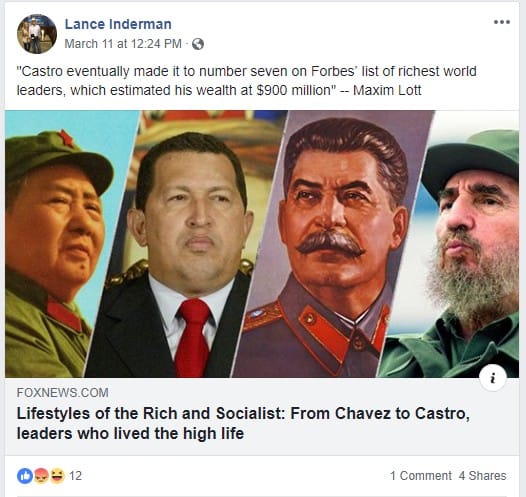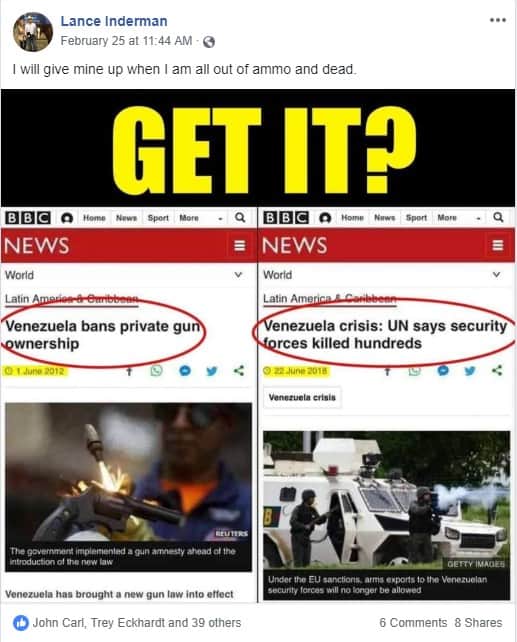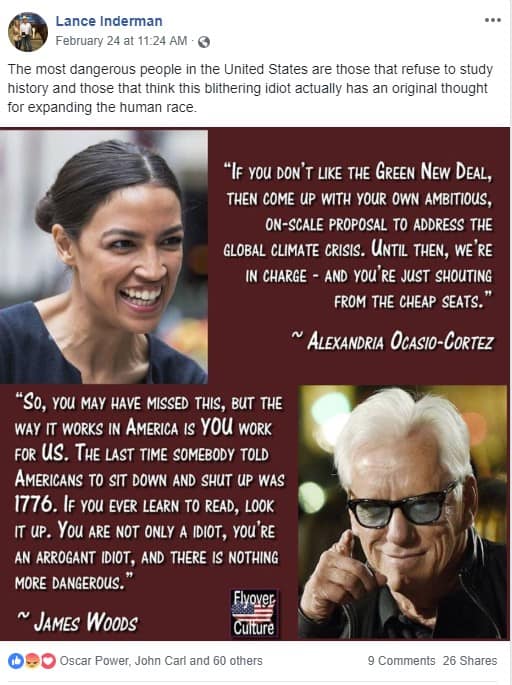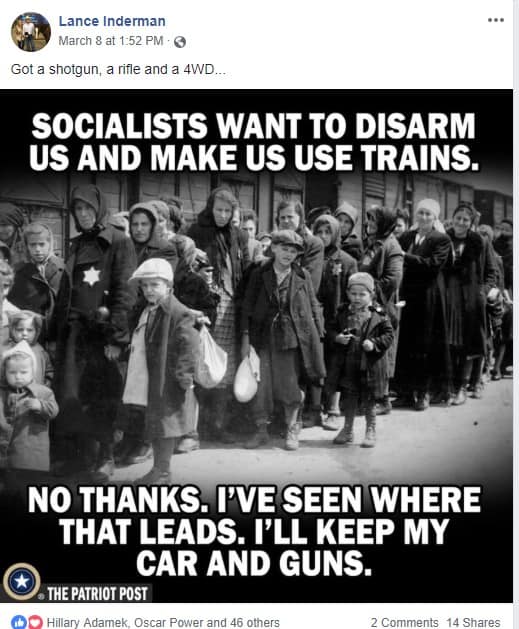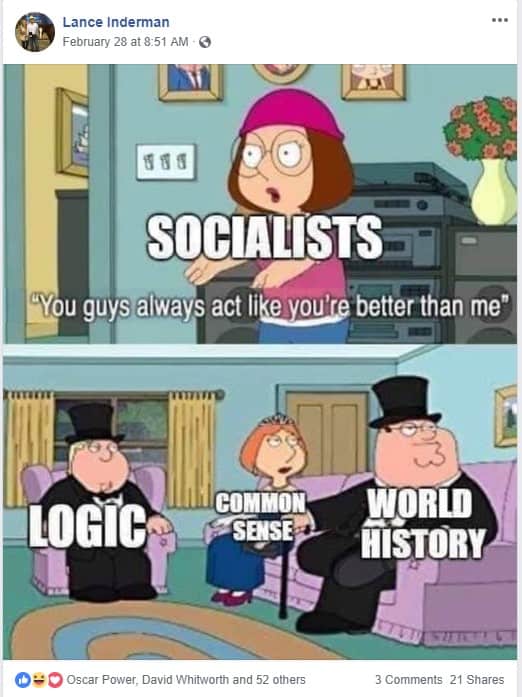 That paints a quick picture of Lance Inderman, with #MHM, Jessup Housing, et al. It doesn't have to be your style or mine, but Lance's marketing at his retail center is something like his FB persona suggests.
Like it or not, they do sell houses, which is why they have that swagger.
Short Brigadier Manufactured Home video
Longer Brigadier Manufactured Homes Video
These are an eclectic group. For example, there are some who sell upscale manufactured homes, while others sell entry level or 'shade and shelter' housing. Others sell a mix of product, from new, to FEMAs, to pre-owned, high or low priced, and so on.
But this Mobile Home Militia has declared war – or perhaps more to the point – they feel that Clayton Homes and company declared war on them first.  They are fighting back.  Stay tuned, because we will.
"We Provide, You Decide." © ## (News, commentary, and analysis.)
(See Related Reports, further below. Text/image boxes often are hot-linked to other reports that can be access by clicking on them. Third-party images and content are provided under fair use guidelines.)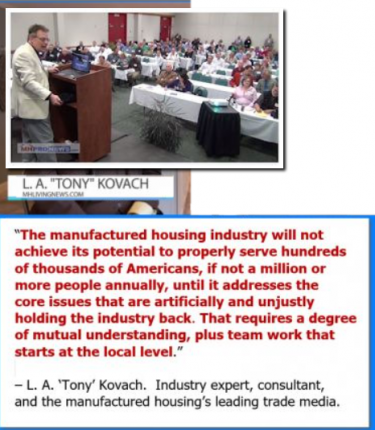 By L.A. "Tony" Kovach – for MHProNews.com.
Tony is the multiple award-winning managing member of LifeStyle Factory Homes, LLC, the parent company to MHProNews, and MHLivingNews.com.
Office 863-213-4090 |Connect on LinkedIn:
http://www.linkedin.com/in/latonykovach
Sign Up for our headline email news updates Today!
Click here to sign up in 5 seconds for the manufactured home industry's leading – and still growing – emailed headline news updates.
Related References:
The text/image boxes below are linked to other reports, which an be accessed by clicking on them.
https://www.manufacturedhomepronews.com/november-rain-dojs-top-antitrust-cop-assistant-attorney-general-makan-delrahim-aba-speech-on-antitrust-enforcement-for-americans/
https://www.manufacturedhomepronews.com/tim-williams-pbs-news-bad-bargain-manufactured-housing-institute-buffetts-mirror-and-claytons-costume/
https://www.manufacturedhomepronews.com/minnie-driver-millionaires-and-billionaires-debunking-housing-for-the-poor-image-of-manufactured-housing/
https://www.manufacturedhomepronews.com/tug-of-war-manufactured-home-community-legislation-vicious-cycle-goes-on-impacting-industry-home-owners-and-potential-buyers/
https://www.manufacturedhomepronews.com/warren-buffets-quotable-quotes-on-business-institutions-behavior-and-news-reporting/