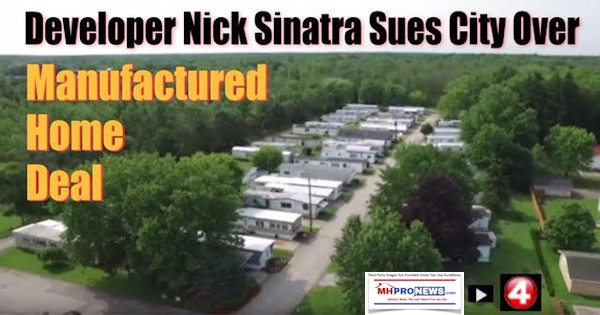 A Buffalo developer has filed suit with the Village of Alden in New York, alleging officials interfering with his agreements to sell an aging manufactured home community, causing losses of more than a half-million dollars.
The Alden Landings mobile and manufactured home community is a near the village's city hall, and was part of a packaged deal of properties bought by Buffalo developer Nick Sinatra in 2015, per News 4.
Sinatra considered redeveloping the property with patio homes or townhouses. "The village officials were ecstatic about that idea, I mean they couldn't have been more excited about it," Sinatra stated.  
But when Sinatra's affiliate company, Better Buffalo, advised village officials in January 2017 that the redevelopment would not fit on the narrow Alden Landings property off Broadway, they "made clear to Better Buffalo that they were unhappy with this response."
A resident interviewed in the video said that he felt that the village was just trying to get rid of them and their affordable homes.
Sinatra claimed the village deployed "heavy-handed" tactics against he and his company. The village cited code violations and took a tougher approach to longstanding drainage problems that preceded his involvement at the location.
More ominously, the village board amended the village code to make "improper or inadequate draining" a hazard and added a new law that would force a mobile home owner to cease operations and evict tenants if the community's license expired for any reason. 
Not Alone…
That raised a specter that other community owner/operators have expressed concerns and complaints about in other parts of the country; namely, that they were being targeted by local officials for elimination.  So, litigation like this case is certainly not a first. An example is the report linked below.
Manufactured Home Communities, Retailers, Developers Face Disruptive, Troubling Trend
"We think that they tortuously interfered with our contracts and they actively interfered with the for sale contract, and we think that they did that because they wanted us to feel enough pain with this mobile home park that it would force us into redeveloping the site," Sinatra said.
Sinatra did sell the community for a fraction of what he paid for it in 2015, according to a federal lawsuit.
 "I really can't comment because it is in litigation other than to say that we disagree with all of the points he's made in the lawsuit and we look forward to defending ourselves," said Michael Manicki, the village's mayor
After redevelopment plans went sideways, Sinatra hired a broker to market the property for sale in 2017.
On January 31, 2017, Sinatra's company entered into a contract to sell the land-lease community for $780,000. But he said the interested party canceled the contract after communicating with the village.
Sinatra asked why the deal fell through.  He said he was told that, "village officials made it very clear that they don't want a mobile home park here in the future, that's not in their view the long-term view of the village, and scared them away," Sinatra said.
A similar situation happened five months later when Sinatra had the property under contract, but that buyer reportedly also backed out after speaking with village officials.
"They met with the village officials and the next day I got a phone call and says, 'yeah, we are not moving forward with this contract,' and I knew the reason why," Sinatra said.
"But I asked them and said why, and he says 'it's just too much risk in this here, the village officials said they would not give us a permanent license and we felt like that was going to be used over our head to do whatever the village officials wanted us to do with the park and that's not a good investment for us,' so they walked away."
Sinatra finally sold the community on Nov. 1, 2018, for $425,000.
Two months later, the village board issued a license to Bayview of Alden LLC, an affiliate of Stephen Development that operates several manufactured home communities, including Rock Oak in Clarence.
Paul Stephen, the new owner of Alden Landings, said he plans to keep it as a manufactured home community. He and Noel Dill, the firm's vice president, are local businessman who specialize in manufactured home land lease operations.
 "There was a lot of things that needed to be done," Stephen said. They had to prove to the village that they would not only fix the drainage problems, but also improve the aesthetics of the park by replacing vacant problematic units with new HUD Code manufactured homes. "We think we can turn it around and that's a project we like"
Manicki, the village mayor, said he had a good feeling from the first meeting he had with the new owners.
"They knew what they were doing," he said. 
Note that other the terminology issues, the News 4 video provided a seemingly balanced report.
Sinatra's Reported Upside, Downside
Columnist Evan Thompson on March 12, 2019 in Buffalo Rising praised Nick Sinatra and his firm for their willingness to go into communities, bring in investment dollars, and turn things around.
By contrast, the Better Business Bureau gave "Sinatra and Company Real Estate" an "F" rating.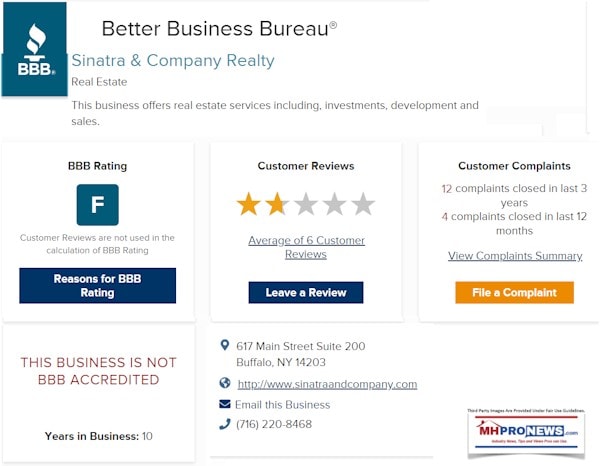 There have been several news reports, reflected in the screen captures below, that indicate a controversial track record.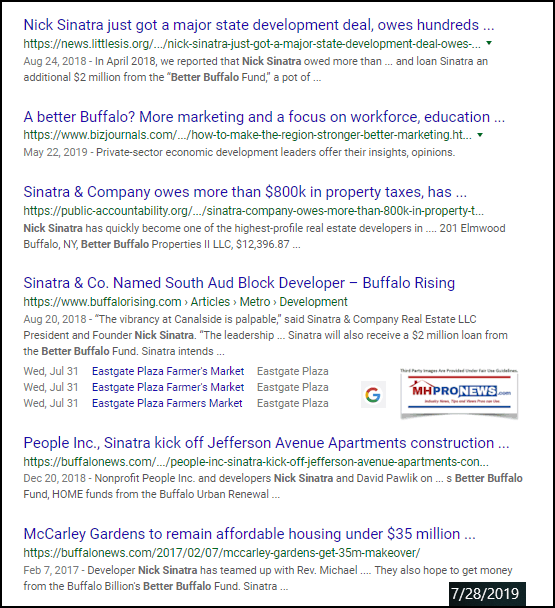 On the flip side, according to Thompson in Buffalo Rising, "He [Nick Sinatra] then went on to serve as Associated Political Director at the White House, where he managed President George W Bush's political affairs in the Northeastern part of the United States.
Founding Sinatra and Company Real Estate in 2009, the investment firm is focused on Western NY and Chicagoland. The entrepreneurial company invests in distressed multi-family and commercial real estate. Since inception, it has acquired over 5,500 apartment units and 850,000 square feet of commercial space with more in the pipeline.
In total Sinatra & Company Real Estate and its affiliates have over $500 million in assets under management with over 2 million square feet of real estate in upstate New York, Chicago, and Indiana. The firm has a diverse investor base including institutional capital backing from Colony Capital, Genesis Capital, Windsor Capital, Torchlight Capital, Prospect Capital, and the Pritzker/Vlock Family Office.
Sinatra & Company Real Estate is different from other real estate firms. It takes a fresh approach to evaluate opportunities. Since its founding, Nick has assembled a team of highly motivated individuals who share his vision and passion to reclaim Buffalo, NY as the world-class city it was destined to be (again). The company believes in people beyond profits. The company believes in rebuilding neighborhoods as a sustainable investment platform that raises up a city and therefore provides maximum return and social satisfaction to its investors. The company is expanding rapidly and has solidified itself as one of Buffalo's fastest growing businesses."
In an interview with Thompson, Sinatra said he is keen on the Opportunity Zone scenarios and more.  MHProNews plans to monitor the legal case and related and will report as warranted. That's our second look this 'Monday, Monday' of manufactured home "Industry News, Tips, and Views Pros Can Use" © where "We Provide, You Decide." © ## (News, analysis, and commentary.)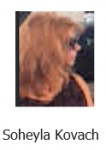 Submitted by Soheyla Kovach for MHProNews.com.
Soheyla is a managing member of LifeStyle Factory Homes, LLC, the parent company to MHProNews, and MHLivingNews.com. Connect with us on LinkedIn here and here.
Related Reports:
Click the image/text box below to access relevant, related information.
Facts are Stubborn Things, Manufactured, Modular Home Professionals Celebrate Victories
JULY 15, 2019 TO: MHARR MANUFACTURERS MHARR TECHNICAL REVIEW GROUP (TRG) MHARR STATE AFFILIATES FROM: MHARR RE: MHARR MEETING WITH NEW FHFA LEADERSHIP An MHARR delegation met with senior officials of the Federal Housing Finance Agency (FHFA) on July 11, 2019, including newly-confirmed FHFA Director, Dr. Mark Calabria.