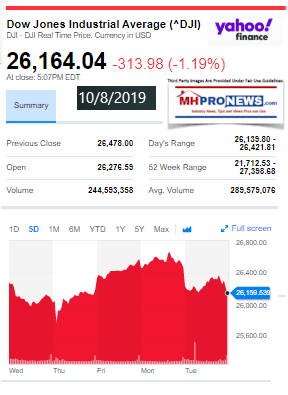 Axios would tilt more toward the political left when it comes to their pithy reports, often geared for a younger audience. They are among several news outlets, including CNBC, that have reported that "…the –[economic] slowdown seems largely the result of political decisions…" That should be a warning sign for investors who are concerned that their ability to risk capital is based upon what may seem to be the winds of political fortune. For now, it must simply be noted as 'it is what it is.' But partly with the intersection of politics and business investing mind, we'll look tonight at recent insights from RCP – Real Clear Politics.
Regular readers please note there are fall updates and several more tweaks and changes in some of the 'standard text' that follows before our left-right headlines and also in other features near the end of tonight's reports.
Every evening our headlines that follow provide snapshots from two major media outlets on each side of the left-right news spectrum that reflect topics that influence or move investor sentiment. In moments on this business evening report, you can get 'insights-at-a-glance.'
This report also sets the broader context for manufactured housing markets, in keeping with our mantra, "News through the lens of manufactured homes and factory-built housing" ©.
We begin with headlines left-of-center CNN followed by right-of-center Fox Business. We share closing tickers and other related data courtesy of Yahoo Finance, and more. 5 to 10 minutes reading this MHProNews market report every business night could save you 30 minutes to an hour of similar reading or fact-gathering elsewhere.
Perhaps more important, you will get insights about the industry from experts that care, but also dare to challenge the routine narrative that arguably keeps manufactured housing underperforming during an affordable housing crisis.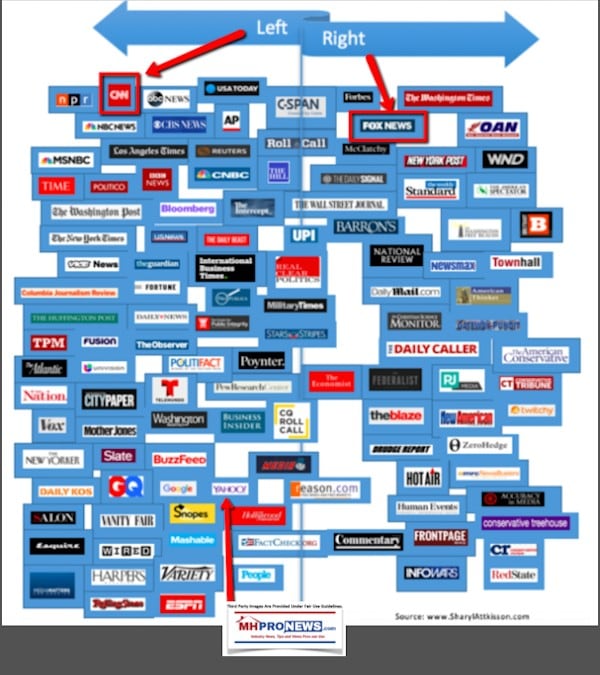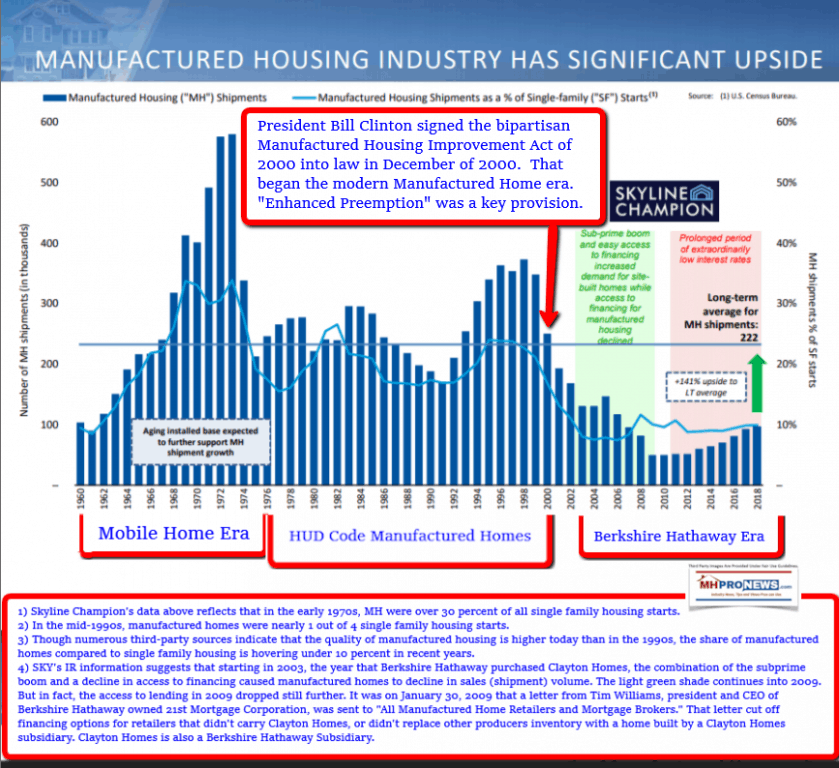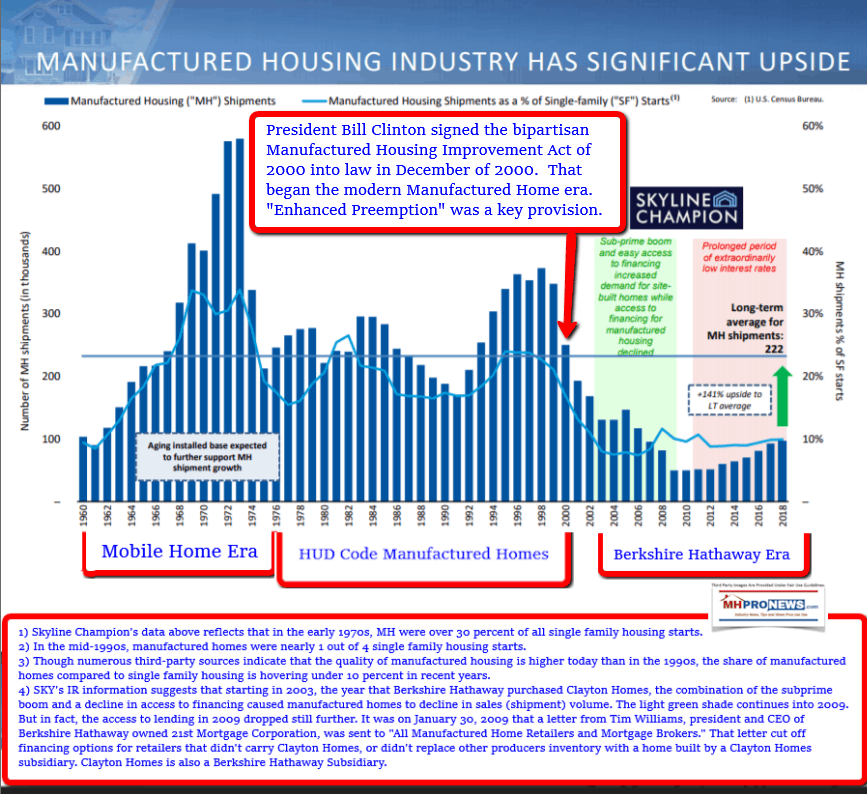 Headlines from left-of-center CNN Business.
The NBA's no-win situation
Here's what the pro basketball league stands to lose in China
NBA chief Adam Silver says profit can't come before the league's principles
US businesses are trying to please America and China. That's proving difficult
California gas prices soar above $4, reaching the highest price in five years
Domino's is losing the pizza wars
The Dow falls as trade worries resurface
Quibi adds '60 Minutes' to growing roster of big name news partnerships
Opinion: Paying college athletes is a huge win for women
Libra's future could be threatened before it even gets off the ground
Newsrooms are gearing up for the Trump impeachment inquiry with new hires, podcasts and newsletters
What happens next with Brexit could make or break the UK economy
Cannabis stocks have flamed out this year
How to shut down an over-talker at your next meeting
Governments urge Facebook to stop encryption plan
Report: Tesla to open first manufacturing site outside US
Weak service sector numbers spark concern
See Microsoft's new foldable smartphone
Strategist: Bond market is intimidating policy makers
Headlines from right-of-center Fox Business.
J&J ordered to pay billions for 'recklessly ignoring risks' of this drug
The company is still reeling from settling two Ohio opioid-related lawsuits for more than $20 million.
2020 CAMPAIGN – Biden channels Obama with proposal to close capital gains tax loophole
Massive Pentagon contract could make Amazon biggest national security player
Stocks tumble on Powell's balance sheet comments and as trade hopes fade
Hunter Biden owns stake in Chinese company blacklisted by US
Why more than 800,000 residents in this state may soon be without power
Teenage boy is first New Yorker to die from vaping-related illness, officials say
Life on the road: Growing number of Americans ditch homes to live in cars
FOOD FIGHT: Cattle ranchers declare war against plant-based producers
Major retailer recalling these baby bibs
Women in weed: Female entrepreneurs are investing in billion-dollar industry
Cops reveal tech exec's gruesome cause of death after his abduction
British banker says sick wife mocked his manhood before brutal killing
Teacher's debt: College will cover professor's huge strip club bill, feds say
PG&E to cut about 800,000 Californians' power
Varney: DeGeneres is great example of celeb facing down the social media mob
Allbirds to 'more than double' number of retail stores
Boeing sells first 737 Max since global groundings
Ongoing GM strike points to declining power of unions
Matt Lauer spotted back in front of a camera
This GOP pres challenger warns of 'financial storm' unlike ever before
Aaron Donald addresses new California NCAA law
Jeffrey Epstein's seedy New Mexico ranch at the center of legal battle
Kudlow hints the US could rattle China's biggest companies with a simple move
Fidelity cuts fees for college savings plans
This is the great advantage millennials have in saving, and how to use it
These are the US prescription drugs with the biggest price increases, report finds
Want to live longer? New study says dogs can help
Trump calls House panel conducting the impeachment inquiry 'kangaroo court'
10 Market Indicator Closing Summaries – Yahoo Finance Closing Tickers on MHProNews…

Tonight's Business/Market/Political Impact Spotlight –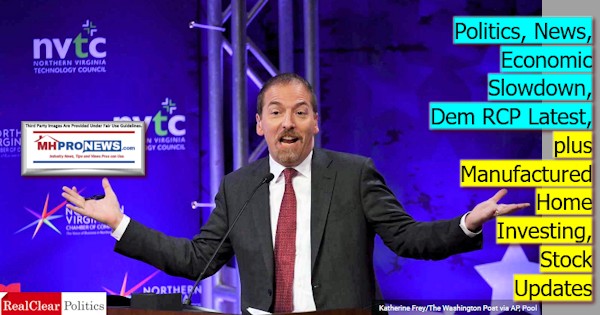 Preface to this evening's report. MHProNews and our sister site, MHLivingNews, generate a steady stream of feedback from readers across the spectrum. Additionally, third-party generated readership data on specific published reports provide added insights. Professionals, as well as the public vote, with their time and browsers.
There are other 'votes,' like those that cancel their subscription to our free x2 weekly emails. When a controversial topic arises, out of a list of thousands, one or two might opt to cancel at that time. Thankfully, the reverse is also true. While a tiny sliver of the total may cancel, there are far more signing up to read that some emailed headline news. Our list of those readers of emails is growing, as too are visitors on this site.
That's not proof of accuracy, but it is evidence that large numbers find reports here of interest and/or value.
That's a useful backdrop for both longtime as well as new readers on this site.
There are no other resources like this in MHVille that we are aware of – and we know most of the publishers and/or bloggers personally – that uses the left-right media bias chart. No one we know about routinely provides insights that cross that left-right divide, as we do during every business nightly market report. That doesn't mean that we don't have our own views, which are also made known. But the point is that we give a broader context than perhaps any mainstream news outlet you could find, other than the Drudge Report. Matt Drudge and his team of editors deserve a medal. They are certainly among the top news sites on earth, which perhaps is reward enough for their work.
That's mentioned in with a specific comment from a leader from the east coast that emailed in part to express 'surprise' that a MHProNews had categorized a news service that writer followed as 'left-of-center.' To that person, that favored news source played it down the middle. Beyond Sharyl Attkisson's left right media bias chart, there are others. They routinely listed that source in question as left-of-center.
The point is that media bias, which is increasingly accepted and a cause for concern among a growing number of Americans and professionals, is far from universally grasped. That's music to the ears of those who 'use' media to get out a biased report that masks an agenda.
The next 2020 Democratic debates are a week away, on Tuesday October 15, 2019. Here below from RCP are two of their latest polling numbers on this date.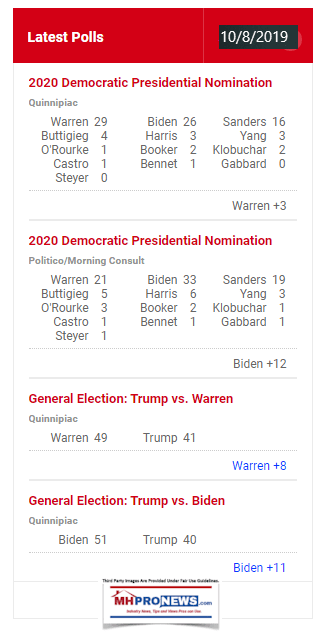 Now stop and think. If these polls were as reliable as some would like to think, why is Senator Elizabeth Warren marginally ahead in one, but former POTUS Obama-era Vice President Joe Biden is considerably ahead in another survey? Hold that thought.
We look at a range of information before spouting off on a topic. Not everyone likes what we write, but that's life in a polarized society. What is fascinating is that our metrics tell and reader inputs us very clearly that we attract an audience that spans that left-right divide, and that routinely stays engaged even though we conclude a report with an analysis that they may not personally like.
We don't follow the AP or Chicago stylebooks, as astute observers know. But we strive to be objective in our analysis and write only after we have a clear sense of what is up on a specific topic being reported. That's likely a factor why MHProNews is the runaway #1 in manufactured housing trade news.
That tee up is useful for what follows. Media and headlines, as we noted, are driving – often down – investments. If so, then pull quotes from this RCP commentary today – which will be followed by an MHProNews analysis – may shed light as to why. Let's note even before starting this that the headline doesn't reflect our view, but that many of Mark Hemingway's points are nevertheless useful insights.
Chuck Todd and the Demise of True Journalism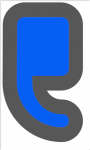 COMMENTARY
By Mark Hemingway
October 08, 2019
Chuck Todd received plaudits from his media peers for lambasting Republican Sen. Ron Johnson's investigation of the FBI as "Fox News conspiracy propaganda stuff" during a hostile 10-minute "Meet the Press" interview on Sunday.
The Washington Post offered up a story headlined "'Who leaked?' An analysis of GOP Sen. Ron Johnson's conspiracy-minded defense of Trump.'" The Daily Beast declared, "GOP Sen. Ron Johnson Loses It on 'Meet the Press.'" Business Insider went with "GOP Senator Ron Johnson had a 'Fox News conspiracy' meltdown." Columbia Journalism Review covered the story under the banner "The Sunday shows turn on Trump's enablers."
But far from being a laudable moment of press accountability, the "Meet the Press" interview was a disappointing turn for Todd and the show, once one of the media's flagship brands. Indeed, the full interview illustrated how the media are increasingly obsessed with performative demonstrations of their political views, and less concerned with simply being informative.
…
The Trump campaign and administration were investigated for several years both by an internal counterintelligence probe at the FBI and a powerful special counsel. Many apparent abuses of power at the FBI during that probe have been found and are being officially investigated.
In August, fired FBI Director James Comey was the subject of a criminal referral from Justice Department Inspector General Michael Horowitz for illegal leaks to the media meant to undermine Trump and further the Russia investigation. The DoJ declined to prosecute. Former acting FBI Director Andrew McCabe was fired after the inspector general found he lied under oath to investigators about his own leaks. Many other officials involved in surveillance of the Trump campaign were fired, transferred, or left under pressure. Peter Strzok, the nation's former top counterintelligence officer, was having an extramarital affair with FBI colleague Lisa Page, and their text messages betrayed extreme bias and unprofessional attitudes. In one text exchange, Strzok suggested the probe of Trump was an "insurance policy" in case Trump won in 2016.
Attorney General William Barr is investigating how the theory of Trump collusion with Russia was used to launch a probe of the political campaign. Veteran prosecutor John Durham is also investigating the origins of the probe, which led to the use of wiretaps, human informants, overseas intelligence assets, national security letters, and other surveillance by the FBI. Barr has testified that he is also looking into the role agencies other than the FBI played in the surveillance.
Johnson, as chair of the Senate Homeland Security and Governmental Affairs Committee, is charged with oversight of some of these agencies and activities. Over the course of the last few years, he has made official requests for information from executive branch authorities to get to the bottom of the unprecedented surveillance of the Trump campaign by law enforcement and intelligence agencies…"
"…What Todd is telling viewers is that official investigations from Johnson's committee, the Justice Department, and the attorney general are actually just outgrowths of a conspiracy theory. The public might be interested to know what Johnson is working on related to these probes. Johnson mentioned his recent letters requesting information from the Intelligence Community Investigator General, which are actually newsworthy. But Todd wasn't interested.
Ad Hominem
Unsurprisingly, the interview went downhill after Todd made his accusation against Johnson. The "MTP" host said, "Senator, please. Can we just answer the question, instead of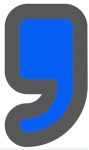 making Donald Trump feel better that you're not criticizing him?" How could Todd possibly speak to his interviewee's motivations here?…"
"…The media see their role as "speaking truth to power" at best, and partisan advocacy at worst. After the contentious interview, Todd's next guest was Democratic Sen. Chris Murphy. The contrast was stark…" The full column is found at this link here.
Attacks on the Person, Other Clues
Seasoned poker players look for 'tells' or clues as to how good an opposing player's hand might be. The same is sadly necessary in journalism today too. That's not to blanket condemn all journalism, or to elevate the right over the left, etc. For example, with respect to our industry, the Washington Post, Atlantic or the Nation – all left of center publications – are among the sources of some insightful reports that we've previously cited. They presented information that manufactured housing industry investors ought to be aware of before risking their money.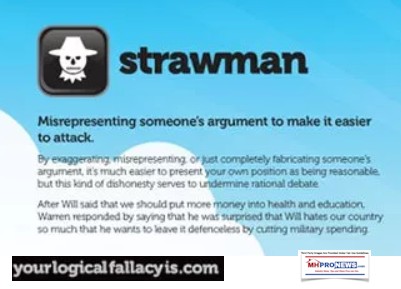 It is our evidence-based contention that manufactured housing is underperforming, and that this is to some degree the result of possible antitrust and other legal violations. Public officials studying that evidence, without formally agreeing or disagreeing, have not dismissed it out of hand. Why? Because there is evidence to back the contention up.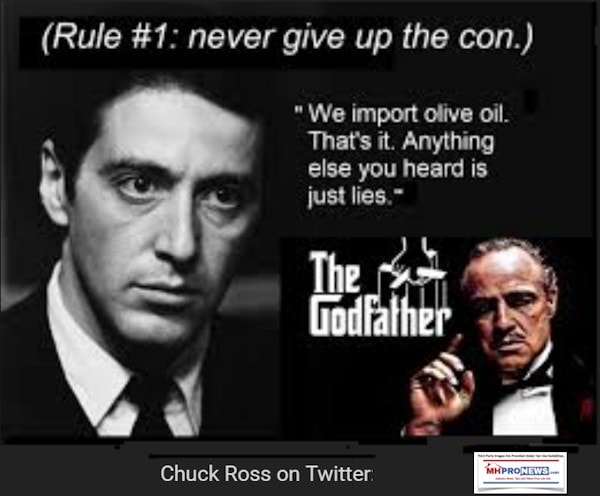 If market manipulation is at play, then investors ought to at least be aware of how that might help-or-harm their investments. It may also be in investors best interests to encourage Snopes, the Feds, or other fact checkers to dig deeper into these issues. See the related reports, below.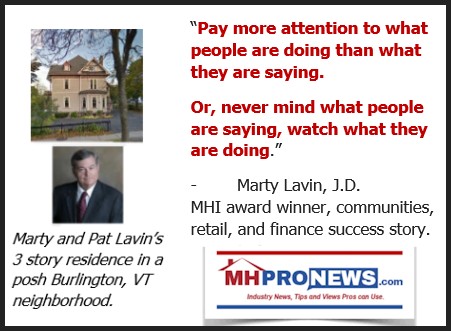 In a broader context beyond manufactured housing – which during an affordable housing crisis should be soaring instead of underperforming – the impact of media bias on investing and thus the economy should also be soberly considered.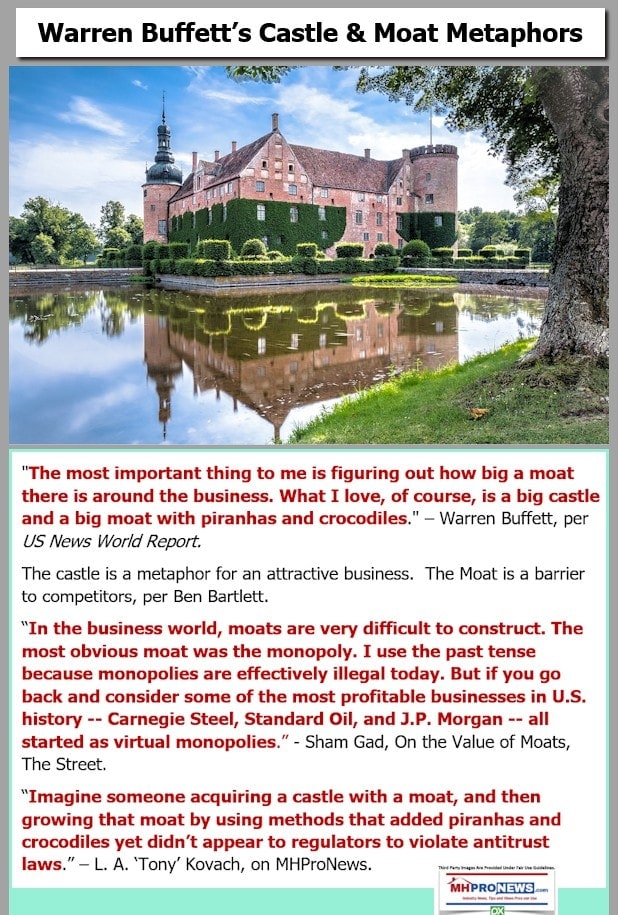 Mara Liasson with left-of-center NPR said this evening on Fox News that Senator Elizabeth Warren, who has a plan for everything, doesn't have a plan on how to beat President Trump in a general election. With Biden slipping and under scrutiny, with Senator Bernie Sanders fresh out of the hospital after a heart attack, do Democrats have someone waiting in the wings that can successfully challenge the 45th president?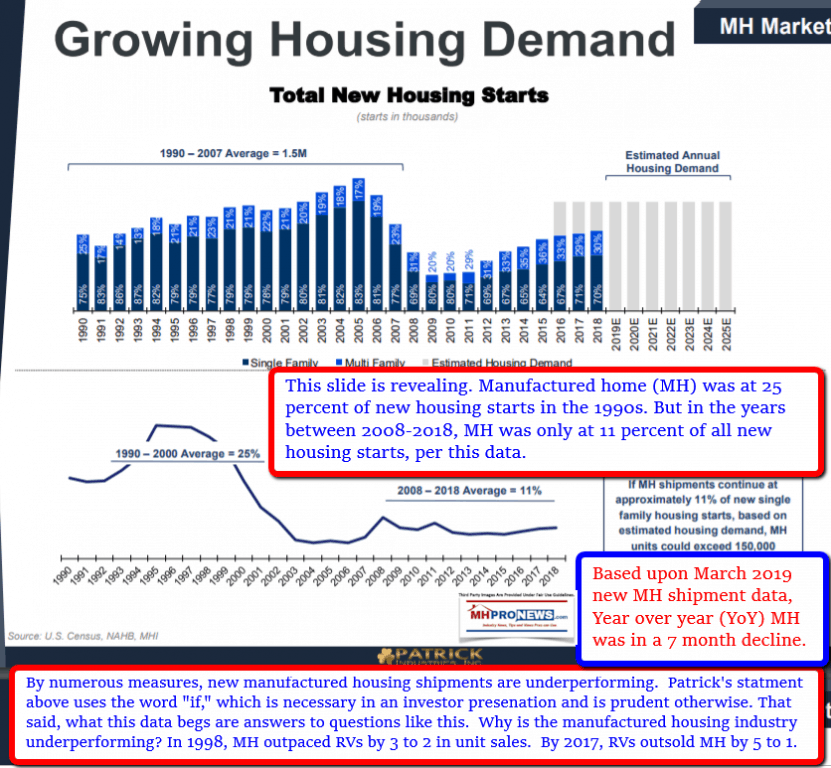 If you listen to the polls, they say yes. Warren, as the RCP graphic reported above notes, indicates she would beat POTUS Trump in a general election. But then some of those same polls said that Secretary Hillary Clinton would be sitting in the Oval Office.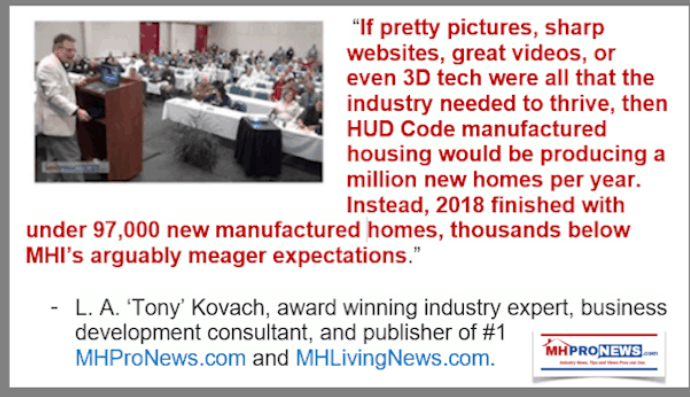 Stay tuned…because the DOJ's IG report will reportedly drop soon. U.S. AG William Barr is snooping around into the origins of the Mueller report. The narrative could soon shift, not unlike after Special Counsel Mueller delivered a nothing burger to Democrats, no matter what Chuck Todd or others on the partisan agenda side of mainstream media may desire. Never forget some on the right want to see POTUS Trump vanish too.
Related Reports.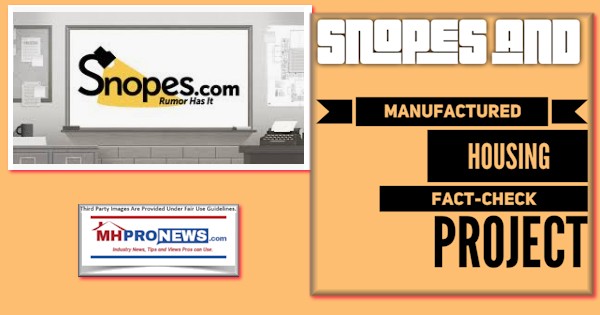 11 of 12 Months Are Year-Over-Year Declines in Manufactured Home Production, Latest National Data, Analysis
More Manufactured Home Data Reflects Additional Warning Signs
Exclusive – Legacy Housing Reveals Several New Communities, Developing, and Wholesale Deals
Manufactured Housing Institute Rapidly Responds (LOL) to MHProNews, plus Manufactured Home Investing, Stock Updates
Republican Senator Wants Study of Manufactured Home Communities, Rent Control
Clayton Homes Exposé – Wall Street Journal, MHVillage, MHInsider, and Statistical Surveys Contradict Clayton Claims – Evidence, Fact Check, Analysis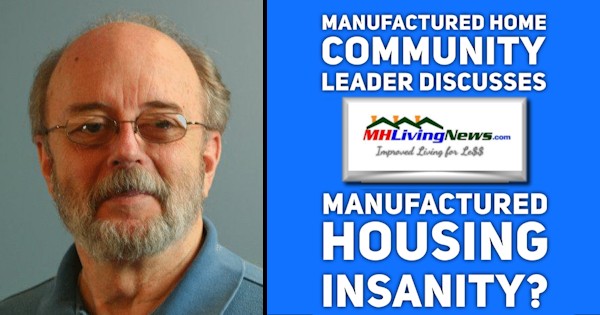 Experts Look at Hard vs. Soft Data, Recession Looming or Not? Plus, Manufactured Home Investing, Stock Updates
Manufactured Housing Industry Investments Connected Closing Equities Tickers
Some of these firms invest in manufactured housing, or are otherwise connected, but may do other forms of investing or business activities too.
NOTE: The chart below includes the Canadian stock, ECN, which purchased Triad Financial Services, a manufactured home industry lender.
NOTE: Drew changed its name and trading symbol at the end of 2016 to Lippert (LCII).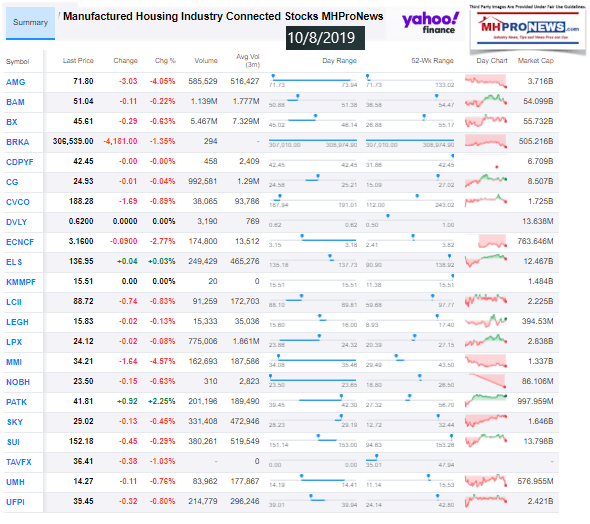 Updated for Fall 2019…
Berkshire Hathaway is the parent company to Clayton Homes, 21st Mortgage, Vanderbilt Mortgage and other factory built housing industry suppliers.
· LCI Industries, Patrick, UFPI, and LP each are suppliers to the manufactured housing industry, among others.
· AMG, CG, and TAVFX have investments in manufactured housing related businesses.
For insights from third-parties and clients about our publisher, click here.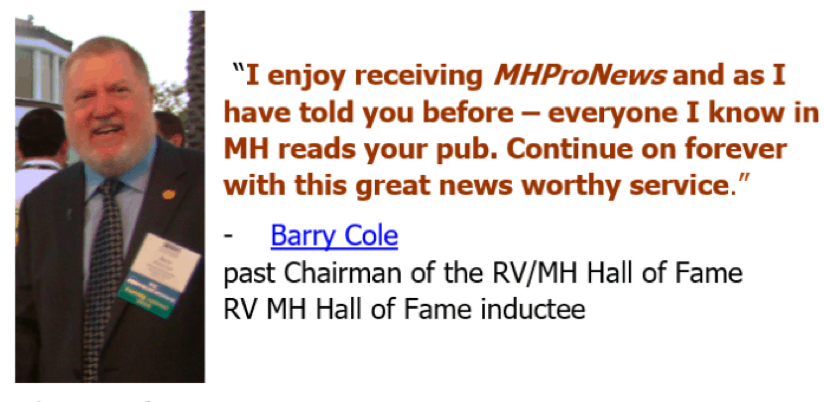 · For expert manufactured housing business development or other professional services, click here.
· To sign up in seconds for our industry leading emailed headline news updates, click here.
Disclosure. MHProNews holds no positions in the stocks in this report.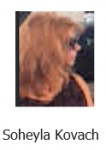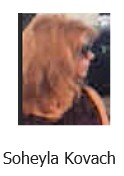 "We Provide, You Decide." © ## (News, analysis and commentary.)
(Image credits and information are as shown above, and when provided by third parties, are shared under fair use guidelines.)
Submitted by Soheyla Kovach, co-managing member of LifeStyle Factory Homes, LLC and co-founder for MHProNews.com, and MHLivingNews.com.