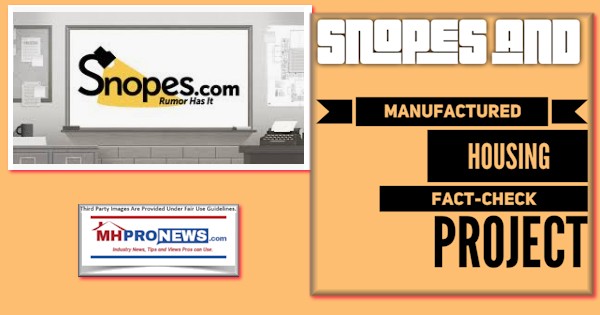 Millions are familiar with Snopes, but here is what they say about themselves.
"Snopes is the internet's definitive fact-checking resource."
With that brief tee up, let's cut to the chase immediately below the subheading. But following that, for those that want to learn more about Snopes, there is more.
Manufactured Home Snopes Fact-Check Project Test
https://www.snopes.com/contact/
Ask them to fact check the link below. That can be done by simply sending the link, or by sending a request with the link. Either method is fine.
As an example, Here is how our publisher did it this morning.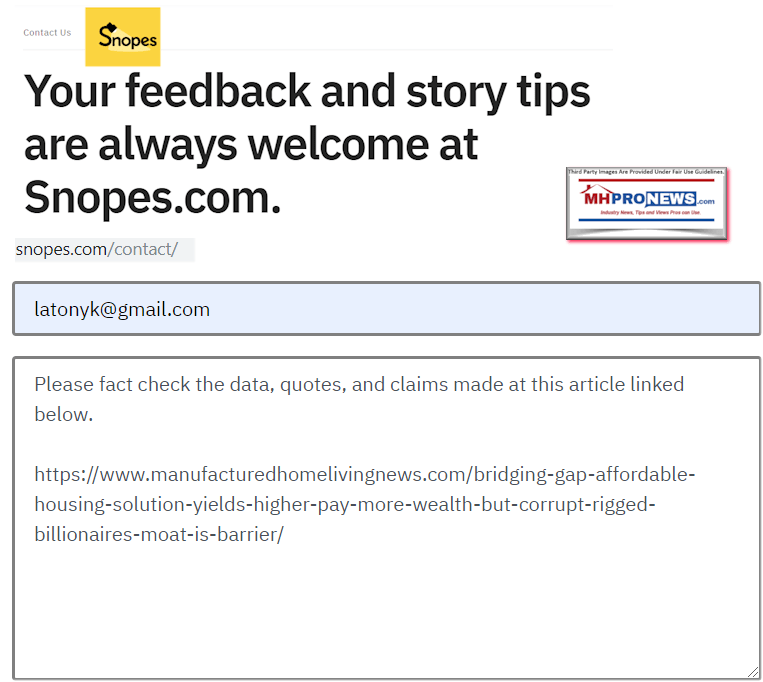 Please do that before continuing this article. If you'd take another 20 seconds, and let us know that you've done that via the link below, that would also be great, thank you.

More About Snopes
Sharyl Attkisson's left-right media bias chart reflects that Facebook supported Snopes falls left-of-center.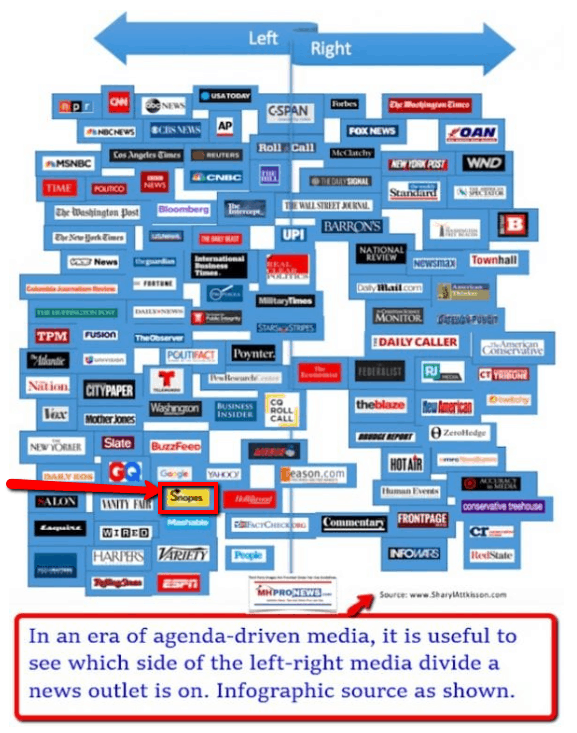 More About Snopes
Let's start with more about Snopes, from their about us page.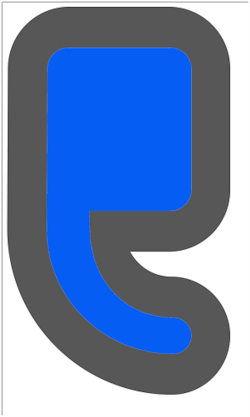 "When misinformation obscures the truth and readers don't know what to trust, Snopes.com's fact checking and original, investigative reporting lights the way to evidence-based and contextualized analysis. We always document our sources so readers are empowered to do independent research and make up their own minds.
Snopes got its start in 1994, investigating urban legends, hoaxes, and folklore. Founder David Mikkelson, later joined by his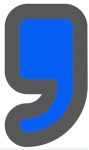 wife, was publishing online before most people were connected to the internet. As demand for reliable fact checks grew, so did Snopes. Now it's the oldest and largest fact-checking site online, widely regarded by journalists, folklorists, and readers as an invaluable research companion.
Snopes.com is an independent publication owned by Snopes Media Group."
NPR says that the site's future is in doubt, due to a legal challenge.
Some pull quotes from NPR:
Now operating with a team of just 13 editorial staffers (including video and graphics) Snopes weighs in on matters large and small, covering subjects including politics, pop culture, tech, health. While it's not a household name, Snopes drew 12.4 million unique American users in June according to Quantcast, and another 3.7 million around the world.
Ownership of the site is the focus of a sharply contested legal battle between its founder, David Mikkelson, and a small digital outfit called Proper Media, which had an arrangement to manage advertising and some other elements of Snopes' site. (It has similar agreements with such digital publishers as Salon, Raw Story and the Daily Dot.)
"Snopes laid the foundation for online fact-checking," says Bill Adair, the founder of PolitiFact, a Pulitzer-prize winning offshoot of the Tampa Bay Times. "The site's early work debunking urban myths showed there was a substantial digital audience that wanted accurate information."
Snopes has since been joined by many other players; org, affiliated with the University of Pennsylvania's Annenberg Public Policy Center, was established in 2003, and PolitiFact started in the early part of the 2008 presidential cycle.
Facebook has turned to Snopes as one of the five U.S.-based fact-checking it relies upon to help stave off the spread of hoax accounts, often called "fake news."
Proper Media is contending that it corporately owns half of Snopes and wants a judge to acknowledge that. The company allegesDavid Mikkelson unfairly enticed a former Proper Media official to work for him, and in so doing secured that official's 6.7 percent voting stake, once more giving him effective voting control over Snopes. And it alleges Mikkelson inflicted "substantial economic loss" on Proper Media.
Mikkelson tells NPR he severed that contract for cause, and was entitled to do so. Moreover, he arguesthat Proper Media as a corporation has no claim over Snopes' parent company, only the five individuals.
Owlcation said on June 11, 2019 that "When Snopes began focusing on political fact-checking, its reputation began to ebb and flow with accusations of political bias." That fits what Sharyl Attkisson's infographic above had to say. Their connection to Facebook is also worth underscoring.
Whatever their bias may be, there are a few possibilities that may occur from this quick test of Snopes about a hot issue that faces manufactured housing. They are in no particular order of importance.
Snopes could do the fact check and attempt to debunk the evidence and thesis behind the MHLivingNews article that alleges antitrust violations by Clayton Homes, 21st Mortgage, and Vanderbilt Mortgage and Finance (VMF). If so, that gives everyone a chance to review their results, see how accurate it is, etc.
Snopes could ignore the requests. If so, nothing ventured, nothing gain. If enough ask, and they still don't do it, that too speaks volumes.
Snopes could do the fact check and confirm the findings of MHLivingNews.  That would be important.

There is significant publicity that could result from such a fact check, no matter what they publish if they do a report

. That publicity could be quite useful for the industry.
Once more, knowing human nature, numbers of readers haven't yet done what was asked above. Scroll back up, or here is the request again below. It would take about a minute, including letting us know that you've sent it. It would take less than that if you just put the request into Snopes for their 'fact check.'
Go to this page:
https://www.snopes.com/contact/
Ask them to fact check the link below.
Here once more is how that page looks and how our publisher did it this morning, but you can simply put the link in and push submit.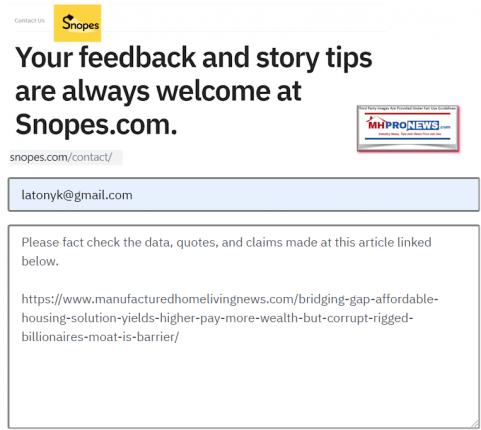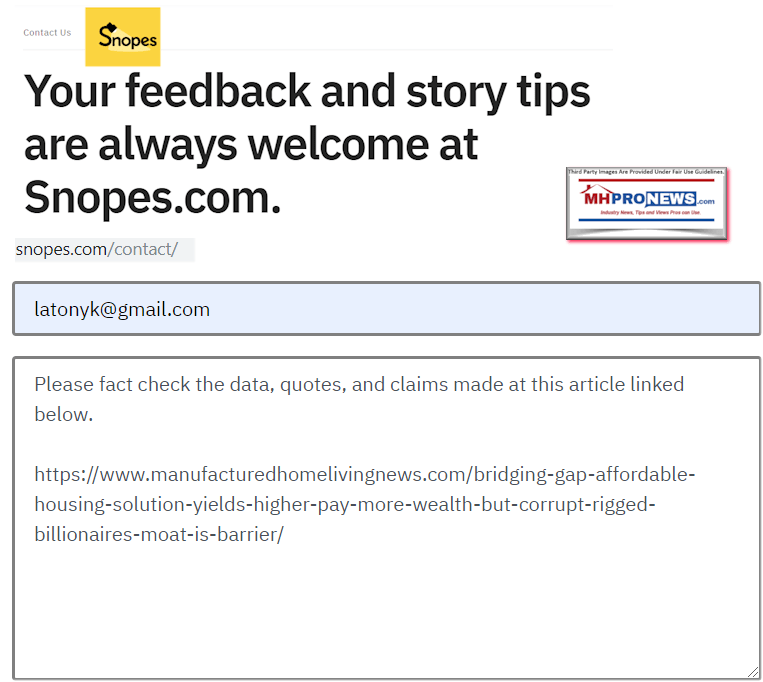 After you submit that link to Snopes if you'd take another 20 seconds, and let us know that you've done that via the link below, that would also be great, thank you.

It is worth mentioning that the Open Markets nonprofit, among several others in media, have reported similar concerns about Warren Buffett led Berkshire Hathaway, Clayton Homes, and 21st Mortgage. But those other sources routinely lacked the additional documentation found at our report, linked above and here.
The industry's been consolidating, while shipments remain at historically low levels. Are those Coincidences? Let's see if Snopes will dig into it, because the Manufactured Housing Institute, despite their antitrust statement, has reportedly not yet done so.
That's today's second look at manufactured home industry "News, Tips, and Views Pros Can Use," © where "We Provide, You Decide." © ## (News, analysis, and commentary.)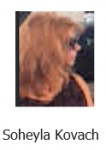 Submitted by Soheyla Kovach for MHProNews.com.
Soheyla is a managing member of LifeStyle Factory Homes, LLC, the parent company to MHProNews, and MHLivingNews.com. Connect with us on LinkedIn here and and here.
Related Reports:
Click the image/text box below to access relevant, related information.
Sobering Multi-State Level Manufactured Home Shipment Data Reveals Top Performers Sliding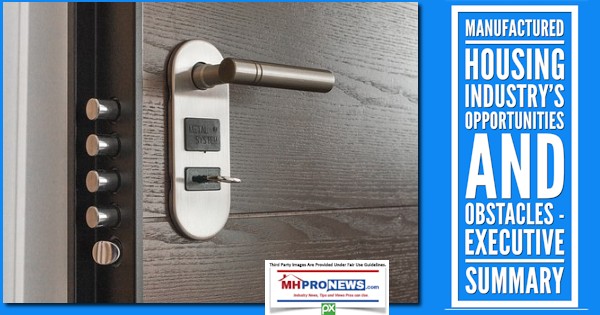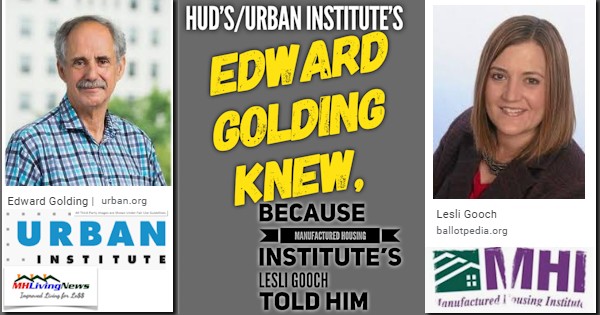 Surprising Demo – National Association of Realtors Reveals Manufactured Homes Living Less Costly Than Renting
MHI CEO Dick Jennison's Pledge – 500,000 New Manufactured Home Shipments