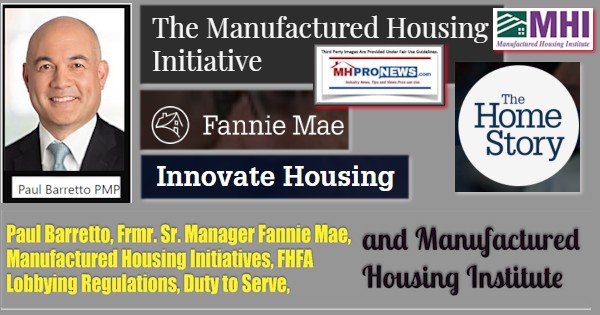 Per LinkedIn, Paul Barretto was "Senior Manager – Product Management and Development, Single Family Mortgage Strategic Initiatives" at Fannie Mae from Aug 2001 – Mar 2018."
Barretto is now involved in something called the "Manufactured Housing Initiatives." The operation has a website started in 2018 that is still incomplete. "Manufactured Housing Initiatives" were shown as an attendee at the TMHA September 2019 annual event. One might wonder what business model allows for an incomplete website that doesn't name Barretto?
Perhaps this is akin to Tom Heinemann, who worked for HUD, the Manufactured Housing Institute (MHI), and now works on a contract basis for the National Association of Manufactured Housing Community Owners (NAMHCO). Heinemann reportedly also found time to consult with a GSE about HUD Code manufactured home 'Duty to Serve' lending too, something not mentioned on his LinkedIn profile.
Barretto gave MHI's PAC a campaign contribution. That appears to have taken place after he left Fannie, but Barretto has not yet replied when this report was being drafted to our inquiries about that or other items noted herein.

A September 7, 2008 FHFA website statement says in part: "All political activities—including all lobbying—​will be halted" by the Government Sponsored Enterprises (GSEs), which de facto means Fannie Mae and Freddie Mac. By September 23, 2008 the FHFA website claimed that "All political activities—including all lobbying—were halted immediately."
The Heritage Foundation said on May 23, 2018 that "Fannie Mae has been lobbying government officials despite the fact that former FHFA director James Lockhart banned Fannie and Freddie…"
It is an issue that MHProNews reported during the last Congress, when then House Financial Services Committee Chair Jeb Hensarling raised concerns about those allegations.
Chairman Hensarling, Fannie Mae's Latest "Backdoor Schemes," Illegalities? MH Connections, Implications
Also as previously reported, the GSEs donated to (sponsored) an MHI meeting. Hmmm, why?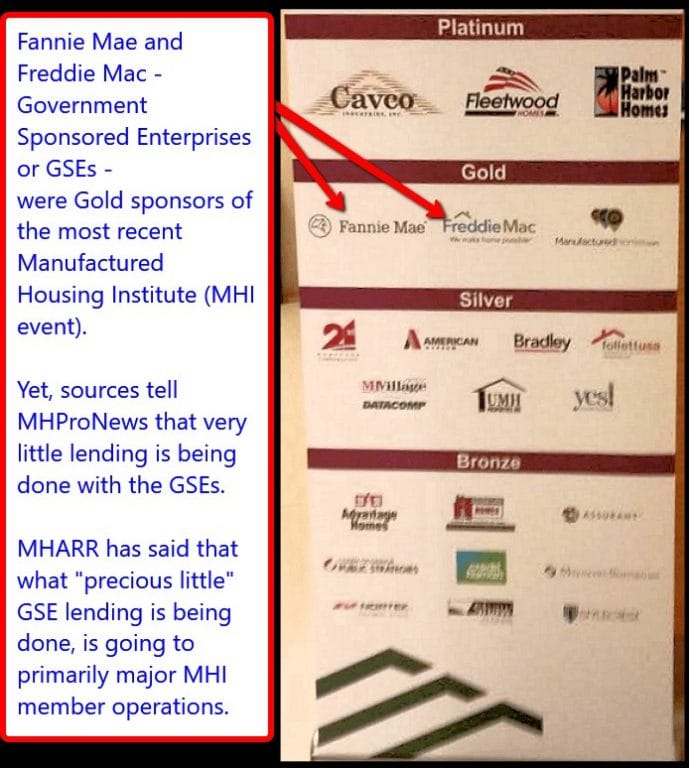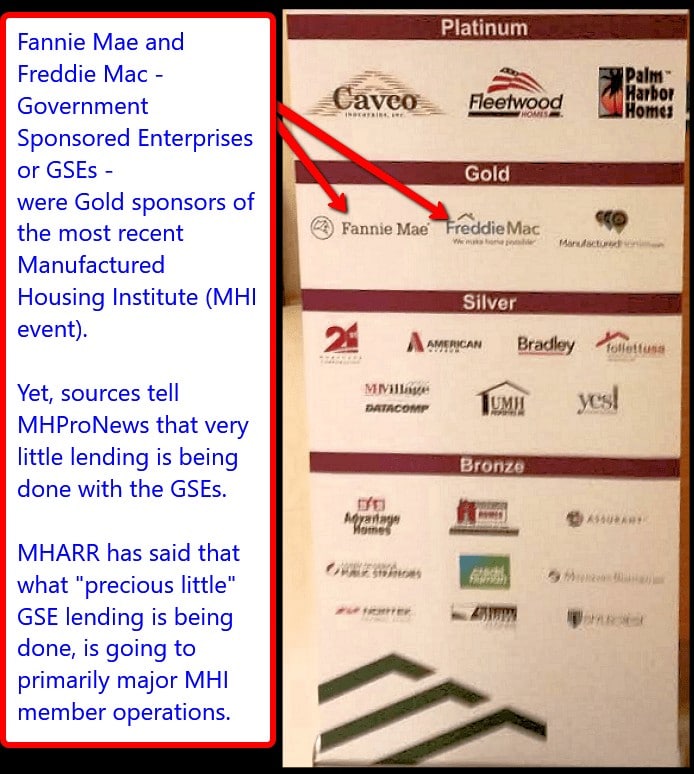 FHFA has been contacted about these concerns, as has Fannie Mae's ethics team. Pete Bakel, External Communications for Fannie Mae said, "Mr. Barretto was not an employee at Fannie Mae in November 2018." But neither Bakel nor others at Fannie have not yet addressed the matter of donating/sponsoring to MHI. Stay tuned.
FHFA also acknowledged the questions and concerns but has not yet commented. In fairness to FHFA, several messages that amount to requests for clarity by a member of their media relations team occurred, they have not formally replied. Stay tuned for that too.
MHProNews Analysis
Beyond the obvious concern that regulations are apparently being ignored, what makes this particularly vexing is that manufactured housing still does not have chattel lending from either of the GSEs, despite the mandate of the Housing and Economic Recovery Act (HERA) of 2008. As Mark Weiss, J.D., President and CEO of the Manufactured Housing Association for Regulatory Reform (MHARR) previously said the following.

Weiss and MHARR have pressed FHFA and Congress on the DTS matter.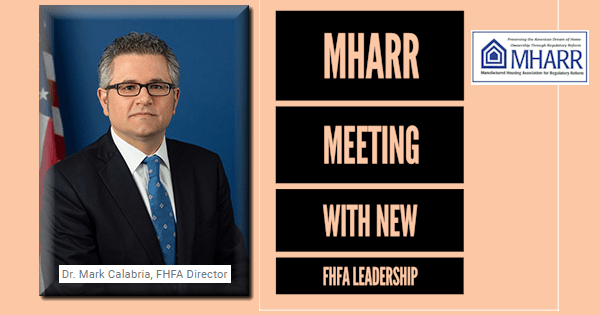 So far, not much beyond their effort has occurred, as the GSEs continue to do little.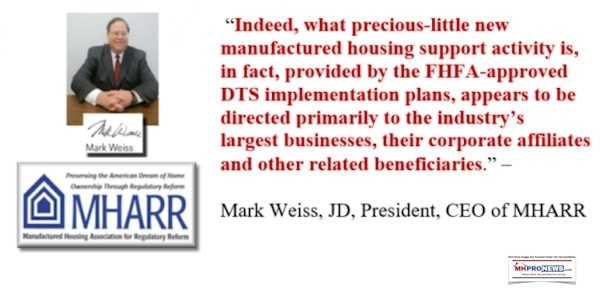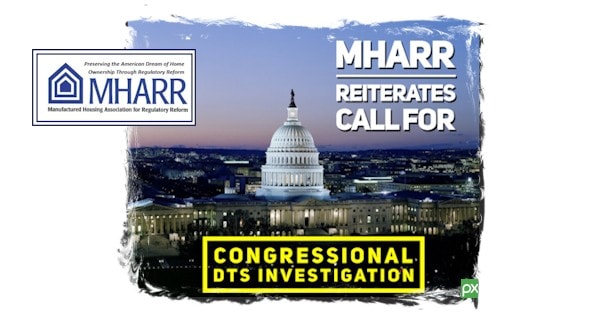 Why are at least some federal officials foot-dragging?  Hold that thought.
That said, there are exceptions.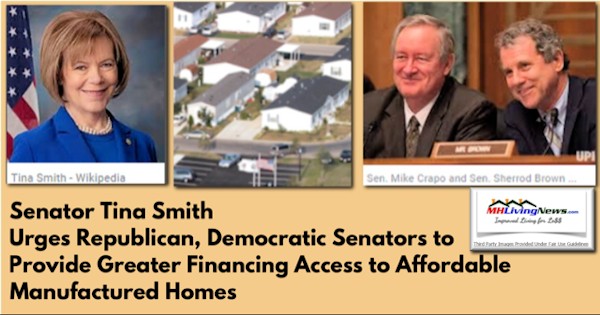 Senator Tina Smith (MN-D) has asked her colleagues to press the DTS issue.
The Minneapolis Federal Reserve is also interested in seeing this lending occur, per the report linked below. That regional Fed also pointed in their research at the Berkshire brands for problematic and questionable lending practices, and also for their higher cost loans for Native Americans and other minorities. It is a charge that Buffett, Clayton and their divisions have denied.
Native American, Racial Minorities in Housing and Manufactured Homes, per FED, Harmed by Lending Practices, Clayton Homes, Berkshire Hathaway Affiliated Lenders Cited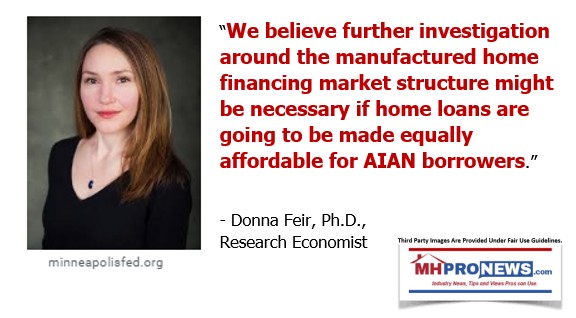 In a 2017 dated item on the Fannie Mae website, posted as a link from Barretto's newer LinkedIn page, we find this:
"However, for [manufactured home] industry participants there are challenges including lack of accessible financial and performance data, high cost of borrowing for the consumer, and a negative brand perception. Fannie Mae is hoping to partner with the industry to combat some of these challenges."
Rephrased, Fannie Mae knows that this is an issue that is hampering the industry.
But note how they phrased it: "negative brand perception." Despite the MHI happy talk that generally ignores the 1 year downturn and similar noise from MHInsider, MHReview or other MHI bloggers and toadies, Barretto – then with Fannie – admitted the negative brand perception.
What neither Barretto nor MHI have acknowledged is that much of that negative perception carried by mainstream media stems from brands connected to MHI, including the Berkshire brands.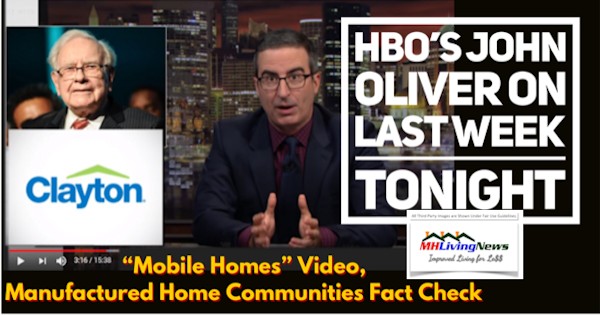 As MHProNews has reported, Zillow's data reflects that consumer housing shopper interest in manufactured housing declined between 2016 and 2018.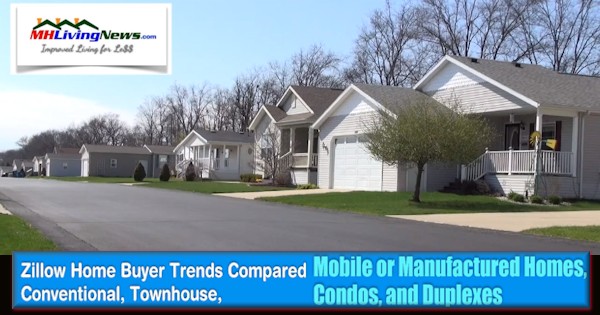 So, while MHI is claiming to be working to advance the industry, the industry is actually in retreat. Meanwhile, pockets are slowly being lined – for what and who's benefit? Is this all to expand the Berkshire Moat?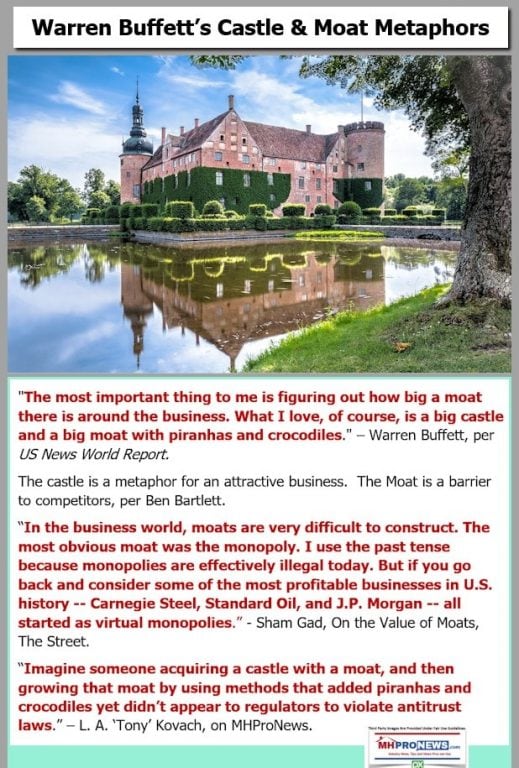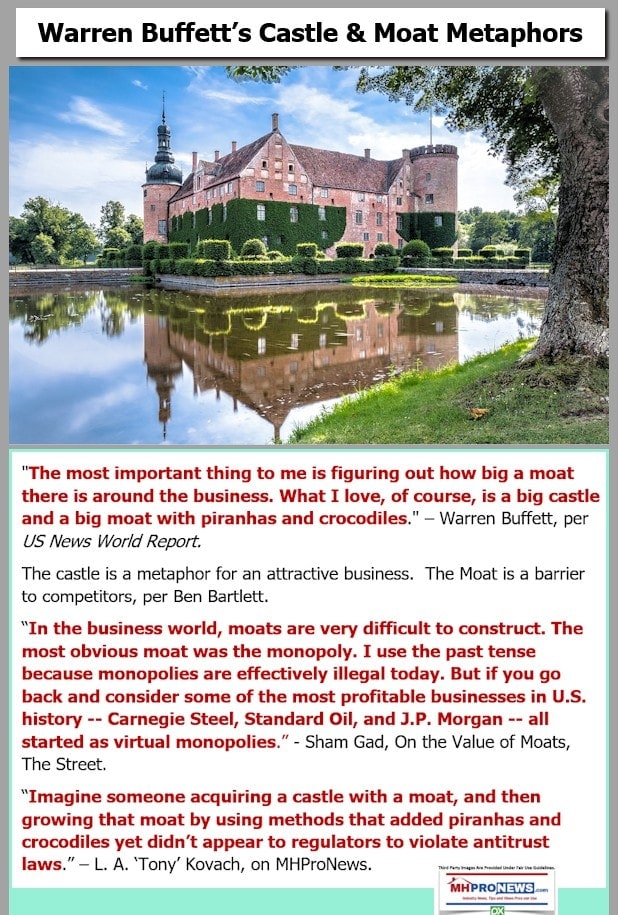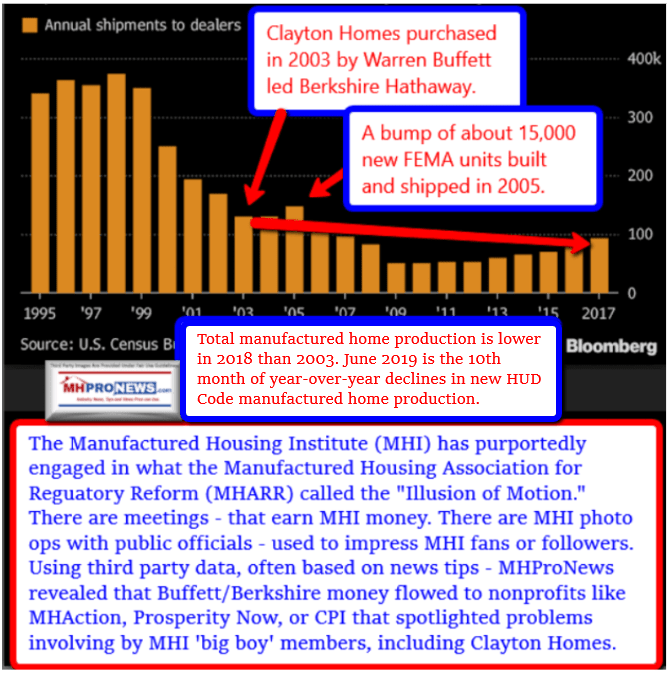 Fannie Mae is on record as recognizing the "high cost of borrowing" for "the consumer" impacts the industry's performance. Further, MHProNews and our MHLivingNews sister site have led the way in reporting that the Berkshire Hathaway sister brands to Clayton Homes declined giving the GSEs data, which reportedly Triad Financial and Credit Human contacts told MHProNews that they provided.
The industry is underperforming. Barretto's written comment for Fannie cited above are a partial summary of why.
Barretto has not replied as of the time this story was written. So, let's just quote him again, to stress the point he previously made, as quoted above.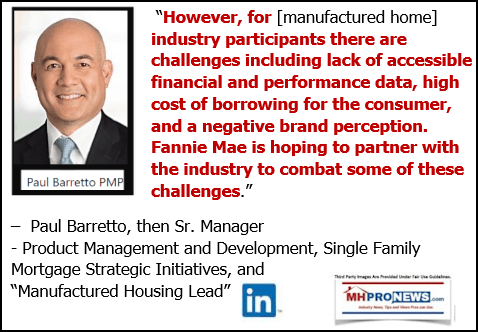 With all of that, how can MHI leaders, Clayton Homes, or 21st Mortgage – among others – look the independent members of this industry and consumers in the eye and claim to be advancing these issues? Is a decade of delays an example of MHI clout?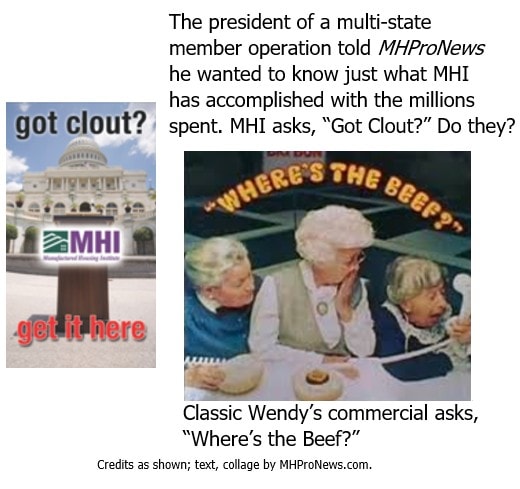 Cui bono?  Who benefits from this slow walk of DTS? See the related reports linked above and below for more.
Thanks for checking in on our Saturday installment of the #1, runaway most-read professional trade media resource for manufactured home "Industry News, Tips, and Views Pros Can Use," © where "We Provide, You Decide." © ## (News, analysis, periodic entertainment, inspiration, and commentary.)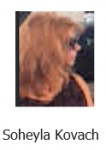 Submitted by Soheyla Kovach for MHProNews.com.
Soheyla is a managing member of LifeStyle Factory Homes, LLC, the parent company to MHProNews, and MHLivingNews.com. Connect with us on LinkedIn here and and here.
Related Reports:
Click the image/text box below to access relevant, related information.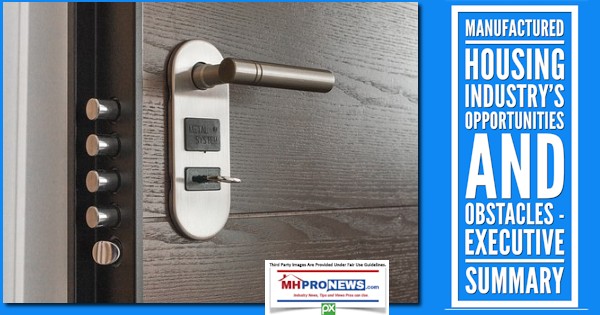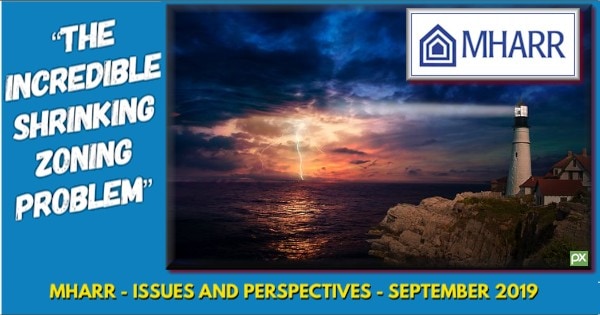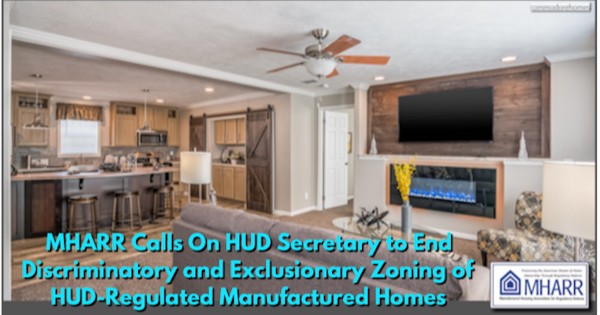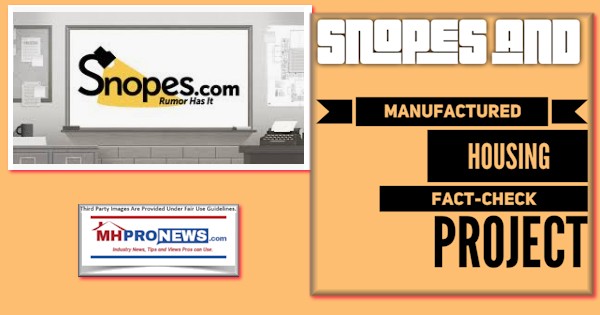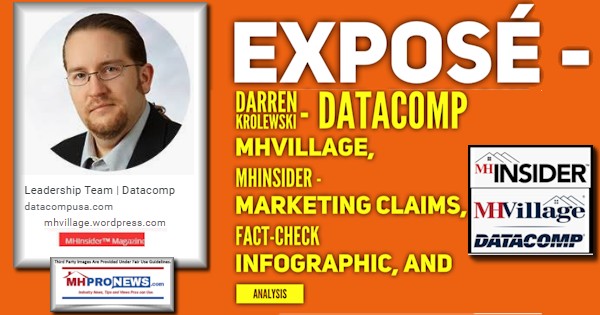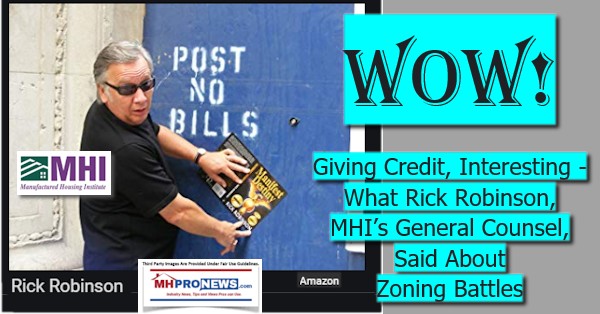 Clayton Homes, 21st Mortgage, MHVillage, Manufactured Housing Institute Leaders Challenged