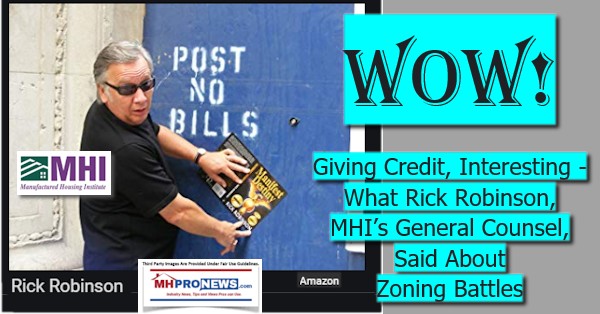 At MHProNews, its part of our code to present an accurate presentation of a given topic. We also believe in giving credit where it is due. That's putting the principle of the 'separating the wheat from the chaff' to work.
With that in mind, the following is an article from pro-Manufactured Housing Institute (MHI) MHInsider written by MHI's general counsel, Rick Robinson, J.D.
Robinson is not only a good writer; he is an award-winning writer. Give credit where it is due.
The topic Robinson wrote about is zoning. It's one of the biggest issues that faces the manufactured housing industry. You can download what follows at this link here; or you can read it 'columnized' below – you decide. It's provided under fair use guidelines for media. We'll be doing an MHProNews review after Robinson's column.
Hint.
There is something you should look for as your read the article. In case you miss it, we'll tell you on the far side. With that introduction, let's dive in.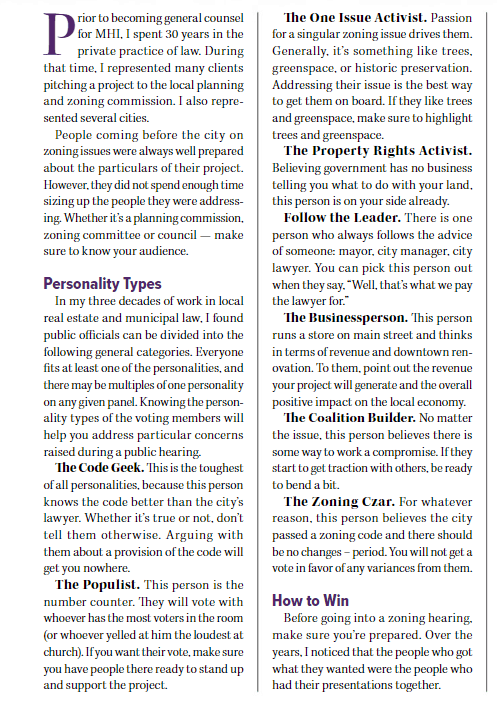 MHProNews Analysis, Commentary
Clever.  Well written. But incomplete.
First in fairness, for the purposes of this analysis, let's say that if you were – for example – a tiny house builder, or some kind of other factory built housing builder, this article may have some useful points.
But for HUD Code manufactured homes, what was missing in Robinsons' commentary and suggestions?
Two precious words. "Enhanced preemption."
This article by Robinson is more de facto evidence of what prior MHProNews fact checks, analysis, and commentary has demonstrated. MHI claimed last summer in a message to their members that they have asked HUD Secretary Carson to enforce the Manufactured Housing Improvement Act (MHIA) of 2000's various elements, including a specific call for enforcement of "enhanced preemption."
Under Pressure, MHI Pivots "HUD Must Implement and Enforce its Enhanced Preemption Authority"
If that was sincere, then why is there no mention of it in this article? Wasn't Robinson able, as a good writer, to say whatever he wanted to say? Then why isn't there even a mention of "enhanced preemption" in this recent article by Robinson?  Didn't he just prove the point made by MHProNews weeks ago in our report, linked below?
Bombshells! Former HUD Manufactured Housing Program Administrator Bill Matchneer, Cavco's Manuel Santana Statements
Can you spell red herring? A Robinson head fake?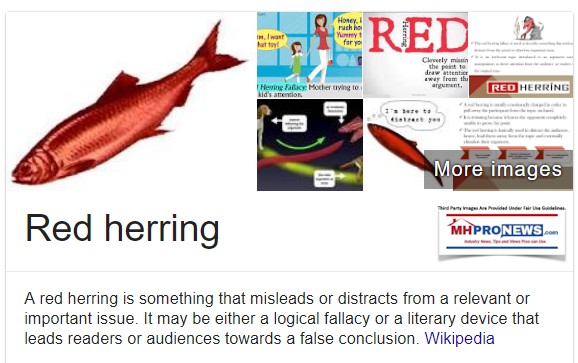 One more relevant point, then returning to the main point. If MHI cared about moving the needle on zoning, where are their examples of engaging in battles like the one in Bryan, TX?
Keep in mind that the "enhanced preemption" issue isn't the only purported head fake by MHI leadership. Keep in mind the years of 'rope-a-dope' on Preserving Access? Warren Buffett supported Barack Obama on that bill – in hindsight – were we really supposed to believe that Tim Williams and MHI wanted to change it?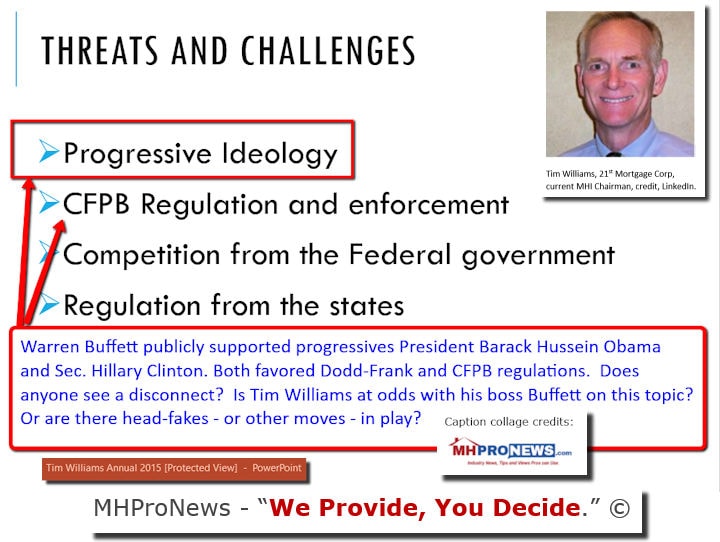 We challenged Robinson and other MHI leaders once more to respond to our recent fact checks.
Silence.
Clayton Homes, 21st Mortgage, MHVillage, Manufactured Housing Institute Leaders Challenged
Failure to deal with zoning, placement, or Duty to Serve – among image, media, or other issues – has caused manufactured housing to be in a 11 out of 12 month year-over-year decline. Who does that help?
Clayton Homes Exposé – Wall Street Journal, MHVillage, MHInsider, and Statistical Surveys Contradict Clayton Claims – Evidence, Fact Check, Analysis
MHI does respond to us, but they do so indirectly. What's ironic is that far more people will read this article by Robinson here on MHProNews than ever read it on MHInsider, per their own data. They should be embarrassed, shouldn't they, for making misleading claims and attempting such head fakes?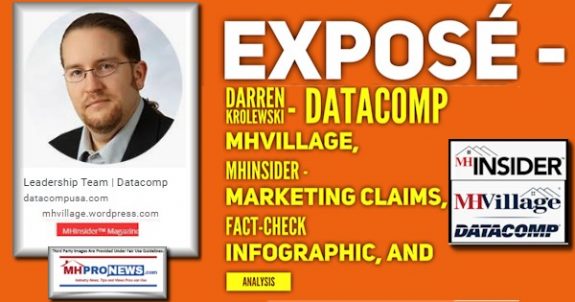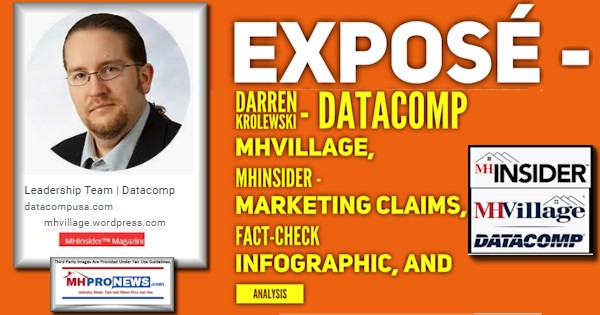 The industry's members are quietly organizing a post-production MHI alternative. Stay tuned.  Note too that we have new documents in hand from recent tips, which will be part of a new expose.
What's Next For Emerging Pro-Growth Manufactured Home Trade Group?
There is more in the linked reports below for newer or first-time readers, or those who need to refresh themselves on those topics. We value the opportunity to let Robinson show in his own words that MHI's claim of supporting "enhanced preemption" certainly seems hollow, given that Robinson doesn't use the words at all in an article on zoning, where they are arguably the most important.
Thanks for checking for tonight's 'almost midnight installment of the documented, runaway most-read resource for manufactured home "Industry News, Tips, and Views Pros Can Use," © where "We Provide, You Decide." © ## (News, analysis, periodic entertainment, inspiration, and commentary.)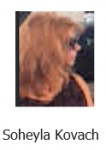 Submitted by Soheyla Kovach for MHProNews.com.
Soheyla is a managing member of LifeStyle Factory Homes, LLC, the parent company to MHProNews, and MHLivingNews.com. Connect with us on LinkedIn here and and here.
Related Reports:
Click the image/text box below to access relevant, related information.
Manufactured Home Communities, Production, Suppliers Investing Alerts – Manufactured Housing Institute
National Communities Council of the Manufactured Housing Institute "Code of Ethics," SSK Communities Update, Review
National Association of Realtors Research Exposes Manufactured Housing Institute Errors
Implementation of the Manufactured Housing Improvement Act of 2000, Congressional Hearing, Redux
Addressing Manufactured Housing Institute Performance, Legal Concerns with Association Leaders, Attorneys
Manufactured Housing Institute – Seth Appleton, Hunter Kurtz Begin Key Roles at HUD – Analysis
Manufactured Housing Institute Fine New Manufactured Home Industry Promoting Video, Insights & Usefulness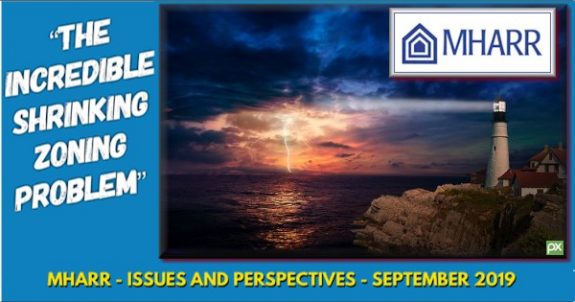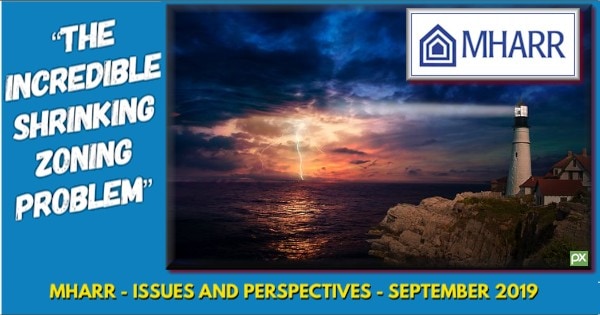 Surprising Demo – National Association of Realtors Reveals Manufactured Homes Living Less Costly Than Renting