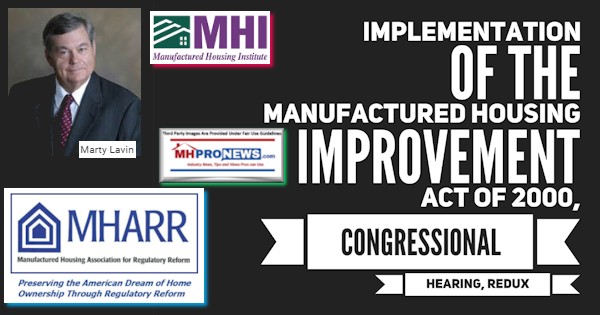 Mainstream media routinely does flashbacks to set the context for new or developing controversies. In manufactured housing, to be fair, there are some examples of that by others, but they are arguable often tilted with little or no evidence provided to support their often flawed thinking, easily debunked, and outrageous claims.
Indeed, there are periodic claims made by self-proclaimed leading organizations that are demonstrably deceptive, arguably untrue – or to be blunt – include purported lies and propaganda.
By contrast, MHProNews believes in doing the research, providing the facts, applying common sense analysis, and concludes with the simple point: "We Provide, You Decide." © Facts should speak loudly. When we err, we strive to follow the SPJ Code of Ethical Conduct, see key parts, linked here.
MHProNews recently obtained a copy of the following 112 pages of testimony before the U.S. Congress on the subject of the Manufactured Housing Improvement Act (MHIA) of 2000.  That document begins as follows:
IMPLEMENTATION OF THE MANUFACTURED HOUSING IMPROVEMENT ACT OF 2000
HEARING BEFORE THE SUBCOMMITTEE ON INSURANCE,
HOUSING AND COMMUNITY OPPORTUNITY OF THE
COMMITTEE ON FINANCIAL SERVICES
U.S. HOUSE OF REPRESENTATIVES ONE HUNDRED TWELFTH CONGRESS SECOND SESSION
FEBRUARY 1, 2012
Printed for the use of the Committee on Financial Services… 
MHProNews obtained a copy of that Congressional document, and is linked here is a download. To see a closer look at testimony from an attorney at HUD, see report linked below.
Long-Time HUD Attorney's Formal Statement on Manufactured Housing Enhanced Preemption
With that backdrop, according to the Manufactured Housing Institute (MHI) recently in an email to their member/readers, the Arlington, VA based trade group said the following.
"MHI's final proposal urged HUD to implement and enforce its enhanced preemption authority as mandated by law. For years, MHI has argued the Department has a congressional mandate to play a much greater role in this effort and take an official policy position opposing state and local regulations that are inconsistent with Congressional intent. Specifically, MHI called on HUD to issue a revised and updated policy statement regarding the Department's position concerning preemption and state and local zoning, planning, or development restrictions that severely limit or outright prohibit manufactured housing."
A MHEC member sent the following comment about that claim. ""For years," huh?…Would like to see the documentation…"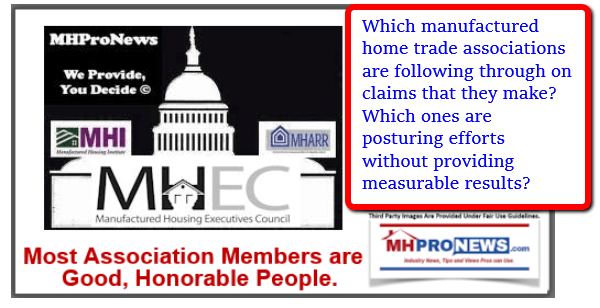 To be objective and accurate, which MHProNews strives to be, there is evidence that MHI has from time to time raise the issue of enhanced preemption.  The Congressional hearing on the Implementation of the Manufactured Housing Improvement Act (MHIA) provides one such example in the testimony of MHI member Cavco Industries Manuel 'Manny' Santana.  For those details, see the prior report below.
Bombshells! Former HUD Manufactured Housing Program Administrator Bill Matchneer, Cavco's Manuel Santana Statements
That said in fairness, the problem for MHI – and Santana himself – is that they have routinely put a placeholder comment up that they can then turn to months or years later and say, 'See, we've been saying this all along.'  What millions don't grasp is that failure to implement the MHIA – including, but not limited to – enhanced preemption, is harming the lives of tens of thousands of real people.  Shame on those who've allowed this tragedy that could have prevented it. Consider what HUD Secretary Carson said earlier this week.
"We Seem to Have Lost Common Sense," HUD Secretary Ben Carson – Homeless, Affordable Housing Crisis
But the posture or purported ploy by MHI begs the question of why they fail to say to the public at large.
Nor is this the only issue that MHI and their big boy backers have arguably done such, see the report linked above and below.  It drew a very specific comment from MHI award-winner, Marty Lavin, J.D.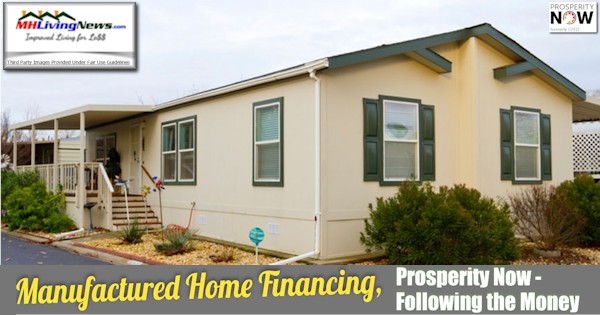 It is easy to say something, it is quite a different thing to do what one says.  Or as manufactured home industry veteran and observer Marty Lavin, J.D., recently told MHProNews the following.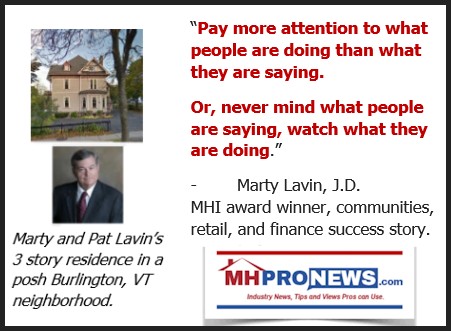 If MHI wants to try to claim – as they arguably did in the quote from the email message to their members above – that they have been working to promote the full implementation of the MHIA 2000 and enhanced preemption, they have a funny way of proving it.  This morning, once more, those words 'enhanced preemption' are not found on their own website. Those 2 words aren't found mentioned by Clayton Homes in addressing media. By contrast, MHARR, MHProNews and MHLivingNews articles on those topics are easily found. Why is that, if MHI and Clayton are serious about this issue? Our sources suggest that MHI has not raised the issue face-to-face with HUD Secretary Carson in a fashion that was actionable. The proof?  If they had, where was Secretary Carson's follow through?  Will MHI have the chutzpah to claim that Dr. Carson, former Secretary Castro, and their predecessors all deliberately foiled the implementation of the law?
It is a matter that cries out for new federal investigations, including, but not limited to, congressional hearings that subpoenas documents, takes witness testimony under oath, and gets to the bottom of either an epic failure by MHI – which claims clout – or a subtle plot arguably aimed at slowly consolidating the industry into ever fewer 'big boy' hands.

MH Community Leader Robert Van Cleef – Public Call – Federal Investigations of Berkshire Hathaway, Clayton Homes, 21st Mortgage, Manufactured Housing Institute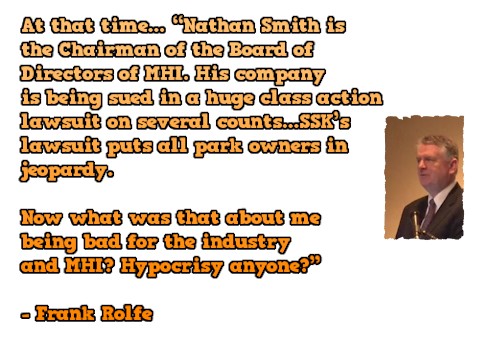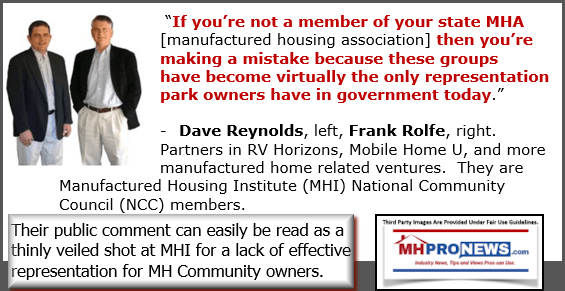 Historic patterns matter. If the industry wants to recover from over 15 years of doldrums, it should be obvious that changes must occur. 
Recent Events Opening Opportunities in Manufactured Housing for Business, Investors, Affordable Home Seekers?
It should be logically apparent that the so-called leadership has not established a true recovery.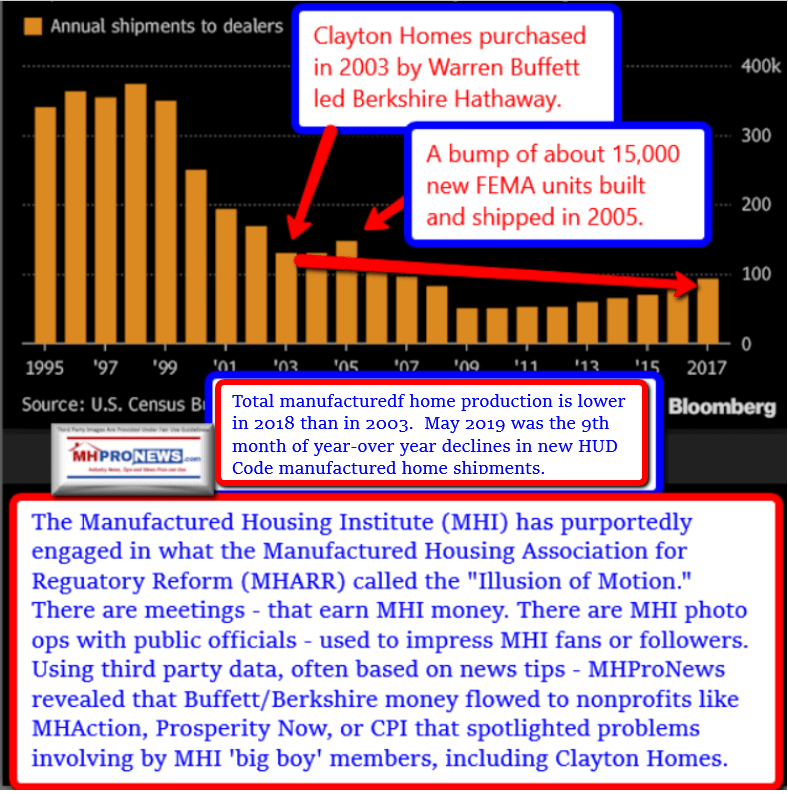 See the related reports below for more.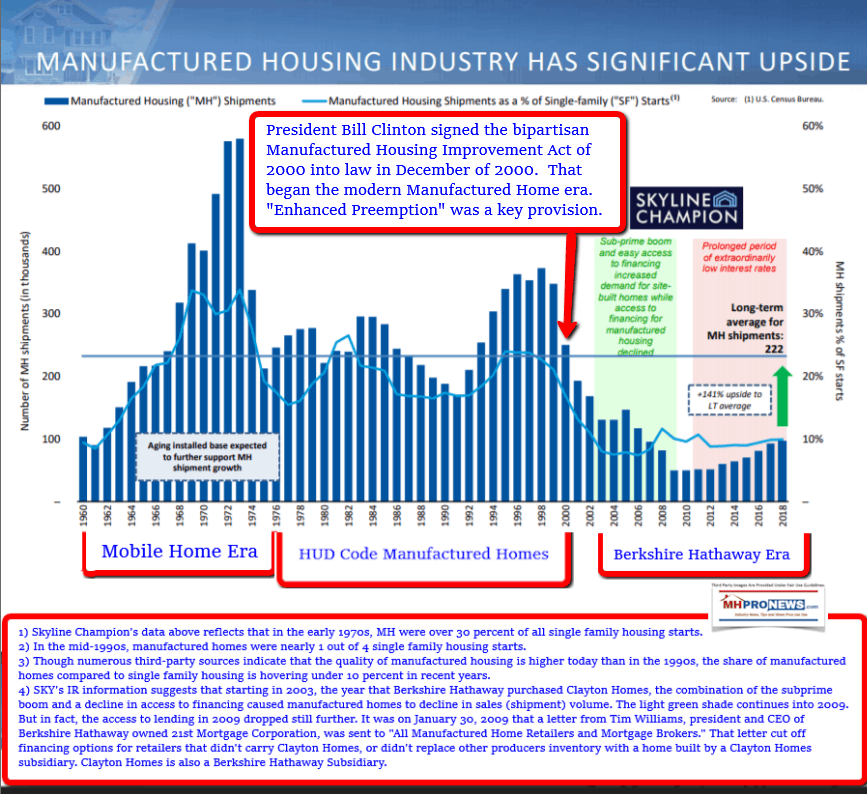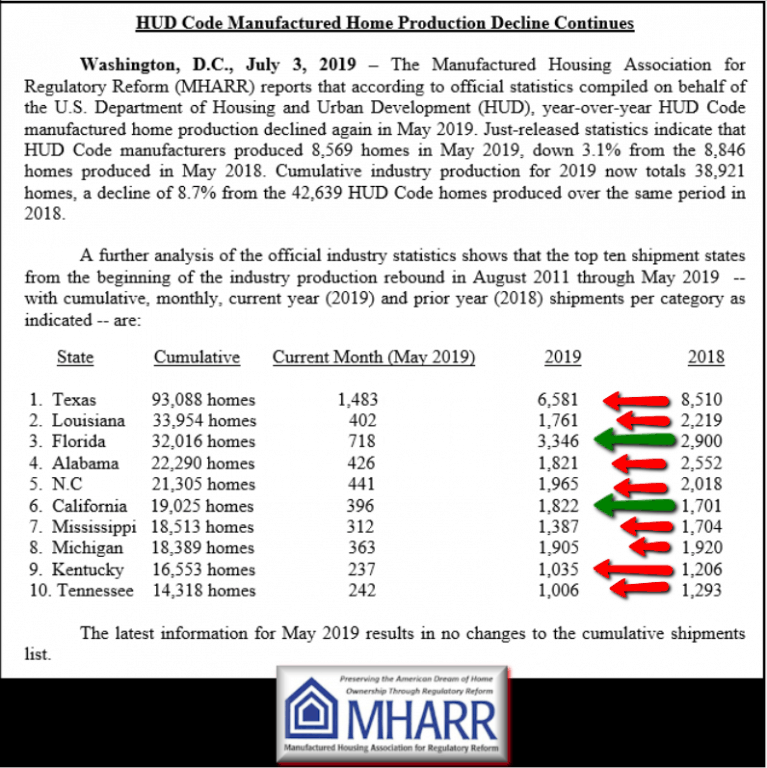 That's all she wrote on today's first installment of manufactured home "Industry News, Tips, and Views Pros Can Use" © where "We Provide, You Decide." © ## (News, analysis, and commentary.)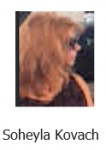 Submitted by Soheyla Kovach for MHProNews.com.
Soheyla is a managing member of LifeStyle Factory Homes, LLC, the parent company to MHProNews, and MHLivingNews.com. Connect with us on LinkedIn here and here.
Related Reports:
Click the image/text box below to access relevant, related information.
Texas, Florida Cities Plan Manufactured Home Ban, Legacy Housing, FMHA, Lance Inderman/Jessup Housing React