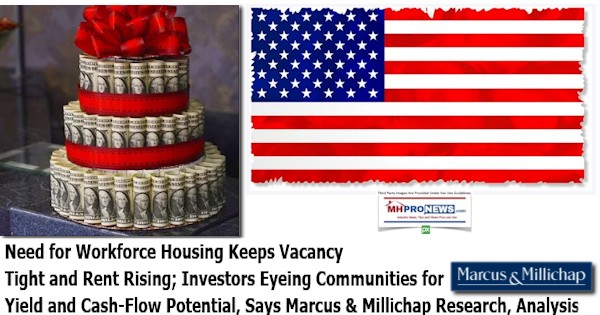 This will be a timely fact-check and analysis of a report by Marcus & Millichap Research Services, which periodically cited Datacomp-JLT; CoStar Group, Inc., Institute for Building Technology and Safety; Manufactured Housing Institute; U.S. Census Bureau.
Their report concludes with these words.
"The information contained in this report was obtained from sources deemed to be reliable. Every effort was made to obtain accurate and complete information; however, no representation, warranty or guarantee, express or implied may be made as to the accuracy or reliability of the information contained herein. This is not intended to be a forecast of future events and this is not a guaranty regarding a future event. This is not intended to provide specific investment advice and should not be considered as investment advice."
Fair enough. We will note that the Manufactured Housing Institute (MHI) has been documented on several occasions by MHProNews and MHLivingNews to produce information that is a mix of accurate and inaccurate data. When asked for comment or rebuttal on those concerns, MHI, their inside and outside counsels routinely have declined.
This report will proceed with in the following sequence. After this preface:
Data and commentary from Marcus & Millichap (MMI), a publicly traded firm which is part of the basket of manufactured housing industry connected companies that are tracked on our evening market report. Their stock's closing numbers and all others that we track for yesterday are found at this link here. A snapshot of stock performance is below.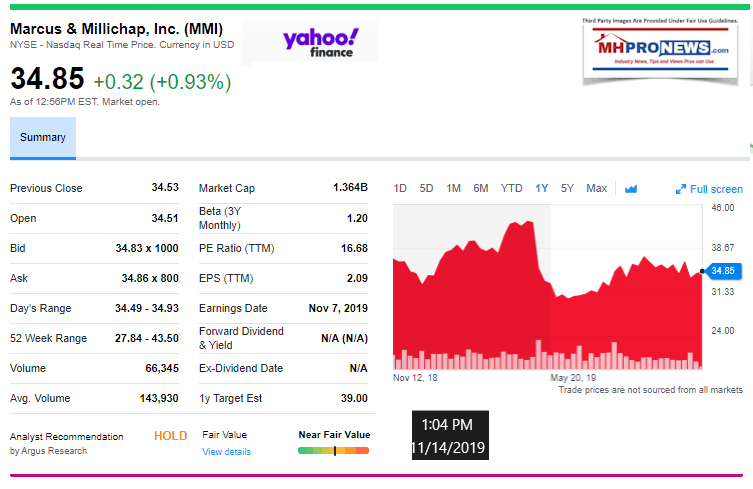 An analysis of what their data should be telling the manufactured housing industry's:
professionals from all segments of the HUD Code manufactured home industry,
investors,
manufactured home community residents living in locations owned by 'consolidators' who have or are building portfolios of properties often blemished by allegations of predatory behavior,
all other manufactured homeowners,
affordable housing advocates,
public officials, elected and appointed, that deal with housing, banking and related issues,
legal professionals,
media, researchers and others keen on such issues.
A bit more as a preface before pressing into their report. Multifamily housing is going strong, as data like the snapshot below reflects. Conventional single-family housing is outpacing far more affordable manufactured housing by hundreds of thousands of units annually. In the past, manufactured homes were a far more significant percentage of single-family housing starts. All of that begs serious questions for inquiring minds who want to know why manufactured housing is underperforming. It also begs serious questions as to why more manufactured home land-lease communities aren't being developed at this time too.
With those thoughts in mind, as their data that reveals an ever tightening of vacancies, should make people wonder: why aren't more communities and sites being developed?
With no further adieu, let's dive into their report.

The lower cost of renting in a manufactured home community compared with the median cost of an apartment is boosting rental demand in many parks throughout the country. As the need for workforce housing proliferates across the U.S., this trend should continue in the quarters ahead. Over the past 12 months, vacancy in all regions declined with the largest drop registered in the Midwest. This region has the highest vacancy rate in the nation at 14.6 percent after a 110-basis-point reduction year over year in July. The elevated rate is mainly due to availability resting above 20 percent in a few select metros in Michigan and Kansas. At the opposite end of the spectrum, the West maintains the lowest vacancy at 5.1 percent, down an annual 50 basis points. Among metros, Denver, Miami, Long Island and several California markets have vacancy resting below 1 percent.
Tightening vacancy is promoting rent growth across all regions. As fewer lots are available to place homes, the average monthly rent is climbing. Year over year in July, the greatest increase was posted in the South at 3.9 percent to $527 per month, slightly edging by the East at 3.7 percent. Among regions, the West maintains the highest average rent at $580 per month. Rent varies widely across the country. There are eight smaller metros where the average rent is less than $300 per month, rising to more than $1,000 per month in some coastal California communities. Over the past 12 months, the Miami metro was one of the few areas to register double-digit rent growth to $647 per month as vacancy slid below 1 percent. Other rent surges of more than 8 percent during this time occurred in the Fort Meyers and Naples metros.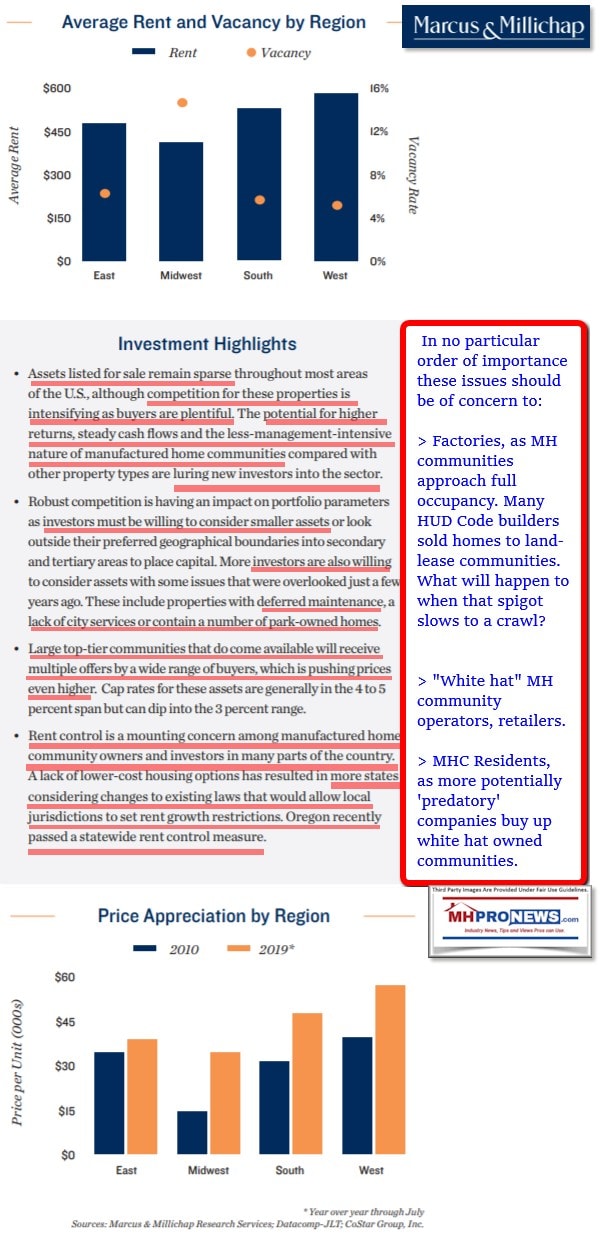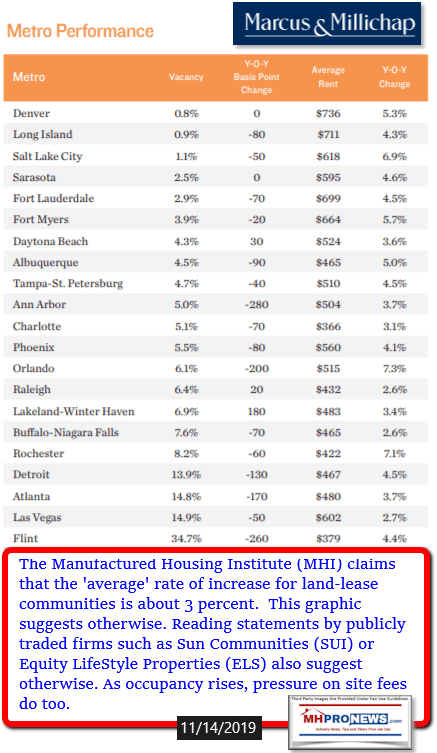 Related Information From Sun Communities and Equity LifeStyle Properties
From the transcript of a recent investor/analysts call: Q3 2019 Sun Communities Inc Earnings Call
SOUTHFIELD Oct 29, 2019:
——————————————————————————–
Q) Andrew T. Babin, Robert W. Baird & Co. Incorporated, Research Division – Senior Research Analyst [5]
——————————————————————————–
Thanks for the color. And one follow-up on the San Diego project. Obviously, manufactured housing is probably the most practical solution available for California's affordability issues, and with the political environment the way it is, is there any more traction in potentially gaining more opportunities in that state to develop ground-up, incorporating affordable components? Can you maybe give us sort of an update on the temperature of those discussions?
——————————————————————————–
Gary A. Shiffman, Sun Communities, Inc. – Chairman & CEO [6]
——————————————————————————–
Drew, it's Gary. There certainly is and it's certainly the West Coast, certainly right up to the Northwest is area of concentration where we feel, we can actually develop communities to a better return for our shareholders than buying them at the cap rates that they're trading at currently…
——————————————————————————–
That statement by Sun's Chairman & CEO Gary Shiffman is huge, but ought to have been obvious for some time. The reason why that is so significant to the industry will be revealed further below. Our previous report and analysis on that topic is linked below.
Sun Communities 3rd Quarter-New Acquisitions, Sales Detail$, New Sites, Inside Info, plus Manufactured Home Investing, Stock Updates
Next, let's look at a pull quote from Equity LifeStyle Properties (ELS) recent investor/analyst call reported at the link below.
Equity LifeStyle Properties (ELS) Data, Investor Transcript – Manufactured Home Community Facts, Sales, and Analysis
From that report linked above, are the following pull quotes.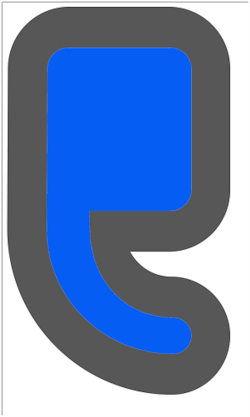 Question from Michael Bilerman, Citigroup Inc, Research Division – MD and Head of the US Real Estate and Lodging Research [70]
Obviously, rent control is a big topic from a multifamily perspective across the U.S. I know you've dealt with it before, but there's just a lot more movement in a lot more states. I guess how are you thinking about that impacting your business, where you've obviously been able to push rents pretty significantly over the years for your product. And look, I recognize the MH business is a more affordable product for people, but your rents have moved up pretty dramatically over the last decade. So can you talk a little bit about how you're sort of evaluating the landscape today and where are you stand?
The reply to the above is from Marguerite M. Nader, Equity LifeStyle Properties, Inc. – President, CEO & Director [71]
So as you said, we've been operating in a rent-control environment for a long time. We have 23 properties that are subjected to mandated rent control.
But then beyond the actual strict rent control, there are states that have regulations around rent increases. Like Florida, for instance, we operate under the terms of a prospectus and that prospectus runs with the land and governs the annual rent increases. This actually continues to be an important selling point for our residents considering to buy our properties.
And so in general, in our communities where we have mandated rent control, we see a transfer of the economics from the landlord to the tenant.
So we closely monitor all the activity for the states that we operate in, and we're also working with our National Association to make sure that our industry is represented.But it's kind of — for us, it's more of the same.
Also from that same call, is this statement by Paul Seavey, Equity LifeStyle Properties, Inc. – Executive VP, Treasurer & CFO [3]
"…We gained 58 occupied sites in the quarter as a result of increasing our homeowner count by 85 and reducing rental occupancy by 27…."
Keep in mind that each of these sources are publicly traded firms. They are supposed to, by law and regulation, be making statements that are accurate.
Then, ponder the initiative launched last spring by the Manufactured Housing Association for Regulatory Reform (MHARR). That initiative was designed to get more home sites, developing, and related opportunities opened up. It is essential reading for those who want to grasp why the industry is underperforming.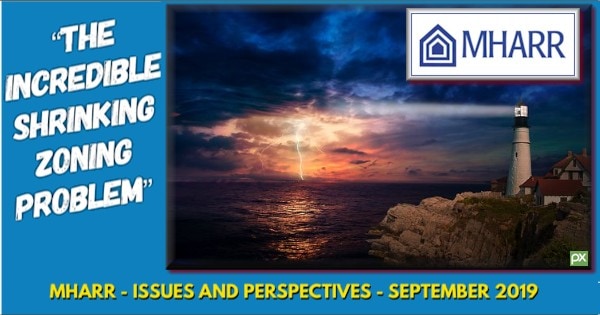 Then, ponder this exclusive statement by MHARR requested by MHProNews' publisher for those trying to better understand why certain legal and regulatory issues are so important.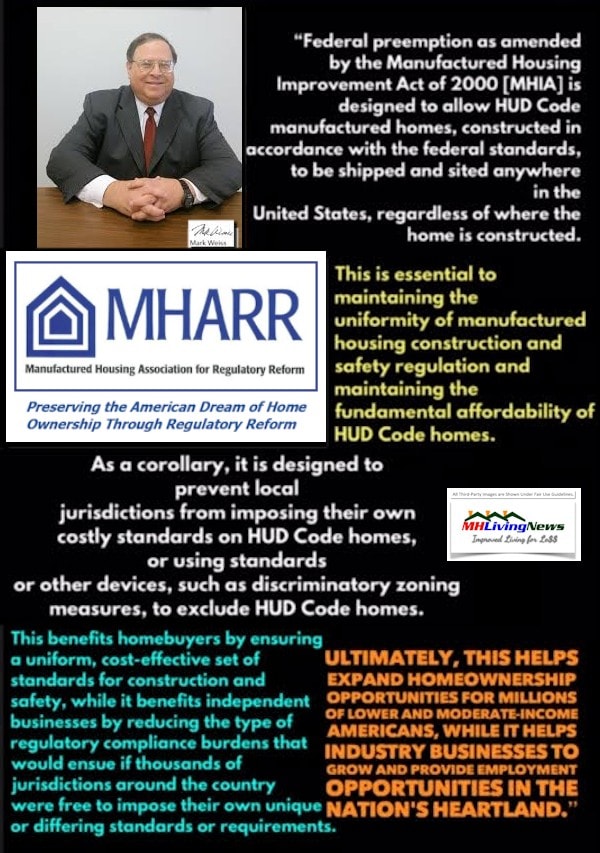 Last but not least are the Duty to Serve related issues, which impact land-lease properties and their residents in a variety of ways.
Stunning Official Statements from Cavco Industries, First Look – plus Manufactured Home Investing, Stock Updates
MHProNews Analysis
Let's take those various claims and datapoints above at face value. These factoids logically means the following.
There should be serious concerns over the relatively low levels of sales in land-lease communities that have good curb appeal and nice inventory. ELS' reported sales results ought to embarrass them, MHI, and others who are experiencing such low levels of sales. There are several logical consequences to that which could each merit their own report.
Given that MHI – at least on paper – says that they want to see the 'enhanced preemption' provision of the Manufactured Housing Improvement Act (MHIA) fully enforced by HUD, the development of new communities ought to be far more easy to accomplish. The reasons are explained by MHARR in the quotes and reports linked herein. But apart from MHARR, it is stating the obvious. If federal law makes manufactured housing preemptive – and it does – then why are there so few communities being developed?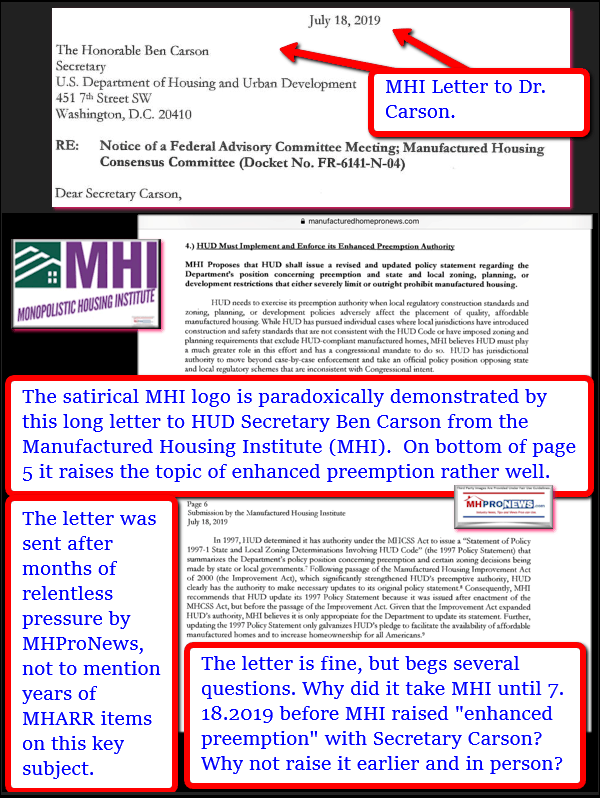 If MHI – and their 'big boy' members are serious about manufactured home industry growth, they are showing it in an odd way. Keep in mind that MHI claims that they work for that in their IRS and other public statements. But MHI's self-evidence failure to do what they claim to be wanting arguably harms numbers; in no particular order of importance:

All 'white hat' brands from any part of the manufactured housing industry.
Manufactured home community residents living in land-lease communities where property owners are aggressively raising site fees (lot rents).
Independent manufactured home community property owners, because the looming wave of rent control and/or other regulations will arguably harm them more than the big boys.
Lenders, producers, and other independents are all de facto targets for more M&A activity. Given that sales are at historic lows, the buy out prices are often less than they would be under normal conditions.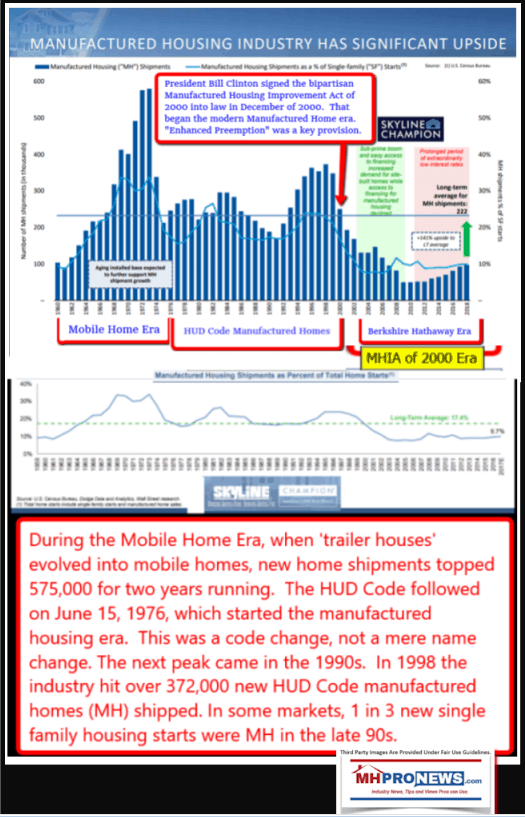 While the desire for 'rent control' to 'stabilize' rents is understandable for those residents who are suffering right now, and can't wait years for more developing, it must be acknowledged that there is ample evidence in the above that the 'big boys' are slow-growth managing the industry. Economics 101 tells us that keeps occupancy and valuations higher for companies like ELS, SUN, and numerous others. Rephrased, for hundreds of thousands of residents to get relief, there will have to be an initiative like MHARRs that must be pushed across the finish line at HUD and the state/local level.
White hat businesses and investors are needed. The opportunities are enormous.
Why is Skyline-Champion Giving Cover to Clayton Homes? Profitably QUESTIONING Manufactured Housing Institute Leadership for Professionals & Investors
MMI's research is useful and insightful – and when placed in the broader context outlined here and in other reports linked from herein and below the bylines, notices and offers – it gives public officials, advocates, professionals and others plenty of evidence for taking the necessary steps to address the issues that hobble the most proven part of the affordable housing industry.
Never forget that our holding MHI and some of their key members to account is not our voice alone, but others have leveled their own critiques, including some from those who are arguably engaged in their own black hat behavior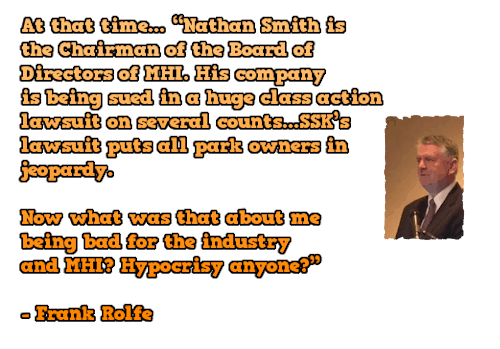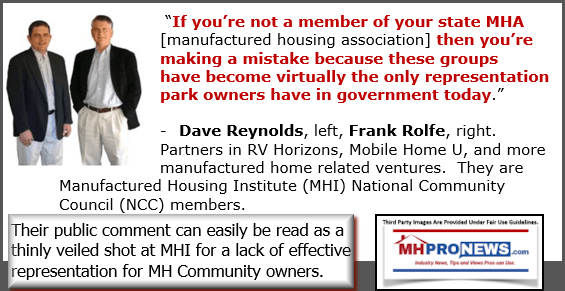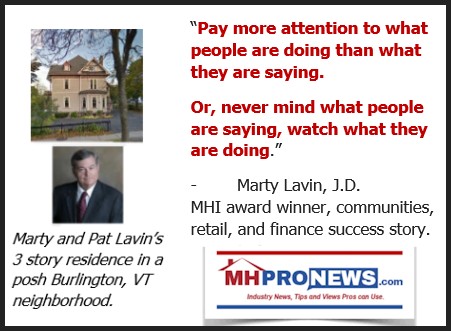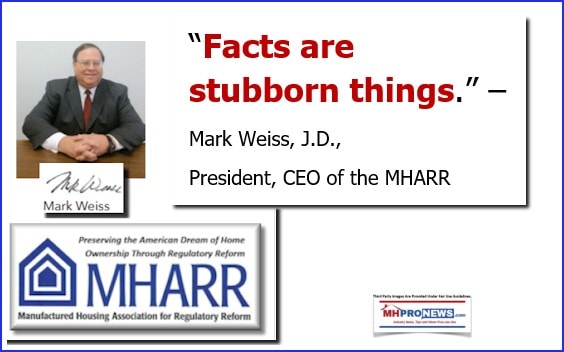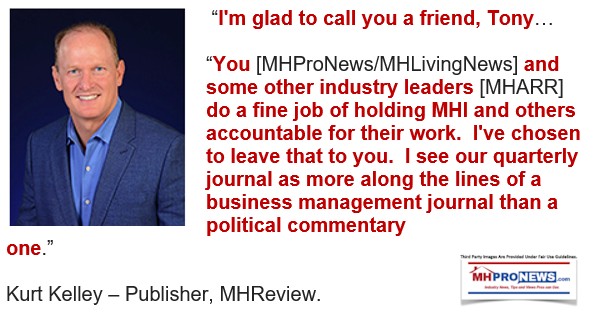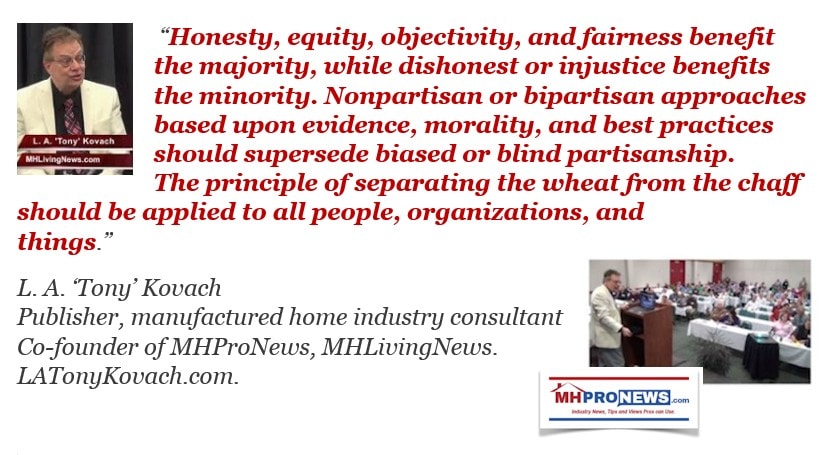 To see the balance of the MMI research, click here.  Newer readers? Now you see why we're the runaway number one in our industry. Who says?  Data like that shown below. Sorry if that sounds boastful, but the facts are what they are.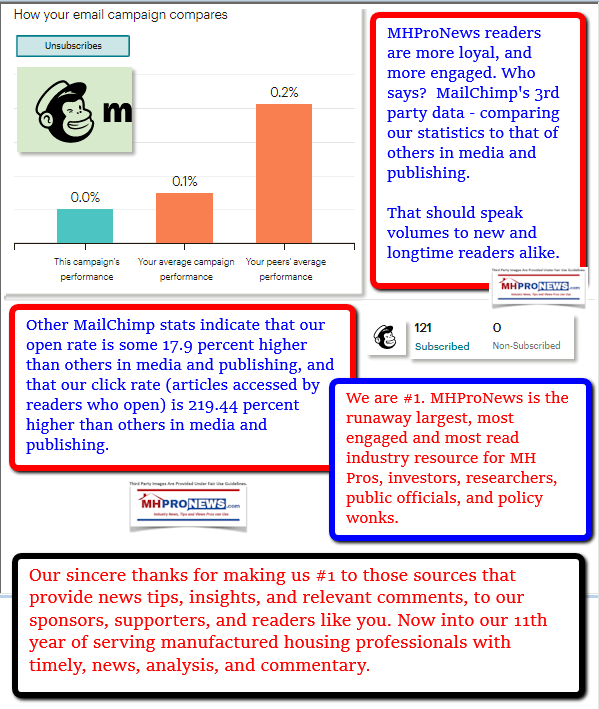 The industry's white hat professionals, advocates, and public officials should keep it simple in this respect.  Enforce good existing laws. Antitrust, deceptive trade practices, RICO and other laws could well be applied to stop market manipulation that harms consumers and smaller businesses. Enhanced preemption and the MHIA should be fully enforced, to give greater access to manufactured housing.  The Duty to Serve and other federally or state backed efforts to provide more financing for manufactured homes should be fully enforced.  That means that the problems at FHFA, that span Democratic and Republican Administrations should reject the GSEs respective plans.  They should all be held to account for the letter of the law being fully enforced.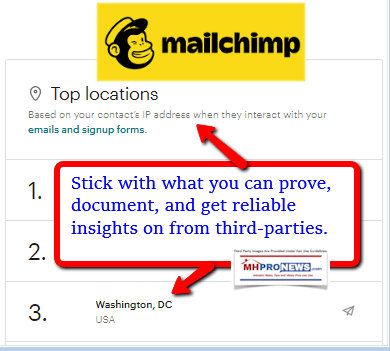 For those with the moxie and chutzpah to challenge the system – and there are those in MHVille who have and do – the opportunities are amazing for consumers and professionals alike. More affordable housing would benefit taxpayers too. It can be done in an ethical and legal fashion, instead of through purported market manipulations that harms millions. That's more food for thought on this installment of manufactured housing "Industry News, Tips, and Views Pros Can Use," © where "We Provide, You Decide." © ## (News, fact-checks, analysis, and commentary.)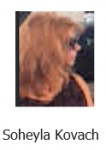 Submitted by Soheyla Kovach for MHProNews.com.
Soheyla is a managing member of LifeStyle Factory Homes, LLC, the parent company to MHProNews, and MHLivingNews.com. Connect with us on LinkedIn here and and here.
Related Reports:
Click the image/text box below to access relevant, related information.
Stunning Official Statements from Cavco Industries, First Look – plus Manufactured Home Investing, Stock Updates
Paltering, Manufactured Homes, CrossModTM Homes, Manufactured Housing Institute, Clayton Homes, Berkshire Hathaway Manufactured Home Lenders, DTS, and You
Cavco, Sun, ELS Public Statements Point to Problems for MHI, Fannie, Freddie – Public Officials, Investor, Advocates, Professionals Alerts
Trailer Houses to Mobile Homes, and Manufactured Housing in Historic, Political, Media, and Business Contexts – For Independent, Evidence-Minded Thinkers Only
Smaller, Independent Businesses, Property Ownership, Manufactured Housing Risks and Opportunities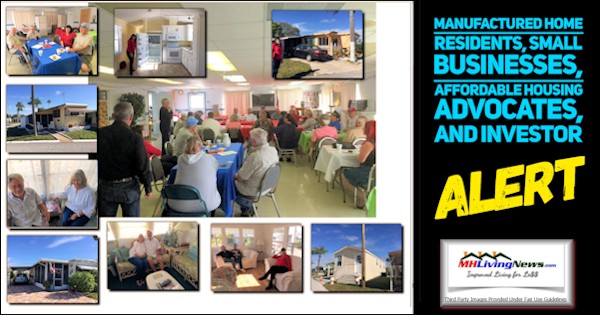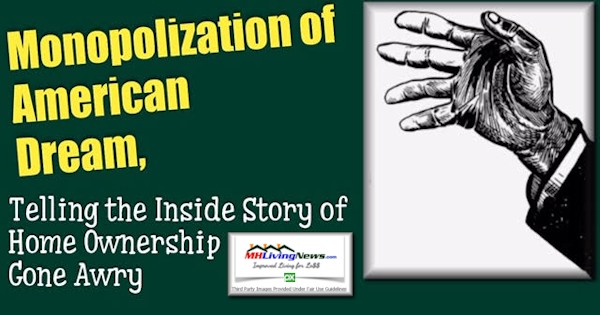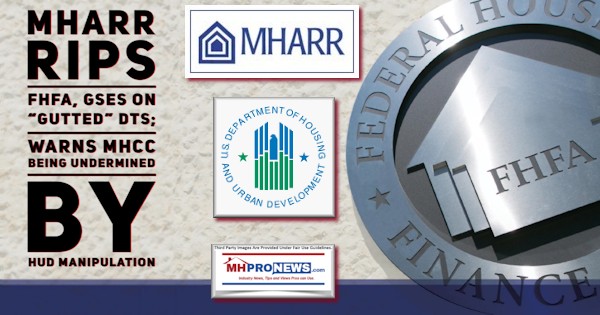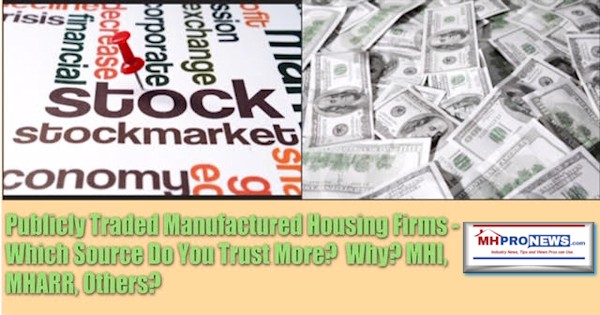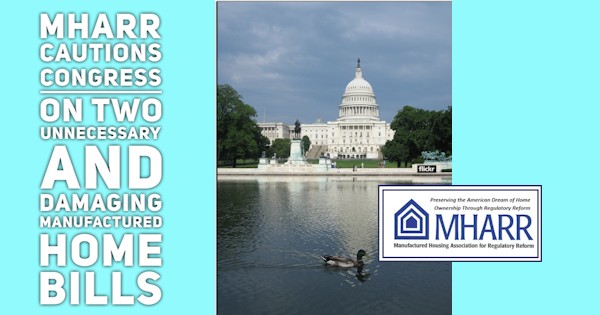 Bombshells! Former HUD Manufactured Housing Program Administrator Bill Matchneer, Cavco's Manuel Santana Statements
Does Misinformation Matter? Revealing But Misleading 'News' by MHInsider and the Manufactured Housing Institute?
Rent Controls and Manufactured Housing Restrictions Targeted in New Presidential Executive Order
Manufactured Housing Institute 'Studies' Threat of National Rent Control, Allen Shivvies MHI, Berkshire Brands
HUD-Corporate-Nonprofit Triangle – MHI's Lesli Gooch Surprising Letter Drops, Places HUD-GSE-Nonprofit Exec in Crosshairs
"Tug of War" – Manufactured Home Community Legislation – "Vicious Cycle Goes On," Impacting Industry, Home Owners, and Potential Buyers
Factoids About Manufactured Housing Professional News Engagement Reveal Federal, Regulatory, Corporate, and Investor Interest
Senator Elizabeth Warren Takes Aim, Blasting Again MHI Member Company in 2020 Campaign Stop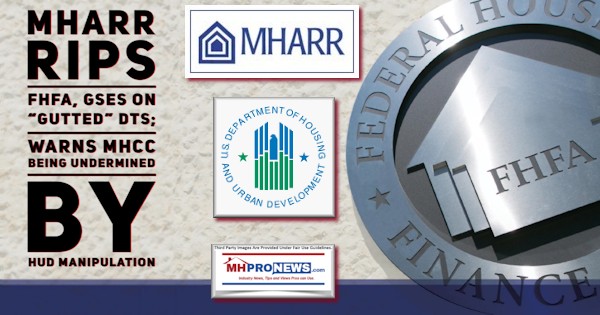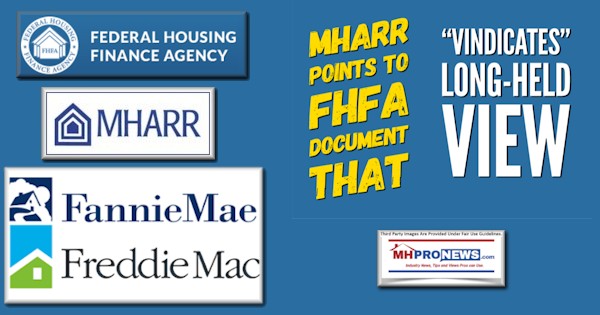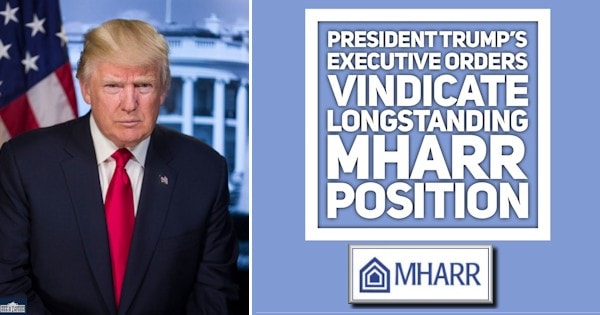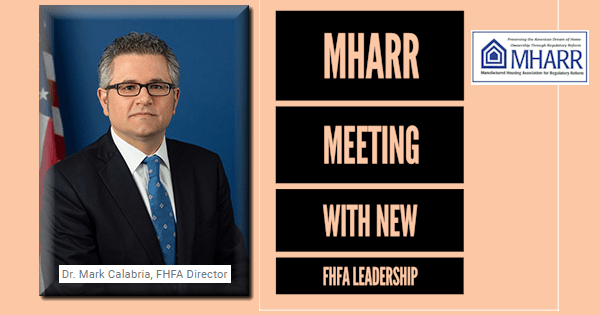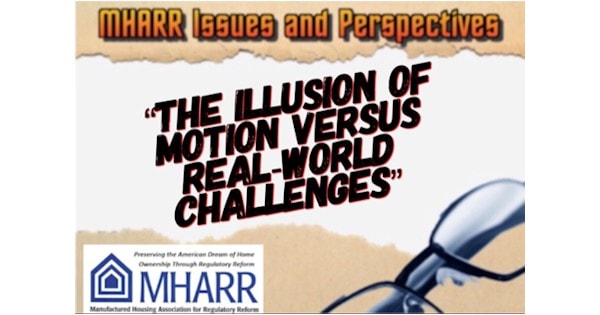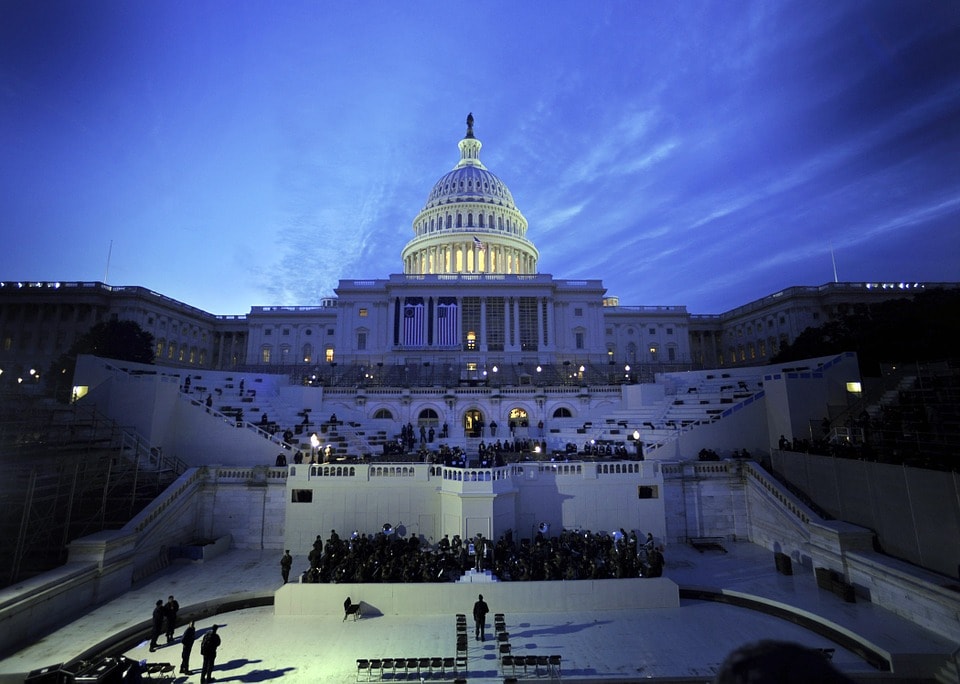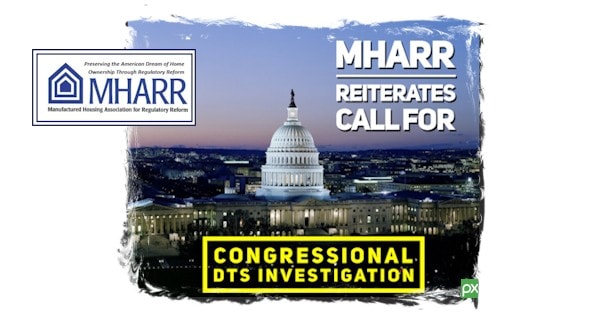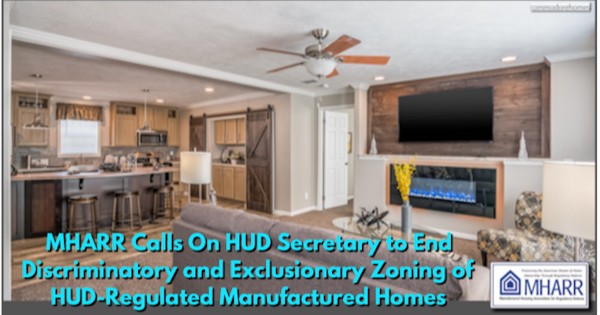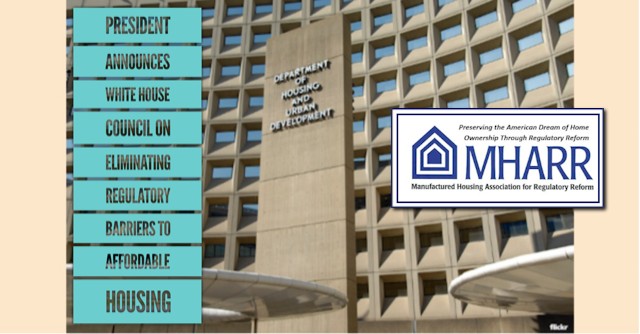 A Tale of Two Cities, Affordable Housing, Manufactured Homes, and You