MHProNews made a number of inquiries to see if normally informed sources were aware of the announced deal between The Commodore Corporation (TCC) which is being acquired by Cavco Industries (CVCO).  Further, as a possible upcoming report may reveal, there are indications that Commodore's leadership – specifically founder Barry S. Shein, President and Chief Executive Officer (CEO) – had not signaled that they were pondering a sale. Rather, they positioned themselves as a comparatively large independent producer of HUD Code manufactured homes and modular homes. The Commodore Corporation (TCC) were growing their business, which was about a 50-50 mix of HUD Code manufactured homes and modular homes, as an exclusive interview linked here reflected. For instance, "we significantly expanded 2 other facilities to gain volume and improve quality."
That noted, this prior comment by Shein is worth noting. "Our biggest challenge is keeping up with increasing demands of regulators (HUD Code & State Modular). The HUD code product suffers from lack of access to chattel financing and the secondary market."
"The key to [selling] more units [manufactured/modular homes] lies in more distribution. I believe the economics of manufactured home community development and the cost of opening and sustaining a retail store do not favor increased shipments. I also believe the industry is challenged with not having sufficient people available at all levels to increase units."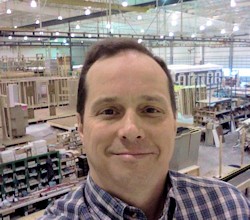 The closing comment by Shein included a reference to Robert "Bob" Bender, his son in law. "I came into the manufactured housing industry 30 years ago from the real estate world and am as excited today as I was then. I am thrilled that my son-in-law feels that same excitement and intends on carrying on and growing our company. I look forward to the day that he becomes CEO and leads our great management forward."
Closely read, there were indications that headwinds often reported by MHProNews were an issue.  That noted, there was also a clear, closing message that Shein was looking ahead to Bender's leading the company ahead.  As an industry pro not outside of TCC told MHProNews that he was "a little surprised by this deal. If I were a betting man (and I'm not) I would have assumed that Commodore would be in the role of the buyer not the seller." Again, a previous exclusive and still insightful interview with Shein is linked here. It provides a focused cross section of his and the firm's history, products, and vantage points.
Markets @ Business Insider gave these bullets in their snapshot of the deal, published on July 26, 2021
Cavco Industries Inc (NASDAQ:CVCO) signed a binding offer to acquire the business and certain assets and liabilities of Commodore Corporation, a builder of manufactured and modular housing, for $153 million in cash.
The acquisition includes Commodore's six manufacturing facilities and two wholly-owned retail locations.
Commodore generated net sales of about $258 million and sold over 6,600 modules, equating to over 3,700 homes, in the last 12 months ended March 31, 2021.
Cavco expects the deal to expand its geographic reach into the Northeast United States, and enhance its presence in the Midwest, and Mid-Atlantic markets.
It expects to close the transaction in Q3 FY22.
Cavco expects the proposed deal to be significantly accretive to earnings and cash flow from operations in fiscal year 2022.
Cavco to fund the acquisition entirely with cash on hand. It held $322.2 million in cash and equivalents as of March 31, 2021.
Price action: CVCO shares are trading higher by 3.60% at $225.69 on the last check Monday.
The official media statement by Cavco Industries (CVCO), which included the customary comments by Shein as the seller is as follows. The typo of the lower case "t" in "the" below is in the original. In fairness, it is an interesting grammatical and headline issue either way.
Cavco Industries Announces Planned Acquisition of Manufactured and Modular Home Builder the Commodore Corporation
July 26th, 2021
PHOENIX, AZ, July 26, 2021 – Cavco Industries, Inc. (Nasdaq: CVCO) ("Cavco" or the "Company") announced today that it has signed a binding offer to acquire the business and certain assets and liabilities of The Commodore Corporation ("Commodore"), including its six manufacturing facilities and two wholly-owned retail locations. Commodore is the largest independent builder of manufactured and modular housing in the United States, operating under a variety of brand names such as Commodore Homes of Pennsylvania, Commodore Homes of Indiana, Colony Homes, MidCountry Homes, Pennwest Homes and R-Anell Homes. Commodore has over 1,200 employees and operates across the Northeast, Midwest and Mid-Atlantic regions, with wholly-owned retail stores in Indiana and New York. In addition to manufacturing, Commodore also participates in commercial lending operations with its dealers that Cavco will also acquire and continue the existing programs. For the last 12 months ended March 31, 2021, Commodore generated net sales of approximately $258 million and sold over 6,600 modules, equating to over 3,700 homes
The purchase price totals $153 million, before certain adjustments that will be determined upon close of the transaction. The estimated cash outlay is $140 million after adjustments and including transaction fees. Cavco expects to fund the acquisition entirely with cash on hand.
Bill Boor, Cavco President and Chief Executive Officer, said, "During the acquisition process, we have developed a tremendous respect for what has been accomplished at Commodore under Barry Shein's leadership. Their reputation for quality, design, customer relationships, and integrity is very consistent with Cavco's philosophy and approach to doing business. We are extremely excited to work with the Commodore leadership and employees as we leverage best practices and technologies across the combined manufacturing network. Commodore's market presence is a strategic extension of our current footprint, providing a platform for additional growth in the Northeast."
Barry Shein, President and Chief Executive Officer of Commodore, commented, "What was most important to me and the other members of Commodore's leadership was to find the best fit for our company and employees, and we've found that in Cavco. Based on their vision for the industry and business philosophy, I have complete confidence that this is the right move for our dedicated associates, our valued suppliers, and our long-time customers. I offer my full support to ensure a smooth transition and a successful future for Commodore and its employees as part of the Cavco family."
Highlights of the proposed transaction:
Financial Impact: Cavco expects this proposed acquisition to be significantly accretive to earnings and cash flow from operations in fiscal year 2022.
Capital Allocation: Following this strategic deployment of existing cash, Cavco will still maintain a significant cash position available for other investments.
Geographic Footprint: The addition of Commodore will expand Cavco's geographic reach into the Northeast United States, while enhancing its presence in the Midwest and Mid-Atlantic markets.
Leadership: Commodore brings a strategic and innovative management team with a great cultural fit with Cavco's values and local management philosophy.Their continued leadership will play a critical role in the Company's long-term success.
Potential for operational and revenue synergies: Best practice implementation will create significant manufacturing cost and efficiency improvements across the combined company. In addition to approaches Cavco can bring to the Commodore operations, Commodore has developed and implemented advanced manufacturing technologies that will lead to significant improvements to the Cavco operations. Additionally, the combined network of plants will create distribution improvement opportunities.
The transaction is expected to close in the Company's third quarter of fiscal year 2022, subject to applicable regulatory approvals and satisfaction of certain customary conditions. TN Capital Advisors LLC ("True North") acted as exclusive financial advisor to Cavco for the transaction. Whelan Advisory and Lincoln International acted as advisors to The Commodore Corporation. Polsinelli served as legal advisor to Cavco. Williams Parker served as legal advisor to The Commodore Corporation.
…
About Cavco
Cavco Industries, Inc., headquartered in Phoenix, Arizona, designs and produces factory-built housing products primarily distributed through a network of independent and Company-owned retailers. The Company is one of the largest producers of manufactured homes in the United States, based on reported wholesale shipments, marketed under a variety of brand names including Cavco, Fleetwood, Palm Harbor, Fairmont, Friendship, Chariot Eagle and Destiny. The Company is also a leading producer of park model RVs, vacation cabins and systems-built commercial structures, as well as modular homes built primarily under the Nationwide Homes brand. Cavco's finance subsidiary, CountryPlace Mortgage, is an approved Fannie Mae and Freddie Mac seller/servicer and a Ginnie Mae mortgage-backed securities issuer that offers conforming mortgages, non-conforming mortgages and home-only loans to purchasers of factory-built homes. Our insurance subsidiary, Standard Casualty, provides property and casualty insurance to owners of manufactured homes. Additional information about Cavco can be found at www.cavco.com.
About Commodore
The Commodore Corporation and its different divisions have a history dating from 1952. They are the largest independent manufactured and modular  homebuilder in the United States, operating under a variety of brand names including Commodore Homes of Pennsylvania, Commodore Homes of Indiana, Colony Homes, MidCountry Homes, Pennwest Homes and R-Anell Homes. Additional information about Commodore can be found at www.commodorehomes.com.
Forward-Looking Statements
Certain statements contained in this release are forward-looking statements within the meaning of Section 27A of the Securities Act of 1933, Section 21E of the Securities Exchange Act of 1934 and the Private Securities Litigation Reform Act of 1995. In general, all statements that are not historical in nature are forward-looking. Forward-looking statements are typically included, for example, in discussions regarding the manufactured housing and site-built housing industries; our financial performance and operating results; and the expected effect of certain risks and uncertainties on our business, financial condition and results of operations. All forward-looking statements are subject to risks and uncertainties, many of which are beyond our control. As a result, our actual results or performance may differ materially from anticipated results or performance. Factors that could cause such differences to occur include, but are not limited to: the impact of local or national emergencies including the COVID-19 pandemic, including such impacts from state and federal regulatory action that restricts our ability to operate our business in the ordinary course and impacts on (i) customer demand and the availability of financing for our products, (ii) our supply chain and the availability of raw materials for the manufacture of our products, (iii) the availability of labor and the health and safety of our workforce and (iv) our liquidity and access to the capital markets; labor shortages and the pricing and availability of raw materials; our ability to successfully integrate past acquisitions or future acquisitions and the ability to attain the anticipated benefits of such acquisitions; the risk that any past or future acquisition may adversely impact our liquidity; involvement in vertically integrated lines of business, including manufactured housing consumer finance, commercial finance and insurance; information technology failures or cyber incidents; our participation in certain wholesale and retail financing programs for the purchase of our products by industry distributors and consumers, which may expose us to additional risk of credit loss; significant warranty and construction defect claims; our contingent repurchase obligations related to wholesale financing; a write-off of all or part of our goodwill; our ability to maintain relationships with independent distributors; our business and operations being concentrated in certain geographic regions; governmental and regulatory disruption, including federal government shutdowns; curtailment of available financing from home-only lenders; availability of wholesale financing and limited floor plan lenders; market forces and housing demand fluctuations; the cyclical and seasonal nature of our business; competition; general deterioration in economic conditions and turmoil in the credit markets; unfavorable zoning ordinances; extensive regulation affecting manufactured housing; potential financial impact on the Company from the subpoenas we received from the SEC and its ongoing investigation, including the risk of potential litigation or regulatory action, and costs and expenses arising from the SEC subpoenas and investigation and the events described in or covered by the SEC subpoenas and investigation, which include the Company's indemnification obligations and insurance costs regarding such matters, and potential reputational damage that the Company may suffer; losses not covered by our director and officer insurance, which may be large, adversely impacting financial performance; loss of any of our executive officers; net losses were incurred in certain prior periods and our ability to generate income in the future; liquidity and ability to raise capital may be limited; organizational document provisions delaying or making a change in control more difficult; volatility of stock price; together with all of the other risks described in our filings with the SEC. Readers are specifically referred to the Risk Factors described in Item 1A of the 2021 Form 10-K, as may be amended from time to time, which identify important risks that could cause actual results to differ from those contained in the forward-looking statements. Cavco expressly disclaims any obligation to update any forward-looking statements contained in this release, whether as a result of new information, future events or otherwise. Investors should not place undue reliance on any such forward-looking statements.
A prior report on Cavco Industries is linked below.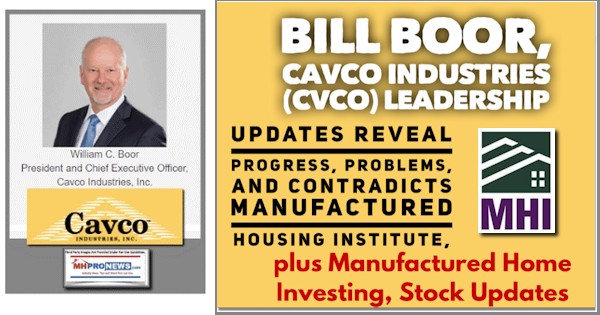 Comments from Tom Hardiman, Modular Home Builders Association (MHBA)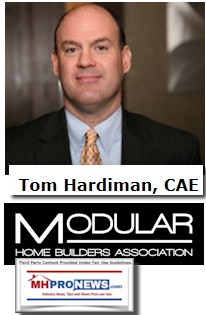 MHBA's Hardiman said in an email to MHProNews that The "Commodore Corporation is a member of the Modular Home Builders Association through their Pennwest, Manorwood, R-Anell, and Commodore of Indiana divisions. They have been active members for several years including serving in leadership roles with the organization.
Cavco is also a member through their Fairmont and Nationwide divisions. Although a bit newer to the association than Commodore, we still appreciate their involvement and support.
I have no knowledge of the negotiations between the two companies but have to assume it was a good deal for both.
We hope and anticipate that all the divisions will continue to support our industry efforts of removing and reducing regulatory barriers, promoting the advantages of modular homes, and working collectively to grow our market share.
Tom Hardiman
Executive Director
##
A recent, stout statement by Hardiman on mainstream housing issues as it relates to factory home building is linked below.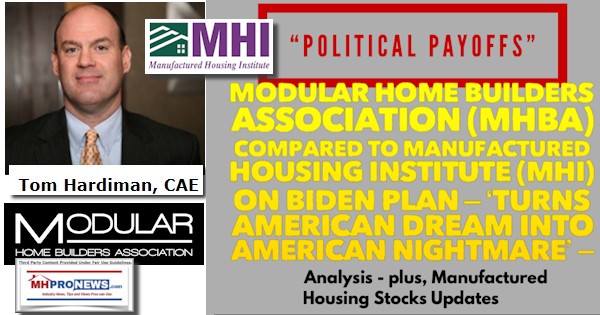 MHProNews plans to monitor the emerging issues involved and report accordingly.
But the bottom line is this. The consolidation of the HUD Code manufactured home industry is continuing. A parallel statement could apply to modular builders, per sources in that sector of factory-built housing.
Call it a Housing Bubble or Not "Current Situation is Untenable" – Manufactured Housing, Housing Bubble Experts Debate What's Ahead; Plus Manufactured Home Stock Updates
Next up is our business daily recap of yesterday evening's market report and related left-right headlines.
The Business Daily Manufactured Home Industry Connected Stock Market Updates.  Plus, Market Moving Left (CNN) – Right (Newsmax) Headlines Snapshot. While the layout of this business daily report has recently been modified, several elements of the basic concepts used previously are still the same. The headlines that follow below can be reviewed at a glance to save time while providing insights across the left-right media divide. Additionally, those headlines often provide clues as to possible 'market-moving' items.
Market Indicator Closing Summaries – Yahoo Finance Closing Tickers on MHProNews…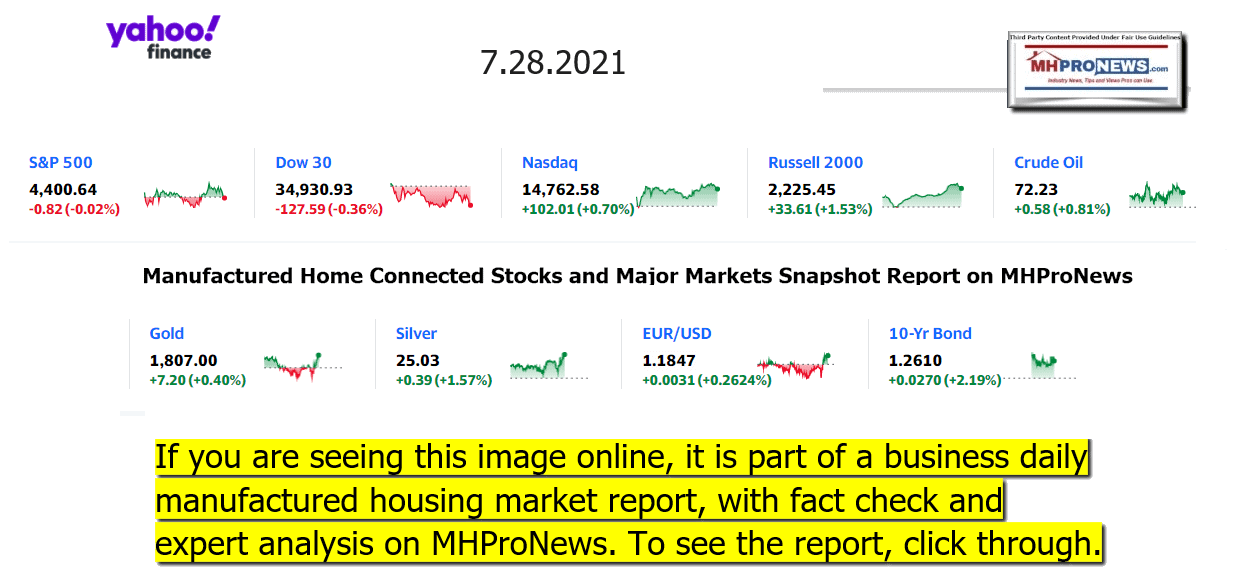 Headlines from left-of-center CNN Business = evening of 7.28.2021 
A long road
New Ford F-Series pickup trucks are stored in a lot during a semiconductor shortage at Kentucky Speedway in Sparta, Kentucky, U.S., on Friday, July 16, 2021. Ford will build and hold these vehicles for a number of weeks, then ship the vehicles to dealers once the modules are available and comprehensive quality checks are complete, stated Ford Spokeswoman Kelli Felker to CarsDirect.
The Great American Car Shortage won't be over for months
Fed keeps interest rates and asset purchases unchanged
If the Fed and White House are wrong about inflation, the recovery could be upended
Google will require vaccinations for employees returning to the office
Boeing returns to profitability, cancels plans for layoffs
LIVE UPDATES Crucial Fed meeting has US stock investors on edge
Apple, Google and Microsoft have about $460 billion in cash
Amazon is everywhere. Here's how the US could break it up
Critical jobs are going unfilled. 5 things workers want from employers now
US lawmakers turn up heat on American sponsors over Beijing Olympics
The car market is gonzo. Here's what to do if you have to buy one anyway
Managers will have to enforce rules for unvaccinated employees, and it won't be easy
Beijing calls for calm after historic tech stock rout
ANALYSIS The explosive Brexit spat that no one is talking about could slam the UK economy
Facing an employee walkout, Activision Blizzard CEO says his company's response to lawsuit was 'tone deaf'
The Porsche dynasty is taking on Jeff Bezos and Elon Musk in space
USA's Simone Biles reacts during the artistic gymnastics women team final during the Tokyo 2020 Olympic Games at the Ariake Gymnastics Centre in Tokyo on July 27, 2021.
Simone Biles' sponsors stand by her after she withdraws from Olympic events
Mattel Inc. Barbie brand dolls are displayed for sale at a Walmart Inc. store in Burbank, California, U.S., on Tuesday, Nov. 26, 2019.
Barbie maker says higher prices are coming just in time for the holidays
Microsoft's CEO Satya Nadella speaks to participants during the Viva Technologie show at Parc des Expositions Porte de Versailles on May 24, 2018 in Paris, France. Viva Technology, the new international event brings together 5,000 startups with top investors, companies to grow businesses and all players in the digital transformation who shape the future of the internet.
FORESEEABLE FUTURE Join a conversation about the workplace revolution with Microsoft CEO Satya Nadella. RSVP HERE
WORK-LIFE BALANCE
Simone Biles of United States of America during women's Artistic  Gymnastics team final at the Olympics at Ariake Gymnastics Centre, Tokyo, Japan on July 27, 2021.
Mental health is front and center in news stories from Tokyo to Washington
How to prepare your finances as things reopen
How managers really feel about remote work
These return-to-work programs could help moms
Why Wall Street is in such a rush to get workers back to the office
CRYPTO CRAZE
MPA Africa emerging tech blockchain crypto spc_00010312.png
How cryptocurrency and blockchain tech can transform Africa
Cryptocurrency, explained
Elon Musk wants Bitcoin to succeed
How to profit from greener bitcoin miners
Bitcoin and crypto's 'Elon Musk problem'
Headlines from right-of-center Newsmax – evening of 7.28.2021
Portman: GOP 'Prepared to Move Forward' on $1T Infrastructure Bill
Rob Portman, R-Ohio, the lead GOP negotiator in the infrastructure talks, is joined by, from left, Sens. Lisa Murkowski, R-Alaska, Bill Cassidy, R-La., and Susan Collins, R-Maine, as he announces an agreement with Democrats on a $1 trillion infrastructure bill Wednesday. (J. Scott Applewhite/AP)
Senate Republicans negotiating a $1 trillion infrastructure bill with Democrats have reached agreement on the major outstanding issues and are ready to move forward on the bill, lead negotiator Sen. Rob Portman, R-Ohio, announced at midday. [Full Story]
Newsmax TV
Dershowitz: Courts Likely to Back Mandatory COVID Shots
Border Patrol's Del Cueto: 5 Million in US Illegally in 4 Years
Ex-Rep. Pete King: Pelosi 'Stacked' Jan. 6 Committee
Dershowitz to Newsmax: 'Outrageous' to Blame Jan. 6 on 'Hitman' Analogy
Marsha Blackburn: Using China's Digital Currency Puts Regime 'In Your Wallet' |
Mike Braun: Infrastructure Bills 'Linkage' Is an Issue |
Ric Grenell: Californians 'Sick and Tired' of Gov. Newsom |
Alan Dershowitz: Trump May Be Called, but Panel Will 'Fail' |
More Newsmax TV
Newsfront
Chip Roy Slams Pelosi Over Mask Mandate
Chip Roy lashed out at House Speaker Nancy Pelosi, D-Calif., on Wednesday over a mask requirement being reinstated in the House, calling Congress "a sham" and forcing a vote to adjourn for the day…… [Full Story]
Dershowitz to Newsmax: 'Outrageous' to Blame Jan. 6 on 'Hitman' Analogy
It is "outrageous" to blame the violence at the Capitol on a [Full Story]
Border Patrol's Del Cueto to Newsmax: 5 Million in US Illegally in 4 Years
The United States could have "close to, if not over, 5 million" more [Full Story]
Newsmax Crushes Fox in Key Ratings During Trump Rally
Newsmax's live coverage of former President Donald Trump's Phoenix [Full Story]
Fauci: CDC Has Not Flip-Flopped, Virus Has Changed
The change in guidelines from the Centers for Disease Control and [Full Story]
Simone Biles' Olympic Pullout May Start a Trend
Jaws dropped when Olympic gold medalist gymnast Simone Biles – one of [Full Story] |
Fed Holds Rate Near Zero, Notes Improving Economy
The Federal Reserve said Wednesday that the U.S. economy is [Full Story]
Low Hospitalization Rate is Better Measure of COVID Spread
Public health experts say hospitalization rates provide a better [Full Story] |
Democrat Donor Convicted In Deaths of Two Men He Offered Drugs for Sex
Prominent Democrat donor Ed Buck has been convicted of charges [Full Story]
'Eric Bolling The Balance' Debuts on Newsmax
It's a show for everyday Americans, covering the issues that truly [Full Story]
1 Arrested in Shooting That Killed Teen, Wounded TikTok Star
Police have arrested a man in connection with a shooting that killed [Full Story]
Biden's Hyper-Inflation, It's Here!
Newsmax Magazine special report reveals surprising facts … [Full Story]
31 Dubai Photos That Will Make You Think Twice Before Visiting
Definition
Google Delays Workers' Return to Office, Mandates Vaccines
Google is postponing a return to the office for most workers until [Full Story]
Dershowitz to Newsmax: Courts Will Likely Back Mandatory COVID Shots
Courts "always follow the science" and will uphold mandatory COVID-19 [Full Story]
New York City Offering $100 for Vaccination
New York City Mayor Bill de Blasio on Wednesday announced that the [Full Story]
Wisconsin Officer Charged in 2016 Slaying of Black Man
A Wisconsin judge charged a police officer Wednesday in the 2016 [Full Story]
Senate Republicans Agree on $1T Infrastructure Bill
Senate Republicans negotiating a $1 trillion infrastructure bill with [Full Story]
Extreme Heat Sends New Yorkers to ERs
Recent heat waves have sent hundreds of people to emergency rooms [Full Story]
Biden Administration Imposes Fresh Syria Sanctions
The U.S. Treasury Department on Wednesday imposed fresh Syria-related [Full Story]
Related
Biden Admin Official: Troops Expected to Remain in Syria
Tennessee Pastor Vows to Ban Mask-Wearing Church Members
A firebrand Tennessee pastor has threatened to ban church members if [Full Story]
CDC Director: New Mask Guidelines Don't Mean Vaccines Don't Work
The Centers for Disease Control and Prevention may have changed its [Full Story]
Primary Care Doctors Missing More Heart Failure Cases Each Year
White men are more likely to a receive correct and timely diagnosis [Full Story]
Man Charged With Threatening Fauci, NIH Director
A man has been charged with threatening President Joe Biden's chief [Full Story]
Texas Gov. Abbott Orders National Guard to Help Arrest Migrants
Greg Abbott, R-Texas, ordered the National Guard to help local [Full Story]
Bob Odenkirk Hospitalized After Collapsing on Set of 'Better Call Saul'
"Better Call Saul" star Bob Odenkirk had to be rushed to the hospital [Full Story]
Louis Council Rejects County Mask Mandate
The St. Louis County Council on Tuesday night voted to end the [Full Story]
Supreme Court Approval at 49 Percent: Gallup
Less than half the U.S. population approves of the job the Supreme [Full Story]
Town Drops Case Against Woman Over Obscene Anti-Biden Signs
The case has been dropped against a New Jersey homeowner and her [Full Story]
Government Sells Wu-Tang Album Owned by Martin Shkreli
The U.S. government has sold the only copy of the Wu-Tang Clan's [Full Story]
Obama Joins NBA Africa as Partner, Owner
Former U.S. President Barack Obama has joined NBA Africa as a [Full Story]
Seniors Under 82 Yrs Old Get Up To $50,000 In Life Insurance For $19/Mth
National Family Assurance
More Newsfront
Finance
Philip Morris to Stop Selling Cigarettes in UK Within 10 Years
Philip Morris International's chief executive told the Daily Mail on Sunday his company will stop selling cigarettes in Great Britain within the next decade. Jacek Olczak, who became the company's CEO in May… [Full Story]
Bayer to Appeal Court Ruling on PCBs if Necessary
Oil Resumes Gains as Report Points to Shrinking US Stockpiles
Indian Billionaire Investor Plans 70 Planes for New Airline
Nissan Forecasts Return to Annual Profit Despite Chip Shortage
More Finance
Health
When Can We Expect COVID Vaccines for Younger Kids?
The Food and Drug Administration has asked COVID-19 drug manufacturers Pfizer and Moderna to expand the size of their clinical trials for children ages 5 to 11 amidst reports of heart inflammation and other rare side effects that occurred in teens and young adults who… [Full Story]
Study: Corneal Changes May Signal Long COVID
Severe COVID for People Under 45: Who's Most at Risk?
Dementia Cases Will Nearly Triple Worldwide by 2050: Study
'OK Not to be OK': Mental Health Takes Top Role at Olympics
Manufactured Housing Industry Investments Connected Equities Closing Tickers
Some of these firms invest in manufactured housing, or are otherwise connected, but may do other forms of investing or business activities too.
NOTE: The chart below includes the Canadian stock, ECN, which purchased Triad Financial Services, a manufactured home industry lender
NOTE: Drew changed its name and trading symbol at the end of 2016 to Lippert (LCII).
NOTE: Deer Valley was largely taken private, say company insiders in a message to MHProNews on 12.15.2020, but there are still some outstanding shares of  the stock from the days when it was a publicly traded firm.  Thus, there is still periodic activity on DVLY.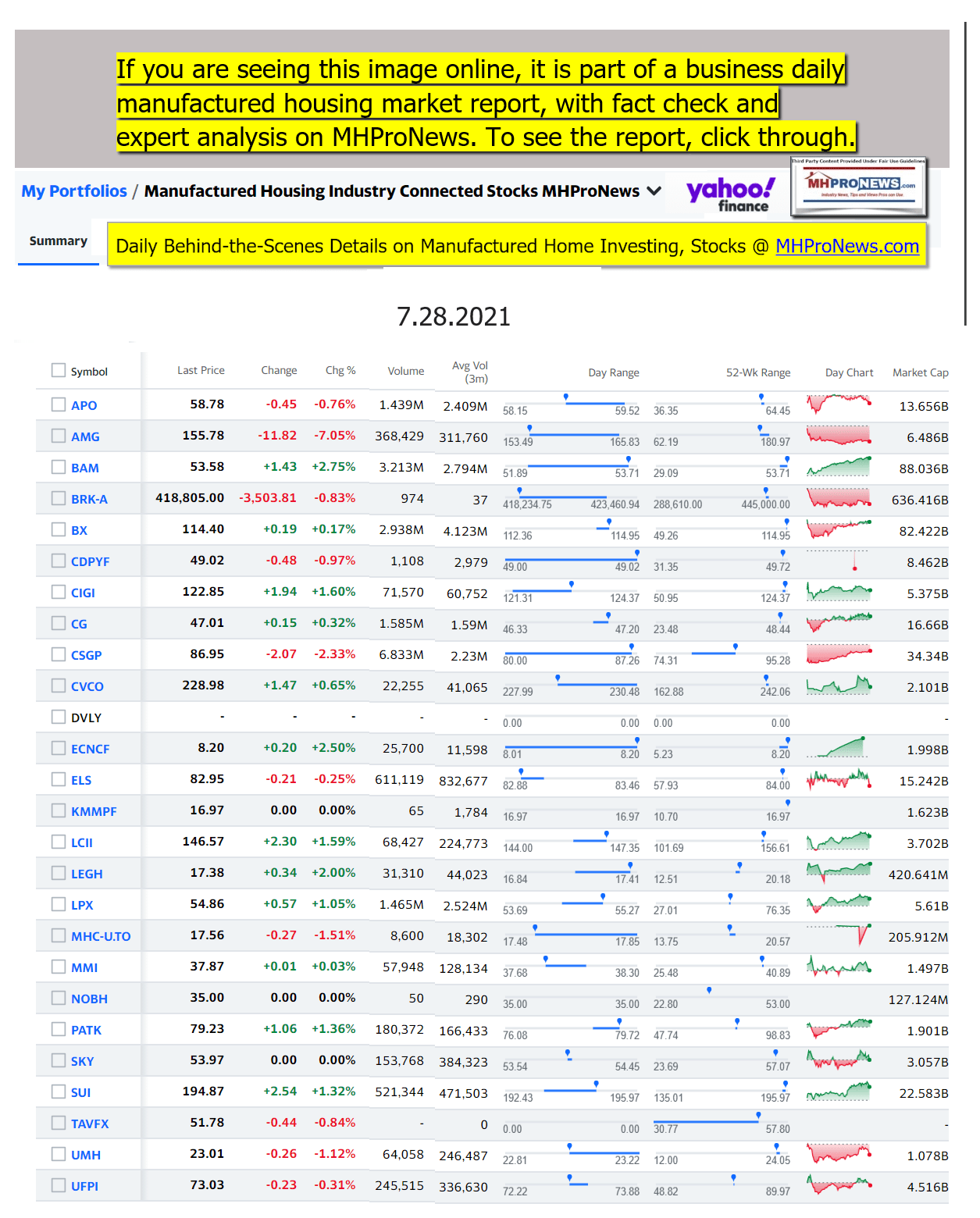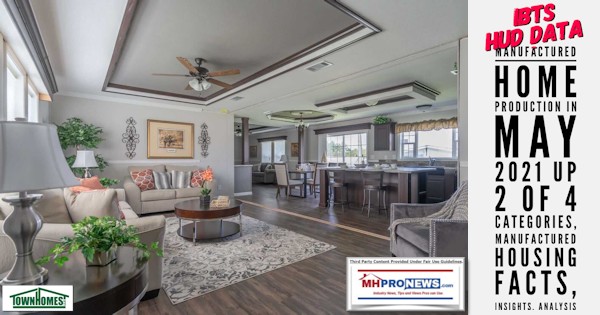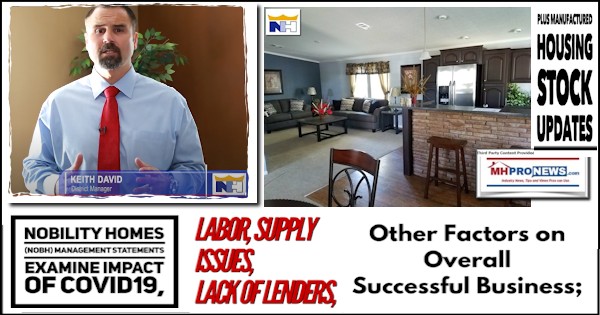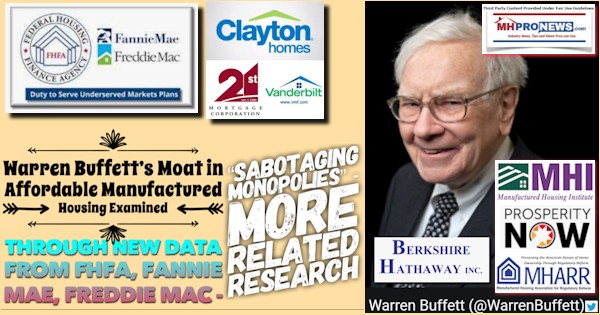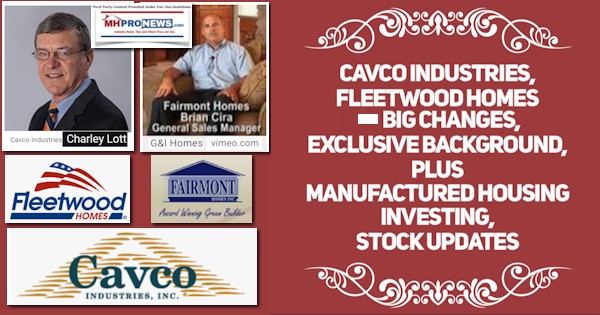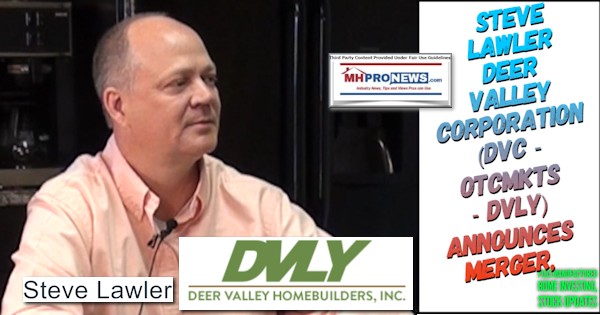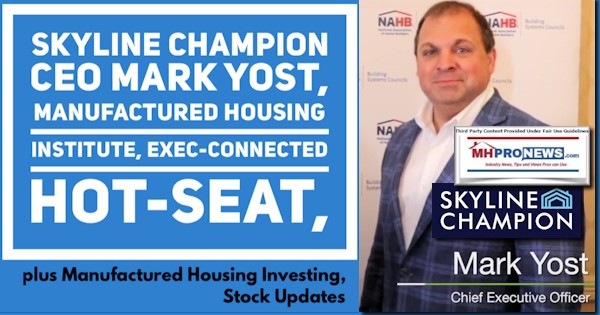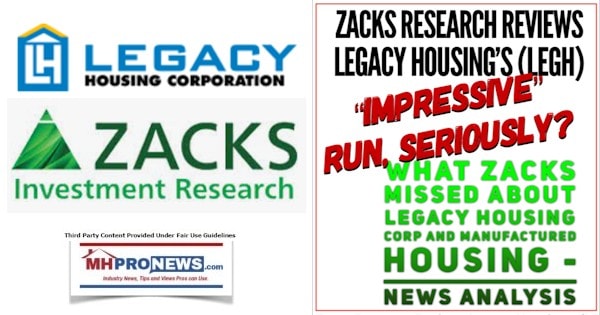 Spring 2021…
Berkshire Hathaway is the parent company to Clayton Homes, 21st Mortgage, Vanderbilt Mortgage and other factory built housing industry suppliers.
· LCI Industries, Patrick, UFPI, and LP each are suppliers to the manufactured housing industry, among others.
· AMG, CG, and TAVFX have investments in manufactured housing related businesses. For insights from third-parties and clients about our publisher, click here.
Enjoy these 'blast from the past' comments.
MHProNews. MHProNews – previously a.k.a. MHMSM.com – has celebrated our 11th year of publishing, and is starting our 12the year of serving the industry as the runaway most-read trade media.
Sample Kudos over the years…
It is now 11+ years and counting…
Learn more about our evolutionary journey as the industry's leading trade media, at the report linked below.
· For expert manufactured housing business development or other professional services, click here.
· To sign up in seconds for our industry leading emailed headline news updates, click here.

Disclosure. MHProNews holds no positions in the stocks in this report.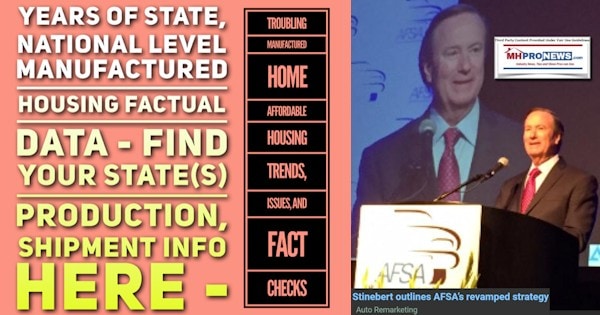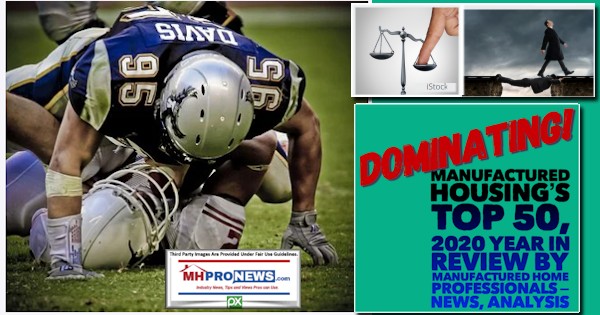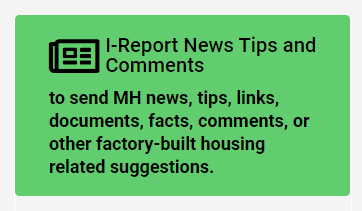 That's a wrap on this installment of "News Through the Lens of Manufactured Homes and Factory-Built Housing" © where "We Provide, You Decide." © (Affordable housing, manufactured homes, stock, investing, data, metrics, reports, fact-checks, analysis, and commentary. Third-party images or content are provided under fair use guidelines for media.) (See Related Reports, further below. Text/image boxes often are hot-linked to other reports that can be access by clicking on them.)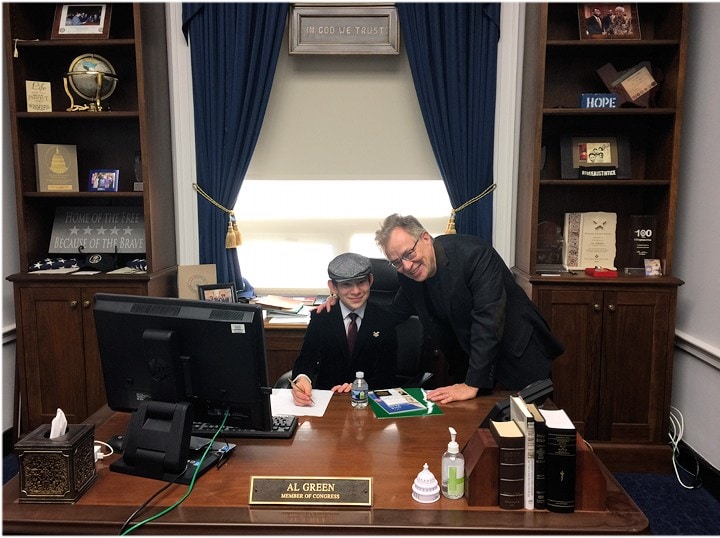 By L.A. "Tony" Kovach – for MHProNews.
Tony earned a journalism scholarship along with numerous awards in history. There have been several awards and honors and olso recognition in manufactured housing. For example, he earned the prestigious Lottinville Award in history from the University of Oklahoma, where he studied history and business management. He's a managing member and co-founder of LifeStyle Factory Homes, LLC, the parent company to MHProNews, and MHLivingNews.com. This article reflects the LLC's and/or the writer's position, and may or may not reflect the views of sponsors or supporters.