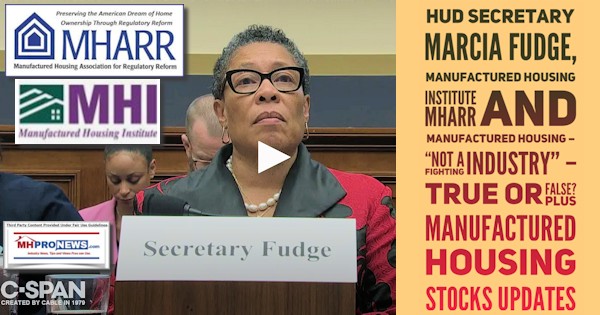 There are several muted, a boisterous, and several significant responses to recent revelations from the video statement by HUD Secretary Marcia Fudge by the professionals of the manufactured housing industry in general, and Manufactured Housing Institute (MHI) and Manufactured Housing Association for Regulatory Reform (MHARR) members and leaders more specifically. While there is a range of inputs, this report, analysis, and MHProNews commentary will focus on a few of the more compelling or interesting ones.
So far, there is no known reaction by the Manufactured Housing Institute (MHI) to the stunning comments from Secretary Marcia Fudge linked below.  Note: MHI is quoted verbatim in the report linked, and there is more on this with respect to MHI, shown further below.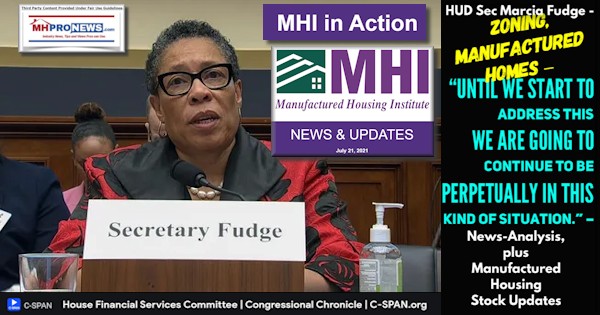 While it was not a formal comment on the issues raised by Secretary Fudge per se, the statement from Danny Ghorbani, senior advisor to the Manufactured Housing Association for Regulatory Reform (MHARR) and MHARR's founding president and CEO, does lay out the principles MHARR has on this topic. MHARR and MHI have both been asked for comment on this topic by MHProNews. More on each trade group's responses further below.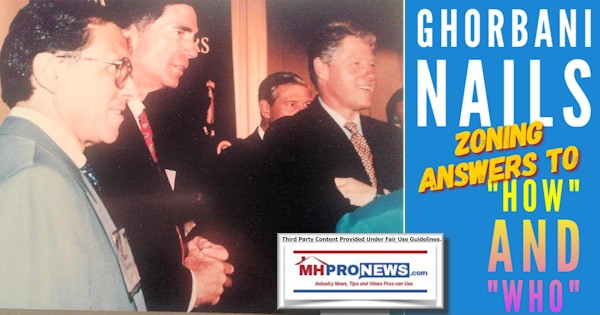 Among the comments and feedback into MHProNews so far, in no particular order of importance, are as follows.
Stunned that Secretary Fudge would be either so ill-informed, so mistaken, and/or so wrong in her behavior/statement on an issue – especially since manufactured housing should fit the Democratic agenda of providing more affordable housing.
Concerns that MHI failed to disclose Marcia Fudge's actual statement to their readers. What MHI did say – see the report linked here – was arguably misleading or inept at best and/or was deceptive and misleading at worst.
Concerns that manufactured housing is "…not a fighting industry

…

"

anymore, beyond the stated qualifier of MHARR, MHProNews, and MHLivingNews.
One source with long ties to MHI was more specific. In the light of several recent MHProNews reports, that source noted that in the 1980s and 1990s, there were often "raucous" discussions during MHI meetings over various industry issues. By contrast, now MHI members tend to go along to hopefully get along, apparently fearful of 21st Mortgage, Clayton Homes, et al 'retaliation.'
A longtime MHARR member said that in some ways they "don't blame" MHI members for not speaking out. After all, per that source, there are obvious worries about "predatory lending" controlled by Clayton Homes affiliated and Berkshire Hathaway-owned financing. That noted, that professional indicated that an obvious answer for those who fear Clayton/21st/MHI is to join MHARR and make their collective ability all that much stronger and able to push back against them.
MHI has not yet responded to multiple contacts on this inquiry. If that changes, this report will be updated and/or a new report on that topic will be published. That noted, see more on the MHI part of this issue further below.
By contrast, Mark Weiss, J.D., President and CEO of MHARR, sent the following within two hours of our inquiry on this topic.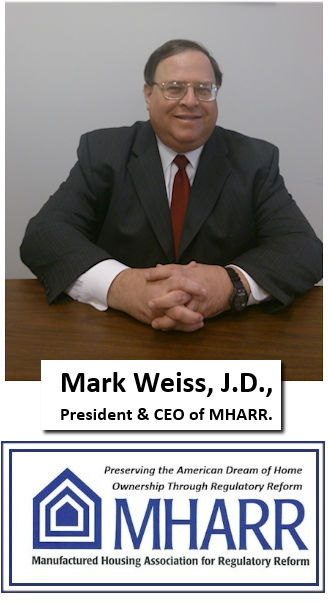 "The statement by Secretary Fudge is, at a minimum, very troubling — as well as inaccurate.  In fairness to her, it is possible that there was some degree of misunderstanding between her and the Committee member posing the question. The question was not whether HUD has the power to affirmatively "change" local zoning laws, but whether HUD has the power to supersede specific local zoning laws or decisions supposedly implementing those laws, if those laws or decisions discriminatorily exclude federally-regulated manufactured homes. I would point out as an initial observation, that even if we were talking about "changing" the substance of local zoning laws, the Secretary would still be wrong, as HUD seems to believe that it has that power under the Fair Housing Act and its revived Affirmatively Furthering Fair Housing (AFFH) rule to do just that. Indeed, that element was removed from AFFH by Secretary Carson and the Trump Administration, but reconstituted by the Biden Administration after it took office.  While the scope of that power under AFFH may be open to interpretation and debate, there is no question that HUD — at least under that policy — believes it does have the unilateral power to "change" local zoning laws.
More specifically, though, the addition of the word "requirements" in the preemption enhancement section of the 2000 law, broadens and extends HUD's previous interpretation of the law, which limited preemption to the invalidation of differing state and local construction and safety standards applicable to "the same aspect" of manufactured home performance as a federal standard. If it did not function to extend and expand the reach of preemption, it would effectively have no meaning, an interpretation that is inconsistent with the most basic rules of statutory construction.
More importantly, no one has to take my word for what was intended by Congress.  It was expressed quite clearly, shortly after the adoption of the 2000 law, in a letter (which you've cited and reproduced) sent to HUD by members of Congress who were directly involved in the 2000 reform law's development and passage.
MHARR, for its part, will directly address this matter with Secretary Fudge and senior-level HUD management — as should MHI, in order to ensure that the record is clear and that there is no misunderstanding regarding the scope of HUD's authority." ##
New readers and others might benefit from this prior comment by MHARR's Weiss.  Because a key part of the driving purpose behind the inclusion of "enhanced" preemption in the Manufactured Housing Improvement Act of 2000 was precisely because the original preemption provision in the 1974 act was deemed to be inadequate.  See Ghorbani's historic recount on that linked here.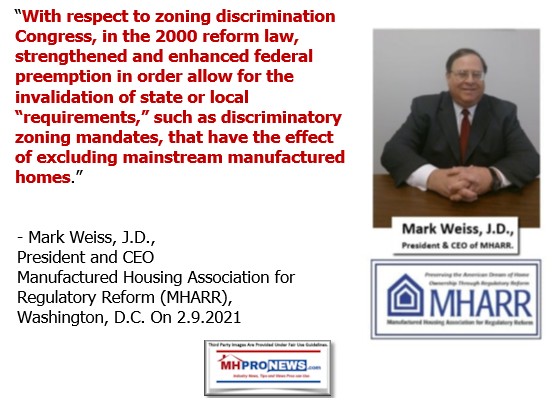 Additional Information, More MHProNews Analysis and Commentary
The apparent bad news for sustainable, ethical growth-minded, pro-independent business, pro-affordable housing consumer interests that MHProNews' exclusive report on Secretary Fudge and her comments on manufactured housing linked here has several possible silver linings.
There is no hiding the ball now. Secretary Fudge, and by extension, the Biden Administration, are on record in holding to a position that is contrary to the logic of their own claim on AFFH, as attorney and MHARR CEO Weiss detailed in his reply to MHProNews, above.
Similarly, Fudge's position is contrary to what the first administrator of HUD's Office of Manufactured Housing Programs (OMHP), William "Bill" Matchneer said on this topic. See the email to HUD shown further below.
Furthermore, MHI is logically either going to have to put up or shut up.  While MHI has, per the Washington Post, used some clever – but nevertheless deceptive – rationales before, it is going to be difficult for them to come up with spin or paltering that is going to cover anything other than a heads on response to this issue.
For instance, if MHI tells its members by email that they are addressing this quietly, behind the scenes, with HUD, we would call BS. If they wanted to do so, they could have said that in their email of 7.21.2021. But they did no such thing.
Thus, the logic of Danny Ghorbani on this issue would stand. ICYMI, see that, linked here.
The following email was sent to HUD by MHProNews early afternoon on 7.29.2021.
As you may know, MHProNews is the runaway largest and most read trade media serving the manufactured home industry.
On 7.20.2021 in a video recorded exchange, Rep. John Rose (TN-R) made the following statement to HUD Secretary Marcia Fudge during his comments following the 02:17:47 mark in the video linked below.
[HUD] HAS THE AUTHORITY TO PREVENT LOCALITIES FROM EXCLUDING MANUFACTURED HOMES BUT THEY HAVE NOT UTILIZED IT
https://www.c-span.org/video/?513519-1/house-financial-services-committee-hearing-covid-19-housing-security
In response, Sec. Fudge responded by saying:
02:18:27.
"I WOULD DISAGREE HUD HAS ABILITY TO CHANGE LOCAL ZONING. WE DO NOT."
Congressman Rose replied to that at about the 02:18:33 mark by saying this.
"YOU DON'T SEE A WAY THAT HEAD ON – – [HUD] CAN HELP QUICK."
To which Fudge says at 02:18:42 that: "WE ARE WORKING ON IT BUT WE DON'T HAVE THE AUTHORITY TO CHANGE LOCAL ZONING LAW."
Sec. Fudge's comment may be technically true in the sense that HUD can't 'change' local zoning law.
However, HUD does have the authority under the Manufactured Housing Improvement Act of 2000 to override local zoning that discriminates against manufactured housing. Says who? Both major national trade associations, MHI and MHARR.
But also HUD's first Office of Manufactured Housing Program (OMHP) Administrator, William "Bill" Matchneer.  Said Matchneer to MHProNews:
This is just one such comment by Matchneer on this matter, whose statements lined up with the assertions of MHI and MHARR.
With that backdrop, this question.
Does HUD's media office want to clarify or otherwise explain why Secretary Fudge made this statement that is wildly different from the view of several experts on the topic?
Please email your reply for our mutual accuracy in handling. If a reply is to be attributed to someone other than Sec. Fudge, please so indicate in your reply. We prefer a reply today, as we plan a report on this for tomorrow morning.
That timing request noted, if you can't make a reply by close of business today, please so advise by email today. We'd like a response on this ASAP, so that the industry can be advised on this matter. Thank you.
Thank you.
Tony
—
L. A. "Tony" Kovach
Managing Member
LifeStyle Factory Homes, LLC
DBAs:
MHLivingNews.com | MHProNews.com | LATonyKovach.com |…
##
=== 
Additionally, MHProNews asked MHI to respond to this issue. Several MHI members and affiliates were copied to document the inquiry.

from:
L. A. Tony Kovach
to:
"Hodges, Tom" <t…hodges@claytonhomes.com>,
Lesli Gooch <l…gooch@mfghome.org>
cc:
John Greiner <J…Greiner@graydon.law>
bcc:
@rosenconsulting.com,
Amy Bliss <amy @housingalliance.us>,
dgoch @wc-b.com [Outside MHI attorney, see report linked here]
Dave Anderson <…anderson.nmhoa@gmail.com>,Kevin Borden <borden @mhaction.org>,
DJ Pendleton <…pendleton@texasmha.com>,
Dave Reynolds <dave… @mhpfunds.com>,
David Roden <…roden@yahoo.com>,
evoigt@mhaction.org,
Frank Rolfe <f rolfe@gmail.com>,
ishbeldickens@outlook.com,
mark.fusler@cavco.com,
scott@olsonadvocacy.com,
Tim Williams <twilliams@omha-usa.org>,
Kurt Kelley @mobileagency.com>,
Ken Corbin @hotmail.com>,
George F Allen <gfa @aol.com>,
Brad Nelms @manufacturedhomes.com>,
Andy Gallagher @wvhi.org>,
Ron Breymier @imharvic.org>,
Sheila Dey @wma.org>,
Jim Ayotte @fmha.org>
date:
Jul 29, 2021, 12:13 PM
subject:
Request for MHI Comment on Sec. Marcia Fudge Hearing Statement on Manufactured Housing
Tom, Lesli and John,
It is our understanding that MHI is aware of the troubling comments from HUD Secretary Marcia Fudge as it relates to manufactured housing preemption. Is MHI planning a formal, public response?
As you know, at least on paper, MHI formally holds a similar position to MHARR's on enhanced preemption. That said, there are concerns from several industry members if MHI's position is sincere or merely window dressing? This episode with Sec. Fudge is an opportunity to clarify that concern by actions rather than words.
Please hit reply and advise what MHI is planning/and or has done in response to the Fudge comments. FYI, that report and related information are found below.
You should know that we've copied several MHI and other industry members in the BCC to document this inquiry. We plan to report on this tomorrow morning.
Thank you.
Tony ##
###
MHProNews has confirmation that the message was received. Note that this and our sister platform has been documenting for some time such opportunities for MHI and their key members to respond. An example is linked below.  This has been done for a variety of reasons, including, but not limited to, removing any doubt that MHI and their dominating brands are aware of these issues — and is arguably still not acting in alignment with their published and stated claims.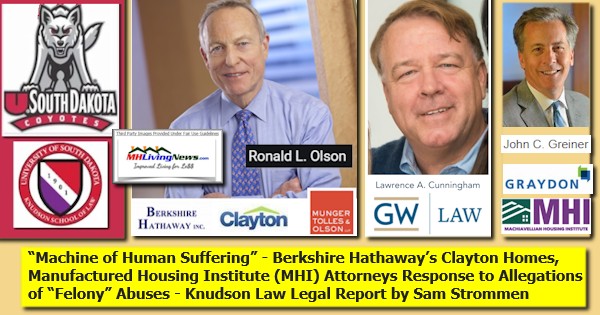 The headline asks the question, is manufactured housing a "fighting" industry? True or False? The accurate answer? It is both.
There are those who are not willing to fight for what's right, for whatever reason.
Then there are also those who are demonstrably willing to fight for what's right.
But the silver lining to this dark picture is that MHI and their dominating brands are step-by-step being revealed to being engaged in apparent antitrust, deceptive trade practices, RICO, perjury, and other issues. See the reports linked below to learn more.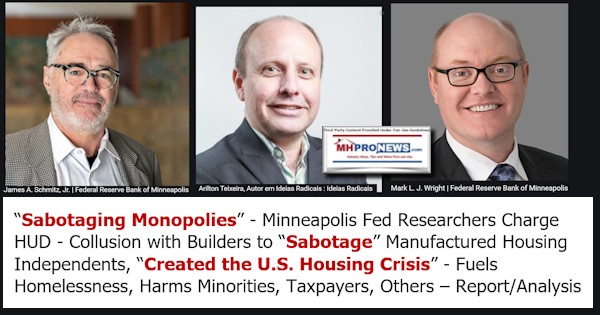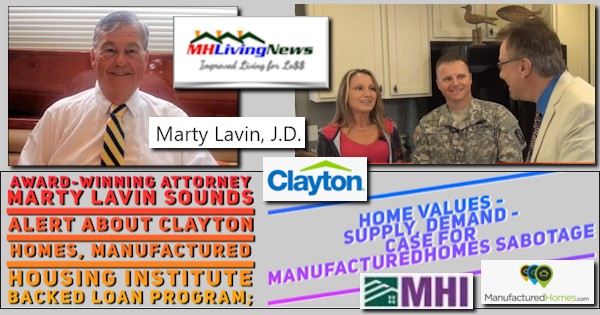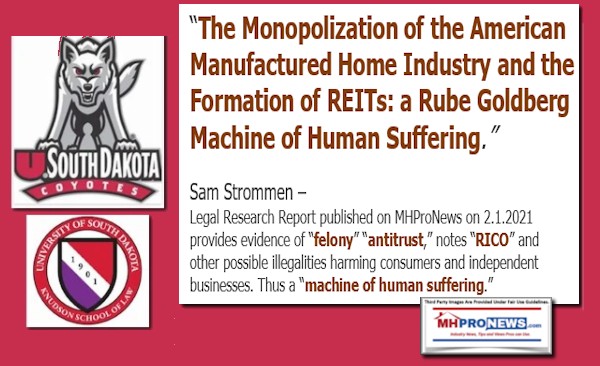 Call it a Housing Bubble or Not "Current Situation is Untenable" – Manufactured Housing, Housing Bubble Experts Debate What's Ahead; Plus Manufactured Home Stock Updates
There is an array of ripple effects that arise from this and the arguably related failure of MHI to address the FHFA/Duty to Serve issues.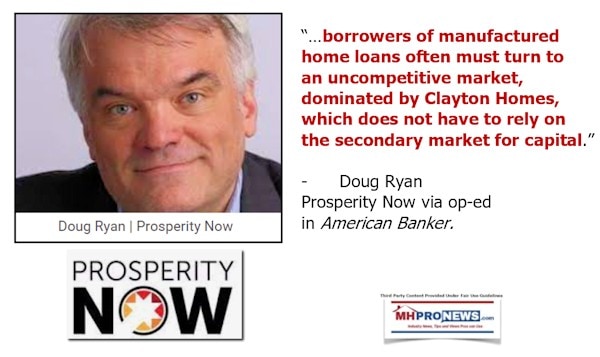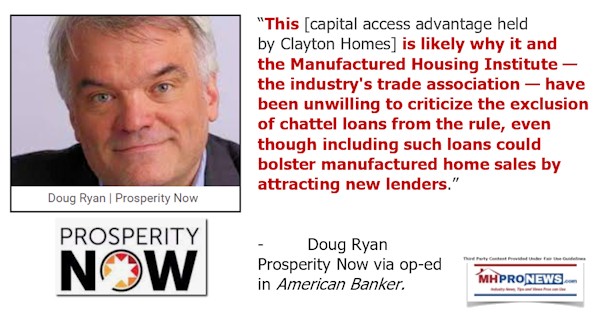 Among those ripple effects? See the related reports, linked above, below and herein.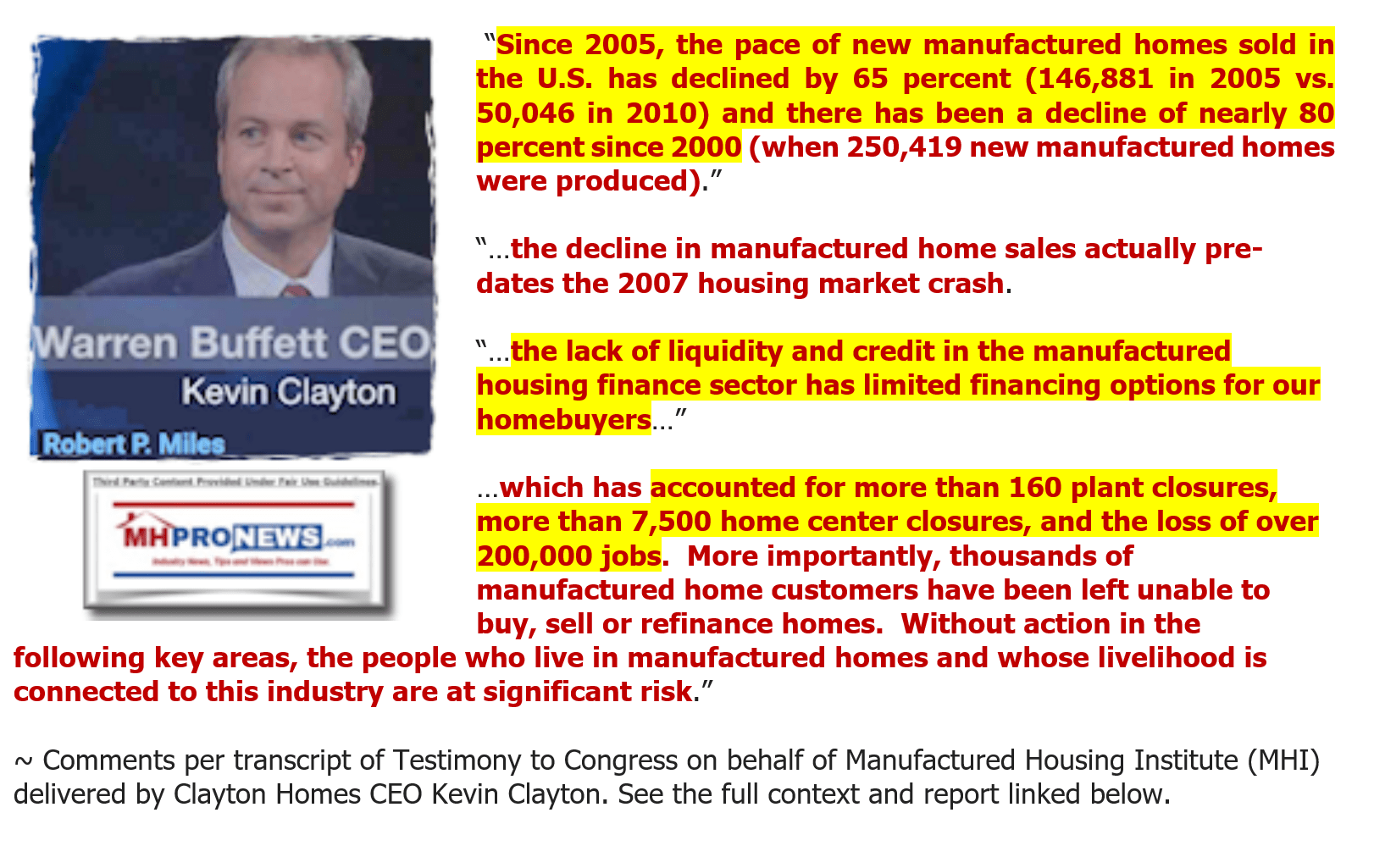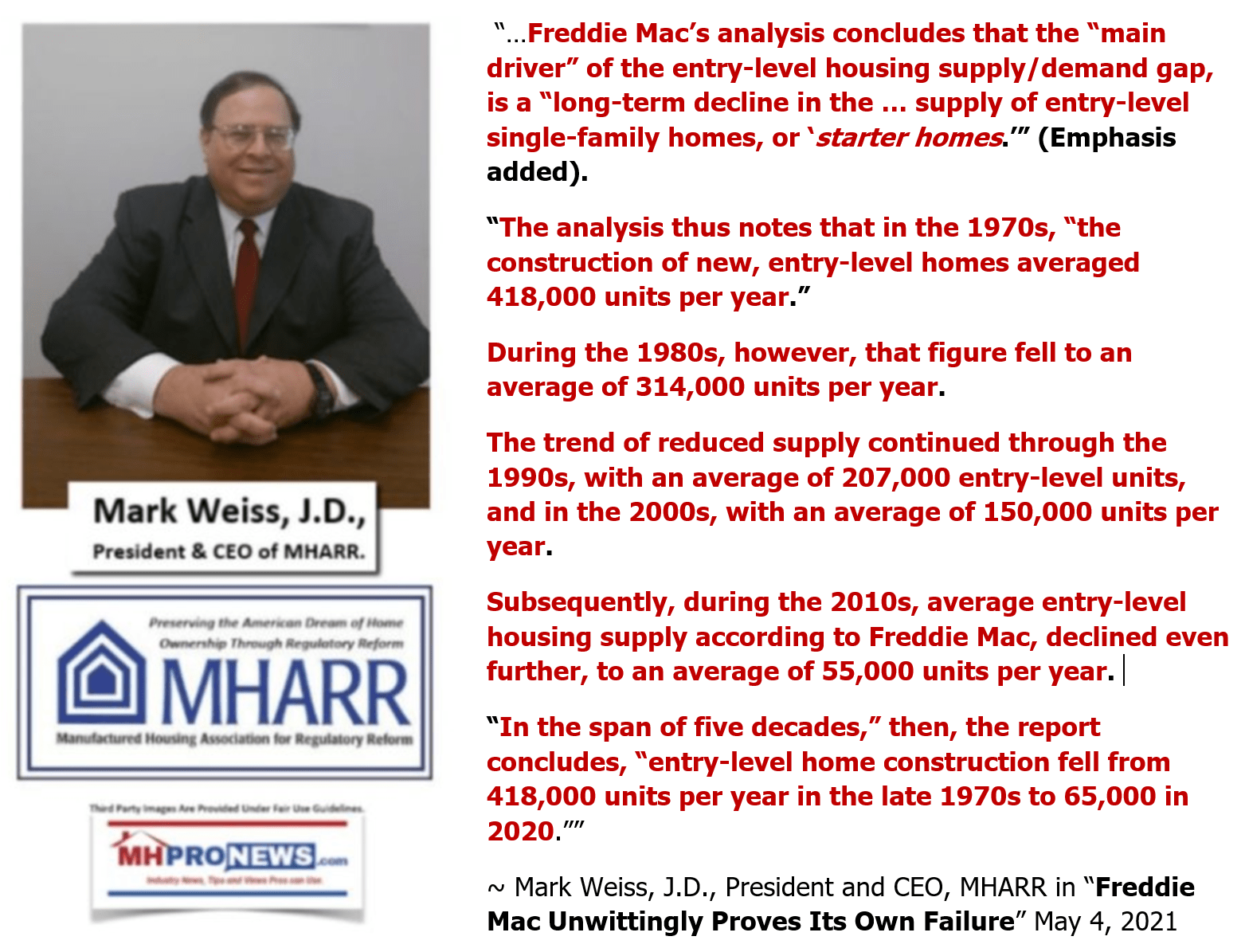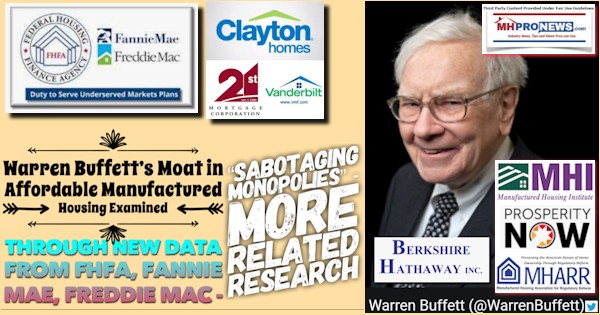 Stay tuned as MHProNews continues to shine a light on these issues and press for accountability by corporate, federal, and nonprofits.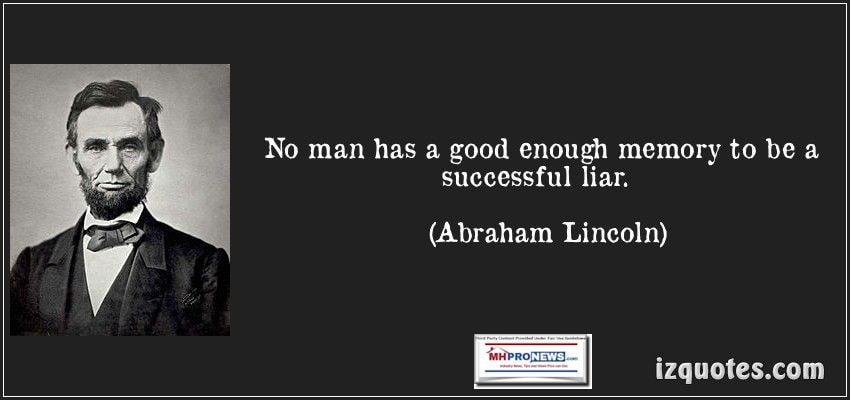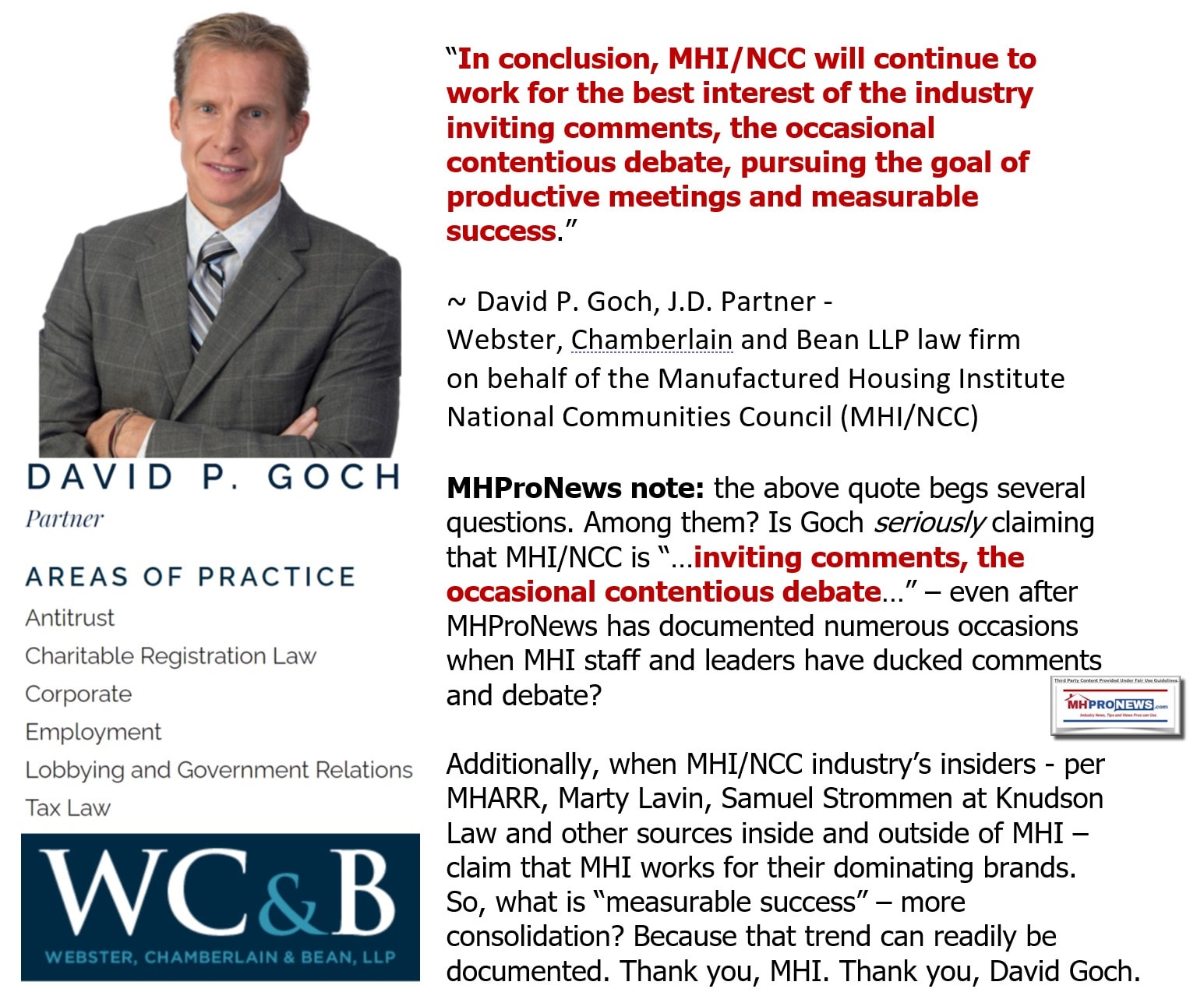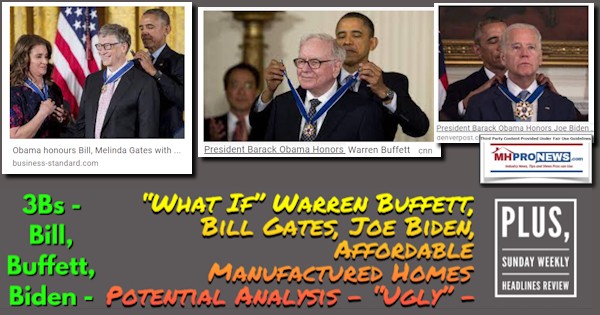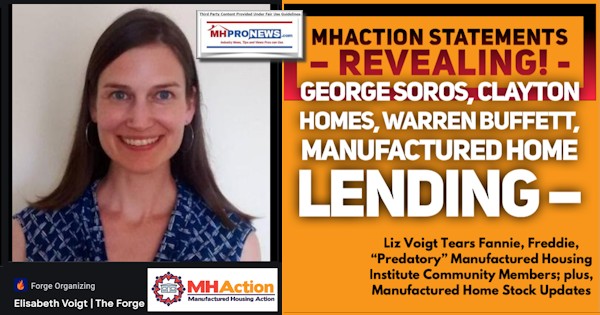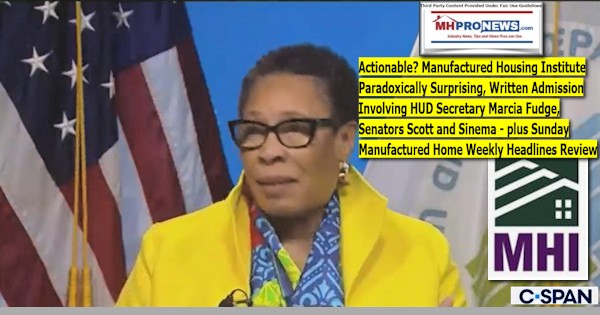 Next up is our business daily recap of yesterday evening's market report and related left-right headlines.
The Business Daily Manufactured Home Industry Connected Stock Market Updates.  Plus, Market Moving Left (CNN) – Right (Newsmax) Headlines Snapshot. While the layout of this business daily report has recently been modified, several elements of the basic concepts used previously are still the same. The headlines that follow below can be reviewed at a glance to save time while providing insights across the left-right media divide. Additionally, those headlines often provide clues as to possible 'market-moving' items.
Market Indicator Closing Summaries – Yahoo Finance Closing Tickers on MHProNews…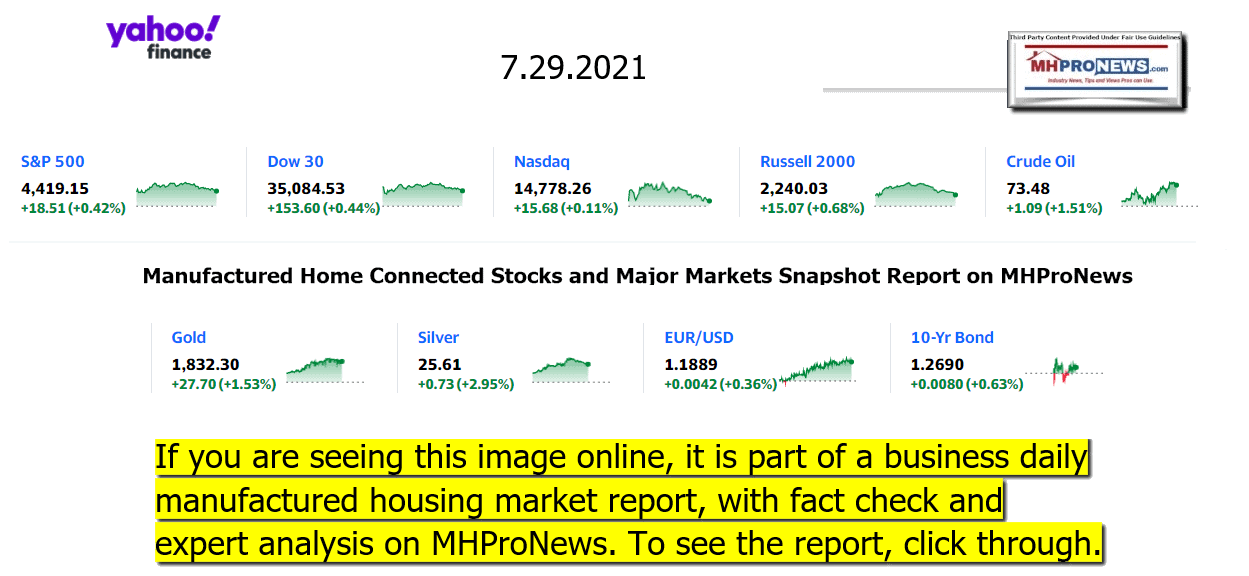 Headlines from left-of-center CNN Business = evening of 7.29.2021 
A bumpy start
Robinhood CEO Vlad Tenev poses for a picture during an interview about the company that introduced a new generation of investors into the stock market and forced the industry to stop charging fees for trading, Wednesday, July 28, 2021, in New York. Shares of Robinhood Markets are set to begin trading on the Nasdaq for the first time Thursday.
Robinhood shares made their Wall Street debut in volatile trading
Many 'apes' on Reddit are sitting out the Robinhood IPO
Goldman Sachs is taking a hard line on employee vaccinations. Other big banks are following its lead
Corporate America to workers: Either get a Covid vaccine or leave
US economy just posted the largest jump in growth since 2020
Credit Suisse helped Archegos take 'potentially catastrophic' risks before losing billions when it collapsed
Amazon is everywhere. Here's how the US could break it up
Opinion: How the business community can help protect voting rights
These companies are requiring Covid-19 vaccines for their employees
Managers have to enforce rules for unvaccinated workers. It won't be easy
Outspoken Chinese billionaire Sun Dawu sentenced to 18 years in prison
Pioneering TV pitchman Ron Popeil dies at age 86
McDonald's replaces BTS with Saweetie for its next celebrity meal
Famed restaurateur: If you want to be unvaccinated, 'you can dine somewhere else'
CEO and founder of U.S. Nikola Trevor Milton attends a news conference held to presents its new full-electric and hydrogen fuel-cell battery trucks in partnership with U.S. Nikola, at an event in Turin, Italy, December 3, 2019.
Nikola founder Trevor Milton is indicted for allegedly lying about 'nearly all aspects of the business'
Pallets of Nescafe instant coffee in the storage warehouse ahead of shipping at Nestle SAs Nescafe plant in Orbe, Switzerland, on Thursday, May 20, 2021. Nestle SA sales grew at more than twice the rate analysts expected as the Swiss food giant sold more Nespresso capsules to people working from home and restaurants in Asia stocked up as they started reopening.
The world's biggest food and beverage company says prices are going even higher
RETURN TO 'NORMAL'
Office employee desktop during a pandemic. Shot of a used mask by the keyboard on a white table. The manager took off the used mask at the workplace. No people
Managers must enforce rules for unvaccinated employees, and it won't be easy
5 industries struggling to recover from Covid
The pandemic killed menus and brought QR codes back
New CDC mask guidance throws stores' policies into flux
Fed says Delta won't ruin the recovery. But we're still a long way from normal
NEW FOOD
A woman's Van Leeuwen new Kraft mac and cheese flavor ice cream melts due to the high temperatures at a popup truck near Union Square on July 14, 2021 in New York City. The new flavor was released on July 14th in honor of National Macaroni and Cheese Day.
Kraft Macaroni & Cheese ice cream debuts and quickly sells out
Campbell's soup cans get first redesign in 50 years
The hard seltzer craze has come to an end
Popeye's is adding nuggets to its menu
Coke is giving one of its most popular drinks a makeover
Headlines from right-of-center Newsmax – evening of 7.29.2021
Republicans Urge Supreme Court to Topple Roe v. Wade, Roll Back Abortion Rights
Newsmax TV
Cammack: Capitol Mask Arrest Order 'Tyrannical'
Keller: Biden's Actions Conflict With 'Buy American' Plan
Barney Frank: GOP Back to 'Usual Role' In Infrastructure Vote
Jim Jordan, Mark Meadows: Jan. 6 Committee 'A Political Sham' |
Florida Rep. Perez: Choice, Not Mandates, a Priority With COVID |
Babin: Biden Permits Illegals to Spread COVID
Megyn Kelly: CDC's Rochelle Walensky 'an Hysteric' |
More Newsmax TV
Newsfront
Biden Asks Congress to Extend COVID-19 Eviction Ban Set to Expire This Week
S. President Joe Biden asked Congress on Thursday to extend a moratorium on evictions to protect renters and their families that is set to expire this week amid a deadly rise in coronavirus infections, the White House said…. [Full Story]
AOC, Tlaib Furious Sinema Opposes Spending Plan
Alexandria Ocasio-Cortez, D-N.Y., and Rashida Tlaib, D-Mich., [Full Story]
Republicans Urge Supreme Court to Topple Roe v. Wade, Roll Back Abortion Rights
A cascade of Republicans called on the U.S. Supreme Court to roll [Full Story]
Arizona Auditors Finish 3rd Count, Ship Ballots Back
The Maricopa County, Arizona, forensic auditors have completed their [Full Story]
CDC Says Americans Should Wear Masks in Nearly 70% of Counties
The Centers for Disease Control and Prevention (CDC) said on Thursday [Full Story]
Hunter Biden's Paintings: 'Overpriced' Works of 'Zombie-Abstraction Art'
Hunter Biden made headlines this summer with his surprise plunge into [Full Story] |
Police Ordered to Arrest Visitors, Staff Refusing to Wear Masks on House Side
The Capitol Police have been ordered to arrest visitors and staff who [Full Story]
Israel Law Center to Scoop Up Ben & Jerry's in West Bank
Ice cream lovers in Israel's Judea and Samaria won't be without Phish [Full Story] |
Justice Department Launches Task Force for Threats Against Election Officials
The Justice Department has created a new task force to combat threats [Full Story]
Texas Voting Standoff Jeopardizes Pay for Up to 2K Workers
Donovon Rodriguez pursued a career with the state of Texas seven [Full Story]
Scott Perry: Don't Buy Apparel From NBA Players Who Profit From Slave Labor
In response to allegations that NBA players and the league are [Full Story]
Biden's Hyper-Inflation, It's Here!
Newsmax Magazine special report reveals surprising facts … [Full Story]
American Gymnast Sunisa Lee Takes Olympic Gold
Sunisa Lee wanted to quit gymnastics during quarantine.It all had [Full Story]
Related
Olympics Ratings Down Significantly
Simone Biles Thanks Supporters After Withdrawing From Olympic Events
US Pole Vaulter Out of Olympics After Positive COVID Test
More Countries Sending Migrants to US
Mexicans and Central Americans typically make up the majority of [Full Story]
Israel to Offer 3rd COVID Booster Shot to Older Citizens
Israel's prime minister on Thursday announced that the country would [Full Story]
CDC Updates Testing Guidance for Those Fully Vaccinated
The Centers for Disease Control and Prevention has updated testing [Full Story]
DC to Hire 170 Additional Metropolitan Police Officers
Washington, D.C. Mayor Muriel Bowser this week announced her [Full Story]
Ex-Cardinal McCarrick Charged With Sexually Assaulting Teen
Former Cardinal Theodore McCarrick, who was defrocked after a Vatican [Full Story]
Nikki Haley PAC Raised $5.5M in First 6 Months: Report
Nikki Haley PAC Raised $5.5M in First 6 Months: Report
Former U.N. Ambassador Nikki Haley raised nearly $5.5 million in less [Full Story]
LAX Jetpack Spotted Again: 'Jet Man Is Back'
There was another possible jetpack sighting near Los Angeles [Full Story]
Bob Odenkirk in Stable Condition After Collapsing on Set of 'Better Call Saul'
"Better Call Saul" star Bob Odenkirk is in a stable condition after [Full Story]
US Economy Accelerated at 6.5 Percent Rate Last Quarter
Fueled by vaccinations and government aid, the U.S. economy grew at a [Full Story]
Cuomo to NY State Workers: Get Vaccinated or Face COVID Testing 'Regularly'
New York State government workers will face regular COVID testing if [Full Story]
Trump: Infrastructure Deal Makes Republicans Look 'Weak,' 'Dumb'
Former President Donald Trump is blasting Senate Republicans – [Full Story]
Tsunami Warning Issued for Parts of Alaska After 8.2 Quake
A tsunami warning was issued for parts of Alaska after a large [Full Story]
Pro-Sanders Group Rebranding Into 'Pragmatic Progressives'
Stinging from the disappointment of Bernie Sanders' loss in the 2016 [Full Story]
Harris Releases Strategy to Tackle Migration's Root Causes
Vice President Kamala Harris said Thursday that efforts to address [Full Story]
China Says It's Made Alternative Proposal for Virus Origin Probe
China says it's put forward alternative parameters for a second probe [Full Story]
Robinhood, Gateway to 'Meme' Stocks, Has $2.1B IPO
Robinhood Markets Inc, the owner of the trading app which emerged as [Full Story]
Union Lawyers Passed by Sens to National Labor Board
The Senate on Wednesday confirmed union lawyers Gwynne Wilcox and [Full Story]
More Newsfront
Finance
US Economy Accelerated at 6.5% Rate Last Quarter
Fueled by vaccinations and government aid, the U.S. economy grew at a 6.5% annual rate last quarter, a solid gain that fell short of some expectations. [Full Story]
S. GDP Trails Forecast Even as Consumer Spending Surges
Bank of Canada Chief Warns Against Overreacting to Hot Inflation
Tencent Is World's Worst Stock Bet With $170B Wipeout
Olympics Ratings Down Significantly
More Finance
Health
When Can We Expect COVID Vaccines for Younger Kids?
The Food and Drug Administration has asked COVID-19 drug manufacturers Pfizer and Moderna to expand the size of their clinical trials for children ages 5 to 11 amidst reports of heart inflammation and other rare side effects that occurred in teens and young adults who… [Full Story]
Take These 6 Steps to Boost Your Longevity
New Research Links COVID-19 to Alzheimer's Disease
Want to Avoid Dementia? Add Some Color to Your Plate
FDA Allows Automatic 'Generic' Swap for Brand-Name Insulin
Manufactured Housing Industry Investments Connected Equities Closing Tickers
Some of these firms invest in manufactured housing, or are otherwise connected, but may do other forms of investing or business activities too.
NOTE: The chart below includes the Canadian stock, ECN, which purchased Triad Financial Services, a manufactured home industry lender
NOTE: Drew changed its name and trading symbol at the end of 2016 to Lippert (LCII).
NOTE: Deer Valley was largely taken private, say company insiders in a message to MHProNews on 12.15.2020, but there are still some outstanding shares of  the stock from the days when it was a publicly traded firm.  Thus, there is still periodic activity on DVLY.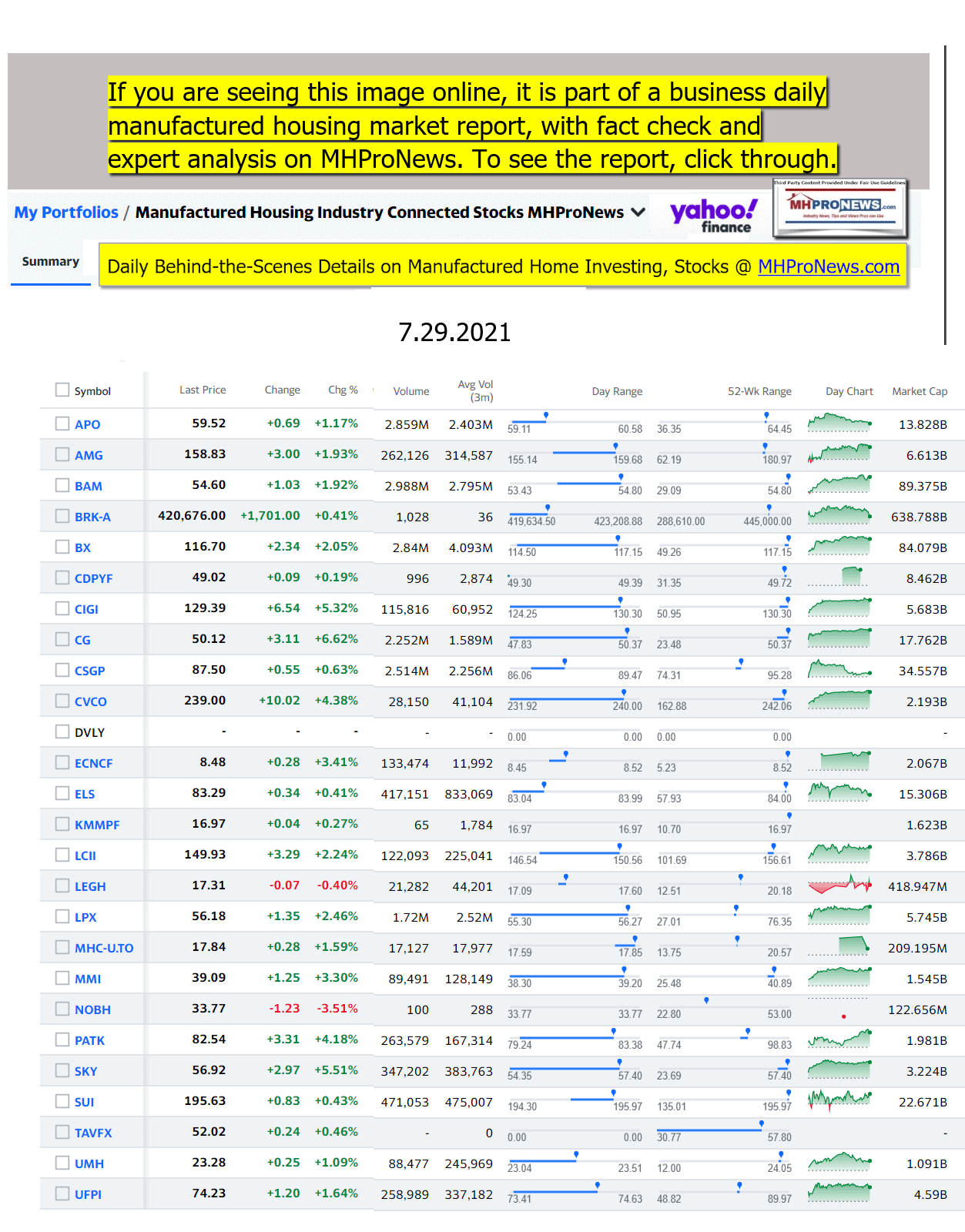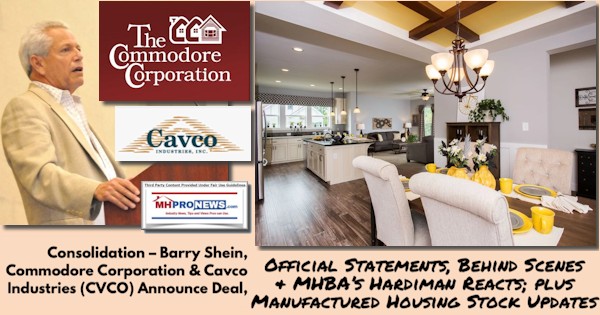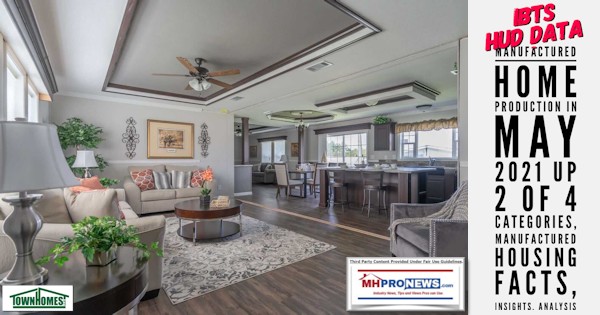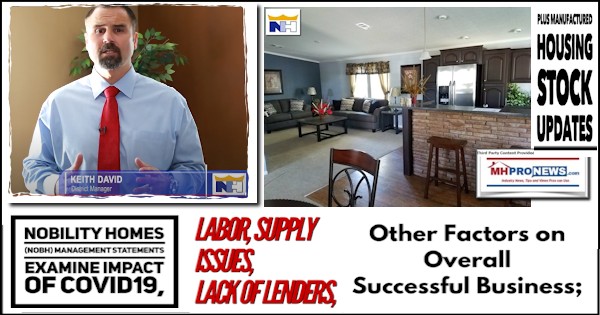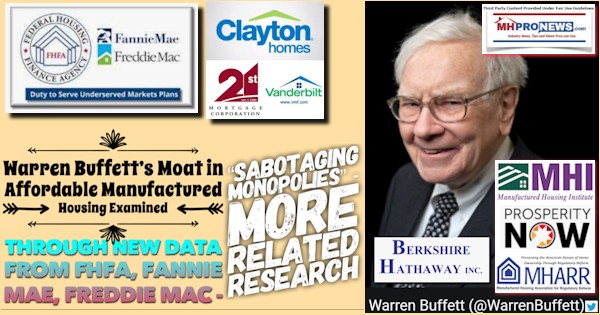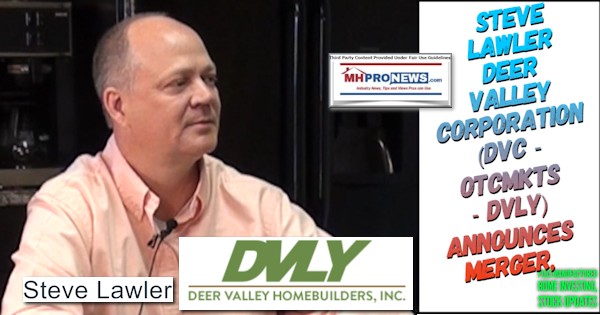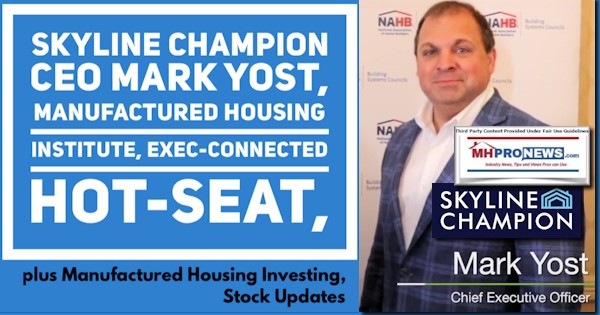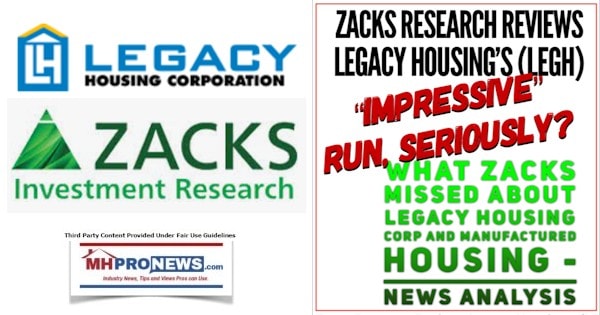 Summer 2021…
Berkshire Hathaway is the parent company to Clayton Homes, 21st Mortgage, Vanderbilt Mortgage and other factory built housing industry suppliers.
· LCI Industries, Patrick, UFPI, and LP each are suppliers to the manufactured housing industry, among others.
· AMG, CG, and TAVFX have investments in manufactured housing related businesses. For insights from third-parties and clients about our publisher, click here.
Enjoy these 'blast from the past' comments.
MHProNews. MHProNews – previously a.k.a. MHMSM.com – has celebrated our 11th year of publishing, and is starting our 12the year of serving the industry as the runaway most-read trade media.
Sample Kudos over the years…
It is now 11+ years and counting…
Learn more about our evolutionary journey as the industry's leading trade media, at the report linked below.
· For expert manufactured housing business development or other professional services, click here.
· To sign up in seconds for our industry leading emailed headline news updates, click here.

Disclosure. MHProNews holds no positions in the stocks in this report.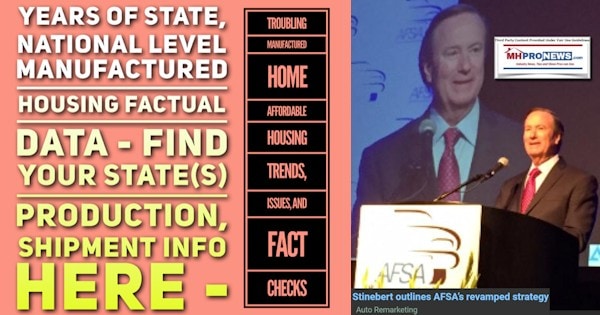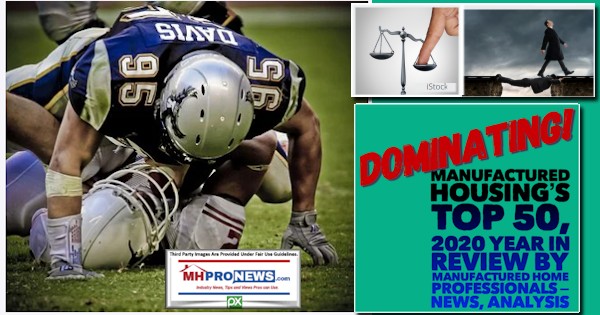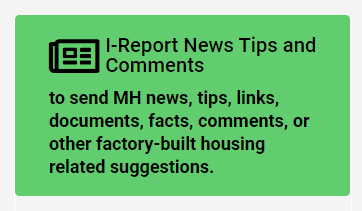 That's a wrap on this installment of "News Through the Lens of Manufactured Homes and Factory-Built Housing" © where "We Provide, You Decide." © (Affordable housing, manufactured homes, stock, investing, data, metrics, reports, fact-checks, analysis, and commentary. Third-party images or content are provided under fair use guidelines for media.) (See Related Reports, further below. Text/image boxes often are hot-linked to other reports that can be access by clicking on them.)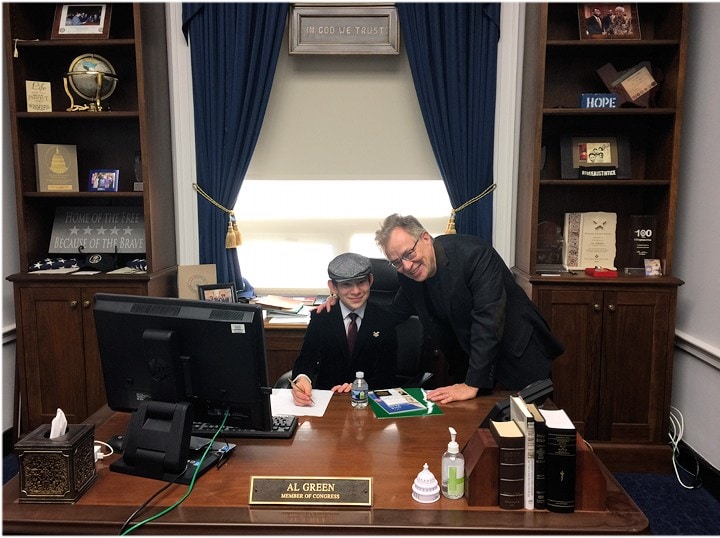 By L.A. "Tony" Kovach – for MHProNews.
Tony earned a journalism scholarship along with numerous awards in history. There have been several awards and honors and also recognition in manufactured housing. For example, he earned the prestigious Lottinville Award in history from the University of Oklahoma, where he studied history and business management. He's a managing member and co-founder of LifeStyle Factory Homes, LLC, the parent company to MHProNews, and MHLivingNews.com. This article reflects the LLC's and/or the writer's position, and may or may not reflect the views of sponsors or supporters.