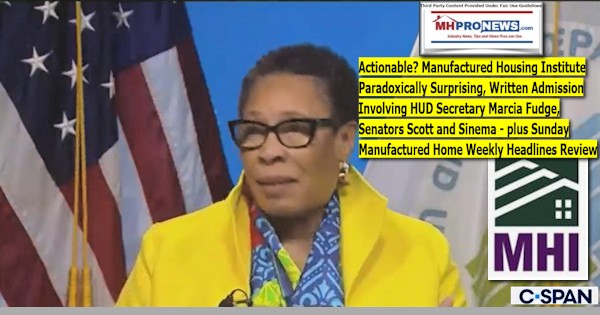 A source with the big business-dominated Manufactured Housing Institute (MHI) provided the following message as a tip to MHProNews, which was not sent to MHI's 'free' email-list readers. The highlighting is added by MHProNews to emphasize their surprising admission and the meaning of the stunning and possibly actionable revelation.
The importance of that unexpected MHI admission should not be lost on seasoned and informed manufactured home industry veterans, investors, affordable home seekers, and affordable housing advocates. The fatefully frank MHI comment from their own message to key members will be systematically unpacked and analyzed following their recent May 24, 2021 'members only' missive.
Several questions should arise from what follows. That should include – is what MHI has revealed potentially actionable?
HKLaw said that among the actionable items in trade association caselaw includes, but are not limited to:
"

Dissemination of Information In some cases, liability is sought against a trade association on the basis that it has misled the public regarding a product marketed by its member companies

…"
"…the court in that case deemed the trade association to be the agent of the member companies and held that liability for the association's misrepresentations would attach not only to the members who actively participated,

but also to those who continued their membership without protest

." (Yellow highlighting added by MHProNews).
That second bullet above should be of keen interest to those MHI members who may be 'white hats' – innocent of the types of allegations that have been made against major brands that arguably dominate MHI – but who nevertheless are failing to protest when the trade group is engaged in evidence-based purported misrepresentations.
The Venable LLP law firm noted the following:
"

Misrepresentation/Concealment –

Trade associations have been sued for either misrepresenting or concealing data that allegedly would have affected a consumer's decision to use a product."
Venable stated that a plaintiff attaining that liability bar may be high, "However, courts have noted a significant difference between fraudulentand negligent When an association knowingly conceals or misrepresents data, a court is more likely to find liability even if the nexus between the plaintiff and defendant is not strongly defined (4). Therefore, a trade association's success on a misrepresentation claim may hinge on how and why the allegedly false information was or was not released to the public." But that threshold may shift even more when fraudulent or negligence is involved from the trade group to its own members.
Venable also notes cases of "Civil Conspiracy…liability plaintiffs also have attempted to sue trade association defendants under a theory of civil conspiracy."
"The "Good Samaritan" doctrine arose from the concept that if a person undertakes a certain action, usually to assist another, they have a duty to not perform that action negligently (6). This doctrine has become a common basis for negligence claims brought against trade associations."
"Claiming any type of "duty" to the general public as a whole or to particular members of the public, such as employees within the industry, can expose a trade association to a wide range of products liability lawsuits."
"When trade associations become the "rulemakers" for their particular industry or exert control over association members, their tort liability may increase."
"

Making Statements Not Supported by Actual Research – While this category may seem more intuitive than the others, it is still worth noting. If a company spokesperson releases a statement on the trade association's behalf and the claims made in the statement are later revealed to have little to no factual backing, this person's statement could create liability for the trade association under claims of fraudulent or negligent misrepresentatio

n…"
Certainly, other possible liabilities may exist, such as antitrust or RICO violations, as Samuel Strommen at Knudson Law has raised those legal issues.
Newcomers, as well as others who may not yet realize, it should be made aware of the fact that:
HUD is the primary federal regulatory for HUD-Code manufactured housing.
MHI claims expertise. They further claim to be representing the interests of all segments of the industry.
Thus, if MHI is making numerous written assertions that may be deemed false, misleading, or deliberately deceptive – that could open up several legal pitfalls for those involved.
Or, to HKLaw's second bullet above, such legal exposure may even extend to member companies of MHI that fail to attempt to stop claimed association misbehavior.
That begins to set the legal stage with more following the MHI email sent to select members.
IN CASE YOU MISSED IT HUD
Secretary Fudge Reaffirms Her Commitment to Manufactured Housing
Senators from both sides of the aisle questioned HUD Secretary Marcia Fudge about manufactured housing during a U.S. Senate Banking Committee hearing last week about housing and infrastructure. In her responses, Secretary Fudge reaffirmed she is a "strong proponent" of manufactured housing and that it is "affordable, resilient, energy efficient and something we should do more and more of."
In advance of the hearing, MHI worked with members of the Senate Banking Committee to have manufactured housing a key topic of discussion.
During an exchange with Senator Tim Scott (R-SC) about implementing the requirement that localities consider manufactured housing as a part of their comprehensive housing affordability strategies and community development plans, Secretary Fudge stated they are "working on it as we speak" and should have something published by the end of this year. In response to Senator Scott's remarks about the resiliency of today's manufactured homes and making them more accessible to homeowners, Secretary Fudge stated, "we will get right on it."
In response to Senator Kyrsten Sinema's (D-AZ) remarks about the role manufactured housing has in addressing ongoing housing supply challenges, Secretary Fudge said that manufactured homes are an option that "we too seldom look at" and reiterated that today's manufactured homes are "affordable, resilient, energy efficient and something we should do more and more of…it is just a good option." Secretary Fudge also discussed the importance of tax credits to help bridge the gap between the cost of housing and making it more affordable for people to purchase a home."
## End of MHI message to certain trade association members.
Yellow highlighting above added by MHProNews. ##
The above from MHI may seem innocent enough to some. It may even appear to be positive to outsiders looking in, the trusting, and industry newcomers who may not grasp the stunning misses in what MHI reported and said. Because a level of expertise is necessary in order to grasp what they did and perhaps more important, what they did not do in the above.
For example. MHI in essence says that they coached Senators Scott and Sinema. That in itself is fine.
However, what those U.S. Senators asked, and what they did not ask, should obviously point back to MHI.  MHI claimed responsibility in writing, so let them own it. If MHI is sincerely interested in fueling robust industry growth that would 'raise all boats'  and thus sincerely claim to represent "all segments" of manufactured housing, which is one of several written claims that they make.
Put differently, evidence or indicators of deception and lies could have several consequences.
To explain the importance of apparently deliberately missed opportunities, one must first keep in mind the array of voices from inside and outside of MHI that have stressed this next concern about the MHI trade group.
Despite MHI's claim of representing "all segments" of the manufactured housing industry, and their claim of working for industry growth, what they are de facto doing – argues certain critics – is to slyly be working for manufactured home industry consolidation.
Says who ? Ironically, MHI's publicly-traded firm's own investor relations pitch decks – two of several examples are linked here and here.
Also consider more sharply what former long-time MHI member and MHI award winner, Marty Lavin, said to MHProNews.
Additionally, Samuel "Sam" Strommen with Knudson Law pointed the finger at MHI and their major brands in calling out a well-documented contention that they are part of a "machine of human suffering" that is being subverted by MHI insiders.
Then, Neal Haney led some state associations into an exit from MHI affiliation, because of what he said in his own words was their failure to perform.
But how is this pattern of consolidation being accomplished?
The facts and evidence – including facts from MHI – suggest that consolidation is being fostered in part due to a sustained manufactured housing industry underperformance.
As economists, some business professionals, and others know, low levels of sales act as a: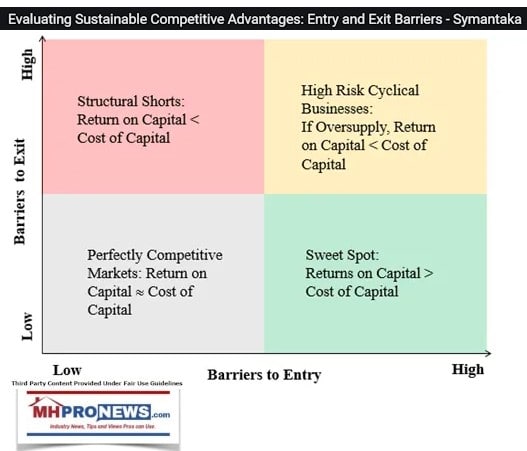 The fact that there is an affordable housing crisis, and the manufactured home industry is selling fewer homes today than in 1998 or 2000 speaks volumes.
Against that backdrop, paradoxically, MHI has provided in the email above more evidence for that claim that they are working for consolidators and by extension are not working for the industry at large in what they sent out to their members in the email cited above. How so?
MHI stated: "In advance of the hearing, MHI worked with members of the Senate Banking Committee to have manufactured housing a key topic of discussion." Clearly, everything else after that is an indication of questions that were 'staged' for those watching the hearings.  Said who? Oddly enough, MHI!
Indeed, given that MHI said in writing that they helped stage the questions from Senators Scott and Sinema, is it possible that the answers from Secretary Fudge were too?
MHI does not directly say. But it certainly could be that Secretary Fudge knew what questions were coming, and thus was able to provide pre-crafted responses. More to that related concern, in an almost 2 hour 20 minute hearing captured by CSPAN, Secretary Fudge only mentions manufactured housing when she was directly asked about it by the two senators. That factoid, along with the concerns raised by MHARR that are in a headline report below, may say more about Fudge's authentic position than her reply to pre-crafted or 'staged' questions.
So, to the heart of the issue, what MHI indicates is that ***** MHI could have had Senator Tim Scott (R-SC) and Senator Kyrsten Sinema (D-AZ) ask whatever questions they would have wanted. *****
And with that unparalleled opportunity to get Secretary Fudge on the record in a Senate hearing with CSPAN video recording, what did MHI have the two senators ask?
Relatively tame topics instead of a key issue. If "enhanced preemption" was being properly enforced, and if HUD acted on their legal authority consistently, that would rapidly fuel a perhaps historic growth in HUD Code manufactured home sales. Indeed, MHI's prior president and CEO, Richard "Dick" Jennison made a related point on camera that is quoted at this link here. So, statements by Jennison and MHI "partner" NHC supplied evidence suggests that new manufactured home sales may be 5 to 7+ times higher than they currently are.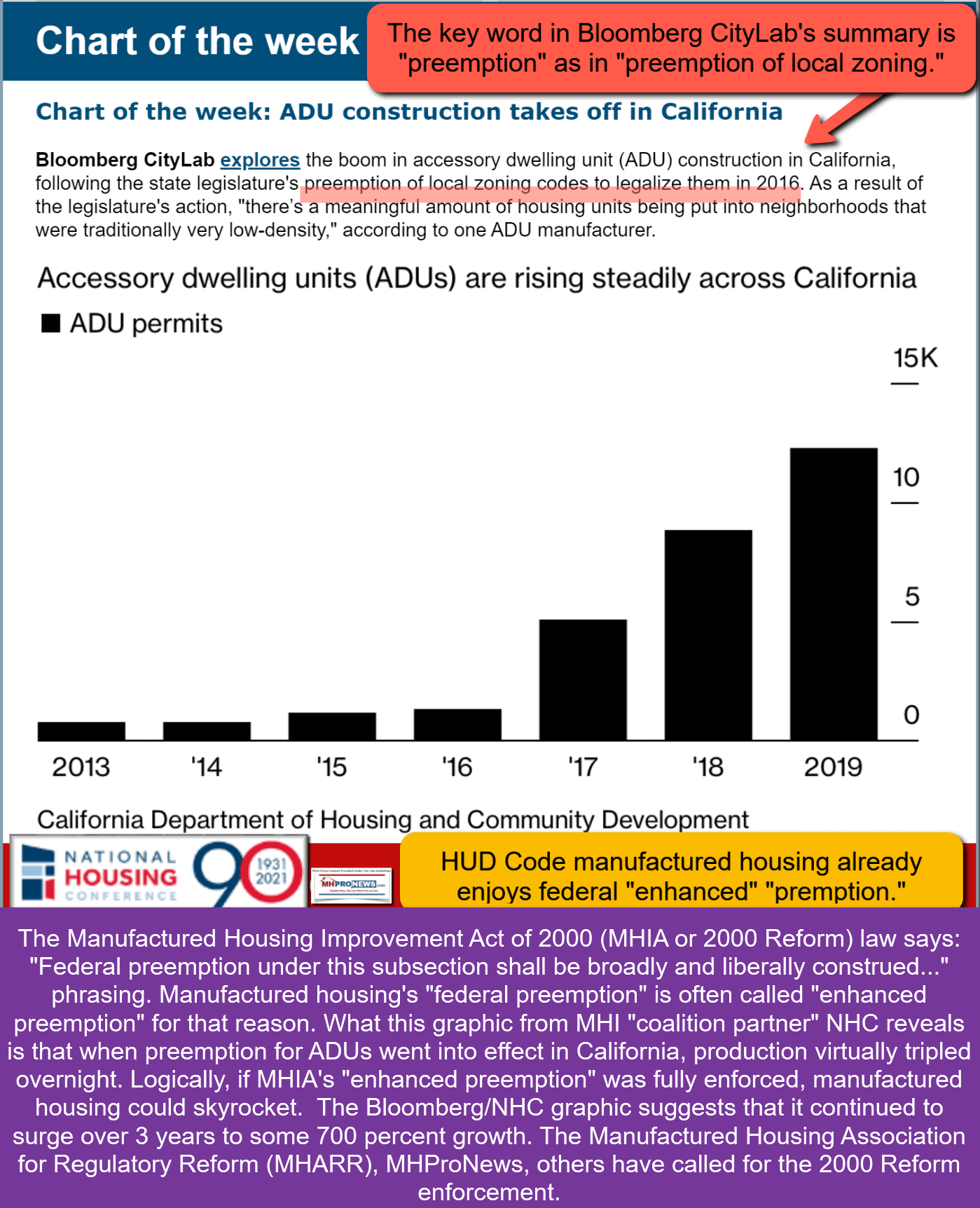 That missed opportunity could represent a significant liability.
That said, let's specifically show what MHI did not have either Senators Scott or Sinema ask.
Neither senator asked about the implementation of the Manufactured Housing Improvement Act of 2000 (MHIA or 2000 Reform law) and its so-called "enhanced preemption" clause that stated that federal preemption for manufactured homes was to be "broadly and liberally construed." See what MHI CEO Gooch has said on this very point, further below. Which is why the obvious nature of the miss in MHI's prep of the two senators was all the more glaring.
The reason that matters is because of a widespread acknowledgement that along with financing and image, the biggest hurdle the industry faces is zoning and placement.
Additionally, financing related topics might have been addressed too. FHA Title I, FHA Title II, and other lending programs at HUD have arguably been artificially twisted to make them less accessible for the home buying public, for sellers, or even for developers.
Ironically, the Obama-Biden administration published a HUD-commissioned study that went a long way toward debunking most of the concerns raised by skeptics and critics of the industry and its federally regulated products. See the report linked below for details and for the download of that university-level research.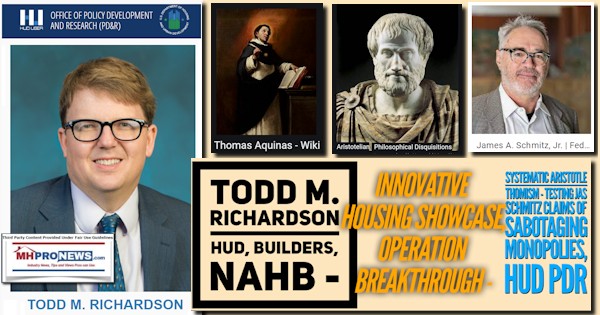 Given that neither senator asked about the MHIA or enhanced preemption made law under the MHIA of 2000, perhaps it is no surprise that HUD Secretary Marcia Fudge did not mention that point. That burden logically falls squarely on MHI, for reasons noted and linked herein.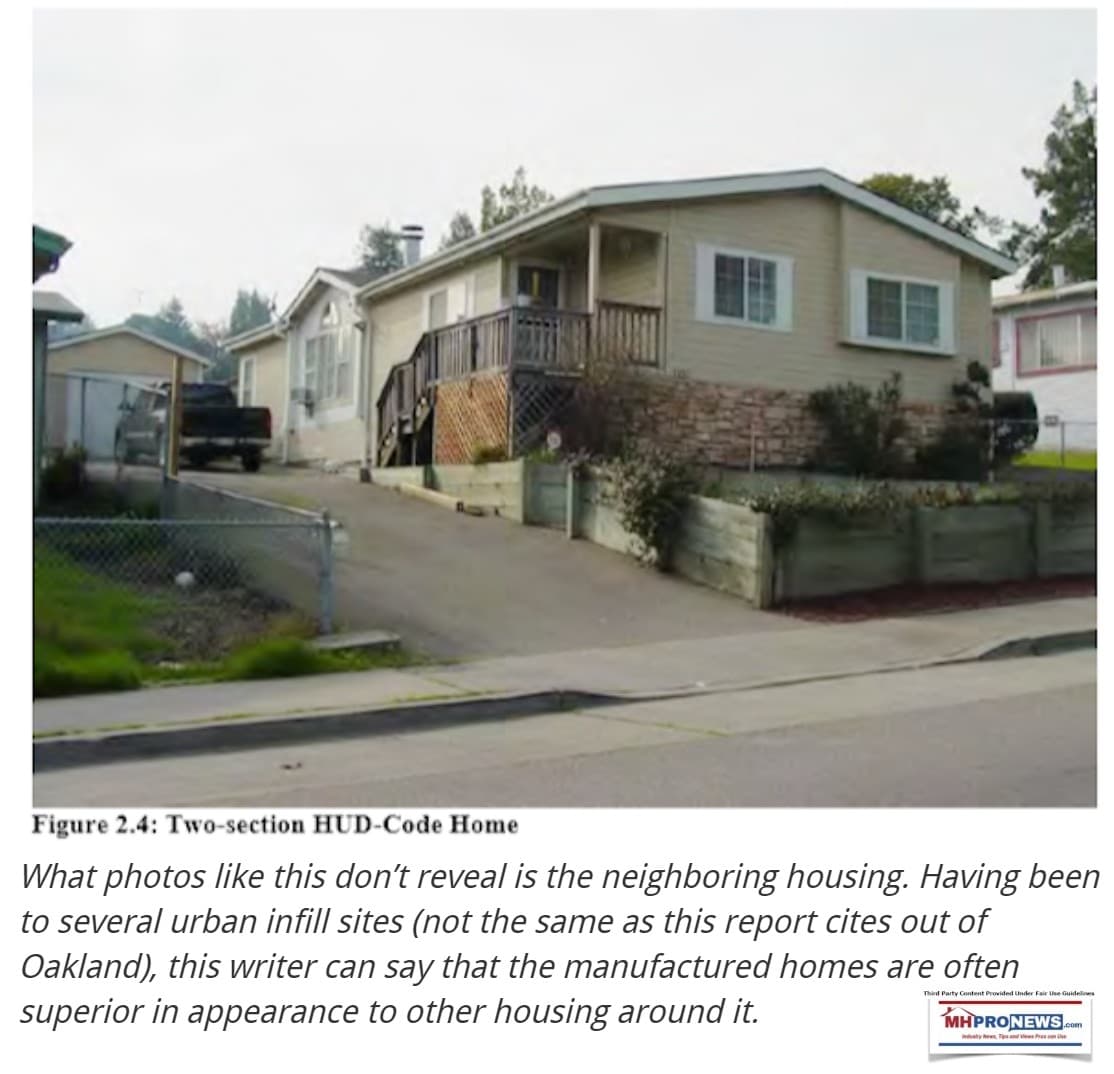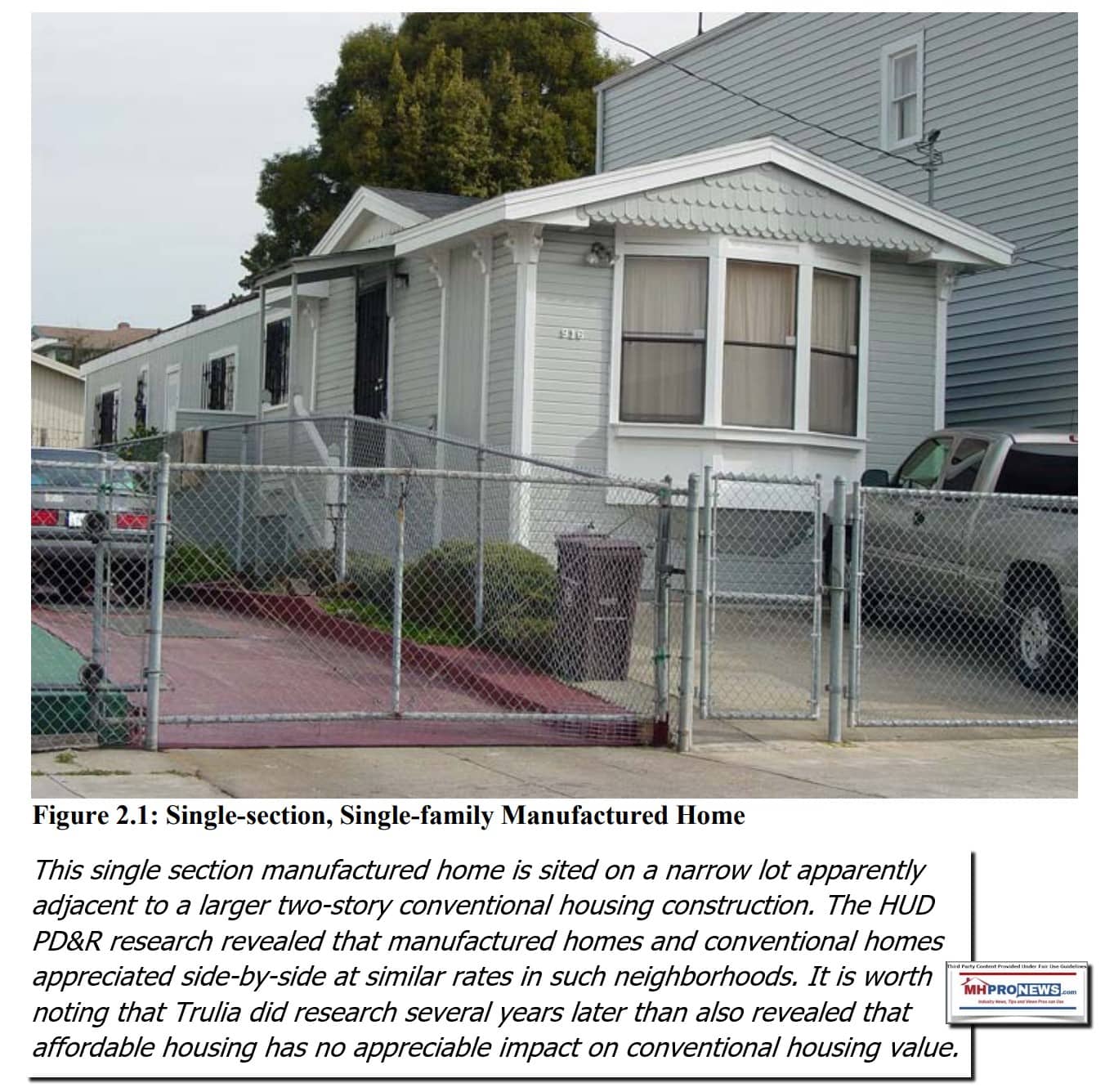 That is a 5 out of 5 star matter of importance that, due to the missed opportunity, MHI should get 0 stars for.  Why? Because MHI's CEO Lesli Gooch, after years of pressure from MHARR and months of sustained focus by MHProNews finally made several useful admissions. Here are some examples.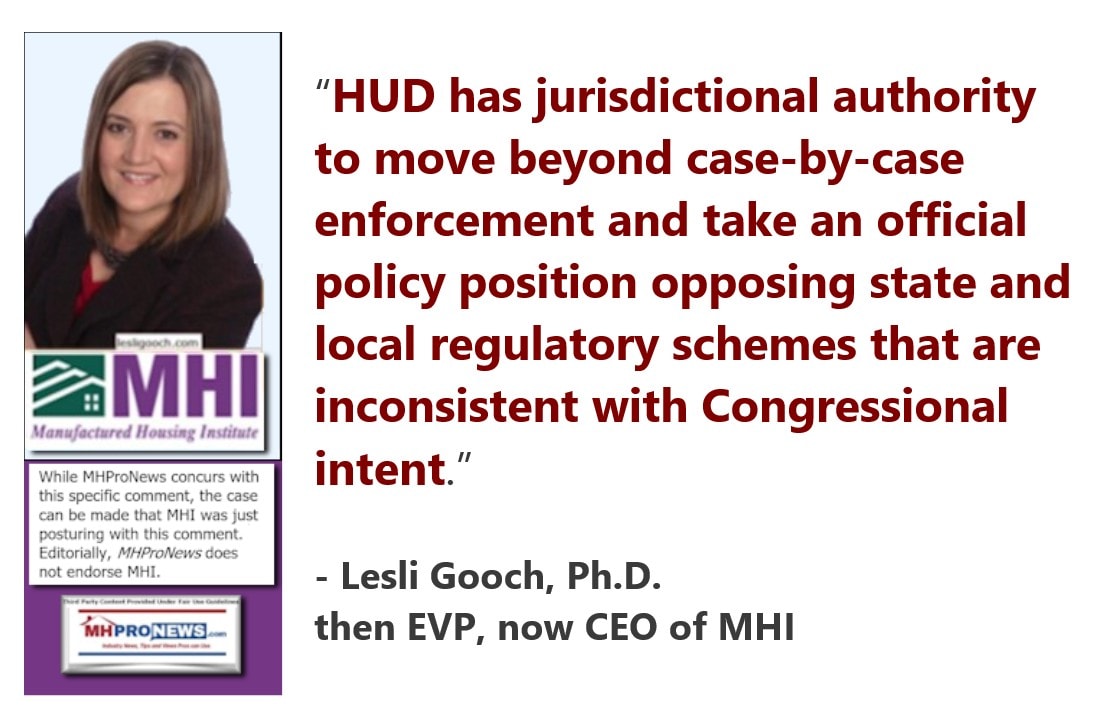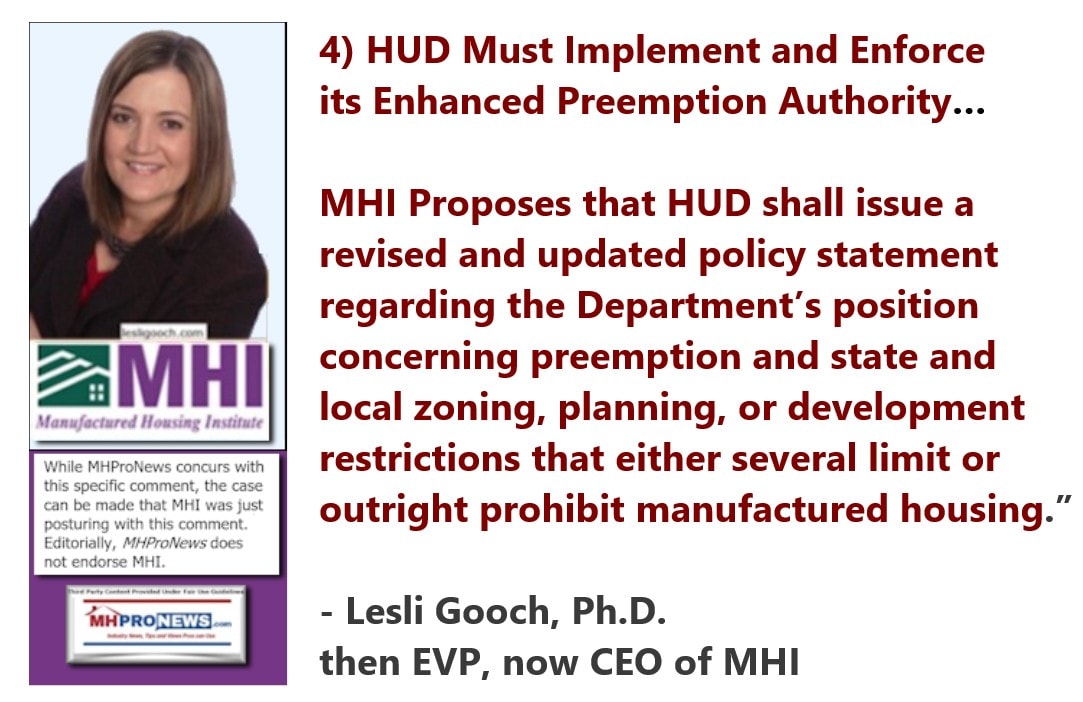 MHARR has said similarly for years.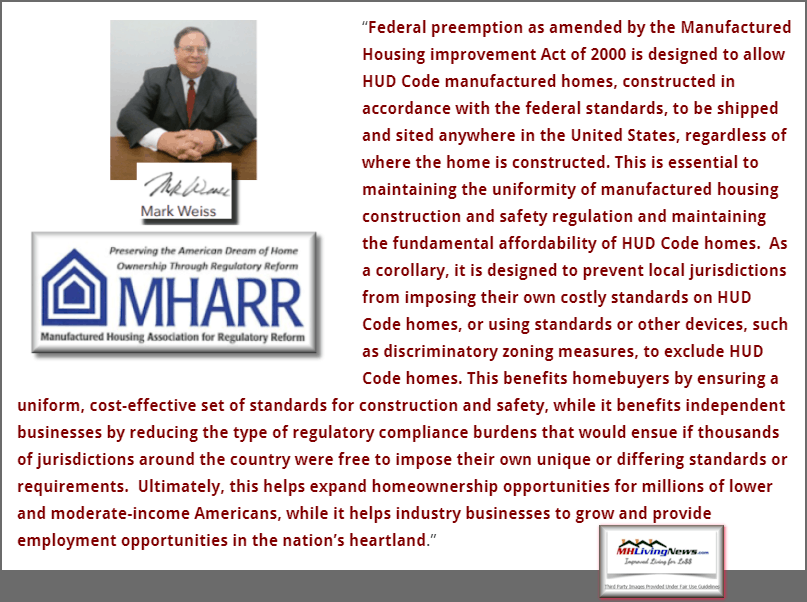 But to dot the i on the claims by MHI critics that the trade group is posturing for smaller companies while working on behalf of larger firms in order to consolidate the marketplace, their own website fails to address the topic that Gooch herself said is important. Namely, enhanced preemption.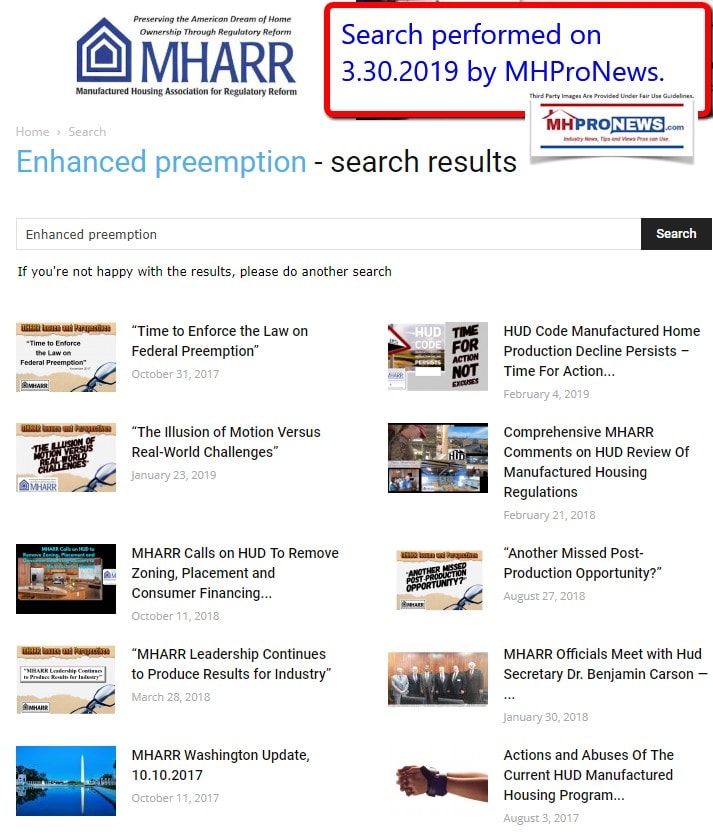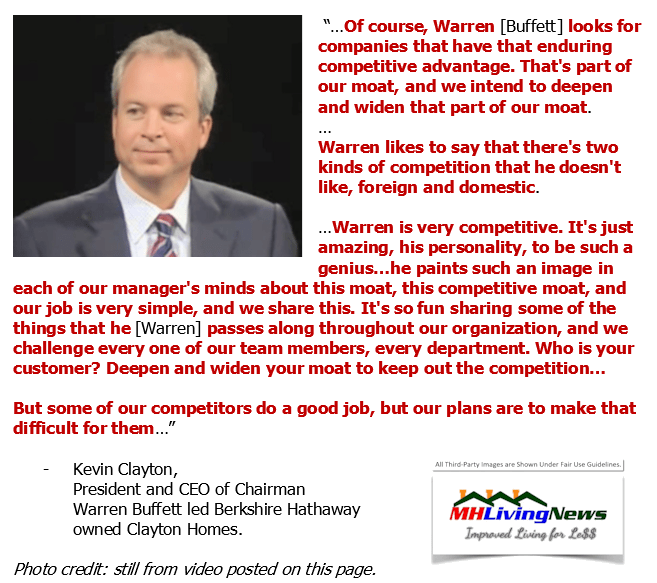 By contrast, given that MHARR has mentioned enhanced preemption dozens of times on their website, and they have not been online as long as MHI, isn't that also an oblique but revealing piece of evidence that MHI are not giving their best effort to grow the industry's businesses?  That vexing pattern is occurring – despite MHI leaders claim under oath made under penalties of perjury to that such is their goal?
The first administrator for the HUD Office of Manufactured Housing Programs (OMHP) said something similar to Gooch and Weiss.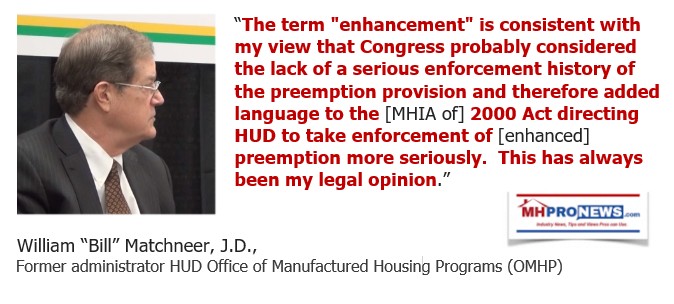 But Matchneer, also pointed the finger at HUD. In the article linked below, there is clear evidence of yet another case when key people for MHI failed to push enhanced preemption when given an opportunity to do so.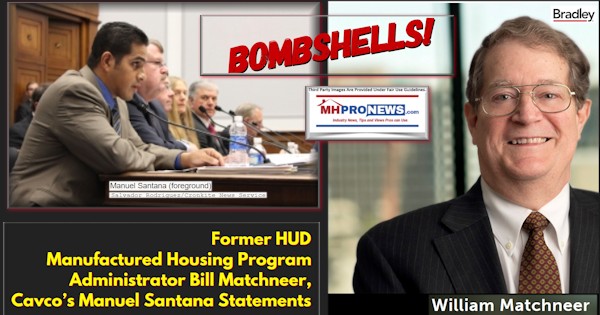 Restated, this is not a one-off in the May 2021 Senate hearing that MHI is trying to show-boat about. Indeed, MHI could have done the same thing during Secretary Carson's time at HUD, or even before. It is thus a difficult to defend pattern of grandstanding by the trade group to apparently beguile trusting MHI and industry members, which when carefully examined actually proves the opposite of the influence that they claim.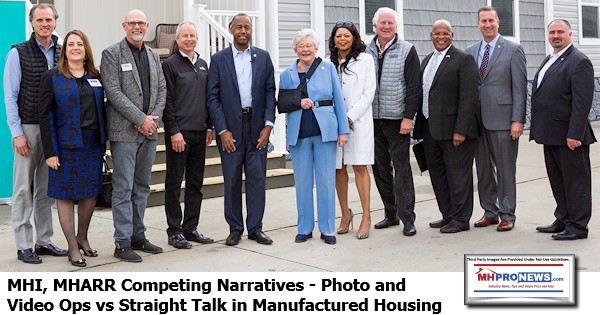 The bottom line for now in the above?
MHI logically is guilty of one or more of the following.
If it was an oversight, then as a MHEC member told MHProNews, it is a case of "association malpractice." Missing a mention of the MHIA and enhanced preemption is so fundamental, it simply can't be understated in its harm to the industry. As was noted, MHI's prior president and an MHI 'partner' have provided data and claims that support the notion that manufactured housing could be doing 5 to 6+ times more business than is currently occurring. Thus, enforcing the MHIA fully and properly should have been asked twice if necessary, yet it was not asked at all by Senators Sinema or Scott. Note that in fairness to the senators, they may not be aware of these issues, which if so, that is yet another MHI failure.
Since it was arguably a deliberate MHI ploy – part of the pattern MHI critics claim of a pattern "Deception and Misdirection," razzle dazzle, head fake, "red herring," photo and video op moves that are meant to impress the uninformed, other concerns arise. But those posturing maneuvers witnessed 2½ years of industry decline in total shipments, even as conventional housing was soaring. While that decline may have abated in March 2021, that can hardly be attributed to MHI's action. Rather, it seems that the demand for housing is so great, that even subterfuge could not hold that growth back.
Few things could be more embarrassing to MHI, short of admitting that they've been duping the industry's trusting independents for years. Given that the con artist's mantra is "never give up the con," it is unlikely that MHI will make such an admission of guilt.
As was briefly noted above, these are a bookend to finance and other issues. See a recent report on that among the headlines that follow in this week's Sunday recap.
To illustrate examples of the concerns raised above, these MHEC and MHI members made the following statements on the record about the importance of preemption and zoning/placement issues.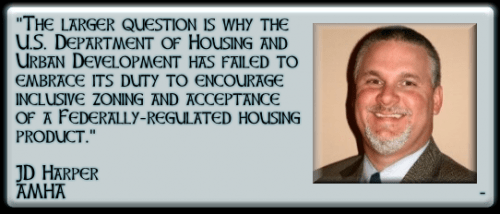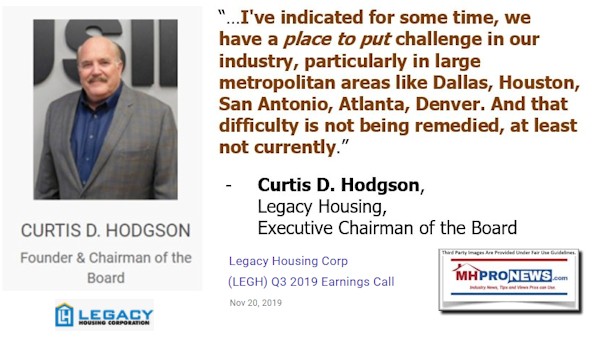 And this MHEC member made a previously cited comment that goes to the point of underperformance and consolidation.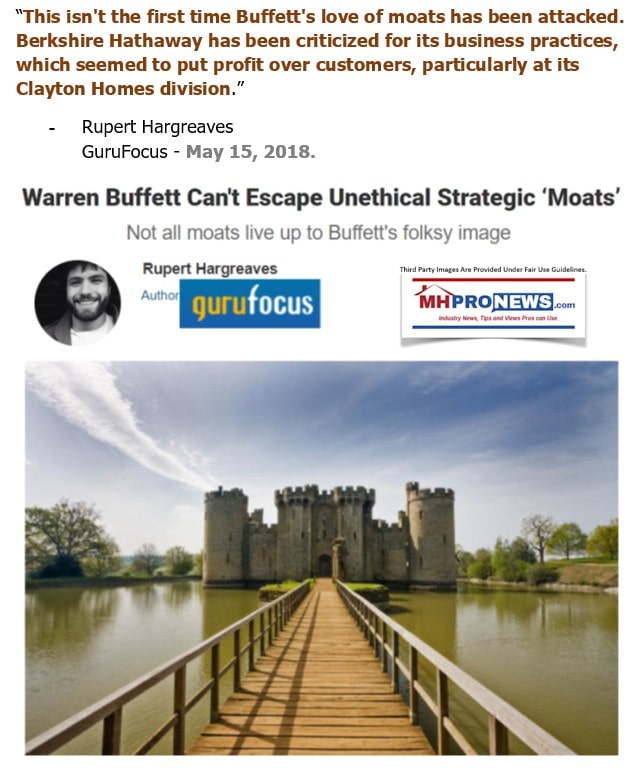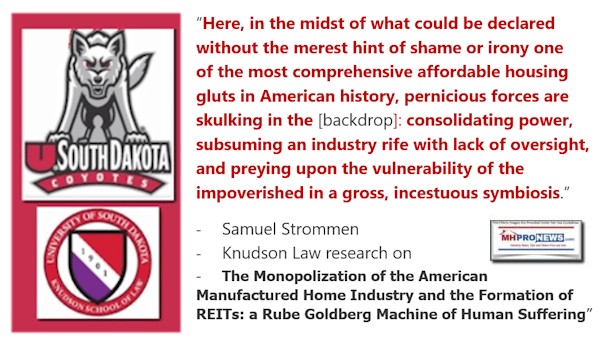 The IRMI insurance website says this about association malpractice: "Association Professional Liability Insurance — an insurance policy that protects nonprofit organizations from claims alleging management negligence… Association professional liability insurance is synonymous with nonprofit directors and officers insurance." MHI leaders may want to check to see if their E&O coverage is up-to-snuff. Because a leading MHI member, Cavco Industries, has reportedly been paying out millions in battling the issues of problematic behavior by Joe Stegmayer, their former CEO and Chairman.
Interestingly, Stegmayer was also a chair for MHI's board of directors.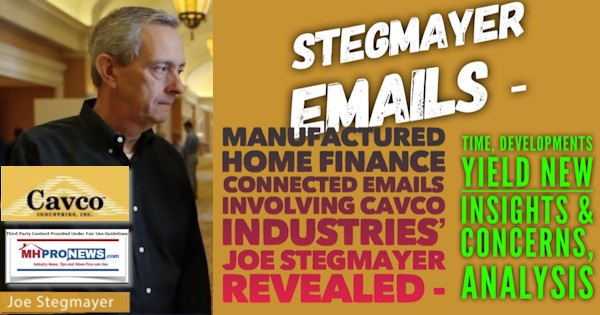 Do not miss today's postscript. It has the full CSPAN hearing video, plus the transcript of some key items where manufactured housing was or could have been mentioned. Those are also arguably an embarrassment to MHI and undermine their claims of working for the industry at large.
With no further adieu, let's pivot to the headlines for the week that was from 5.23 to 5.30.2021.
What is New from Washington, D.C. from MHARR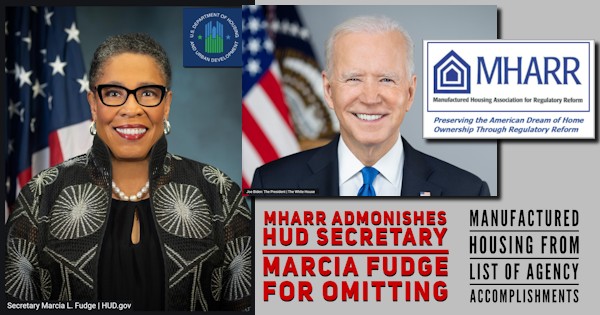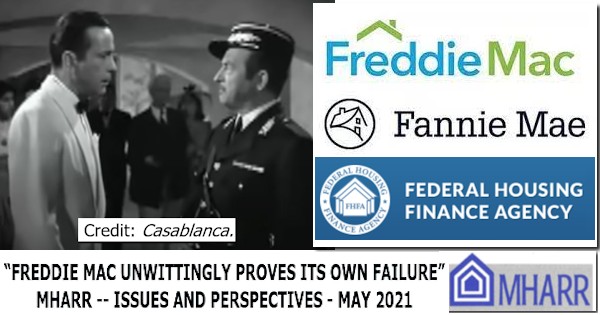 What is New and Recent on the Masthead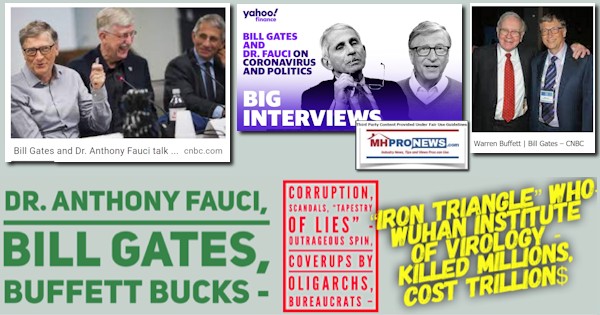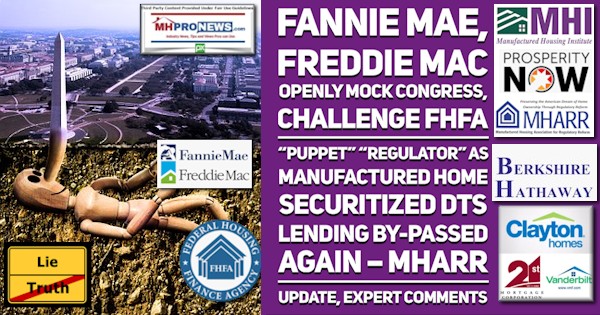 What is New on MHLivingNews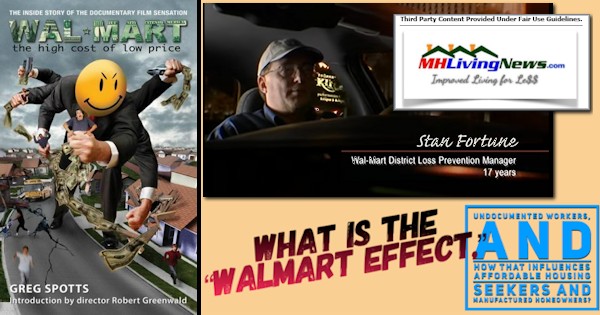 What is New on the Daily Business News on MHProNews
Saturday 5.29.2021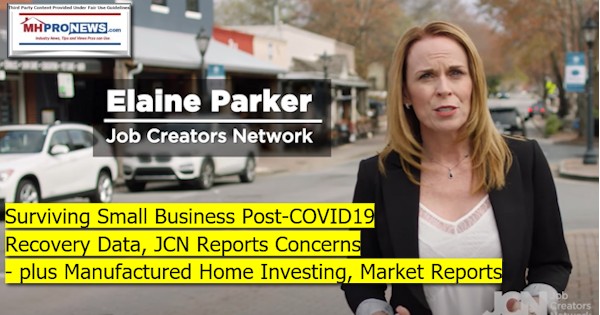 Friday 5.28.2021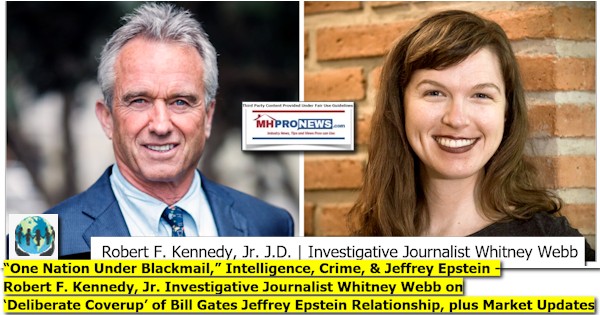 Thursday 5.27.2021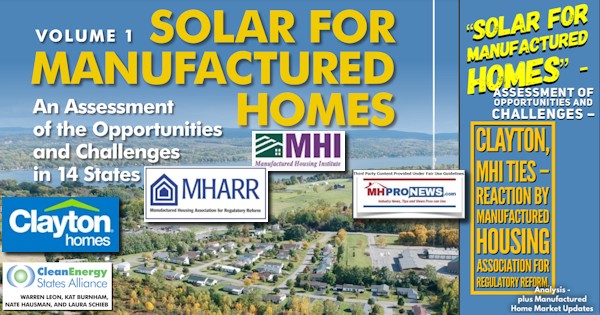 Wednesday 5.26.2021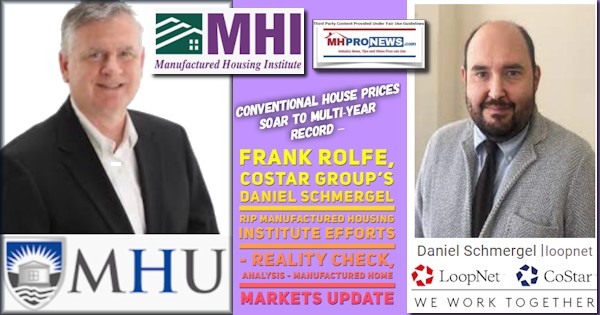 Tuesday 5.25.2021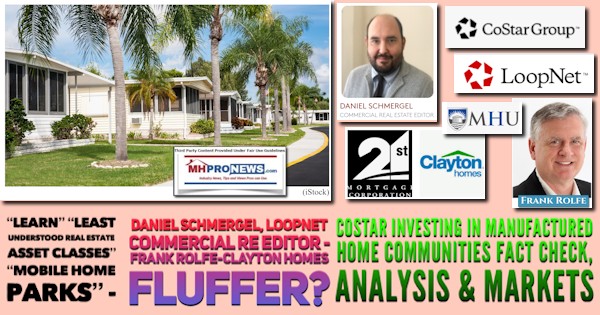 Monday 5.24.202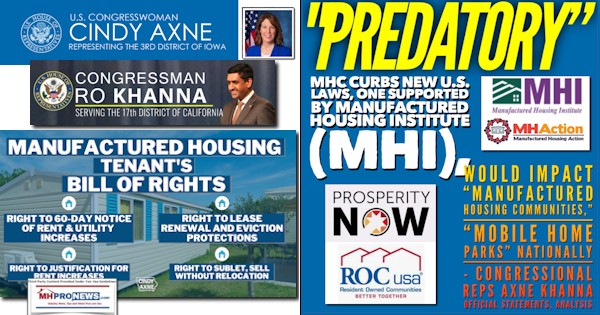 Sunday 5.23.2021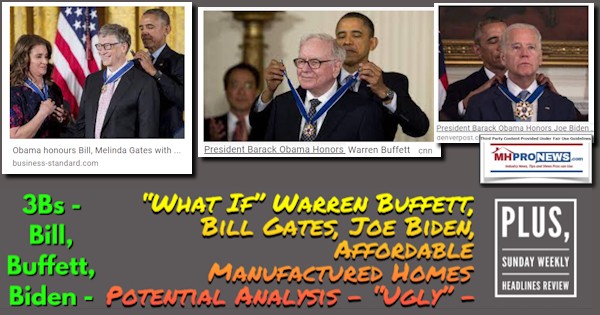 Postscript:
Once someone understands some of the legal nuances and manufactured home industry political issues, then the truth often appears to be hiding in plain sight.
The transcript below is per CSPAN of the U.S. Senate hearing that MHI brought to their members attention, as was shown and discussed in the top of this article. The transcript says word-for-word what was said in that Senate hearing. MHProNews has also provided the video recording so that readers can watch or listen too.
The CSPAN-generated transcript appears to demonstrate several of Minneapolis Federal Reserve senior economist James A Schmitz Jr.'s contention of "sabotaging monopoly" tactics.
Schmitz and his colleagues have repeatedly specifically addressed HUD and how builders and a trade group are in his view subverting HUD-Code manufactured homes. That is being done in part, says Schmitz and his colleagues, by HUD providing subsidies to the competitors of manufactured housing. In the absence of those federal subsidizes, more manufactured homes and fewer conventional housing units would be built.  That is an important element of Schmitz and his colleagues' thesis.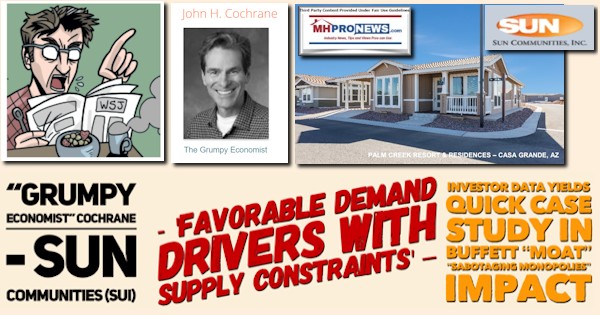 While those economic researchers have named NAHB, perhaps an equally strong case could be leveled against MHI, as the above makes clear.  It must not be forgotten that those subsidies cost the federal government, and thus taxpayers, more money.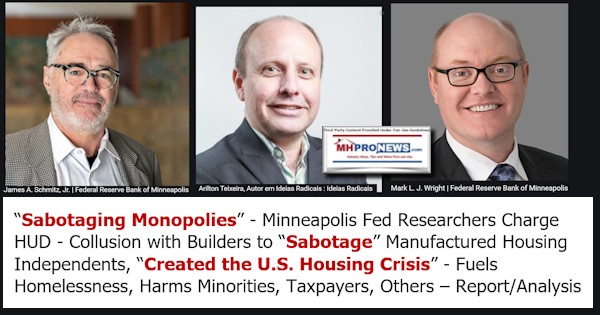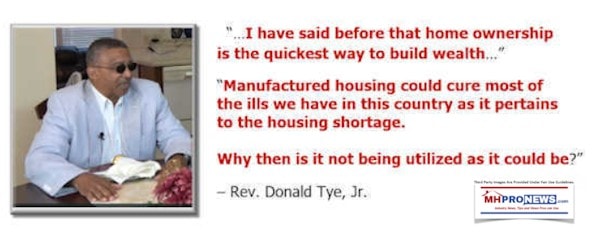 But there are other possible harms to even mainstream housing. Some housing experts believe that if there is no strong surge in sales of affordable housing, then the "overheated" market may not be "sustainable" and could result in a series of problematic economic ripples.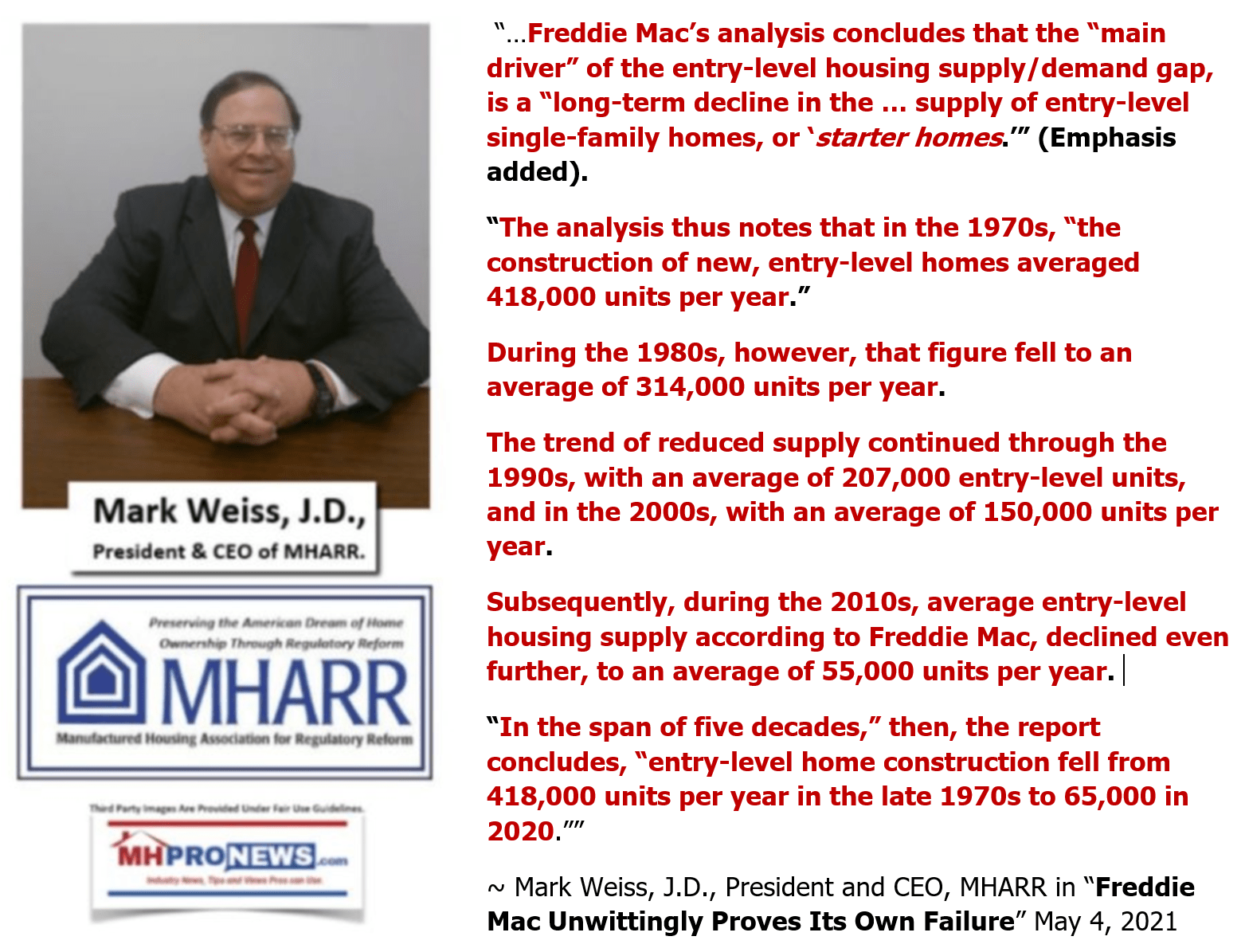 With that backdrop, here are selected Parts of the May 20, 2021 Senate Hearing Transcript, per CSPAN.
At/after about the 1:27:27 (1 hour 27 minutes 27 seconds) time marker is this exchange from Senator Tim Scott to Secretary Fudge. Note that CSPAN provided these transcripts to MHProNews in all caps.  The italics as shown are perhaps caused by word searches for specific topics.
Senator Tim Scott (SC-R): LET ME MOVE TO HUD AND ASK A QUESTION OF MY FRIEND SECRETARY FUDGE AS IT RELATES TO MANUFACTURING AND HOUSING. AS YOU MAY RECALL, BACK IN 2019, WE PASSED A BIPARTISAN LEGISLATION THAT ALLOWED FOR MORE MANUFACTURING HOUSING TO BE A PART OF THE STRATEGY THAT WE USED TO HELP HOME OWNERSHIP BECOME MORE AFFORDABLE FOR PEOPLE THROUGHOUT THE COUNTRY. WHEN WOULD YOU EXPECT HUD TO ISSUE GUIDANCE FOR THE INCLUSION OF MANUFACTURING HOUSING IN WHEN STATES AND LOCAL GOVERNMENTS CONSOLIDATE THE PLANS?
To that, HUD Secretary Marcia Fudge (D) responded as follows: IT'S GOOD TO SEE YOU, SENATOR, AND I'M GLAD FOR YOUR CONCERN ABOUT HOUSING. THE GUIDELINES OF 2019, I THINK, GOT CAUGHT UP… IN ALL THE THINGS GOING ALONG WITH COVID, BUT WE BELIEVE WE WILL HAVE SOMETHING BY THE END OF THIS YEAR. WE KNOW WE'RE A LITTLE BIT BEHIND, BUT AS I SAID, I THINK IN 2019 COVID AND TRYING TO GET THE CARES ACT AND OTHER FUNDING OUT MIGHT HAVE DELAYED IT, BUT WE ARE WORKING ON IT AS WE SPEAK, SIR. …
Per CSPAN, Senator Scott then said: AS YOU MIGHT IMAGINE, MY STATE HAS A DISPROPORTIONATE SHARE OF THE MANUFACTURED HOUSING, AND WE HAVE ENDURED OUR SHARE OF NATURAL DISASTERS, AND I WOULD SAY THE CURRENT STATE OF MANUFACTURING HOUSING HAS TRANSFORMED POSITIVELY. WHERE YOU HAVE A STRONGER HOME, YOU HAVE A MORE RESILIENT HOME THAN EVER IMAGINED, SO WHATEVER WE CAN DO TO HIT ACCELERATE ON THAT I BELIEVE WILL BE HELPFUL TO THOSE FOLKS WHO ARE ON THE BUBBLE, SO TO SPEAK. THEY CAN BE A HOMEOWNER OR NOT BE A HOMEOWNER DEPENDING ON HOW ACCESSIBLE MANUFACTURED HOUSING IS."
Secretary Fudge replied: "I'M A STRONG PROPONENT AS WELL, SENATOR. WE'LL GET RIGHT ON IT."
MHProNews notes that if Fudge were truly a "strong proponent" of manufactured homes, then they would not have failed to mention manufactured homes in their bragging points of Biden's first 100 days.
Per the CSPAN transcript, Senator Sinema said (starting about 1:55:33): I KNOW SOME OF THE SHORTAGES AND PRICE ISSUES ARE BECAUSE OTHER ISSUES, LIKE LUMBER SHORTAGES, SO WHETHER WE ARE TALKING ABOUT TRADITIONAL MANUFACTURED HOUSING OR THE GROWTH OF TINY HOMES, IT'S CLEAR THESE PRODUCTS WILL PLAY A IMPORTANT ROLE IN PROVIDING AFFORDABLE CHOICES, SO WHAT ROLE DO YOU BELIEVE MANUFACTURED HOUSING PLAYS IN ADDRESSING ONGOING HOUSING SUPPLY CHOICES?
Secretary Fudge (starting about 1:55:56): I HAD AN OPPORTUNITY JUST LAST WEEK TO HAVE A MEETING WITH THE HOME BUILDERS, AND THEY HAVE TALKED ABOUT THE FACT THAT LUMBER ALONE HAS GONE UP MORE THAN 200% SINCE COVID BEGAN. WE KNOW THAT THE COST OF TRYING TO BUILD A SINGLE FAMILY HOUSE TODAY BASED UPON LUMBER COSTS, ET CETERA, HAS GONE UP MORE THAN $32,000. THE THINGS WE ARE TRYING TO DO WITH SOURCES LIKE LOW INCOME HOUSING TAX CREDITS, AND BRIDGING THE GAP BETWEEN THE COST OF HOUSING AND MAKE IT MORE AFFORDABLE FOR PEOPLE TO PURCHASE, WE HAVE PUT IN PLACE A NEW TAX CREDIT AS WELL. I JUST DO SAY TO YOU THAT MANUFACTURING HOMES IS AN OPTION THAT WE TOO SELDOM LOOK AT. IT IS AFFORDABLE. IT IS RESILIENT. IT IS ENERGY EFFICIENT AND SOMETHING WE SHOULD DO MORE AND MORE OF, BECAUSE I THINK THAT IT'S QUICK TO MAKE SURE THAT WE CAN PUT IN PLACE SO IT'S FAST TO PUT IN PLACE, AND IT'S JUST A GOOD OPTION, AS OUR TINY HOMES AND OTHERS, BUT I THINK THE REAL ISSUE BECOMES HOW DO WE MAKE WHATEVER THE PRODUCT IS MORE AFFORDABLE BY THE USE OF PRIVATE INVESTMENTS, ESPECIALLY BY WAY OF TAX CREDITS.
The above reflects several of the points made in the first half of this report. But it also merits mention what Secretary Fudge admitted, namely, that "that manufacturing homes is an option that we too seldom look at." It is an awkward if not embarrassing statement, given that HUD is the prime federal regulatory body.
This is a poor reflection on MHI and raises several questions that Schmitz and his colleagues have raised about HUD. Keep in mind the notion of the Iron Triangle as well as what John Kenneth Galbraith notably observed about regulators.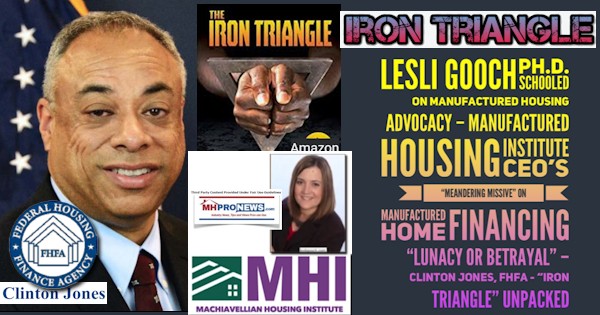 Then, Look again at what MHI themselves said: "During an exchange with Senator Tim Scott (R-SC) about implementing the requirement that localities consider manufactured housing as a part of their comprehensive housing affordability strategies and community development plans, Secretary Fudge stated they are "working on it as we speak" and should have something published by the end of this year."
What is there to work on? The MHIA law and enhanced preemption has been the law for 20 years. To stall through the end of 2021 is to only show incompetence or to make the point that Schmitz and others have repeatedly raised.
After months and years of public pressure from MHProNews and MHARR, Lesli Gooch finally admitted in writing on certain occasions that HUD is able to exert "enhanced preemption" made part of the Manufactured Housing Improvement Act of 2000.
All that HUD needs to do is inform a local jurisdiction that something in their area is contrary to federal law with respect to manufactured homes.
But to dot the i and cross the proverbial t on these topics, is this part of the hearing that MHI failed to mention. It is an exchange by Senator Steve Daines (MT-R) and Secretary Marcia Fudge (D). Daines raises concerns noted in newest our MHLivingNews report linked above and here.
Senator Steve Daines (MT-R) Starting about 1:59:34)  ACCORDING TO THE FEDERAL HOUSING FINANCE AGENCY HOME PRICES ROSE BY ABOUT 11% BETWEEN THE FOURTH QUARTER OF '19 AND '20, NATIONWIDE, AND IN MONTANA ANNUAL PRICE APPRECIATION WAS 15%, THE SECOND IN THE NATION, AND HOUSING IS NOT AFFORDABLE WHERE I LIVE, AND MEDIAN PRICES NOW AROUND $700,000. LOW INCOME FAMILIES, SENIORS STRUGGLING TO GET BY AND YOUNG FAMILIES JUST STARTING OUT, MUNICIPAL WORKERS THAT FORM THE BACKBONE OF OUR COMMUNITIES, THEY CAN'T CATCH A BREAK. TURNING BACK TO A POINT THAT SOME OF MY COLLEAGUES ALREADY RAISED, WHAT CONCERNS ME IS THE FACT THAT YOUR AGENCY INTENDS TO PROVIDE ASSISTANCE TO ILLEGAL IMMIGRANTS AT THE SAME TIME AMERICAN CITIZENS ARE HOMELESS. CONSIDERING THE TAXPAYER DOLLARS ARE A FINITE RESOURCE, SHOULD WE REALLY BE EXTENDING HOUSING ASSISTANCE TO PERSONS THAT ENTER OUR COUNTRY UNLAWFULLY WHEN THERE ARE HUNDREDS OF THOUSANDS OF HOMELESS AMERICANS, TO SAY 40,000 HOMELESS VETERANS, PEOPLE WILLING TO DIE FOR OUR FREEDOMS IN OUR COUNTRY?
Secretary Marcia Fudge (starting at about 2:00:12) AGAIN, I WOULD SAY THAT WE HAVE NO INTENTION OF VIOLATING THE CURRENT LAW. I HAVE SAID IT AND I MEAN IT. WHAT YOU ARE TALKING ABOUT IS WAIVING THE DOCUMENT REQUIREMENT WHICH WILL NOT MAKE IT EASY FOR PEOPLE. WE KNOW THAT FAMILIES WHO ARE INELIGIBLE ARE EVENTUALLY GOING TO BE REMOVED FROM THE SYSTEM. BUT WE DO NEED TO GIVE OUR AGENCIES THE ABILITY TO CONDUCT DETERMINATIONS AS TO WHETHER THESE PEOPLE DO QUALIFY, BECAUSE INITIALLY WE DON'T KNOW IF THEY QUALIFY OR NOT. BUT OUR GOAL IS TO MAKE SURE THAT PEOPLE ARE NOT SLEEPING ON THE STREET. WE KNOW THAT WE ARE GOING TO BE ABLE TO MEET YOUR REQUIREMENTS AND THE REQUIREMENTS OF THE LAW. I AM NOT AT ALL CONCERNED ABOUT THE FACT THAT THE WAIVER IS GOING TO INCREASE THE NUMBER OF ILLEGAL UNDOCUMENTED PEOPLE IN THIS COUNTRY.
Senator Daines raised several points of concern. One was undocumented immigrants who have entered the U.S. illegally. But another is the pressure on his residents caused by the spiraling costs of conventional housing.
That is what HUD-Code manufactured homes was supposed to address. That is why Congress, after examining the facts, made improvements in the law that increased consumer protections and also underscored the need for enhanced preemption.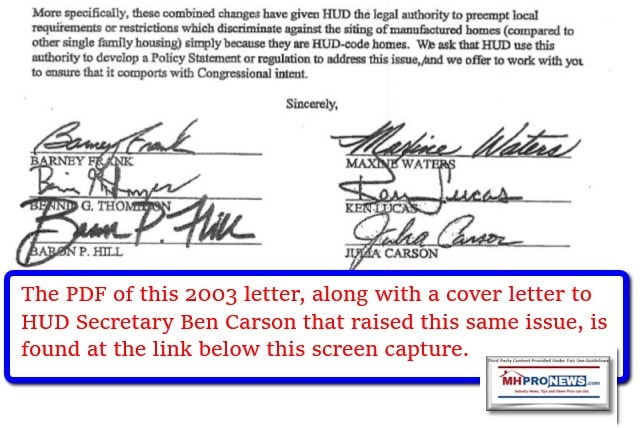 Democratic lawmakers involved in that process made the statement above. In both Democratic and Republican administrations, for whatever reasons, the law has not been properly enforced. But that exchanged with Daines was also one of several opportunities that Fudge could have said, let's used enhanced preemption and get your residents in Montana and in the other 50 states the affordable housing that they need – HUD Code manufactured homes.
In an interesting reminder of legal and constitutional principles at work in the above is this from a recent court filing.
"The Constitution "entrust[s] the law making power to the Congress alone in both good and bad times." Youngstown Sheet & Tube Co. v. Sawyer, 343 U.S. 579, 589 (1952). Congress may authorize Executive Branch officials to fill in the details of their policy choices, but those officials must receive a substantive delegation of authority and comply with Congress's procedures to exercise that power." – Injunction petition, States vs Joe Biden. That is a reminder that regulators are supposed to do what Congress intended for them to do.
The concerns raised herein merit congressional and other investigations.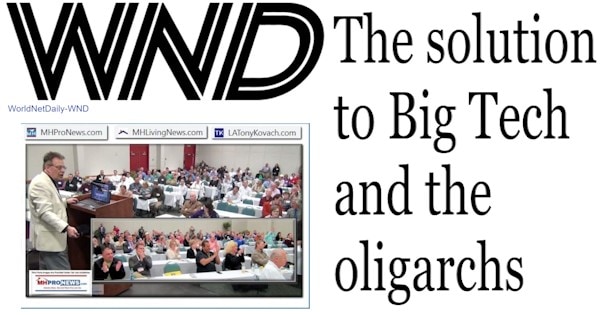 The roughly 500-word article above spells out the history of corporate scandals in the 21st century where federal regulators failed time and again to do their jobs properly.  The stress and harm being caused due to a lack of affordable housing is severe.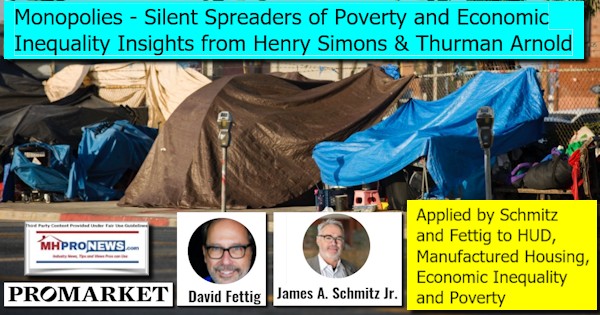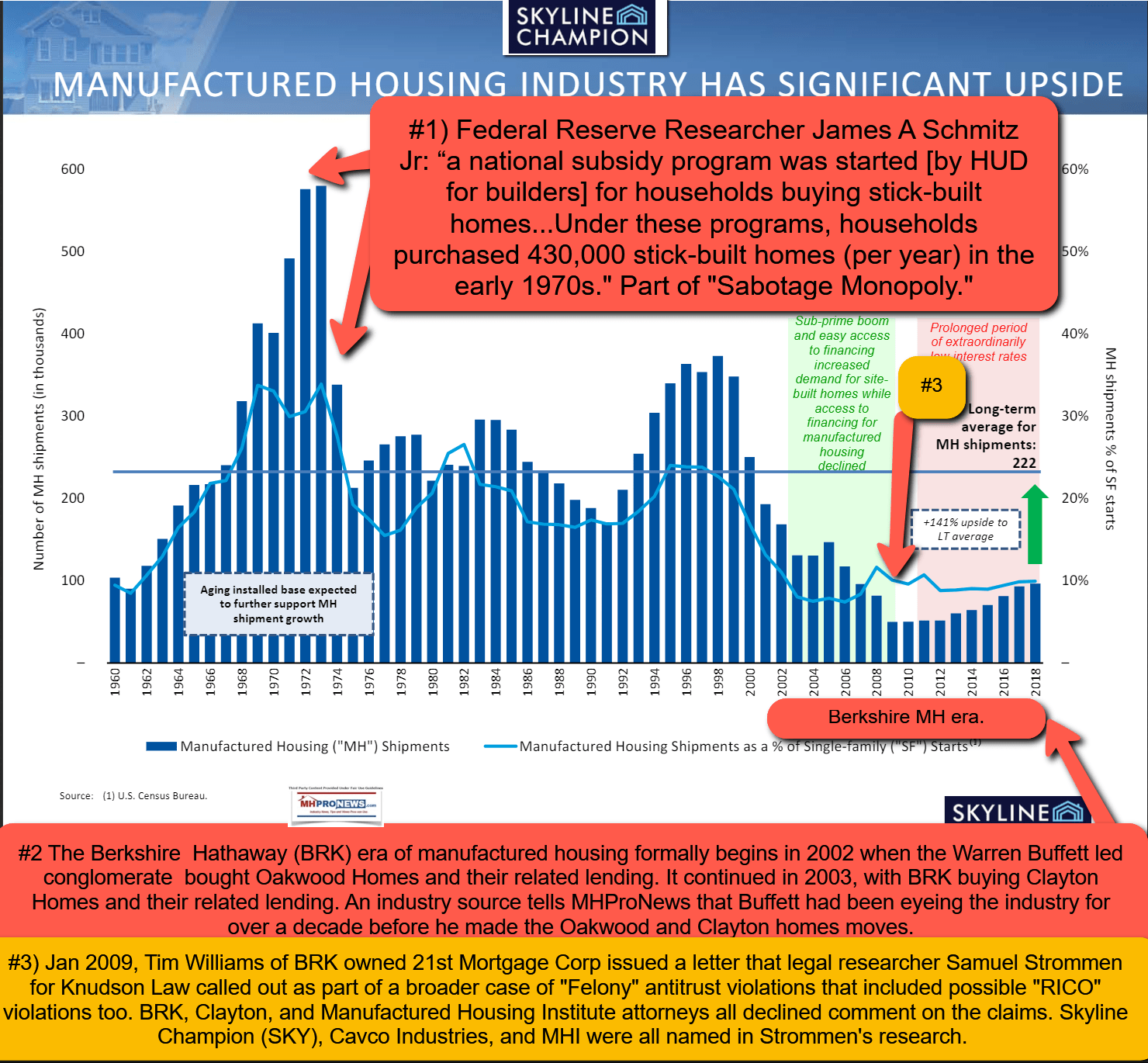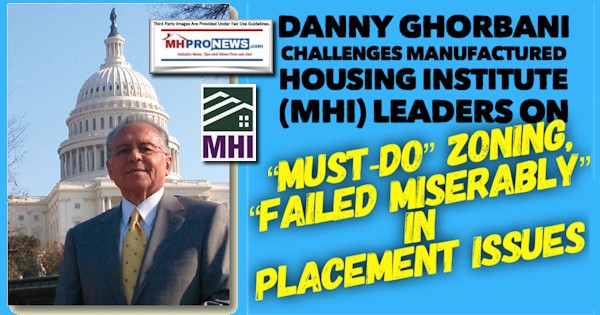 Indeed, as several have observed, the lack of more affordable HUD-Code manufactured homes is an apparent example of HUD, FHFA, and others in the federal system colluding at least at a 'wink and a nod' level with private interests to enforce laws that have existed for 13 to 20+ years. We said last year, and it merits repeating.  The laws needed to advance this industry were already passed by Congress. The fact that they are not being properly enforced is a disgrace that calls out for correction, because millions are being harmed from this ongoing pattern of corruption.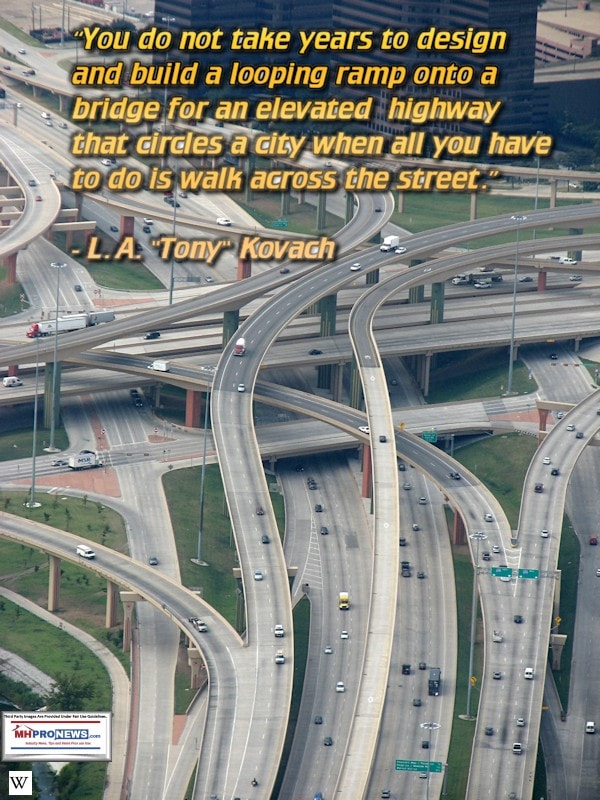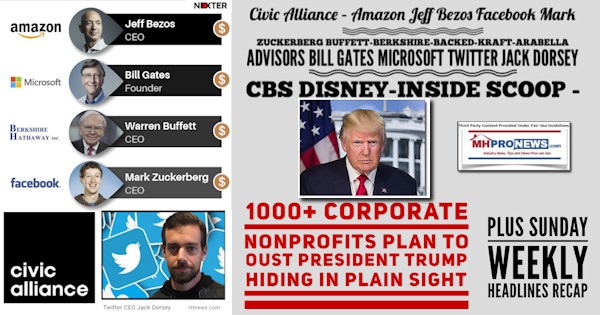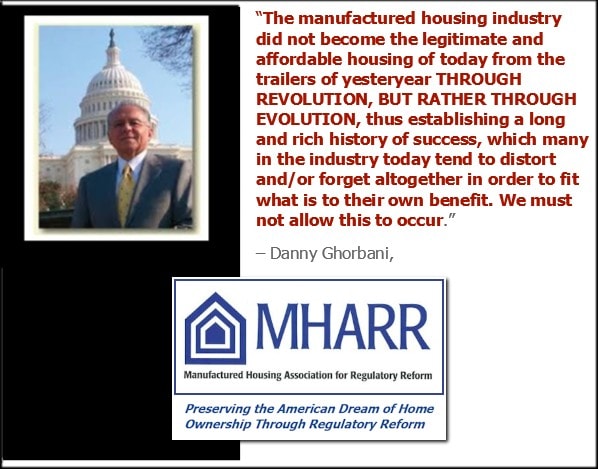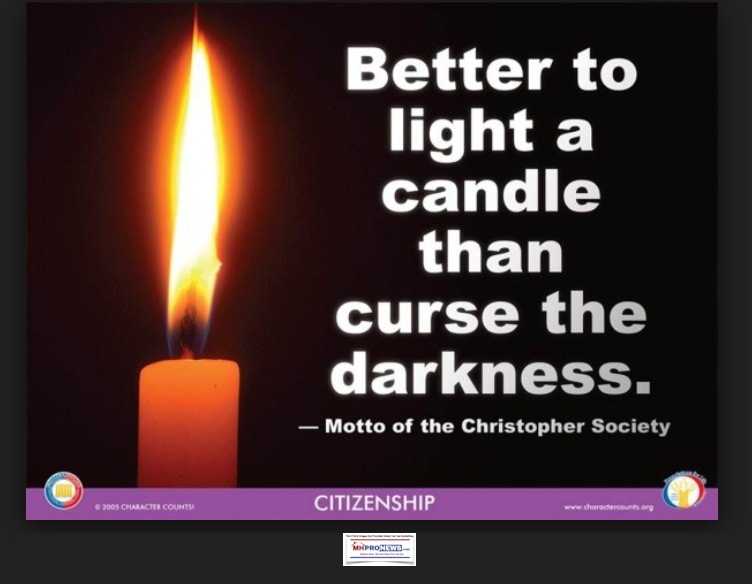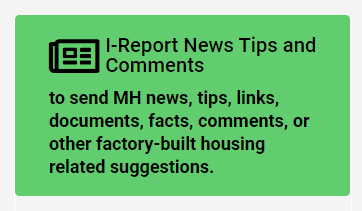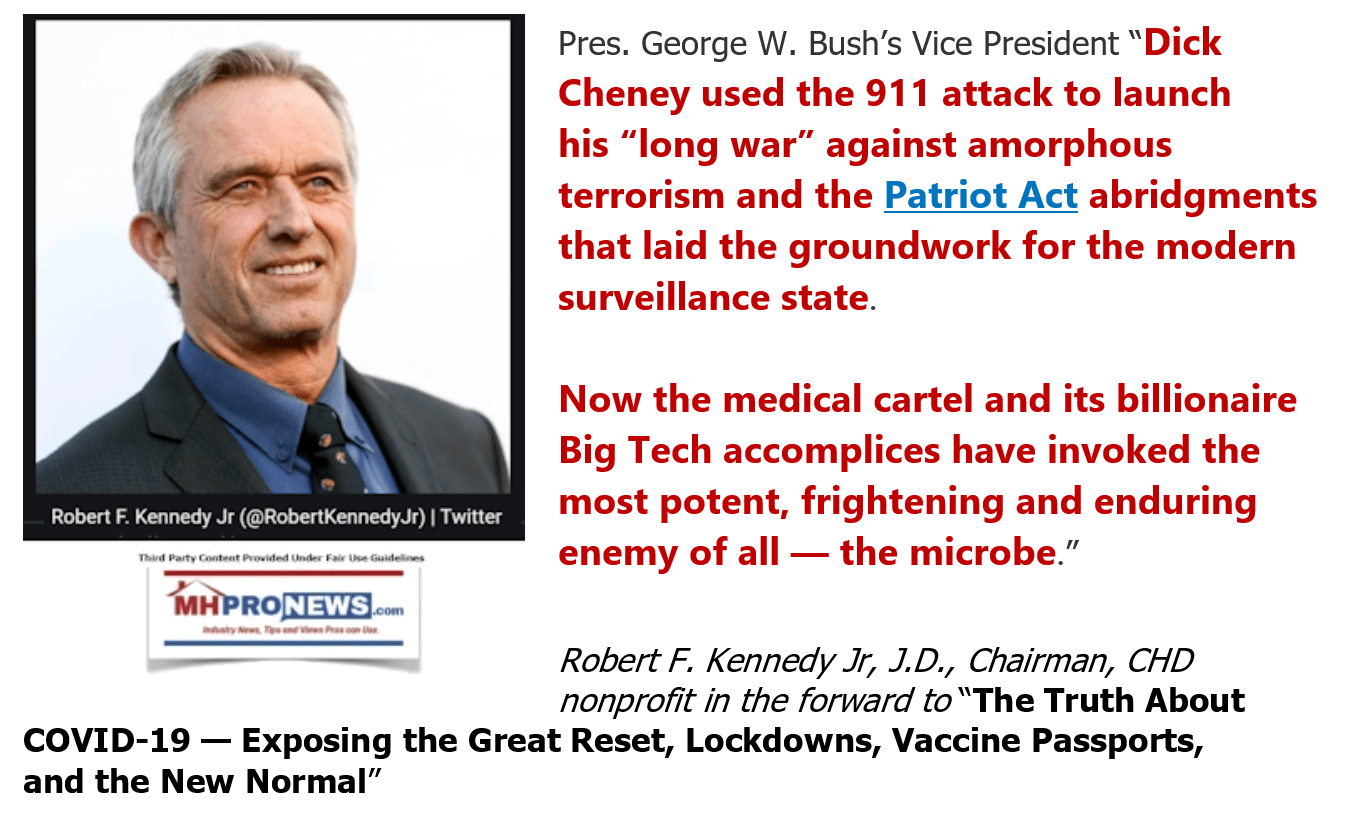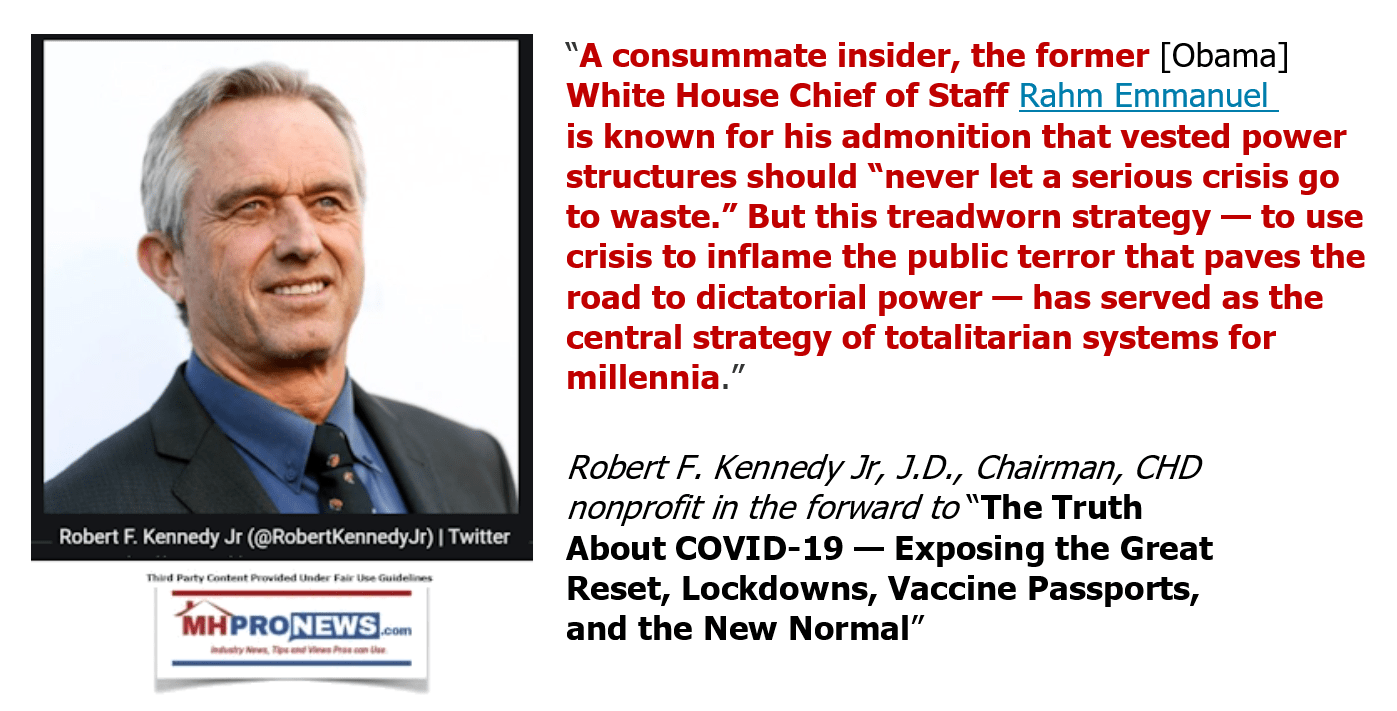 Our thanks to you, our sources, and sponsors for making and keeping us the runaway number one source for authentic "News through the lens of manufactured homes and factory-built housing" © where "We Provide, You Decide." © ## (Affordable housing, manufactured homes, reports, fact-checks, analysis, and commentary. Third-party images or content are provided under fair use guidelines for media.) (See Related Reports, further below. Text/image boxes often are hot-linked to other reports that can be access by clicking on them.)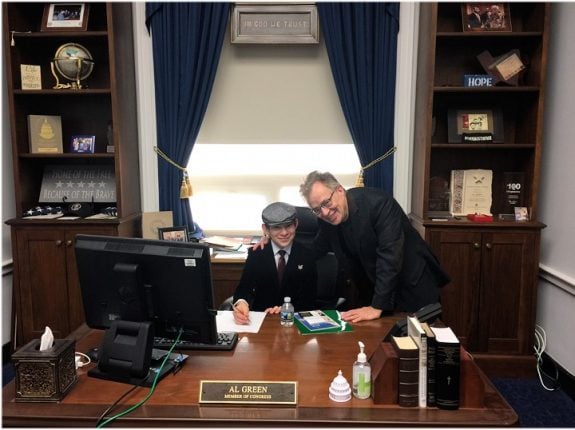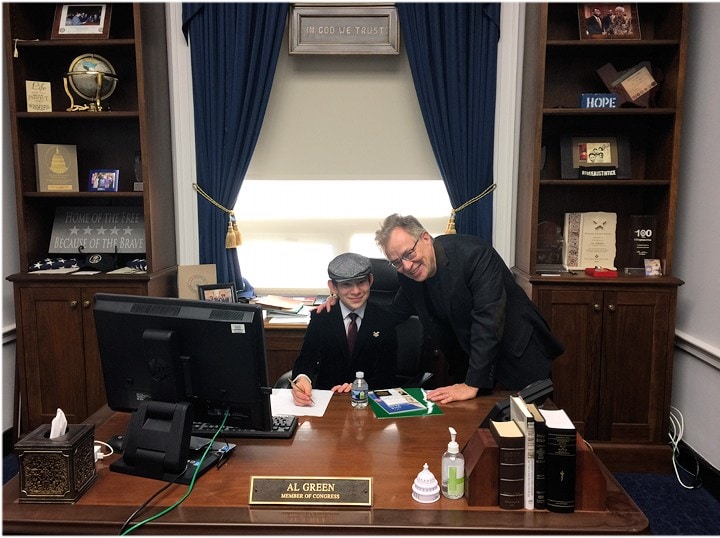 By L.A. "Tony" Kovach – for MHProNews.com.
Tony earned a journalism scholarship and earned numerous awards in history and in manufactured housing.
For example, he earned the prestigious Lottinville Award in history from the University of Oklahoma, where he studied history and business management. He's a managing member and co-founder of LifeStyle Factory Homes, LLC, the parent company to MHProNews, and MHLivingNews.com.
This article reflects the LLC's and/or the writer's position, and may or may not reflect the views of sponsors or supporters.
Connect on LinkedIn: http://www.linkedin.com/in/latonykovach
Related References:
The text/image boxes below are linked to other reports, which can be accessed by clicking on them.