CoStar Group Inc (NASDAQ:CSGP) owned LoopNet, in an article by commercial real estate editor Daniel Schmergel, admits that the manufactured home community sector is "one of the least understood and most intriguing real estate asset classes." So, "LoopNet is providing an overview of the mobile, or manufactured, home community sector" in an article by Schmergel that presumably aims to educate their readers, given that it was published under their "learn" investing linked title.
> loopnet.com/learn/investing-in-mobile-home-communities-history-evolution-and-opportunities/1592179661/
That manufactured home communities are misunderstood is an entirely fair statement by LoopNet and Schmergel. Indeed, also publicly-traded Sun Communities (SUI) chairman and CEO, Gary Shiffman, recently said during an earnings call with investors that there is no accurate national repository of information on manufactured home communities. Shiffman also stressed during that earnings call with investors and analysts that there was a "scarcity" or lack of "available manufactured home communities."
Sun Communities Chair CEO Gary A. Shiffman No "National Repository of Information" "Scarcity of Available Manufactured Housing Communities" Sun Latest Result$, plus Manufactured Home Investing, Stock Updates
The questions posed in this MHProNews analysis are about facts, evidence, proper terminology – i.e.: the realities of the manufactured home community sector.
How well did Schmergel and LoopNet convey those realities?
If the Schmergel/LoopNet article's information is inaccurate, is there any exposure to them or their parent company for failure to make proper changes once the inaccuracies were directly addressed?
Among the questions that was arguably not properly addressed is an obvious one that Schmergel himself raised. Namely, why is this sector of commercial real estate investing so misunderstood? It is an intriguing topic, given that billionaires such as Warren Buffett, Sam Zell, along with multi-billion dollar companies named by Schmergel, are involved in this sector. Isn't exploring that implied question worthy of a commercial real estate editor's attention?
Given that HUD Code manufactured homes were 'born' on June 15, 1976 as a result of federal regulations, how is it possible that decades later it is still not properly identified or is so misunderstood?
Put differently, why are manufactured homes and communities still misunderstood when giant players with the capital needed to correct that problem – if they sincerely wanted to do so – are in the mix? What does the answer to those questions imply for the profession, actual and potential investors?
That is an inquiry implied by the statement of former Skyline Homes Corporation (SKY) executive Terry Decio, prior to the Champion Homes merger (now Skyline Champion Corporation – SKY). Decio said the following on camera during a video interview.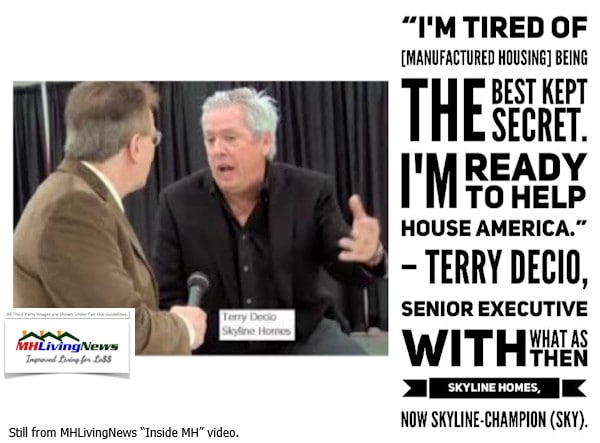 Joseph "Joe" Stegmayer, while he was the prior chairman of the Manufactured Housing Institute (MHI), also flatly stated as fact that the manufactured home industry was still "an untold story," i.e. or 'misunderstood.'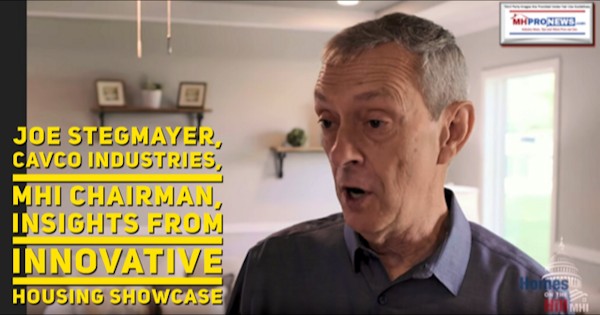 About a decade has gone by since Kevin Clayton told Robert Miles in a video interview with transcript linked here. During that video interview, Clayton said that they were ready to promote the manufactured housing industry. What happened to that stated planned promotion of the industry?
As many industry professionals know, Kevin Clayton is the CEO of Berkshire Hathaway (BRK) owned Clayton Homes. Schmergel speaks about Clayton in his story, which is shown further below.
Another Berkshire Hathaway owned brand is 21st Mortgage Corporation, which Schmergel gives a de facto plug to in the report that is the subject of this fact-check and analysis. 21st has as its president and CEO Tim Williams. Williams, while he was the chairman of MHI, made specific statements – pledges, if you will – about what MHI leadership's plans were to address the misunderstandings and "negative media" that surrounded the manufactured home industry. That written promise was framed in the context of numerous negative mainstream media accounts that "drown out" the potential good news about manufactured homes.
Moving on from image and media, a wave of acquisitions in the manufactured home community sector was reported last December, 2020. SUI CEO Shiffman said that acquisitions wave is heating up. Readers will see how Schmergel/LoopNet/CoStar Group (CSGP) dealt with that in his 'educational' report being fact-checked.
–> To preserve the record and illustrate some of the apparent factual errors in the Schmergel/LoopNet/CoStar Group article, a screen capture of the entire page his article was on, along with some added comments, are found at this link here. But more concerns and errors are found in the fact-check below than the few that are shown on that page.
Among the significant points not properly mentioned in their report is that there has been growing trend in recent years for local, state, and even national legislation involving manufactured home communities. Despite claims by MHI, 21st's Tim Williams, or Kevin Clayton that there would be serious promotion for the industry that would "drown out" the negative media, what is far more readily evidenced is the negative news around the industry. An example is found in this linked May 12, 2021 online search of news reports. Ironically, that "negative media" 21st's Williams cited happens to include several of the firms that the Schmergel/LoopNet/CoStar story pondered below does mention. See how Schmergel addresses those controversial brands. Sample evidence of those controversial brands named in third-party research and reports are linked here and is shown below.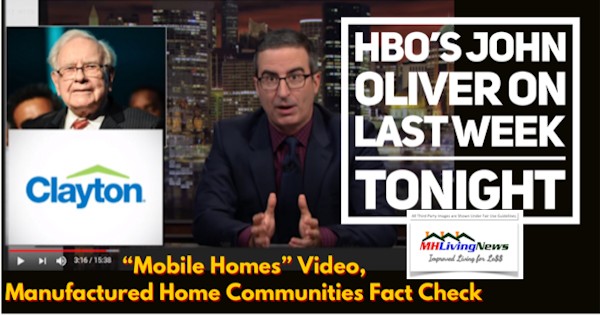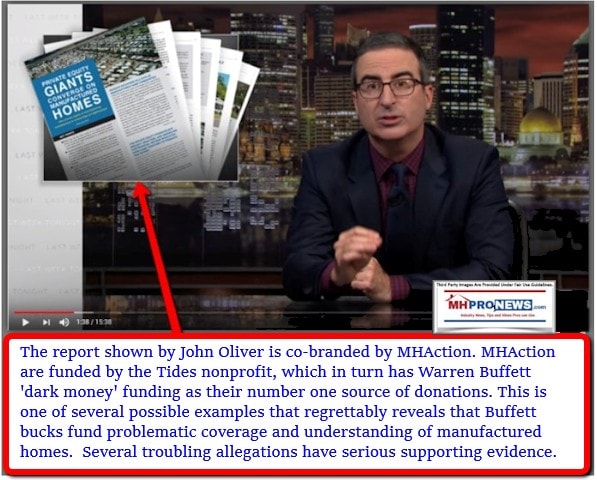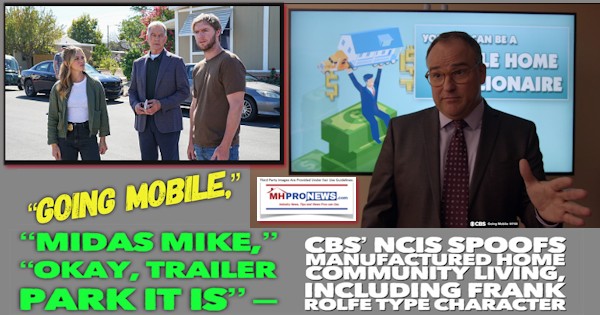 Millions of Americans have watched those two videos featured in the reports linked above. From an investment as well as PR points of view, given the posited "learn" or supposedly prospective investor educational nature of the Schmergel/LoopNet/CoStar story, such issues as are shown or linked herein might be important topics for a novice, recent, or even a veteran investor venturing into the manufactured home community sector to consider.
Another issue is the brewing regulatory storm that others have warned about.
That wave of negative media has brought about local and other regulations that did not previously exist. A fresh new look at some of those pending regulatory issues is linked below. But note that the new report below was proceeded for years by several others. They include, but are not limited to, concerns those same two Congressional Representatives – Cindy Axne (IA-D) and Ro Khanna (CA-D) – have raised. Rephrased, these are not new trends that have emerged since Schmergel's report.  Rather, these were items that drew presidential candidate's campaign level interest during the 2019-2020 election cycle and predate his article. Given that well-evidenced trend was already underway when Schmergel authored his column on manufactured home community investing, keep a sharp eye out for how he and LoopNet dealt with those obvious topics.
"Predatory"-MHC Curbs-New U.S. Laws, One Supported by Manufactured Housing Institute (MHI), Would Impact "Manufactured Housing Communities," "Mobile Home Parks" Nationally – U.S. House Reps Axne Khanna Official Statements, Report, Analysis
Even George F. Allen – hardly a fan in recent years of MHProNews, and previously a detractor but more recently often a supporter of MHI – has said that the manufactured home community industry has problems. Those problems, per Allen, who posits himself as a land-lease community educator, included, but where not limited to the types of business practices that are occurring in the land-lease community sector Schmergel/LoopNet/CoStar addresses.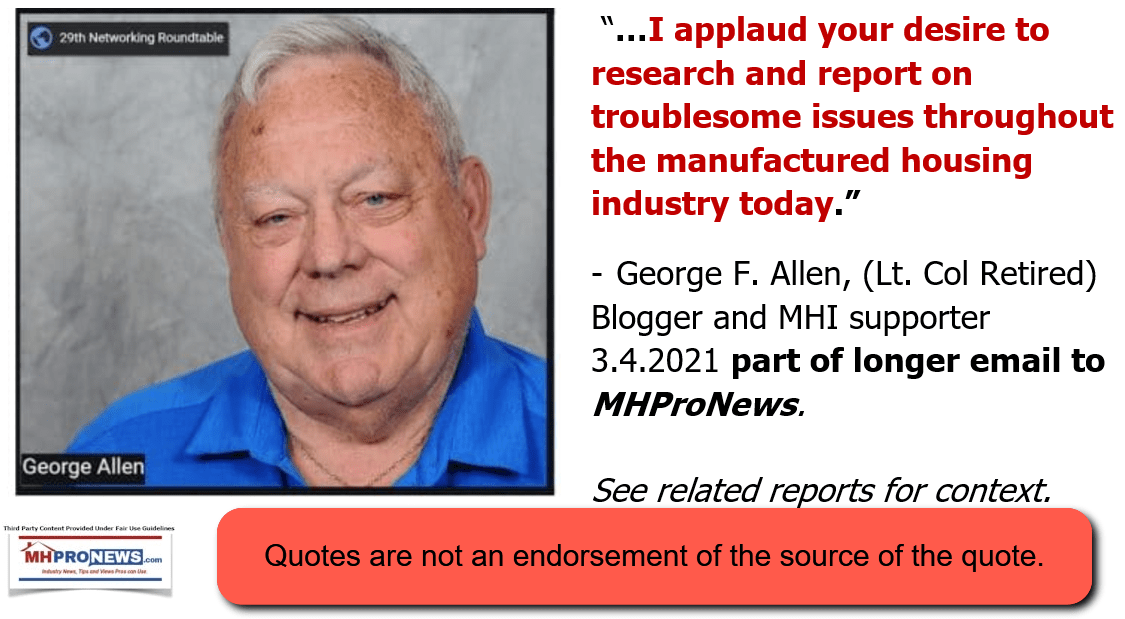 So, in even the first several paragraphs, in roughly 1100 words, a picture emerges that will arguably be starkly different than the one that Schmergel/LoopNet/CoStar purports to 'inform' their readers – who are potential investors – about.
Two different 'educators,' each reflecting a dramatically different claimed reality?
Which one – Allen or Schmergel – is closer to reality?
Thus, beyond the kinds of concerns raised for years by MHProNews and our MHLivingNews sister site, Allen – listed on the masthead as a current editor of MHI supported MHInsider – has raised similar issues as this professional publication has. That is an application of the principle of separating the wheat from the chaff.
How Schmergel represented such evidenced-based concerns revealed above will be seen further below. Because evidence and facts are distinct from mere opinion that may or may not be grounded in reality.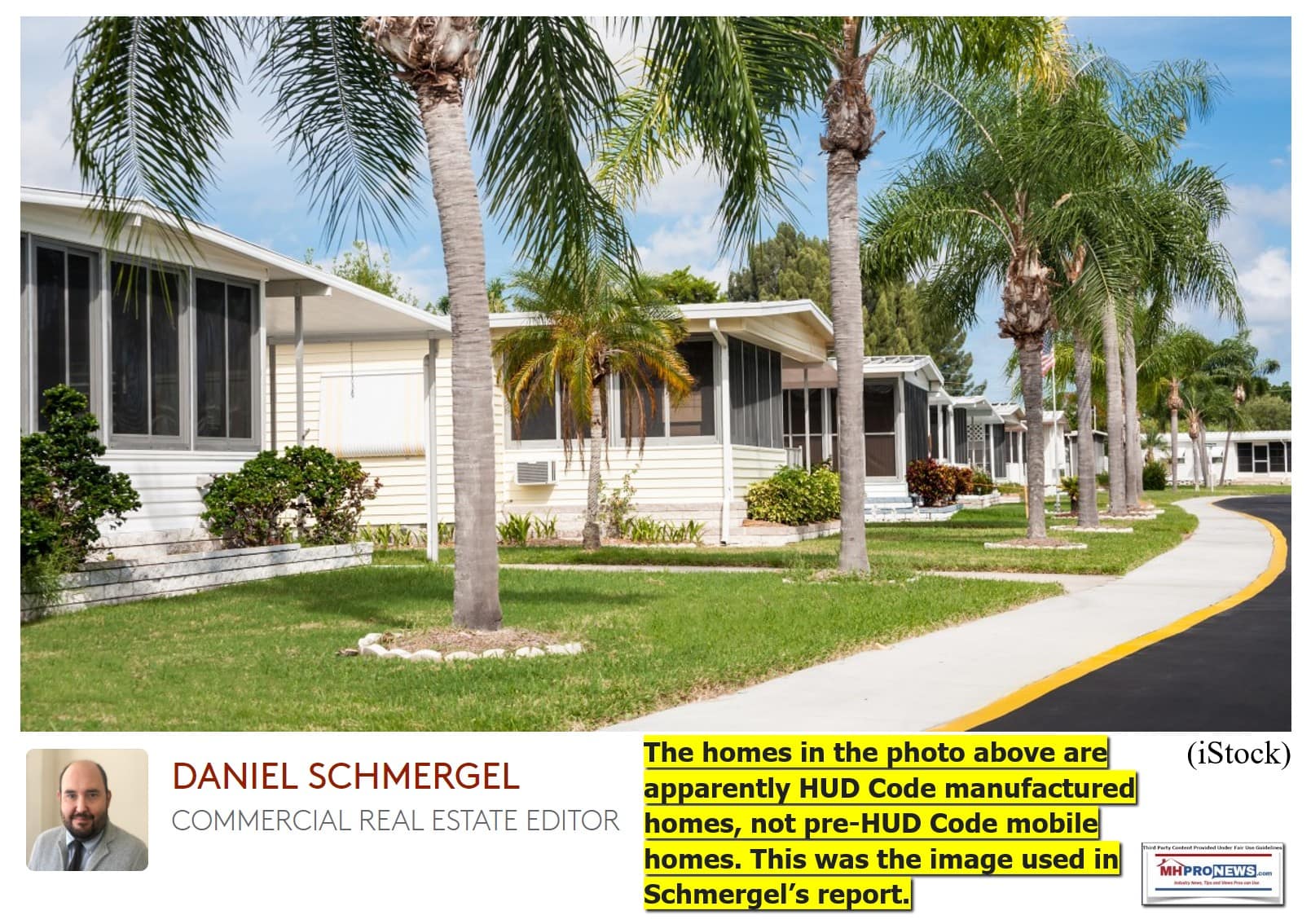 Against that Backdrop, the Beginning of the Schmergel Engagement with MHProNews
When Schmergel's article was brought to the attention of MHProNews, on April 27, 2021, MHProNews contacted Schmergel noting that an article he and his firm had published under the linked title "learn" about "Investing in Mobile Home Communities Evolution and Opportunities" had "some factually inaccurate items in it, along with other items that would be factually accurate. 
 With the proper documentation on the errors, would you be willing to revise your report(s) on this topic?
 Please advise, thank you."
On April 28, Schmergel replied as follows.
Thanks for reaching out. If you feel there are inaccuracies in the article, please note them specifically and, pending a review, I will implement some alterations.
Best,
Daniel
Daniel Schmergel
Commercial Real Estate Editor, LoopNet."
Details and facts matter. Note that sequence.
MHProNews provided Schmergel with details only after he said that he – "I will implement" – "pending a review" of "specifically" noted errors. It was on that basis that MHProNews entered into the communications that follows.
When provided with a list of factually inaccurate items, improper terminology, and the evidence in support of the same, Schmergel replied in a multi-party message as follows.
"Tony,
Thanks for sending this over. I'd like to discuss some of these points with you. Is there a number I can reach you at?
Best,
Daniel"
Again, "I'd like to discuss." There is no mention of others. Multiple times Schmergel politely says he is the guy on possible corrections in a LoopNet/Costar Group article under his byline.
A contact phone number was provided to Schmergel. A lengthy call that day took place to verbally "review" the concerns – his term – occured.
During that "review" call, each segment of the email sent by MHProNews to Schmergel was covered. Note that said email aimed at correcting some of the more gross errors, while keeping Schmergel arm's length from more controversial topics. It was an initial test of the waters with Schmergel and LoopNet. Each change suggested could have been readily doable, so long as a sincere willingness existed to make the suggested edits.
During that call between Schmergel and this writer, he said that he anticipated making changes. But to be accurate, he also said he was disinclined to make others that he felt were "opinion" rather than "fact." Those that he did not want to change mainly dealt with terminology and image related topics. For instance. While arguably exaggerated, he claimed that "everyone" uses the term "mobile home" or "mobile home park," and that no one says "manufactured home communities." Though he was presented with a follow up email shortly after the call that clearly disproved his claim, Schmergel stood pat on his published stance on terminology. Additionally, and ironically, the term "manufactured home community" was said by Michael Conlon, one of those quoted by Schmergel.  Which means his own article disproved his exaggerated claim about the "mobile home" and "mobile home park" terminology. And therein lies one of several obvious issues – when viewed through an expert lens – of his article. It is a mix of accurate and inaccurate insights, along with a perhaps agenda-driven spin.

That noted, Schmergel also stressed in opening and ending the call that he wanted to get the facts right. That sounds good, but the proof is always in the doing, not the saying.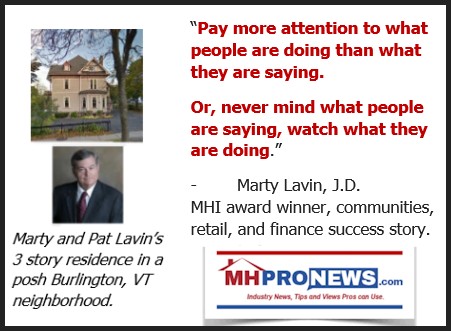 News platforms are supposed to report facts, evidence, and cite sources accurately. When an article is an opinion, analysis, op-ed, or something else, it should be so labeled. That is per the Society of Professional Journalists code of ethical conduct standards. For instance, at the top left corner of MHProNews, the tagline below our logo says it all: manufactured home "Industry News, Tips, and Views Pros Can Use." That has been there for years. Additionally, this report is clearly labeled as an analysis. The words fact check are used in this report too.
By contrast, in the case of Schmergel's article, LoopNet/CoStar Group tout his credential as follows.
"Daniel Schmergel is a Commercial Real Estate Editor for LoopNet. He has worked in the commercial real estate industry for more than 15 years, serving in a variety of marketing, content and communications roles for companies that include Newmark Knight Frank and Cushman & Wakefield. He has also previously held positions as an adjunct professor, music critic and editor-in-chief of an online arts and culture publication."
That is arguably done to boost the credibility of his writing. There is no similar visible disclaimer in the Schmergel's Loopnet column on this date, nor when the article discussed was reviewed. The evidence for that statement is linked here.
Instead of appropriate disclaimers, in the opening of Schmergel's column, it said in part that "…LoopNet is providing an overview of the mobile, or manufactured, home community sector — one of the least understood and most intriguing real estate asset classes. Part one, which is presented below, focuses on the history and evolution of the asset class and considers the abundant opportunities that exist for small private investors."
On 5.24.2021 the underscored "abundant opportunities" linked to some 274 "parks" and communities LoopNet has listed. While it purports or claims to be a learning or educational item, the link may suggest that it is instead a thinly veiled marketing piece instead. That is significant, for reasons shown below.
Yet, there is as of 5.24.2021 no such disclaimer visible on the article that labels the advertising aspects of his article.  What does the federal government, which regulates such issues, think about that topic?
Per the Federal Trade Commission (FTC), ""Deceptive" practices are defined in the Commission's Policy Statement on Deception as involving a material representation, omission or practice that is likely to mislead a consumer acting reasonably in the circumstances."
Also per the FTC, "When consumers see or hear an advertisement, whether it's on the Internet, radio or television, or anywhere else, federal law says that ad must be truthful, not misleading, and, when appropriate, backed by scientific evidence."
Note the FTC stress on evidence, which is akin to a fact. Evidence can be different than a mere opinion, as is defined in this link here.
The fact that LoopNet has linked up from his article in question manufactured home communities they have listed for sale certainly could be construed as a form or marketing or "advertising."
Not unlike the SPJ's Code of Ethical Conduct, the FTC has standards too.
Under: "Other points to consider" the FTC said the following.
"

Disclaimers

 and disclosures must be clear and conspicuous. That is, consumers must be able to notice, read or hear, and understand the information. Still, a disclaimer or disclosure alone usually is not enough to remedy a false or deceptive claim."
So, if misleading information is found to be false or deceptive, that disclaimer at the bottom of the page of Schmergel's column may not, per the FTC statement above, protect them from a claim of false or deceptive advertising.
Next Steps with Schmergel and LoopNet
Days went by from the initial contact. There was no follow up by Schmergel, which he assured there would be. Nor were there any changes in the article, which he also said by phone would occur. During the call noted above, recall that the emphasis was on his take on the issue.
That noted, in response to follow up email by MHProNews on May 7, he said that he had not yet had time to review with his editorial team.
In a multiple party message with Schmergel, this writer for MHProNews said: "Pardon me, Daniel, but you said that you would be making at least some changes. Now you are saying "if?" Please explain that shift, thanks."
It immediately felt like the proverbial goal posts were being moved. When he initially pointed to himself as the party for the "review" of his article, he then began to tee up the claimed involvement of his "editorial team."
When asked to provide his editorial team's contact emails, Schmergel declined doing so. But he assured the a follow up would occur.
The following week, Schmergel said via email the following. "Based upon further conversations with my editorial team, we will not be making any changes to the article at this time. While I appreciate your concerns and interest in the article, the issues you highlight are matters of opinion and nomenclature and not issues of factual accuracy, and, therefore, do not warrant a change at this time.
 All of that said, I expect that we will develop a subsequent article on this asset class in the near future, and I look forward to reaching out to you as a source at that time." Put differently, Schmergel, purportedly with the agreement of his editorial team, made the deliberate decision to double down on keeping his article unchanged.
The footer of the LoopNet website has this statement: "The LoopNet service and information provided therein, while believed to be accurate, are provided "as is". Thus, their "believed to be accurate" is immediately contradicted by "LoopNet disclaims any and all representations, warranties, or guarantees of any kind."
The "CoStar Group" is cited by Marcus & Millichap (MMI) in several of their research reports on manufactured housing. So, LoopNet is not some loopy website in the minds of others involved in the industry, play on words intended. While data that LoopNet publishes on site fees or other items may or may not be accurate – based upon their own disclaimers – what their purported educational item arguably is also a mix of accurate and inaccurate and contains serious gaps. That will be illustrated in the following.
CoStar recently announced their clearance to close the acquisition of some new corporate assets. As part of their statement, they touted their information services. Per their release: "CoStar Group, Inc. (NASDAQ: CSGP), the leading provider of commercial real estate information, analytics and online marketplaces, announced today that it has completed the acquisition of Homes.com, previously announced on April 14, 2021, for $156 million in cash. The Federal Trade Commission cleared the transaction to close last week.
"The combination of Homes.com and Homesnap, which we acquired in December 2020, sets the stage for us to offer sellers, buyers, and real estate agents a better, more collaborative online home sale and purchase experience," said Andrew C. Florance, Founder and Chief Executive Officer of CoStar Group." Sorry. But, if the experience with Schmergel and his "editorial team" are any indication, as the report above makes clear, CoStar have proven to be anything but a "leading provider" of ACCURATE "commercial real estate information, analytics and online marketplaces…" 
CoStar, can't have it both ways. They are either providing factually accurate information for investors and others; OR they are providing a mix of accurate, inaccurate, and potentially agenda driven paltering.
With that in mind, MHProNews will now pivot to the entire text of Schmergel's article.  Interspersed throughout the article are some, not all, of the evidence and fact based concerns that merit correction.
=========== Start of text from Schmergel's Loopnet article. The original links have been removed/changed. ===========
Investing in Mobile Home Communities: History, Evolution and Opportunities
An Overview of This Unique Asset Class
In this two-part series, LoopNet is providing an overview of the mobile, or manufactured, home community sector — one of the least understood and most intriguing real estate asset classes. Part one, which is presented below, focuses on the history and evolution of the asset class and considers the abundant opportunities that exist for small private investors, while part two will center around key investment criteria, relative strengths and challenges and approaches to responsible ownership.
Most people are familiar with the stereotypes associated with mobile home communities; and that's part of the problem, as well as the opportunity.
"It's a tragedy because if there was just one HGTV show out there that showed what the industry really is, it wouldn't get very good ratings, because people would be bored, but at least it would help educate people," says Frank Rolfe. Rolfe is a private investor who, depending on the day, is either the fifth- or sixth-largest owner (with his partner Dave Reynolds) of mobile home communities in the United States. He is also the co-founder (again with Reynolds) of Mobile Home University, an online forum and compendium of mobile home-related resources that conducts the Mobile Home Park Investors Boot Camp — a three-day immersion event that is hosted approximately eight times per year (it has gone virtual in the wake of COVID-19) and endeavors to provide potential investors with a clarion view of this often misunderstood asset class.
"The macro thesis is that it's housing — people rely on that, that's where they live — and it's probably among the lowest-cost housing alternatives of everything in the market, including apartments," said Michael Nissley, executive managing director and national director of the Manufactured Housing & RV Group at Colliers International. Nissley has completed nearly $3.4 billion in aggregate sales of mobile home communities and similar product types over the course of his career and is widely considered one of the preeminent brokerage professionals focused on the sector.
"The demand for affordable housing is through the roof," said Michael Conlon, CEO and majority owner of Affordable Communities Group, LLC, a relatively recent entrant into the sector that currently owns approximately 43 mobile home communities comprising more than 6,100 lots. "There just isn't any more [affordable housing development]; the local communities have not invested in it, the land has gotten super expensive … prior to [2008-2009], I would say about 25% of the country was a candidate to live in a manufactured home community. Since the Great Recession, that number has gone up to 40%. It's bad for the country; it's good for our business."
— break in Daniel Schmergel's LoopNet article for analysis —
MHProNews fact check. While Michael Colon may have said it, that doesn't make it accurate. The data below makes it clear that there are still investments being made in developing manufactured home communities.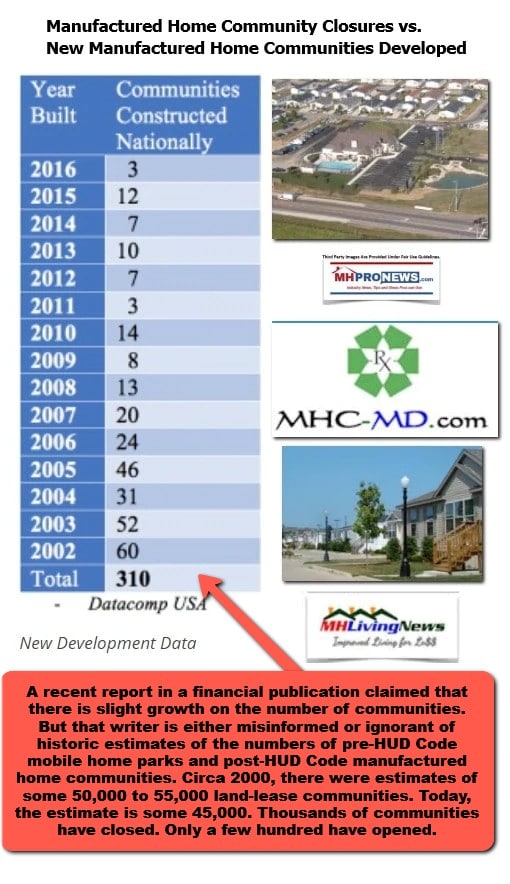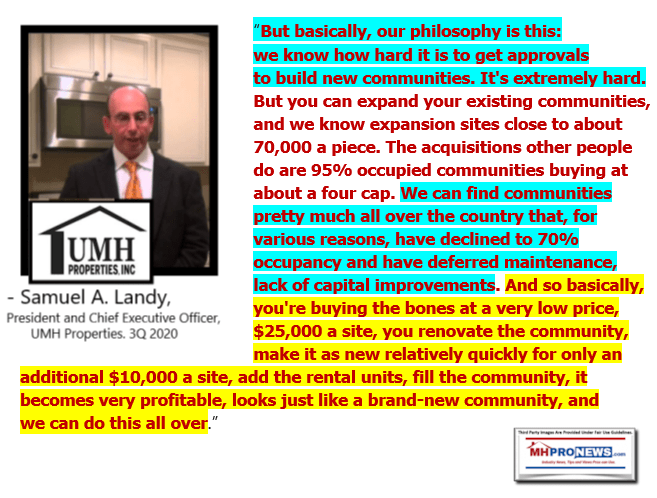 What the above from Sam Landy, J.D., President and CEO of publicly traded UMH Properties has said, makes several points that arguably contradict parts of what LoopNet's Schmergel attempted to portray. Among them, that larger firms like UMH – are competing against smaller sized communities too. This has become a capital intensive investment if communities with vacancies and deferred maintenance are pursued. That is hardly an easy investment for a newcomer who may have limited resources. Further, as LoopNet themselves indicates, for larger properties there are larger consolidators competing against smaller players that are seeking to get into the profession.
Note too the proper terminology was provided to Schmergel. The illustrations below make the necessary points.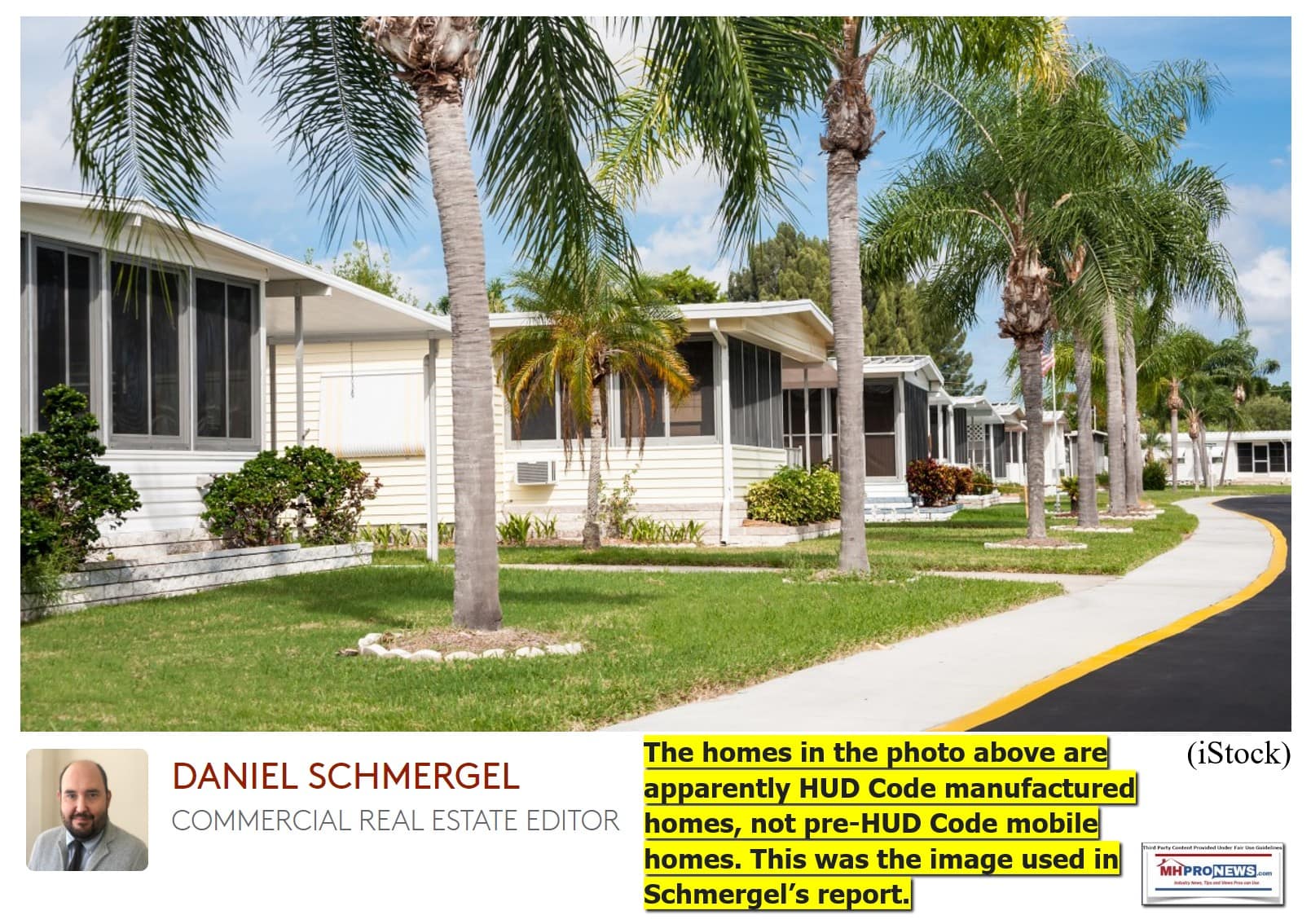 — Returning to Daniel Schmergel's LoopNet article. —
While a comment like Conlon's could come off as mercenary, it could also be viewed as a solution to a growing problem. Economists, real estate experts and government leaders all agree that there is an affordable housing crisis in the United States. That makes mobile home communities a potential resource for Americans seeking cheaper housing, as well as a compelling sector for investors pursuing an alternative to the overheated multifamily market.
— Break in Daniel Schmergel LoopNet article for analysis —
MHProNews notes that for a real estate expert, Schmergel has apparently contradicted himself. Yes, affordable housing is a real problem. But investing in existing land-lease communities is not bringing on more communities. The MHProNews graphic above about opening and closed communities demonstrated that point. Frank Rolfe himself – who Schmergel cites several times – asked the question, is manufactured home community sector was potentially overheating? While he denies it, there are obvious reasons to believe that is in fact what could be occurring.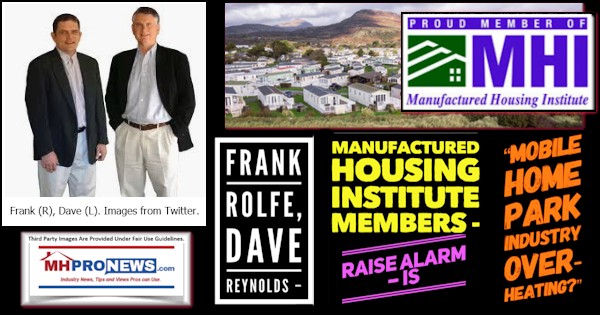 That report above was published months before the Schmergel piece on LoopNet. 
Furthermore, a mainstream financial news site indicated that the manufactured home community sector was heating up.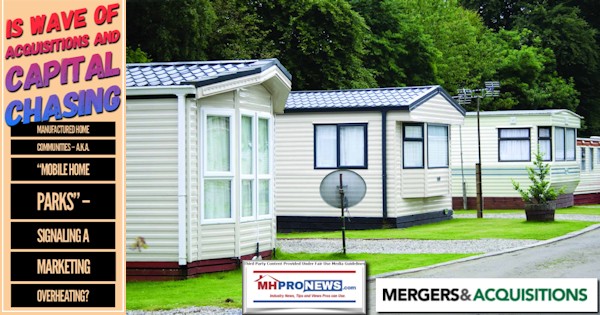 Schmergel and LoopNet might have had some excuse before engaging with MHProNews, what excuse do they have after being advised of several issues with their report? They claim their information is "believed to be accurate." But then they immediately disclaim "any and all representations." So, what good is their report?
— return to Daniel Schmergel's LoopNet article. —
But we'll get back to all that. First, let's start with some naming conventions and a bit of history, as we attempt to demystify this evolving real estate sector.
What Is a Mobile Home Community?
A mobile home community is a large tract of land on which a number of mobile homes —anywhere from as little as 10 to more than 1,000 — reside. There are two significant segments to the mobile home community market:
Senior communities, where residents are required to be 55 years old and over. Senior communities are often located in classic snowbird states, such as Florida and Arizona.
Family parks, which have no age restrictions and tend to be oriented towards affordable housing. Family parks are situated throughout the country, with a concentration in the Midwest and South.
Within those two groups exist a vast array of mobile home communities. Some communities feature abundant and luxury-centric amenities, including adjacent golf courses, resort-style pools and upscale club houses; other communities don't even offer paved roads. This breadth of communities is similar to what is found in apartment developments. Generally speaking, though, the posher amenities are more commonly located in the senior communities, while the family parks typically offer more limited communal perks.
It's also important to acknowledge that "mobile home community" is not necessarily the preferred nomenclature, but based on LoopNet's research and reporting, it's still the terminology that the majority of people, both inside and outside the industry, tend to use.
There has been a push for decades — in part by the largest trade organization for the industry, the Manufactured Housing Institute — to rebrand mobile homes as "manufactured homes" and to reclassify the communities in which these homes reside as "land-lease communities," but the revised terminology hasn't gained much traction. "The industry at some point might want to acknowledge to the world that they're wasting their time; you can't rebrand the product," said Rolfe.
This rebranding failure is in spite of the fact that mobile homes are, for the most part, not really mobile at all. As Rolfe puts it, "The customers can't move the homes. They can't move the homes simply because it will cost about $5,000 to move one, there's hurdle one. And if it's pre-HUD [i.e., the Manufactured Home Construction and Safety Standards Act, or HUD Code], which means built before 1976, you can't move it, because you're not allowed to reinstall it, so there's hurdle two. And then hurdle three, even if it was built after '76, there's no guarantee it will make it from point a to point b."
To paint a more vivid picture of the complications that can arise from attempting to move a mobile home, Conlon said that it isn't uncommon for pieces of the structure, even the entire roof or exterior wall, to become separated from the home during transit. Because of these issues, LoopNet's sources indicated that it is quite rare for a tenant in a mobile home community to take their home with them if they vacate the community, even if they own it outright. Typically, the homes are either sold to the owner of the community, or simply abandoned.
That said, it's important to understand that, if you choose to invest in a mobile home community, what you're most likely buying is the land under which the mobile homes are installed, not the homes themselves. The actual homes are typically owned by the residents; this arrangement has evolved somewhat over the past few decades, and we'll discuss that change in more detail momentarily. It's also worth noting that the homes themselves are not actually considered real property, but instead are classified as personal property.
The land under each home is referred to as a lot or site, and the cash flow that an investor derives from ownership of the community comes primarily from "lot rent," i.e., the monthly rent that each user pays to "park" their home on one of the lots. As Nissley put it, "You're providing infrastructure for tenants … the original business model was they park here, and you provide water, sewer and electric hook-ups."
Numerous facets of the mobile home industry have significantly changed over the past 20-30 years, including the types of owners and investors involved in the sector, as well as the availability of financing for both mobile home communities and the mobile homes themselves.
The Family Business. Michael Nissley may be one of the most prominent brokerage professionals in the mobile home industry today, but he actually began his career in the industry as an operator. Nissley's grandfather started buying mobile home communities in the early 1980s. "It was one of those asset classes that the banks didn't want anything to do with back then," Nissley remarked.
After his grandfather passed away, Nissley was recruited by his family to run its mobile home community business. In 2001, he left the family business and decided to approach the industry from another angle, joining commercial real estate services firm Grubb & Ellis (now part of Newmark Knight Frank) as a broker. The first 18 months were challenging, but by the end of his second year he was doing well; in his third year he was the top-producing sales broker for the firm in Florida and by his fourth year he was in the top producing sales brokers nationally for Grubb & Ellis.
"Guys doing all kinds of fancy office buildings, they laughed at me," Nissley said, recalling early responses to his seemingly quixotic efforts to find brokerage success in the mobile home community sector. "Year number three, all those guys are below me, and now they're asking me to lunch to talk to me about what to do."
While less than 20 years ago, Nissley's ambitions resulted in ridicule, now almost every major commercial brokerage firm has a dedicated manufactured housing practice. Nissley would go on to join CBRE, where he helped found the firm's Manufactured Housing Group, and he eventually landed at Colliers, where he also established a dedicated manufactured housing team.
Prominent Influencers. Nissley's success, and commercial brokerage firms' accelerating interest, has been highly informed by the expanding presence of institutional investors in the mobile home sector. Nissley credits early pioneers, like Sam Zell who founded Equity LifeStyle Properties, with bringing attention and credibility to the mobile home industry. According to Nissley, Zell entered the market like most small private investors: with a single distressed asset. Today, per its website, "Equity LifeStyle Properties owns or has controlling interest in more than 400 communities and resorts in 33 states and British Columbia with more than 156,000 sites."
"Sam Zell, and some of the other very significant investors today, started off buying a small, unattractive single asset [with fewer than] 50 sites," said Nissley. "So, when it comes to small investors, I think that should be a very encouraging notion. Because all those [investors] didn't start with 10,000 sites, they didn't start with a 1,000-site community, they started off just like a beginning investor would."
Berkshire Hathaway also had a significant influence on the development of this sector, with its purchase of Clayton Homes in 2003 for $1.7 billion. At the time, Clayton Homes was the only vertically integrated mobile home company. It owned approximately 100 mobile home communities, and was also the largest retailer, manufacturer and financing company for mobile homes. Eventually, under Berkshire Hathaway, Clayton Homes would dispose of the mobile home communities, but it has retained the manufacturing, retail and financing operations.
— Break in Daniel Schmergel LoopNet article for MHProNews analysis. —
Clayton was NOT the only vertically integrated firm, nor was it the largest in 2003. Each of the top four firms shown in the period report by the Manufactured Home Merchandiser Magazine were vertically integrated. This matters in several respects, because the case can be made that manufactured housing became a sharp-elbows profession in the Berkshire era. Isn't that something a prospective investor should know?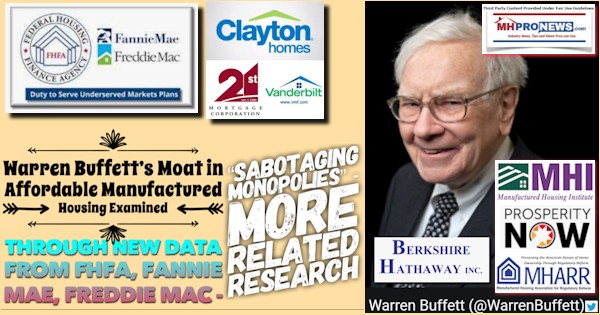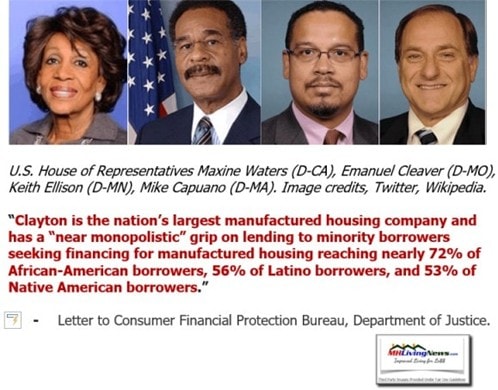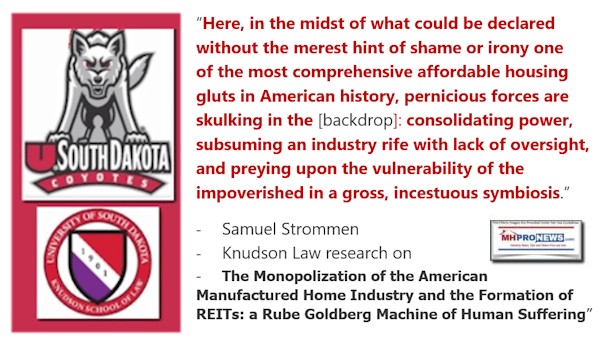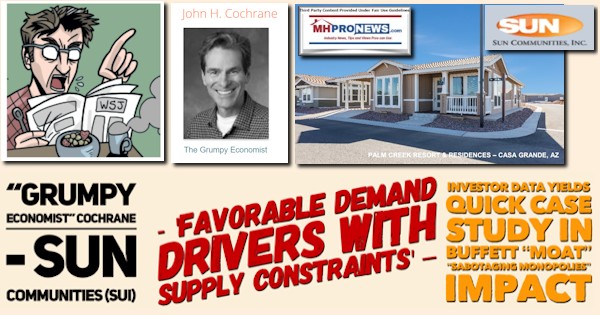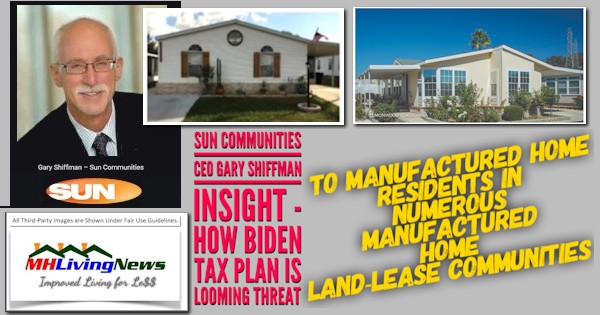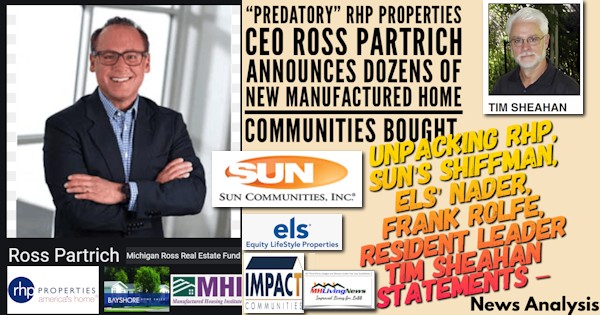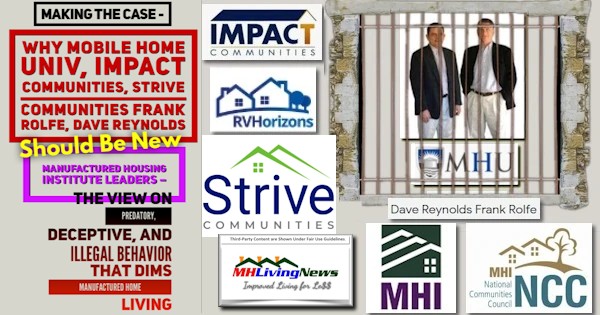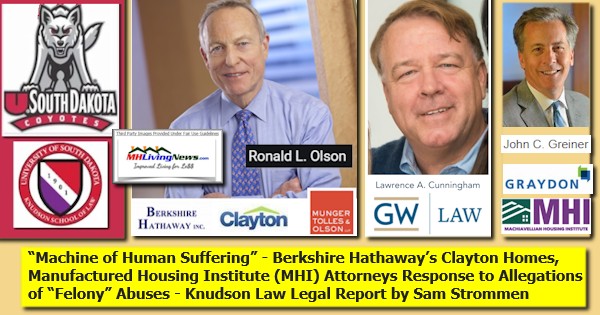 — Return to Daniel Schmergel's LoopNet article. —
More Financing Options for Investors. The growth in financing options for investors of mobile home communities has, arguably, been the most impactful change in the industry. Nissley, who has witnessed this development firsthand, compares financing options today to his grandfather's initial investment in the industry. "You fast-forward to today and everyone in the world will lend on a mobile home park … they love the profile." Nissley said. Fannie Mae and Freddie Mac are involved in the sector and have become two of the more prominent financing options for mobile home community investors. Additionally, numerous private bank financing options are readily available, and, according to Rolfe, smaller parks are still often financed by the seller.
Changes in How Homes are Bought and Financed. Another significant area of change in the mobile home industry is how the homes themselves are bought and financed. In a prior era, the owners of mobile home communities had little to no involvement in the actual homes. Eventually, as homes became larger and more expensive, it proved challenging for the target audience to afford to purchase the homes without financing. "Today, in this industry, if you have a vacant site you probably have to go buy the home yourself, move it on, set it up and then sell it [to the occupier]," said Nissley.
Conlon concurred that bringing in new homes is usually something that the purchaser of a mobile home community will have to contend with, but that's not necessarily a bad thing. "Whenever you buy a mobile home park, usually there's some empty lots there already. And we like that from an owner's standpoint, because that leads to more upside." In fact, Conlon told LoopNet that when a resident vacates one of his communities, if their home is from 1999 or prior, he will tear it down and replace it, rather than undertake renovations.
Rolfe explained that Clayton Homes has significantly impacted how new homes are brought into communities through its 21st Mortgage subsidiary, which offers the innovative CASH (Communities Affordable Spec Home) Program. Under CASH, a community owner selects a home from any manufacturer, and 21st Mortgage will pay all the costs — the home, the lot preparation, the deck, the stairs, the skirting, etc. The owner of the community is responsible for advertising and showing the home. Once a prospective purchaser is interested, they apply for a mortgage through 21st Mortgage. If the resident defaults on their mortgage, the lot owner assumes responsibility for the mortgage payments, as well as any necessary repairs and renovations to the home, until a new tenant can be procured. "The beauty of the program is it gave [mobile home community owners] … the ability to fill vast numbers of vacant lots with no out-of-pocket costs," said Rolfe.
Can Small Investors Compete in the Mobile Home Market? Today, companies like The Blackstone Group, Apollo Global Management and The Carlyle Group, as well as many prominent pension funds and dedicated REITs, are invested in mobile home communities. So, with all this institutional involvement, is there still room for a nascent individual investor in the mobile home sector? According to every source LoopNet spoke with, the answer is a resounding, if sometimes qualified, yes. Rolfe said that of the approximately 44,000 mobile home parks in the United States, only 4,000, or less than 10%, are controlled by institutional entities. As Nissley said, "It's not consolidated relative to every other asset class; it's still very fragmented."
Where Are the Opportunities for Small Investors in Mobile Home Communities?
The primary areas of opportunity for smaller private investors are in family parks totaling 100 lots or less. Because they exist "at the crossroads of … senior and affordable," as Nissley put it, senior communities have become quite popular with the institutional crowd, and often now trade at cap rates between 2.5% and 3.5%, putting them out of the reach of most independent investors, who are typically seeking a higher yield. Similarly, larger parks can be difficult for smaller investors to access, simply because they require too much capital. Fortunately, that still leaves many options available for small investors. In fact, Conlon estimated that only 15% of mobile home communities in the United States have more than 100 lots.
Norm Sangalang, a Senior Vice President with the CBRE National Manufactured Housing & RV Resorts (MHRV) Specialty Practice, told LoopNet that, "Unless a private investor is targeting large institutional-quality assets there is usually little to no crossover. Conversely, institutional entities do not target noninstitutional properties unless that asset is accretive to an existing asset in the area."
Sangalang also commented that, "[Mobile home] communities have some parallel aspects found in NNN properties, but within the context of the multi-housing use versus retail or other commercial uses," which makes them particularly suited to attention from smaller individual investors, as they potentially represent comparatively minimal maintenance and management responsibilities.
Conlon cautioned that while noninstitutional transactions are still approachable for new investors, there has been notable cap rate compression on the smaller community transactions as well. "It used to be, prior to say, four years ago, that mobile home parks had higher cap rates and they were easier to buy because they were more affordable. That's changed in the last four years and cap rates are now very similar to those of apartments," he said. Conlon estimated that the cap rate range for smaller parks was now hovering between 5% and 6.5%, compared to a cap rate range of 10% to 12% a decade ago.
Rolfe, however, said it's important to take into account how mobile home community pricing can be uniquely elastic. In talking about purchasing communities from individual, "mom and pop" sellers, he said, "They have either no debt or almost no debt. So, when you talk to them and they say, 'I want $2 million for this mobile home park,' and you say, 'that doesn't really work for me, but how about $1.4 million?' they still get the whole $1.4 million."
Rolfe encourages prospective purchasers to take an active approach and engage directly with a potential seller. "Everyone will ask a big price, as big a price as they can ask, under the fundamental rule that people like to get as much as they can for their asset. And … they often build in sometimes a 20%-plus margin in there, [assuming] that you will counter."
He went on to say that, "All your deals are basically made by being active, not passive."
Rolfe, who with his partner now owns approximately 200 parks totaling more than 20,000 lots, said that he bought his first mobile home community in Texas in 1996 for $400,000, with a down payment of only $10,000. While that may seem like an excellent deal, Rolfe said, "I learned that basically everything I didn't want in a mobile home park, that first park had." But he learned from the experience and used it to develop a list of five key items that he always considers before he purchases a new mobile home community: infrastructure, density, location, home age and economics.
=========== End of text Schmergel's Loopnet article. ===========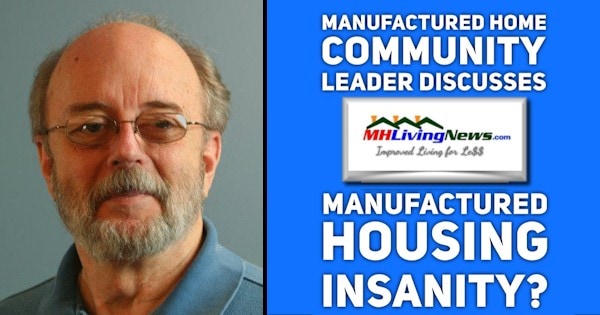 Conclusion 
Someone could write a book on the topic of how many self-contradicting, factual errors, and the general mix of accurate and inaccurate information is found in the LoopNet article above. What is shown and linked are just some of them.
Definitions says that "a fluffer (Noun) A person who performs fellatio on a male actor immediately before the recording of a pornographic scene."
"Fluffer" is an expression used by journalist turned satirical pundit Chris Plante, who applies it to mainstream media who are gratifying their subjects rather than authentically reporting on their subjects. Does that apply to Daniel Schmergel, LoopNet – and by extension, CoStar – who covered Frank Rolfe, Clayton Homes, and others in a very favorable fashion?
If so, does it matter to manufactured housing professionals, investors and others or not?
As noted above, Schmergel himself answered that by saying that this is a misunderstood sector. Sadly, the evidence suggests that Schmergel and LoopNet have now deliberately added to that misinformation and misunderstanding, rather than clarifying it or teaching others about it via a "learn" article.
Perhaps no one will question this matter in court or elsewhere. Perhaps the FCC or other regulators won't look, or won't care.
But what about the modest investor who may have read that article and acted upon it?  What if that article led to a problematic investment, because there were so many missing items and spin in Schmergel's report?  Then, what if that investor then reads this MHProNews fact-check and analysis report, and re-reads their article anew which they may have relied upon to enter or expand their manufactured home industry investments that later went south. Would such a person have a case for misrepresentation? Or could CoStar and LoopNet hide behind their conflicting claims of being "a leading provider" – of implied accurate information – which the text at the bottom of their page then denies they have any responsibility for? Those are the types of issues that attorneys, E&O insurers, regulators, and other interested parties cut their teeth on in battle.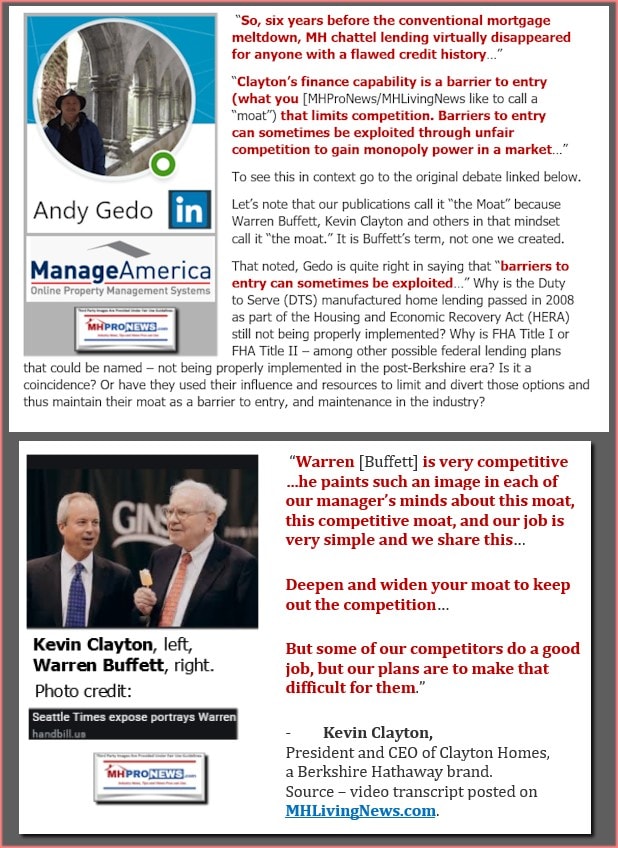 For accuracy and honesty's sake, MHProNews once more encourages Schmergel et al to promptly make all of the relevant corrections and clarifications shown herein and attached. Their author will be advised of this report. But if they won't do it for the reason of having sound information under their logo and byline, then perhaps they might do so to keep their nose clear of potential liability.
Stay tuned.
The manufactured home equities and market report for the evening of 5.24.2021 follow.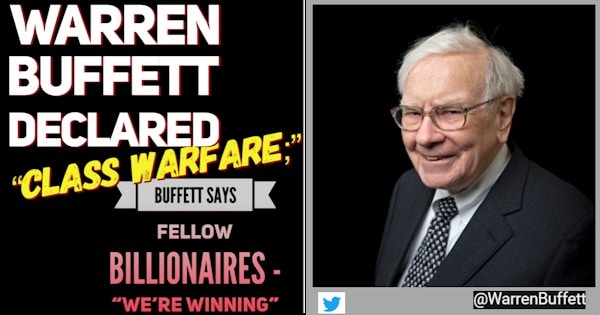 Notice: While the layout of this business daily report has recently been modified, several elements of the basic concepts used previously are still the same. The headlines that follow below can be reviewed at a glance to save time while providing insights across the left-right media divide. Additionally, those headlines often provide clues as to possible 'market moving' reports.
Market Indicator Closing Summaries – Yahoo Finance Closing Tickers on MHProNews…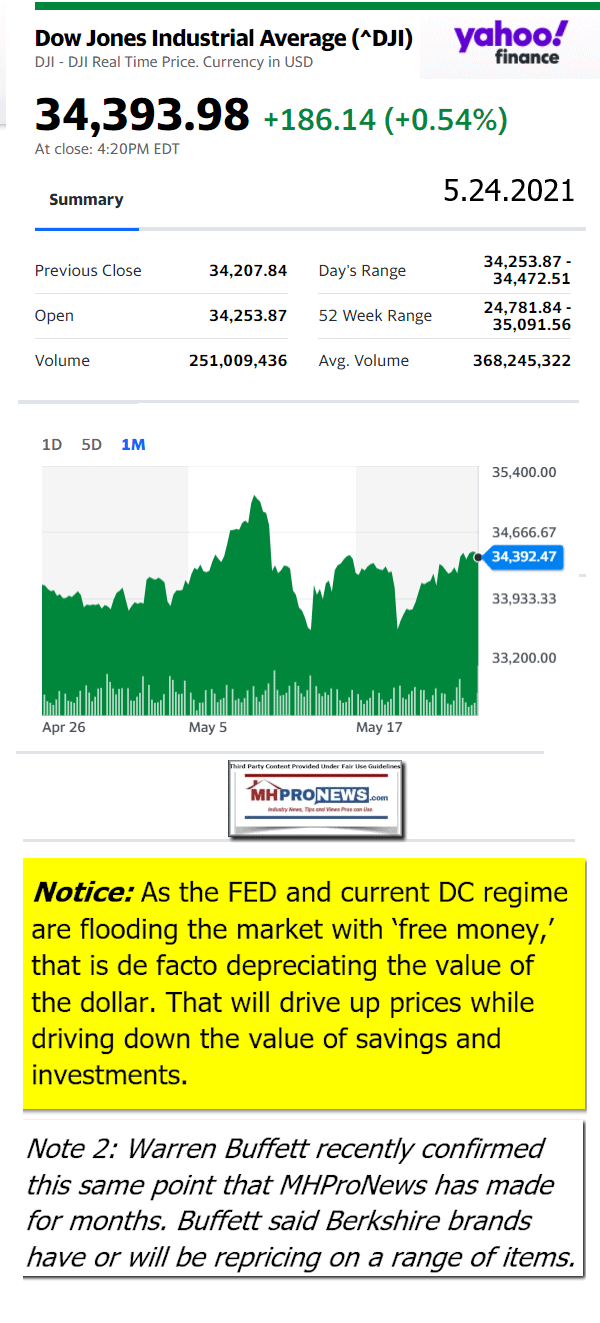 Headlines from left-of-center CNN Business = evening of 5.24.2021

New money
US Federal Reserve Governor Lael Brainard attends a "Fed Listens" event at the Federal Reserve headquarters in Washington, DC, on October 4, 2019. (Photo by Eric Baradat/AFP/Getty Images)
Fed governor Lael Brainard lays out the case for a US-backed digital dollar
Crypto investors to Elon Musk: Please stop tweeting!
China mines more bitcoin than anywhere else. Beijing wants that to stop
The great commodities boom hits a Chinese wall
Jack Ma is stepping down as head of his elite business school, report says
Virgin Galactic shares soar like a rocket
Walmart says a 'bad actor' sent racist emails from its account
QAnon is spreading amongst evangelicals. These pastors want to stop it
Indian media have gone easy on Modi. That's changing because of the pandemic
Associated Press employees want answers after reporter's firing
'The Late Show with Stephen Colbert' will welcome back a full audience next month
The US economy is closer than ever to 'back to normal.' But we've still got a long way to go
New 'Fast & Furious' film nabs biggest opening of the pandemic so far
Florida Gov. Ron DeSantis, center, gives his opening remarks flanked by local state delegation members prior to signing legislation that seeks to punish social media platforms that remove conservative ideas from their sites, inside Florida International University's MARC building in Miami on Monday, May 24, 2021.
Florida governor DeSantis signs bill targeting social media platforms
closeup of a young man in an office holding a briefcase and a surgical mask in his hand
Managers, buckle up. Your job will be harder than ever as we return to the office
A photo taken on May 23, 2021 shows a Boeing 737-8AS Ryanair passenger plane (flight FR4978, SP-RSM) from Athens, Greece, that was intercepted and diverted to Minsk on the same day by Belarus authorities, landing at Vilnius International Airport, its initial destination. – European Union leaders will discuss toughening their sanctions regime against Belarus on May 24 at their planned summit, after Minsk diverted the Ryanair passenger flight flying from Athens to Vilnius and arrested Belarusian opposition activist Roman Protasevich.
Airlines are avoiding Belarus after 'state-sponsored hijacking' of Ryanair flight
HIRING
Allied Universal security services.
This company wants to hire 35,000 people. Finding workers won't be easy
The fastest way to fix a labor shortage: Pay more
No, unemployment benefits aren't the problem
US factories can't find enough people to do the work
McDonald's is hiking pay — but only for some workers
SUPPORTING BLACK BUSINESS
Keewa Nurullah at Kido, her family-owned children's apparel, book and toy store on Chicago's South Side.
Her great-grandfather's business was destroyed in the Tulsa race massacre
How Black Wall Street came to a heartbreaking end
Opinion: We must rebuild Black Wall Street
Why rapper Killer Mike is starting a Black bank
Opinion: How businesses can support Black banks
Headlines from right-of-center Newsmax – evening of 5.24.2021
Reuters/Ipsos Polling: 53% of Republicans View Trump as True President
Months after the contentious election and inauguration of Joe Biden, a majority in the GOP remain convinced that election irregularities and outright fraud cost Trump a second term.
Newsfront
Arizona Audit of 2020 Election Resumes After Weeklong Hiatus
Arizona Audit of 2020 Election Resumes After Weeklong Hiatus
A Republican-led hand recount of ballots cast in Arizona's most populous county resumed Monday after a weeklong hiatus. Counters returned to a former basketball arena where contractors working for the state Senate GOP are reviewing Maricopa County's handling of the 2020…
Blinken Off to Mideast to Secure Gaza Truce, Push for Aid
Secretary of State Antony Blinken took off for the Middle East on
Related
Over 500 Biden, Dem Party Staffers Urge Him to Back Palestinian Human Rights
Biden Doubling Spending to Prepare for Hurricanes, Storms
President Joe Biden announced Monday that he's doubling U.S.
Amazon Deal to Acquire MGM to Come as Soon as Tuesday
com Inc. is poised to announce an acquisition of the
NY Times Science Editor: Media Chose Propaganda on COVID Origins
Retired New York Times science editor Nicholas Wade lambasted the
Can Anti-Trump Republicans Exist in the Modern GOP?
The 35 House Republicans who bucked party leaders and voted with
Study: Great White Shark Numbers Increasing Along the Northern California Coast
The number of great white sharks appear to be increasing along the
From Pelosi to Whitmer: 9 Democrats 'Unmasked' as Hypocrites About COVID-19 Rules
For many of the local, state, and federal politicians who recited the
Reuters/Ipsos Polling: 53% of Republicans View Trump as True President
A majority of Republicans still believe Donald Trump won the 2020
Murphy Decides Not to Challenge Rubio For Senate Seat
Stephanie Murphy announced on Monday that she plans to seek
Top Cop in Black Man's Deadly Arrest Withheld Cam Video
In perhaps the strongest evidence yet of an attempted cover-up in the
Biden Admin Abandons Plan to House 'Tender Age' Migrants in Army Base
President Joe Biden's administration has abandoned its plan to house
Ohio Lawmaker: Vax Lotto a 'Gross Misuse of Taxpayer Dollars'
An Ohio Republican lawmaker trying through legislation to stop Ohio's
Police Capture Murder Suspect After Week on Run
A weeklong manhunt for a suspect wanted in the killings of four
South Dakota's Noem Launches Legal Strategy to Take on Biden
South Dakota Gov. Kristi Noem catapulted onto the list of
White House Pressures GOP on Infrastructure
The White House said Monday that President Joe Biden is awaiting an
DeSantis Signs Law Allowing People to Sue 'Big Tech' for 'Deplatforming'
Florida Gov. Ron DeSantis, a Republican, on Monday signed a bill that
VP Harris Leaning on Guatemala to Aid in Border Crisis
With El Salvador and Honduras leadership under scrutiny, Vice
Top Ohio MAGA Ally in Senate Race Accused of Disloyalty to Trump
Jane Timken has a sterling record of MAGA support during her tenure
US Warns on Japan Travel, Sowing New Doubt on Olympics
The U.S. said Americans should avoid traveling to Japan, with the
Related
Jeff Van Drew to Newsmax: 'Something Is Wrong' in Wuhan
Fauci Admits He's 'Not Convinced' COVID-19 Is Natural
Former DNI Clapper: Wuhan Illness Report Not Enough to Prove Lab Theory
US Intel Agencies Examine Reports of Early COVID-19 Infections in Wuhan Lab
Jeff Van Drew to Newsmax: 'Something Is Wrong' in Wuhan
Americans, the world, and finally the mainstream liberal media are
Biden: Attacks on Jewish Community 'Despicable'
President Joe Biden condemned violence against Jewish communities in
NYC Mayor: Schools to Resume In-class Learning
New York City's school system, the largest in the country, will
Chinese Ultramarathon Survivor Rescued by Herdsman
Long-distance runner Zhang Xiaotao was in the leading pack of the
China Warns US, South Korea: Do Not Interfere in Taiwan
China's foreign ministry on Monday warned the United States and South
Russia Accuses US of Exceeding New START Arms Control Treaty Limits
Russia's foreign ministry on Monday accused the United States of
Everest Climbing Continues Despite COVID-19 Reports, Nepal Says
A Nepali government official said on Monday that many foreign
Iran and IAEA Extend Monitoring Deal by a Month, UN Watchdog Says
Iran and the U.N. nuclear watchdog are extending a recently expired
New York's Reopening Gives Cuomo a Popularity Boost
More New Yorkers said they had a favorable view of Governor Andrew
Korean Told 'You're Not Right Minority' in NFL Interview
NFL assistant coach Eugene Chung, who is Korean, said he was told
She Has 6 Children with a U.s. President but No One Knew Until Now
Definition
More Newsfront
Poll: US Home Prices Continue Racing Ahead
S. house prices will continue to race ahead this year, at nearly twice the pace predicted just three months ago, according to a Reuters poll of analysts who said risks to that already upbeat outlook were skewed to the upside…
Amazon Nears $9B Deal to Buy MGM Studios
Big Banks Look for Rebound of Credit Card Revenue Amid Easing of Pandemic Restrictions
Virgin Galactic Sees Surge in Shares Following Successful Test Flight
Alden Global Capital Hedge Fund Acquires Chicago Tribune, NY Daily News
More Finance
2 Doses of COVID-19 Vaccines Needed to Protect Against Variants
A new study underscores the need to get both doses of COVID-19 vaccines. Scientists found that two doses are needed to provide protection against the variants…
The Healing Power of Prayer
8 Secrets of Incredibly Happy People
Stair Climbing a Big Step Up for Heart Patients' Health
Too Much TV May Dull the Aging Brain
Manufactured Housing Industry Investments Connected Closing Equities Tickers
Some of these firms invest in manufactured housing, or are otherwise connected, but may do other forms of investing or business activities too.
NOTE: The chart below includes the Canadian stock, ECN, which purchased Triad Financial Services, a manufactured home industry lender
NOTE: Drew changed its name and trading symbol at the end of 2016 to Lippert (LCII).
NOTE: Deer Valley was largely taken private, say company insiders in a message to MHProNews on 12.15.2020, but there are still some outstanding shares of  the stock from the days when it was a publicly traded firm.  Thus, there is still periodic activity on DVLY.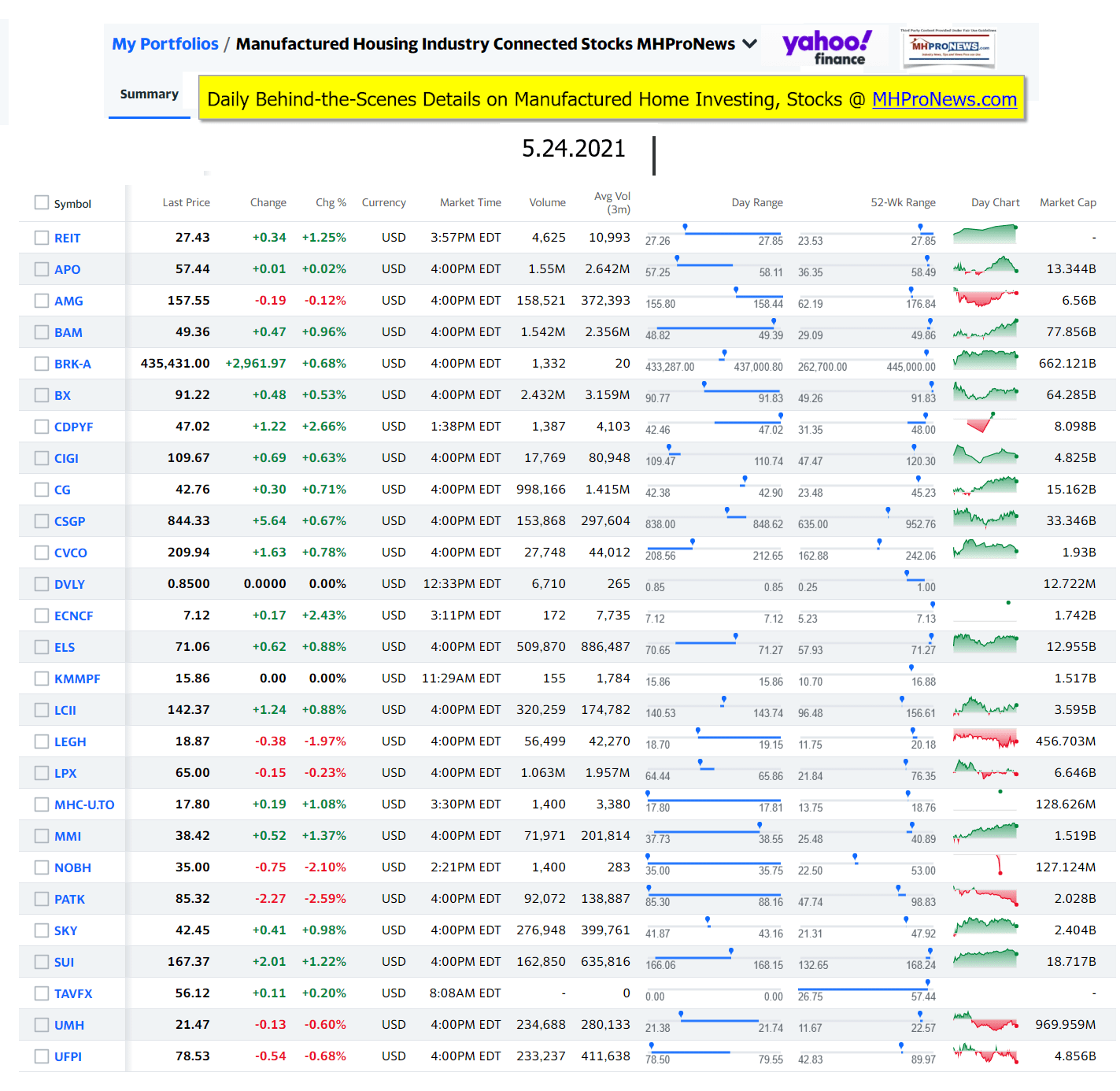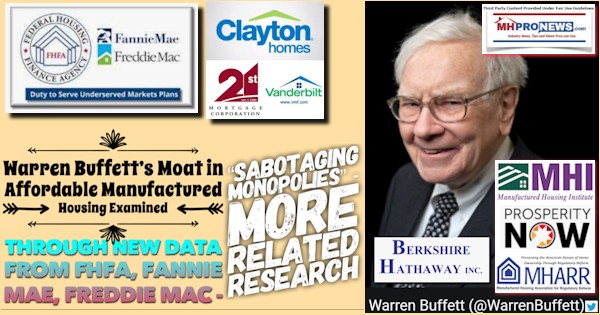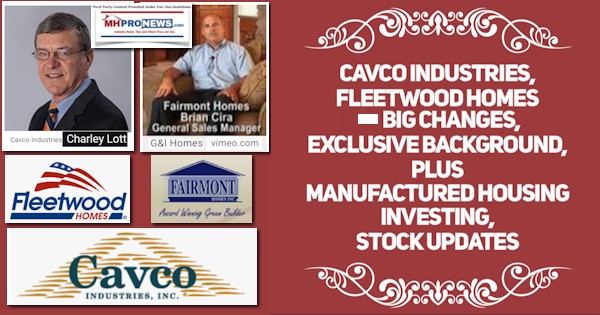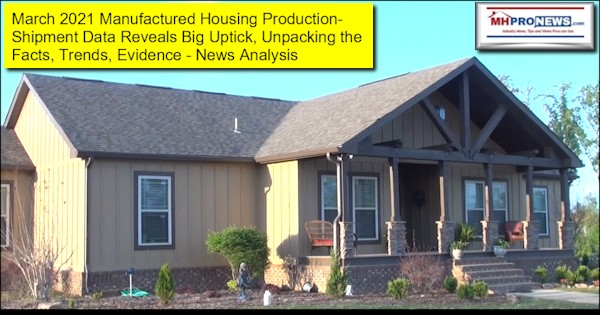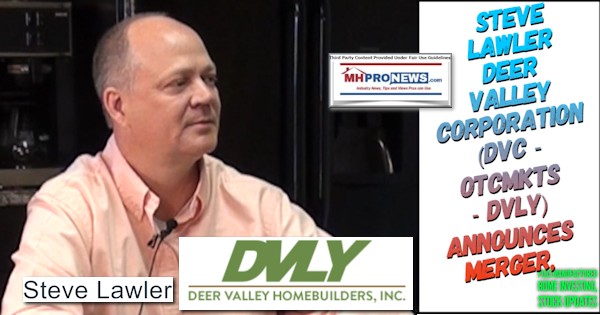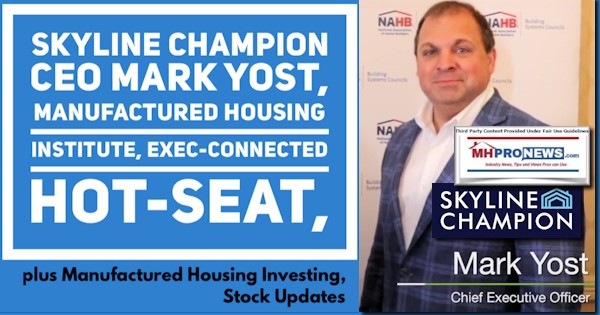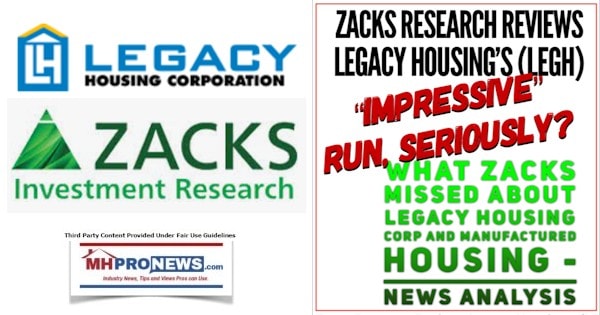 Spring 2021…
Berkshire Hathaway is the parent company to Clayton Homes, 21st Mortgage, Vanderbilt Mortgage and other factory built housing industry suppliers.
· LCI Industries, Patrick, UFPI, and LP each are suppliers to the manufactured housing industry, among others.
· AMG, CG, and TAVFX have investments in manufactured housing related businesses. For insights from third-parties and clients about our publisher, click here.
Enjoy these 'blast from the past' comments.
MHProNews. MHProNews – previously a.k.a. MHMSM.com – has celebrated our 11th year of publishing, and is starting our 12the year of serving the industry as the runaway most-read trade media.
Sample Kudos over the years…
It is now 11+ years and counting…
Learn more about our evolutionary journey as the industry's leading trade media, at the report linked below.
· For expert manufactured housing business development or other professional services, click here.
· To sign up in seconds for our industry leading emailed headline news updates, click here.

Disclosure. MHProNews holds no positions in the stocks in this report.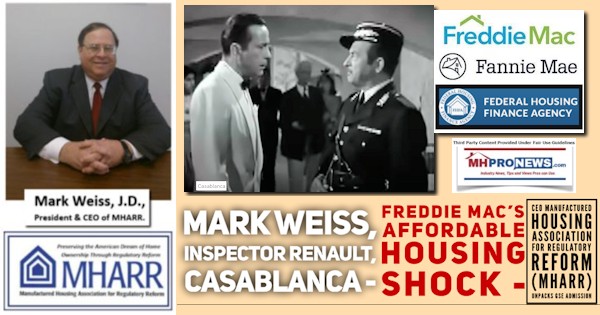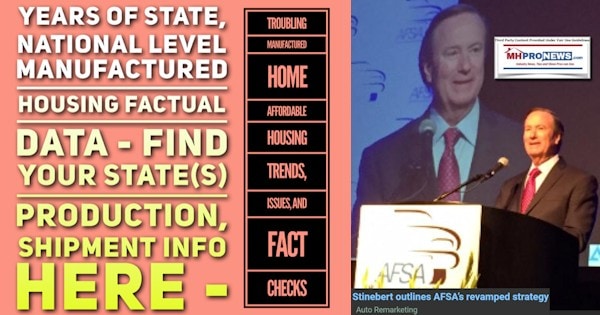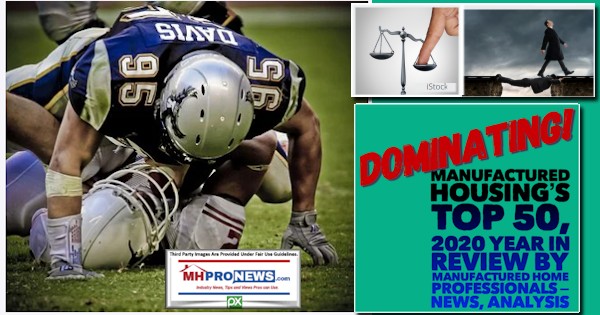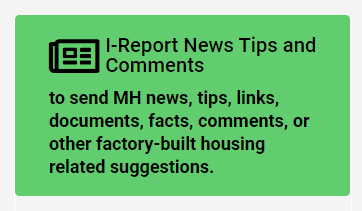 That's a wrap on this installment of "News Through the Lens of Manufactured Homes and Factory-Built Housing" © where "We Provide, You Decide." © (Affordable housing, manufactured homes, stock, investing, data, metrics, reports, fact-checks, analysis, and commentary. Third-party images or content are provided under fair use guidelines for media.) (See Related Reports, further below. Text/image boxes often are hot-linked to other reports that can be access by clicking on them.)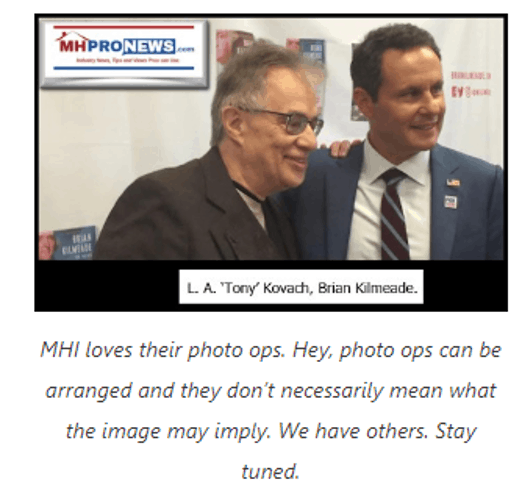 By L.A. "Tony" Kovach – for MHLivingNews.com.
Tony earned a journalism scholarship and earned numerous awards in history and in manufactured housing. For example, he earned the prestigious Lottinville Award in history from the University of Oklahoma, where he studied history and business management. He's a managing member and co-founder of LifeStyle Factory Homes, LLC, the parent company to MHProNews, and MHLivingNews.com. This article reflects the LLC's and/or the writer's position, and may or may not reflect the views of sponsors or supporters.