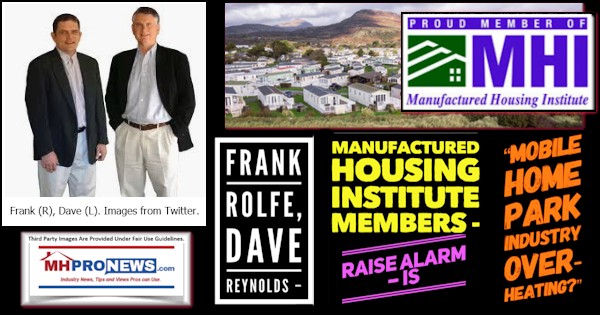 The article that Frank Rolfe and Dave Reynolds a.k.a. 'Frank and Dave' linked in the extended quote from the duo was dated 9.3.2019.
The Manufactured Home Pro News (MHProNews) article that spotlighted the sales was dated 9.11.2019.
Details Behind Big Carlyle-Hometown Deal, Ripples in Manufactured Homes, Communities Ahead
Two days later, on 9.13.2019, Frank and Dave sent out the following email to their list of current and potential clients as shown below.
There are several points that could be made from their focused pitch, quoted at length below, which ends with an invitation to join Frank and Dave's next fee-based investor's boot-camp.
In no particular order of importance:
It prudently raised a valid concern. Does the steep increase in price on the Plaza del Rey manufactured home community – which per CoStar was developed in the 1970s in Sunnyvale, California – mean that "the mobilehome park industry is over-heating?"
The Balance said on July 30, 2019 that "

Hedge funds, banks, and insurance companies caused the subprime mortgage crisis. Hedge funds and banks created mortgage-backed securities. The insurance companies covered them with credit default swaps. Demand for mortgages led to an asset bubble in housin

g."
The Street said on Sept 7, 2018: "Housing prices were rising rapidly, and the number of subprime mortgages given out was rising even more. By 2005, some began to fear that this was a housing bubble…This was unable to stop the inevitable. The bubble burst. 2005 and 2006 see the housing market crash back down to earth. Subprime mortgage lenders begin laying thousands of employees off, if not filing for bankruptcy or shutting down entirely."
There were numbers of land-lease communities that during the financial meltdown circa 2008 went into default on their debt. Why? As the industry's multiple-decade veterans know, a prior wave of bidding up the price of communities by overleveraging, while stiffly raising site fees on consumers ends up with numbers of manufactured homeowners that often loose their investment, which can over time mean that loans on those properties go bad.
The last paragraph quoted ends with a demonstrably inaccurate claim, which may open up the duo to potential legal claims down the road. That Frank and Dave phrase? "And – perhaps best of all for buyers – it's effectively an unknown industry that is off the radar screen of most American investors."
It should go without saying that Frank and Dave's use of terminology is routinely errant, despite what Rolfe himself said on stage in the video below.
There is more, but with that set-up, let's look at what Frank and Dave had to say, which will be followed by some additional MHProNews analysis. Let's note that using the principle of wheat and chaff, quoting the duo or other sources should not be construed as an endorsement.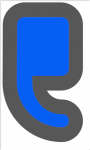 A $237 Million Mobile Home Park?
Hometown America has announced that it has purchased a roughly 800-space mobile home park for around $237 million – which represents a staggering price per pad of around $300,000. This eclipses the former world record, which was the price this same property sold for last time at around $180 million in 2015, or the park in Laguna Beach that sold for a rumored $80 million a few years ago. Does this mean the mobile home park industry is over-heating?
It's based on income
The $237 million mobile home park has lot rents of around $2,000 per month which, based on an expense ratio of about 30%, equals a cap rate of around 4.5%. This is perfectly in-line with many California apartment deals. So the price is not really staggering from a return-on-investment standpoint. This helps to back-stop the value of the park since it ties back to actual economics and not pure speculation – which is the domain of land speculation.
The rents can still go up from there
The mobile homes in this property cost around $300,000. But we're talking Silicon Valley, so the median stick-built home price is $1,766,900 and the average three-bedroom apartment rent is around $4,075 per month. This makes the total package of home for $300,000 and lot rent of $2,000 per month look cheap. This park's only challenge will be navigating California's rent control laws.
Financing is what really fuels this type of price level
Nobody is going to buy a $237 million park with all-cash. The key to good returns in the mobile home park industry is the power of leverage. The reason the banks were comfortable in this deal is that the mobile home park industry has the most consistent revenues of any sector of real estate. That allows lenders to have the faith in the product necessary to make staggeringly large loans such as these.
A sign of the future
The big takeaway from the announcement of a $237 million mobile home park is the fact that mobile home parks are worth a ton of money – despite the fact that few Americans even know what they are. The value of an occupied mobile home lot today is, based on rent amount, roughly $30,000 to $60,000 – that means that even a small 20 space property can easily be worth $1,000,000+. Another big picture observation is the growing consolidation of the industry, as the seller was Carlyle Group (the largest private equity group in the U.S.) and buyer was another large private equity group.
Conclusion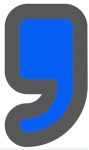 The era of the quarter-billion-dollar mobile home park has arrived. It's amazing that a mobile home park that cost $16 million to build (in today's dollars) would be worth $237 million decades later. But that's the nature of the industry, as only 4,000 of the 44,000 mobile home parks in the U.S. are institutionally owned and it's effectively the final frontier in buying great deals that can still appreciate rapidly in value. And – perhaps best of all for buyers – it's effectively an unknown industry that is off the radar screen of most American investors…##
Frank and Dave's message ends with a pitch to attend their next fee-based boot-camp.
It should first be noted that MHProNews periodically reaches out to those who are examined in such fact-checks and analysis, to give them an opportunity to respond. A recent message to Frank and Dave, unlike some others, went unanswered.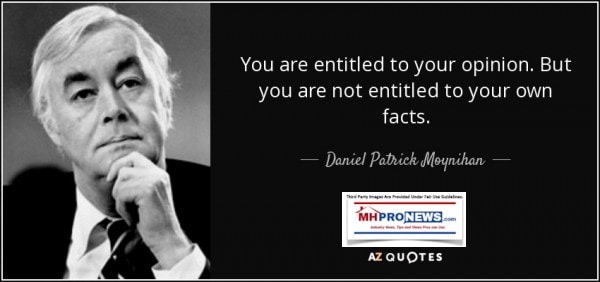 MHProNews Analysis 
That disclosure noted, while Frank and Dave argued "The era of the quarter-billion-dollar mobile home park has arrived. It's amazing that a mobile home park that cost $16 million to build (in today's dollars) would be worth $237 million decades later" and they give 'reasons' why the sector isn't overleveraged, that runs contrary to points raised by financial news sources that said – as quoted and noted above – that it was just such practices that led up to the housing meltdown.
Rephrased, there are several reasons to believe that the community sector is starting to heat.
It is arguably not true that the community sector: "it's effectively an unknown industry that is off the radar screen of most American investors…" There are scores of videos on this topic, some of which have over a million views.
The first video has had over 1.9 million views.
The second video has had over 6.8 million views. Both name Frank Rolfe by name.  Either one of these videos dwarf many times over all of the combined views of videos that MHI has ever produced. Ponder that point, as we move on.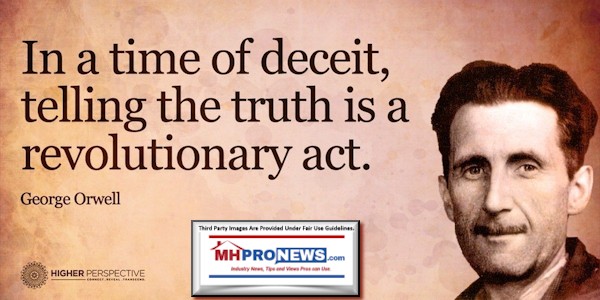 MHI says that they want to enforce their code of ethical conduct.  On the one hand, that is an apparent acknowledgement of problems that MHProNews and MHLivingNews or others have raised.  But with arguments and conduct like what is shown and linked, how serious could MHI be about 'ethics' and the image of the industry?
National Communities Council of the Manufactured Housing Institute "Code of Ethics," SSK Communities Update, Review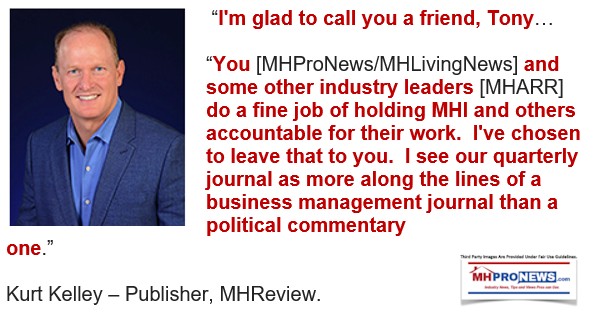 When so many of MHI's leaders, what credibility do they have at promoting the good name of the industry?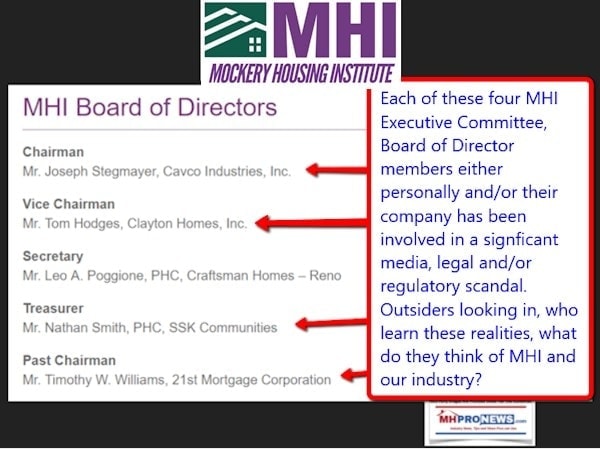 There are and have been serious voices in manufactured housing that are appalled at what is occurring in the industry today.
"Rape, Pillage, and Murder" Reactions from Industry Professionals to Frank Rolfe Report
Those concerns raised, the  manufactured home industry is potentially poised for better times. But problems like the ones noted above, in the articles linked herein, or from the related reports further below the byline, have and could continue to cause significant problems to white hats in the industry. That has or could proved harmful to the performance of manufactured home communities in general, and the ethical players in the industry in particular.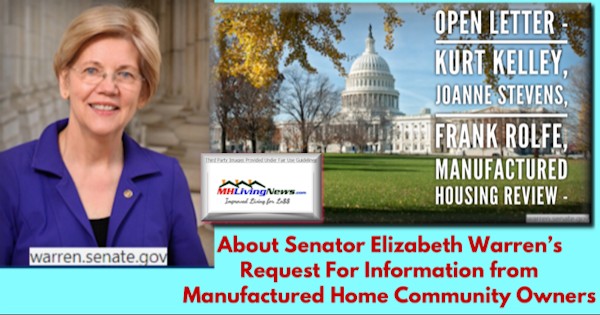 Furthermore, there are several Democrats, some Republicans, and other politicos and public officials that have raised concerns about the business practices that have caused such tensions and pressures for residents who live in properties that see sharp spikes in site fees.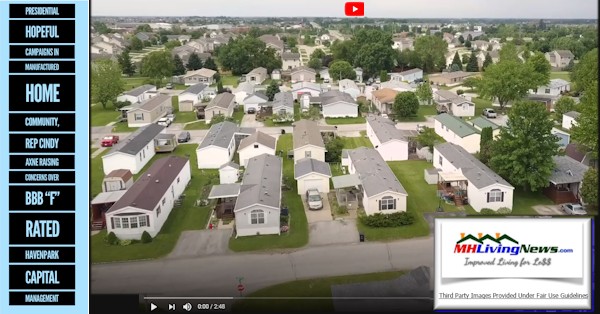 It is part of the web of issues that has limited manufactured housing to its currently low ebb, when it ought to be soaring.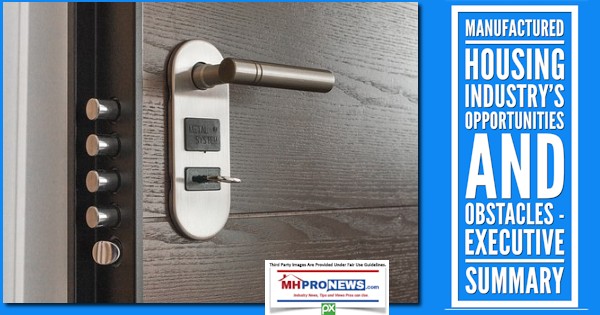 In an almost comical – where it not so troubling a topic – circular firing squad fashion, Frank and Dave publicly attacked MHI again recently, while MHI's 'code of ethics' memo – per sources – is supposedly aimed in part at the duo.  Go figure?  Or is it part of the show?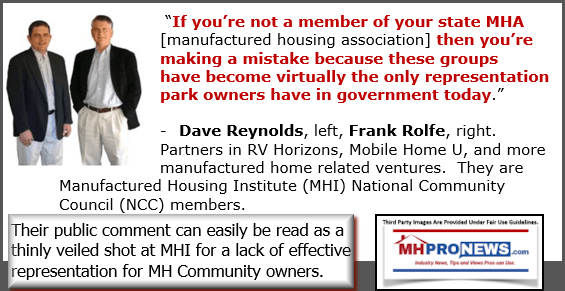 There is more at the related reports, further below the byline that relates to this topic. That's your second look today for accountability and growth-focused manufactured home "Industry News, Tips, and Views Pros Can Use" © where "We Provide, You Decide." © ## (News, analysis, and commentary.)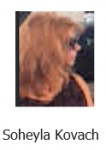 Submitted by Soheyla Kovach for MHProNews.com.
Soheyla is a managing member of LifeStyle Factory Homes, LLC, the parent company to MHProNews, and MHLivingNews.com. Connect with us on LinkedIn here and and here.
Related Reports:
Click the image/text box below to access relevant, related information.
Fact Checks – What MHVillage's Claims Tell Manufactured Housing Industry Professionals – Cautions, Analysis