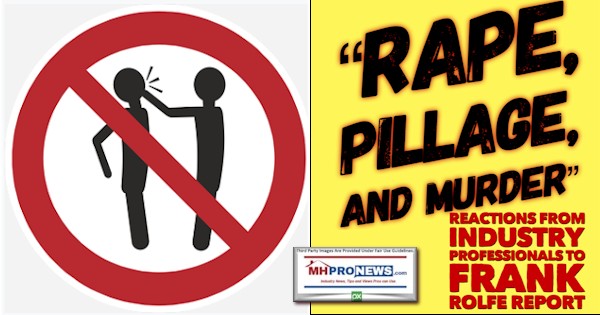 The statements that follow are from manufactured home industry professionals from border-to-border.  They are in response to the article linked here and further below.
Comments in brackets are edited in for clarity and are in black. Typos are in the originals.  As we often do, the quoted text is turned bold and brown to make it pop, but the words are as in the originals as submitted by text or email.
"Markets should determine the rent but the inability to get zoning approval in good markets for new projects work as reverse rent control for the current operators who enjoy a government protected monopoly. Can you imagine if your competitor set in the local council or p&z? [i.e.: planning and zoning] I don't know Frank [Rolfe personally] or care about his opinions on developing new parks as he obviously doesn't care about the customers he serves. I hope I never get that jaded. Mom and pops (independents) will get new parks built where they can and the bigs will continue doing what they do (rape, pillage and murder). Not much different than retail or manufacturing…
Off the record as always." 
Note that the "rape, pillage, and murder" was from the original, those were parenthetical comments, not bracketed ones.  Some people just have a way of turning a phrase, begging to be made park of a headline.
The above drew the following reaction from another experienced manufactured home community operator.
·        "It is true. If you cannot continue to build new [manufactured] housing communities the value of the older ones will rise due to supply and demand."
Here was another response that also came within 30 minutes of the inquiry.  This one comes the closest, so far, of defending Frank Rolfe.
·        "Like the article. But it's exactly what I would expect him [Frank Rolfe] to say. It's basic economics. More competition means lower rents. Diminishing numbers of community spaces supports rent increases and higher returns for existing community owners.  Can't blame him for doing and saying what's best for him. But more communities would be best overall for the industry and consumers." 
One community operator stressed that Manufactured Housing Institute is trying to reign in the issue. That operator provided the documents found here and here.
When that party was asked if they thought if the effort was sincere or window dressing, part of the response read as follows. Typo is in the original (we get them too).
·        "The politics of professional associations is tough to navigate. Especially, when consolidation creates an imbalance in the membership along with leadership issues."
Another comment read as follows.
"I believe this was a very serious effort on the part of MHI to have a meaningful Ethics policy.  Some of the worst offenders are current MHI members.  Others, are former students of various get rich in the MH business schools."
In a follow up, came this comment.
"Just had one other thought.  Take a look at which State Executives have cut back their involvement at MHI.  Even some that still attend do not participate as much as in the past.  An unfortunate result of continued frustration."
One had a question about the Tim Sheahan download found in the report linked below.
Or ponder these reactions and thoughts.
·        "As a retailer that also has a community, much of the image issue is from the troubled side of the community sector. You're right, the status quo won't work.
·        "As you know, we produce homes that go into communities.  There is no excuse for MHI not calling out the bad actors, or ejecting them, save this.  They don't want to lose those revenues. I'm not at all convinced that the [MHI/NCC] ethics policy is anything more than a fig leaf."
·        "We have a few communities, as you know Tony [Kovach, MHProNews publisher]. You've seen them, talked to residents, and know they are well kept. Almost all residents are happy. But some worry, just because of the bad news that some other [community operators] generate. After John Oliver's video, there are reasons to believe that those who jack up the rents fast and hard are trying to scare away prospect for others. Its black hats copying the YKW Moat."
·        "The status quo [with bad actors] is not tenable. [Senator] Elizabeth Warren is already getting ready to legislate on this. Imagine what the Dodd-Frank of communities bill would look like?"
One message sent only a link. It was to this video.
For new readers, or those who need a refresher, the John Oliver video report is linked below the byline and notices.
The report that sparked these comments is linked here.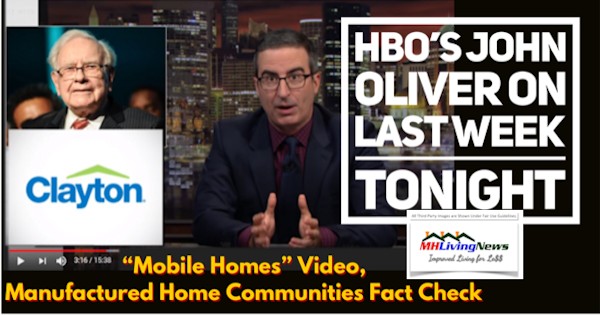 If you are a professional or investor, it's your industry and image that are being impacted. Don't forget the ugly duckling comments from Cornell University, in the linked reports byline the byline and notices.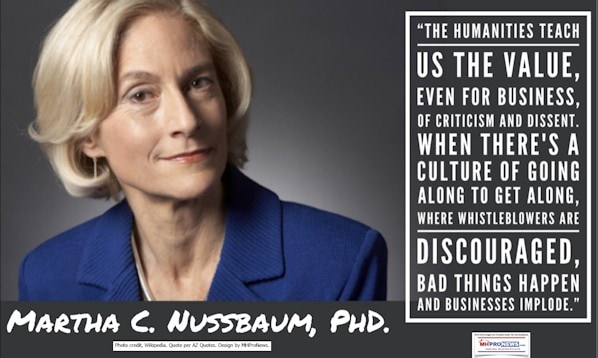 That's a wrap today on your final installment of manufactured home "Industry News, Tips, and Views Pros Can Use," © where "We Provide, You Decide." © ## (News, analysis, inspiration, and commentary.)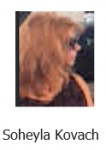 Submitted by Soheyla Kovach for MHProNews.com.
Soheyla is a managing member of LifeStyle Factory Homes, LLC, the parent company to MHProNews, and MHLivingNews.com. Connect with us on LinkedIn here and here.
Related Reports:
Click the image/text box below to access relevant, related information.
Cornell's 'Ugly Duckling Turns a Profit: Investing in Manufactured Home Communities,' Real Estate Review Analysis
Just the Facts? Mobile Home U, Manufactured Housing Institute, MHVillage, Manufactured Home Community Count?
Battle Over "Mobile Home" Rent Control, Manufactured Home Community Owner's Written Response, Analysis
Nathan Smith, SSK Communities, Manufactured Housing Institute Leader, Profitably Correcting the Record