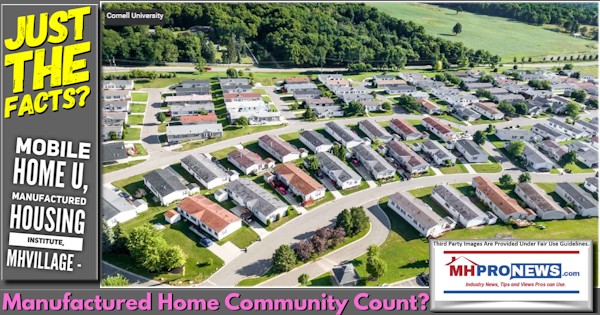 For some years there has been a serious question mark about just how many land-lease manufactured home communities there are in the United States, as longtime, regular readers of MHProNews know.  For public officials, media, researchers, investors, advocates and others, not knowing is problematic.
The issue arises in part because not all states have a registry of manufactured homes communities.
Furthermore, what many refer to as 'mobile home parks' – some of which indeed date back to the pre-HUD Code mobile home era – go under a variety of descriptions, not only the different names bestowed on them by their property owner.  For instance, some may still be called Tall Pines Trailer Court, a throwback to terminology that began in the 1930s. Or Shady Lane Trailer Park. Ouch.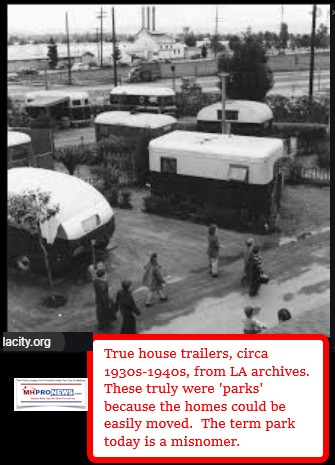 The Manufactured Housing Institute (MHI) has a division known as the National Community Council (NCC).  One might think that they would invest some money in such research. Indeed, they claim to do research, as the graphic collage from their website further below reflects. If so, it is not evident from the MHI website's so-called data. 
As MHProNews has made it a periodic topic published to draw professional attention, MHI quietly increased their estimated number of manufactured home communities from some 37,624 previously stated (see further below) to some 40,000 at present.  That said, their now raised estimated total – per two of their own members – is still not accurate. Can you spell, embarrassing?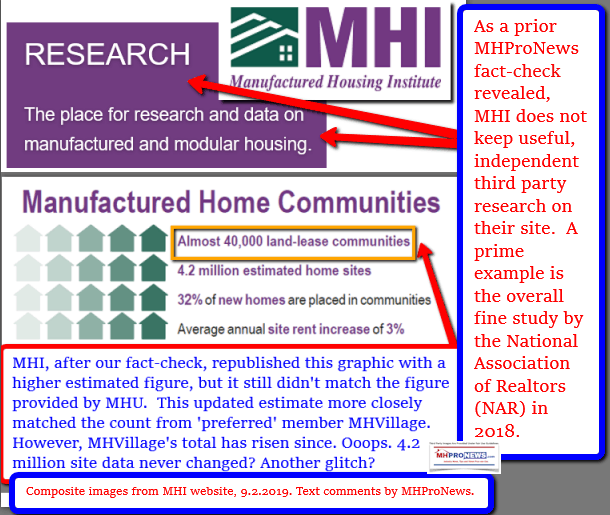 As was previously stated in in the report linked below, Mobile Home University or MHU – the brainchild of MHI members Frank Rolfe and Dave ReynoldsMHProNews that it reflected a total of some 44,000 individual locations of all sizes.  They added that there may be perhaps a 1,000 or so additional properties that they may have missed, saying that those could be locations of as few as 2 home sites.
Hundreds of New Manufactured Home Communities Opened, But How Many Have Closed? Industry Research Result$
So-called self-proclaimed "Community Investor" and "EducateMHC" blogger George F. Allen told MHProNews in an on-the-record statement in 2018 that "I have no idea [how many communities there are]. To the best of my knowledge, no one is tracking this body of statistics." It was an odd statement and/or admission, even at the time.  Why?  Because MHVillage – with whom Allen reportedly does business – tracks that information.  So much for the now-former, community investor, who reportedly sold his last property with significant vacancies. Allen, once a respected MH Communities' leader decade ago, still has a following — but it has apparently, per his own followers, dwindled from its heyday as has his 'rep.'
Which brings us to MHVillage.
MHVillage on its own home page shows two different totals on their land-lease community count.  They are steadily rising in number, moving closer to the total that MHU provided to MHProNews in 2018.
MHVillage's two claimed figures currently?
·        "42,384 Parks" and
·        over "41,500 communities."
When MHVillage was reporting some 38,000 communities, MHI had a total much like MHVillage's (MHV).  Sources describe MHV as preferred member/company that has a special relationship with the Arlington, VA based trade group.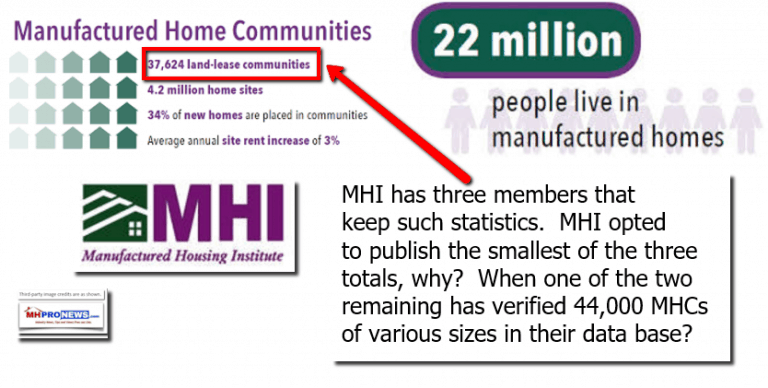 Thus, at this time, none of their so-called data agrees.  Can you spell, disconcerting? How does that look for the association or for the industry?  However, like an old Ronco TV commercial, "But wait! There is still more!"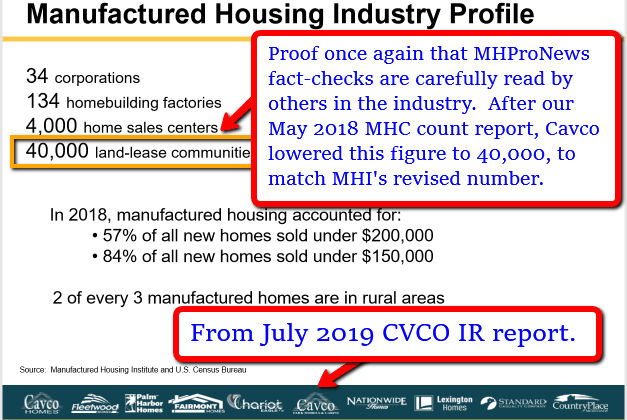 Adding to the confusion and complexity for outsiders looking in is the fact that MHI member Cavco Industries, in their Investor Relations (IR) packet put the total at some 50,000 communities in 2017.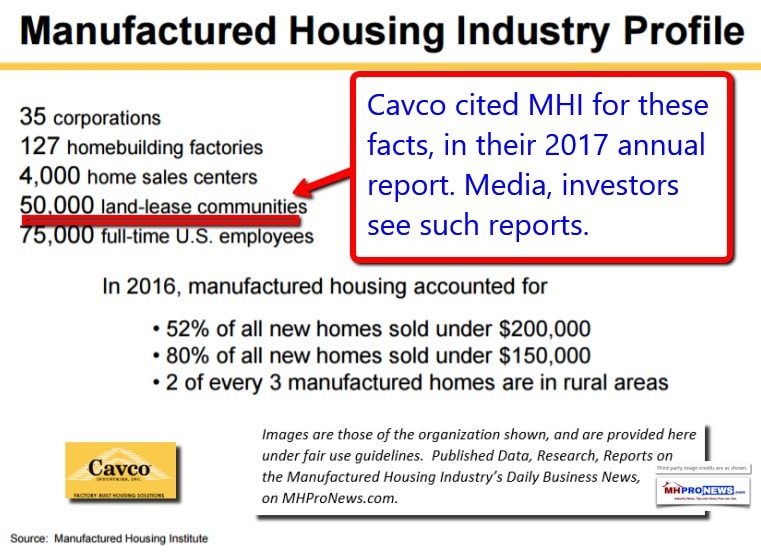 More recently, Cavco (CVCO) has in their IR packet a dramatically reduced number of only 40,000 communities. 
By the way, the best guess, based upon what is known, is 45,000 communities (+/-). But what the industry needs aren't guesses.  We will soon know if the official data reflects a continued downturn, or not. There are sadly several arguably avoidable problematic issues, and many of the trace back to the ineffectiveness of MHI, per past and current members.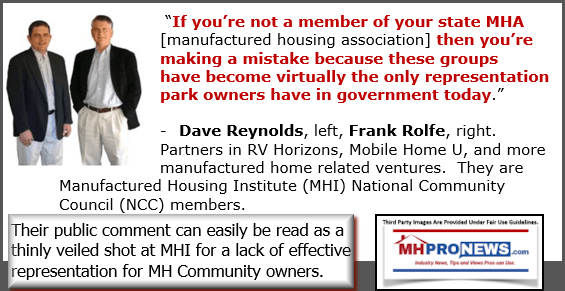 Perhaps at some point, MHI, Cavco, MHVillage, and MHU – et al – will get on a 10 minute conference call, and at least agree on an estimate they could jointly publish? If past is prologue, don't hold your breath for that level of common sense, but stay tuned.
This disconcerting display of contradictions by self-proclaimed leading organizations is arguably one more indicator of the disconnects that exist between reality and claims made by MHI, MHVillage, Cavco, and some of their key supporters.

That's your pre-dawn installment of professional insights found only here on MHProNews — your home for manufactured home "Industry News, Tips, and Views Pros Can Use," © where "We Provide, You Decide." © ## (News, analysis, inspiration, and commentary.)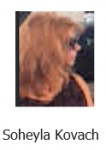 Submitted by Soheyla Kovach for MHProNews.com.
Soheyla is a managing member of LifeStyle Factory Homes, LLC, the parent company to MHProNews, and MHLivingNews.com. Connect with us on LinkedIn here and here.
Related Reports:
Click the image/text box below to access relevant, related information.
Under Pressure, MHI Pivots "HUD Must Implement and Enforce its Enhanced Preemption Authority"
Publicly Traded Manufactured Housing Firms – Which Source Do You Trust More? Why? MHI, MHARR, Others
State Exec, Mainstream Media News Tip on MHI Member, What's Manufactured Housing Institute Response to Concerns?