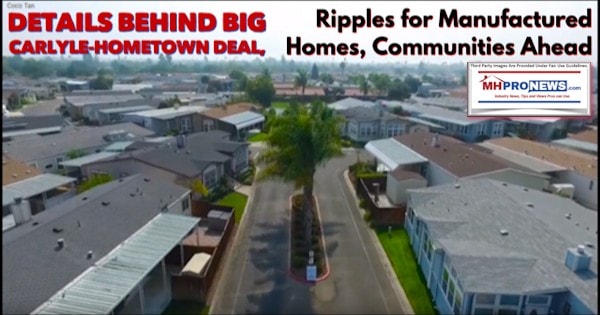 It would be a mistake to lump all manufactured home community operators into any one bucket.  As with all industries and professions, there are good, bad, and so-so operations. For example, some community operators pride themselves on good resident relations and fair dealings. Others, not so much. 
That distinction between how an operation does business with its clientele are what we have for some time referred to as 'white hats,' 'black hats,' or those 'gray hats' that need to decide which of those two directions they are headed.
A week has come and gone since word about the sale by private equity giant, The Carlyle Group (CG) of a land-lease community in Sunnyvale, CA occurred.  Publicly traded Carlyle is one of those publicly traded firms tracked in our evening market report, last night's is linked here.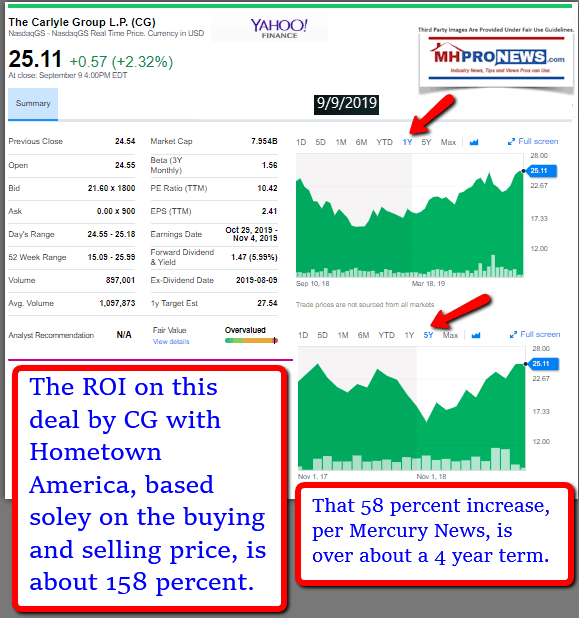 Nearly $¼ Billion Manufactured Home Community Deal, Insights Others Lack
Near tech giants like Facebook and Google, the property sold for nearly ¼ of a billion dollars.  It was purchased by Chicago, IL based Hometown America, more on that point further below.
According to the Mercury News, Plaza del Rey, is an 800-unit manufactured home community. Some media reports, including the KPIX5 video below, placed that site-count at about 300 units. 
The 300 count figure is contradicted by the Plaza Del Rey website includes the following facts and amenities. "Our community features 800 quality manufactured homes spread across 95+ acres of landscaped grounds and paved streets, as well as updated amenities." Those features they named include the subsequent bulleted items.
3 Clubhouses

3 Pools

3 Spas

2 Saunas

Bocce Ball Court

Fitness Center

2 Car Wash/Laundry Facilities

Playground

And much more 
Plaza del Rey MHC, the affiliate of Chicago-based Hometown America Communities, paid $237.4 million for the land lease community, according to county property records filed on Aug. 26.

The new owners told KPIX 5 by phone that they are long-term investors. At a recent community meeting, they offered new low-interest, 25 year leases for the lot to the home owners to prove the point.
"Plaza Del Rey is a beautiful property with a thriving resident community, and offers one of the most affordable homeownership opportunities in the region," the Hometown representative said.  It is worth noting that both of the mainstream news sources had not only terminology errors, but also some factual errors in their original reports, which have been addressed in this report.
Carlyle (CG) is one of those firms that drew the ire of MHAction and their allies in the white paper that names the following, including The Carlyle Group.  Note the highlighted bullet, below.
■ YES! Communities – Stockbridge Capital, Government of Singapore Investment Co, Pennsylvania Public School Employees Retirement System
■ RHP Properties–Brookfield Asset Management
■ RV Horizons/ MHP Funds–TPG Capital
■ Inspire Communities–Apollo Global Management
■ Kingsley Management Company
■ Horizon Land Company–Federal Capital Partners/ Texas Employees Retirement System
■ Carlyle Group
■ Treehouse Communities–Blackstone Group
■ Carefree Communities–Centerbridge Capital
That white paper by MHAction, Private Equity Stakeholder Project, and Americans for Financial Reform Education Fund knocking the business practices of those private equity firms with respect to manufactured home communities and stiff hikes in site fees ('lot rent') was highlighted by the left-of-center Washington Post.
The February 2019 report co-branded by those 3 nonprofits was entitled "PRIVATE EQUITY GIANTS CONVERGE ON MANUFACTURED HOMES How private equity is manufacturing homelessness & communities are fighting back." It is available as a download at this link here. As MHProNews has previously noted, MHAction has been funded by the Tides, which in turn has been funded through so-called 'dark money' channels from another foundation that was funded by Warren Buffett. To follow the money trail, see the report linked below. 
Prosperity Now, Nonprofits Sustain John Oliver's "Mobile Homes" Video in Their Reports
That report makes it clear that the bulk of the firms targeted by Last Week Tonight with John Oliver errantly dubbed "Mobile Homes" were companies associated with the Manufactured Housing Institute (MHI).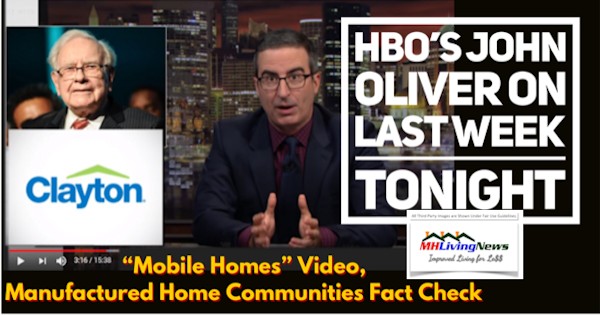 Hometown America has not been without some drama.  It was about 4 years ago that Hometown face an issue with the Delaware State Attorney General's office. 
But that resolved, it must be noted that Hometown has made other 'high quality' deals beyond this Plaza del Rey deal.  That includes the one struck with Chuck Fanaro, Jr. – famed in some manufactured home community circles for his innovative development of Saddlebrook Farms in Grayslake, IL near Chicago. Fanaro made that 55+ community to compete with the Del Webb style site-built properties.  The video below of the property was produced by Hometown.
Fanaro has been widely respected for business ethics and treatment of residents, so that suggests a good reflection on Hometown's management. As a Chicagoland newspaper said in 2013, "Chuck Fanaro, president of DWG Corporation, [is] the owner, developer, builder and manager of Saddlebrook Farms…" He also had high-end manufactured homes built by a company known as HiTech Housing.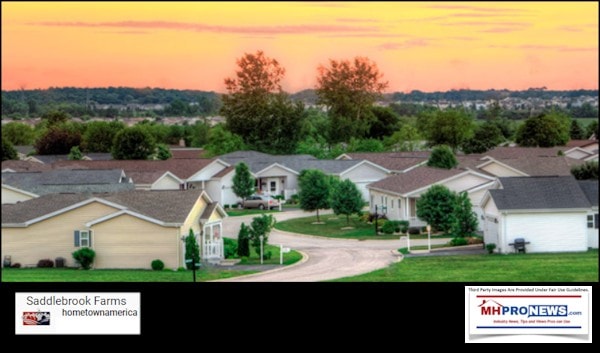 The point of that segue is that there is certainly evidence that Hometown may be striving for good resident relations. The long-term ground lease noted above may reflect a serious desire to give residents enhanced financial security. Further, the Chicago based firm has an A+ rating with the Better Business Bureau (BBB) at this time. Per the BBB website, the community operator has been "Accredited Since: 8/1/2009" and "Years in Business: 21."
Hometown has also been busy 'down under' in Australia, as the report below outlines.
Near Half-Billion Deal for Gateway LifeStyle, Details Beyond News Release
A video of a listing of a manufactured home in the Plaza Del Rey property involved in this CG-Hometown deal is below. It provides some stunning views of the property. It also gives a clear sense of the value of the types of homes involved in this prime location.
This report tees up several competing trends and tensions in the manufactured home industry.  There are doubtlessly operations that are taking a longer-term view that are at least positioning themselves with what might be described as white hat practices.  Others appear to be taking a more mercenary approach. It is those so-called vulture capitalists that have drawn the attention of several Democratic and other lawmakers.  See a related report linked below.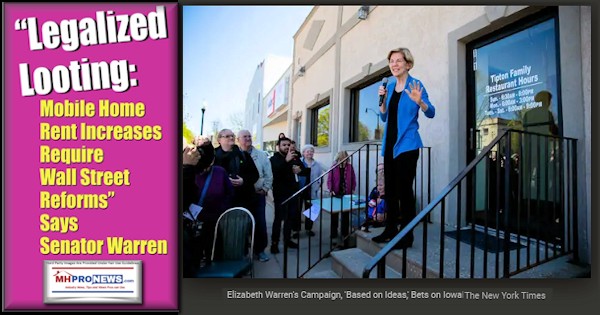 As an MHI member recently told MHProNews, many of those operations that have that black hat reputation are found in MHI.  The reports – like this one – that dig beyond the surface in manufactured housing trade media have arguably caused MHI some angst.  They are arguably making at least a fig-leaf effort to cover the fact that when it comes to ethics, the emperor has no clothes.
National Communities Council of the Manufactured Housing Institute "Code of Ethics," SSK Communities Update, Review
The question is, what will the new National Association of Manufactured Housing Community Owners (NAMHCO) do, if anything, to address that perception problem?  NAMHCO was publicly attacked by an MHI insider, Nathan Smith of SSK Communities, yet NAMHCO inexplicably teamed up with MHI and Prosperity Now to back legislation that arguably harms the long term interests of the industry. After exposes on MHProNews and by the Manufactured Housing Association for Regulatory Reform (MHARR) about the bill that came to the attention of lawmakers on both sides of the aisle, that bill is now reportedly stalled.
Manufactured Housing Institute Supported Bill Buffeted by Headwinds, Plus Recap and Look-Ahead
But that doesn't erase the point that those who are supposed to be advocating for the industry are debatably undermining the long-term interests of independents. It is independents and new start ups that routinely are the source of innovation and historically of the most jobs.
In drawing to a close, big does not imply bad by its nature. MHProNews celebrates free enterprise, but questions the wisdom of business or certain trade association decisions that are arguably undermining the longer term viability of the industry. See the related reports below the byline and notices for more.
That's your second installment today at your home for manufactured housing's runaway most-read "Industry News, Tips, and Views Pros Can Use" © where "We Provide, You Decide." © ## (News, analysis, and commentary.)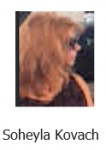 Submitted by Soheyla Kovach for MHProNews.com.
Soheyla is a managing member of LifeStyle Factory Homes, LLC, the parent company to MHProNews, and MHLivingNews.com. Connect with us on LinkedIn here and here.
Related Reports:
Click the image/text box below to access relevant, related information.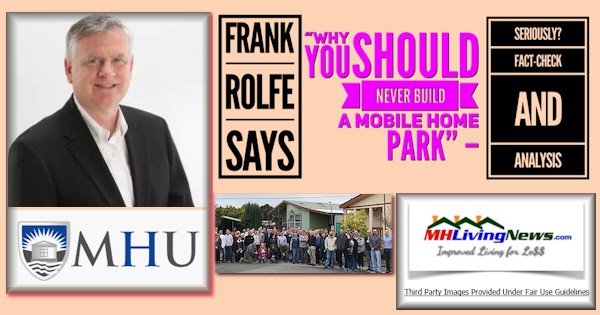 MHPros, Community Owner-Operators, Take Note: Happy, Concerned Resident Leaders, Elected Official's Perspectives – What Lies Ahead?
National Communities Council of the Manufactured Housing Institute "Code of Ethics," SSK Communities Update, Review
National Association of Realtors Research Exposes Manufactured Housing Institute Errors
Battle Over "Mobile Home" Rent Control, Manufactured Home Community Owner's Written Response, Analysis
Publicly Traded Manufactured Housing Firms – Which Source Do You Trust More? Why? MHI, MHARR, Others