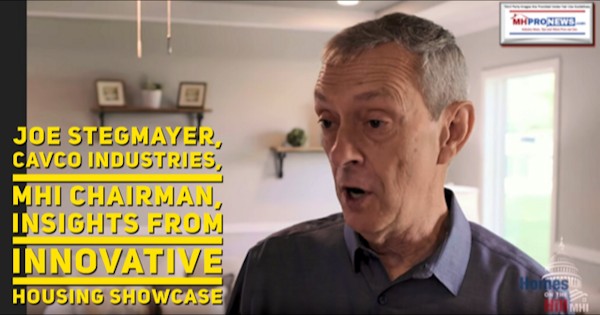 With enough patience, facts and patterns in dispute often reveal themselves more clearly to those with an open mind who are honestly seeking clarity. By definition, the closed-minded can't be reasoned with.
This report will have two primary components. The first will be from the recent and positive Innovative Housing Showcase, held at the National Mall in Washington, D.C. Joe Stegmayer, former Chairman, President, and CEO of Cavco Industries was prominent there. The second will look again at a leadership and related questions that keep arising at Cavco.
MHI Chairman Stegmayer At Recent Innovative Housing Showcase in Washington, D.C.
"Five U.S. congressmen and several other senior government officials took tours, said Joseph Stegmayer, Cavco's former chairman and CEO," said Phoenix metro's AC Central, a Gannett media publication that is part of the USA Today network.
"This is one of the best unsubsidized ways to promote affordable housing," Stegmayer said of manufacturing housing, per that same source. He said that factory-built homes can be made at about half the cost of comparable dwellings built on site.
Some other facts, per AZ Central:
· Cavco exhibited a 1,050 square foot home with two bedrooms and two baths that was built at one of its two factories in Virginia that retails for about $64,000. What they didn't specify was that it was the lone single sectional on display in the National Mall in Washington, D.C. Skyline Champion displayed two multi-sectional models.
· Cavco was one of 19 exhibitors at the National Mall and teamed with UMH Properties, a real estate investment trust or REIT that owns and operates manufactured-home communities around the nation.
This was the only news report found on line as of the date and time shown about the publicly traded firm's (CVCO) involvement in the project. We'll return to that factoid later.

In the MHI branded video below, Stegmayer says: "Manufactured Housing is so much of an untold story. It has come a long way in a short number of years. And now were providing homes that rival anything built on site at half the cost. And so, to meet the affordable housing crisis in this country, and there truly is a need for affordable housing, manufactured housing can go a long way to doing that."
Stagmayer continued by saying, "We can provide a home for millions of people who otherwise can not afford a home and would be renting for the rest of their lives. Here [he's standing in a manufactured home] they can buy a home, build equity, just like any other home owner. And, ah, stay in that home for years or resell it and move up to a larger home if someday they get a larger family."
"A lot of flexibility in manufactured housing. A lot of sustainability," Stegmayer said during his portion of the video. Let's note in fairness that these are very similar points that MHLivingNews, MHProNews and scores of others have made about our industry. Our publisher has noted that the firms involved in the Innovative Housing Showcase are to be applauded. On the thrust of several of these points by Stegmayer, we'd editorially concur.
But what follows in that same video is both true and troubling. It gets near a central issue that is hampering manufactured home industry growth.
Manufactured Housing Professionals, HUD Secretary Ben Carson, Must Promote These Two Words
Secretary Ben Carson, as the head of HUD, made this National Mall opportunity available in conjunction with the National Association of Home Builders (NAHB). Dr. Carson explains that they encouraged local municipalities to look at manufactured homes and look at their regulations. Carson said there may have been reasons in the past for some regulations, but no longer. Why hasn't the HUD Secretary mentioned "enhanced preemption?" Is it possible that he's not been briefed on that point by HUD staff?
But more questions arise from this MHI branded video and recent mainstream media reports.
Looking again at MHI's chairman's comment, it isn't as if the manufactured home industry has suddenly appeared out of nowhere and has an "untold story," as Stegmayer framed it. Indeed, Arlington, VA based MHI – a location not far from the National Mall – claims to have told that story to millions of people. See their claim to that effect illustrated in their own still from an MHI video, below.
If so, the public literally are not buying what MHI is selling, based on recent new manufactured home production and shipment trends.
Look at the stills from the late 2018 MHI self-touting video and compare it to the fact that manufactured housing has had 8 months of consecutive year-over-year decreases in shipment levels.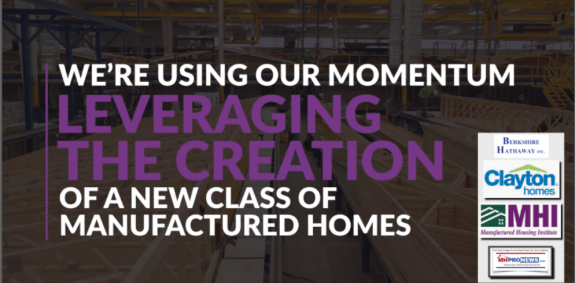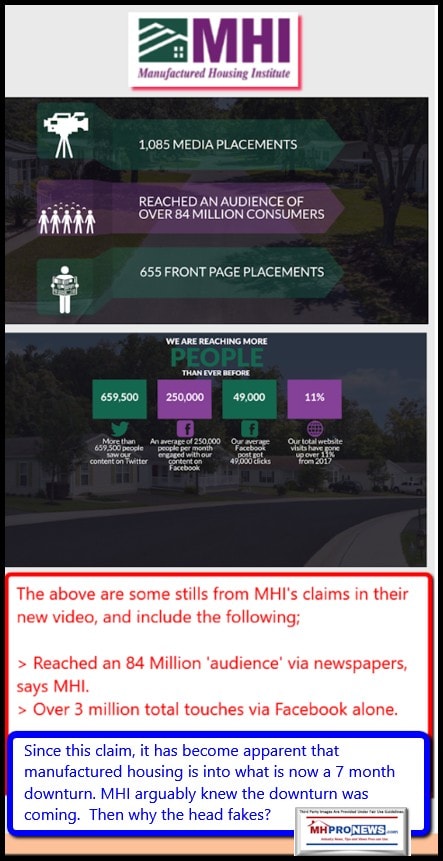 Further, manufactured homes are not an untold story at all.
As the AZ Central story reflected, starting with the headline, a HUD Code manufactured home is errantly termed a 'mobile home.' Over the years, has Cavco or MHI failed to brief that media outlet, which issues periodic reports on hometown firm Cavco, about the proper terminology to be used? If not, then they are not following the logic of their own prior chairman, who said this.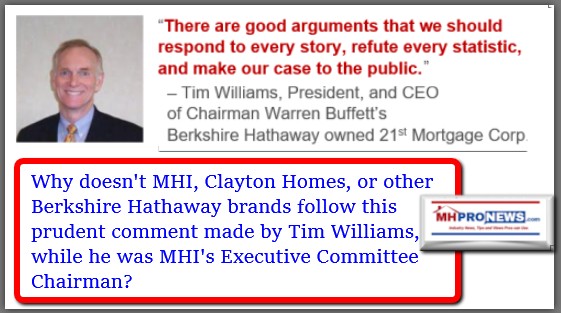 The story most told is a painfully familiar one to anyone who tracks news coverage about 'mobile homes' and 'manufactured homes.' The bulk of the reports are negative, as the screen capture below indicates.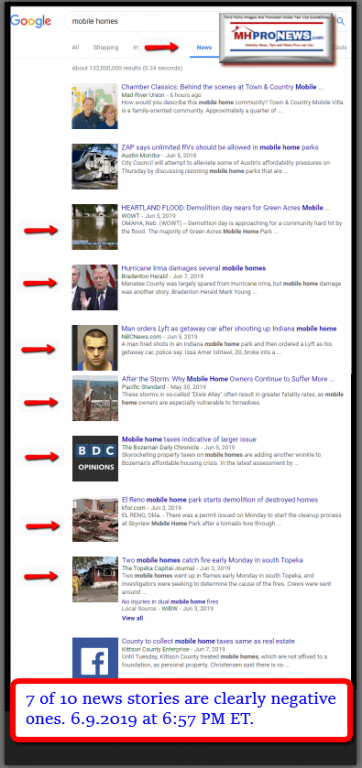 While the evidence is anecdotal, it is also not disputed by live audience of manufactured home industry professionals when they are asked:
· does the public here more bad news or good news about manufactured homes?
· Is the impression conveyed in third party reports largely positive one, or largely negative?
· Manufactured home industry professionals almost universally agree that the image is a problematic one.
That being so, it is not an untold story. Rather, it is a told story that is all-too-often being mistakenly framed.
Where is MHI's effective response to that largely undisputed fact? Because it is obvious that their claim of millions exposed to their advertorials – if true – has not worked. The shipment numbers and other research proves that point. Further, only 8 percent of home shoppers, per Zillow, considered a manufactured home in research that firm did. Many of those who considered a manufactured home never bought one. Put yourself briefly in the shoes of a possible manufactured home customer. If they simply googled news about 'mobile homes' or 'manufactured homes,' wouldn't that explain why – given that much reporting is negative – that the public literally isn't buying one?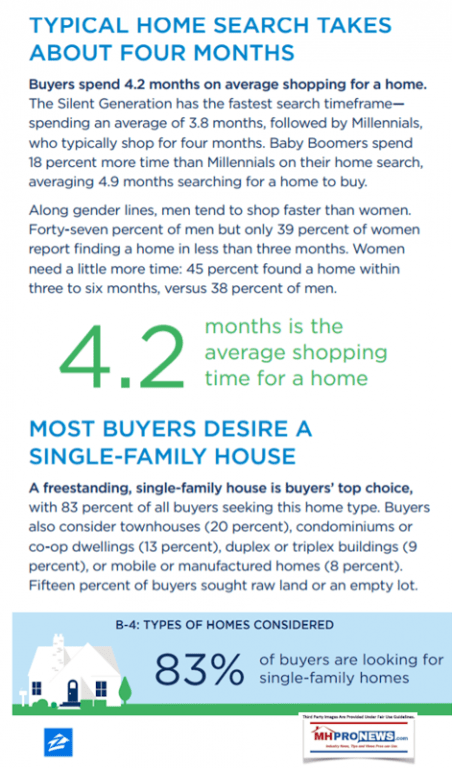 What do those third party research facts say about the effectiveness of the industry? So Stegmayer's own words about the "untold story" – seen through that lens – is troubling at best. The screen capture from the date and time shown is but one example.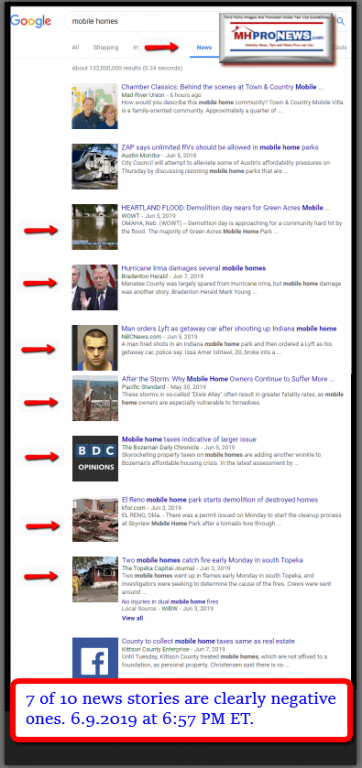 Furthermore, there is no evidence that HUD Secretary Carson has been advised about enhanced preemption. MHProNews has asked officials at HUD to respond to that concern. They have no comment on that now.
Why not? Doesn't their failure to comment on such a straightforward question itself raise concerns that perhaps Secretary Carson has not been brief about enhanced preemption?
Stegmayer has had face time with Secretary Carson on numerous occasions in the last year or so. Did Cavco's former president, and the man who is still MHI's chairman, not raise the issue of "enhanced preemption?" If not, why not?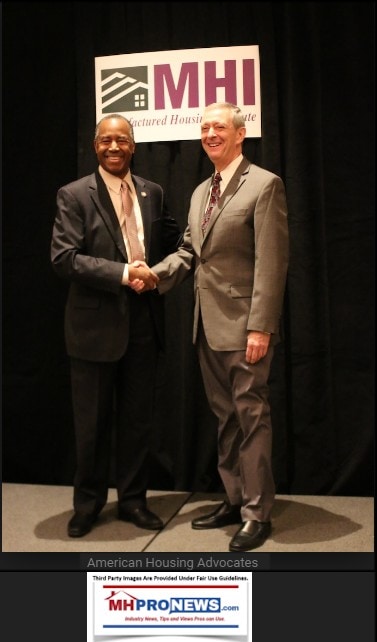 These are questions that Cavco's shareholders – among others – ought to be asking.
If the report by AZ Central is accurate, and only 5 congressional representatives bothered to come and see what MHI dubbed Homes on the Hill. That too suggests something was missed by MHI, doesn't it? There are 535 members of the U.S. House (435) and Senate (100). Numbers of those in Congress get contributions from MHI's PAC. So why did such a small group of representatives come over a 5 day event?
The MHI "Homes on the Hill" videos are a fine idea.
· The videos are well done in a technical sense.
· But where is the promotion for those videos?
· Why is it that the MHI video posted above that was published on Jun 2, 2019, after a week online, has only 732 views, per YouTube, as of 4:49 PM ET on 6.9.2019? Ponder the point that John Oliver's viral hit on numbers of MHI members errantly named "Mobile Homes" has had over 6 million hits on YouTube in about 2 months. That's the graphic comparison that industry professionals, investors, and advocates must ponder. Stegmayer's choice of words 'the untold story' is not supported by facts. The story about manufactured homes has been told millions of times. It simply hasn't cut through the negative noise.
Where has that negative noise about manufactured housing originated from? The sources are varied. That said, there is a money trail in the millions that clearly points to donations by Warren Buffett, chairman of Berkshire Hathaway – parent to Clayton Homes, their sister Berkshire lenders, and a powerhouse at MHI – that have flowed via the Tides nonprofit to groups such as MHAction or Prosperity Now that have in turn attacked manufactured housing operations. Rephrased, Buffett's been backing both pro-and-con voices about manufactured homes. The voices that undermine the industry's story seem to win the media war routinely. Why?
None of the Berkshire brands or MHI has denied the evidence presented. That leaves the evidence presented unchallenged. The collage below illustrates the point just made.

Now, against that backdrop, let's pivot back to Cavco's November 8, 2018 news release.
Stegmayer, Cavco, and the SEC/Shareholder Legal Clouds
As the numbers of shareholders suits against Cavco Industries continues to grow, an interesting point keeps arising relative to Joe Stegmayer, their former Chairman, President, and CEO. Let's mention that he was also a former Clayton Homes division president.
Part of the announcement on November 8, 2019 that sent Cavco shares plunging related to Stegmayer was that the multi-year leader of the publicly traded firm (CVCO) would step down into a more supportive, non-executive role.
But several indications from sources previously reported within Cavco, plus more recent hints by George Allen and others in his orbit, suggest that Stegmayer still exercises a leadership role that some believe is more like that of the shadow president than some supportive 'non-executive' role.
Quoting from their November 8th press release, "Mr. Stegmayer stepped down from his position as Chairman, President and Chief Executive Officer of the Company after an internal investigation, conducted by independent legal counsel, identified certain violations of Company policy related to securities trading activities conducted by Mr. Stegmayer. The Board's decision to transition Mr. Stegmayer to a non-executive role allows the Company to retain his deep industry and operational experience."
The Cavco press release further stated that, "The Company also announced that it had received a subpoena from the Securities and Exchange Commission's Division of Enforcement ("SEC") requesting certain documents relating to, among other items, trading of the stock of another public company. Subsequent to sending the Company a subpoena, the SEC sent a subpoena for documents and testimony to Joseph Stegmayer, regarding similar issues. The Company has initiated an independent investigation and intends to cooperate fully with the SEC's investigation."
In a typical 'all in the company family' motif, the release said: "Joseph Stegmayer, former Chairman, President and Chief Executive Officer, commented that "Dan Urness is a great choice to lead Cavco. He is a strong leader, with the ability to connect with customers, partners and teammates. His institutional knowledge of our Company and significant industry experience will ensure a smooth leadership transition. I look forward to continuing to serve the Company in my new role."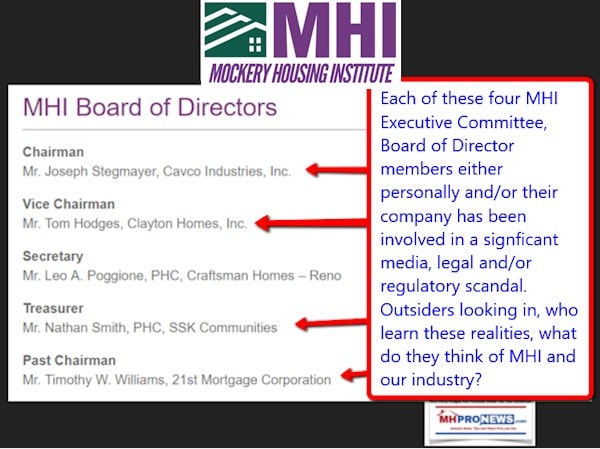 Stegmayer has remained Chairman of the Manufactured Housing Institute (MHI), despite the legal flap, its costs to Cavco, and the hit on CVCO's stock valuation.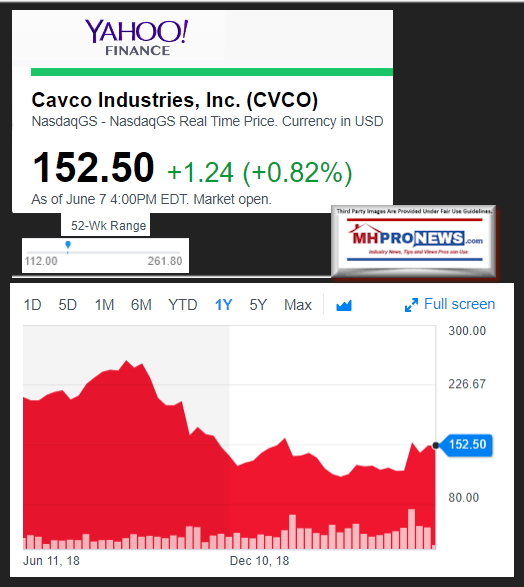 These are questions that may be of interest to shareholder's plaintiff's attorneys.
Cavco Industries Investigated Anew for Violations of Federal Securities Laws, plus Manufactured Home Industry Stock Updates
But there are broader industry questions that ought to be explored, perhaps in concert with Congressional and other state/federal inquiries.
Readers will be reminded that some 5 years ago, Stegmayer was talking on camera about the industry returning to 250,000 shipments. That video is found in the report in the text/image box above. Stegmayer did say that return to 250,000 could accomplished in a year. But he clearly suggested that it was doable in the foreseeable future. What happened to that 250,000 new home shipment aim since then?
Why is a new manufactured home shipment goal unmentioned by MHI more recently?
Or ponder the fact that after the embarrassing reply the MHI President and CEO Richard 'Dick' Jennison gave to MHProNews on camera that same year – that the industry should grow slowly – the next year, after being privately chastened by Tim Williams, per sources, Jennison said that the industry could return to 500,000 new manufactured home shipments. We professionally concur that that half-million or more new home production goal is achievable. Others in the industry believe so too. The points Secretary Carson has cited in various interviews and his speech in New Orleans all point to the great potential of the industry in this affordable housing crisis.
MHI CEO Dick Jennison's Pledge – 500,000 New Manufactured Home Shipments
All of which begs the question, how effective has MHI been at representing "all segments of manufactured housing?"
As the decade de facto post-production association, after decades in that role, has MHI still not figured out what keeps people from buying a manufactured home? Why aren't they routinely addressing those prospective home buyers concerns? Lightening rod Frank Rolfe, a well known MHI member, made the point simply.

Rolfe and Dave Reynolds effectively doubled down on that recently, when they said the following.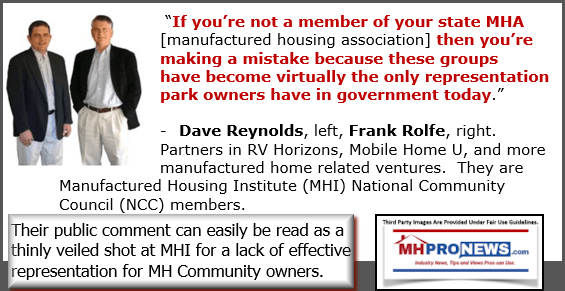 MHI has had two different public relations people, for a combined total of several years now. Do those 'experts' in media relations not have a message or method for advancing the acceptance of the industry? Do they not yet have a message that resonates with the millions in the public that would buy what our manufactured home industry offers, if they simply understood it properly?
When AZ Central reports that only 5 congressmen came to see what MHI dubbed "Homes on the Hill," what was MHI's public relations effort doing?
The industry is only at ¼th of the production it was in 1998. Where is MHI's recovery plan?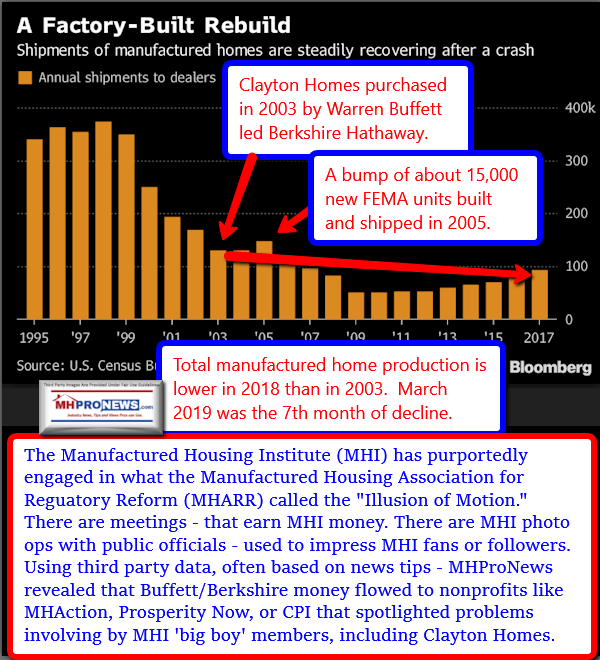 This pro-growth industry-leading trade media will continue to monitor and report on these and other related issues.
That's a wrap on this installment of "News Through the Lens of Manufactured Homes, and Factory-Built Housing," © where "We Provide, You Decide." © ## (News, analysis, and commentary.)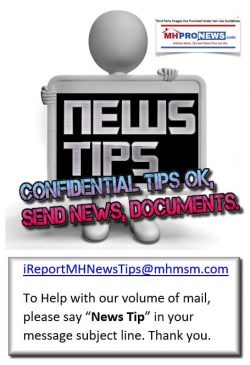 NOTICE: You can get our 'read-hot' industry-leading emailed headline news updates, at this link here. You can join the scores who follow us on Twitter at this link. Connect on LinkedIn here.

NOTICE 2: Readers have periodically reported that they are getting a better experience when reading MHProNews on the Microsoft Edge, or Apple Safari browser than with Google's Chrome browser. Chrome reportedly manipulates the content of a page more than the other two browsers do.
(Related Reports are further below. Third-party images and content are provided under fair use guidelines.)
1) To sign up in seconds for our MH Industry leading emailed news updates, click here.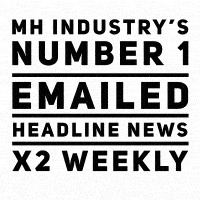 2) To pro-vide a News Tips and/or Commentary, click the link to the left. Please note if comments are on-or-off the record, thank you.
3) Marketing, Web, Video, Consulting, Recruiting and Training Re-sources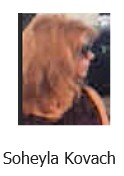 Submitted by Soheyla Kovach to the Daily Business News for MHProNews.com. Soheyla is a managing member of LifeStyle Factory Homes, LLC, the parent company to MHProNews, and MHLivingNews.com.
Related Reports

:
You can

click on the image/text boxes

to learn more about that topic.
Members Point to Positives, Problematic – Manufactured Housing Institute (MHI) says, "Get the Facts on Zoning"
Secretary Ben Carson's, Julian Castro's Manufactured Housing, "Trailer," "Mobile Home" Revelations, 2020 Battles Ahead
8 Months of Declining Year-Over-Year HUD Code Manufactured Home Production – When Will Manufactured Housing Institute Act?
Positive, Uplifting Third-Party Reports Favor Modern Manufactured Housing, So What's Going Wrong?
Bonuses, Bonuses! Manufactured Housing Struggles During Affordable Housing Crisis, While Top MHI Staffers Get Bonuses
Imagine for the new few minutes that you are a detective trying to solve a mystery. Detectives look for clues and examine evidence. Investigators ought to be objective. Like a doctor seeking the cause for an ailment, there are tests, results, facts, and reason that should to be the drivers for solving any puzzle.
Washington, D.C., May 15, 2019 – With manufactured housing producers, retailers and communities offering their best homes (and related consumer protection) ever, and in light of the failure of the ostensible representation of the industry's post-production sector to fully and effectively advance the marketing, consumer financing and, most importantly, the full acceptance of federally-regulated manufactured housing as the nation's premiere source of non-subsidized affordable housing and homeownership, the Manufactured Housing Association for Regulatory Reform (MHARR) has launched a new project and initiative to fight selected, especially egregious instances of discriminatory and exclusionary zoning targeting manufactured housing and manufactured housing consumers.