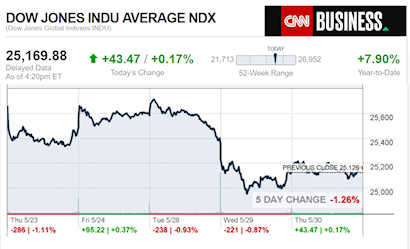 It's the most recent in numerous such investigations that have been announced by various law firms that specialize in national securities litigation. This time, it is from a firm that says they were ranked #4 by ISS for recoveries in 2017. For the Cavco Industries (CVCO) home office, it was just another day since they first announced on November 8, 2018 that they had received the company and then chairman, president, and CEO Joe Stegmayer had received subpoenas. The latest investigation by Block & Leviton is our focus this evening. The same day as the new investigation was launched, a new board member was appointed too.
If you're new, already hooked on our new spotlight feature – or are ready to get the MH professional fever – our headline report is found further below, after the newsmaker bullets and major indexes closing tickers.
The evolving Daily Business News market report sets the manufactured home industry's stocks in the broader context of the overall markets. Headlines – at home and abroad – often move the markets. So, this is an example of "News through the lens of manufactured homes, and factory-built housing." ©
Part of this unique evening feature provides headlines – from both sides of the left-right media divide – which saves busy readers time, while underscoring topics that may be moving investors, which in turn move the markets.
Readers say this is also a useful quick-review tool that saves researchers time in getting a handle of the manufactured housing industry, through the lens of publicly-traded stocks connected with the manufactured home industry.
This is an exclusive evening or nightly example of MH "Industry News, Tips and Views, Pros Can Use." © It is fascinating to see just how similar, and different, these two lists of headlines can be.
Want to know more about the left-right media divide from third party research? ICYMI – for those not familiar with the "Full Measure," 'left-center-right' media chart, please click here.
Select bullets from CNN Money…
A rough year for unicorns
Some of the flashiest IPOs of 2019 flopped — but there's still hope, if you know where to look
BREAKING NEWS Uber lost more than $1 billion in the first quarter
Disney, Netflix and WarnerMedia say new abortion law may push their movies out of Georgia
Rare earths could be the next front in the US-China trade war. Here's what you should know
LIVE UPDATES Markets drift higher even as oil prices plunge
Disney spared no expense to make Galaxy's Edge much more than a park
TOURING GALAXY'S EDGE Even the food is Star Wars-themed
Carl Icahn sues Occidental for 'misguided' Anadarko takeover
Wall Street is betting the president won't let stocks collapse
A Pan-African free trade deal just came into force
Greyhound buses put up for sale by UK owner
Coca-Cola thinks Americans are ready for Coke with coffee
JPMorgan Chase settles claims it discriminated against dads
LaCroix was the Millennial 'it' brand. Now it has lost its way
How to survive the ultramarathon job interview
KFC is looking into plant-based chicken alternatives
Little Caesars is testing out an Impossible pizza
Tim Hortons is adding Beyond Meat sausages to its menu
Burger King brings the Impossible Whopper to 3 new cities
The meatless burger revolution is just getting started
PERSPECTIVES Businesses need to prepare workers for the AI revolution
Robots find a new job: Skyscraper window washers
Ford's delivery robot walks like a human
See this robot deliver packages to your doorstep
Why Facebook is teaching a bug-like robot to walk
Select Bullets from Fox Business…
Uber posts $1B loss, matching projections in first earnings report as public company
How Nancy Pelosi saved Wall Street — twice
It'll be 'very difficult' to film in Georgia if abortion law holds, says Disney CEO
Activist investor Carl Icahn sues Occidental Petroleum over $38 billion Anadarko merger
Elizabeth Warren says her child care plan will save you cash, here's her proof
Buying a car? 6 things to know
NBA stars Steph Curry, Chris Paul among top players facing stiff tax liabilities
Rare earth minerals, explained: What's their role in the US-China trade war?
Pizza Hut updates Original Pan Pizza for the first time in nearly 40 years
China slams US for escalating trade war: It's 'naked economic terrorism'
Jeff Bezos speaks out after ex-wife pledges half her fortune to charity: 'I'm proud of her'
Ocasio-Cortez's minimum wage push to land her behind the bar once again
Venezuelan opposition leader Juan Guaido says Maduro is blocking aid for country's children
Mount Everest deaths: Why low-cost expeditions may be to blame
This NYC apartment costs $85M but it comes with a trip to space
Legendary fight ring announcer Michael Buffer: I hear my voice and I cringe
High-tax Connecticut plagued by pension problems
NASCAR champ Kurt Busch buys America's heroes tickets for every race
JPMorgan Chase reaches $5M settlement in paternal leave case: report
Waymo: Self-driving trucks returning to Phoenix
NBA contacted Raptors about Drake's sideline behavior: Report
Liquefied natural gas deemed 'freedom gas' by Energy Department
Today's markets and stocks, at the closing bell…
Today's Big Movers
For all the scores and highlights on tracked manufactured home connected stocks today, see the Bloomberg graphic, posted below.
Today's MH Market Spotlight Report –
How Time Changes Perspectives
If you watch the video interview below with Joe Stegmayer, it speaks volumes. It's a blast from the past, which is precisely what it is useful. Note, among other points, that Stegmayer talks about the return of the industry to 250,000 new home shipments? If that was a worthy goal then, why is the Manufactured Housing Institute (MHI) and Cavco not pumping that same point now?
It is one of several points that the law firms investigating Cavco may be overlooking.
That said, last December, MHProNews asked, had Cavco hit bottom? The answer was, yes, no, and sort of – because while CVCO's share value went lower, it is now at about the same value as when we asked that question then.
Post "Debacle" – Insider Trade @ Cavco Industries – Has CVCO Hit Bottom? Plus, Manufactured Housing Equities Market Updates
In the months since the SEC related announcements, Cavco has positioned itself in several ways to respond to the legal 'incoming.'
There is more below, but with that tee-up, let's pivot to the press release from Block & Leviton LLP.
BOSTON, May 29, 2019 (GLOBE NEWSWIRE) — Block & Leviton LLP a national securities litigation firm, is investigating whether Cavco Industries, Inc. (CVCO) and certain of its officers and directors violated federal securities laws.
On August 20, 2018, Cavco received a subpoena from the SEC's Division of Enforcement requesting certain documents relating to, among other items, trading in the stock of another public company. Then, on October 1, 2018, the SEC sent a subpoena for documents and testimony to Joseph Stegmayer, the Company's former Chairman, President and Chief Executive Officer, regarding similar issues.
After the market closed on November 8, 2018, Cavco and senior management filed the Company's Form 10-Q for the quarterly period ended September 29, 2018 and disclosed the receipt of the SEC subpoenas. This news drove the price of Cavco shares down $49.48, or about 23%, to close at $165.20 on November 9, 2018.
Block & Leviton is investigating these allegations in order to file a class action complaint.
Block & Leviton LLP was recently ranked 4th among securities litigation firms by ISS for recoveries in 2017. The firm represents many of the nation's largest institutional investors and numerous individual investors in securities litigation throughout the country. Indeed, its lawyers have recovered billions of dollars for its clients.
This notice may constitute attorney advertising.
CONTACT:
BLOCK & LEVITON LLP
Dan DeMaria
(617) 398-5660 phone
260 Franklin Street, Suite 1860
Boston, MA 02110
Interestingly, BLOCK & LEVITON's release coincided that same day with the news of a new independent appointment to the Cavco board. It is part of the corporation's apparent effort to shore up trust with investors.
Cavco's release is below.

PHOENIX, May 29, 2019 (GLOBE NEWSWIRE) — Cavco Industries, Inc. (CVCO) today announced that its Board of Directors ("Board") appointed Julia W. Sze as an independent director of the Company's Board, effective May 29, 2019. Ms. Sze is a Chartered Financial Analyst with over 25 years of experience in the investment management field. From 1991 until 2003, she was a fundamental analyst and portfolio manager, leading award winning funds in the Asia Pacific equity markets. From 2004 until 2011, Ms. Sze served as Chief Investment Officer for families and foundations at two U.S. banks, managing over $1 billion globally across numerous asset classes. Since 2009, she has been a leader in the impact investing field, developing environmental and social resilience in companies across multiple sectors and geographies. Since 2018, Ms. Sze has been a lecturer at UC Berkeley's Haas School of Business, teaching entrepreneurship and investment management.
Ms. Sze brings Cavco's Board current membership to seven directors, six of whom are independent. She will also be a member of the Company's Audit Committee and will replace Steve Bunger, Chairman of Cavco's Board of Directors, who stepped down from his seat on the Audit Committee.
Currently, Ms. Sze serves as a director of Tern Bicycles, a privately-held, Taiwan-based urban transport business with sales across the globe. Ms. Sze previously served as a member of the Board of Directors and Chair of the Assets and Liabilities Committee of New Resource Bank from 2016 until it merged with Amalgamated Bank in 2017. She now serves as Chair of the Strategic Advisory Board of Amalgamated Bank (AMAL).
"Julia is a great addition to our Board," commented Steve Bunger, non-executive Chairman of the Board of Cavco. "She is an experienced board member with valuable investment management expertise. In that role, she has analyzed hundreds of companies, with a keen eye towards operational efficiency, financial strength, and social impact. Cavco is fortunate to have added a director such as Julia, and we look forward to her many contributions to Cavco and the Board."
"I am thrilled to be joining Cavco's Board, and I look forward to working with the Board and Cavco's management team to produce improved results and grow Cavco's business," said Ms. Sze. She continued, "The affordable housing business is a sector of our economy that aligns extremely well with my experience and priority issue areas."
"I'm really looking forward to working with Julia," added William Boor, President and Chief Executive Officer of Cavco and a member of the Cavco Board. "She brings an investor's perspective to the Board, but also understands the social impact that Cavco offers as a company focused on affordable housing. She truly complements a Board that covers a broad range of skills and experiences."
Ms. Sze received two degrees from Stanford University: a Bachelor of Arts in Economics in 1989 and a Master of Arts in East Asian Studies in 1990. She received her Chartered Financial Analyst designation in 1998.
About Cavco Industries, Inc.
Cavco Industries, Inc., headquartered in Phoenix, Arizona, designs and produces factory-built housing products primarily distributed through a network of independent and Company-owned retailers. The Company is one of the largest producers of manufactured homes in the United States, based on reported wholesale shipments, marketed under a variety of brand names including Cavco Homes, Fleetwood Homes, Palm Harbor Homes, Fairmont Homes, Friendship Homes, Chariot Eagle and Lexington Homes.
The Company is also a leading producer of park model RVs, vacation cabins, and systems-built commercial structures, as well as modular homes built primarily under the Nationwide Homes brand. Cavco's mortgage subsidiary, CountryPlace Mortgage, is an approved Fannie Mae and Freddie Mac seller/servicer, a Ginnie Mae mortgage-backed securities issuer that offers conforming mortgages, non-conforming mortgages and home-only loans to purchasers of factory-built homes.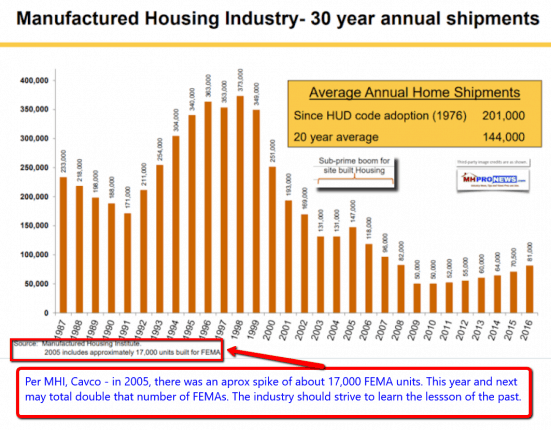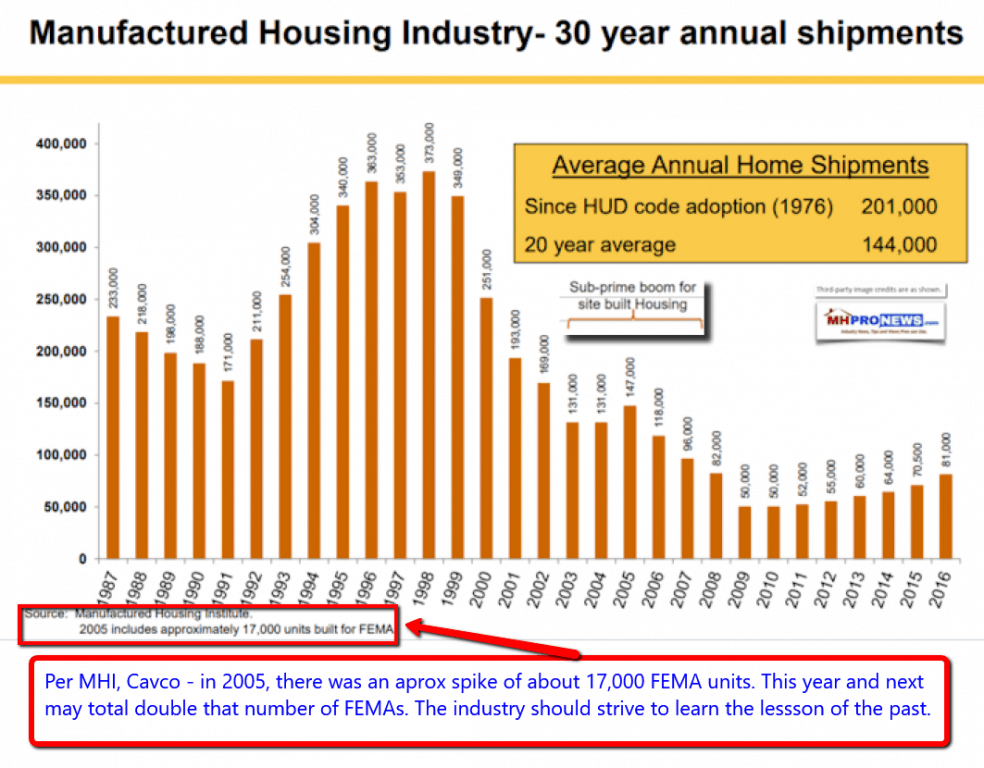 Investor Robert Robotti has been a long time believer in manufactured housing. What he had to say previously, found in the report linked below, indicates in part the reasons why not only Cavco, but the industry at large is underperforming. Joe Stegmayer may be 'out' at his old leadership role there, but he is still the Chairman of the Manufactured Housing Institute (MHI).
Go figure. Someone's not doing their homework?
Related Reports:
"Out-Performing the Market" Robert Robotti, Value Investing, and Manufactured Housing
Patrick Industries-Manufactured Housing Supplier-PATK Investor Relations Spotlights Manufactured Home Industry Challenges, Opportunities
Shocking, True State of the Manufactured Housing Industry, plus Solutions for Profitable, Sustainable Growth – May 2019
https://www.manufacturedhomepronews.com/game-on-fighting-discriminatory-zoning-moral-obligation-fix-worsening-nightmare-state-associations-entering-spotlight/
Yahoo Finance Closing Ticker for MHProNews…
NOTE: The chart below includes the Canadian stock, ECN, which purchased Triad Financial Services.
NOTE: The chart below covers a number of stocks NOT reflected in the Yahoo MHCV, shown above.
NOTE: Drew changed its name and trading symbol at the end of 2016 to Lippert (LCII).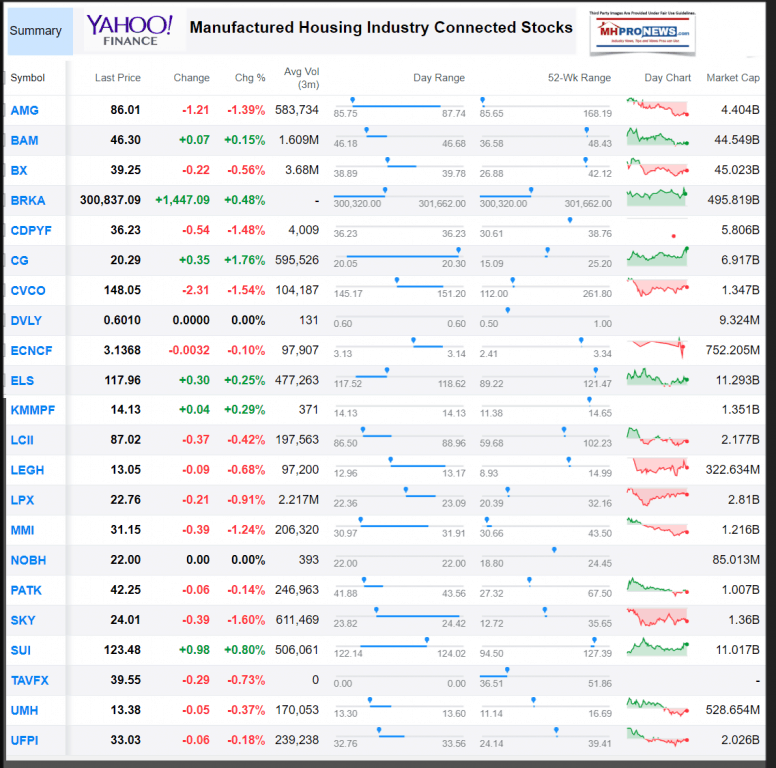 Berkshire Hathaway is the parent company to Clayton Homes, 21st Mortgage, Vanderbilt Mortgage and other factory built housing industry suppliers.
LCI Industries, Patrick, UFPI and LP all supply manufactured housing.
AMG, CG and TAVFX have investments in manufactured housing related businesses.
Your link to industry praise for our coverage, is found here.
For the examples of our kudos linked above…plus well over 1,000 positive, public comments, we say – "Thank You for your vote of confidence."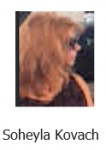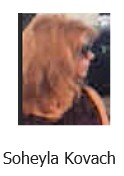 "We Provide, You Decide." © ## (News, analysis and commentary.)
(Image credits and information are as shown above, and when provided by third parties, are shared under fair use guidelines.)
Submitted by Soheyla Kovach to the Daily Business News for MHProNews.com.