For busy professionals, holidays often provide a good time to review facts, themes, issues, and trends to gain useful perspectives.
Let's begin this review of the true state of the manufactured housing industry with a litany of facts and their source relative to U.S. housing, affordable housing, and manufactured homes.
There is a need for millions of more housing units. How many? Let's look.
The National Low-Income Housing Coalition said in Mar 14, 2019, that there is a need for some 7 million affordable housing units. That's down somewhat from their prior estimates. We'll review their updated study in more depth in the days ahead.
The National Association of Realtor's (NAR) Chief Economist, Lawrence Yun, Ph.D., said in Forbes that there is a need for an estimated total of 8.3 million housing units in the U.S.
Third-party studies for over 2 decades have demonstrated that manufactured housing is the most proven form of affordable housing.
HUD Secretary Ben Carson made on May 7, 2019 perhaps the most pro-manufactured housing address ever by a top federal official at that department. But it certainly built upon a similar theme from HUD Secretary Julian Castro. See that report, with videos from those HUD leaders from either side of the two-party aisle, linked here.
Affordable housing and manufactured homes role in that struggle for affordability are non-partisan or bipartisan issues. Republican and Democratic leaders in Minnesota exemplify that notion.
There have been positive statements and steps taken by law makers and presidents of both major parties that have been favorable for manufactured housing.
While a few souls are regrettably lost every year in tornado or other windstorm related deaths who live in a mobile or manufactured home, it's a tiny fraction of a single percent that die during a severe weather event. However shocking the images of a tornado ravaged structure may be, the facts reveal that far fewer people die in tornadoes in a mobile or manufactured home every year than die in automotive, boating, bathtub, bathroom, suicide, or scores of other health, safety, or accident related issues.
Mobile home fires are far more common than manufactured home fires. Manufactured homes are as safe or safer in terms of fire history than conventional housing, per the National Fire Prevention Association (NFPA).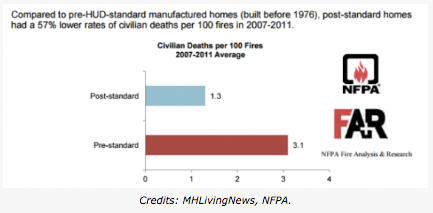 Rephrased, manufactured homes are far safer than is generally believed, as safer or perhaps marginally safer then more expensive conventional housing, and are a widely misunderstood solution to the affordable housing crisis.

On Manufactured Home Living News (MHLivingNews) we made the point years ago, apparently picked up by some in the mainstream media, that manufactured homes are a solution to the affordable housing crisis that is hiding in plain sight.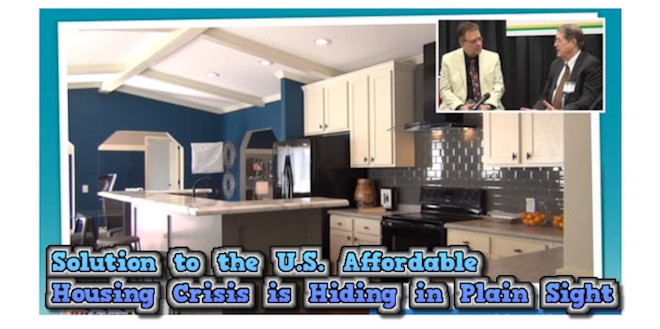 That report linked above featured the following video, which is every bit as relevant today as it was the day it was first published.
We've mentioned before the quote from Terry Decio. Decio's comment resonated with thousands of manufactured home industry professionals.
So, all of the above begs the question: why are manufactured homes selling at a lower national annual pace in 2018 – or year to date in 2019 – than the year that Warren Buffett led Berkshire Hathaway entered the industry with its acquisition of Clayton Homes in 2003?
How is that possible?
But the above in a nutshell is the true state of the manufactured housing industry. The facts are what they are, and in some 550 words, the above sums it up.
Causes, Opportunities in Disguise, and Solutions?
We'll take the above subheading in bite size subtopics.
Now what has caused this scenario? Objectively examined, several factors are contributing to this troubling trend.
On Manufactured Home Living News (MHLivingNews) and here on MHProNews, we've built step-by-step a case that reveals the following evidence, concerns, trends, and allegations. Let's note that what follows references sources inside and outside of the manufactured housing industry.
Some of our reporting have been exclusives, publishing documents, quotes, videos, and details found literally nowhere else in manufactured housing today. The documentation is provided at the report linked below.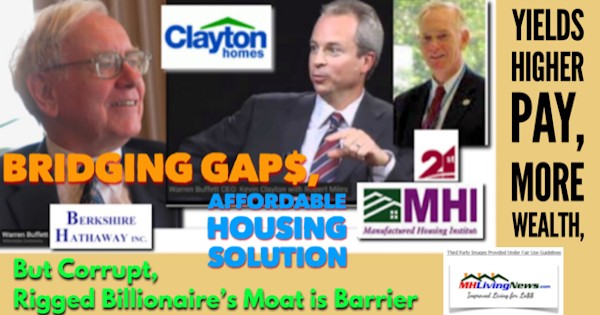 The screen capture below is evidence of that prior claim that others have not yet published the same level of documentation as the report linked above has.
It isn't that there has never been concerns raised by others, there have.
The Manufactured Housing Association for Regulatory Reform (MHARR) has made the 'post production sector' – which are often their code-words for the Manufactured Housing Institute (MHI) – a significant issue for no less than a decade, because since we've been publishing, they've periodically raised that concern. They did so previously in the now defunct Journal of Manufactured Housing.
Controversial speaker and writer George F. Allen in his blog, and at other times more privately, has raised this issue of the monopolization and consolidation of manufactured housing, and the purported failures of MHI.
Another source raised a similar issue, which has not yet been previously examined here in depth, and we plan to do so in the days ahead.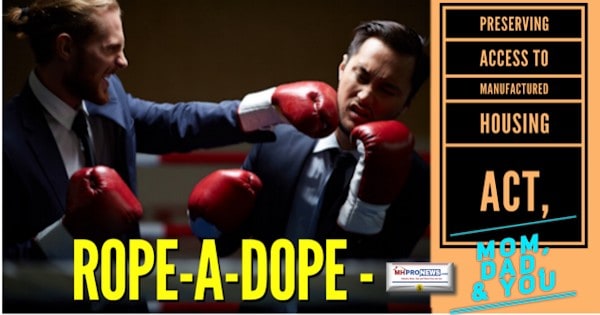 1) Defenders of Berkshire Hathaway, Clayton, 21st, MHI et al have said words to the effect that MHProNews has MHARR as a sponsor. That's true and is out in the open. There is no hidden agenda. It should be noted that our fact-checks and analysis predates any advertising relationship with MHARR.
2) Furthermore, that same point could be made that MHI, Clayton, and 21st Mortgage Corporation, which for years were sponsors of MHProNews. Our fact-checks and related reports that led to our current understanding of the state of the manufactured housing industry began while those organizations were our sponsors. Meaning, we began our fact-checks and analysis that led us to this point while MHI and some Berkshire brands and their allies were among our sponsors.
3) So, to a fair, informed, and objective-minded reader, it should be clear that MHProNews is not 'pulling an Allen' — who purportedly flips and flops according to who he thinks is or may benefit him at that time. Note too that Allen's flip-flops should not be construed to diminish the value of some of his prior critiques of MHI, Clayton, and their Berkshire Hathaway related business units in manufactured housing. That falls within the principle of separating the wheat from the chaff with all people and organizations. Nobody is perfect, neither are any organizations or companies. That includes this writer and this publication. But in keeping with Society of Professional Journalism Code of Ethical Conduct standards, we hold the powerful to account, and we have been revealing of prior incomplete understandings that explained more fully why manufactured housing wasn't progressing as it should.
Doug Ryan with the nonprofit CFED, now known as Prosperity Now, has likewise alleged that Clayton and their related lenders were monopolizing in the industry.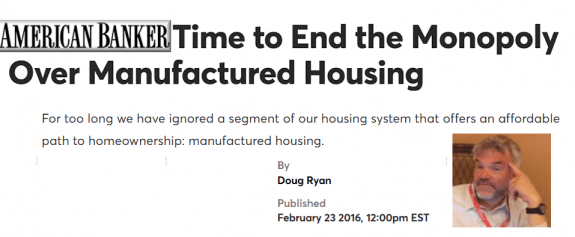 Trade and Mainstream Media Summary
So, there are several sources within manufactured housing that have made similar claims and allegations to MHProNews, and MHLivingNews, although they have routinely not provided the level of documents, direct quotes, graphics, and videos that provide evidence that our industry-leading trade publications have.
There are voices across the left-right media divide that have raised the issue of monopolization in general. An example of that is a New York Times column, linked here.
There are more specific reports about manufactured housing that pointed a finger at Warren Buffett, Berkshire Hathaway, Clayton Homes, and their manufactured housing related lenders of 21st Mortgage and Vanderbilt Mortgage and Finance (VMF). Examples of those are linked below.
The Jacksonville Florida Times Unionsummarized the connection between the John Oliver viral hit video misnamed – as was the Atlantic's article – "Mobile Homes." A fact-check of Oliver's video revealed that MHI, Clayton Homes, and their related lenders were involved in each of the problematic behaviors reported. That Florida Times Union op-ed was first fact-checked by an editor, before it was published not only in the newspaper it was submitted to, but by at least in 5 Florida newspapers.
There are numerous others, but that's sufficient to make the point.
This publication and this writer have reached out numerous times to Clayton, 21st, the Manufactured Housing Institute (MHI), and their attorneys for comments or reactions to the allegations that purportedly demonstrate antitrust violations. They have routinely declined commenting, either in writing, or live at industry events.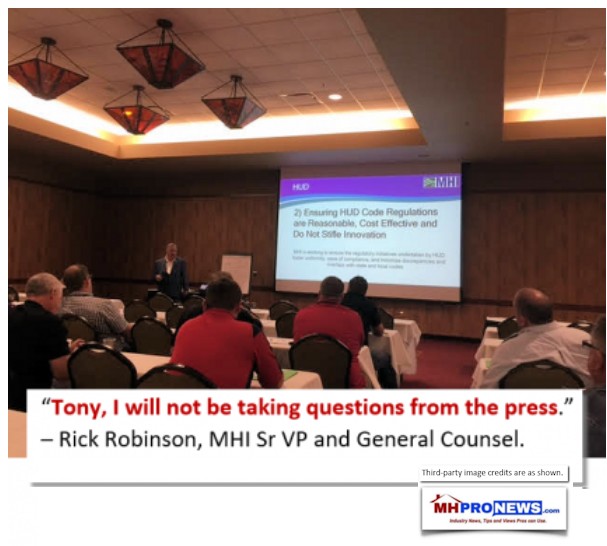 But Richard 'Dick' Jennison – president and CEO of the Manufactured Housing Institute (MHI) has himself said that the industry could be doing 500,000 new home shipments. Which begs the question, during an affordable housing crisis, after decades of positive, third-party research praising manufactured homes, why isn't the industry at record highs?
MHI CEO Dick Jennison's Pledge – 500,000 New Manufactured Home Shipments
But what is arguably the definitive report 'making the case' for behavior that violates antitrust laws is linked here. The Arlington, VA based Manufactured Housing Institute (MHI) is arguably not only 'failing' to be effective, but is arguably behaving in ways that de facto foster consolidation, which benefits Berkshire Hathaway and other 'big boy' companies.


The Seattle Times, MHProNews, and even Clayton Homes' local hometown media have each reported that federal investigators are digging into a variety of allegations involving manufactured housing brands connected to Warren Buffett led Berkshire Hathaway.
It should also be noted that each of the most recent MHI Chairman have been involved in some kind of scandalous allegations or legal issues.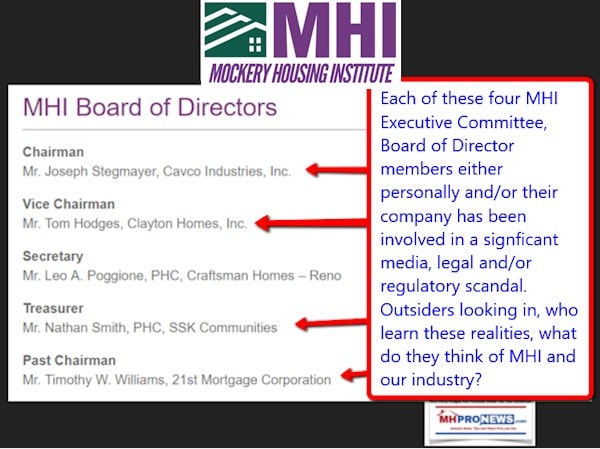 A report that covers some of the same issues in more depth is found in the report linked from the text-image box below.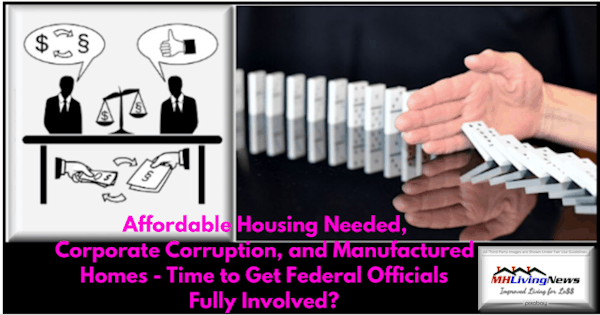 What thus far has been reported only by MHProNews and our sister site in trade or mainstream media are the dark money connections between Buffett's donations which flowed to nonprofit groups that in turn often attacked manufactured housing in some form or fashion.
Prosperity Now, Nonprofits Sustain John Oliver's "Mobile Homes" Video in Their Reports
Rephrased, Buffett and Berkshire money – directly and/or indirectly – has been on both sides of numerous battles in manufactured housing. The effect has been to cause a steady stream of consolidations.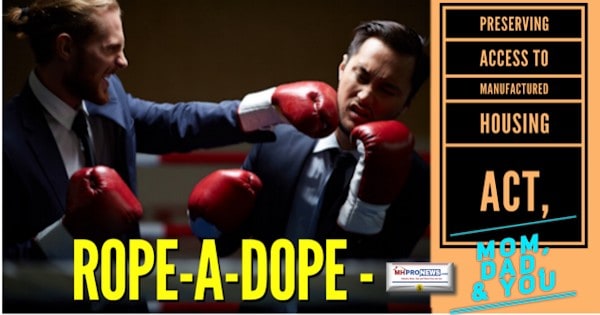 The result has been a severe contraction, outlined by the Atlantic, of the number of manufactured home independent businesses. While routinely those were 'small businesses,' they also included the fall of larger organizations, such as Fleetwood Retail during the timeframe since Buffett entered the industry. A number of independent producers of manufactured homes have been lost during those 15 years.
Summed up, what GuruFocus called the unethical strategic moat, and what the Nation called Warren Buffett's dirty secret, is arguably part of a larger scheme that has harmed access to affordable housing, by hobbling the manufactured home industry when it was most needed.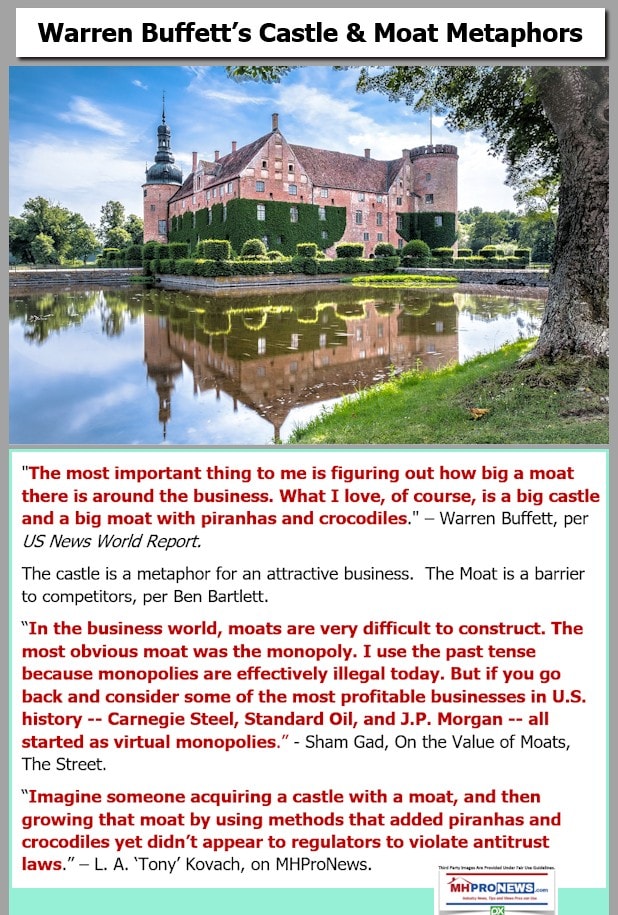 Solutions? Congress, States, Other Investigators
The breadth and number of allegations of wrongdoing, while not proof in an absolute legal sense, are certainly just cause for Congress, state, or other investigators to take up this issue in an investigation.
It would be profitable to the nation at large, and thousands of independent businesses to press for congressional hearings and investigations on this matter. By laying out in public the kinds of facts that HUD Secretary Carson, or reports like this one, has made about the proven value of manufactured homes, the stranglehold of Berkshire Hathaway could be broken.
Such a Congressional investigation can and should occur as a parallel to investigations by the Federal Trade Commission, the Federal Bureau of Investigation for possible violations of the RICO, the U.S. Postal Service for misuse of the mails, the Department of Justice, HUD, and other federal regulatory bodies.
As 2020 is on candidates' minds, the issues outlined – largely bipartisan or nonpartisan in nature – could be useful in scoring points with voters. That may be especially true for the roughly 111 million renters – per Apartment List – and the approximately 22 million Americans who live in mobiles built before June 15, 1976 and/or the manufactured homes made since.
But once owners of conventional housing and other businesses understand that the lack of affordable housing costs the nation an estimated $2 trillion dollars in lost gross domestic product (GDP) annually, per third-party research, the support for action to break up the monopolistic behavior of Berkshire Hathaway in manufactured home should grow among those too.
https://www.valuepenguin.com/home-insurance/fear-manufactured-homes-affordable-housing-crisis
See reports on that linked above and below.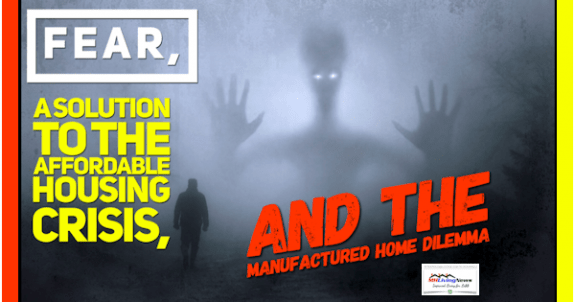 But the bottom line is that acting to stop market manipulation is the right thing to do. This has purportedly harmed thousands of independent businesses, and millions of our fellow Americans.
That's the snapshot of the true state of the manufactured home industry, and how federal and other legal action could take positive, economically beneficial steps to investigate, and then appropriately punish such arguably treacherous behavior.
That's this episode of "News through the lens of manufactured homes, and factory-built housing" © where "We Provide, You Decide." © ## (News, analysis, and commentary.)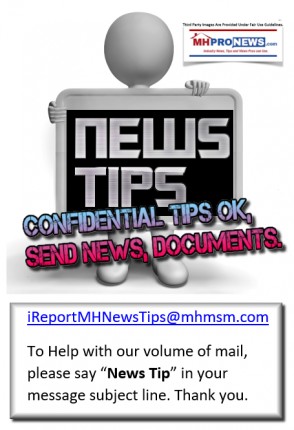 Your link to industry praise for our coverage, is found here.
For the examples of our kudos linked above…plus well over 1,000 positive, public comments, we say – "Thank You for your vote of confidence."
"We Provide, You Decide." © ## (News, analysis and commentary.)
(Image credits and information are as shown above, and when provided by third parties, are shared under fair use guidelines.)
Submitted by Soheyla Kovach to the Daily Business News for MHProNews.com.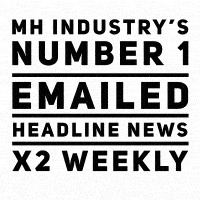 2) To pro-vide a News Tips and/or Commentary, click the link to the left. Please note if comments are on-or-off the record, thank you.
3) Marketing, Web, Video, Consulting, Recruiting and Training Re-sources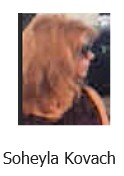 Submitted by Soheyla Kovach to the Daily Business News for MHProNews.com. Soheyla is a managing member of LifeStyle Factory Homes, LLC, the parent company to MHProNews, and MHLivingNews.com.
Related Reports

:
You can

click on the image/text boxes

to learn more about that topic.
The last decade-plus has not been especially kind to the manufactured housing industry and consumers of affordable housing. The 21 stCentury began with a great deal of promise for the industry and consumers alike.
;