Let's begin with a factoid from Zillow. Only eight percent – 8% – of housing shoppers consider a manufactured home. To the savvy marketer, investor, or other industry professionals — that is the challenge and the opportunity in disguise.
Turned on it's head, accepting Zillow's data means that 92 percent of the population isn't even thinking about living in a manufactured home. Stating the obvious can bring clarity. Keep in mind that every retail sale is a local sale. A home sold at retail is going to a specific home site, or into a specific lot, or to a specific piece of property or land-lease community.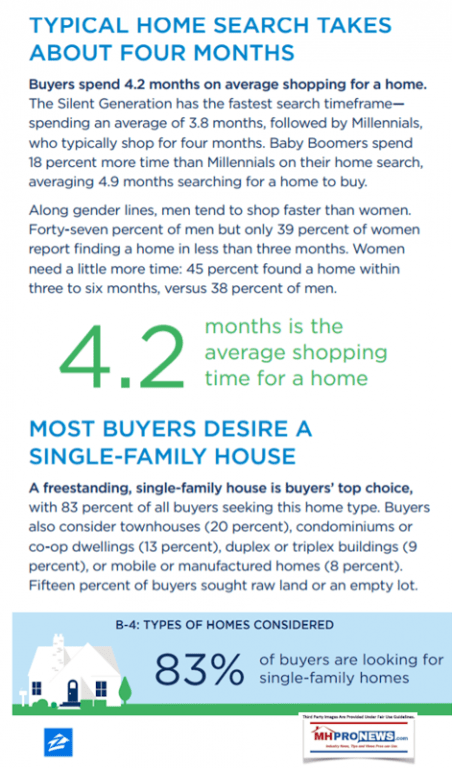 So, to increase sales, one doesn't have to convince the nation or the world that manufactured homes are better than is generally believed. Rather, what must be accomplished is convince more people in a specific market area that manufactured homes are the best kept secret in affordable housing.
Hold those thoughts.
At its core, the above is an educational process. But it is a specific kind of education that can very much relate to marketing and selling. Hold those thoughts too, because we will return to them soon.
Rephrased, Manufactured Homes are misunderstood. Marketers, sales professionals, brokers, managers, and business owners must grapple with that reality.
The reasons for the misunderstandings are relevant, but we will leap over that for now, and point to Lisa Tyler, Ph.D., and the thesis of her important doctoral dissertation, entitled "Examining Community Attitudes Toward Manufactured Housing."
For an article like this, one must drill down to core concepts. Let's zero in on this gem from Professor Tyler. "Despite evidence that disproved misconceptions…negative stereotypes continued to influence local governments to impose regulatory restrictions on this type of [manufactured, factory-built] housing."
Keep in mind that in order to obtain a Ph.D – the highest academic degree in her field – there are certain standards that must be met. Tyler had to go through peer reviewed examination, and the work she cited had to have occurred within five years of the time she produced her doctoral dissertation. That too had to be peer reviewed research.
Put differently, now Dr. Tyler wasn't just a giving a bunch of nice sounding opinions.
That's precisely what someone wants that is trying to debunk myths or mistaken notions. It is third party information that millions of Americans need to be exposed to, or in the case of most independent professionals, thousands of people in your market(s) have to be effectively exposed to a process that 'educates' them as part of engaging them.
Cui Bono? Who Benefits?
People benefit or not from information. People can also benefit or not from misinformation. As a top executive in manufactured housing told this writer, "I'm ready for infowars."
Beliefs don't exist in a vacuum. Beliefs are formed one story at a time, until a picture emerges in someone's mind. While some people have the background, training, or mental discipline to question commonly held thinking, not all do. That's not a slam on those who don't. Rather, that's yet another opportunity in disguise. What others in your area are unwilling to do – if you and your team do it – can honorably set you apart.
As an owner, manager, leasing, or sales professional, your primary concern is the reality of your business, and the market(s) your business serves. You want more of that 92 percent who don't think about manufactured homes to do exactly that, and to do that with you at your location(s).
Consider the following.
Your prospective customer, in order to complete a sale must meet a few conditions.
They have to have the economic and financial ability to buy.
They have to have the willingness to buy.
They have to be able to explain their purchase in a satisfactory way to their friends and neighbors.
There is more. But those are essentials. A Clayton Homes professional told MHProNews that cancellations of deals after they are started is a significant issue. Clayton isn't alone in that, "buyers remorse" happens to others too.
There are a variety of ways to summarize learning. My friend, author, and colleague Tim Connors, CSP, summed up sales and marketing education with these 4 phases.
Awareness.
Understanding.
Integration.
Mastery.
A front line sales person may be aware of some idea – this article, for instance – can be the start of awareness. But awareness of issues and opportunities without a deeper understanding, an integrated method for taking a shopper from skepticism to enthusiastic buyer, and that must be done enough to eventually master the method.
Is Connor alone in that thinking? Hardly.
Consider what Barry Noffsinger said to sum that up in the acronym, ADKAR.
Zig Ziglar believed something similar too. That's why he stressed that hearing something once was not enough. Ziglar believed that motivation and training had to be routinely done to be enduring.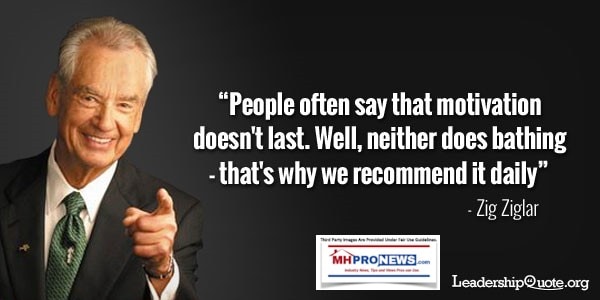 Repetitive inputs are critical.
Let's apply that to manufactured housing.
Intentionally or not, Americans are fed a steady diet of misinformation and terminology that is demeaning about manufactured homes. A certain level of correct information must be available for them. There must also be a logical way to disabuse a prospect from years of what amounts to negative programming.
Articles and videos can help with that, but one must also have a front line professional(s) that have been properly forged in the methods of walking a prospect from curiosity to completing a sale with a customer who is satisfied enough to tell their friends. Then that new home buyer must be able to defend their decision too.
Given the reality of all the negativity around manufactured homes, that being dealt with in the marketing and sales process is huge.
Third Party vs. Your Words
You saying something may or may not be believed. But some third party that doesn't benefit saying something is far more likely to be believed. That's why those who mistakenly think they can post an article on their own retail center, community, factory, or lenders' website is not likely to work with most people. That's like you telling them, and the seller is doubted by most prospects.
So there must be a third-party resource that has experts that compliments the work of a front line sales or leasing professional and their manager(s).
Then, that third-party resource ideally likewise must cite third-party experts, such as Dr. Lisa Tyler.
Manufactured Home Living News (MHLivingNews) is that third-party platform. Seeing the need, we began that project several years ago. There are few things more compelling than watching and listening to happy home owners, combined with the research that uses experts and evidence to debunk misconceptions. For example, Tyler's work – and that of numbers of others – can be access in the article linked below.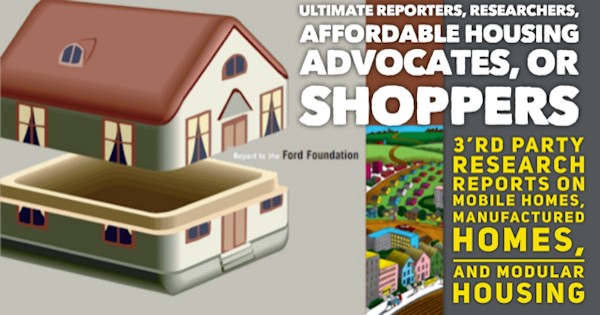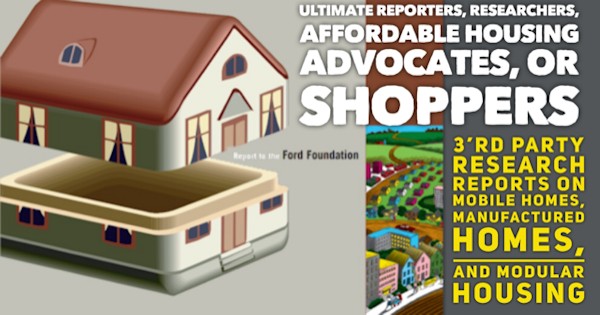 Let's use an analogy. There is positive and negative energy present in electricity. Without both positive and negative protons and electrons, there is no power. Our society has for some reason been conditioned to avoid whatever appears negative. Nonsense. Without embracing and dealing with both the positive and negative, there will only be very limited results. David Ogilvy was famous – as a marketer. Grasping nettles means you grasp the problems. Nettles sting, but they are also medicinal. It's a great metaphor for what our industry needs.
It seems controversial to some to question authority. Frankly, that's a traditional role of media, including good trade media. For example, Kim Komando has built a large audience of tech lovers, but she has at times taken on vexing topics like the dark sides of Facebook. Understood properly, that helps her credibility, it doesn't harm it. Our credibility has arguably been helped, not harmed, by taking on vexing issues inside manufactured housing. That doesn't mean that everyone likes every article or topic. Nor is that necessary. We make people think, which is the first step to problem solving and goal attainment.
Dr. Tyler didn't just write about manufactured homes. She owned one for several years. This I know, because she told me. Lisa was kind enough to mention me in her acknowledgements to her dissertation. While I encouraged her work, because it is important, she did the doing. She deserves the glory.
Dr. Tyler is one of several experts that have studied the subject of manufactured housing. She is pro-industry. Her research is useful. Which begs the question. Why is her work not mentioned on the Manufactured Housing Institute's (MHI) website?
Or why is Eric Belsky's work also missing from MHI's website? Recall that in years gone by, MHI quite correctly used to refer to then Harvard University's Joint Center for Housing Studies (JCHS) Belsky in their brochures and literature. If he was good enough before, why not now? Rephrased, Belsky was dropped by MHI. Why?
Scholastica 'Gay' Cororaton did perhaps the most useful third party research on manufactured housing in 2018. Cororaton works for the National Association of Realtors (NAR) as a Certified Business Economist (CBE). She's missing the morning from MHI's website too. Yet Cororaton cited not only myself in her first footnote, but also someone from MHI. It's not like MHI doesn't know about her.
Furthermore, each of these subjects have been brought to MHI's attention directly by me, and indirectly – per our sources – to others.
Last but not least today, there is HUD Secretary Carson, and prior HUD Secretary Julian Castro. Carson's speech to MHI is still missing from MHI's website, yet that was now three weeks ago.
There is no mention of this video, posted below, where Carson on a national business news channel raised manufactured housing's profile in a positive way. The interview begins with a discussion of 3D printed housing, but ends with favorable points about manufactured homes.
Nor is there any mention whatsoever of Julian Castro and his video. That's really odd, as it was an MHI vice president who provided that video to me in the first place.
Rephrased, MHI has the Castro video, because they arranged for it. Yet, it is missing from their own website?
Manufactured housing – as Dr. Carson (GOP) and 2020 presidential hopeful Julian Castro (D) both have said – is an important part of the solution to the affordable housing crisis. MHI knows that, so why have they failed to provide third party validation to their arguments for the industry?
Let's be clear. Staffs' jobs at a trade association are to carry out the board of directors instructions. At MHI that's the MHI Executive Committee.
These can't all be oversights, can they?
So whatever one might attribute as the motivation for these failures by MHI, the fact remains they are doing some things, that are clearly insufficient, or manufactured housing wouldn't be misunderstood, and new home shipments would not be sliding 7 straight months year-over-year during an affordable housing crisis. It is an apt example are what Mark Weiss, JD, President and CEO of the Manufactured Housing Association for Regulatory Reform (MHARR) called "The Illusion of Motion."
The Solution Begins at the Local Level
You and I can't fix MHI, nor do we need to do so. But we must grasp the reality of MHI, in order to advance in your local market(s) efforts.
When one grasps that the negative energy around manufactured housing often flows from 'big boy' MHI member companies, those who aren't black hat 'big boys' should differentiate themselves from the rest. You and your firm – to unlock your full potential – must be seen by the public as a white hat company in an industry that housing shoppers have been led to believe is led by black hat operations.
We know the importance of emotions, because we have them too. But the Creator gave us a mind to think with, not just emotions that if unchecked can carry us away, a bit like dead fish floating down stream.
The correct combination of mind-opening marketing, combined with front line sales professionals supported by management that grasps these realities can walk an individual prospect one step at a time from curiosity into happy home ownership.
That's best done one-on-one. By using a mind opening methodology, by teaching a staff to do the same, what you end up with is the widest array of prospects. As the sales team increasingly 'gets it,' they'll sell an ever greater percentage and total number of prospects.
This method is honest, not manipulative. The customer is respected, not tricked. At the end of the process, they are now 'in the know,' which makes then feel empowered not diminished. They become the opposite of what too many think of as 'trailer trash.'
This take effort, but it pays.
It is also something that requires nothing from the national association, or anyone other than you and your team's connecting with our existing and proven resources. Which brings us back to Dr. Tyler.
She aptly made the point that it was community attitudes that are where the issue lies. More fundamentally, it is with individuals, who in sufficient numbers influence or make up a community.
The positive, profitable change – once the dynamics are understood and navigated – can be addressed at the local level. That is where all sales take place. That's something you and your team can successfully accomplish in a profitable, honorable, and sustainable fashion. To learn more, click one of the tabs – or check out the Related Reports, below the byline and notices.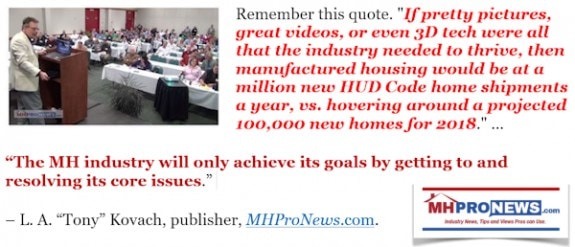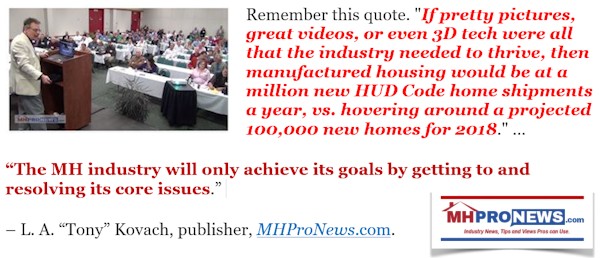 Denying reality may be a mild form of insanity. The opposite of that is to deal with what is real. That's this morning's manufactured housing "Industry News, Tips, and Views Pros Can Use," © where "We Provide, You Decide." © ## (News, analysis, and commentary.)
(See Related Reports, further below. Text/image boxes often are hot-linked to other reports that can be access by clicking on them. Third-party images and content are provided under fair use guidelines.)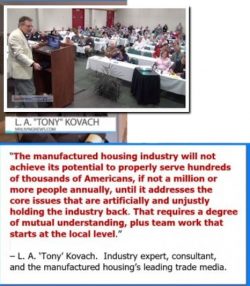 By L.A. "Tony" Kovach – for MHProNews.com.
Tony is the multiple award-winning managing member of LifeStyle Factory Homes, LLC, the parent company to MHProNews, and MHLivingNews.com.
Office 863-213-4090 |Connect on LinkedIn:
http://www.linkedin.com/in/latonykovach
Sign Up Today!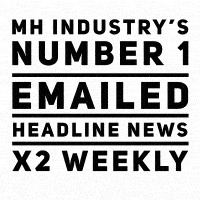 Click here to sign up in 5 seconds for the manufactured home industry's leading – and still growing – emailed headline news updates.
Related References:
The text/image boxes below are linked to other reports, which an be accessed by clicking on them.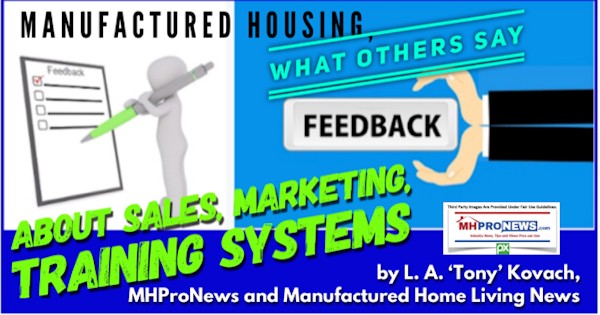 What is Marketing? What is Selling? Succeeding with Manufactured Homes in Your Local Marketplace(s)
For the next few minutes, imagine a hedge fund or deep pockets investor. In the following blend of the hypothetical mixed with numerous significant linked elements of evidence formed by reality, picture in your mind the following. Reflect on an outsider looking into why Warren Buffett – or other lesser known, yet successful investors …
Shocking, True State of the Manufactured Housing Industry, plus Solutions for Profitable, Sustainable Growth – May 2019
"Game On" – "Fighting Discriminatory Zoning" "Moral Obligation" Fix "Worsening Nightmare" – State Associations Entering Spotlight