Stating the Obvious can bring clarity to an issue.
Housing is one of the essentials of life. Those are often defined as: food, fluids, clothing, transportation, and shelter.
Notice that technology, toys for all ages, and entertainment aren't mentioned? Note too that social, spiritual, health, and political items aren't in that essentials of life list; but should be.
The first point is that housing in general – done properly – can be a fine field of endeavor to pursue.
To be successful at anything, someone ought to be aware of reality. Fantasies are fine in their place, and day dreaming can be useful, even in business. The Creator gave humanity the ability to imagine. As with any gift, that can be used properly, or it can be abused.
Noting that, many in housing become 'successful' to the extent that they pay their bills, have a good or even a great lifestyle. But ignoring realities or trends contributes to what later causes upheavals that can cause the once successful to suddenly find themselves doing without. That's been the case for literally thousands of manufactured home professionals in the last 15+ years. That's noted to express the following.
Reality can bite.
But reality can also pay handsomely.
Ignore reality at your peril, embrace reality and act upon it to your potential reward.
This trade media – MHProNews – is in its tenth year of business. Increasingly in recent years, we've dug beneath the surface stories, to pull back the veil on details that few dared do in our manufactured and modular home industry. That's useful because reality can bite, but it can also pay. Every crisis is routinely an opportunity in disguise.
To navigate reality, one must look at topics that are uncomfortable or even unpopular.
To truly understand the marketplace, it helps to grasp what impacts people's perceptions and moods.
The economy and economic drivers,
politics,
social trends (including spirituality, patriotism, etc.)
jobs, income (including retirement), employment,
investing,
local, national, global events,
public policies, including taxation, regulations, trade, immigration, land use,
there are a host of issues that one doesn't have to be expert in, but ought to be mildly or broadly familiar with.
Some of my colleagues in publishing, marketing, recruiting, sales training, or consulting avoid these topics. Why? Let's be charitable. They've said things like, 'I'm a merchant and not a crusader, and I want to do business with the maximum number of people. I don't care about social trends, ethnic groups, politics, religion, the latest fad, etc.'
It is frankly a common, and thus understandable perspective. Some of it may seem wise. For example, in housing, it would be illegal to discriminate based on any protected class. It would also be impractical to do so. We as trade media and consultants have professionally advocated for social justice, even for groups which may hold views that we may disagree with. There is a risk involved in violating the rights of a protected class. There are risks involved in any form of discrimination.
So, if someone walks into a retail or community business seeking housing, and they hold the polar opposite of my views on almost everything, does that mean I should not sell them or lease them a house? Of course not. As noted, that's risky and frankly not good business. But let's be clear. My – or any seller's – knowing something about a social or political trend makes it easier for me to do business with someone that has the opposite of my views.
Knowing is routinely an advantage.
So, our publishing on issues on MHProNews or MHLivingNews that others avoid – while it may be controversial – is healthy and useful to ALL of our readers, regardless of what background or beliefs they happen have.
In the video below, Lindsey Bostick says several things that are spot on. While the viewer doesn't know it without being told, we don't script these videos. When we first produced them years ago, we showed everything on MHLivingNews, glitches and all, to establish the credibility of that point. Why? Because people outside of our manufactured home industry largely don't trust our industry. That's a sad, but true reality that must be navigated.
Let's underscore that point. People outside of our industry largely don't trust manufactured housing, and largely don't believe in our products and services. The proof is in your face. Already low and declining shipments for the past 7 months are but two examples. All of this is relevant to sales and marketing.
Let's give some examples:
Are you in the land lease community business? A properly run property should be at 100 percent occupancy almost all the time and should have a waiting list.
Are you selling new manufactured homes at retail? There should be a strong, steady stream of well qualified prospects calling and walking into your place of business every day you are open. Your website should be busy with prospective shoppers considering housing in your market. Rephrased, if more people in your market understood manufactured housing's realities vs. what is commonly believed, you would be overrun with customers.
Are you selling or brokering pre-owned (in real estate lingo, 'existing') manufactured homes? The above bullets are true, depending on a market, perhaps more or less so, but the principle holds.
Are you a producer (a factory builder) of HUD Code manufactured homes and selling them wholesale to others? If you properly understand the federal law (the Manufactured Housing Improvement Act of 2000), grasp at least broadly the marketplace's dynamics, and you are giving your distributors (retailers, communities, developers) the information they need, you should always be at or near capacity, and working to bring more production centers online.
Keep in mind that when the National Association of Realtor's (NAR) Chief Economist Lawrence Yun, PhD said that the nation needed some 8.3 million housing units, that gap can only logically be closed by factory-builders. That's why the tech giants and other smart people are fawning over prefabricated housing. That's also why billionaires like Warren Buffett or Sam Zell – who politically are often quite different – are both strong believers in the manufactured housing industry. This industry is plain common sense. Which begs the question, why does it struggle in recent years? While relevant – we'll answer that question only in passing, further below, because that question of why manufactured housing is underperforming isn't the focus for this article. That noted, back to our bulleted list…
Are you in some facet of financial services? Lenders, insurance companies, ought to be doing land rush business with an every growing number of qualified customers. 8.3 million housing units, if only half of that need was going to be satisfied by selling a new HUD Code manufactured home (MH), then some 4.15 million housing units would be needed NOW. Keep in mind, people still have babies, people still pour across our borders, and new households are being formed. The housing demand is outstripping the supply. That's why housing prices are rising, said Lawrence Yun and HUD Secretary Ben Carson.
Suppliers, transporters, installers, service people of all types, brokers, attorneys, marketers, website builders, home furnishings, those installing or connecting utilities – everyone that is involved in those facets of or others in the MH industry could witness a growing demand IN THEIR LOCAL MARKET – given the proper marketing and sales approaches.
Investors who grasp the realities vs the illusions or delusions could also watch their investments soar. But it is all predicated on grasping reality, and dealing with it appropriately.
Among the comments and feedback that we get about our content – especially on MHProNews – is some variation on this. 'Why do you (MHProNews) bother to keep pointing out the misdeeds or manipulations of so-and-so, or that company, or association X? Simple. They are either part of the solution, or part of the problem. If a person or organization aren't getting to the industry's core issues – especially if they are publicly denying or deflecting from those core issues – then to some degree they are de facto part of the problem.
Someone who said for years that he considered me a friend, and I him, told me at the Tunica Show to my face with others around us that he took offense at the following published quote.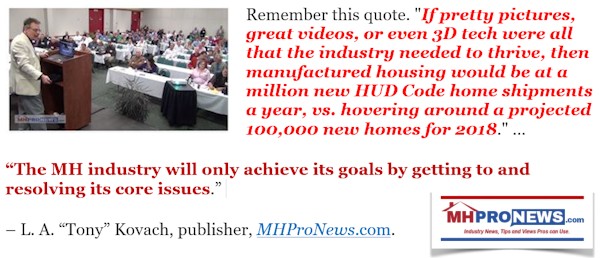 That person is a smart dude, talented, savvy. He thought that statement was a dig at him personally, because he uses those in his business. I explained, not at all. Rather, it is a statement of fact. If the shoe fits, someone can wear it or not, but the summary above — properly understood — makes it self-evident that the HUD Code manufactured home industry should be soaring, and not snoring.
It is inconceivable to the normal person that the industry is doing so poorly, compared to 20 years ago, unless something is wrong. In a certain sense, that is true. Something IS wrong. But it isn't the homes! Nor is it selling homes on a land-lease!
While 'market manipulation' and 'image' are issues, there is evidence that one can beat the odds at the local level. To do so requires a disciplined approach to sales training, and a unique form of marketing that compliments it. Some thing sales training should be a few hours, once a year, and you're done. Or some take one hour a week. But if it takes more to forge a carpenter, why would a savvy manufactured housing professional believe it doesn't take some serious time to train a good manufactured home sales agent too? Doing so routinely pass off with lower turn over, more sales, and more success. Training is a cost that when done properly, pays.
We have advantages that frankly none of our competitors in marketing or sales coaching have. This will sound like bragging, but it is common sense. We engage with the public routinely. We engage with investors, public officials, and perhaps most importantly, with people who are shopping for a home, or may someday be in the market, or who have a friend or family member shopping for a home. That means that we have a general pulse on the marketplace, grasping numerous national trends.
We don't claim to know every nuance in YOUR specific market. I don't keep track of the latest paperwork change, or some twist in how that screw anchor could better be installed. Nor is it necessary for me to do so. That's why every successful marketing and sales project that we do is ideally collaborative. Among what you bring to the table is knowledge of your market and business. You tell us what you are encountering. What we do – based upon decades of experience, in often challenging circumstances – is look at what's occurring, and we prescribe specific remedies and then market and train based upon those specifics.
While much is similar from coast-to-coast, there are clearly local nuances.
Years of front-line work, and decades of successful experiences are summed up in the report linked below.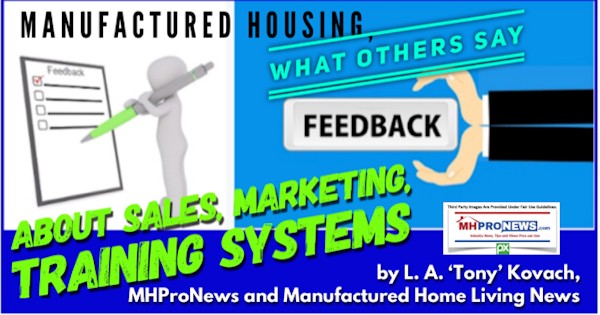 Success in any effort that involves more than one person demands team work.
Given the proper mutual commitments, often challenging circumstances in manufactured housing have been profitably reversed. There are scores of third-party endorsement on LinkedIn, in letters from clients, and third party evidence that prove it. Already successful operations have watched their results soar. Working with businesses to help them profitably grow are an element of what sparked out odyssey into publishing. The fact that thousands of industry professionals will read this post, and others here today, are a silent testimony that witnesses to Al Cole's quoted statement above. For those seeking growth, you've come to the right place. Those who've worked with us, know.
Frankly, there are people in our industry that think that marketing and sales are a form of manipulation. While that may be too common, that's not so. There are others who simply let customers wander around, and they don't do much to actively engage that customer in order to earn their business. Purported market manipulation aside, all success comes down to processes that can be readily duplicated. No one sells everybody. But if you can routinely engage a steady stream of often well qualified buyers who can write the check or get the financing, then the key elements of true marketing and sales are at play.
Those who've scouted us may not know about years not years of success in manufactured housing, or documented results in RVs, or trade shows, but also proven performance in the telecom business.
Years ago, we developed a marketing and sales process based upon research first established by giant AT&T. We adapted that successfully in a proprietary way to manufactured housing. We've used elements of concepts from several industries, in forging a marketing and sales system that attracts the more qualified customers in a strong, steady stream. So while others teach and preach items that get some success, our methods routinely result in a high level of client, sales professional, and management satisfaction.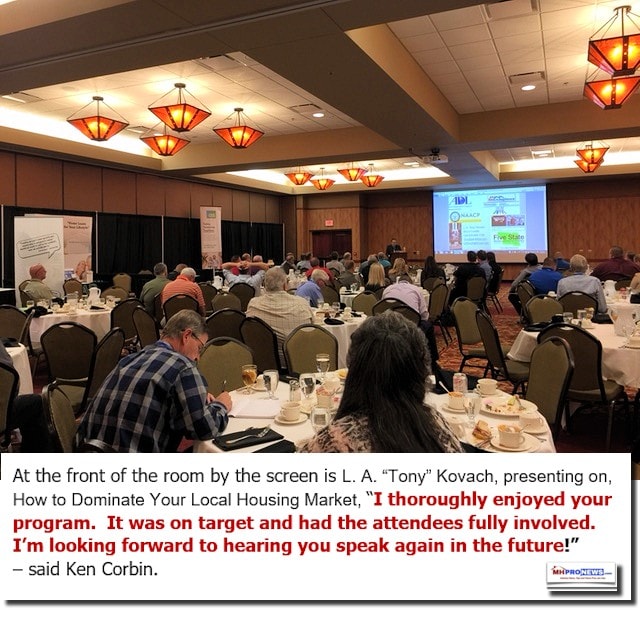 The biggest compliment we have, though, comes from those who opposes and slander us. Those that fear sustainable industry growth that can be achieved now at the local market level, they give us the backhand compliments that 'never quit' winners should cherish. We ask for the order, we follow up, we do the basics of good marketing and selling, but we do so in a unique and proven way that customers routinely find enjoyable. That's why referrals come in when those customers are properly dealt with, before, during, and after the sale is made.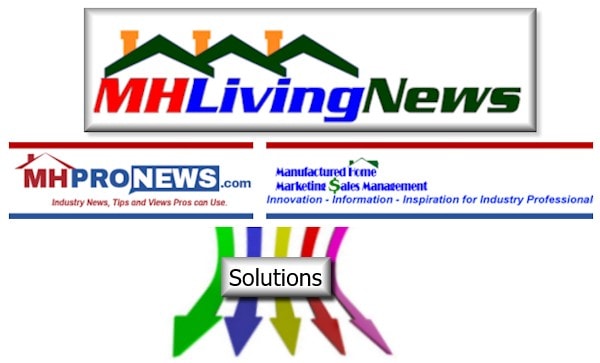 That's a plug, but its newsworthy in an industry that is struggling for traction. When only some 8 percent of housing shoppers, according to Zillow, considered a mobile or manufactured home, that's both a warning, but also an opportunity in disguise. If your marketing and sales method fails to take reality into account, it will easily be outperformed by a marketing and sales approach that considers reality, and deals with it as it is.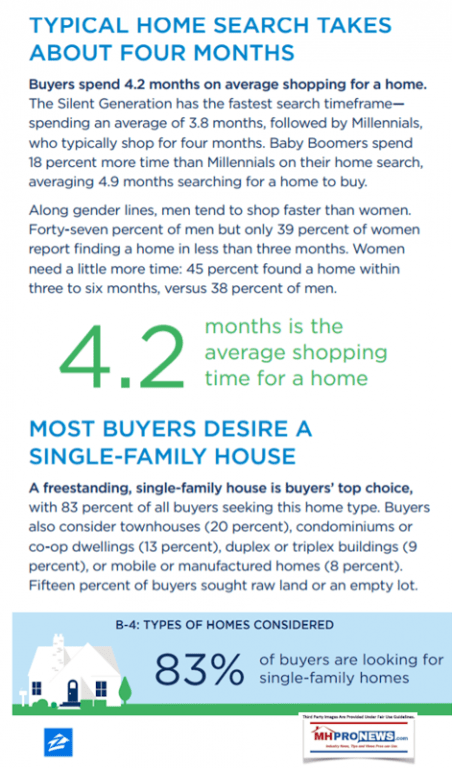 Housing is a necessity. Manufactured homes are more affordable. The industry is misunderstood. With a marketing and sales system that helps navigate those and other realities, success is routinely proven to be attainable. What we do requires ongoing discipline, because 'easy doesn't pay well.' Discipline, commitment, collaboration, and our proven methods are the elements for ethically dominating a local market.
So who else will you find with the same level of commitment, endorsements, and track record that we've got? This plug is the latest edition of manufactured home "Industry News, Tips, and Views Pros Can Use" © where "We Provide, You Decide." © ## (News, marketing, sales, commentary, and analysis.) ##
(See Related Reports, further below. Text/image boxes often are hot-linked to other reports that can be access by clicking on them. Third-party images and content are provided under fair use guidelines.)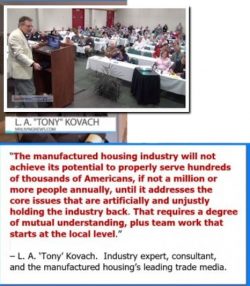 By L.A. "Tony" Kovach – for MHProNews.com.
Tony is the multiple award-winning managing member of LifeStyle Factory Homes, LLC, the parent company to MHProNews, and MHLivingNews.com.
Office 863-213-4090 |Connect on LinkedIn:
http://www.linkedin.com/in/latonykovach
Sign Up Today!
Click here to sign up in 5 seconds for the manufactured home industry's leading – and still growing – emailed headline news updates.
Related References:
The text/image boxes below are linked to other reports, which an be accessed by clicking on them.