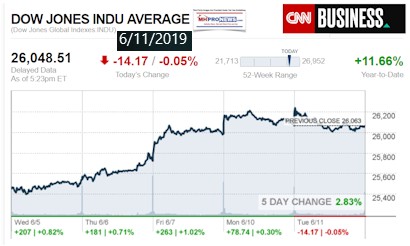 In a media release, the News Media Alliance published a study that examines 'Anti-Competitive Behavior' and what it costs their industry. This obliquely impacts every American, and in several ways touches upon issues that matter to the manufactured housing industry too. Testimony has taken place before Congress on this topic. Their executive summary as well as their full research results are part of this evening's report, along with our normal manufactured home industry connected stocks evening recap features.
Advertise with MHProNews to be seen
Let's get started…
If you're new, already hooked on our new spotlight feature – or are ready to get the MH professional fever – our headline report is found further below, after the newsmaker bullets and major indexes closing tickers.
The evolving Daily Business News market report sets the manufactured home industry's stocks in the broader context of the overall markets. Headlines – at home and abroad – often move the markets. So, this is an example of "News through the lens of manufactured homes, and factory-built housing." ©
Part of this unique evening feature provides headlines – from both sides of the left-right media divide – which saves busy readers time, while underscoring topics that may be moving investors, which in turn move the markets.
Readers say this is also a useful quick-review tool that saves researchers time in getting a handle of the manufactured housing industry, through the lens of publicly-traded stocks connected with the manufactured home industry.
This is an exclusive evening or nightly example of MH "Industry News, Tips and Views, Pros Can Use." © It is fascinating to see just how similar, and different, these two lists of headlines can be.
Want to know more about the left-right media divide from third party research? ICYMI – for those not familiar with the "Full Measure," 'left-center-right' media chart, please click here.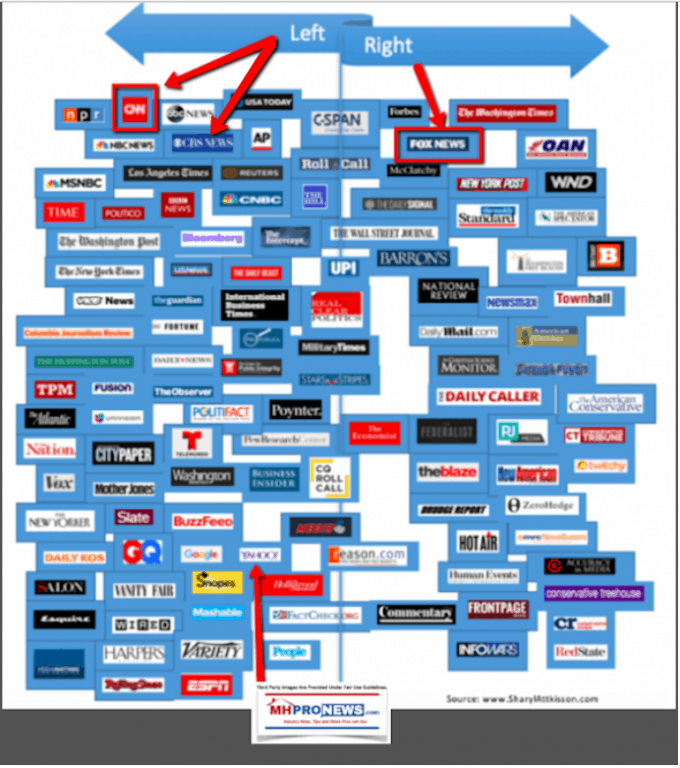 CNN Business
· No new orders for Boeing – the company hasn't sold a single aircraft for the second month in a row
· How much longer will the 737 Max be grounded? There's no end in sight
· Half of the world will have 5G coverage in five years
· LIVE UPDATES Dow snaps six-day winning streak
· Sprint and T-Mobile may face another legal challenge to merger
· Elon Musk will face Tesla's shareholders
· Beyond Meat's stock is up nearly 500%. That's too good to be true
· OPINION Trump's trade war is here to stay. Companies like mine will pay the price
· Disney doing what it does best with 'Frozen 2' trailer
· Birchbox thinks it found a niche: Burned-out Americans
· Prominent white supremacists still on YouTube after ban
· America's renewable energy capacity is now greater than coal
· Fly inside Uber's new taxi cabin
· Everything you need to see at Star Wars Galaxy's Edge
· This airless tire could eliminate flats
· Watch this robot clean skyscraper windows
· These are the unexpected winners of the grocery wars
· Half of us find our new home online. So why pay Realtors?
· Even CEOs can suffer from impostor syndrome
· College grads earn $30,000 a year more than people with just a high school degree
· This startup brings birth control to your doorstep, with or without insurance
· The real reason you aren't getting promoted at work
· Sequel to Zelda, Smash Bros. DLC characters and more revealed at E3 2019
· It's YouTube's time in the barrel
· Uber competitor launches in London (again)
· Viw on the German HQ of the online shopping giant Amazon in Munich
· Amazon shutters restaurant delivery service
· Meteorologist criticizes his TV station on air
· Infowars to pay Pepe the Frog creator $15,000 to settle copyright dispute
· Footage from Bryan Carmody surveillance footage shows San Francisco police officers raiding his home on May 10, 2019.
· San Francisco police seize equipment of freelance journalist who refused to identify a source
· Colbert: Trump is taking credit for deals already in place
· OperaVR sells virtual-reality headsets and and content to dentists that patients can use during visits.
· How VR is helping flyers and dental patients calm down
· Walmart turns to robots and apps in stores
· Toyota is using Microsoft's HoloLens to build cars faster
· Broadway ditches age-old processes to run shows with iPads
· Kevin Holesh works on the Moment app from his RV trailer.
· Meet the unlikely duo trying to save us from our screens
· TikTok is the latest social network sensation
· The CEO of this driverless car company still loves to drive
· Smart glasses for the hard of hearing are changing theater in London
Fox Business
· Amazon surpasses Google, Apple as world's most valuable brand
· WATCH: DOJ may approve T-Mobile, Sprint merger, says Charlie Gasparino
· Lawsuit aiming to block T-Mobile-Sprint merger filed by group of US state AGs
· US Congress members: A look at perks and pay
· From pension plans to parking perks, a look into lawmakers' work lives.
· What Trump's new ethanol rules mean for you
· Fired Google employee cries foul play in 'kangaroo court' investigation
· Lawsuit claims LaCroix planned to announce cans were BPA free when they weren't
· Starbucks to test reusable cups at London's Gatwick Airport as way to cut down on waste
· How Warriors star Kevin Durant's Achilles injury impacts his financial options
· Americans have critical misconceptions about mortgage requirements
· Dallas Cowboys owner Jerry Jones buys energy company for $2.2 billion
· New Jersey governor signs panic button bill to give hotel room cleaners 'security'
· Seniors more likely to work past 65 in these locations, survey says
· After AllianceBernstein, Amazon deals, is Nashville the country's new economic hotspot?
· 10 best US states to live in 2019, according to WalletHub
· Soccer star Lionel Messi tops Forbes' 'World's Highest-Paid Athletes' list
· IRS warns of impending higher tax penalty for late filers
· Uber helicopter rides in New York City are safe, air taxi boss says
· Lamborghini, Rolls-Royce and Aston Martin luxury car prices dropping significantly: report
· Trish Regan: Did the FBI possibly entrap a Trump campaign aide?
· Maria Bartiromo spoke with Carter Page on Sunday.
· Despite Brexit mess, Theresa May should be treated kindly by history
· Biden's, Warren's and Bloomberg's impossible (and expensive) green dreams
Today's markets and stocks snapshot, at the closing bell…

Today's MH Market Spotlight Report –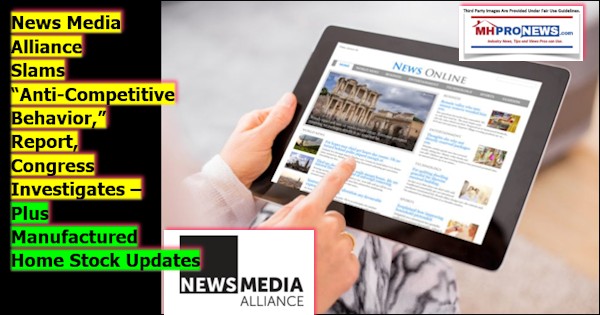 Before we tackle the News Media Alliance research, let's take a step back and look at this through the lens of manufactured housing.
Be it Google, Google News, YouTube, or various social media platforms such as Facebook, or other tech giants – Apple, Amazon, and Netflix – what people see is based in large part on ranking of stories.
The Fox News video of Steve Hilton with HUD Secretary Ben Carson, posted below, was published on YouTube on Apr 22, 2019, and as of 6.11.2019 at about 4:33 PM ET has had 31,669 views. But finding that needle in the billions of pages online is a matter of algorithms and various methods used by Google or others to 'rank' a page. By contrast, Last Week Tonight with John Oliver's viral hit, "Mobile Homes" has topped 6 million views.
In fairness and for balance, MHProNews and MHLivingNews routinely ranks well in a variety of Google searches.
Platforms stand between the public and news media, and thus act as "regulators" of everything about our business, said David Chavern, president and CEO of News Media Alliance to CBS news' morning show.
When big tech censors, or demonetizes a video, page or site, that impacts businesses and jobs.
While the claims of the News Media Alliance (NMA) have several possible applications to the manufactured housing industry, an oddity is that they are not asking Congress to regulate or break up big tech, as others have been calling for with increasing frequency.
Instead, what the NMA are asking for is a temporary exemption from antitrust laws, so they can better negotiate with big tech, and not be accused themselves of breaking antitrust laws.
That exemplifies the Gordian knot that exists. Especially independent journalists fear that they will be crushed, based upon current trends.
As Chavern said, the tech giants horde data, and decide what we see. When Google's Chrome browser began to block certain ads, that struck and scores of businesses revenue streams.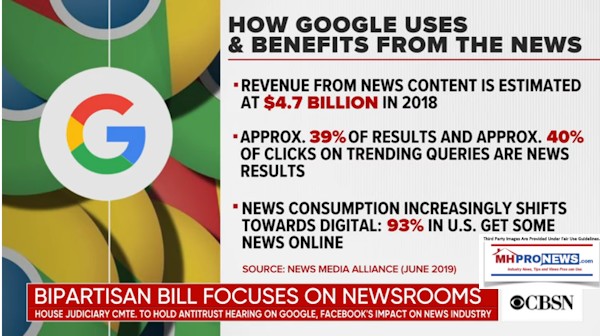 The executive summary of the findings of the NMA claim that Google alone made some $4.8 billion dollars from the current system in 2018, by their use of other organization's news content. Google called it a back of the envelope calculation, but NMA said that their outside research firm may have been low in their estimate. Google says the deliver 10 billion clicks globally to news sites, every month, per Fox News. One question that not many seem to be asking, is how many click are never made due to snapshots or previews of a news story? That's not easy to say.
Legal minds are telling MHProNews this move, while obviously not the strongest argument that the NMA could make, could have several implications for the manufactured home industry.
NMA's executive summary is linked here. Their full research is linked here as a download. CBS News noted that there appears to be strong bipartisan support for the NMA's request. Of course. It isn't asking for the tech giant's breakup.
As a disclosure, MHProNews and our general public focused sister site, MHLivingNews, are not members of the NMA.
Related Reports

:
U.S. Chamber hits POTUS on 'Weaponization of Tariffs,' POTUS Trump Hits Back, plus Manufactured Home Stock Updates
Borders, Tariffs, and Looming Antitrust – plus Manufactured Home Market Updates
Advertise with MHProNews to be seen
Big Tech, Big Brother, 1984, Manufactured Home Professionals, and You
George Orwell, All Issues Are Political Issues, Manufactured Housing Challenges, and You
Yahoo Finance Closing Ticker for MHProNews…
NOTE: The chart below includes the Canadian stock, ECN, which purchased Triad Financial Services.
NOTE: Drew changed its name and trading symbol at the end of 2016 to Lippert (LCII).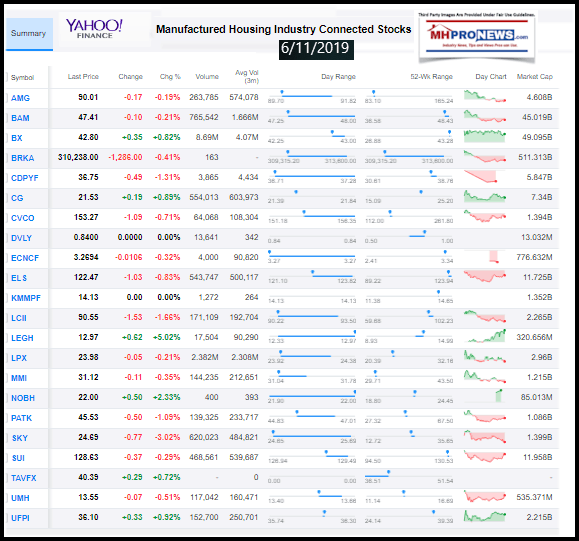 Updated:
Berkshire Hathaway is the parent company to Clayton Homes, 21st Mortgage, Vanderbilt Mortgage and other factory built housing industry suppliers.
LCI Industries, Patrick, UFPI, and LP all supply manufactured housing.
AMG, CG and TAVFX have investments in manufactured housing related businesses.
Your link to industry praise for our coverage, is found here.
For the examples of our kudos linked above…plus well over 1,000 positive, public comments, we say – "Thank You for your vote of confidence."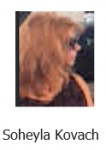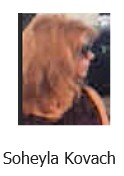 "We Provide, You Decide." © ## (News, analysis and commentary.)
(Image credits and information are as shown above, and when provided by third parties, are shared under fair use guidelines.)
Submitted by Soheyla Kovach to the Daily Business News for MHProNews.com.