On a day when the largely markets rose, an interesting item to look at tonight is a tie-in with the tariff controversy.  One will recall that Kevin Clayton decided to weigh in on the tariff issue, ICYMI, or need a refresher, see that linked here. On the same left-of-center business network, CNBC, we get some back and forth between the U.S. Chamber of Commerce, which is undermining confidence in the president's tariff strategy, vs. the 45th President of the United States (POTUS), Donald. J. Trump's, reactions to those comments on tariffs and trade.  That will be our focus report this evening.
If you're new, already hooked on our new spotlight feature – or are ready to get the MH professional fever – our headline report is found further below, after the newsmaker bullets and major indexes closing tickers.
The evolving Daily Business News market report sets the manufactured home industry's stocks in the broader context of the overall markets.  Headlines – at home and abroad – often move the markets.  So, this is an example of "News through the lens of manufactured homes, and factory-built housing." ©
Part of this unique evening feature provides headlines – from both sides of the left-right media divide – which saves busy readers time, while underscoring topics that may be moving investors, which in turn move the markets.
Readers say this is also a useful quick-review tool that saves researchers time in getting a handle of the manufactured housing industry, through the lens of publicly-traded stocks connected with the manufactured home industry.
This is an exclusive evening or nightly example of MH "Industry News, Tips and Views, Pros Can Use." © It is fascinating to see just how similar, and different, these two lists of headlines can be.
Want to know more about the left-right media divide from third party research?  ICYMI – for those not familiar with the "Full Measure," 'left-center-right' media chart, please click here.
Select bullets from CNN Money…
America's epic oil boom is just starting
The US will produce 13.4 million barrels daily by the end of 2019. Here's what that means for OPEC
The stock market is 'spoiled' by rate cuts
Target is sweetening its employee benefits to keep workers and attract new ones
LIVE UPDATES Dow logs gains for sixth day in a row
United Technologies and Raytheon are merging in an aerospace mega-deal
Club Med's Chinese owner wants to buy Thomas Cook
Corporate America's shrinking mountain of cash
America's most cash-rich companies
PERSPECTIVES Corporate debt is rising, but it's safer than it looks
HBO cancels 'Vice News Tonight,' severing relationship with Vice Media
Why CNN's Jim Acosta titled his new book 'The Enemy of the People'
John Oliver on the Equal Rights Amendment: Which state wants to make it happen?
Even CEOs can suffer from impostor syndrome
Burger King's Impossible Whopper arrives in San Francisco
The list of 180 companies that say restricting abortion is bad business
American's Boeing 737 Max fleet will stay idle longer than expected
Boeing says some of its 737 Max planes may have defective parts
737 Max crisis is a 'defining moment' for Boeing, CEO says
United Airlines will cancel more Boeing 737 Max flights
More bad news for Boeing
German discount grocery store Aldi moves into Walmart's backyard
How a cheap, brutally efficient grocery chain is upending America's supermarkets
Lidl will open 25 new US grocery stores over the next year
These are the unexpected winners of the grocery wars
Instacart wants to make grocery shopping effortless
Select Bullets from Fox Business…
Walmart vs. Amazon: Who is ahead in battle for retail dominance?
Bernie Sanders slams Amazon for perpetuating Seattle homelessness after killing 'head tax'
China imports slump most in nearly 3 years
WATCH: Helicopter pilot dead after chopper crash into New York City skyscraper
Famous New York City restaurateur says restaurant industry can't fill jobs
NBA Finals: Justin Trudeau, Nancy Pelosi place bet on Raptors-Warriors outcome
IRS warns taxpayers about new twists on scams
Wealthy millennials are leaving these states – and moving to these instead
Here's how much Pete Buttigieg, husband have in student loan debt
Trump tariffs encourage US companies to shift plans away from China
Target boosts paid family leave, child care benefits in tough labor market
Beverly Hills Mayor explains the real reason for banning all tobacco sales
Ford's new police Explorer aimed to dominate law enforcement
Rare 'Murderers' Row' era Babe Ruth jersey can set record on auction block
5 retirement mistakes you are likely making
Trump on United Technologies-Raytheon merger: 'I'm a little concerned'
This company is offering $1,000 to someone willing to give up their smartphone and use a flip phone
'Jeopardy!' champ Ken Jennings: James Holzhauer is the most phenomenal thing ever seen
Salesforce to purchase Tableau Software in $15.7 billion deal
Markets cheer US-Mexico deal, but it's not over until it is
Despite Brexit mess, Theresa May should be treated kindly by history
Biden's, Warren's and Bloomberg's impossible (and expensive) green dreams
Beverly Hills to ban sale of most tobacco products by 2021
Markets eyeing G20 more than the Fed: strategist
Undocumented immigrants to receive health benefits in California
Today's markets and stocks, at the closing bell…

Today's Big Movers
For all the scores and highlights on tracked manufactured home connected stocks today, see the Bloomberg graphic, posted below.
Today's MH Market Spotlight Report –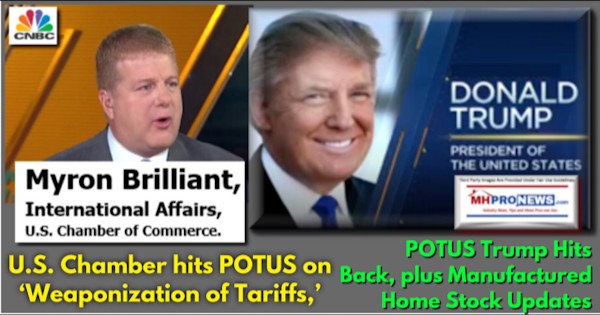 Let's be clear.  Big business has literally sold out millions of formerly American jobs on the alter of their interests in other countries. That has occurred under both Democratic and Republican administrations, so it isn't a partisan statement.
Certainly, within the bounds of the law, it may be legal to do what they've done.  That's not the question.  The issue, instead, is has it been good or bad for America?  Has it cost our federal government untold billions, in the form of both more domestic public assistance programs, and in terms of higher defense costs to defend against the growing economic/military/cyber clout of nations American dollars have enriched?
What some have deemed 'the swamp' ought not to be construed as meaning only Washington, D.C. or national politics. There is swamp-like thinking that has and continues to occurr in business, among nonprofits, and certainly in politics too.  Indeed, for truly expert power players who work 'the system,' they may mix in media and fund subtle cultural levers, plus the others just noted, into what they see as their advantages in separating people from their money or opportunities.
While the U.S. Chamber has been thought of as a right-of-center resource, that has changed somewhat in more recent years.  But regardless of party, there may be no better time than the present to head of what could be seen as the larges geo-political-economic threat to the U.S. The president is to be applauded for this efforts, which have proven fruitful with Mexico. 
China is far more powerful than our southern neighbors. There is certainly the potential that the tariff-turmoil could continue for months or years.
National and economic security go hand in hand.  Furthermore, these are issues that the president campaigned upon, and therefore should be of no surprise to anyone.
It was an entirely false notion to think that the U.S. could have a 'serve economy.'  Production is where the money and value tend to be over service work.  Be it products or food, being the producer is more secure than being the beholden buyer.
With that backdrop, two videos for each side of the issue tonight.
·        President Trump's tariff strategy "creates uncertainty with our trading partners," says a top official at the world's largest business lobbying group.
·        Myron Brilliant, head of international affairs at the U.S. Chamber of Commerce, contends that tariffs are the wrong approach with China and Mexico.
·        Reacting to Brillant's interview, Trump calls in to CNBC to argue his case for why tariffs are effective. He also blasts the Chamber of Commerce.
There is doubtlessly short-term pain for numbers from the tariff to correct trade imbalances strategy. That noted, there is more long-term pain for not taking the necessary measures now.
Related Reports:
U.S.-Mexico, Tariffs, and Border Crisis Talks, plus Manufactured Home Stock Updates
Borders, Tariffs, and Looming Antitrust – plus Manufactured Home Market Updates
Yahoo Finance Closing Ticker for MHProNews…
NOTE: The chart below includes the Canadian stock, ECN, which purchased Triad Financial Services.
NOTE: The chart below covers a number of stocks NOT reflected in the Yahoo MHCV, shown above.
NOTE: Drew changed its name and trading symbol at the end of 2016 to Lippert (LCII).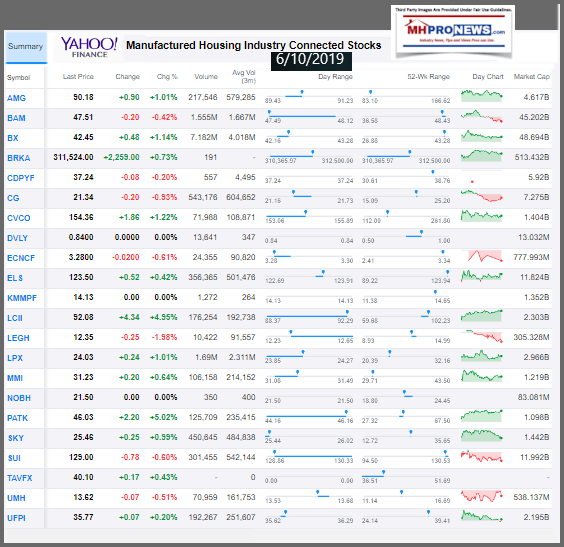 Berkshire Hathaway is the parent company to Clayton Homes, 21st Mortgage, Vanderbilt Mortgage and other factory built housing industry suppliers.
LCI Industries, Patrick, UFPI and LP all supply manufactured housing.
AMG, CG and TAVFX have investments in manufactured housing related businesses.
Your link to industry praise for our coverage, is found here.
For the examples of our kudos linked above…plus well over 1,000 positive, public comments, we say – "Thank You for your vote of confidence."
"We Provide, You Decide." © ## (News, analysis and commentary.)
(Image credits and information are as shown above, and when provided by third parties, are shared under fair use guidelines.)
Submitted by Soheyla Kovach to the Daily Business News for MHProNews.com.