Zacks Equity Research latest on Legacy Housing Corporation (LEGH) via Yahoo Finance reported that the firm has hit a 52-week high and is up sharply for the month. Zacks' reports states that it considers Legacy Housing "a buy." They explain why it is "a buy," listing pros and cons applying their own ratings methods along with common metrics utilized by other financial analysis reporting on publicly traded stocks. But their 4.2.2021 report arguably missed some key items in understanding the rising Legacy manufactured housing firm specifically and the issues in the manufactured housing sector in general. Those misses by Zacks included significant statements made by Legacy's leadership that ought to be part of any serious stock analyst's reporting. In fairness to Zacks, such missed context and details are routinely missing not only by their firm but by other financial analyst services that pay attention to manufactured housing.
In short, what was said by Zacks about Legacy was significant, but what they missed may well be more important.
This MHProNews news report and analysis will follow the following format.
It will provide the Zacks snapshot as reported by Yahoo Finance.
MHProNews will provide a data snapshot not provided in the Zacks/Yahoo report.
It will outline specific items missed by Zacks that are commonly overlooked, misunderstood, or otherwise misreported by them and other such 'stock ratings and financial analysis' firms.
With that format in mind, let's start this MHProNews fact check and analysis with what Zacks said.
Zacks on Legacy Housing Corp (LEGH)
Legacy Housing (LEGH) Hits 52-Week High, Can the Run Continue?
Zacks Equity Research
Fri, April 2, 2021, 9:15 AM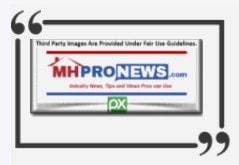 Have you been paying attention to shares of Legacy Housing (LEGH)? Shares have been on the move with the stock up 20.4% over the past month. The stock hit a new 52-week high of $18.8 in the previous session. Legacy Housing has gained 23.6% since the start of the year compared to the 12.3% move for the Zacks Finance sector and the 8.8% return for the Zacks Real Estate – Operations industry.
What's Driving the Outperformance?
The stock has an impressive record of positive earnings surprises, as it hasn't missed our earnings consensus estimate in any of the last four quarters. In its last earnings report on March 16, 2021, Legacy Housing reported EPS of $0.44 versus consensus estimate of $0.32 while it beat the consensus revenue estimate by 6.02% share on $195.99 million in revenues. This represents a 14.86% change in EPS on a 10.9% change in revenues. For the next fiscal year, the company is expected to earn $1.83 per share on $206.79 million in revenues. This represents a year-over-year change of 7.65% and 5.51%, respectively.
Valuation Metrics
Legacy Housing may be at a 52-week high right now, but what might the future hold for the stock? A key aspect of this question is taking a look at valuation metrics in order to determine if the company is due for a pullback from this level.
On this front, we can look at the Zacks Style Scores, as they provide investors with an additional way to sort through stocks (beyond looking at the Zacks Rank of a security). These styles are represented by grades running from A to F in the categories of Value, Growth, and Momentum, while there is a combined VGM Score as well. Investors should consider the style scores a valuable tool that can help you to pick the most appropriate Zacks Rank stocks based on their individual investment style.
Legacy Housing has a Value Score of C. The stock's Growth and Momentum Scores are B and C, respectively, giving the company a VGM Score of B.
In terms of its value breakdown, the stock currently trades at 11X current fiscal year EPS estimates. On a trailing cash flow basis, the stock currently trades at 12.3X versus its peer group's average of 12.8X. This isn't enough to put the company in the top echelon of all stocks we cover from a value perspective.
Zacks Rank
We also need to consider the stock's Zacks Rank, as this supersedes any trend on the style score front. Fortunately, Legacy Housing currently has a Zacks Rank of #2 (Buy) thanks to rising earnings estimates.
Since we recommend that investors select stocks carrying Zacks Rank of 1 (Strong Buy) or 2 (Buy) and Style Scores of A or B, it looks as if Legacy Housing fits the bill. Thus, it seems as though Legacy Housing shares could have a bit more room to run in the near term.
How Does Legacy Housing Stack Up to the Competition?
Shares of Legacy Housing have been moving higher, and the company still appears to be a decent choice, but what about the rest of the industry? Some of its industry peers are also solid potential picks, including CBRE Group (CBRE), Colliers International Group (CIGI), and FirstService (FSV), all of which currently have a Zacks Rank of at least #2 and a VGM Score of at least B, making them well-rounded choices.
However, it is worth noting that the Zacks Industry Rank for this group is in the bottom half of the ranking, so it isn't all good news for Legacy Housing. Still, the fundamentals for Legacy Housing are promising, and it still has potential despite being at a 52-week high. ##
2) Year Snapshot of Legacy Housing Corp (LEGH) at close of trading on 4.1.2021.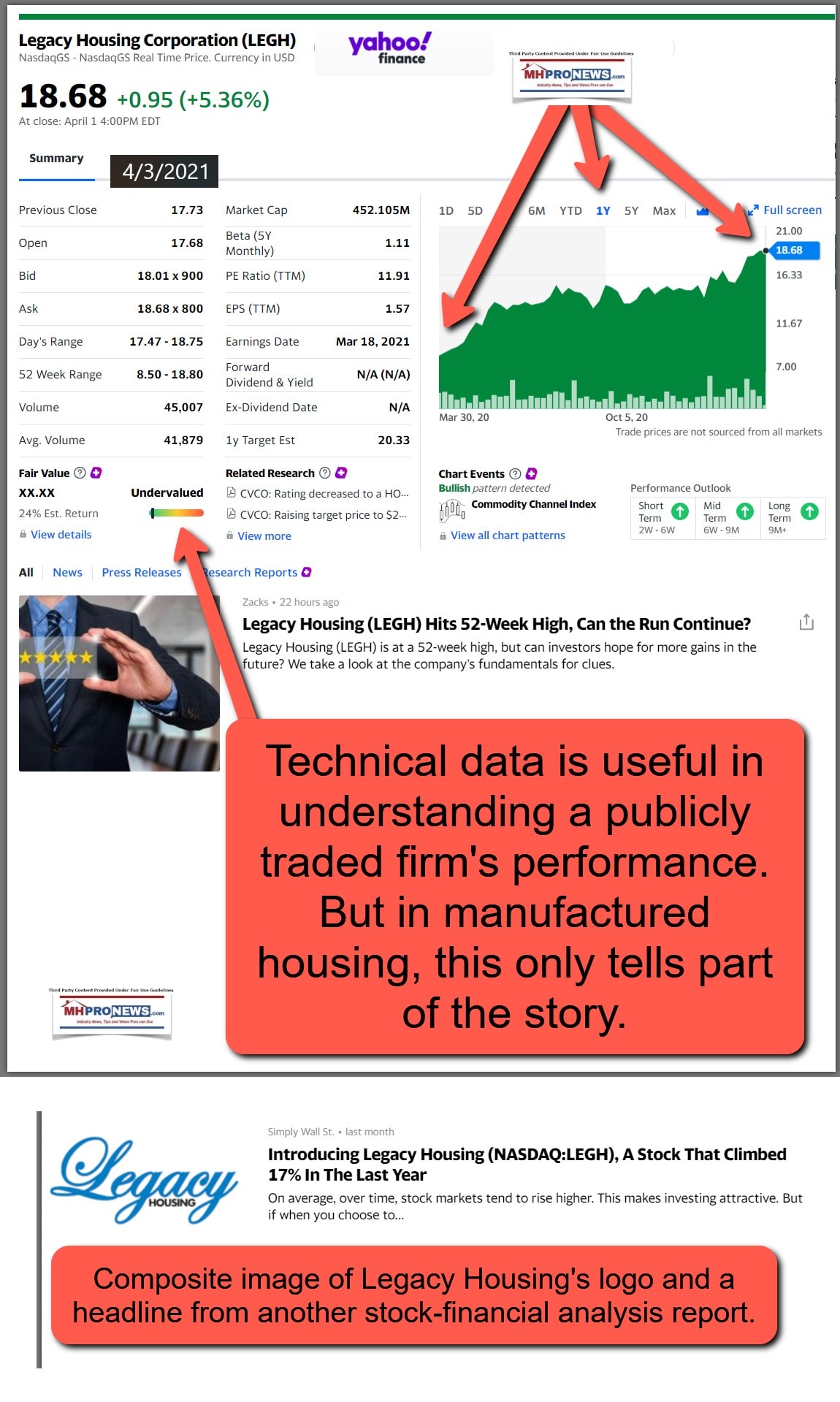 3) What Zacks Missed in their 4.2.2021 report
Why Zacks would compare Legacy Housing to "CBRE Group (CBRE), Colliers International Group (CIGI), and FirstService (FSV)" is difficult to imagine — or even bizarre. They are apples and oranges in their business operations. It is almost as if an AI type machine generated report spit that 'comparisons' out.
Beyond that, and in no particular order of importance, are the following additional points to ponder.
3a) It is not uncommon for financial analysts to note the degree of alignment between top management in their own stock vs. the total shares outstanding. There is perhaps no other publicly traded firm in manufactured housing that rivals Legacy Housing in that category. Stating the obvious, that high degree of management shares in Legacy can often be an indication of the motivation to perform by management vs. posturing the posturing that routinely occurs among other public firms for the normal quarterly or other stock reporting.
For instance. Simply Wall Street reported on January 25, 2021: "Legacy Housing is not owned by hedge funds. Our data suggests that Curtis Hodgson, who is also the company's Top Key Executive, holds the most number of shares at 28%. When an insider holds a sizeable amount of a company's stock, investors consider it as a positive sign because it suggests that insiders are willing to have their wealth tied up in the future of the company. Meanwhile, the second and third largest shareholders, hold 13% and 13%, of the shares outstanding, respectively. Interestingly, the third-largest shareholder, Kenneth Shipley is also a Member of the Board of Directors, again, indicating strong insider ownership amongst the company's top shareholders.
After doing some more digging, we found that the top 3 shareholders collectively control more than half of the company's shares, implying that they have considerable power to influence the company's decisions." That is significant and it is arguably a miss by Zacks.
3b) Legacy's Executive Chairman Curt Hodgson has essentially slammed his own industry, in his own words, and in several of his public statements. Grasping the meaning and nuances behind each of those statements should be significant to any serious investor, as well as to analysts, manufactured home industry professionals, regulators, and other elected public officials.
Why is it that Zacks and so many others who perform a similar service fail to seriously examine those statements?
And then why do they fail to pull back the veil on those indicators from senior management?
Yes, Earnings Per Share (EPS), trading multiples, Value, Growth, and Momentum scoring (VGM), and other similar data are useful. But as just one thought among many that will impact investors is this.
What will occur for manufactured housing production firms when existing land-lease communities essentially hit capacity and zoning/placement issues – if not solved – become an ever more serious barrier to doing more business?
With those thoughts, the following examples of quotes from Hodgson are from remarks he has made during various earnings calls.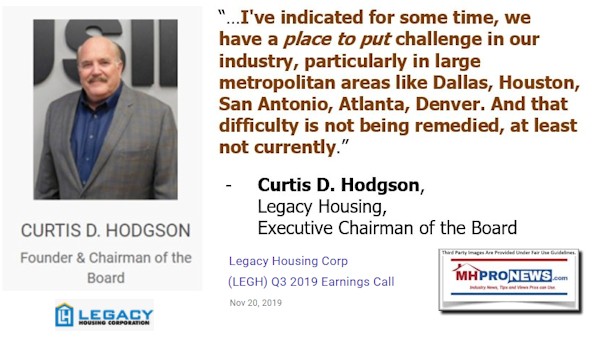 Without grasping the import of those remarks in the context of very favorable laws in manufactured housing that are demonstrably not being properly implemented, it is difficult to see how data from Zacks or others alone will shed light on the future prospect of Legacy — or any other publicly-traded company in manufactured housing production.
Each of the following quotes shed light on two of the most critical issues that face our industry. Zoning/placement (see Hodgson's comments above), and financing for manufactured homes. Noting those two is not to ignore other issues, such as image and marketing. That said, Legacy has been navigating those two issues of zoning/placement and financing to a significant degree solo. The reasons they were arguably pushed into doing so is spotlighting by factors that Doug Ryan/Prosperity Now raised among the quotes from several manufactured housing professional sources that are shown below.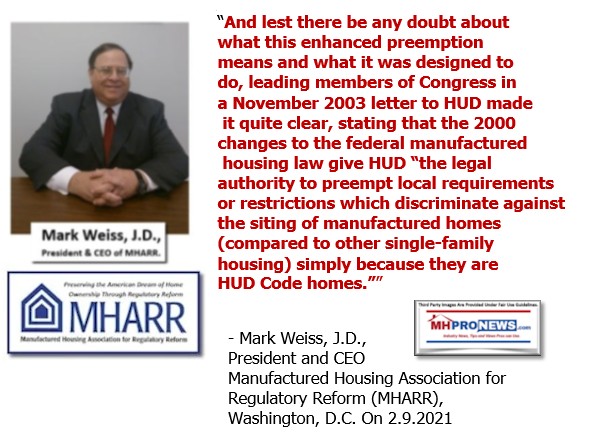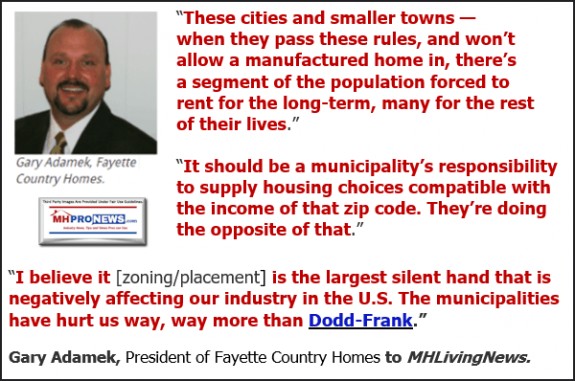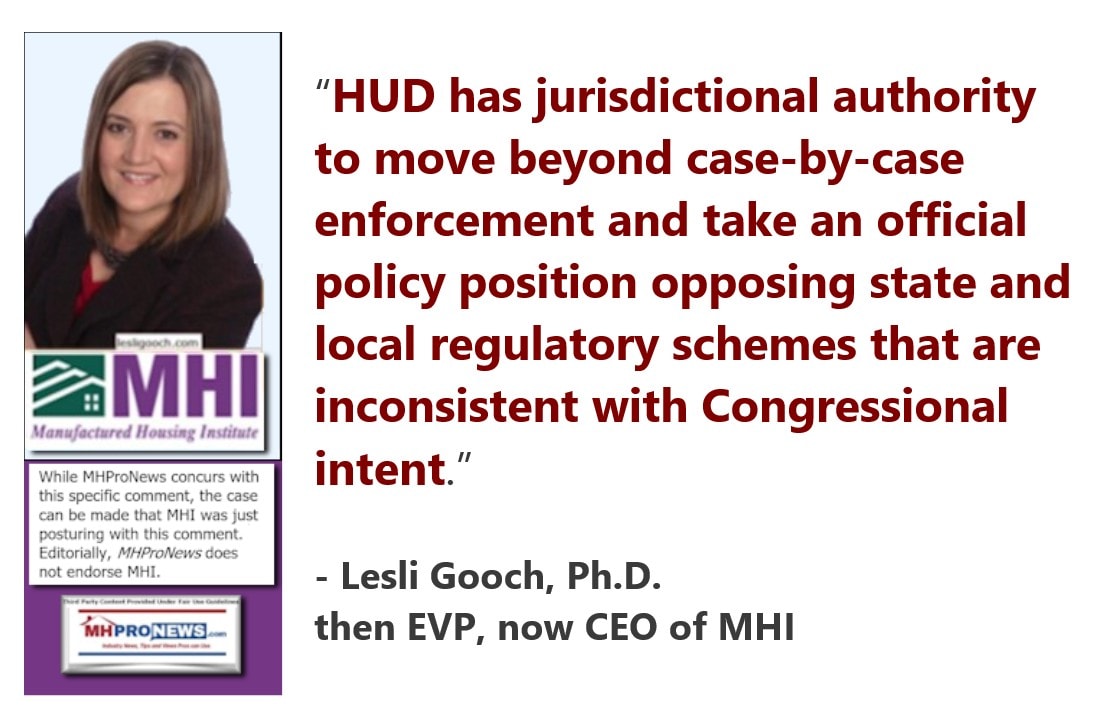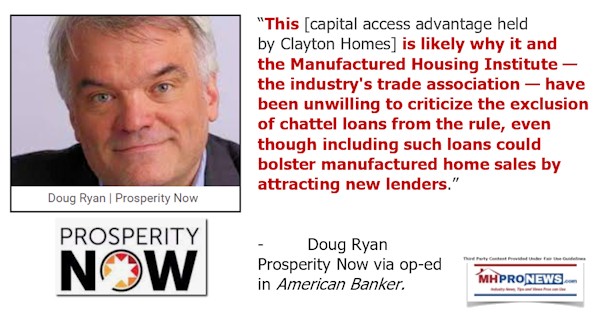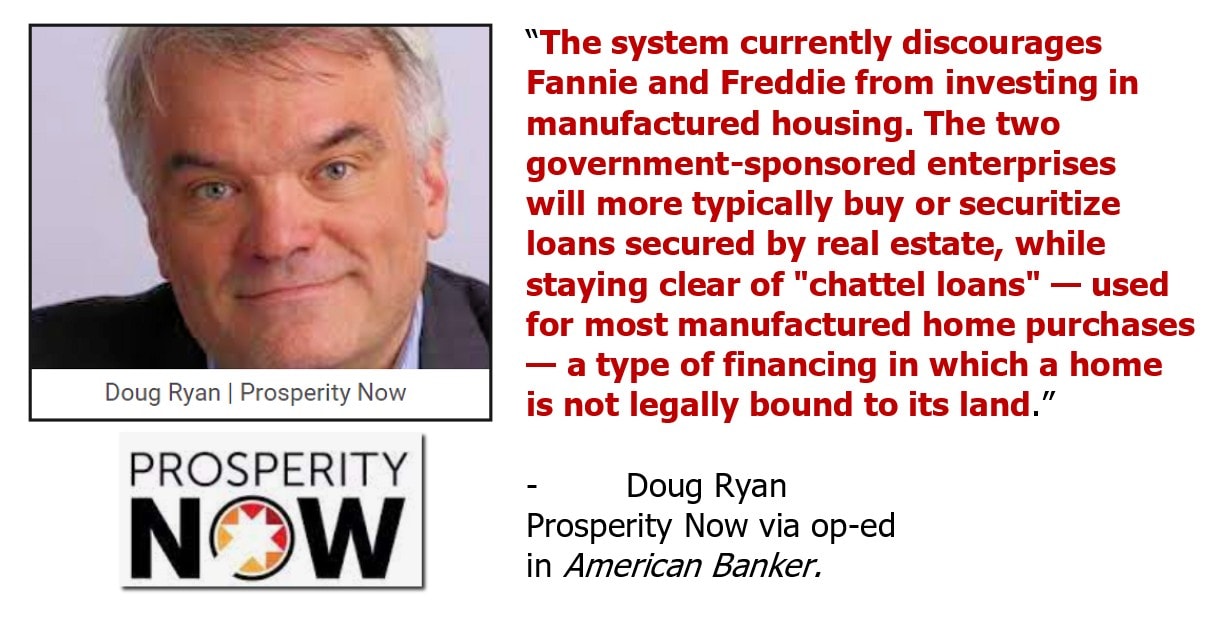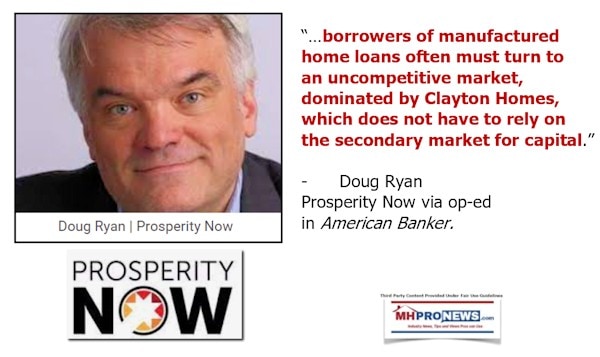 When reams of third-party research sheds light on our industry in largely positive ways that suggest that manufactured home sales ought to be performing at far higher levels than it currently is – and industry data makes clear that the manufactured housing is underperforming – Zacks and others who do similar reports are either:
oblivious to these matters,
or they are turning a blind eye,
and/or something else driving them and their peers lack of intellectual curiosity.
Existing resales are so hot, and conventional housing is too. Yet manufactured housing is underperforming and sliding backward?
It is stunning to see an 'equities research and reporting firm' – Zacks or others – that fails to at least mention these factors.
That should begin with a simple question. Why is the most proven permanent form of affordable housing in the U.S. doing poorly during a red-hot real estate market in an affordable housing crisis?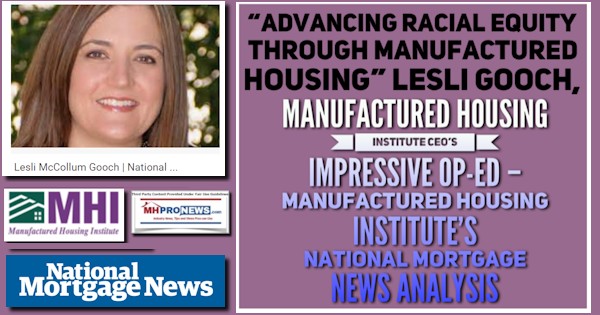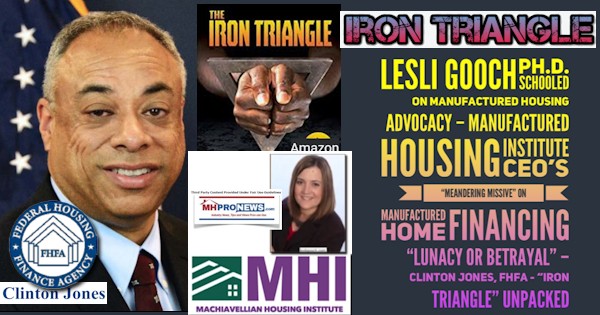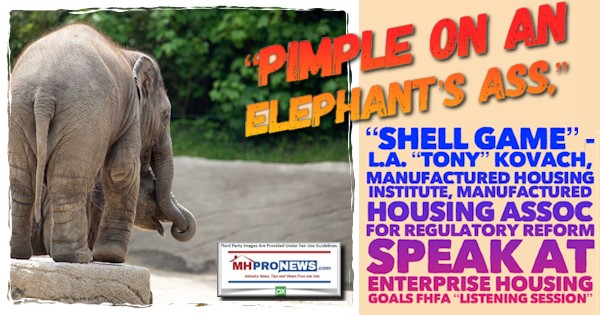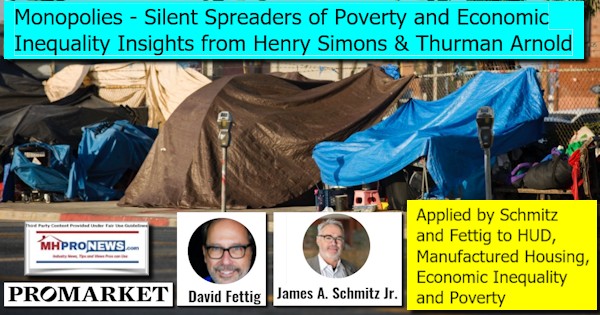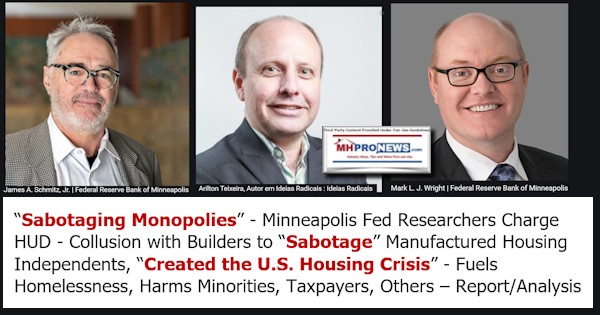 3c) When a crisis hits, how has corporate management responded? Zacks missed this metric completely. Not to be indelicate, but about a year ago, Legacy was among the firms that drew top national news for a period of time. It was all wrapped around their handling of the SBA Paycheck Protection Program (PPP) loan plan.

Our MHProNews wrap up report on that topic includes links to prior reports on the same topic. In fact, MHProNews covered details that no one in mainstream media, much less our industry's trade media covered.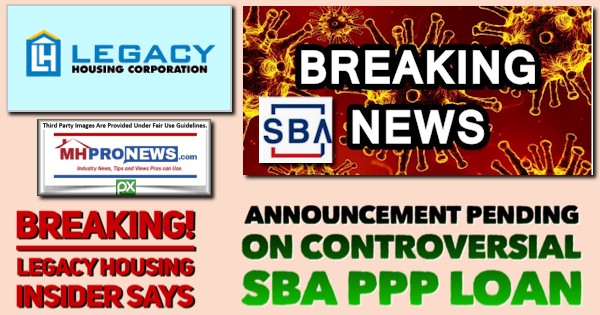 That drama was reported by MHProNews during and after the wind up and its aftermath. It is quite obvious that some publicly traded firms claim or posture transparency. Arguably that fits the Manufactured Housing Institute (MHI) too.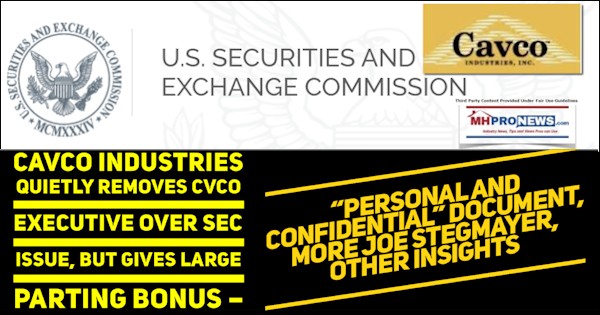 By contrast, Legacy's leadership may not have liked our reporting and initial coverage, but they nevertheless stayed engaged with MHProNews. That is demonstrated by their management routinely responding to our inquiries about allegations, and then giving MHProNews a scoop over their statement released to the New York Times.
Can MHI make such a claim and then back it up with tangible evidence?
Or can Clayton Homes (BRK), Cavco Industries (CVCO) or others make such a claim?
The point is not to make Legacy or their leadership out to be perfect. They are not. But Legacy's leaders are credited by rivals who tell MHProNews that no one works harder than they do to makes sales. Legacy before and since that PPP drama has routinely been willing to respond when MHProNews makes an inquiry. Meanwhile, several others in our profession have ducked and dodged for years once the heat one them rose.
As a related segue, shame on others in our profession who claim to be authentic trade media but dodged that drama and others like it in manufactured housing and have done so for years. At least to Kurt Kelley's credit, he admits they are not covering such news and controversies. Not so the others, who make periodically big claims but will not back it up.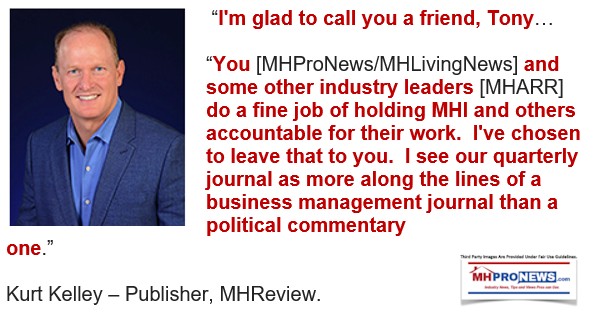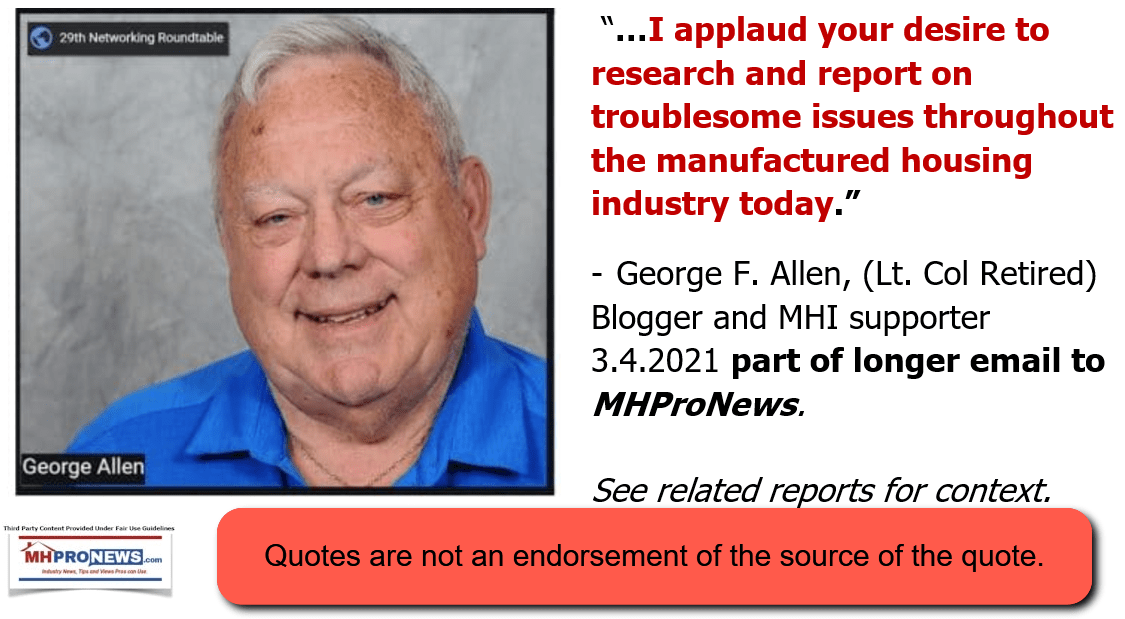 It only demonstrates that bloggers and slick looking trade publishers in manufactured housing are in the cheap gratification or eye candy business. Several are akin to professional prostitutes for those willing to pay for a service. To the degree that some people are forced into prostitution, a real prostitute merits more sympathy than wanna-be prostituting blogger/publication rivals that arguably cover up the truth, seek to distract from it, or peddle eye candy rather than seriously report news or provide analysis that explains manufactured housing's two decades of underperformance in a meaningful and evidenced-based manner.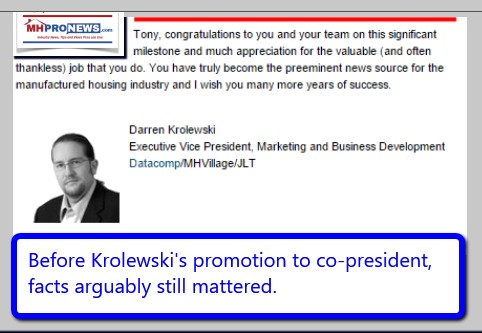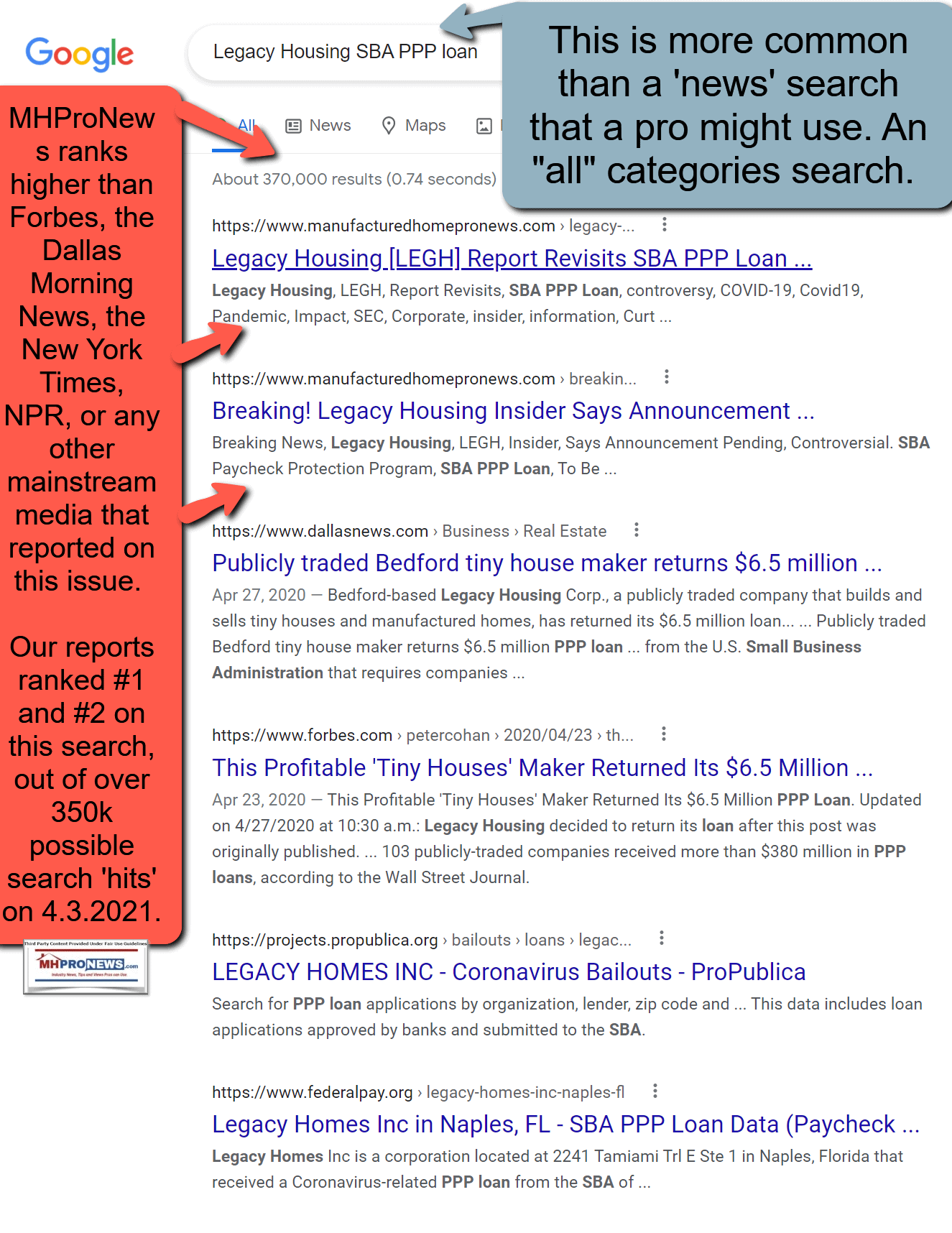 This next screen capture above illustrates the more common search tool used than a 'news' search. A news search is what a savvy and serious professional might use. But the search above Google search utilizing an "all" categories setting reflects MHProNews' dominating on that issue . Not only does MHProNews dominate, but our would be rivals in trade publishing are absent – as usual – for such substantive reports about serious manufactured housing issues.
The above also demonstrates the obvious limitations that MHI arguably has in the face of our relentless reporting on manufactured housing related issues. Because MHI and their leaders can't or won't engage in a credible fashion on several important issues, they are simply left out of search outcomes that MHProNews dominates. While it is not a crime to avoid transparency, it does raise questions as to what is being hidden or avoided.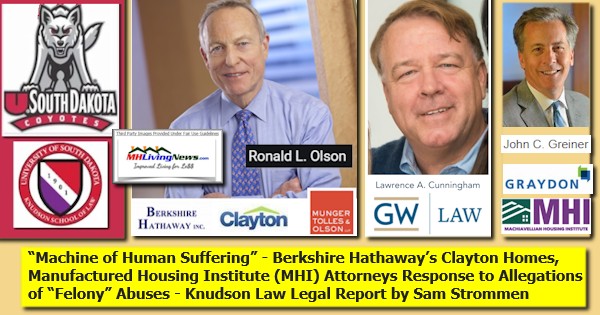 3d) In the seminal Samuel Strommen – Knudson Law research report, several Manufactured Housing Institute (MHI) member firms were named for possible violations of antitrust, RICO, and possibly other laws.  Clayton Homes (BRK), Skyline Champion (BRK), and Cavco Industries (CVCO) were all named, as were others.
Put differently, there are arguably risk factors that are faced by competitors of Legacy Housing that Legacy (LEGH) does not apparently have. That too is a significant item for investors and others to consider.
There is more, but that is sufficient to make this point.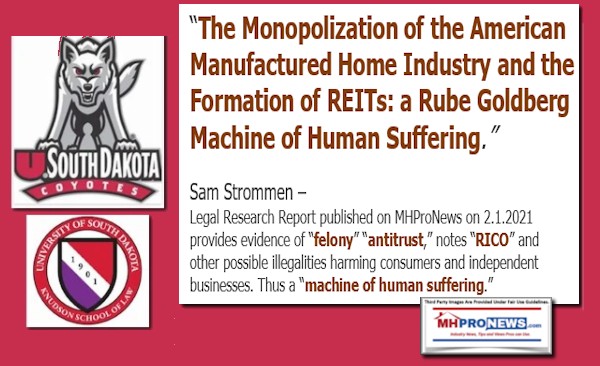 How Zacks, Seeking Alpha, the Motley Fool, Simply Wall Street, Yahoo Finance, or numerous other such equites reporting firms could miss or ignore such items is stunning. That does not negate their value. But it does set the context for their arguably lacking reports.
"Housing Madness" – CNN Reports 88 Offers with 76 All Cash on One House – SF Housing Demand High, Inventory Low – Why is Manufactured Housing Thwarted, Denied? Plus, Manufactured Home Investing, Stock Updates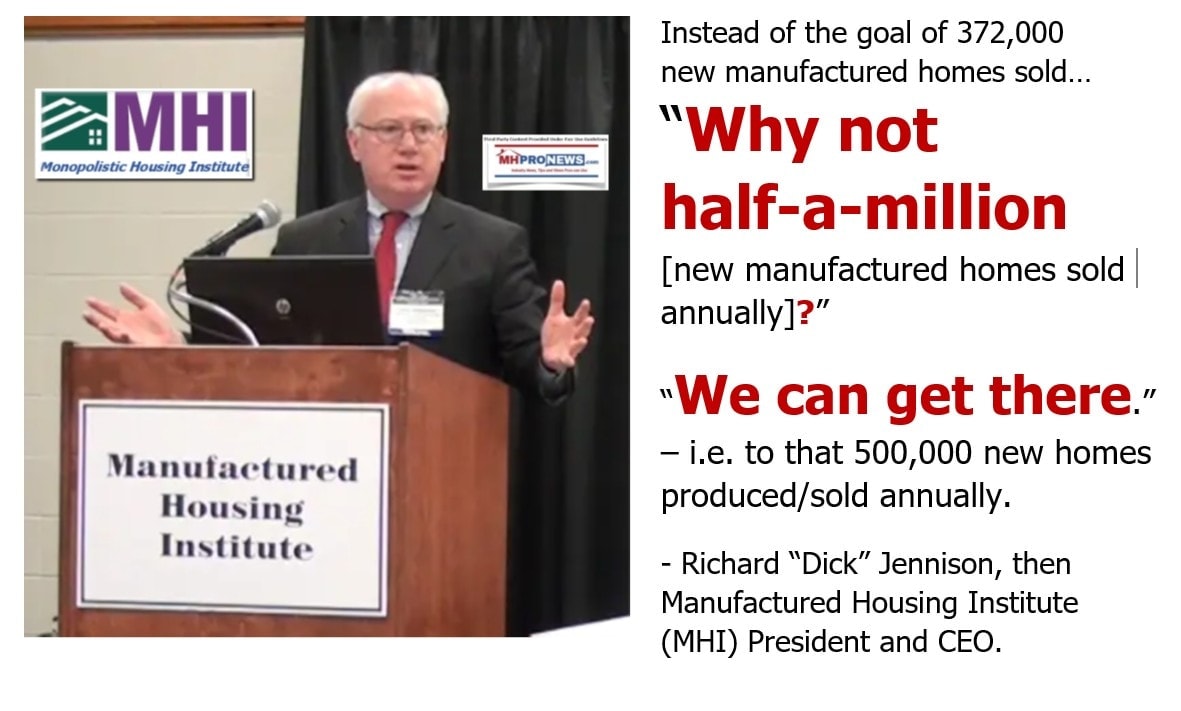 As a disclosure, MHProNews holds no position in any of the publicly traded firms that we report on that are connected to the manufactured housing industry. Nor was MHProNews compensated, asked, or influenced to do this report. Reports like this are just part of the value that thousands of daily readers find on MHProNews, and why there are literally millions of visits a year to our website. As regular readers know, our daily reporting includes business nightly features that include a rundown of numerous publicly traded manufactured housing connected firms at the close of trading every evening/night. A recent one is linked here.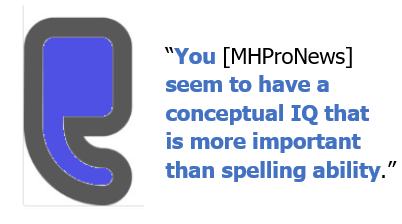 In conclusion, there are no perfect organizations, because people are not perfect, neither are companies, nonprofits, governments, etc. That lack of perfection obviously applies to this pro-industry platform too.
But our industry ought to be soaring. Instead, it is snoring. Industry professionals, media, stock analysts, public officials, the SEC, and others ought to be probing these issues in a meaningful and transparent fashion. In fact, we know that there are ongoing probes of the industry. However, for whatever reasons, they are not yet being made public.  When the stuff hits the fan, it is likely to stink badly. Untold numbers of investors will be caught wondering why ratings firms and media failed to warn them of what was coming.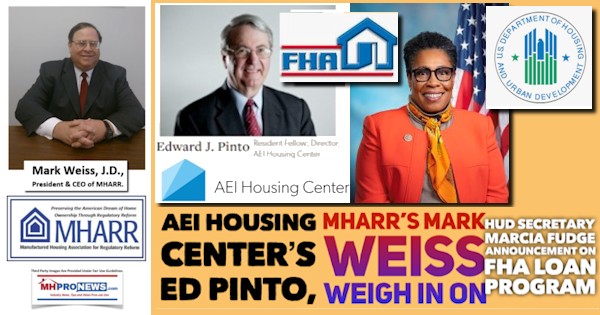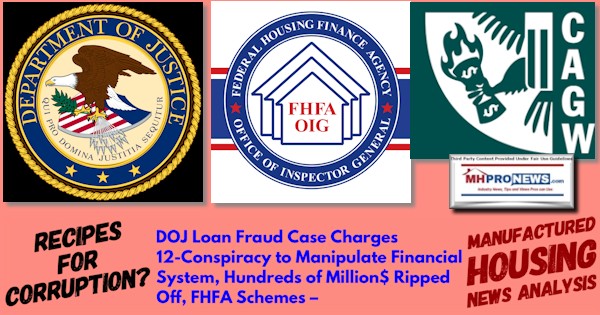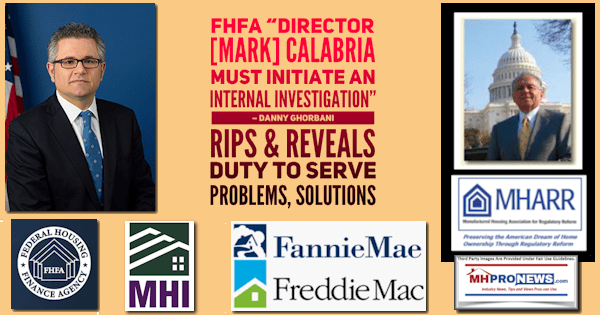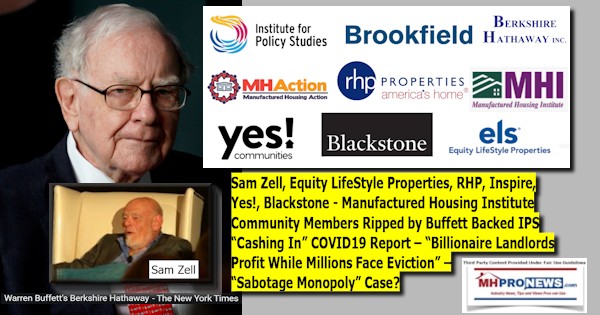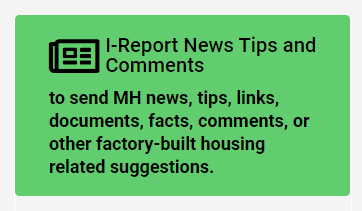 Stay tuned for more of what is 'behind the curtains' as well as what is obvious and in-your-face reports. It is all here, at the runaway largest and most-read source for authentic manufactured home "News through the lens of manufactured homes and factory-built housing" © where "We Provide, You Decide." © ## (Affordable housing, manufactured homes, reports, fact-checks, analysis, and commentary. Third-party images or content are provided under fair use guidelines for media.) (See Related Reports, further below. Text/image boxes often are hot-linked to other reports that can be access by clicking on them.)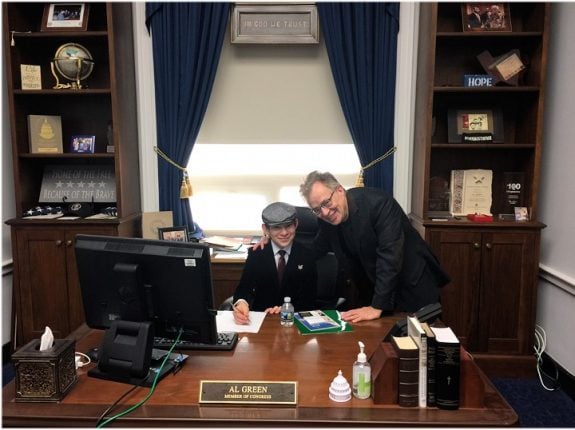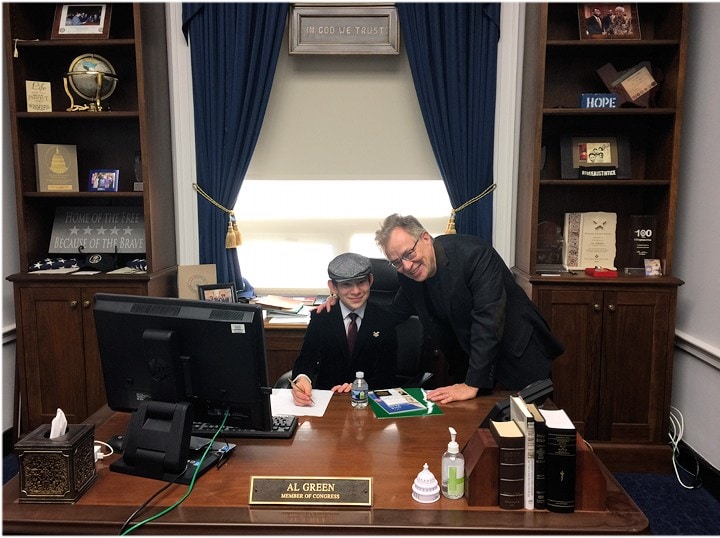 By L.A. "Tony" Kovach – for MHProNews.com.
Tony earned a journalism scholarship and earned numerous awards in history and in manufactured housing.
For example, he earned the prestigious Lottinville Award in history from the University of Oklahoma, where he studied history and business management. He's a managing member and co-founder of LifeStyle Factory Homes, LLC, the parent company to MHProNews, and MHLivingNews.com.
This article reflects the LLC's and/or the writer's position, and may or may not reflect the views of sponsors or supporters.
Connect on LinkedIn: http://www.linkedin.com/in/latonykovach
Related References:
The text/image boxes below are linked to other reports, which can be accessed by clicking on them.