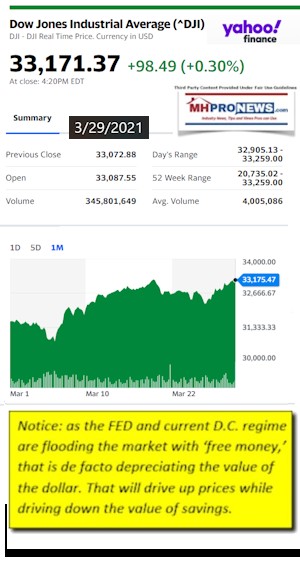 Anna Bahney's bio in brief says that she is: "a writer for CNN covering investments and real estate, focusing on investments in traditional, alternative, real estate and cryptocurrency markets." CNN reported tonight that "Housing is on a tear." That is demonstrably true for conventional housing, but why not more affordable manufactured housing? This report and analysis will pull back the veil on yet another example of far higher cost conventional housing's surging while affordable manufactured housing has been sidelined and arguably thwarted at a time it is much needed.
CNN's Bahney reported on 3.29.2021 that "housing madness shows no signs of slowing." She cited a case in Washington, D.C. where "a fixer-upper in suburban Washington, DC [was listed] for $275,000 on a Thursday. By Sunday evening, she had 88 offers." Ellen Coleman for RE/MAX Realty Centre said that 76 of those were all cash offers. She said that Coleman has never received so many offers on a house in her 15 years in real estate sales.
15 of those offers were sight unseen. The single family house was 4 bedroom, 1800 square feet and reportedly sold for $460,000 some 70 percent higher than the asking price. The buyer was an investor who will renovate and resell "at an even higher price."
Normally, Coleman said she is seeing about 15 offers per house, many of which are fixer uppers where the hopeful housing seeking buyers are willing to do their own repairs. "There is such low inventory out there and people feel like that is a way they can get into a home," said Coleman.
As MHProNews has been reporting for some months based on data from the Fannie Mae, National Association of Realtors (NAR), the National Association of Homebuilders (NAHB), the Manufactured Housing Association for Regulatory Reform (MHARR), Federal Reserve research on the impact of "sabotage monopolies" that marginalized manufactured housing and more. Conventional housing is soaring. Yet manufactured housing is snoring.
The reports linked below set the context for that statement.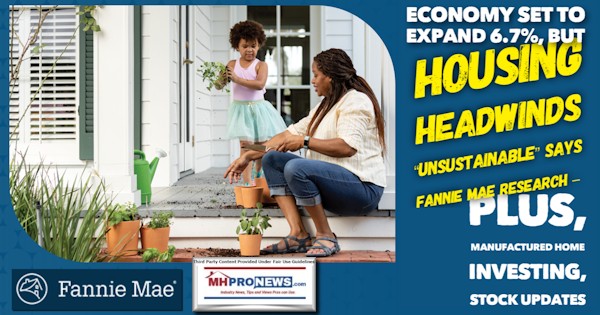 Home Sales Slide – But Possible Manufactured Housing Opportunity? COVID19 Compared to Other Pandemics – Infographic. Plus, Manufactured Home Investing, Stock Updates
New Home Sales Soar Higher in January 2021, What's Hot, What's Not Report, plus Manufactured Home Investing, Stock Updates
"Sabotaging Monopolies" Minneapolis Fed Researchers Charge HUD-Collusion w/Builders to "Sabotage" Manufactured Housing Independents "Created U.S. Housing Crisis"-Fuels Homelessness, Harms Minorities, Taxpayers, Others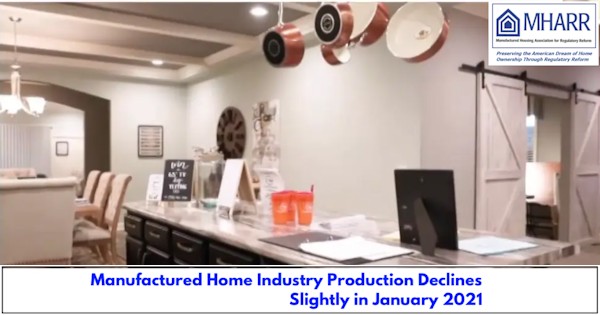 But as James A. Schmitz and his Federal Reserve or other colleagues have said, marginalizing affordable housing is harming the ability of minorities and the low-income and lower-middle class of all backgrounds from being able to access affordable manufactured housing as an attainable means of household wealth creation.
The Manufactured Housing Institute (MHI) has quietly dropped their semi-public monthly economic report that they used to email to their members and other readers. Potentially useful and positive reports about manufactured homes are routinely missing from their website. But MHI touts their own sponsored or produced research, which arguably is not as persuasive to outsiders. Additionally, MHI routinely fails to have on their own website the stronger legal arguments that could be advanced. Put differently, the evidence-based case can be made that MHI is posturing efforts for their own members, but when closely examined, they are allowing the industry to languish in a fashion that fosters consolidation that benefits its larger members. Coincidences?
Returning to more of Bahney's market insights plus additional information from the AEI Housing Center will be our featured focus for tonight.
Before pivoting toward tonight's featured focus segment – and for the benefit our growing numbers of new readers – a few quick evening/nightly market report insights.
Every business evening/night, MHProNews provides a bullet list of left-right news headlines from CNN Business and Newsmax. In a matter of moments, savvy professionals can see at a glance news headlines and views across the political spectrum.
This is a time saving and insightful way to quickly grab insights from across the left-right divide.  It is a useful at-a-glance opportunity for those who are hooked on this market-nightly feature.
Our featured focus follows the quotable quotes, periodic political cartoons, those left-right headlines, and two of our three market summary graphics as reported at the closing bell.
After the featured focus, are some recent/related report links and the third manufactured housing focused stock equities graphic. There are some additional items that include the free signup for the manufactured housing industry's x2 weekly emailed news to the most-read trade publication in our profession:
On a mixed day for the markets, most manufactured home connected equities declined, as our closing graphic further below illustrates. With that backdrop, let's press on to the insights from the balance Bahney's report for CNN, along with some additional insights from AEI's housing center, as our featured focus for tonight.
Quotes That Shed Light – Industry, American, Social, National Issues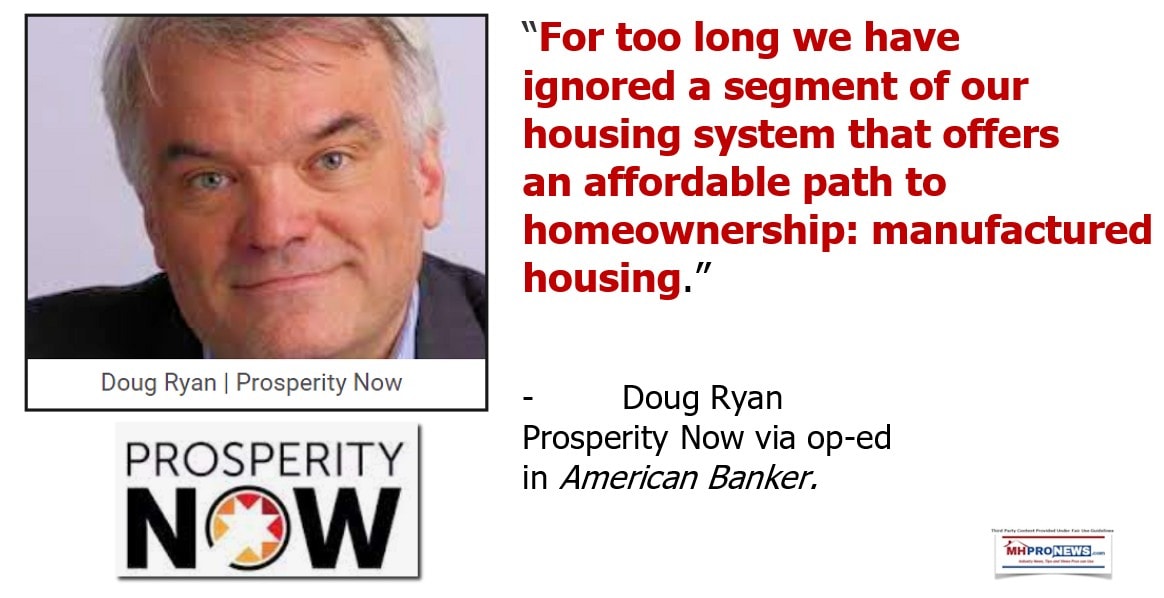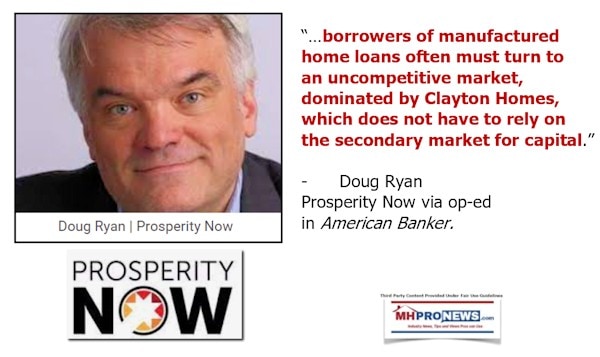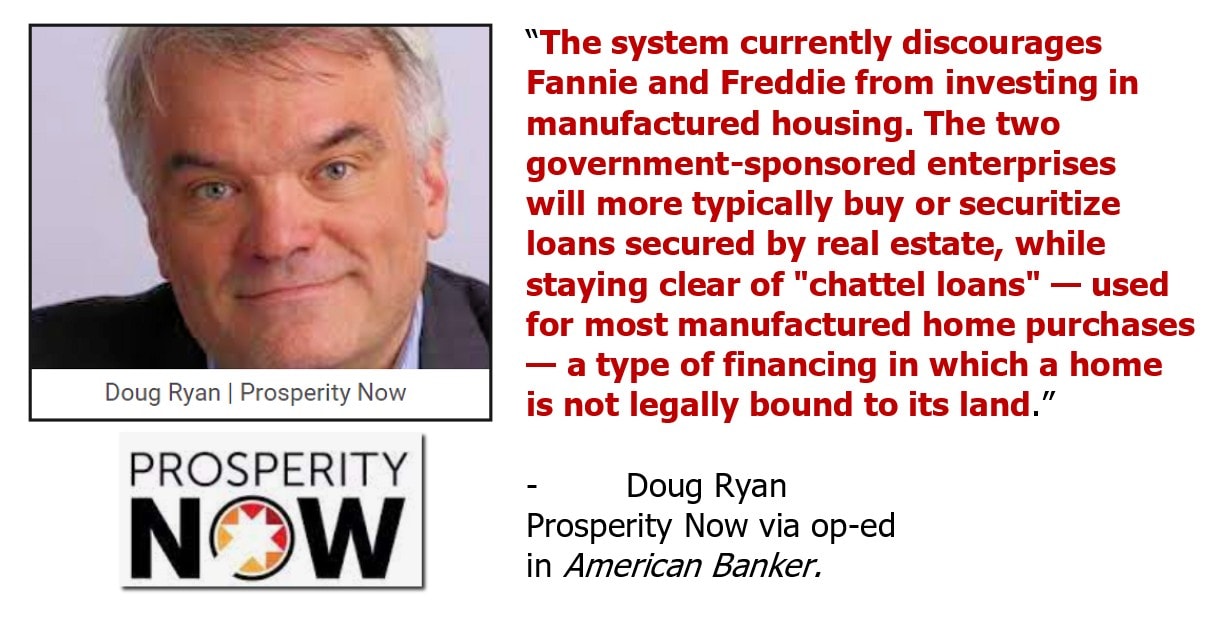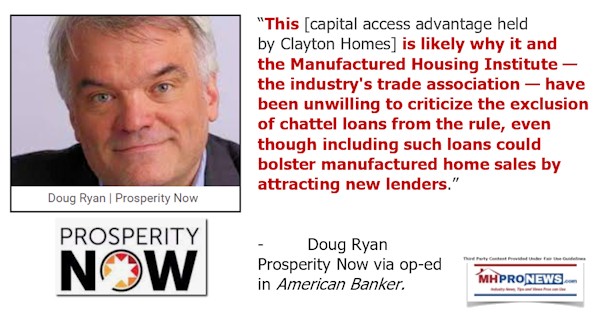 Headlines from left-of-center CNN Business
Housing on a tear
A home is for sale at 3036 Dale Street on Tuesday, July 28, 2020 in San Diego, CA. As of May, prices in the San Diego metropolitan area had risen 5.2 percent in a year, the S&P CoreLogic Case-Shiller Indices reported Tuesday.
Home prices climb in San Diego, USA – 28 Jul 2020
76 all-cash offers on one home. The buying madness shows no signs of slowing
Major global banks could face billions in losses after hedge fund meltdown
There are 'definitely merits' to reparations, says first Black Fed president
The ship in the Suez Canal is finally free. But the fiasco could disrupt supplies for months
'It's crazy. There is no inventory.' Housing veteran marvels at boom
Opinion: We can't suspend evictions and foreclosures forever
Good news for struggling renters: The CDC is extending its eviction moratorium
Vaccine passport apps could help us return to normal. First they need to solve the trust problem
Here's what could happen next as milestone Amazon union vote ends
Rental car shortage is a boon for Turo, the Airbnb of cars
Your Disney+ bill is about to go up. Here's why
Opinion: We need to create a global standard to protect and share data — before it's too late
The Derek Chauvin trial is the biggest court case of the streaming TV age
View of the New York Stock Exchange (NYSE) and a statue of George Washington at Wall Street on March 23, 2021 in New York City. – Wall Street stocks were under pressure early ahead of congressional testimony from Federal Reserve Chief Jerome Powell as US Treasury bond yields continued to retreat.
A little-known hedge fund caused widespread chaos on Wall Street
VICTORVILLE, CA – MARCH 31: Southwest Airlines Boeing 737 MAX airliners sit at the Southern Logistics Airport on March 31, 2020, in Victorville, CA. Southwest Airlines had to temporarily store all of its 737 MAX fleet due to the worldwide grounding order as a result of a faulty automated flight control system which is suspected to have contributed to the types crashes in Ethiopia and Indonesia that killed 346 people.
Southwest just placed the biggest Boeing 737 Max order since it was grounded
Carbone takes aim at Rao's with new supermarket sauce lineup
Headlines from right-of-center Newsmax
Most Americans View 'Cancel Culture' as Threat to Freedom: Poll
The Biden Presidency
Ban on Renter Evictions During COVID-19 Pandemic Is Extended
Biden Does Not Intend to Meet With North Korea's Kim
Ken Paxton to Newsmax TV: Biden 'Doing Great Harm' to Migrant Children
Biden to Announce Transportation-Focused Stimulus on Wednesday
Child Border Migrations Climbing, Will More Than Double in 7 Months: Report
Kamala Harris Focused on Illegal Immigration 'Root Causes' Despite Border Crisis
Biden to Announce 90% of Adults to Be Eligible for COVID Vaccine in April
Cotton: Border Patrol Agrees Immigration Policy a 'Total Failure'
Biden White House Plans 'Vaccine Passports'
Lithuanian President Agrees With Biden That Putin Is a Killer
Newsfront
GOP Woman Runs for Alaska Sen. Lisa Murkowski Seat
An early Republican candidate announced plans Monday to seek the Alaska U.S. Senate seat that has been held since 2002 by Sen. Lisa Murkowski, R-Alaska…
Pompeo to Newsmax: My First Priority Is '22
Real-World Study Finds Pfizer, Moderna Vaccines 90% Effective
Related
New York Lowers COVID-19 Vaccine Eligibility Age to 30
Peter Navarro Slams Fauci: Virus Came From 'Building' He Built
CDC Chief Warns of 'Impending Doom' as COVID-19 Cases, Deaths Rise
Petition Launched Against New York State's COVID-19 Passport
Biden White House Plans 'Vaccine Passports'
Most Americans View 'Cancel Culture' as Threat to Freedom: Poll
Illegal Immigrant Crisis Could Thwart Citizenship Push for 'Dreamers,' Laborers
New Mexico Sues US Over Nuclear Waste Storage Plans
Thom Tillis Announces Prostate Cancer Diagnosis
Trump Rips Biden in Surprise Appearance at Mar-a-Lago Wedding
Opening Statements Begin in Ex-officer's Trial in Floyd's Death
A prosecutor told jurors Monday in his opening statement at former
Piers Morgan Defends Sharon Osbourne After 'The Talk' Firing
Ship Blocking Suez Canal Freed, Traffic to Resume
Florida Gov. DeSantis Threatens to Sue CDC to Get Cruises Sailing Again
Czech Billionaire Kellner Killed in Alaska Helicopter Crash
China Generated Over Half World's Coal-Fired Power in 2020
Jack, Leslie Flynn Get June Hearing in $75M Lawsuit Against CNN
WHO Report Says Animals Likely Source of COVID
NK Accuses UN of 'Double Standard' on Missile Tests
North Korea said on Monday that the U.N. Security Council showed a
Ted Cruz: Cartel Members 'Renting' Kids to Bring to Border
Ted Cruz, R-Texas, said Sunday cartel members are "renting"
New York to Expunge Convictions With Marijuana Legalization
Biden Cyber Director Nominee Delayed Amid Turf Battle
Biden's New Trade Adviser Not Ready to Lift Tariffs on China
Corey Lewandowski to Newsmax TV: Trump's Social Media Site Launching in 3-4 Months
Trump Says He's Leaning Toward Visit To Border In 'Next Few Weeks'
Goldman Sold $10.5 Billion of Stocks in Block-Trade Spree
NY Dem Rep Calls WH Hypocritical for Firing for Pot Use
The firings of several White House staffers who admitted to smoking
Finance
Ship Backlogs From Suez Chaos Could Take Months to Clear
The stranding of a container ship in the Suez Canal has created disruptions in the global shipping industry that could take weeks and possibly months to clear…
Southwest Airlines Orders 100 Boeing 737 Max Planes
Biden's New Trade Adviser Not Ready to Lift Tariffs on China
Shock-Weary Global Economy Girds for Supply Jolt From Suez Mess
Experts: $15 Wage Will Mean Fewer Jobs for Teens
Health
Be On the Alert to Avoid COVID-19 Vaccine Scams
People desperately searching for COVID-19 vaccine appointments may become victims of unscrupulous scammers.
5 Ways to Slash Your Cancer Risk by Half
6 Germy Places in Your Home You Should Clean but Probably Don't
Even a Little Coffee in Pregnancy Could Impact Newborn's Weight: Study
FDA Clamping Down on Abuse of an OTC Decongestant
Market Indicator Closing Summaries – Yahoo Finance Closing Tickers on MHProNews…
Featured Focus –
Where Business, Politics and Investing Can Meet
Edward Pinto, J.D., Director, AEI Housing Center sent the following item to MHProNews earlier today.
Long-Term Home Price Trends
"FHFA's Capital Rule from November 2020 created a countercyclical adjustment to risk-based capital requirements based on a long-term trend of home prices and a symmetric 5% collar above and below it. At the time of the rule's release, FHFA noted that home prices were 10% above their long-term trend.  As of year end 2020, they were 14% above and are expected to increase significantly in 2021. Using our preferred trend line, which ends in 2001 and therefore excludes the 2002-2006 boom, home prices were already 28 percent above their long-term trend at year end 2020." AEI is one of numerous sources that show the strong demand for conventional housing.
Returning to CNN's Anna Bahney report today, she advanced the following insights.
"…inventory of available homes for sale is now at a record low, driving competition and home prices ever higher across many regions of the country."
"With demand for homes remaining strong, it's hard to imagine when the market might become more affordable…"
Chris Stroud, chief of research at HouseCanary said "…

prices have been on a tear going upward because of lack of supply

."
"The median price of a home has risen 16% from last year, according to the National Association of Realtors"…wrote Bahney.
Housing "

increased even more in some regions of the country like the Northeast and West, which are both up 21% from last yea

r."
"Meanwhile, inventory has continued to linger at record lows. In February, the number of available homes for sale was down nearly 30% from a year ago."
"I don't think people are getting a 10.4% increase in their income or saving rate to substantiate those gains," said Brad Dillman, chief economist at Cortland. "It is competition for a home that is driving the price up."
These facts ought to be strong indicators that manufactured housing could be soaring. But instead, the purported issues involving MHI, Clayton Homes, and other key allies has made a much needed industry drag instead of leading the way to meeting the demand and need for more affordable housing.  To learn more, see the linked and related reports.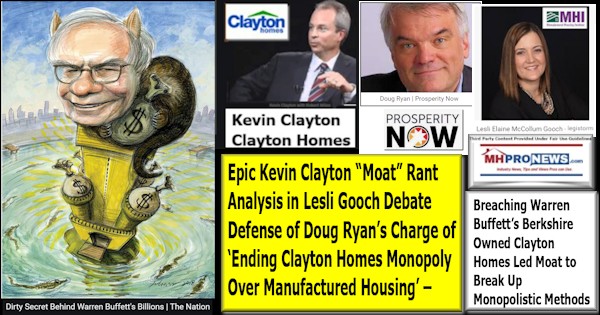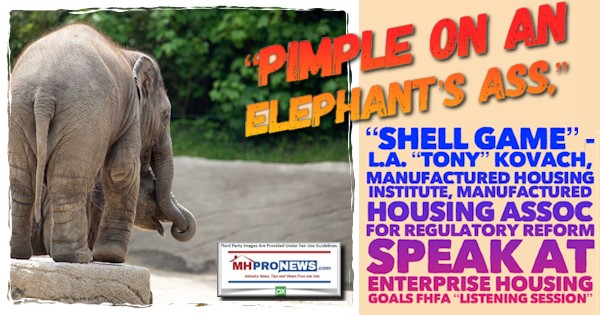 Related, Recent, and 'Read-Hot' Reports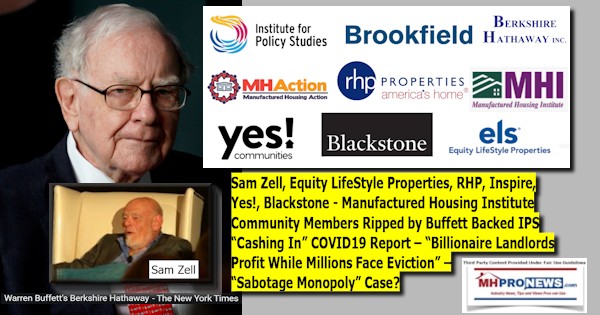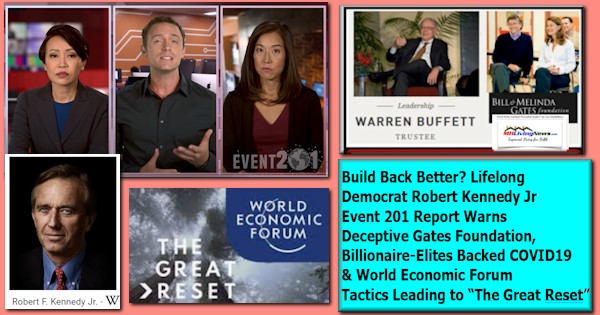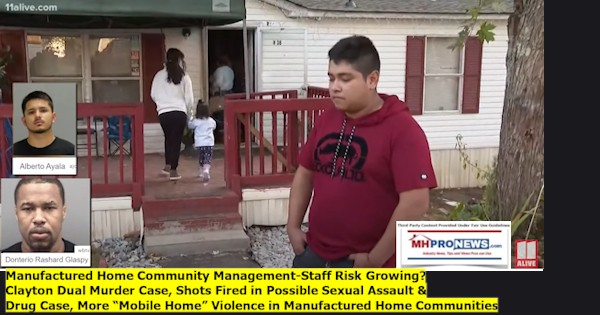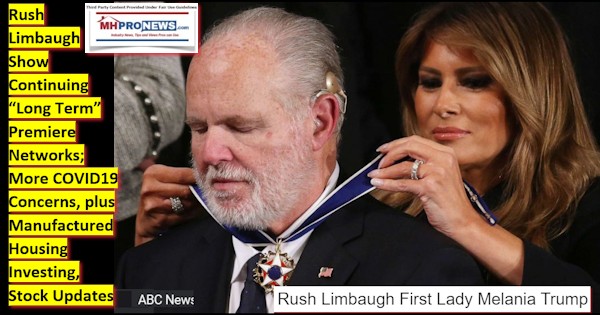 This report below is still one of the most-read reports on MHLivingNews.
It has stood the test of time with well documented insights.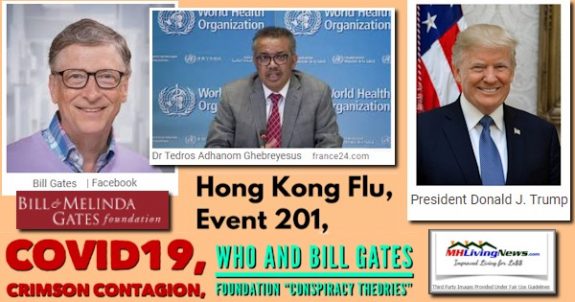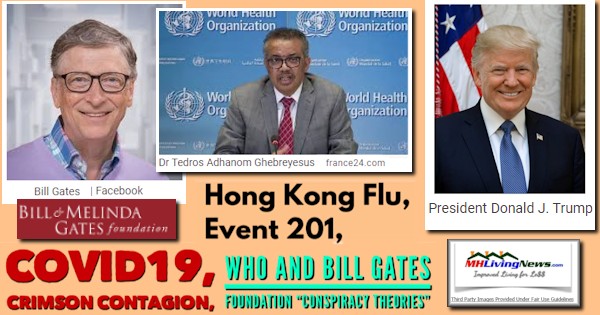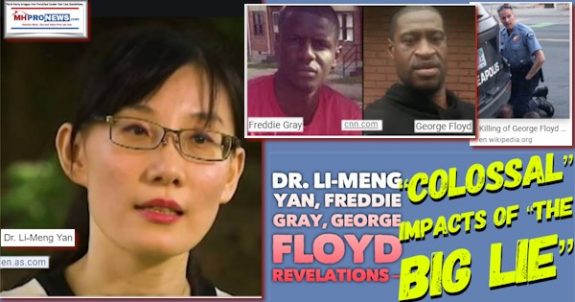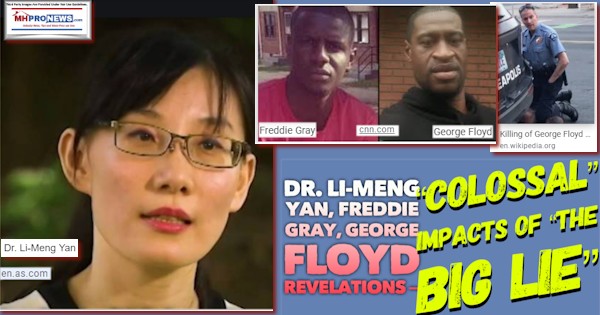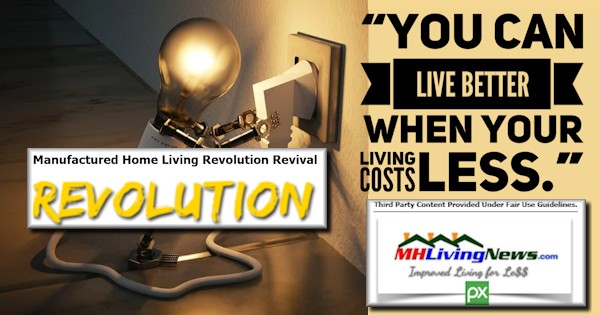 Manufactured Housing Industry Investments Connected Closing Equities Tickers
Some of these firms invest in manufactured housing, or are otherwise connected, but may do other forms of investing or business activities too.
NOTE: The chart below includes the Canadian stock, ECN, which purchased Triad Financial Services, a manufactured home industry lender
NOTE: Drew changed its name and trading symbol at the end of 2016 to Lippert (LCII).
NOTE: Deer Valley was largely taken private, say company insiders in a message to MHProNews on 12.15.2020, but there are still some outstanding shares of  the stock from the days when it was a publicly traded firm.  Thus, there is still periodic activity on DVLY.
Spring 2021…
Berkshire Hathaway is the parent company to Clayton Homes, 21st Mortgage, Vanderbilt Mortgage and other factory built housing industry suppliers.
· LCI Industries, Patrick, UFPI, and LP each are suppliers to the manufactured housing industry, among others.
· AMG, CG, and TAVFX have investments in manufactured housing related businesses. For insights from third-parties and clients about our publisher, click here.
Enjoy these 'blast from the past' comments.
MHProNews. MHProNews – previously a.k.a. MHMSM.com – has celebrated our 11th year of publishing, and is starting our 12the year of serving the industry as the runaway most-read trade media.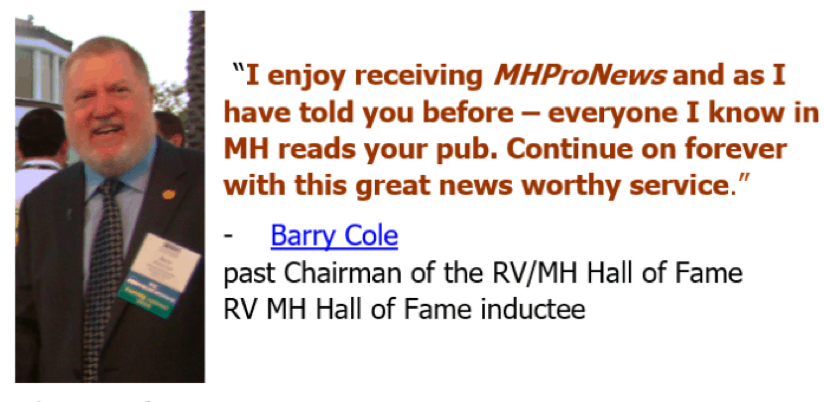 Sample Kudos over the years…
It is now 11+ years and counting…
Learn more about our evolutionary journey as the industry's leading trade media, at the report linked below.
· For expert manufactured housing business development or other professional services, click here.
· To sign up in seconds for our industry leading emailed headline news updates, click here.

Disclosure. MHProNews holds no positions in the stocks in this report.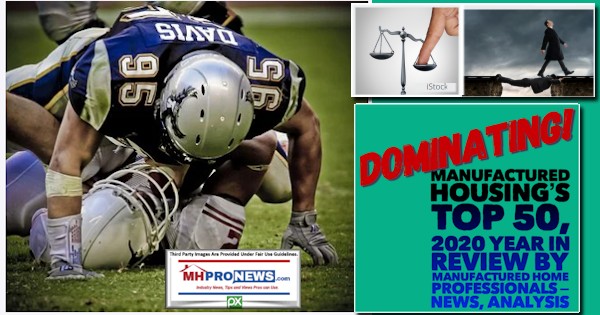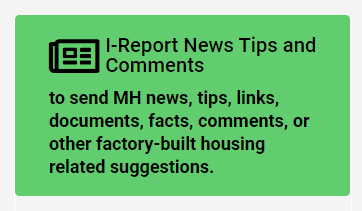 That's a wrap on this installment of "News Through the Lens of Manufactured Homes and Factory-Built Housing" © where "We Provide, You Decide." © (Affordable housing, manufactured homes, stock, investing, data, metrics, reports, fact-checks, analysis, and commentary. Third-party images or content are provided under fair use guidelines for media.) (See Related Reports, further below. Text/image boxes often are hot-linked to other reports that can be access by clicking on them.)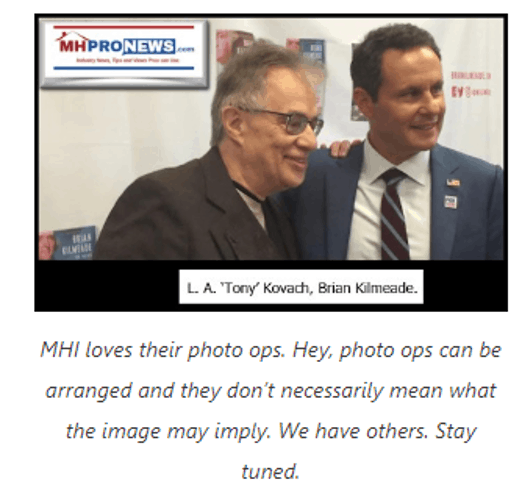 By L.A. "Tony" Kovach – for MHLivingNews.com.
Tony earned a journalism scholarship and earned numerous awards in history and in manufactured housing. For example, he earned the prestigious Lottinville Award in history from the University of Oklahoma, where he studied history and business management. He's a managing member and co-founder of LifeStyle Factory Homes, LLC, the parent company to MHProNews, and MHLivingNews.com. This article reflects the LLC's and/or the writer's position, and may or may not reflect the views of sponsors or supporters.