Despite another federal "scalp," investors do not yet seem to be troubled by – or perhaps are not yet fully aware of? – the ongoing drip drip drip of fallout from the Securities Exchanges Commission (SEC) probe of publicly traded Cavco Industries (NASDAQ:CVCO). Cavco recently announced without fanfare via an official 8k filing that Dan Urness left the Phoenix, AZ based and vertically integrated manufactured and modular production company. This report and analysis will unpack each aspect of the headline in a systematic fashion.
In a tip from an industry insider that included the 8K filing was this message: "[Dan] Urness has gotten the boot, but a nice payout to go with it."
Per Cavco's filing with the SEC, Urness – who had already taken a leave of absence due to his receipt of an SEC Wells Notice – that 'leave' has now culminated in a formal termination. The SEC filing reads as follows.
UNITED STATES
SECURITIES AND EXCHANGE COMMISSION
Washington, D.C. 20549
FORM  8-K
CURRENT REPORT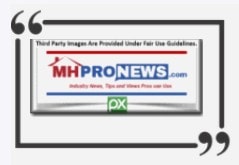 Pursuant to Section 13 or 15(d) of the Securities Exchange Act of 1934
Date of Report (Date of earliest event reported):  February 19, 2021
CAVCO INDUSTRIES INC.
Delaware (State or other jurisdiction of incorporation)  000-08822  (Commission File Number)    56-240564 (IRS Employer Identification No.)
3636 North Central Avenue, Suite 1200
Phoenix, Arizona, 85012
(Address of principal executive offices, including zip code)
Registrant's telephone number, including area code: (602) 256-6263
…
Item 5.02 Departure of Directors or Certain Officers; Election of Directors; Appointment of Certain Officers; Compensatory Arrangements of Certain Officers.
On February 19, 2021, the employment of Daniel L. Urness, Executive Vice-President, Chief Financial Officer and Treasurer with Cavco Industries, Inc. (the "Company") was mutually concluded. As previously disclosed by the Company in September 2020, Mr. Urness received a Wells Notice from the staff of the Securities and Exchange Commission relating to its pending investigation. Mr. Urness had been on leave since October 2020. The decision to separate was driven by Mr. Urness' ongoing need to focus on addressing the Wells Notice coupled with the Company's need for an active Chief Financial Officer.
Consistent with Mr. Urness' Employment Agreement dated April 1, 2019, the Separation Agreement provides for: (i) a cash severance payment of $812,531; (ii) accelerated stock option award vesting; (iii) a pro-rata portion of unvested performance-based share awards with vesting to be determined based on actual performance as of the end of the applicable performance period; (iv) the payment of certain COBRA premiums; (v) certain confidentiality, non-solicitation, non-competition and cooperation provisions; and (vi) a Waiver and General Release of Claims.
Paul Bigbee, the Company's Chief Accounting Officer, will continue to act as the Company's Principal Financial Officer and Principal Accounting Officer.
SIGNATURES
Pursuant to the requirements of the Securities Exchange Act of 1934, the registrant has duly caused this report to be signed on its behalf by the undersigned hereunto duly authorized.
CAVCO INDUSTRIES, INC.
By:
/s/ Mickey R. Dragash
Mickey R. Dragash
Executive Vice President, General Counsel, Corporate Secretary
& Chief Compliance Officer
Date: February 23, 2021
##
Notice: this tip was provided previously, but was held to this date for publication by MHProNews. That was done in part to shed light on how this is being reported, or not, by both mainstream media as well as manufactured housing bloggers and publishers. One example is illustrated in the screen capture this morning that is shown below from Yahoo Finance news.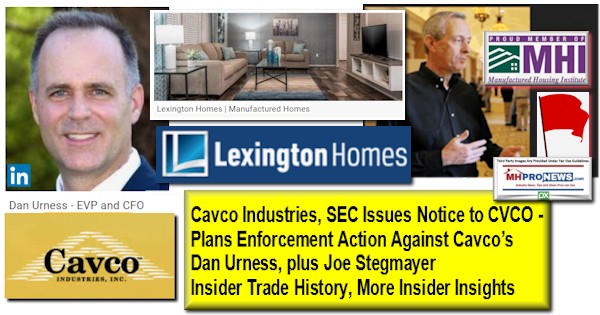 Some recent or related MHProNews reports on Cavco and Urness are linked above and below. They provided added context and insights to what follows.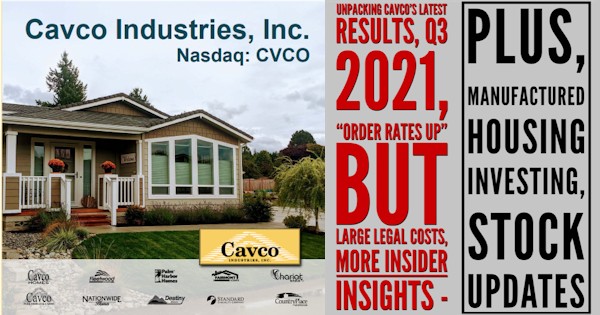 Additional Information, More MHProNews Analysis and Commentary
Others who blog or publish in the manufactured housing industry about professional developments have largely ignored the periodic eruption of news regarding Cavco Industries. That news originally hit the public with the announcement like those in the BizJournals which reported on Nov 8, 2018 "CEO steps down after SEC subpoenas Phoenix homebuilder" – Joseph "Joe" Stegmayer and Cavco Industries. Others who blog or produce trade information are routinely connected with the Manufactured Housing Institute (MHI). Despite the public scandal that the admits via various filings has cost them millions of dollars, MHI leadership never removed Stegmayer from their board of directors. Rather, he served out his term. Stegmayer is still on the MHI board as immediate past chairman.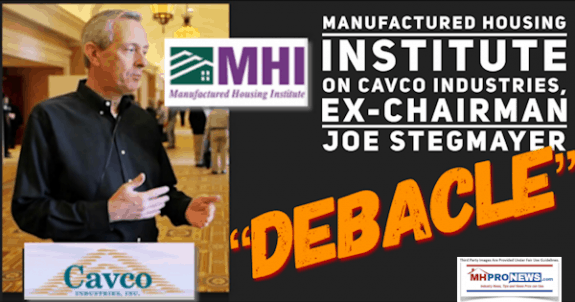 By contrast to others in manufactured housing who claim to publish news or views, MHProNews has reported step-by-step on the developments as information was being learned or released.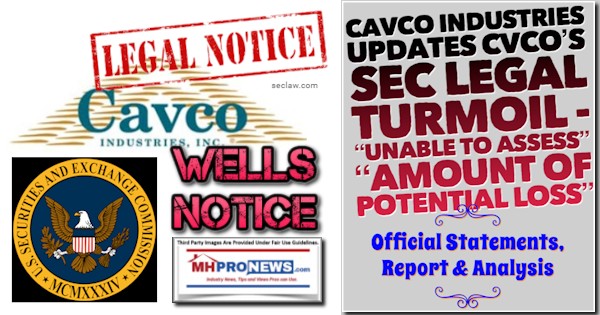 Corporate insiders called it a "debacle," one that was apparently entirely avoidable had federal regulations not purportedly been violated.
The precise nature of the concerns has not yet been revealed. But following the original revelations, Cavco acted to restore investor confidence, which was shaken by a series of announcements that included attorneys' probes on behalf of company (CVCO) shareholders. One such example is linked below, but there have been numerous others.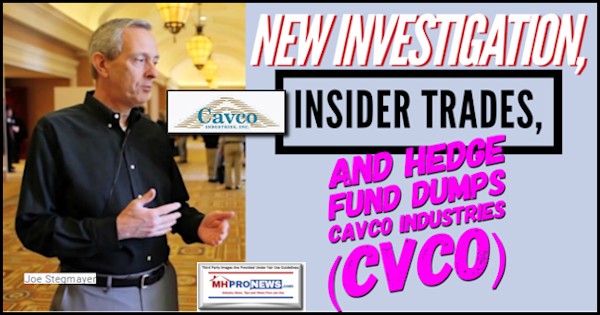 The SEC Archives contains this copy of a letter that was marked "personal and confidential" on 11.8.2018. The SEC filing reflects the sizable bonuses paid to Stegmayer when he stepped down from Cavco's leadership.  More information follows this part of our headline's report and analysis.
Transition Agreement, dated as of November 8, 2018, by and between Cavco Industries, Inc. and Joseph Stegmayer
November 8, 2018
Personal and Confidential
Joseph H. Stegmayer
[Address]
[City, State Zip]
Dear Joseph:
This letter confirms our discussions regarding your resignation from your current positions as Chairman of the Board and President and Chief Executive Officer of Cavco Industries, Inc. ("Cavco" or the "Company") and from any and all positions you may hold as an officer or director of any of its subsidiaries, and to transition to a new role with the Company. Set forth below is information about your new position and other administrative matters, and a transition agreement and release of claims for your consideration.
A. Administrative Information.
1.Transition Date. Effective November 8, 2018 (the "Transition Date"), you will resign your positions as Chairman of the Board of Directors, and as President and Chief Executive Officer ("CEO"), of Cavco and from any and all positions you may hold as an officer or director of any of its subsidiaries. Concomitant with your resignations, your April 1, 2011 Amended and Restated Employment Agreement (the "Employment Agreement") will terminate, provided, however, that certain provisions thereof shall remain in full force and effect pursuant to Sections (B)(1) and (B)(4) of this Agreement. Your final paycheck for all services performed as CEO will include your base salary earned through the Transition Date, less required withholdings and deductions, and will be paid in accordance with Cavco's payroll practices.
2.Director, Strategic Initiatives. On the Transition Date, you will assume a new position, the Director, Strategic Initiatives. You will report directly to the Company's Chief Executive Officer and will perform such duties and responsibilities as may be assigned to you by the Chief Executive Officer. Your employment in this position will be at-will, meaning Cavco may terminate your employment at any time for any reason, and you may resign your employment at any time for any reason. From and after the Transition Date, you agree that you will not hold yourself out as an officer or director of Cavco and that you will not have authority to bind the Company in its dealings with third parties, and will not hold yourself out as having such authority.
3.Compensation and Benefits. Cavco shall pay you an annual salary of $150,000 for your services. You shall continue to be entitled to participate in such incentive savings and retirement plans established or adopted and maintained by Cavco from time to time, as Cavco may amend them, in accordance with the Company's regular practices applicable to other similarly situated employees. You also shall continue to be entitled to participate in all group benefit plans (including, but not limited to, disability, accident, medical, life insurance and hospitalization plans) established or adopted and maintained by Cavco from time to time, as Cavco may amend them, in accordance with the Company's regular practices applicable to similarly situated employees.
4.Vacation/Leave. You will be entitled to such vacation, holidays and other paid or unpaid leaves of absence as are consistent with Cavco's policies.
5.Bonus. You no longer will be eligible to receive the annual bonus or other bonus awards identified in the Employment Agreement. You will be eligible to receive a discretionary performance bonus, in the discretion of the Board, based upon the recommendation of the Chief Executive Officer.
6.Equity. All equity awards previously granted to you may be exercised in accordance with the terms of the respective awards, agreements, and the terms of the plans that governed them. Without limiting generality of foregoing, the accelerated vesting provided for in the 2005 Stock Incentive Plan will occur on the date you resign as director of Company. Your transition to your new role will not be a termination or interruption of service for purposes of those grants and plans.
B. Transition Agreement and Release of Claims
1.Transition Benefit – Special Bonus Continuation/Pro Rata 2018 Annual Bonus. Although Cavco is not otherwise obligated to pay you an annual bonus, as good and valuable consideration for your execution and delivery of this Transition Agreement (including the Release of Claims), Cavco will pay you (i) two payments of $500,000 (together with simple interest at 5% per annum on the unpaid balance) as set forth in Sections 5(b)(ii)(2) and 5(b)(v), payable in accordance with past practice, less required withholdings and deductions and (ii) the annual bonus you would have been eligible to receive pursuant to Section 5(b) of the Employment Agreement, had you remained employed as CEO through the remainder of the current fiscal year, pro-rated based on the number of days you served as CEO during the current fiscal year through the Transition Date. The annual bonus will be paid the earlier to occur of 65 days following the termination of your employment or the date the bonus is otherwise paid in accordance with past practice, less required withholdings and deductions. You will not be eligible for any discretionary portion thereof. The foregoing bonus payments are payable regardless of whether you remain employed at the time of the bonus payout and shall be payable to your estate in the event of your death.
2.No Future Payments Except Those Described Herein. You represent, warrant and acknowledge that Cavco owes you no wages, bonuses, severance pay, or other compensation, benefits, payments or form of remuneration of any kind or nature, other than that specifically provided for in Section A above and in this Transition Agreement. Nothing in this Transition Agreement is intended to diminish your entitlement to indemnity under the terms of the Company's Bylaws, Delaware law and any Directors & Officers insurance policy maintained by the Company, subject to the terms of the Affirmation and Undertaking for Advancement of Expenses executed by you on or about October 30, 2018.
3.Release of Claims and Covenant Not to Sue. FOR YOURSELF AND YOUR RESPECTIVE ADMINISTRATORS, EXECUTORS, AGENTS, BENEFICIARIES AND ASSIGNS, YOU AGREE TO WAIVE, RELEASE AND FOREVER DISCHARGE CAVCO (AS DEFINED BELOW) OF AND FROM ANY AND ALL CLAIMS (AS DEFINED BELOW). You further agree that should any other person, organization or entity file a lawsuit or arbitration to assert any such Claim, you will not seek any personal relief in such an action. This Release of Claims ("Release") covers all Claims arising from the beginning of time up to and including the date you execute this Agreement.
Exclusions: Notwithstanding any other provision of this Release, the following are not barred by the Release: (a) Claims relating to the validity of this Transition Agreement; (b) Claims by either party to enforce this Transition Agreement; and (c) Claims that legally may not be waived. Further, it is understood and agreed that this Transition Agreement does not bar your right to file an administrative complaint or charge with the Securities and Exchange Commission (SEC), the Equal Employment Opportunity Commission (EEOC), or any other federal, state or local agency; prevent you from reporting to any government agency any concerns you may have regarding Cavco's practices; or preclude your participation in an investigation by the SEC, EEOC, or any other federal, state or local agency, although the Transition Agreement does bar your right to recover any personal relief (including monetary relief) if you or any person, organization, or entity asserts a charge or complaint on your behalf, including in a subsequent lawsuit or arbitration, except that you may receive an award from the SEC under the federal securities laws.
The following provisions further explain this Release:
a. Definition of "Claims". Except as stated above, "Claims" includes without limitation all actions or demands of any kind that you now have or may have or claim to have in the future related to your employment with Cavco. More specifically, Claims include rights, causes of action, damages, penalties, losses, attorneys' fees, costs, expenses, obligations, agreements, judgments and all other liabilities of any kind or description whatsoever, either in law or in equity, whether known or unknown, suspected or unsuspected, related to your employment with Cavco.
The nature of Claims covered by this Release includes without limitation all actions or demands in any way based on your employment with Cavco, the terms and conditions of such employment or your transition to your new position. More specifically, all of the following are among the types of Claims which, to the extent permitted by law, are waived and barred by this Release:
(i)Contract Claims (whether express or implied);
(ii)Tort Claims, such as for defamation or emotional distress;
| | |
| --- | --- |
| | |
| (iii) | Claims under federal, state and municipal laws, regulations, ordinance or court decisions of any kind; |
| | |
| --- | --- |
| | |
| (iv) | Claims of discrimination, harassment or retaliation, whether based on race, color, religion, gender, sex, age, sexual orientation, handicap and/or disability, national origin, whistleblowing or any other legally protected class; |
| | |
| --- | --- |
| | |
| (v) | Claims under the AGE DISCRIMINATION IN EMPLOYMENT ACT, Title VII of the Civil Rights Act of 1964, as amended, the Genetic Information Nondiscrimination Act, the Family and Medical Leave Act, as amended, the Americans with Disabilities Act, as amended, and similar federal, state, and local laws, statutes, and ordinances; |
| | |
| --- | --- |
| | |
| (vi) | Claims under the Employee Retirement Income Security Act, the Occupational Safety and Health Act and similar state and local laws; |
| | |
| --- | --- |
| | |
| (vii) | Claims for wages and benefits (including without limitation, bonuses, severance benefits, health and welfare benefits, vacation pay and other fringe-type benefits); |
(viii) Claims for wrongful discharge; and
(ix) Claims for attorney's fees, litigation expenses and/or costs.
The foregoing list is intended to be illustrative and not exhaustive. You agree that this Release should be interpreted as broadly as possible to achieve your intention to waive all claims against Cavco related to your employment.
Definition of "Cavco". "Cavco" includes without limitation Cavco Industries, Inc. and its respective past, present and future parents, affiliates, subsidiaries, divisions, predecessors, successors, assigns, employee benefit plans and trusts. It also includes all past, present and future board members, managers, directors, officers, partners, agents, employees, attorneys, representatives, consultants, associates, fiduciaries, plan sponsors, administrators and trustees of each of the foregoing.
Confidentiality and Non-Competition Obligations. You agree that you will remain bound by, and will adhere to, the confidentiality and non-competition covenants (2- year duration following the Transition Date) set forth in Sections 8 and 9 of the Employment Agreement, which survive the termination of your Employment Agreement, for the remainder of your employment with Cavco and for the additional post-termination of employment periods set forth therein.
5.Non-Disparagement. You agree that you will not engage in any activity or make any statement that may disparage or reflect negatively on Cavco, including those entities and individuals related to Cavco as defined in the Release above. You understand, however, that nothing in this paragraph prevents you from cooperating with, or providing information to, any government investigation. You and the Company will work cooperatively to draft a mutually-acceptable press release announcing your transition, subject to the Company's final approval in sole absolute discretion.
6.Cooperation. You agree to assist Cavco, upon its reasonable request, in participating in the preparation for, response to, prosecution and/or defense of any litigation, investigation or other matter arising out of or related to your employment with or duties while employed with Cavco, including but not limited to the current SEC investigation in which you have been subpoenaed. You agree this obligation will survive the termination of your employment. If the cooperation is required after the termination of your employment, the Company will schedule the cooperation to minimize disruption to your schedule and agrees to compensate you for your reasonable legal expenses associated with that cooperation.
7.No Admission of Liability. Nothing contained in this Agreement or payment of any consideration pursuant to this Agreement is or shall in any event be construed as or deemed to be an admission of liability, fault or noncompliance with any federal, state or local statute, public policy, tort law, contract law, common law or wrongdoing on the part of Cavco or you.
8.Consideration Period. You acknowledge that you have been provided with a period of twenty-one (21) days to consider the terms of this offer from the date this Transition Agreement first was presented to you. You agree that any changes to this offer, whether material or immaterial, will not restart the running of the 21-day period.
You agree to notify Cavco of your acceptance of this Transition Agreement by delivering a signed copy to Cavco, addressed to my attention, no later than November 29, 2018. You understand that you may take the entire 21-day period to consider this Transition Agreement. You may return this Transition Agreement in less than the full 21-day period only if your decision to shorten the consideration period is knowing and voluntary and was not induced in any way by Cavco.
By signing and returning this Transition Agreement, you acknowledge that the consideration period afforded you a reasonable period of time to consider fully each and every term of this Transition Agreement, including the Release, and that you have given the terms full and complete consideration.
9.Revocation Period. You acknowledge that you have seven (7) days after signing this Transition Agreement to revoke it if you choose to do so. If you elect to revoke this Transition Agreement, you must give written notice of such revocation to Cavco by delivering it to me in such a manner that it is actually received within the seven-day period.
10.Effective Date. This Transition Agreement will take effect on the first business day following the expiration of the Revocation Period, provided that you choose not to revoke it.
11.Advice to Consult Legal Representative. Cavco recommends that you consult with legal counsel of your choosing, at your own expense, regarding entering into this Transition Agreement. You acknowledge that you have had an opportunity to review this Transition Agreement with counsel.
Employee Certification – Validity of Agreement. You, intending to be legally bound, certify and acknowledge that you have read carefully this Transition Agreement and have executed it voluntarily and with full knowledge and understanding of its significance, meaning and binding effect and with the advice of counsel. You further declare you are competent to understand the content and effect of this Transition Agreement and that your decision to enter into this Transition Agreement has not been influenced in any way by fraud, duress, coercion, mistake or misleading information. You further certify that you have not relied on any information except what is set forth in this Transition Agreement.
13.Assignment. You agree that you may not assign your rights or obligations under this Transition Agreement. This Transition Agreement shall inure to the benefit of and be binding upon the Company, its successors and assigns in connection with a merger, consolidation or sale or transfer of assets.
14.Headings. The headings contained in this Transition Agreement are not a part of the Transition Agreement and are included solely for ease of reference.
15.Integration and Modification. You declare and represent that no promise or agreement has been made to you other than those expressed herein. This Transition Agreement, together with Sections 8 and 9 of the Employment Agreement, constitutes the entire agreement of the parties and supersedes all prior agreements and understandings, whether oral or written, between them.
16.Severability. If any term of this Transition Agreement is or shall be declared invalid or unenforceable by a court of competent jurisdiction, the remaining terms shall not be affected thereby and shall remain in full force and effect.
17.Governing Law. Except to the extent any such laws are preempted by Federal law, the parties agree that the terms of this Transition Agreement will be governed by the laws of the State of Arizona without giving effect to the choice of laws principles of any state.
If the above is agreeable to you, please sign this Transition Agreement below and return it to my attention.
Sincerely,
/s/ David A. Greenblatt
David A. Greenblatt
Agreed to and accepted by the undersigned this 8th day of November, 2018.
/s/ Joseph H. Stegmayer
Joseph H. Stegmayer
###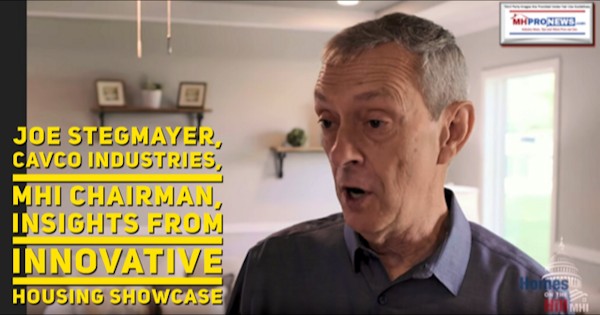 A company insider previously told MHProNews that well after the formal departure of Stegmayer from his leadership role that he still played a significant role – one that apparently went beyond his new formal title – in the operations of the MHI member company.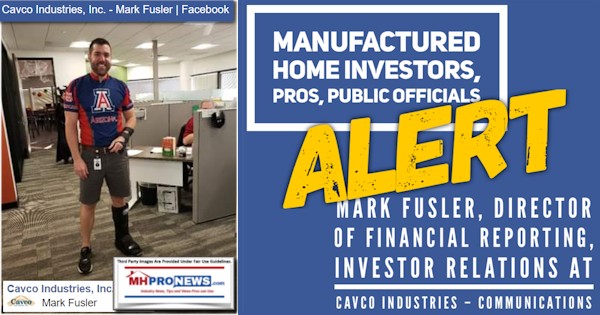 With regard to a surprising overall lack of interest by bloggers and other manufactured housing 'professional' publisher, to Kurt Kelley's credit, at least he admitted publicly that they were not going to cover such items.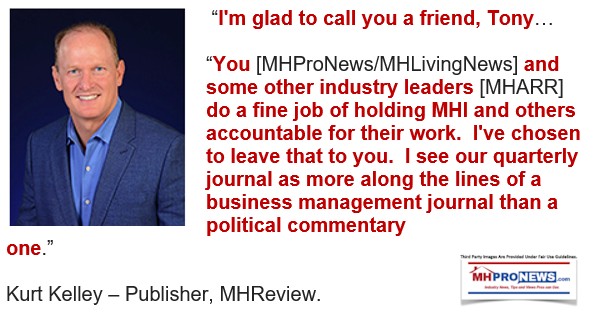 But others that have apparent ties to the Manufactured Housing Institute (MHI) have gleefully embraced-by-ignoring reports that in other industries would be reported by bloggers or industry professionals as news. Such lack of objective or any coverage – by accident and/or design – of scandals may contribute to the failure by untold numbers of manufactured home professionals to fully realize what is occurring within their own profession. But as or perhaps more important, it may be a source of misinformation for investors or public officials who are reportedly given, sent, pick up or are otherwise handed copies of 'publications' such as MHInsider.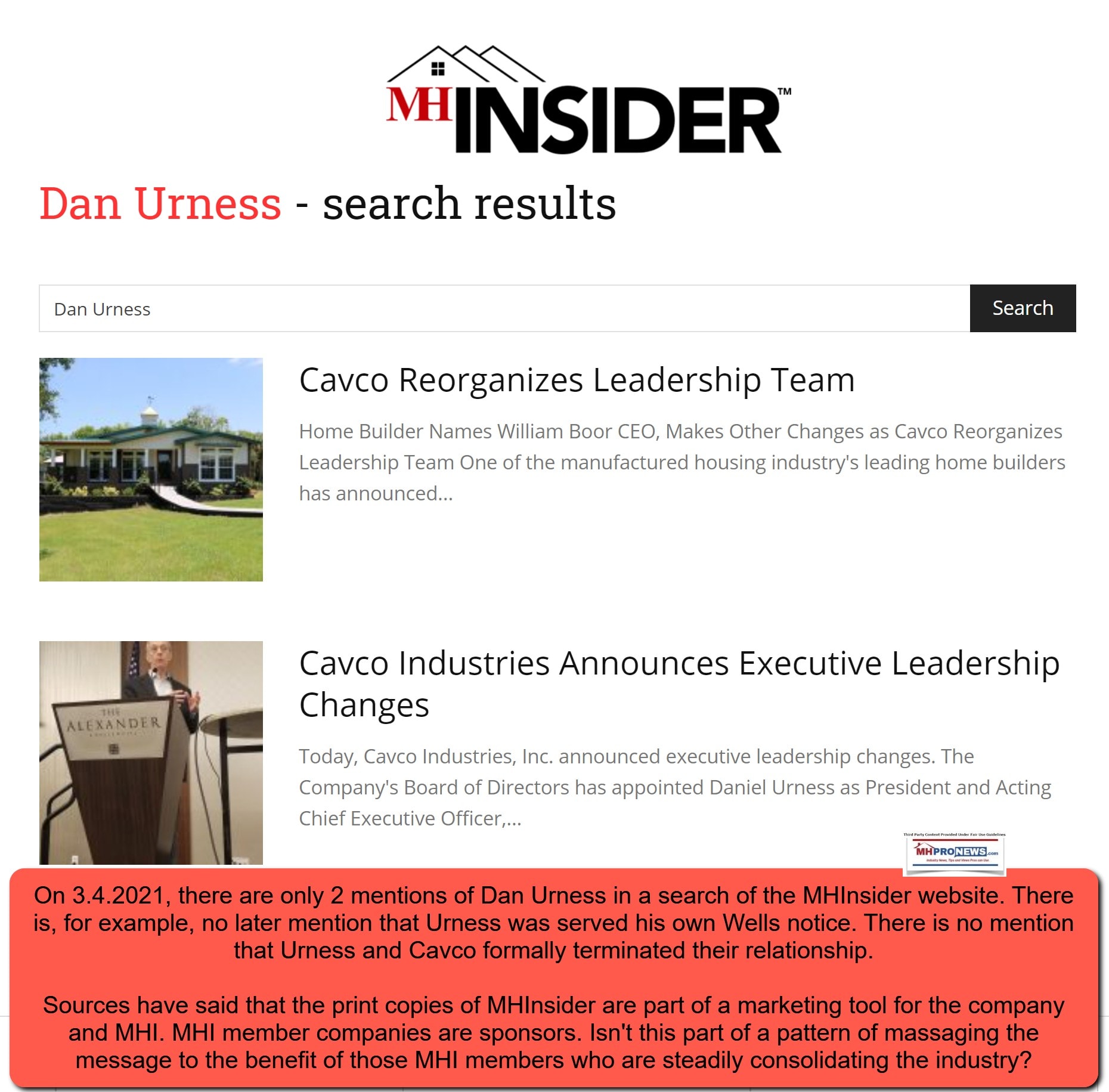 For example. MHInsider, whose masthead makes clear obvious ties with the Manufactured Housing Institute (MHI), they flatly noted Stegmayer's exit as CEO, and that Dan Urness for a time served as their acting president.
"The Company's Board of Directors has appointed Daniel Urness as President and Acting Chief Executive Officer, effective immediately. In his new role, Mr. Urness will be responsible for day-to-day leadership of the Company. The Company also announced that Joshua Barsetti, the Company's Chief Accounting Officer, will assume the duties of principal financial officer for purposes of financial filings and certifications.
William Boor, Chairman of the Company's Audit Committee, a member of the Company's Compensation Committee and an independent member of the Board since July 2008, will assume the duties of non-executive Chairman of the Board."
But because of long reported low readership levels, a lack of fanfare over this report – their bland "Cavco Industries Announces Executive Leadership Changes" – instead of any hint of scandal in the headline the drama at Cavco there was toned down the way that a press release by a crisis manager might attempt to achieve.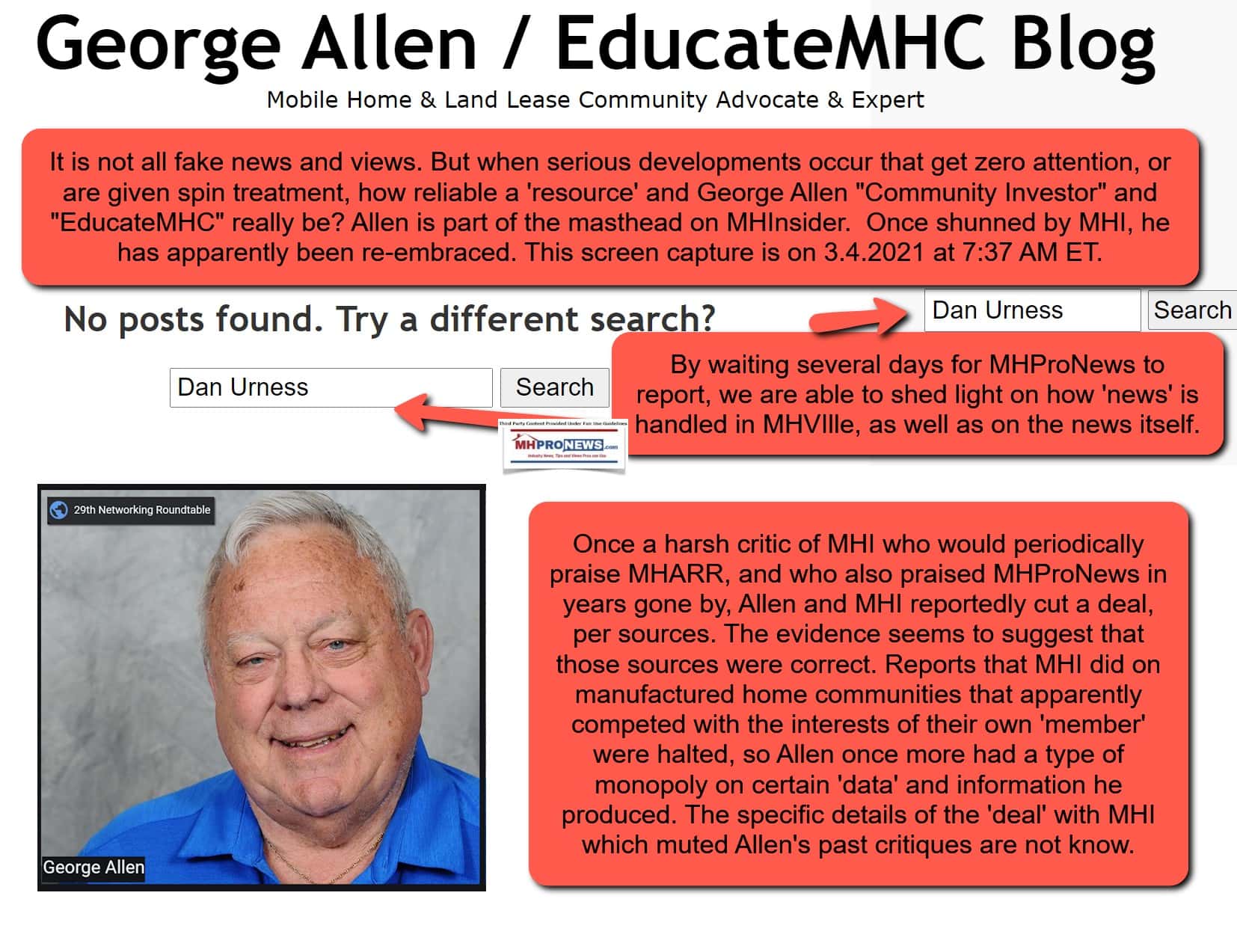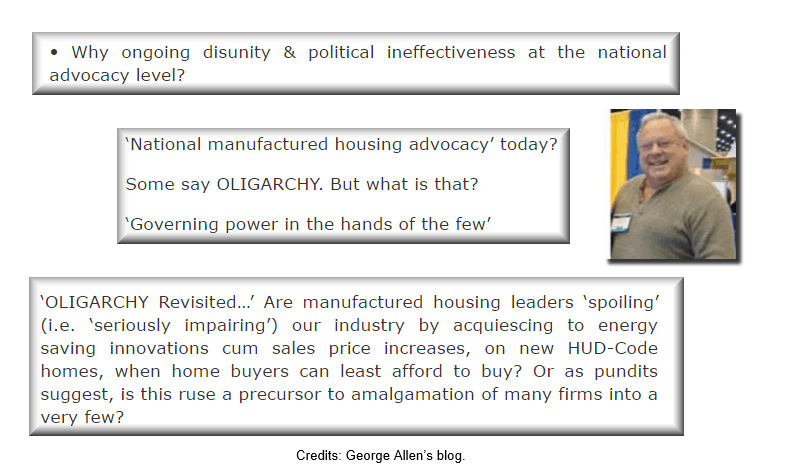 Months later, MHInsider wrote another leadership change report, one of only two times that Dan Urness' name appears on this date in their publication.
"One of the manufactured housing industry's leading home builders has announced a series of executive changes. William Boor has been named CEO as Cavco Industries reorganizes its leadership team.
Boor had been the company's non-executive chairman of the board. Acting CEO Dan Urness will resume his previous roles as executive vice president and CFO. Both changes will be effective April 15, 2019."
There is a mention and link to the SEC drama in this report, but that is further into their article and the overall tone could be described as rather bland. That begins again with their headline: "Cavco Reorganizes Leadership Team."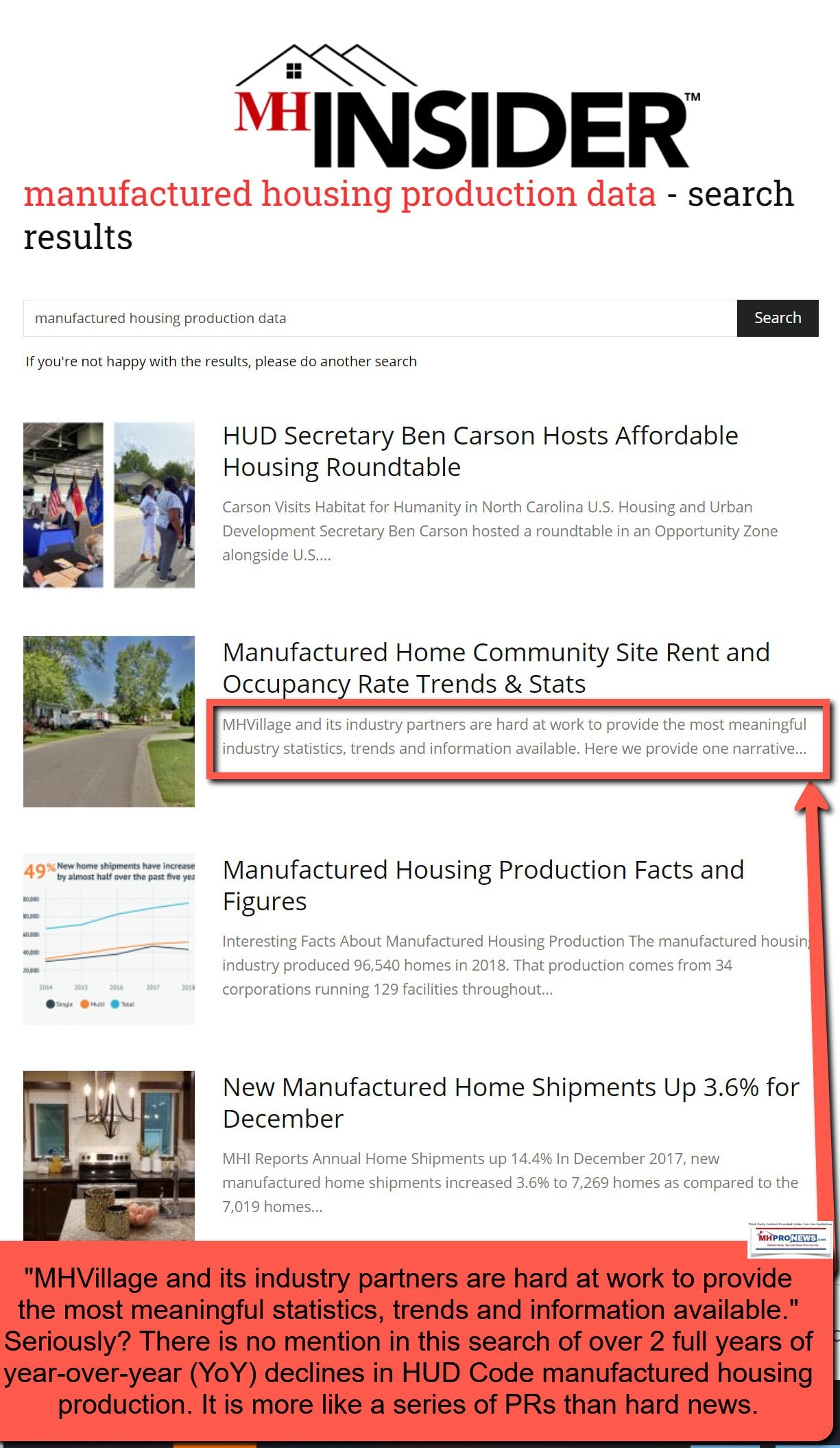 Note once more, there is no mention in the headline of the SEC drama. But as every serious reporter or editor knows, it is the headline that should have the big hook(s).
As MHProNews previously reported, MHInsider's traffic count was so low that they finally stopped publishing the article views.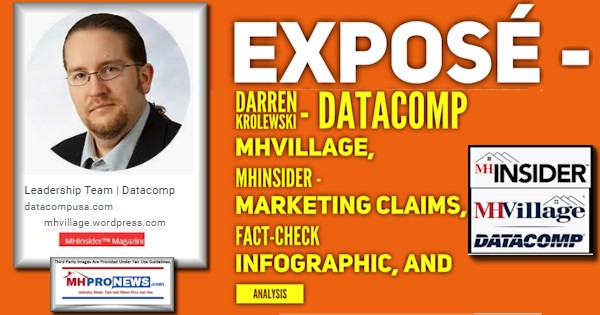 Urness is arguably a case in point of managing the message for favored MHI member firms.
On 3.4.2021, a search there are only 2 mentions of Dan Urness in a search of the MHInsider website (see illustrations). There is, for example, no later mention that Urness was served his own Wells notice. There is no mention that Urness and Cavco formally terminated their relationship.  Perhaps such oversights and examples explains why MHInsider is largely ignored by manufactured housing professionals at industry trade events where it is passed out free?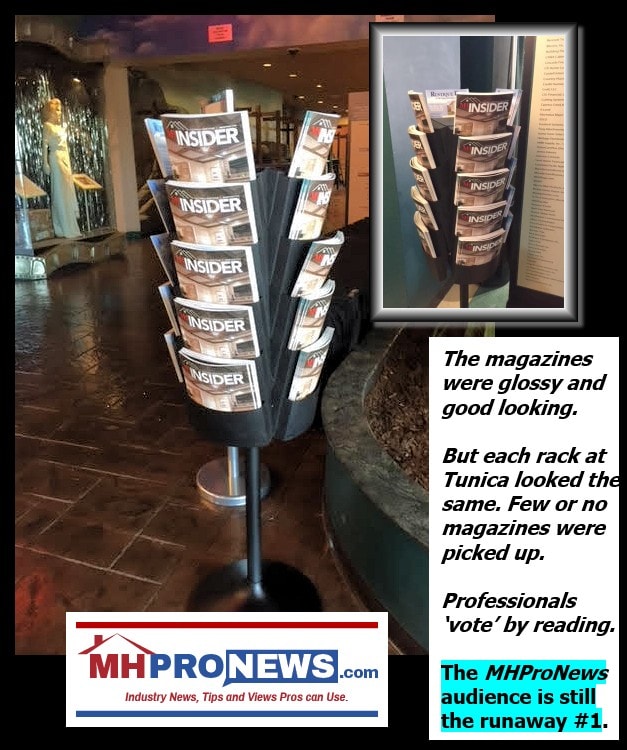 However, sources have said that the print copies of MHInsider are part of a marketing tool for a company and MHI. MHI member companies are sponsors of MHInsider. Isn't this part of a pattern of massaging the message to the benefit of those MHI members who are steadily consolidating the industry?
How 'news' is handled in America and more specifically in our industry is problematic at best, or corrupt at worst.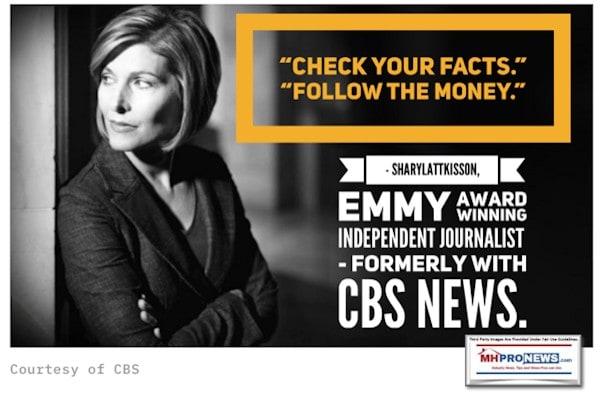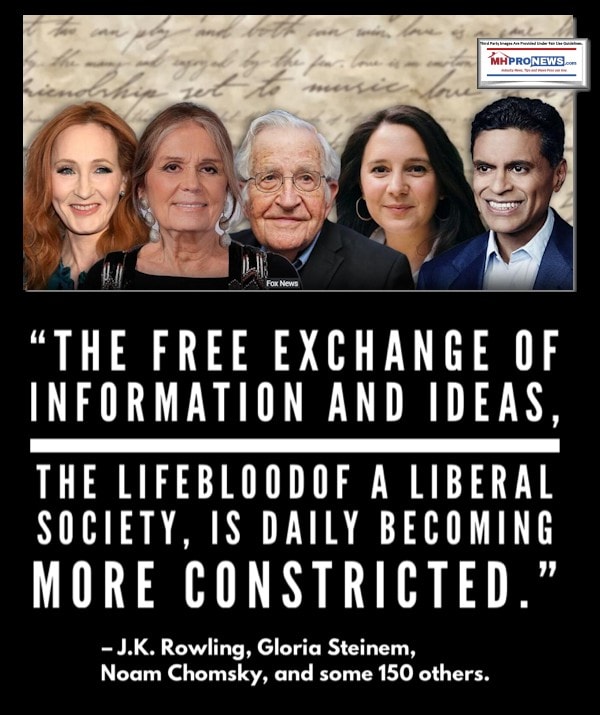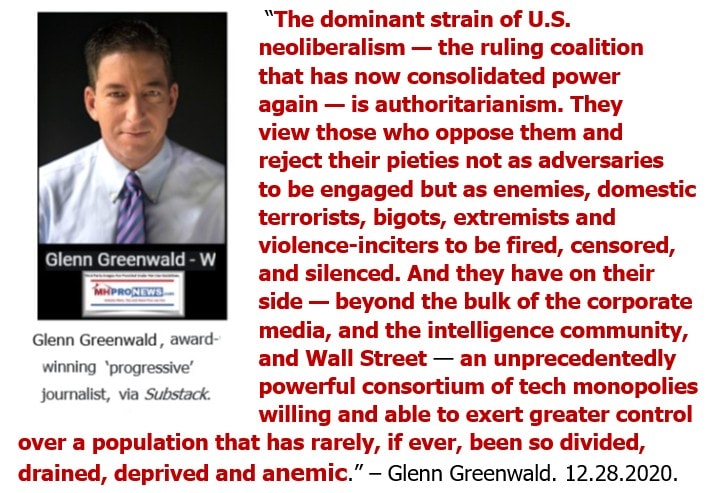 This CVCO issue should be viewed through the lens of the Sam Strommen at Knudson Law report.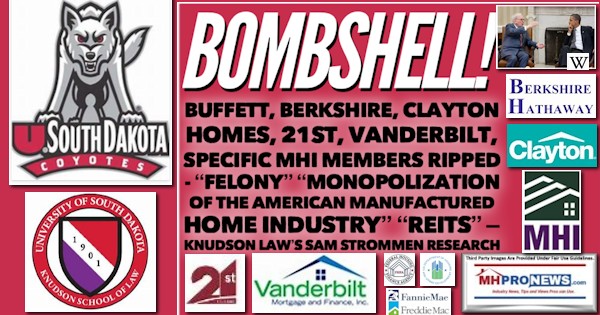 With so much "distraction and misinformation" in our profession and nation, in stark contrast to others in MHVille or so many in mainstream media, MHProNews will continue to monitor and report with objective facts and expert insights on Cavco and other industry issues.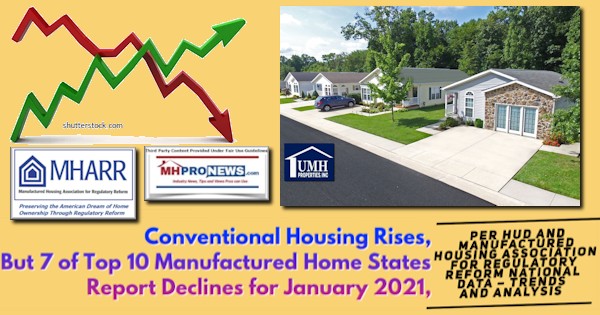 Additionally, our publications will report on evidence- and fact-based developments that impact affordable manufactured housing, the business, political, and economic climate. Too many others in our profession fluff, give tongue baths, distract, or ignore the obvious. Manufactured housing is underperforming during an affordable housing crisis. This arguably costs professionals, investors, and taxpayers billions. It must be exposed until the problems are corrected.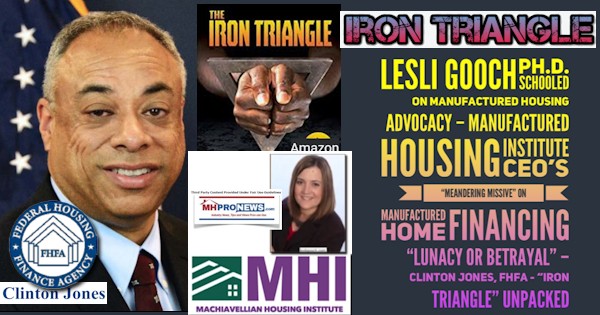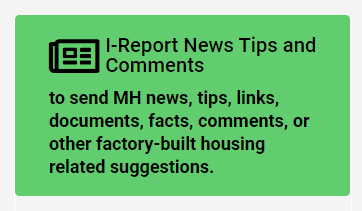 Stay tuned for more of what is 'behind the curtains' as well as what is obvious and in your face reports. It is all here, at the runaway largest and most-read source for authentic manufactured home "Industry News, Tips, and Views Pros Can Use" © where "We Provide, You Decide." © ## (Affordable housing, manufactured homes, reports, fact-checks, analysis, and commentary. Third-party images or content are provided under fair use guidelines for media.) (See Related Reports, further below. Text/image boxes often are hot-linked to other reports that can be access by clicking on them.)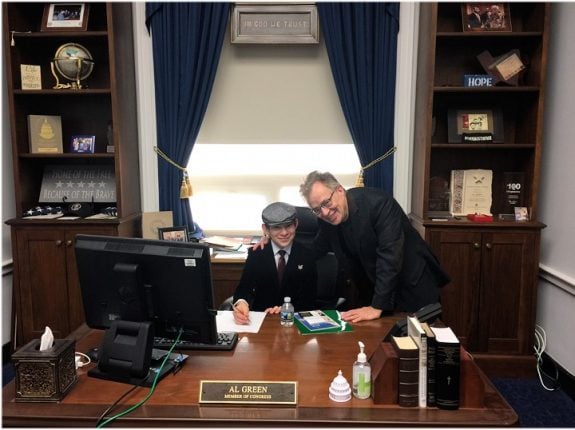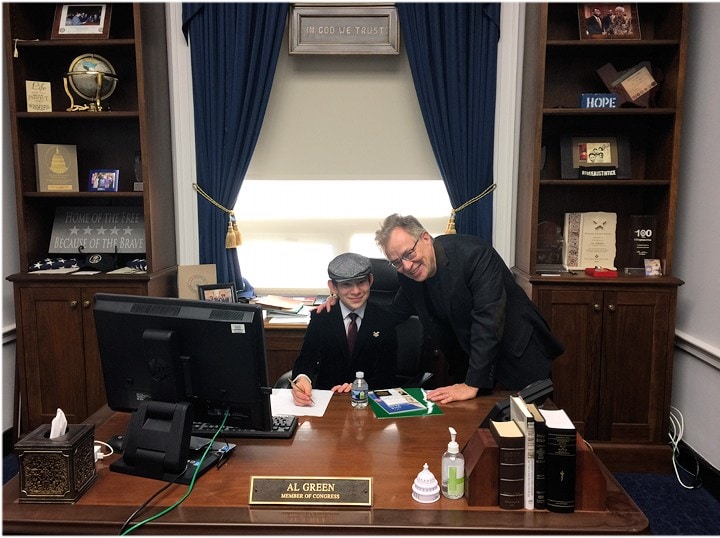 By L.A. "Tony" Kovach – for MHProNews.com.
Tony earned a journalism scholarship and earned numerous awards in history and in manufactured housing.
For example, he earned the prestigious Lottinville Award in history from the University of Oklahoma, where he studied history and business management. He's a managing member and co-founder of LifeStyle Factory Homes, LLC, the parent company to MHProNews, and MHLivingNews.com.
This article reflects the LLC's and/or the writer's position, and may or may not reflect the views of sponsors or supporters.
Connect on LinkedIn: http://www.linkedin.com/in/latonykovach
Related References:
The text/image boxes below are linked to other reports, which can be accessed by clicking on them.