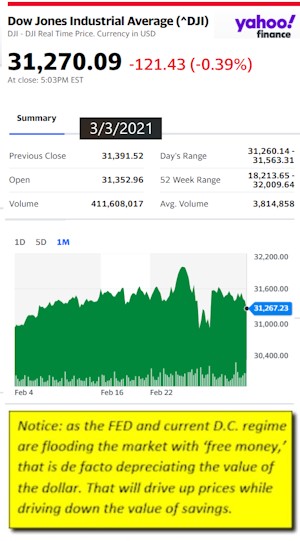 In a press release on March 1, 2021, "Champion Home Builders, a subsidiary of Skyline Champion Corporation (NYSE:SKY) ("Skyline Champion"), today acquired ScotBilt Homes, LLC from SHI Group Holdings, Inc. and related companies (collectively, "ScotBilt Homes")."
The move is part of a broader trend by the so-called Big Three of the Manufactured Housing Institute (MHI) of slow, steady acquisitions of manufactured home production.
Skyline Champion is a vertically integrated company. That means that they have production as well as company owned retail and other cohesive business units.
UPDATE: 3.4.2021 at 10:30 AM ET. An informed source at ScotBilt provided MHProNews this morning a letter that includes the following.
"Champion and ScotBilt will continue doing business under the ScotBilt name and we anticipate a smooth transition of the business process.  Moreover, there will be no changes at this time to ordering, fulfillment, or payment processes for ScotBilt Homes.   Your ScotBilt Sales and Service representatives remain the same and will provide you the same great service you have come to expect.  
Effective today, Jim Johnson will assume the position of General Manager for ScotBilt Homes.  Jim is transferring from our Lillington, NC facility where he has been the general manager for the last two years.  We are also excited that all members of the ScotBilt leadership team will be staying with the company and will continue in their current roles and will report to Jim Johnson (see below)."
Greg Scott – Operation Manager
Shea Jones – Sales & Marketing Manager
Travis Harrelson – Consumer Affairs Manager
Wayne Gilmore – Engineering & Quality Manager
Roy Daley – General Manager of the Millen facility"
##
The balance of information ScotBilt provided is linked here as a download.
Additional Skyline Champion and ScotBilt information will be tonight's featured focus.
For our growing numbers of new readers, as well as a reminder to those returning daily, a few quick evening/nightly market report insights.
Every business evening, MHProNews provides a bullet list of left-right news headlines from CNN and in a matter of moments, savvy professionals can see at a glance news headlines and views across the political spectrum.
This is a time saving and insightful way to quickly grab insights from across the left-right divide for those who are hooked on this market-nightly feature.
Our featured focus follows the quotable quotes, periodic political cartoons, those left-right headlines, and two of our three market summary graphics as reported at the closing bell.
After the featured focus, are some recent/related report links and the third manufactured housing focused stock equities graphic. There are some additional items that include the free signup for the manufactured housing industry's x2 weekly emailed news to the most-read trade publication in our profession:
On a day that saw manufactured home connected equities yield mixed results at the close today, let's press ahead toward the insights about the Skyline-Champion announcement about Scotbilt.
Quotes That Shed Light – Industry, American, Social, National Issues
Headlines from left-of-center CNN

Who makes the rules?
Remi Bader has amassed a following of nearly 800,000 on TikTok.
Curvy influencer frustrated and confused after TikTok took down some of her posts
Wall Street is in for a rude awakening, former NY Fed president says
LIVE UPDATES US stocks are mixed as bond yields rise again
How to buy a home with no down payment
A new fund tracks 'meme stocks' after the GameStop saga caught Wall Street off guard
Americans' wages have gone up, but the news is not all good
Bitcoin is surging as an inflation hedge, but don't count out gold either
John Kerry has a warning for Big Oil
Microsoft says a group of cyberattackers tied to China hit its email servers
Private equity firm acquires Michaels in $5 billion deal
Japanese billionaire invites 8 people to join SpaceX mission to the Moon
Alamo Drafthouse, the fan-favorite movie theater chain, files for bankruptcy
Reese's is launching a peanut butter cup without any chocolate
How a Chinese website for pirated TV shows became a cultural touchstone for millennials
Signage is displayed outside the Palazzo at the Venetian Resort in Las Vegas, Nevada, U.S., on Sunday, Oct. 18, 2020. Las Vegas Sands Corp. is scheduled to release earnings figures on October 21.
Leaving Las Vegas: Sands is selling its casinos in a $6.25 billion deal
People walk toward a Macy's store in Lewisville, Texas, the United States, on Jan. 9, 2021. Macy's will close another 45 stores this year as part of a three-year plan aimed at keeping the department store chain profitable, the company said.
These Texas chains will still require masks once the state's mandate is lifted
Mishawn Neva Zengota, a recently hired Piercing Pagoda piercing specialist.
This piercing chain thinks it has found a new way to get people through mall doors
Headlines from right-of-center Newsmax
Cuomo Won't Resign Over Sexual Harassment Claims
New York Democrat Gov. Andrew Cuomo said he will not resign amid investigations, but he did issue an apology amid the recent allegations of sexual harassment and asked New Yorkers to wait for the results of the state investigation.
Related Stories
Zeldin: Exploring Gov. Cuomo Challenge; Won't Run If Can't Win
Cuomo Told Others to Resign Amid Similar Claims
Lindsey Graham Calls for 'Process' on Cuomo Accusations
Cuomo Signed Bill Lowering Bar to Prove Sexual Harassment
The Biden Presidency
Blinken Singles Out China as 'Biggest Geopolitical Test' for US
108 Illegal Immigrants With Coronavirus Released in Texas
Crenshaw: Biden Prioritizing Illegals Over US Citizens
WH: Can't Predict If More Stimulus Checks Will Come
Gizzi: Tanden Down, GOP Focuses Fire on Becerra
Pope Benedict: Biden Is 'Catholic and Observant,' Follows Democratic Line
Biden Health Pick Taking Heat for Support of Abortion Rights
Collins Backs Biden's Interior Secretary Pick Haaland
Newsfront
Mike Pence Breaks Silence: Dems' Election Bill 'Unconstitutional Power Grab'
Former Vice President Mike Pence on Wednesday criticized the election reform bill proposed by Democrats which he says is "an unconstitutional, reckless, and anti-democratic bill that would erode those foundational principles…
Capitol Police Taking March 4 Threats Seriously
SUV in Crash Came Through Hole in Border Fence
Related
Did COVID-19 Vaccine Work If You Didn't Get Side Effects?
Archdiocese Condemns J&J Vaccine Over Abortion Cells
Biden Vows Enough Vaccine for All US Adults by End of May
'Insane' Blast Damages Dutch Coronavirus Test Center
Nasal Spray Reduces COVID-19 Symptoms
Biden Headed in Wrong Direction With North Korea
Ted Cruz: Texas Right to End Coronavirus Lockdowns
Chip Shortages Could Extend Into Next Year, Taiwanese Supplier Warns
Samsung Details Plans for $17 Billion Chip Facility in US
Samsung Electronics Co. revealed additional details about its plans
Austin Pfluger to Newsmax TV: Why Is Biden 'Opening the Border and Closing Schools'
Microsoft: Exchange Server Flaw Lets Chinese Hackers Steal Emails
CDC Director Urges Mask Wearing Regardless of Governors' Orders
Detectives Look at SUV's 'Black Box' From Tiger Woods Crash
Study: Academics Support Conservative Discrimination
Fox News: Hunter Biden Probe 'Active and Ongoing,' WH Not Involved
A federal investigation into the "tax affairs" of Hunter Biden
108 Illegal Immigrants With Coronavirus Released in Texas
There have been 108 migrants released by the Border Patrol in Texas
Study: Americans Dying in Their Prime at Increasing Rates
Rush Limbaugh's Widow Reveals Details of His Private Funeral
Biden, Senate Deal Caps Relief Checks at $80K Earners
President Joe Biden has agreed to moderate Democrats' demands
Pope Francis Says He Must Go to Iraq
National Security Officials to Testify on Jan. 6 Mistakes
House Panel Reissues Subpoena for Trump's Tax Records
Dems Seek to End 'Qualified Immunity' for Police
Finance
February Job Growth of 117K Falls Short of Forecast: ADP
The number of employees at U.S. businesses rose in February by less than expected, underscoring the labor market's struggle to recover despite a decline in Covid-19 infections in recent weeks.
S&P Global: Khashoggi Report Unlikely to Impact Saudi Credit Rating
US Farmers See Meatless Protein at 10 Percent of Market in 5 Years
Amazon Merchant Kicked Off Website Spent $200,000 to Get Justice
Kremlin: Musk's Clubhouse Invite to Putin a 'Misunderstanding'
Health
Did COVID-19 Vaccine Work If You Didn't Get Side Effects?
Common side effects of current COVID-19 vaccines include fever, chills, fatigue, and headache, along with pain and swelling around the injection site. The Centers for Disease Control and Prevention explains that these side effects are…
Study: Climate Change Putting More MS Patients in Danger
Study: Social Media, Binge Eating Linked for Kids
Choice of Brand Name Drugs Costs Medicare $2B a Year
Research Finds People Rarely End Conversations When They Want To
Market Indicator Closing Summaries – Yahoo Finance Closing Tickers on MHProNews…
Featured Focus –
Where Business, Politics and Investing Can Meet
Picking up from the Skyline-Champion announcement on 3.1.2021, it continued by saying the following.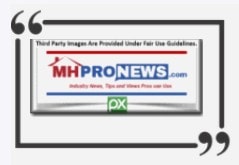 "We are excited to welcome ScotBilt Homes and its almost 400 employees to the Skyline Champion family," said Mark Yost, Skyline Champion's President and Chief Executive Officer. "We believe ScotBilt is an excellent fit given our compatible company cultures and shared values. While working with founder Sam Scott and his team during this transaction, we learned that their work ethic mirrors our core operating principles. Sam Scott has been a pioneer in the manufactured housing industry for more than 50 years and we are fortunate to benefit from the high quality and unique home designs for which ScotBilt is known."
Mr. Yost continued, "The transaction is expected to accomplish several objectives within our strategic framework for profitable growth. ScotBilt's strong presence in the attractive mid-south region helps to balance our national distribution and is highly complementary to our existing footprint, while their efficient manufacturing facilities produce a streamlined product offering. We expect this transaction to generate solid returns with meaningful shareholder value creation from day one, supported by ScotBilt's attractive client base, and margin profile, in addition to the potential for synergy capture."
Sam Scott, owner of ScotBilt Homes commented, "As a family-founded business, finding the right partner for the future of ScotBilt Homes was crucial to our employees, our suppliers and our incredibly loyal customers. We wanted a partner who we could trust would operate the company in a manner consistent with how we've done business since our founding in 2004. The customers who value the reputation of our brand will continue to receive the high-quality products they have grown to expect. I am confident that we have aligned with a great company that will leverage the culture and brand integrity that has set us apart from our competitors."
About Skyline Champion Corporation:
Skyline Champion Corporation (NYSE: SKY) is the largest independent, publicly traded, factory-built housing company in North America and employs more than 7,000 people. With almost 70 years of homebuilding experience and 38 manufacturing facilities throughout the United States and western Canada, Skyline Champion is well positioned with a leading portfolio of manufactured and modular homes, ADUs, park-models and modular buildings for the single-family, multi-family, hospitality, senior and workforce housing sectors.
In addition to its core home building business, Skyline Champion operates a factory-direct retail business, Titan Factory Direct, with 18 retail locations spanning the southern United States, and Star Fleet Trucking, providing transportation services to the manufactured housing and other industries from several dispatch locations across the United States.
Skyline Champion builds homes under some of the most well-known brand names in the factory-built housing industry including Skyline Homes, Champion Home Builders, Genesis Homes, Athens Park Models, Dutch Housing, Excel Homes, Homes of Merit, New Era, Redman Homes, Shore Park, Silvercrest, Titan Homes in the U.S., and Moduline and SRI Homes in western Canada.
About ScotBilt Homes:
ScotBilt Homes was built from the ground up in 2004 by the Scott family. The ScotBilt Homes' team includes carpenters, plumbers, electricians, and roofers who have experience in their fields since 1980. ScotBilt Homes utilizes innovative construction techniques to build high-quality, low-maintenance, manufactured homes.
Forward-Looking Statements
Statements in this press release, including certain statements regarding Skyline Champion's strategic initiatives, and future market demand are intended to be covered by the safe harbor for "forward-looking statements" provided by the Private Securities Litigation Reform Act of 1995. These forward-looking statements generally can be identified by use of words such as "believe," "expect," "future," "anticipate," "intend," "plan," "foresee," "may," "could," "should," "will," "potential," "continue," or other similar words or phrases. Similarly, statements that describe objectives, plans, or goals also are forward-looking statements. Such forward-looking statements involve inherent risks and uncertainties, many of which are difficult to predict and are generally beyond the control of Skyline Champion. Skyline Champion cautions readers that a number of important factors could cause actual results to differ materially from those expressed in, implied, or projected by such forward-looking statements. Risks and uncertainties include regional, national and international economic, financial, public health and labor conditions, and the following: the COVID-19 pandemic, which has had, and could continue to have, significant adverse effects on us; the cyclicality and seasonality of the housing industry and its sensitivity to changes in general economic or other business conditions; demand fluctuations in the housing industry; supply-related issues; labor-related issues; the possible unavailability of additional capital when needed; competition and competitive pressures; changes in consumer preferences for our products or our failure to gauge those preferences; quality problems, including the quality of parts sourced from suppliers and related liability and reputational issues; data security breaches, cybersecurity attacks, and other information technology disruptions, exacerbated by the COVID-19 pandemic; the extensive regulation affecting the production and sale of factory-built housing and the effects of possible changes in laws with which we must comply; the potential impact of natural disasters on sales and raw material costs; the risks associated with mergers and acquisitions; the prices and availability of materials; periodic inventory adjustments by, and changes to relationships with, independent retailers; changes in interest and foreign exchange rates; insurance coverage and cost issues; the possibility that all or part of our goodwill might become impaired; the possibility that our risk management practices may leave us exposed to unidentified or unanticipated risks; and other risks set forth in the "Risk Factors" section, the "Legal Proceedings" section, the "Management's Discussion and Analysis of Financial Condition and Results of Operations" section, and other sections, as applicable, in our Annual Reports on Form 10-K, including our Annual Report on Form 10-K for the fiscal year ended March 28, 2020 previously filed with the Securities and Exchange Commission ("SEC"), as well as in our Quarterly Reports on Form 10-Q, and Current Reports on Form 8-K, filed with or furnished to the SEC.
If any of these risks or uncertainties materializes or if any of the assumptions underlying such forward-looking statements proves to be incorrect, then the developments and future events concerning Skyline Champion set forth in this press release may differ materially from those expressed or implied by these forward-looking statements. You are cautioned not to place undue reliance on these statements, which speak only as of the date of this release. We anticipate that subsequent events and developments will cause our expectations and beliefs to change. Skyline Champion assumes no obligation to update such forward-looking statements to reflect events or circumstances after the date of this document or to reflect the occurrence of unanticipated events, unless obligated to do so under the federal securities laws."
##
The graphic below is from MHProNews.
A recent report on SKY is below.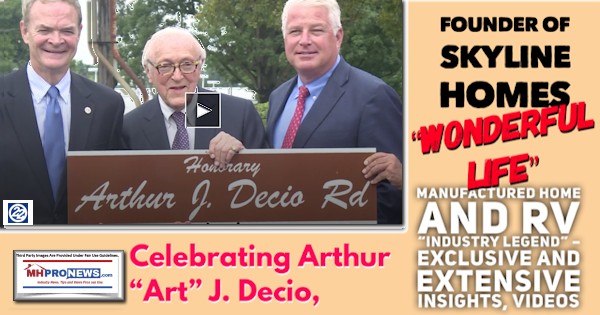 Related, Recent, and 'Read-Hot' Reports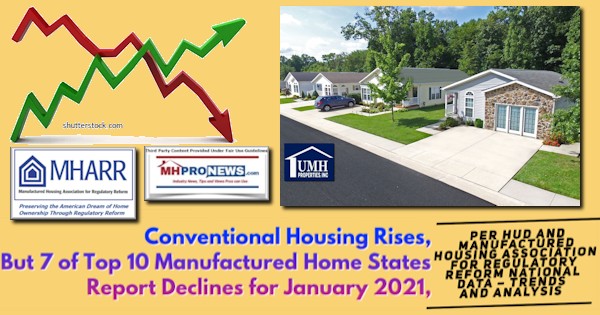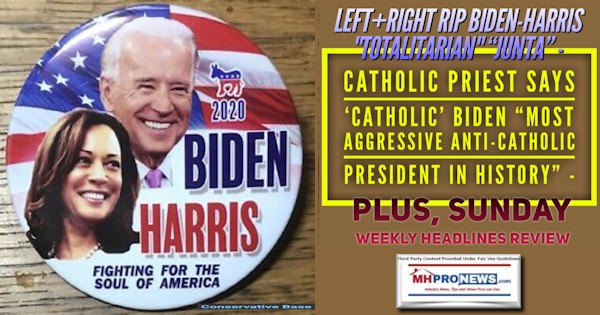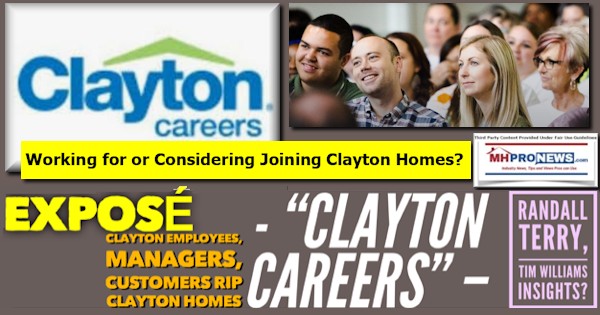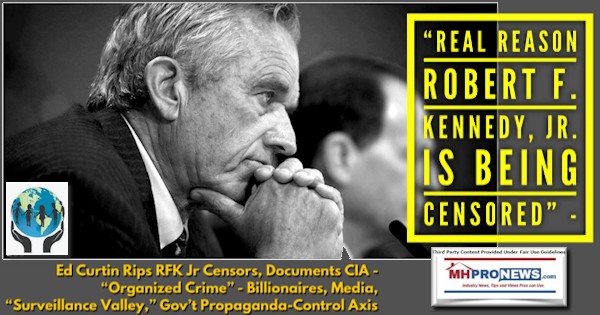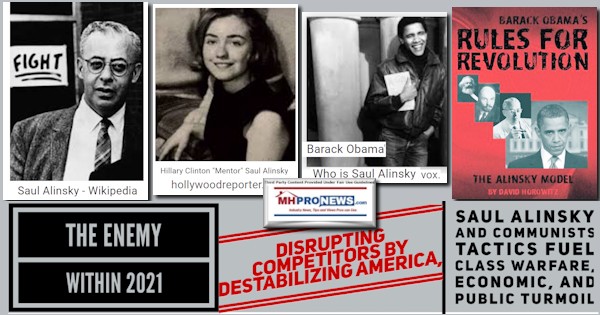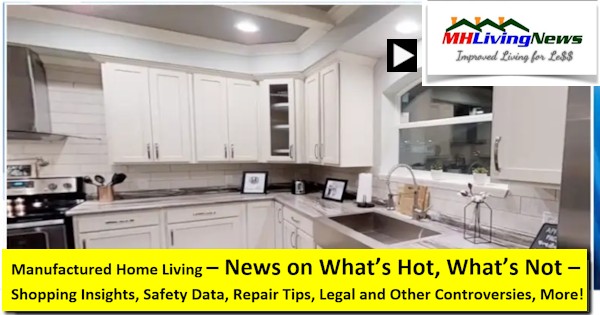 Manufactured Housing Industry Investments Connected Closing Equities Tickers
Some of these firms invest in manufactured housing, or are otherwise connected, but may do other forms of investing or business activities too.
NOTE: The chart below includes the Canadian stock, ECN, which purchased Triad Financial Services, a manufactured home industry lender
NOTE: Drew changed its name and trading symbol at the end of 2016 to Lippert (LCII).
NOTE: Deer Valley was largely taken private, say company insiders in a message to MHProNews on 12.15.2020, but there are still some outstanding shares of  the stock from the days when it was a publicly traded firm.  Thus, there is still periodic activity on DVLY.
Winter 2021…
Berkshire Hathaway is the parent company to Clayton Homes, 21st Mortgage, Vanderbilt Mortgage and other factory built housing industry suppliers.
· LCI Industries, Patrick, UFPI, and LP each are suppliers to the manufactured housing industry, among others.
· AMG, CG, and TAVFX have investments in manufactured housing related businesses. For insights from third-parties and clients about our publisher, click here.
Enjoy these 'blast from the past' comments.
MHProNews. MHProNews – previously a.k.a. MHMSM.com – has celebrated our 11th year of publishing, and is starting our 12the year of serving the industry as the runaway most-read trade media.
Sample Kudos over the years…
It is now 11+ years and counting…and Williams, who praised our accuracy and other services to manufactured housing for years, then said this.
Learn more about our evolutionary journey as the industry's leading trade media, at the report linked below.
· For expert manufactured housing business development or other professional services, click here.
· To sign up in seconds for our industry leading emailed headline news updates, click here.

Disclosure. MHProNews holds no positions in the stocks in this report.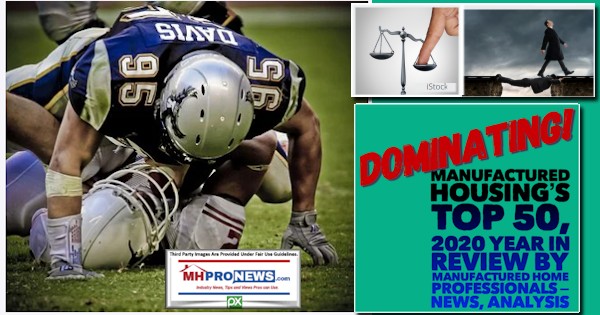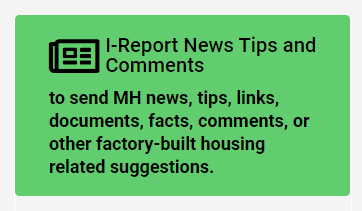 That's a wrap on this installment of "News Through the Lens of Manufactured Homes and Factory-Built Housing" © where "We Provide, You Decide." © (Affordable housing, manufactured homes, stock, investing, data, metrics, reports, fact-checks, analysis, and commentary. Third-party images or content are provided under fair use guidelines for media.) (See Related Reports, further below. Text/image boxes often are hot-linked to other reports that can be access by clicking on them.)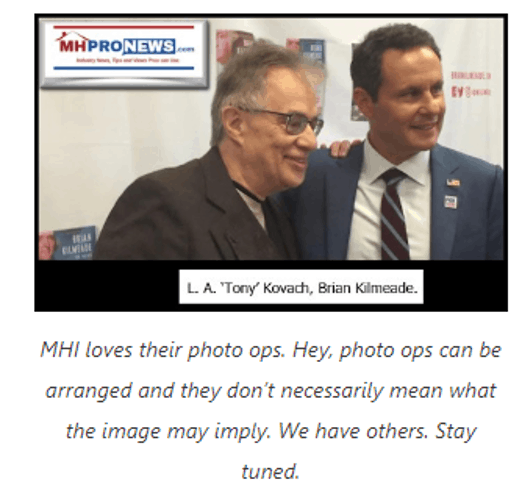 By L.A. "Tony" Kovach – for MHLivingNews.com.
Tony earned a journalism scholarship and earned numerous awards in history and in manufactured housing. For example, he earned the prestigious Lottinville Award in history from the University of Oklahoma, where he studied history and business management. He's a managing member and co-founder of LifeStyle Factory Homes, LLC, the parent company to MHProNews, and MHLivingNews.com. This article reflects the LLC's and/or the writer's position, and may or may not reflect the views of sponsors or supporters.