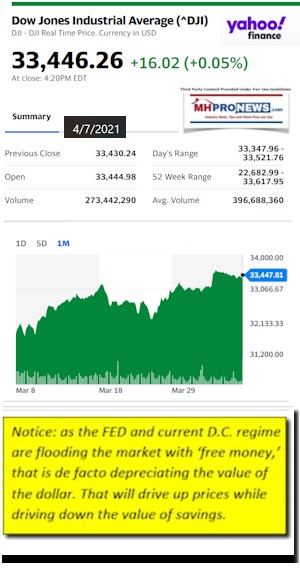 In a literal April Fool's Day (4.1.2021) email to their members, the Manufactured Housing Institute (MHI) – with no apparent sense of irony – said: "MHI is currently reviewing the provisions of the [Biden-Harris White House] proposal to identify opportunities for manufactured housing and areas of concern for our members." Pardon the obvious. No such claimed "review" by MHI should be needed. Why? Long-term and detail-minded MHProNews readers already know what MHI's self-proclaimed 'leadership' has either forgotten, ignored, or perhaps duplicitously failed to do. It is this. The key elements of what manufactured housing needs to move beyond survive and return to thrive are already federal law. In a clear case of 'disconnect,' MHI's CEO Lesli Gooch has admitted as much in writing. So, what exactly is there for MHI to review in the White House's Resident Biden-Harris plan?
Hold those thoughts and questions, as we pivot back to MHI's email of 4.1.2021, which are shown under fair use guidelines.
Per MHI, "President Biden has unveiled the "American Jobs Plan," a $2 trillion spending package intended to rebuild the country's transportation and infrastructure. The proposal is a broader view of infrastructure than in prior packages, with funding included for water, a renewed electric energy grid, high-speed broadband, and housing. According to the President, in each of these areas, the focus is on addressing racial injustices, climate impacts, and clean energy and infrastructure with a strong emphasis on opportunities to help underserved communities nationwide. To pay for the package, the Administration proposes to increase a variety of business taxes, including an increase in the corporate income tax rate to 28 percent (from 21 percent) and a doubling of the minimum tax rate paid by U.S. multinational corporations."
Then, their message said this, quoted above: "MHI is currently reviewing the provisions of the [Biden-Harris White House] proposal to identify opportunities for manufactured housing and areas of concern for our members."
MHI's shocking April Fool's Day email then said, "Below is a high-level summary of some of the major funding areas in the plan that are potentially relevant to the manufactured housing industry:
Housing Components
Produce, preserve, and retrofit more than one million rental homes through a combination of tax credits, formula funding, grants, and project-based rental assistance.
Build and rehabilitate more than 500,000 homes for low- and middle-income home buyers, including through the passage of the Neighborhood Homes Investment Act.
Eliminate exclusionary zoning and harmful land use policies by establishing a new competitive grant program to award funding to jurisdictions that "take concrete steps to eliminate such needless barriers to producing affordable housing."
Extend and expand commercial efficiency tax credits for weatherization and establish a $27 billion Clean Energy and Sustainability Accelerator focused on mobilizing private investment for distributed energy resources; retrofits of residential, commercial, and municipal buildings; and clean transportation."
Much of the above are direct competitors to the interests of manufactured housing, and/or they undermine manufactured housing in more subtle ways (e.g.: bullet #3).  Thus, if the goal of the Arlington, VA based MHI trade association is serious about promoting a business and regulatory climate that supports manufactured housing industry growth, which the Manufactured Housing Institute claims under oath and with penalties of perjury annually in their IRS Form 990 that they are doing.  That 990 filing, per their own statements, is reviewed by MHI's board before it is filed with IRS.
Indeed, to underscore the problematic nature of the Biden plan, a manufactured home community operator that has been a longtime member of an MHI affiliate is on record saying that subsidized housing is a competitor for the HUD Code manufactured home industry.
But there is more.
As the headline indicates, the Manufactured Housing Institute (MHI) has periodically touted their housing "coalition partners." Those housing coalition partners include, but are not limited to, the National Housing Conference (NHC). In an item forwarded to MHProNews today is this chart from the NHC.
That one potent graphic arguably makes the stark case that MHI has failed, failed, failed at doing the straightforward task of having existing laws favorable to manufactured housing fully and properly enforced.
Nor can MHI and their self-proclaimed leadership wiggle around their responsibility and accountability.
Why? Because under a blistering series of MHProNews reports and analysis by this pro-industry, pro-consumer, pro-growth publication – our platform has routinely cited voices in the manufactured home industry that includes MHI members and MHI award winners that have publicly lamented or decried the status quo.
Perhaps as a result of the withering and ongoing reference to statements by MHI and other manufactured home industry voices, Lesli Gooch, Ph.D. and MHI CEO has herself been forced into making public statements that logically reveal the clear-cut case for their own failures.
To the point vividly illustrated by the NHC-Bloomberg graphic – which includes expert MHProNews commentary that explains the meaning of the Accessor Dwelling Unit (ADU) preemption data out of California – Gooch herself has on occasion mentioned in comments or other letters that manufactured housing enhanced preemption has not been enforced.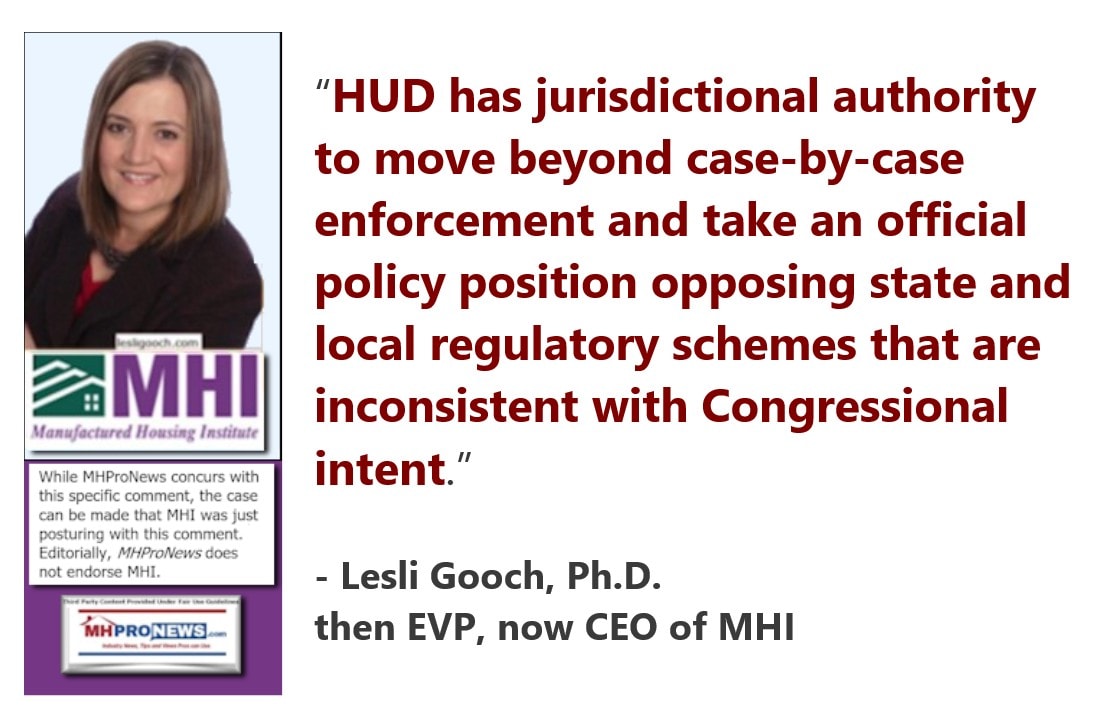 That admission and the one below by Gooch – along with others make every posturing photo or video opportunity that they have sent out to their members for years in terms of measurable results meaningless. It is not new legislation that is needed. It is enforcement of existing legislation that is required. If MHI can't get it done on their own, then why has MHI not turned to the balance of the industry's representation and jointly gone to HUD, the White House, or members of Congress demanding that existing laws be fully and properly enforced?
Instead, the case is readily made that there have been years of posturing and posing for cameras. MHI's own admissions are not found on their own website. The words "enhanced preemption" in recent years are not found on MHI's own website. How is that to be explained or understood, IF they are serious about promoting what Gooch is quoted above as saying?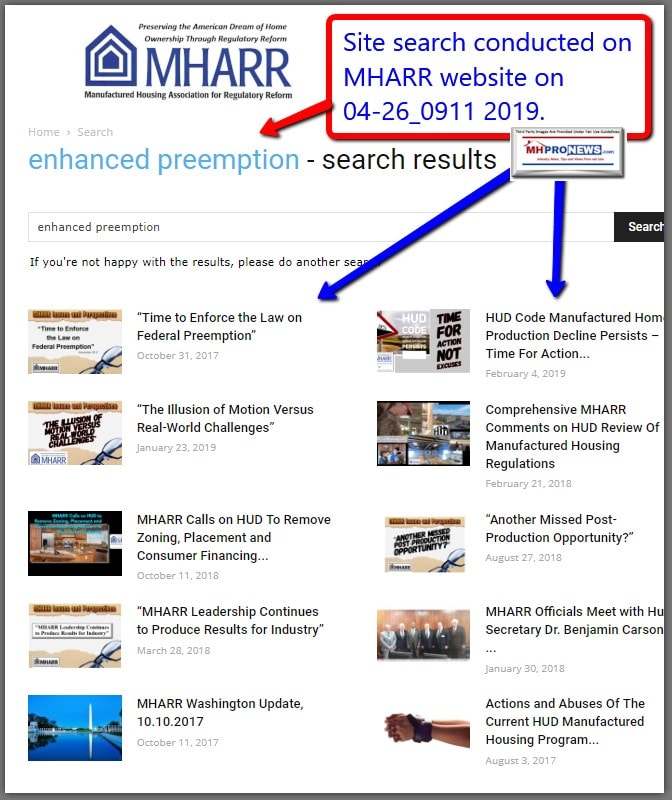 Yet, as one of a series of tips and whistleblowers have informed MHProNews, MHI in the pre-Berkshire Hathaway era worked with the rival Manufactured Housing Association for Regulatory Reform (MHARR).
The result of this years of documentable failures by MHI's leaders?
While far more expensive conventional housing is surging, manufactured housing has been a modest slump. The latest HUD Code manufactured housing production and shipment data is linked here. Perhaps the manufactured home industry's most comprehensive analysis of month after month of that data is linked here.
Consider these questions, which Arlington and their leadership have repeatedly declined answering.
Why has MHI stopped emailing their version of that report out?
Why is that data – that MHARR publishes monthly and makes public for free – hidden by MHI behind a members only login on the MHI website?
To further the stark contrast, the National Association of Realtors (NAR) and the National Association of Homebuilders (NAHB) are among other trade groups that publish such information monthly and makes available free to the public? Are the cold, hard, and in this case brutal facts too painful and obviously contrary to MHI and their leadership's posturing claims of having clout?
There are broadly speaking at least four things that MHI – as a post-production and 'umbrella' trade group should be doing. These are part of MHI's own mission claims, so their ability to duck out from the responsibility and accountability on these matters would be difficult at best, if not logically impossible.
MHI should be pushing to enforce existing laws of enhanced preemption for HUD Code manufactured homes. Over twenty years after the legislation passed, it is still not properly enforced – and MHI's own CEO admits it!
MHI should be pushing for the full and proper implementation of competitive financing for all HUD Code manufactured homes, including personal property, home-only, or so-called 'chattel' financing. Once more MHI's Gooch admits it! Given the admission, where is the follow through?
MHI should be actively engaged in refuting poor or inaccurate reporting by mainstream media. Who says? Former MHI chairman Tim Williams, who said the following as part of an exclusive commentary to MHProNews.
4) MHI should be properly promoting the image and understand of all HUD Code manufactured housing. But instead of doing so, their clearly failed plan for so-called CrossModTM homes arguably either reflects sabotage, hubris in the face of failure, or incompetence. Who says? The Modular Home Builders Association (MHBA) accused MHI of deceptive practices that are "misleading the public." Hardiman further made the apt point that pushing for CrossModTM was de facto an abandonment of the balance of manufactured housing.
Those 4 bullets above make it crystal clear that MHI working with a "housing coalition" of industry competitors is beyond bizarre. MHI does not need to work with conventional housing competitors. While those competitors may benefit, manufactured housing clearly has not. If it was benefiting where is the commensurate surge in placements that would have occurred that parallels the surge in ADUs that have taken place in California following their ADU preemption? The only logic for what MHI has done is arguably what James A. Schmitz Jr. and his Federal Reserve colleagues have repeatedly called "sabotage monopoly" practices that Schmitz et al say that HUD and builders have deployed to undermine manufactured housing, and millions who need manufactured homes.
Instead of complex gyrations and coalitions of competitors, all that is necessary is to do their job and push for the full and proper enforcement of the laws that exist. The path is simple and straightforward, not complex or in need of alliances that sound vaguely analogous to the flawed reasoning that led America into nearly 2 decades of entirely avoidable Middle Eastern wars. The only "allies" or "partners" MHI needed are to be found within the industry and with those who seek full enforcement of existing federal laws.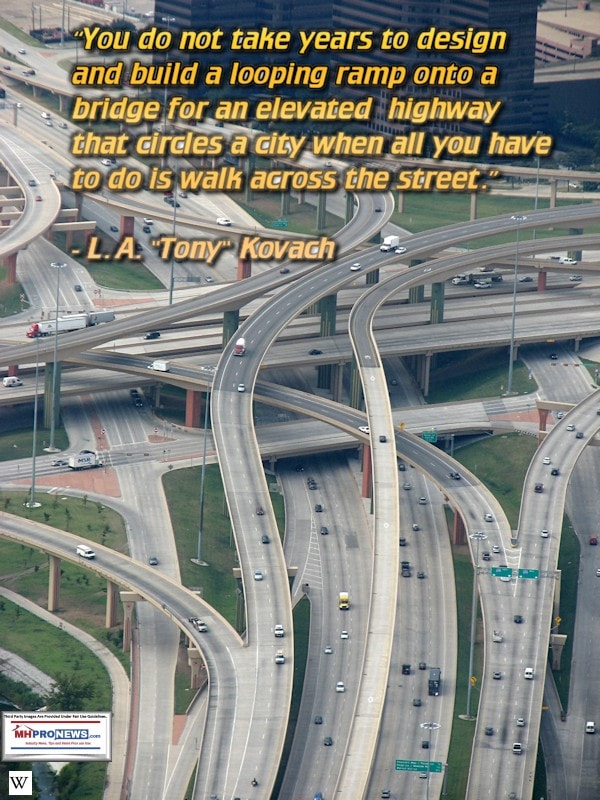 Objectively, while tax and regulatory policies under the Trump-Pence Administration were favorable to most industries, somehow, with an apparently pro-manufactured housing HUD Secretary Ben Carson, MHI has managed to "lead" the industry into about a 2½ year modest but measurable production-shipment retreat. How can MHI explain that failure?
Sadly, the most logical conclusion is troubling. It comes down to the answer that serious investigator's ask. Cui bono? Who benefits? Who is getting an advantage from this multi-year pattern of declining manufactured housing production and sales activity? Or perhaps more aptly said, the pattern of inactivity and ineffectiveness?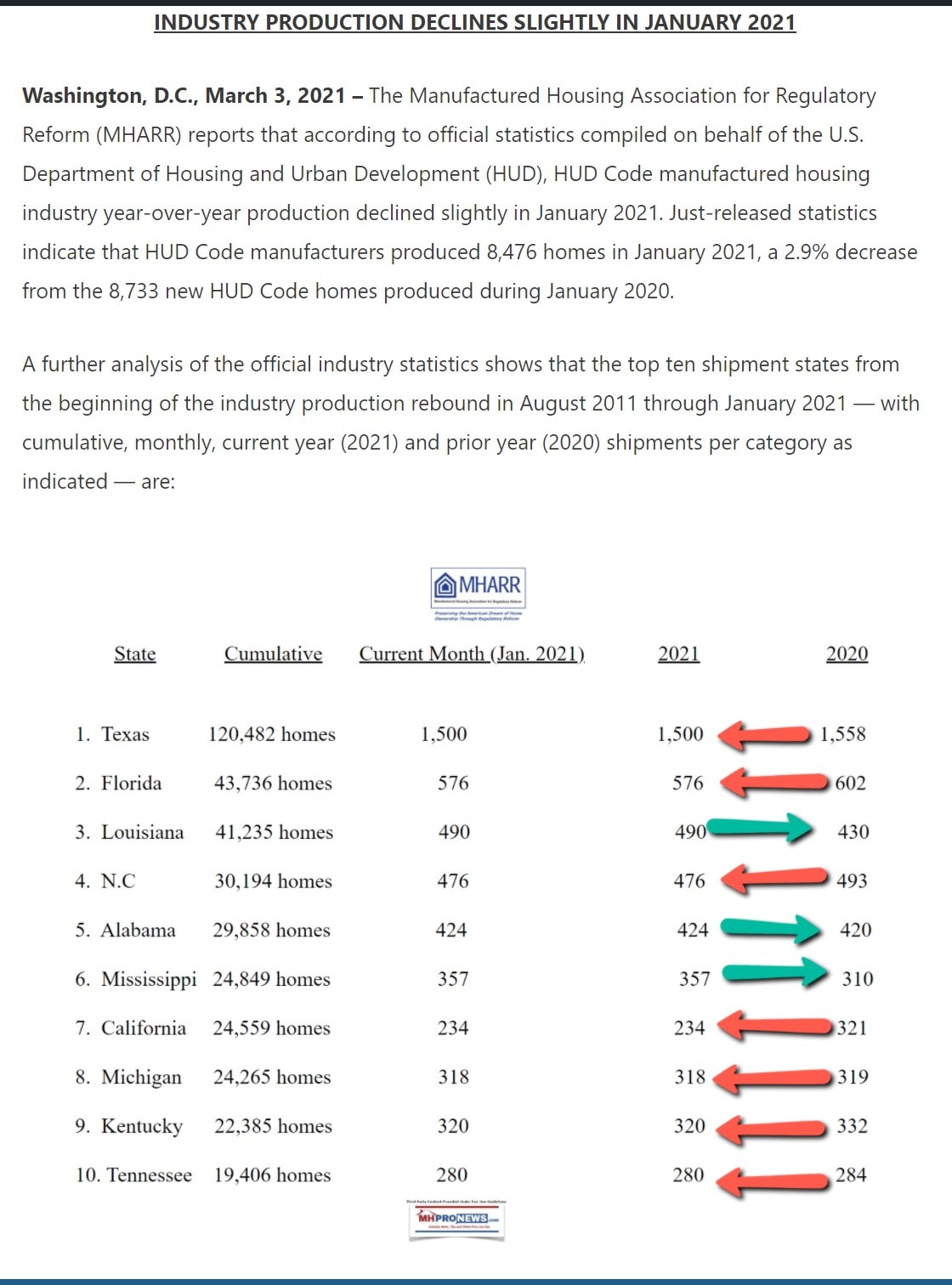 The parties that are benefiting from the status quo are manufactured home corporate consolidators. Those consolidators are routinely MHI members.
A series of quotes and illustrations from MHI's own members – and a collage of MHI's own illustrations – makes that sobering point.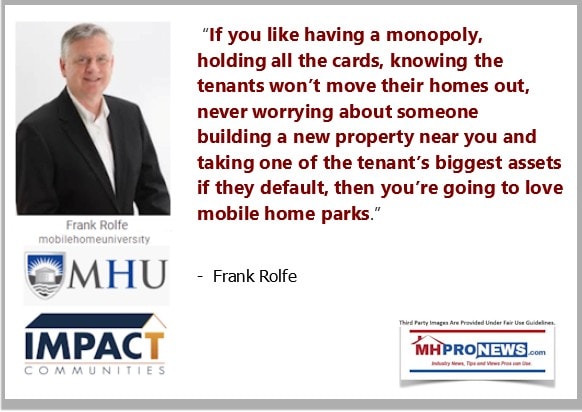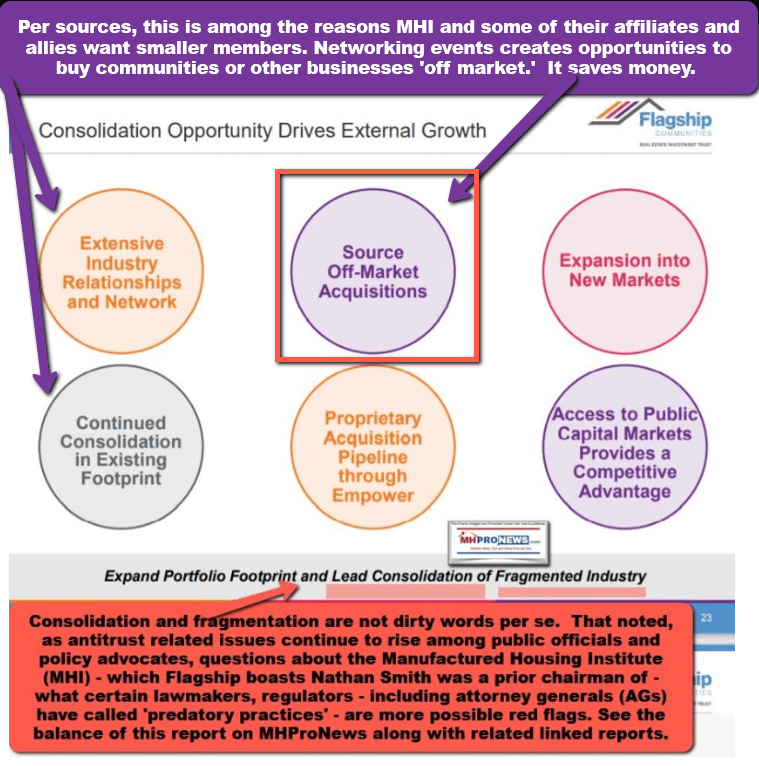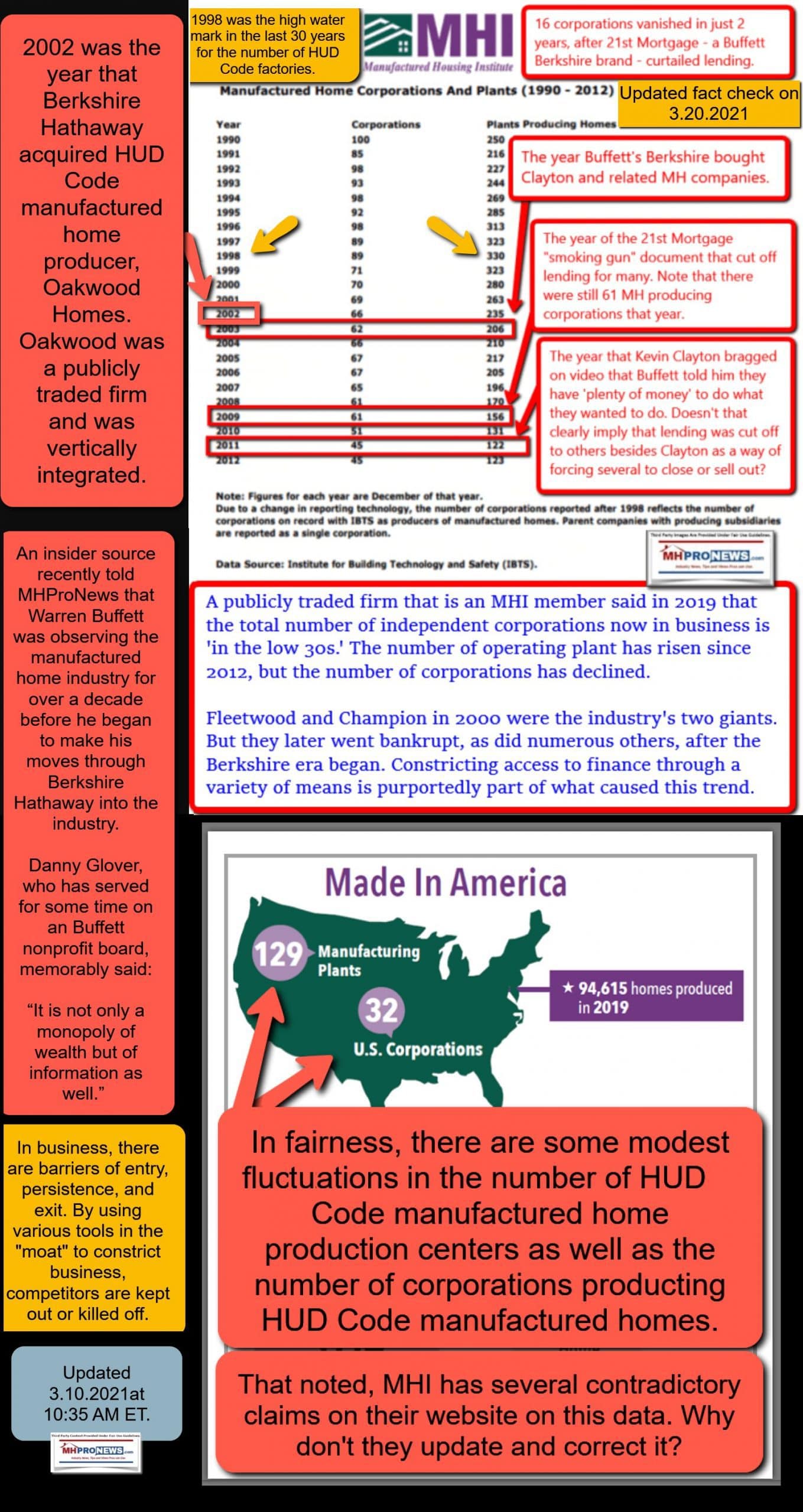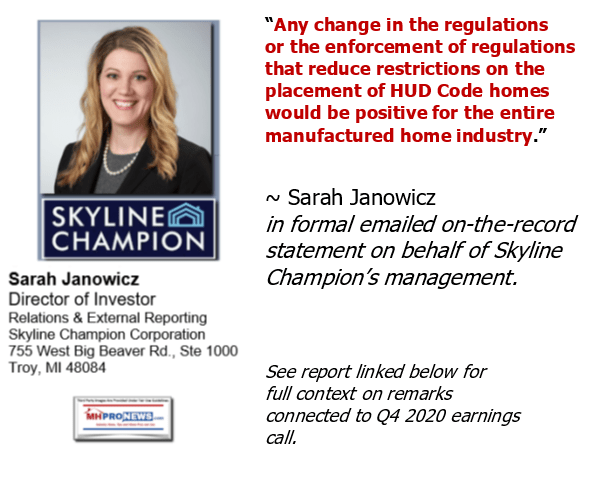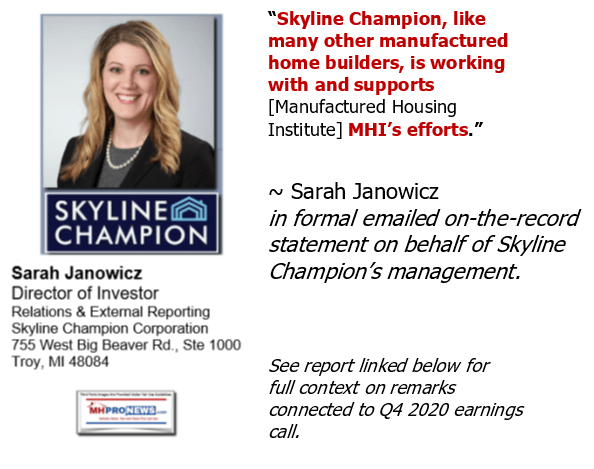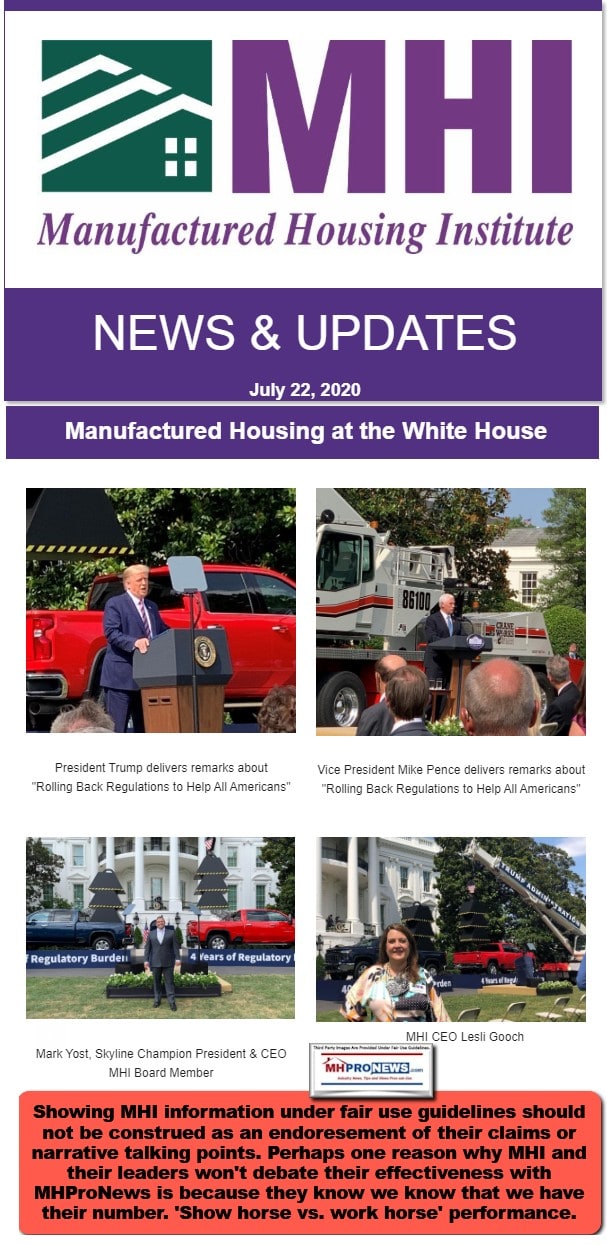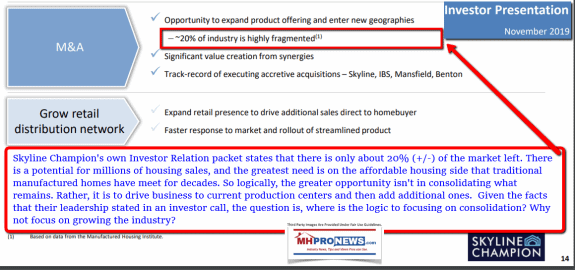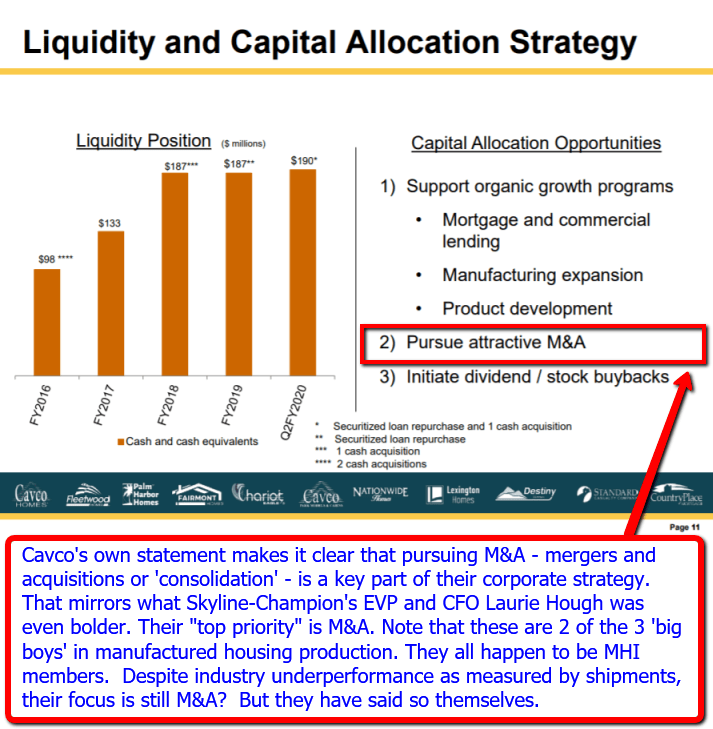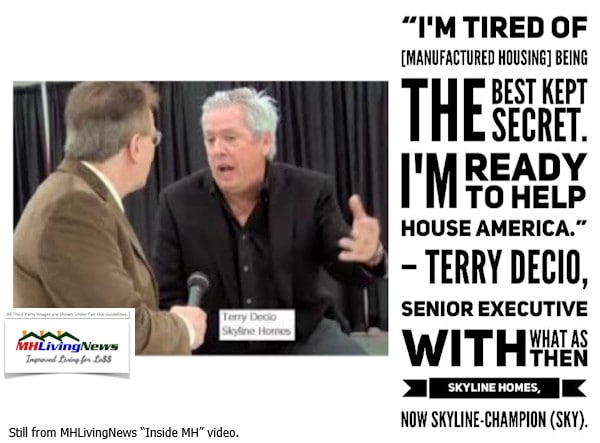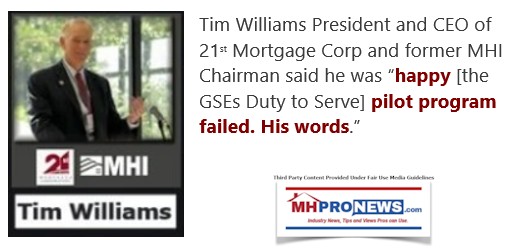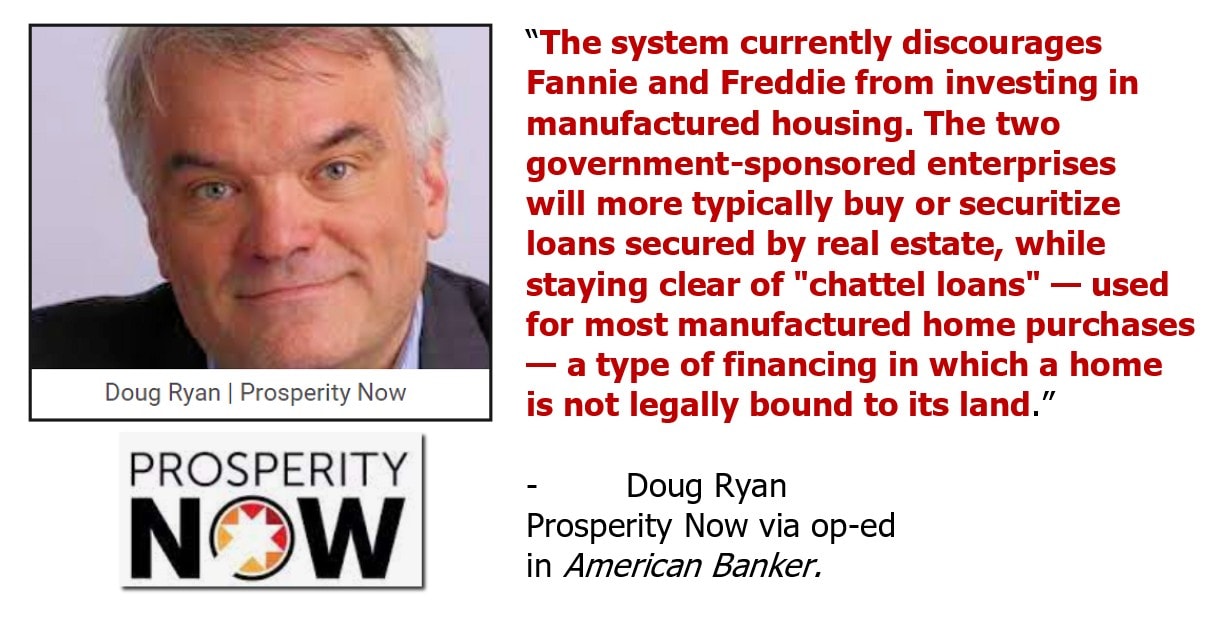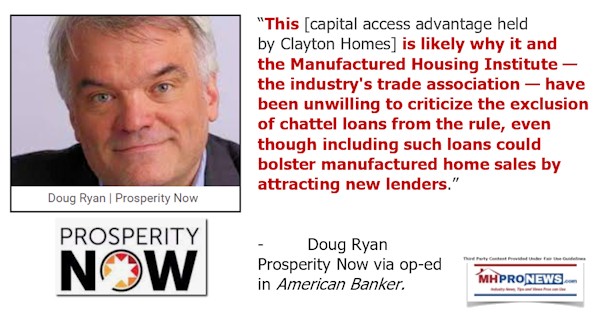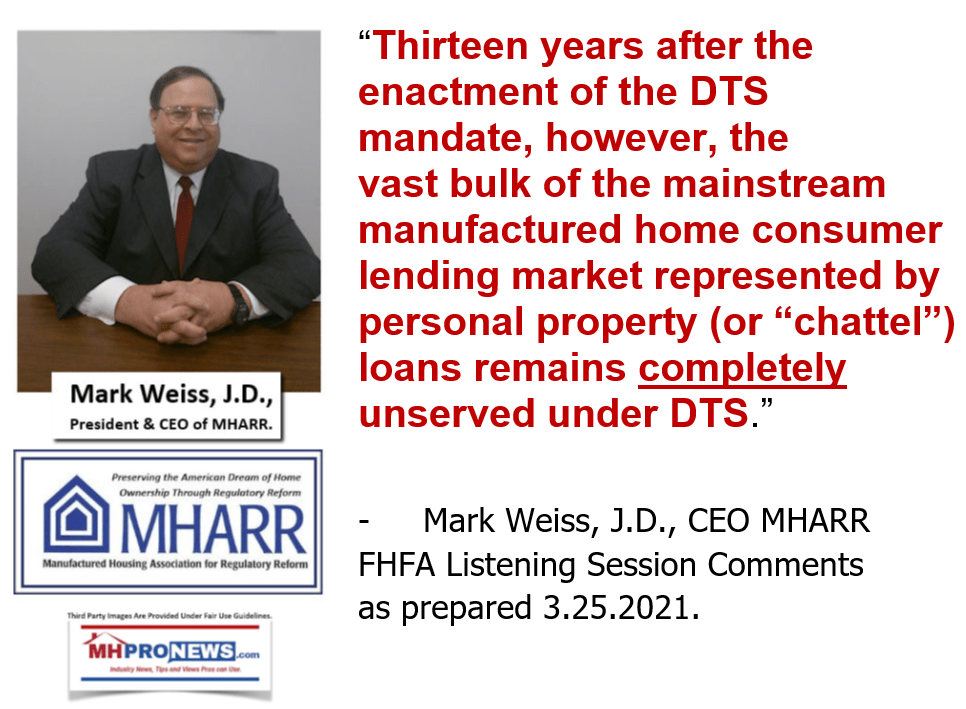 As a relevant segue, there are reasons why MHProNews is the unchallenged leader in claiming to be the largest and most-read trade media serving our sadly misunderstood industry. Our would be rivals have essentially admitted our superior probing of the issues.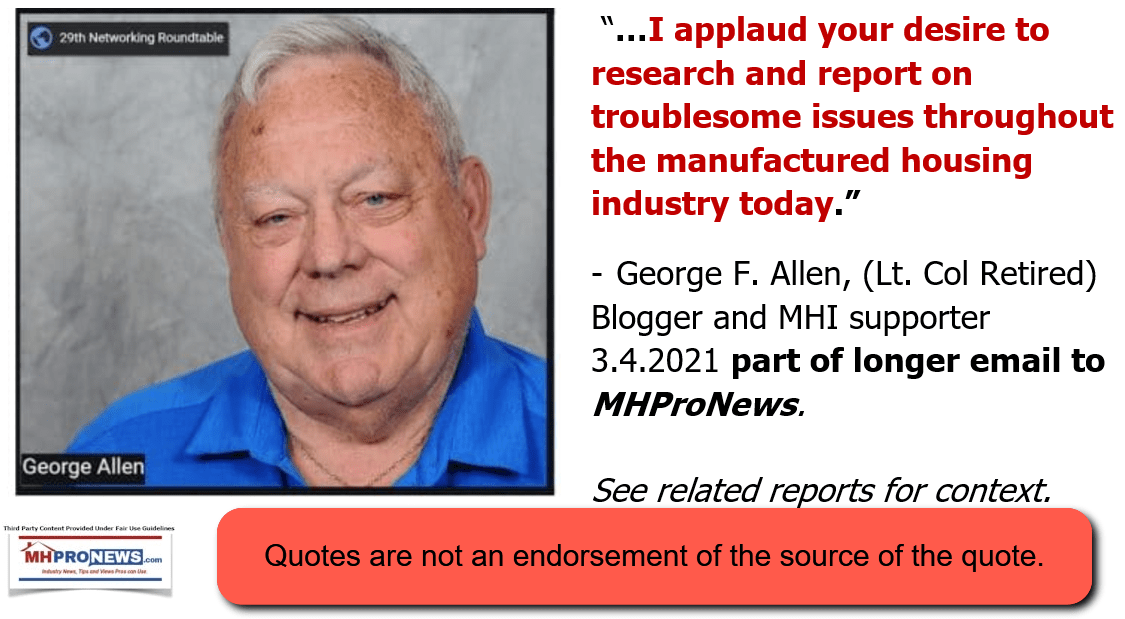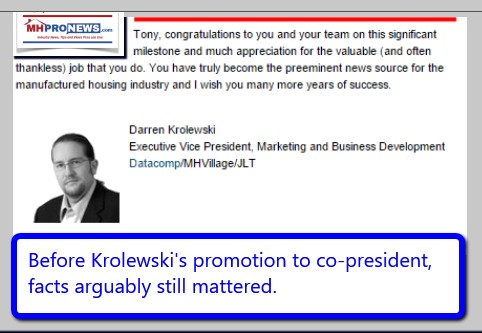 In days gone by, when this publication's writer – while still an MHI member – had still not put the seemingly inexplicable failures of the association into focus – MHI's leaders periodically praised our work and did so on camera and in writing.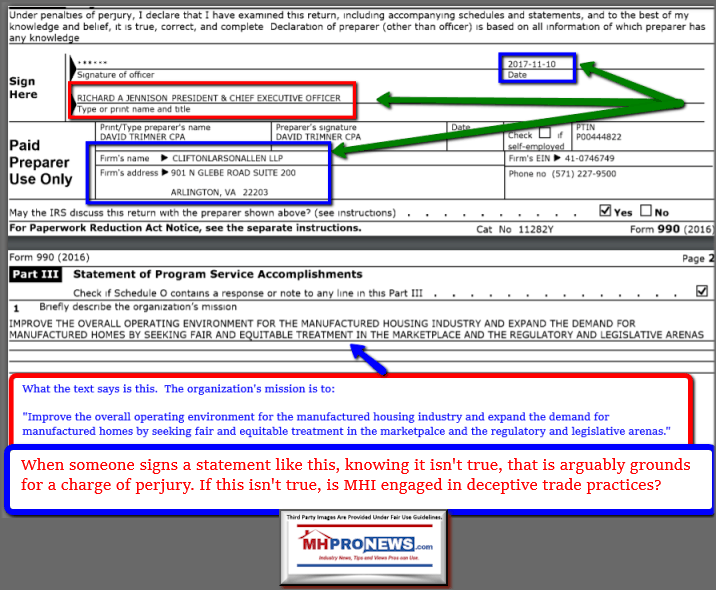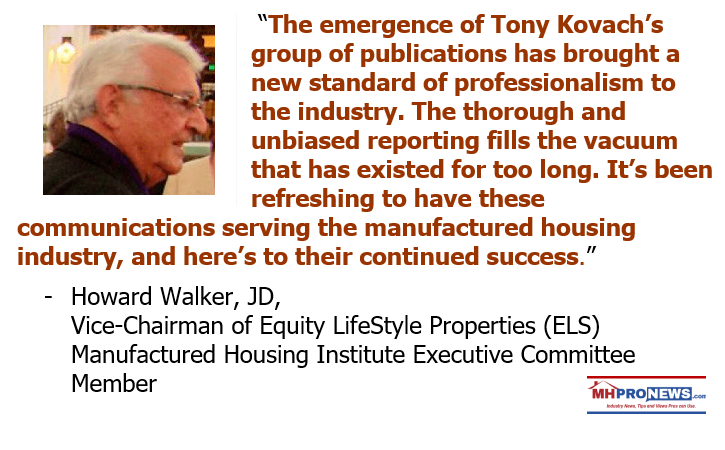 It was only after MHProNews had insider tips and the 'aha!' moment that the industry was arguably being victimized by a con job that included MHI that those words of public praise stopped. MHI's former vice president Jason Boehlert made a stunning admission that initially did not sink in. But once the obvious contradictions between statements by Warren Buffett and Tim Williams were considered, the puzzling behavior took shape as a rope-a-dope ploy to posture effort that MHI insiders would never want to deliver.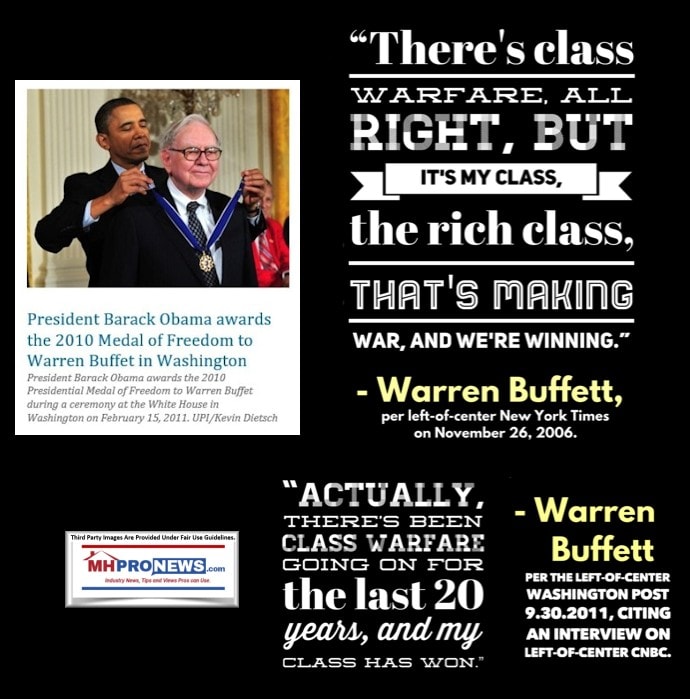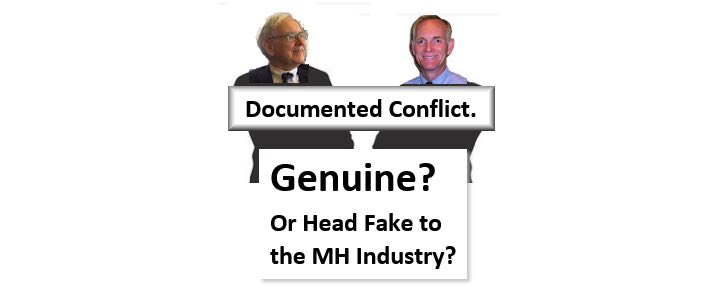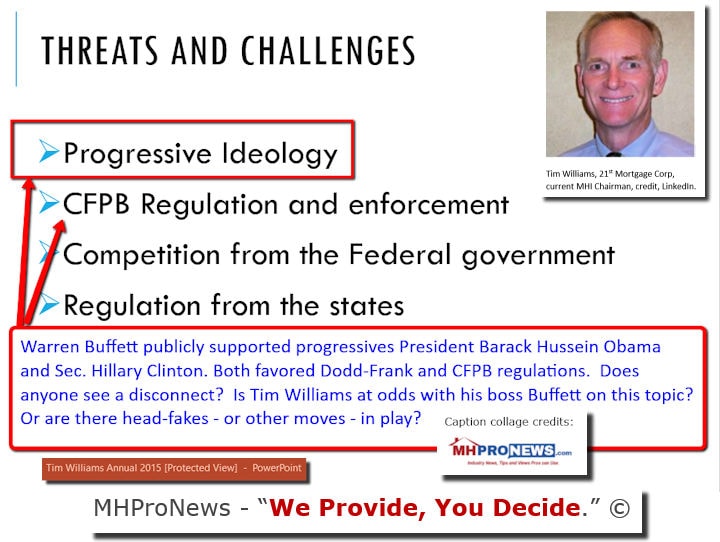 After years of invitation to debate their performance publicly, MHI and their corporate leaders have declined in such an engagement.
MHI's inside and outside attorneys have also declined.
The only person who was willing to enter into such a public debate that is a loyal MHI member was Andy Gedo. Gedo, before tossing in the proverbial towel, first made several useful admissions that only strengthened the thesis MHProNews has advanced in recent years.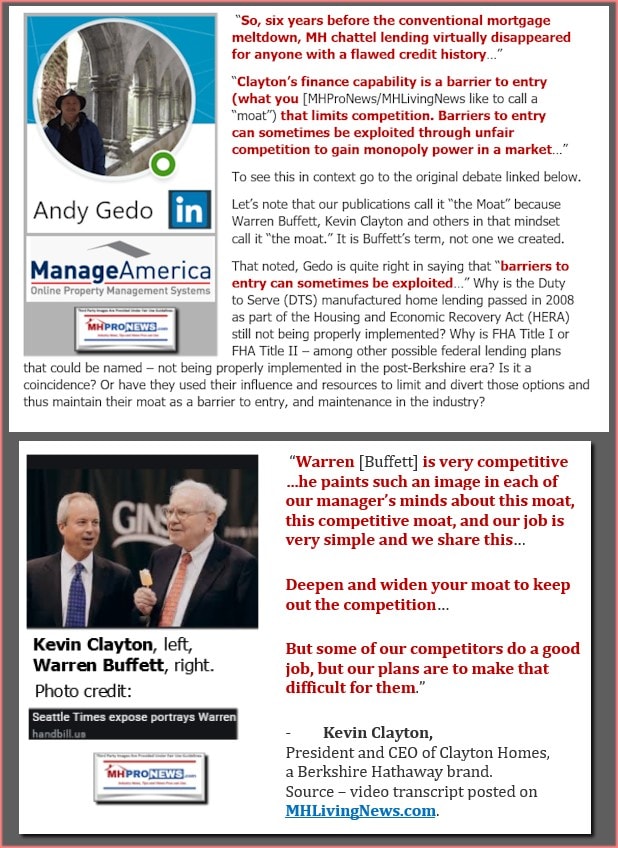 There is more, but this and what follows linked further below is enough to make these sobering points.
Out of their own mouths and the mouths of several of their past or present members, MHI has failed in those four points that are in keeping with their claimed mission.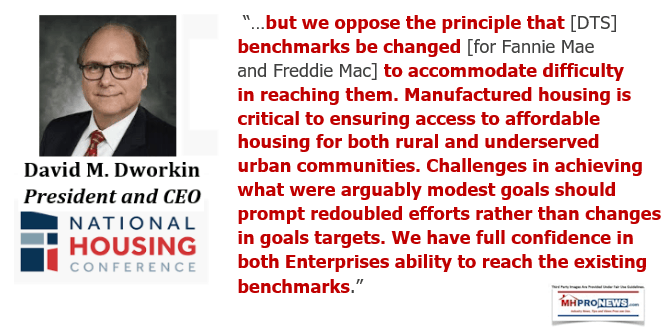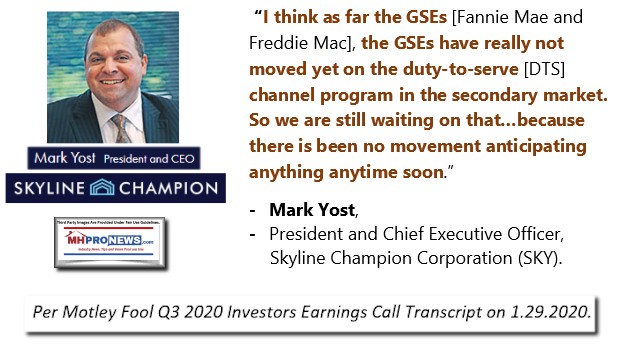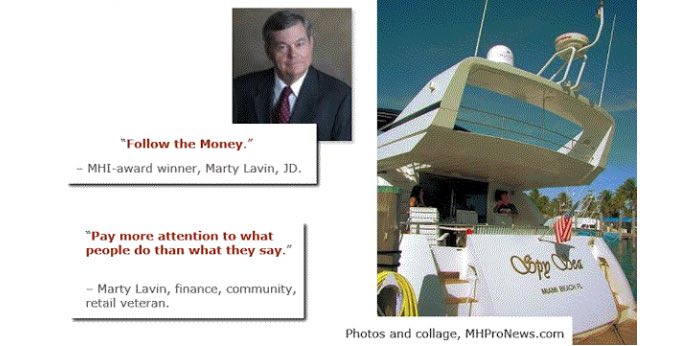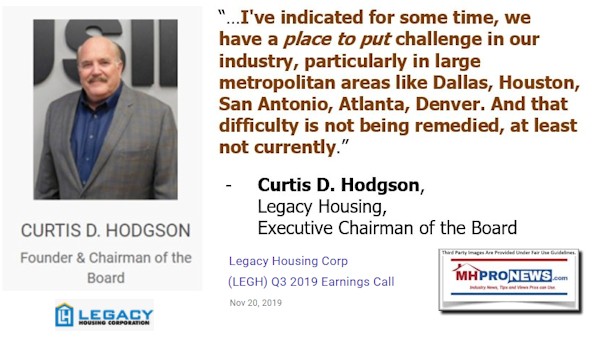 There are more linked reports in the featured focus segment found following our broader market and left-right national news bulleted headlines. Tonight's feature is a legal snapshot from a California law firm on a community related issue that is not directly connected to this topic.
That said, MHI and their corporate leaders can run, duck, dodge, distract, razzle dazzle, or show more photo and video ops. But they can't hide from the facts. The facts, as summed up in that single NHC graphic above. That NHC-Bloomberg graphic reveals that the HUD Code manufactured home industry could be surging if enhanced preemption was being enforced.
Our expert advice to MHI and their leaders? Do the jobs that you admit and claim, instead of working to consolidate the industry on behalf of the largest corporate players in the production, retail, and community segments of the industry.
We would still be willing to debate MHI's leaders publicly, but that may no longer be necessary. Why? Because simply putting their own statements and that of others into a single report like this makes the blistering case that they have failed, failed, failed for everyone SAVE their big-boy members who are consolidators.
Thanks, NHC, for helping MHProNews by providing that one insightful graphic that teed up this executive summary. That NHC provide image is worth sharing once more in the light of the data and quotes above. It makes MHI's April Fool's Day message come to life.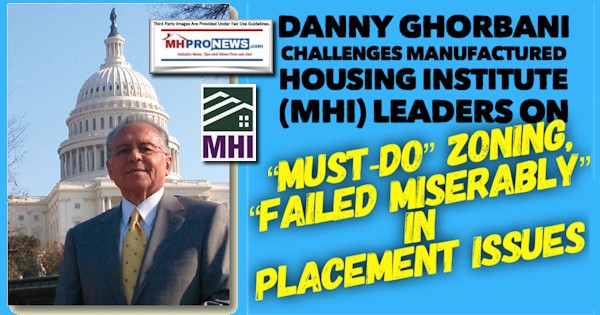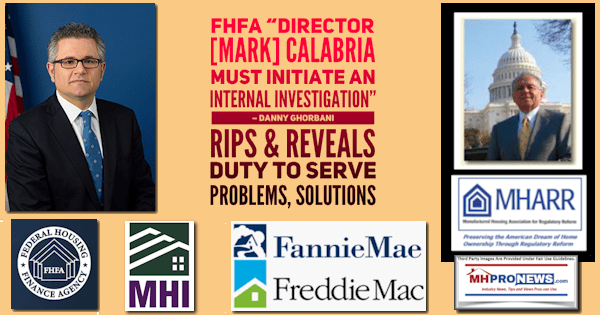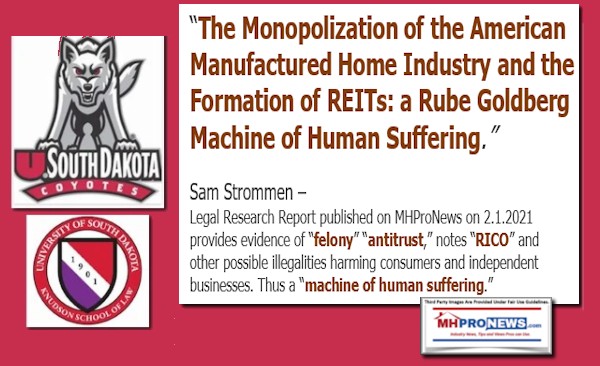 Before pivoting toward tonight's featured focus segment – and for the benefit our growing numbers of new readers – a few quick evening/nightly market report insights.
Every business evening/night, MHProNews provides a bullet list of left-right news headlines from CNN Business and Newsmax. In a matter of moments, savvy professionals can see at a glance news headlines and views across the political spectrum.
This is a time saving and insightful way to quickly grab insights from across the left-right divide.  It is a useful at-a-glance opportunity for those who are hooked on this market-nightly feature.
Our featured focus follows the quotable quotes, periodic political cartoons, those left-right headlines, and two of our three market summary graphics as reported at the closing bell.
After the featured focus, are some recent/related report links and the third manufactured housing focused stock equities graphic. There are some additional items that include the free signup for the manufactured housing industry's x2 weekly emailed news to the most-read trade publication in our profession:
On a mostly mixed day for manufactured home connected equities, let's advance toward our featured focus on thousands of vax related deaths and other adverse reactions plus those manufactured housing industry-connected stock snapshots at the closing bell.
Quotes That Shed Light – Industry, American, Social, National Issues
Headlines from left-of-center CNN Business
How to invest in 2021
Pedestrians walk by the New York Stock Exchange before the opening bell at the NYSE on Wall Street in New York City on Monday, April 5, 2021. The Dow jumped more than 300 points to start the day.
Investors should look past the Dow and keep smaller companies in mind
Jamie Dimon sounds the alarm on the future of American prosperity
LIVE UPDATES S&P 500 ekes out a new all-time high
World leaders are making progress on a huge global tax overhaul
Jeff Bezos comes out in support of increased corporate taxes
Larry Fink says BlackRock 'isn't perfect.' These new incentives could help
Fintech firm Plaid announces $425 million funding round
GM announces electric Chevy Silverado pickup that can go 400 miles
Starbucks' experimental new cup costs extra, but it's worth it
Rare original Superman comic sells for record $3.25 million
Samsung's first 5G smartphone under $300 could be a game changer
Customers walk in and out of a Best Buy store in Queens on February 27, 2021.
Best Buy launches a new $200 membership program to fight Amazon
Newport Beach.
Secondhand clothing is booming right now. This online store wants to cash in
'The worst': Tax professionals sound off on the 2020 tax filing season
Study: Branded Rx Requests Boost Medicare Costs by $1.6B
Mammogram Rates Have Rebounded Since Pandemic Began, But Concerns Remain
Increase in Overall Costs With Use of Urgent Care Centers
Frontline Healthcare Workers' Mental Health Took Hit During Pandemic
Headlines from right-of-center Newsmax 
Trump: NY Times Wrong, Gaetz Never Asked for Pardon
Former President Donald Trump denied a New York Times report that Rep. Matt Gaetz, R-Fla., who's now embroiled in a controversial federal probe, had requested a "blanket pardon" from him.
The Biden Presidency
Biden Open to Compromise on Infrastructure, but Not Inaction
G-20 Pledges to Make Progress on Global Tax After US Proposals
US Restores Assistance for Palestinians, to Provide $235M in Aid
Latinos Slam Biden For Nominating Only One Hispanic Judge
Georgia Gov. Kemp: Biden Needs to 'Smarten Up' on Bill |
Justice Breyer: Packing Supreme Court Would Weaken Its Influence
Kevin Hassett: Companies Will 'Stampede' Out Over Biden Tax Hikes
Fauci Warns Mask Wearing Still Necessary
Democrats Differ on Taxes to Pay for Infrastructure Plan
Senate Democrats Find Way to Bypass Filibuster
Newsfront
Cuomo Aide Says He Slammed Door Shut Before Groping Her
A staffer who has accused New York Gov. Andrew Cuomo of groping her at the executive mansion said he slammed the door of his office and told her "I don't care" when she protested, according to an interview published Wednesday…
Ex-Anchor: CNN Fails to Empower Women
Brooke Baldwin, a former CNN anchor who was recently replaced by Jake
Burgess Owens to Newsmax TV: Biden Administration Showing 'Cowardice' on Border
Burgess Owens told Newsmax TV on Wednesday that there is "chaos"
CDC: UK Variant Now Most Common Virus Strain in US
The B.1.1.7 variant of the coronavirus, first found in the U.K., has
Related
Fauci Warns Mask Wearing Still Necessary
Study: Skin Rashes, 'COVID Toes' Vaccine Side Effects Don't Last Long
Greg Abbott Bans 'Vaccine Passports' in Texas
Tennessee Gov Joins GOP Push Against Vaccine Passports
California to Lift COVID-19 Restrictions on June 15, but Continue Mask Mandate
WH Walks Back Talk of Boycotting Beijing Olympics
The Biden administration is not contemplating a boycott of the 2022
North Korea's Missile Launches Likely to Escalate
North Korea's recent "self-defensive" missile tests prove the rogue
Tiger Woods Was Speeding Before Crash, Sheriff Says
Authorities say Tiger Woods was speeding when he crashed an SUV in
McClintock to Newsmax TV: Biden Granting 'Automatic Admittance' at the Border
Tom McClintock, R-Calif., told Newsmax TV on Wednesday that
Kennedy: MLB's Manfred Needs to 'Buy a Spine Online'
John Kennedy Wednesday challenged President Joe Biden and Major
G20 Working for Deal on International Corporate Tax by July
Italy's finance minister said Wednesday that Group of 20 advanced
Sebastian Gorka's 'Reality Check' Headlines Sundays on Newsmax
Debuting on Sunday, April 11, Dr. Sebastian Gorkas new show The Gorka
Justice Breyer: Packing Supreme Court Would Weaken Its Influence
Supreme Court Justice Stephen Breyer during an address at Harvard Law
Kanye West Documentary Sells to Netflix for $30M: Report
A new documentary about singer Kanye West that has been 21 years in
Former Trump HUD Official Punished For Violating Hatch Act
Former Trump housing official Lynne Patton has been fined $1,000 and
Georgia Gov. Kemp to Newsmax TV: Biden Needs to 'Smarten Up' on Bill
It's President Joe Biden, not the state of Georgia, who needs to
Expert: Chauvin Never Took Knee off Floyd's Neck
Officer Derek Chauvin had his knee on George Floyd's neck – and was
Tom Brady Launches NFT Company
Pence Launches Advocacy Group Combining MAGA, Traditional Conservatism
Former Vice President Mike Pence is re-emerging publicly with the
Mo Brooks to Newsmax TV: Arkansas Right to Pass Ban on Treatment for Trans Youth
Arkansas was right to override its governor's veto and become
Kim Says North Korea Facing Its 'Worst-Ever Situation'
North Korean leader Kim Jong Un has acknowledged his country
Trump to Newsmax TV: Pleased Border Wall May Be Restarted, but Biden Isn't 'Making the Decisions'
A potential restart to construction of the border wall
Related
Trump: Boycott 'Woke Companies' Opposing Georgia Election Reforms
Twitter and Facebook Bans 'Haven't Silenced Me,' Trump Tells Newsmax TV
Trump to Newsmax TV: 'I Would Say Boycott Baseball'
Senate Democrats Find Way to Bypass Filibuster
Senate Democrats can use reconciliation several times in one fiscal
United Airlines Vows 50% of Its New Pilots Will Be Women, Minorities
United Airlines says it wants women and people of color to make up at
Trump Gives Mo Brooks 'Total Endorsement' in Alabama Senate Race
Former President Donald Trump Wednesday gave Rep. Mo Brooks his
Survey: Even as Schools Reopen, Many Students Learn Remotely
Large numbers of students are not returning to the classroom even as
Bezos Endorses Higher Corporate Taxes for Infrastructure
Amazon founder and CEO Jeff Bezos endorsed President Joe Biden's
White House, State Dept. Rally Behind King of Jordan After Coup Controversy
Thirty six hours after the former Crown Prince of Jordan and at least
Finance
JPMorgan's Dimon Says 'This Boom Could Easily Run Into 2023'
Jamie Dimon said he's optimistic the pandemic will end with a U.S. economic rebound that could last at least two years.
Tesla Says the Cameras in Its Cars Aren't Activated in China
US Jobs Progress Still Far Short of Fed's 'Substantial' Tripwire
Japan's Toshiba Considers $20B Take-Private Deal
5th Avenue Landlords Seeking Almost $200 Million in Unpaid Rent
Health
Study: Skin Rashes, 'COVID Toes' Vaccine Side Effects Don't Last Long
The Pfizer and Moderna COVID-19 vaccines have been found to have side effects that include odd skin reactions such as rashes and discolored, swollen toes known as "COVID toes" that are worrisome to patients, but a new study found…
Study: Branded Rx Requests Boost Medicare Costs by $1.6B
Mammogram Rates Have Rebounded Since Pandemic Began, But Concerns Remain
Increase in Overall Costs With Use of Urgent Care Centers
Frontline Healthcare Workers' Mental Health Took Hit During Pandemic
Market Indicator Closing Summaries – Yahoo Finance Closing Tickers on MHProNews…
Featured Focus –
Where Business, Politics and Investing Can Meet
For this evening's featured focus, the following from the Hart King law firm.
"Hart King represents publicly held corporations, mid-sized businesses and entrepreneurs," says the law firm's self-description, which also notes that their "MANUFACTURED HOUSING PRACTICE GROUP" (MHPG) barristers have "…Collective Experience of our MHPG Attorneys Exceeds 100 years."
California Trusts are a "Landlord" Under Family Move-In Provision in City's Rent Control Ordinance
The Boshernitsan v. Bach case concerns the City of San Francisco's rent control ordinance. The trial court had held that the trust was not a landlord entitled to obtain possession of premises for use by the mother of the trustees.
Mark Vinokur and Rimma Boshernitsan own a two-unit property as trustees of the revocable living trust they created. They lived in one unit and tenants rented out the other. The owner served a notice of termination on the tenants, saying that they intended to move Vinokur's mother into the unit under a family move-in provision of the SF ordinance. Per the rent control ordinance, only landlords who are "natural persons" may evict tenants for the purpose of moving in family members.
The Court of Appeal reversed the trial court and held the trustees held title on behalf of the trust, particularly, when as in this case, the trustees are also the settlors of a revocable trust. The Appellate court concluded it was sensible to treat them as the landlords for the purpose of the family move-in provision of the rent control ordinance.
##
Programing Notice: on 4.8.2021, barring the unforeseen, MHProNews plans a special report on the manufactured home community sector. Watch for it.
Related, Recent, and 'Read-Hot' Reports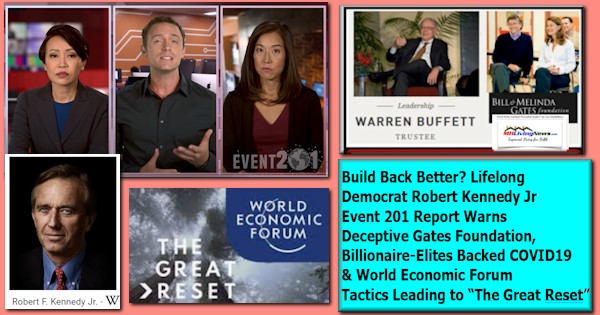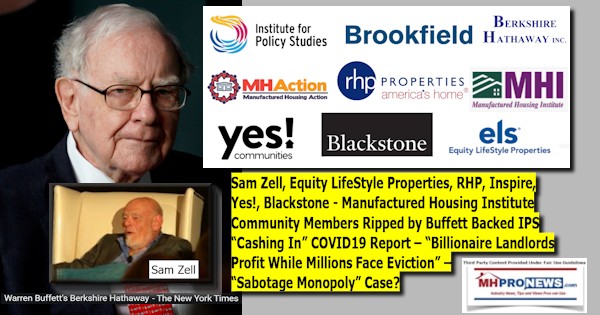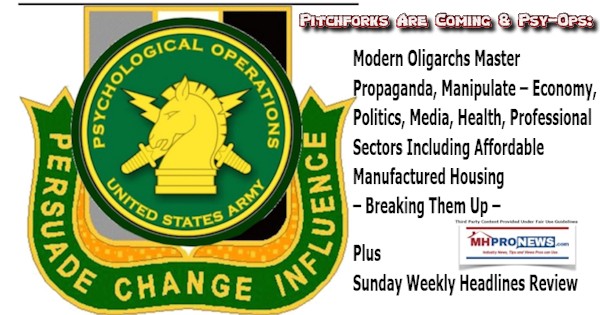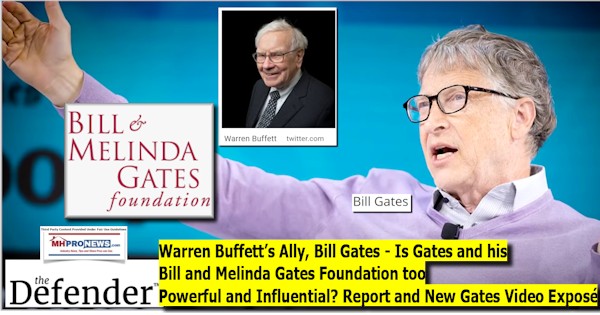 This report below is still one of the most-read reports on MHLivingNews.
It has stood the test of time with well documented insights.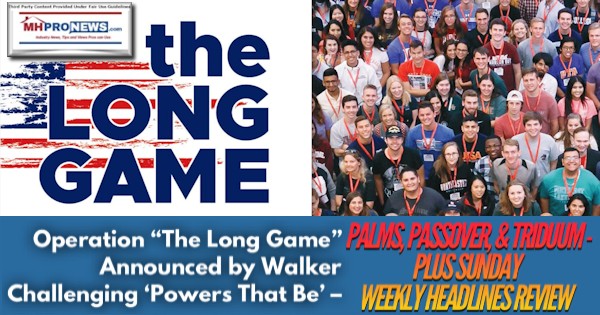 Manufactured Housing Industry Investments Connected Closing Equities Tickers
Some of these firms invest in manufactured housing, or are otherwise connected, but may do other forms of investing or business activities too.
NOTE: The chart below includes the Canadian stock, ECN, which purchased Triad Financial Services, a manufactured home industry lender
NOTE: Drew changed its name and trading symbol at the end of 2016 to Lippert (LCII).
NOTE: Deer Valley was largely taken private, say company insiders in a message to MHProNews on 12.15.2020, but there are still some outstanding shares of  the stock from the days when it was a publicly traded firm.  Thus, there is still periodic activity on DVLY.
Spring 2021…
Berkshire Hathaway is the parent company to Clayton Homes, 21st Mortgage, Vanderbilt Mortgage and other factory built housing industry suppliers.
· LCI Industries, Patrick, UFPI, and LP each are suppliers to the manufactured housing industry, among others.
· AMG, CG, and TAVFX have investments in manufactured housing related businesses. For insights from third-parties and clients about our publisher, click here.
Enjoy these 'blast from the past' comments.
MHProNews. MHProNews – previously a.k.a. MHMSM.com – has celebrated our 11th year of publishing, and is starting our 12the year of serving the industry as the runaway most-read trade media.

Sample Kudos over the years…
It is now 11+ years and counting…
Learn more about our evolutionary journey as the industry's leading trade media, at the report linked below.
· For expert manufactured housing business development or other professional services, click here.
· To sign up in seconds for our industry leading emailed headline news updates, click here.

Disclosure. MHProNews holds no positions in the stocks in this report.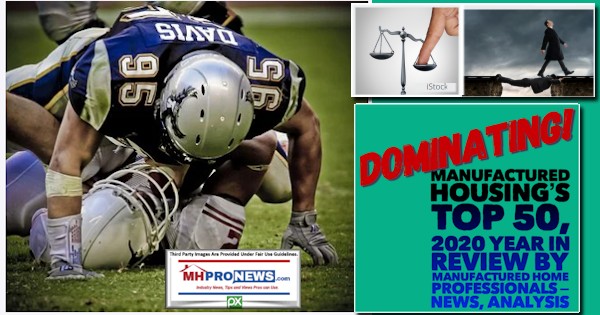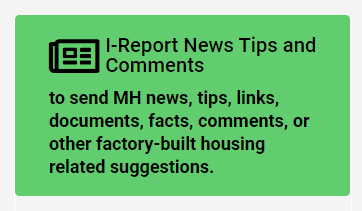 That's a wrap on this installment of "News Through the Lens of Manufactured Homes and Factory-Built Housing" © where "We Provide, You Decide." © (Affordable housing, manufactured homes, stock, investing, data, metrics, reports, fact-checks, analysis, and commentary. Third-party images or content are provided under fair use guidelines for media.) (See Related Reports, further below. Text/image boxes often are hot-linked to other reports that can be access by clicking on them.)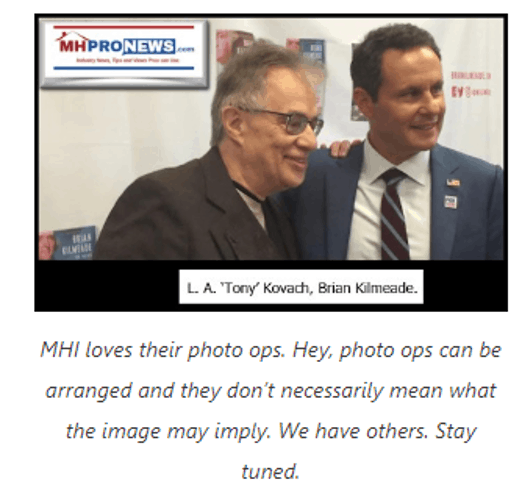 By L.A. "Tony" Kovach – for MHLivingNews.com.
Tony earned a journalism scholarship and earned numerous awards in history and in manufactured housing. For example, he earned the prestigious Lottinville Award in history from the University of Oklahoma, where he studied history and business management. He's a managing member and co-founder of LifeStyle Factory Homes, LLC, the parent company to MHProNews, and MHLivingNews.com. This article reflects the LLC's and/or the writer's position, and may or may not reflect the views of sponsors or supporters.