Manufactured home community owner Marge Clark previously told MHProNews that the single biggest competitor to the manufactured housing industry is subsidized housing. Federal Reserve researcher James A. Schmitz Jr and his colleagues have publicly and repeatedly accused HUD of working with builders – think private interests – to undermine manufactured housing. Both contentions – Clark's and that of Schmitz and his fellow researchers – are like bookends to the reality that manufactured housing has been demonstrably underperforming for decades. But there is more that makes this relevant well beyond manufactured or affordable housing and pushes it into an area of interest for smaller businesses, taxpayers, and those politicos or advocates who are interested in solutions, rather than band aids or talking points.
NBER researchers Chang Tai Hsieh from the University of Chicago and Enrico Moretti at the University of California at Berkley (UC Berkley) updated in May of 2017 prior research that they had performed that began during the Obama-Biden Administration. Their abstract goes by the heavy name: "Housing Constraints Spatial Misallocation." It is in part about the need to overcome NIMBYism in order to achieve some $2 trillion dollars annually in more organic economic activity. "Spatial misallocation" and "housing constraints" are terms that could be substituted with zoning and placement barriers that thwart the creation of affordable housing where it is needed. NBER is short for National Bureau of Economic Research. The NBER website says that "The National Bureau of Economic Research (NBER) is a private, nonpartisan organization that facilitates cutting-edge investigation and analysis of major economic issues."
What follows will be the full HUD press release sent to MHProNews on 4.6.2021 about a "nearly $700 million" allocation for creating new or supporting existing "affordable housing." That HUD news items will be followed up with additional information, more MHProNews Analysis and Commentary which will explore questions and topics raised by Clark, Schmitz, those NBER researchers, and others. Readers should ask these objective questions:
Is HUD helping or harming our industry with these programs?
Are American tax dollars being used to benefit a few at great cost to the many?
What practical changes are being accomplished in the long term need for affordable housing? Rephrased, are these programs ready to be replaced by something that may work far better?
With that predicate and questions, here is the 4.6.2021 HUD news release.
HUD Allocates Nearly $700 Million for Affordable Housing
Historic allocation through Housing Trust Fund will help states produce more affordable housing for extremely low- and very low-income households
 WASHINGTON—The U.S. Department of Housing and Urban Development (HUD) on Tuesday announced the allocation of $689,565,492.92 through the nation's Housing Trust Fund (HTF) for affordable housing. The Housing Trust Fund was launched in 2008 as an affordable housing production program that complements existing federal, state, and local efforts to increase and preserve the supply of decent, safe, and sanity affordable housing for low- and extremely low-income households, including families experiencing homelessness.
See here for list of state allocations.
"This past year has reminded us just how important it is to have access to safe and stable housing. But too many Americans are struggling to keep or find an affordable home," said Secretary Marcia L. Fudge "We are excited to announce this historic funding allocation, which will enable states to expand and preserve affordable housing for our neighbors who need our support the most."
The Housing Trust Fund is capitalized through the contributions made by Fannie Mae and Freddie Mac. This year's allocation is a significant increase in funding from last year's allocation of $322,564,267.66. This program is specifically focused on housing for some of our most vulnerable populations. HUD annually allocates HTF funds by formula. A state must use at least 80 percent of each annual grant for rental housing; up to 10 percent for homeownership; and up to 10 percent for the grantee's reasonable administrative and planning costs. HTF funds may be used for the production or preservation of affordable housing through the acquisition, new construction, reconstruction, and/or rehabilitation of non-luxury housing with suitable amenities. All HTF-assisted units will be required to have a minimum affordability period of 30 years. The Housing Trust Fund has supported the construction or rehabilitation of 775 rental units nationally since the first were allocated in 2017. There are currently 480 additional projects under construction. This year's funding is expected to produce more than 5,400 additional affordable units.
##
HUD's mission is to create strong, sustainable, inclusive communities and quality affordable homes for all.
###
Additional Information, more MHProNews Analysis, and Commentary
The Biden-Harris team said that they want to "Build Back Better." That build back better slogan sounds fine.
But is this program announcement by HUD for nearly $700 million dollars an example of more of the same from the past?
Is it the difference only that more money is being spent than last year on a similar program?
How has this multi-decade pattern at HUD – regardless of the political party in power – been working out in practice?
What are the realities of the past two decades? While not a complete answer, the graphic below sheds light on all of the above.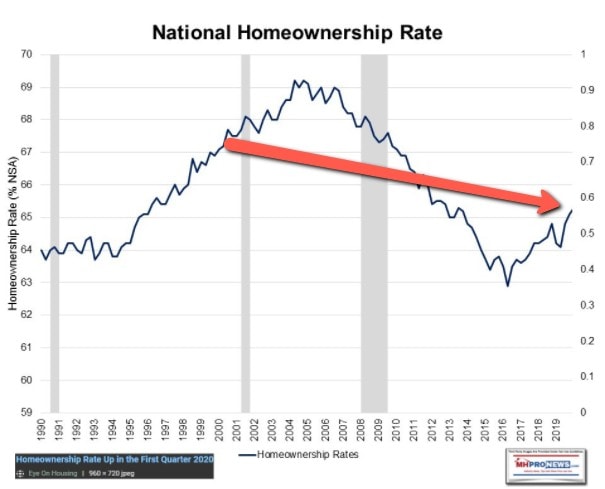 Imagine. After hundreds of billions of dollars in federal, state, and local spending, there are lower levels of home ownership today than in the year 2000.  In the business world, or around the kitchen table for millions of families, that fact pattern would call for a halt and a complete re-evaluation of how something is being handled.
While home ownership rose during the Trump-Pence Administration – including minority homeownership, as reflected in the graphic below – those levels are still not where the nation was in 2000. The trend was headed in a better direction, for which the objective minded should credit the Trump-Pence leadership.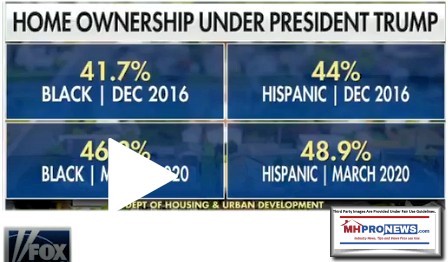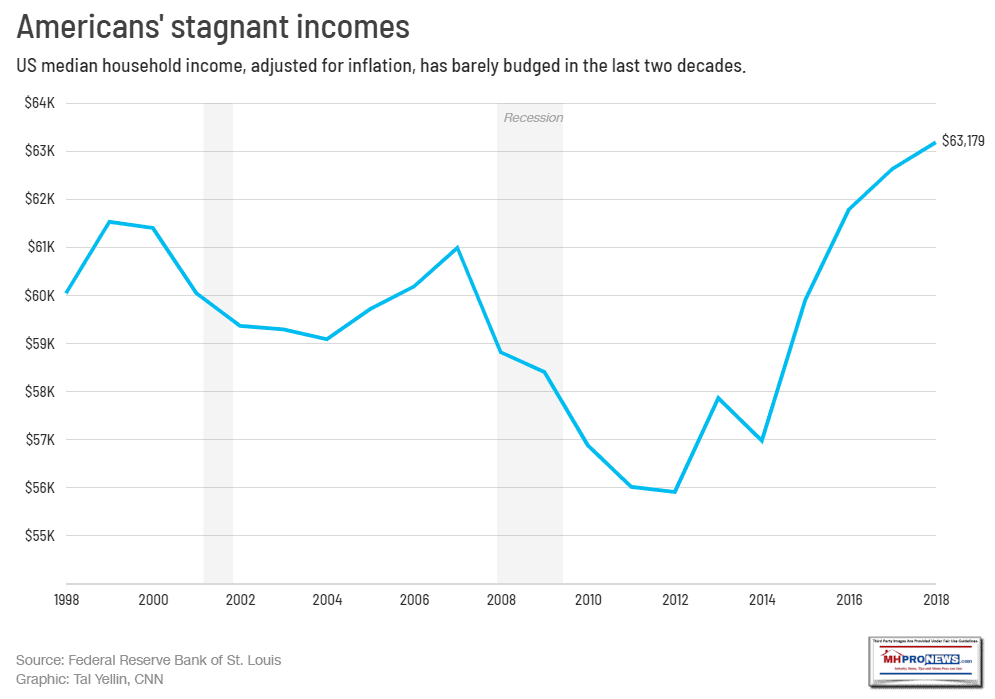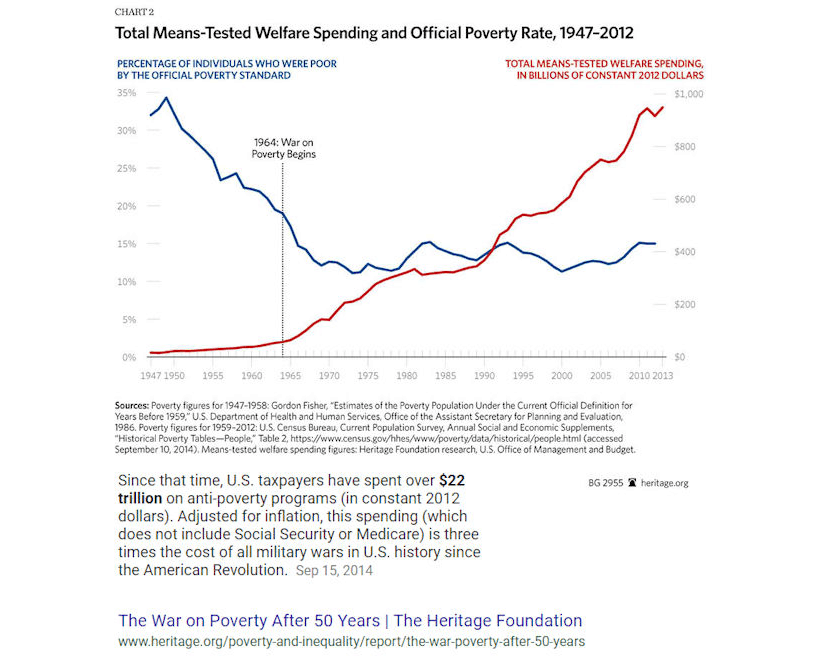 But several of the underlying issues were arguably not fully addressed. That may or may not be an ill reflection on President Donald J. Trump for this reason, professionals at HUD arguably failed to do what their job titles called for while they were in office. It is for that reason, among others, that MHProNews opposed Brian Montgomery for his role. The cited evidence suggested that Montgomery had a history of being part of the problem rather than part of the solution.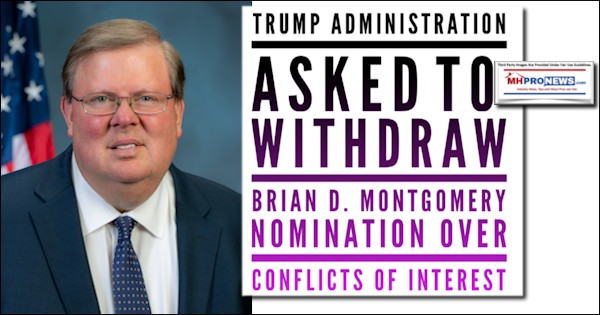 Did Montgomery or others at HUD read Secretary Carson in on the Manufactured Housing Improvement Act of 2000 (MHIA or 2000 reform law)? If so, then Secretary Carson may bear responsibility too. That could and should be explored another time, in as nonpartisan a fashion as possible.
That noted, what is certain is that despite high and repeated praise from HUD Secretary Ben Carson about the value of HUD Code manufactured housing, the overall trajectory of the industry was not improved. Carson's logic below is arguably strong. That begs the question. What happened to the follow up?
Those questions about the follow up during Secretary Carson's term in office should also be explored in as nonpartisan a fashion as should the Biden-Harris-Fudge concerns.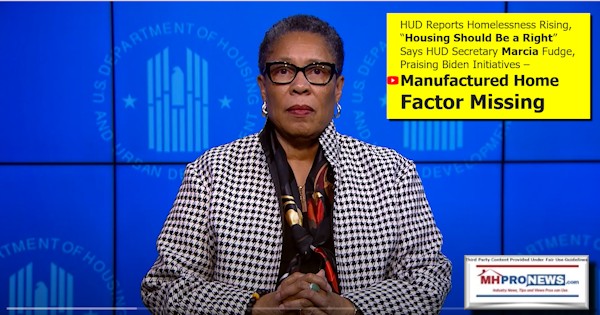 Because despite her early statements of support, there is so far little evidence that Secretary Fudge was paying more than lip service to manufactured housing.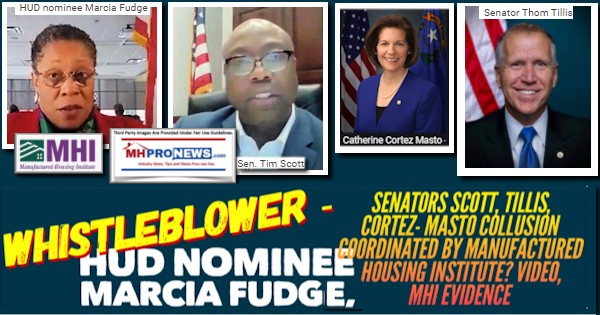 Doing the Math of the 4.6.2021 HUD Release
Doing the math, that $689,565,492/$89,400 = 7,713.26. That 7,713 represents the number of HUD Code manufactured homes that could have been fully paid for at the national average retail price, per U.S. Census Bureau data from October 2020.  That $689.5 million dollars spent by HUD are often paired with state and local funding too, which takes that total higher. While site costs are not included in those manufactured home costs, when they are factored in, bipartisan researchers in Minnesota discovered that manufactured housing with land costs are still significantly less costly than multifamily housing.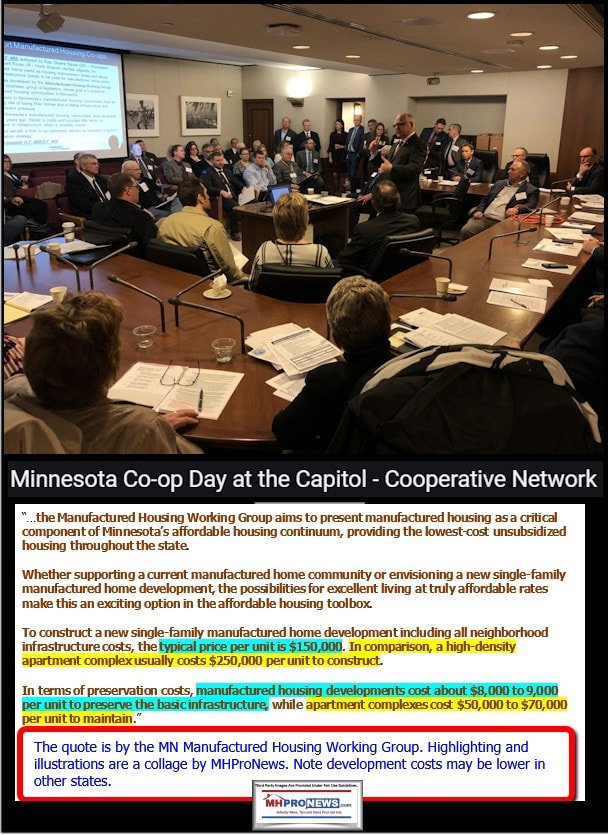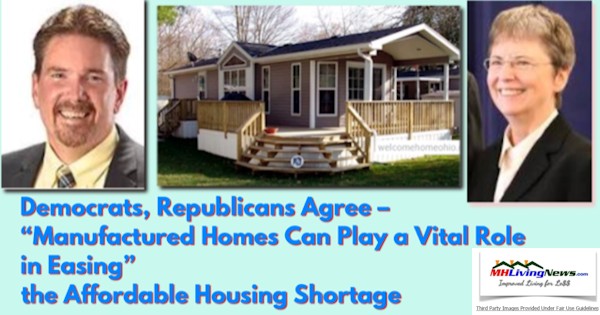 As a disclaimer, when perhaps a certain level of naiveté was still present, this writer submitted to HUD during the Obama-Biden Administration a plan to created more affordable home ownership – not rentals – using repurposed or "reinventing" HUD role in funding affordable housing to reduce poverty and dependency. That proposed plan – if implemented – could have phased out over time several of HUD's costly functions. It would have used manufactured homes. It would have created hundreds of thousands of good jobs in the process.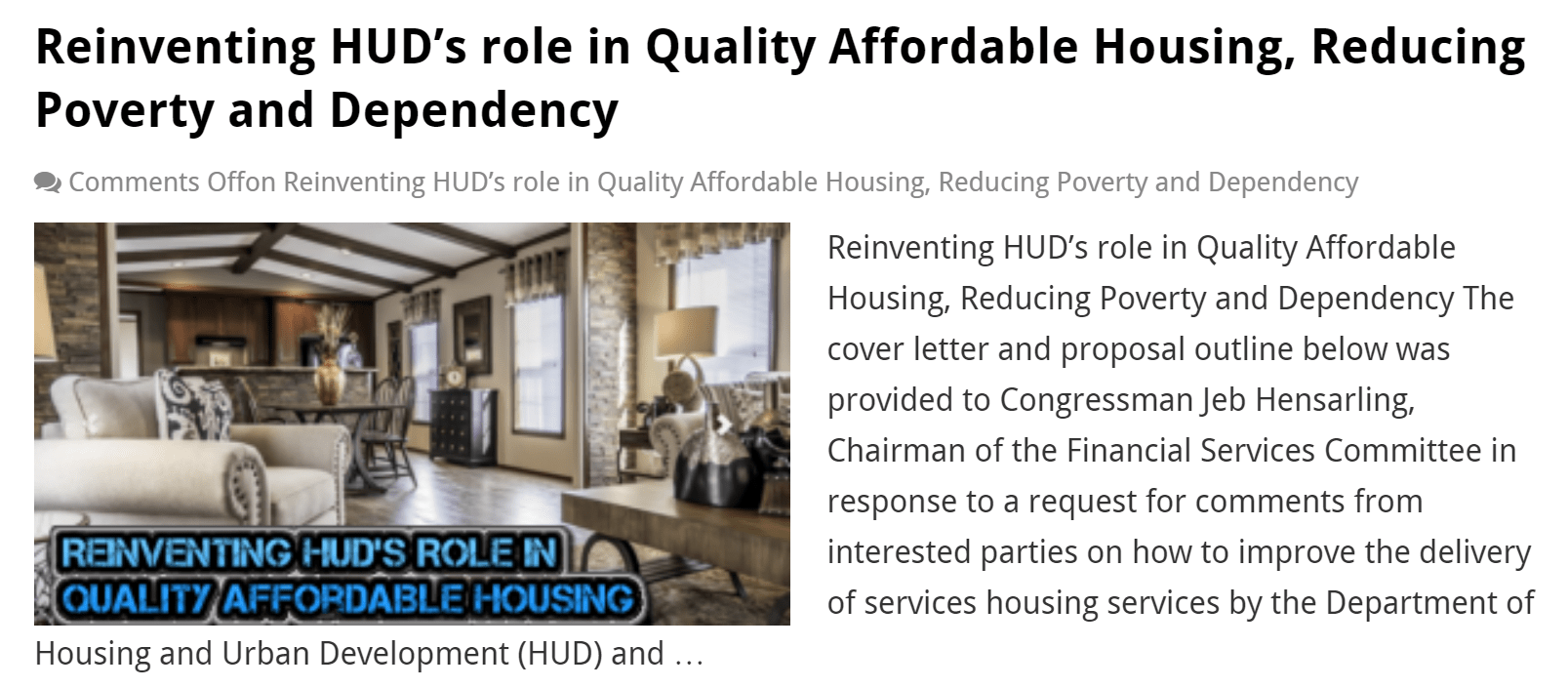 What happened to that 11/02/2015 plan? The proposal went nowhere. Was it a waste of time? No. Why? Because it documented that HUD and other public officials – then – were apparently not sincere in their stated purpose. Look again at what says its mission is:
HUD's mission is to create strong, sustainable,
inclusive communities and quality affordable homes for all.
Are HUD or other public officials more sincere now than then? Time will tell.
That noted, let's look deeper at the numbers.
The HUD.gov website says that their federal budget for 2021 is: $47.9 billion. If 10 percent went for overhead – the figure HUD gives in their allocation for that purpose in their press release above – there would still be $43.11 billion a year for other purposes. Divide that $43.11 billion by that same $89,400 (the retail cost of a HUD Code manufactured home in October 2020), and 482,214.765 is the product.
That means that 482,214 new HUD Code manufactured homes could be produced for that cost. Once paid for, those homes would only require maintenance and upkeep. While this is an oversimplification, it illustrates the point that Clark's and Schmitz's applied logic point toward.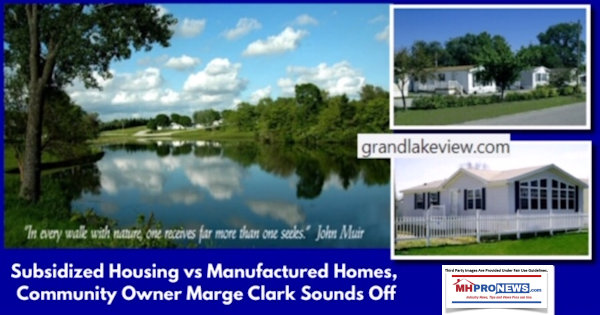 The Manufactured Housing Institute (MHI) claims it is 'studying' the Biden-Harris housing agenda. Pardon me? What is there to study? If MHI is sincere about the interests of the industry at large – vs. special interests – isn't it obvious that HUD's resources are being miss-allocated? Who makes the case? How about third-party researchers for the Federal Reserve System?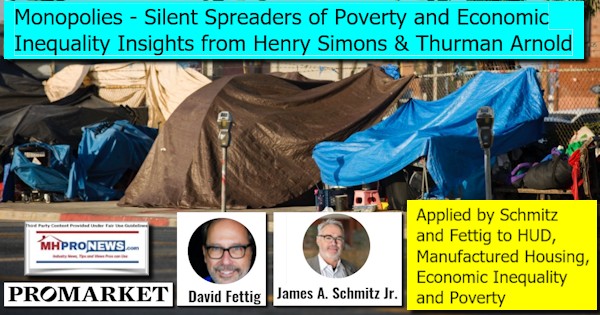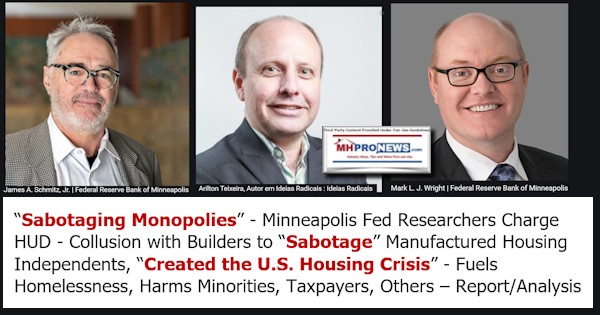 Support for conventional housing should be phased out as rapidly as possible. It is an unjust competitor for HUD Code homes, which may be thriving if the market was not being manipulated, twisted, and otherwise undermined by a combination of private interests and federal and/or state/local collusion – or as James Schmitz Jr and his colleagues have called it – "sabotage monopoly" at work between HUD and private interests.
Manufactured home community owner Marge Clark was quite astute in her core observation.
Also on point is the letter that follows from Rep Maxine Waters (CA-D) and some of her House Democratic colleagues asking then HUD Secretary Mel Martinez why was the Manufactured Housing Improvement Act of 2000 not being fully and properly implemented?
While their reasoning was legally sound, as well as practical, it begs this question. Where was the follow up from Waters and her colleagues? Perhaps it exists. If so, it is not yet known to this trade publication's team. We have reached out to House Financial Services Committee and its Chair Maxine Waters' communications team to see what might be available on that topic.
In the meantime, the message from Waters and her colleagues remains valuable.  It stated the following which is sadly as applicable now as then.

Honorable Mel Martinez
Secretary
Department of Housing and Urban Development
451 7th Street, SW
Washington, DC 20410
Dear Secretary Martinez:
We are writing to express our deep disappointment in HUD's July 17 rejection of the Manufactured Housing Consensus Committee recommendation, which addresses the problem in the siting of manufactured homes. We ask HUD to use its expanded authority under the "Manufactured Housing Improvement Act of 2000" to address this growing problem, which is undermining homeownership opportunities for low-income and minority Americans.
The Millennial Housing Commission concluded that "During the 1990s, manufactured housing placements accounted for one quarter of all housing starts and, from 1997 to 1999, 72 percent of new units affordable to low income homebuyers." Unfortunately, discrimination in the siting of manufactured homes continues to undermine its full potential to meet the needs of low-income homebuyers. A September 2002 Ford Foundation study on manufactured housing noted that "zoning and code rules continue to be a major barrier," and that "the vast majority of local governments continue to discriminate against manufactured housing, thereby limiting its potential to meet the needs for affordable housing."
You have made homeownership a top Administration priority, emphasizing opportunities for low-income Americans. You have also made reducing local barriers to affordable home ownership a top priority announcing on June 10th a Department-wide effort to break down such barriers, in order to create "an environment to increase minority homeownership."
The very first recommendation of the Manufactured Housing Consensus Committee addressed the problem of discrimination against localities enforcing discriminatory covenants made by private landowners. We believe HUD's summary rejection of this proposal is inconsistent with HUD's stated priority of removing barriers to affordable low-income homeownership opportunities.
We understand that HUD may have concerns about its legal authority to implement this particular proposal. But, we believe that HUD should have taken this opportunity to use its expanded legal preemption authority under the 2000 Act to develop a Policy Statement or regulation to make it clear that localities may not engage in discriminatory practices that unfairly inhibit or prohibit development and placement of manufactured housing. We understand that some in the industry have asked HUD to take action and we urge HUD to be responsive to this request.
Page Two
We are also troubled by the legal analysis HUD used in its July 17th rejection of the Consensus Committee recommendation. HUD's analysis relies on rulings in cases that predated the 2000 Act amendments, which render such rulings obsolete. Moreover, HUD's legal analysis states that the 2000 Act amendments "did not modify the basic substance of the statutory preemption provision." Such a statement ignores the plain language of the 2000 Act changes.
Prior to the 2000 Act changes, the statute merely prohibited states and localities from establishing any standard regarding construction or safety "applicable to the same aspect of performance of such manufactured home which is not identical to the Federal manufactured home construction and safety standard." The 2000 Act broadened this provision to add that: "Federal Preemption under this subsection shall be broadly and liberally construed to ensure that disparate State or local requirements or standards do not affect the uniformity and comprehensiveness of the standards promulgated under this section nor the Federal superintendence of the manufactured housing industry established by this title." [italics added].
The 2000 Act amendments also expanded the findings and purposes of the Act. Prior to 2000, the statutory findings declared it necessary to establish construction and safety standards merely to "reduce the injuries, deaths, insurance and property damage," and "to improve the quality and durability of manufactured homes." The 2000 Act amendments introduced the new findings that "manufactured housing plays a vital role in meeting the housing needs of the nation" and that "manufactured homes provide a significant resource for affordable home ownership." New purposes were also introduced by the 2000 Act, which includes protecting the "affordability of manufactured homes," and "facilitating the availability of affordable manufactured homes and to increase homeownership for all Americans."
Thus, the 2000 Act expressly provides, for the first time, for "Federal preemption," and states that this should be "broadly and liberally construed" to ensure that local "requirements" do not affect "Federal superintendence of the manufactured housing industry." Combined with the expansion of the findings and purposes of the Act to include for the first time the "availability of affordable manufactured homes,' the 2000 Act changes have transformed the Act from solely being a consumer protection law to also being an affordable housing law.
More specifically, these combined changes have given HUD the legal authority to preempt local requirements or restrictions which discriminate against the siting of manufactured homes (compared to other single family housing) simply because they are HUD-code homes. We ask that HUD use this authority to develop a Policy Statement or regulation to address this issue, and we offer to work with you to ensure that it comports with Congressional intent.
A PDF copy of that document is found linked here.
Doing the Same Things the Same Way…
The popular definition for insanity attributed to Albert Einstein is to keep doing the same things the same way and yet expect a different outcome.
Despite progress in the Trump-Pence years for more housing and higher incomes, there were nevertheless several things that could have been better. But those issues mirror to some degree the pattern that occurred during the Bush-Cheney and Obama-Biden years. That goes to the concerns raised by Schmitz. They all tend to support the notion of an Iron Triangle operating in manufactured housing, to the detriment of tens of millions of Americans and most independents.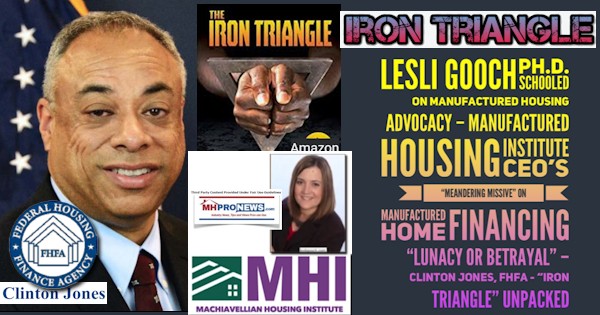 What is certain is this. The trend lines in manufactured housing, despite years of praise by third party researchers is to see more of the same. MHI award winner Marty Lavin, J.D., previously quipped that the HUD Code is a discrimination code. That may sadly be true in practice.  But it also turns on the laws head the clear intention of lawmakers, as was reaffirmed in that letter to Secretary Martinez above.
The tragedy of manufactured homes is that it has great promise that has nevertheless been thwarted. That thwarting is from local officials. But it is also arguably to significant degree it occurred due to the de facto failure by HUD officials to follow the law.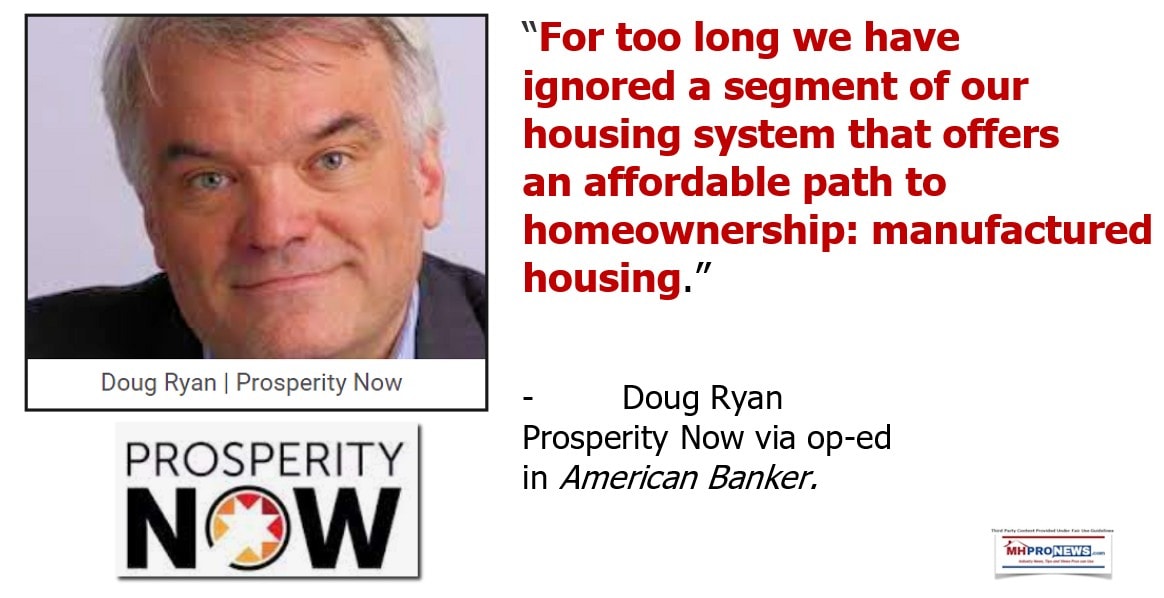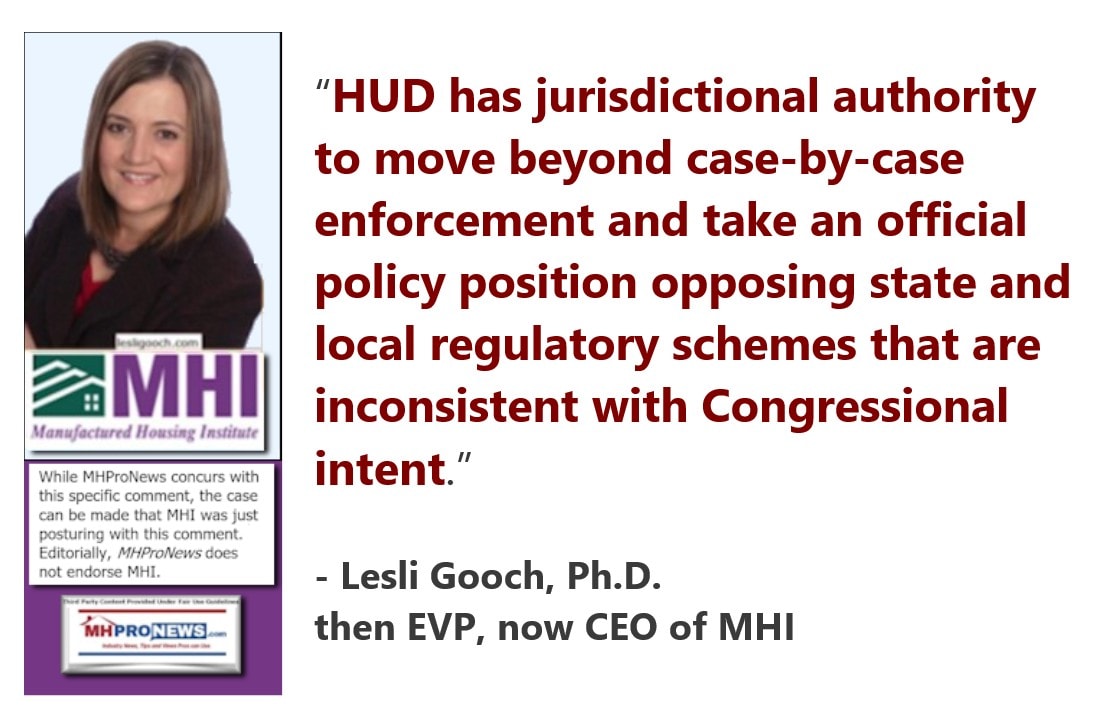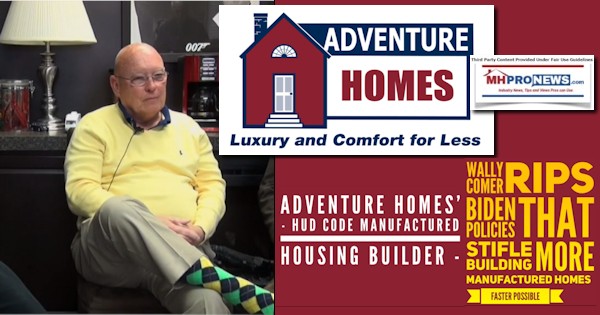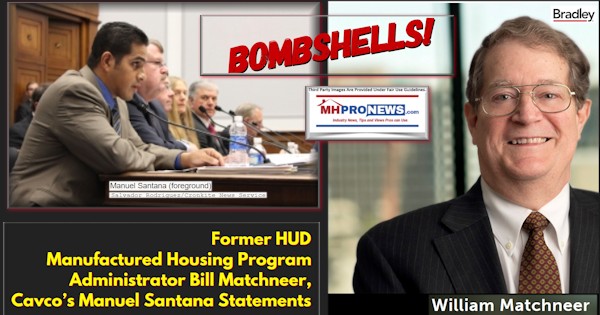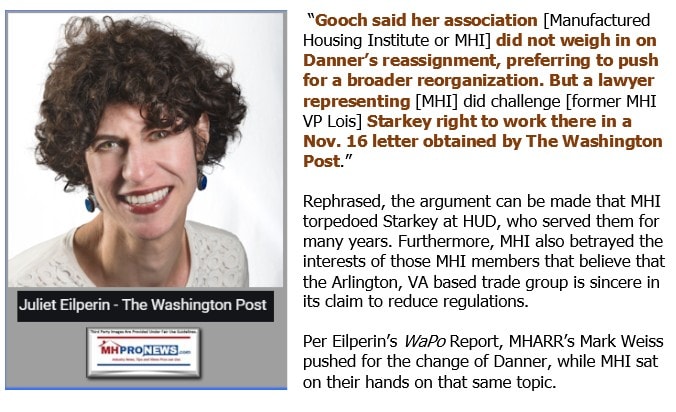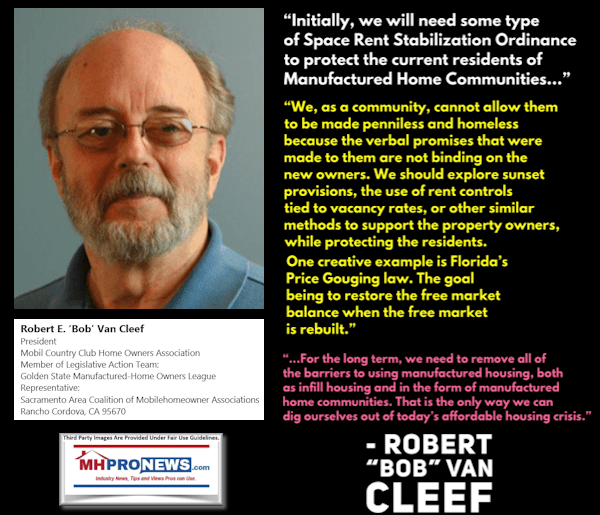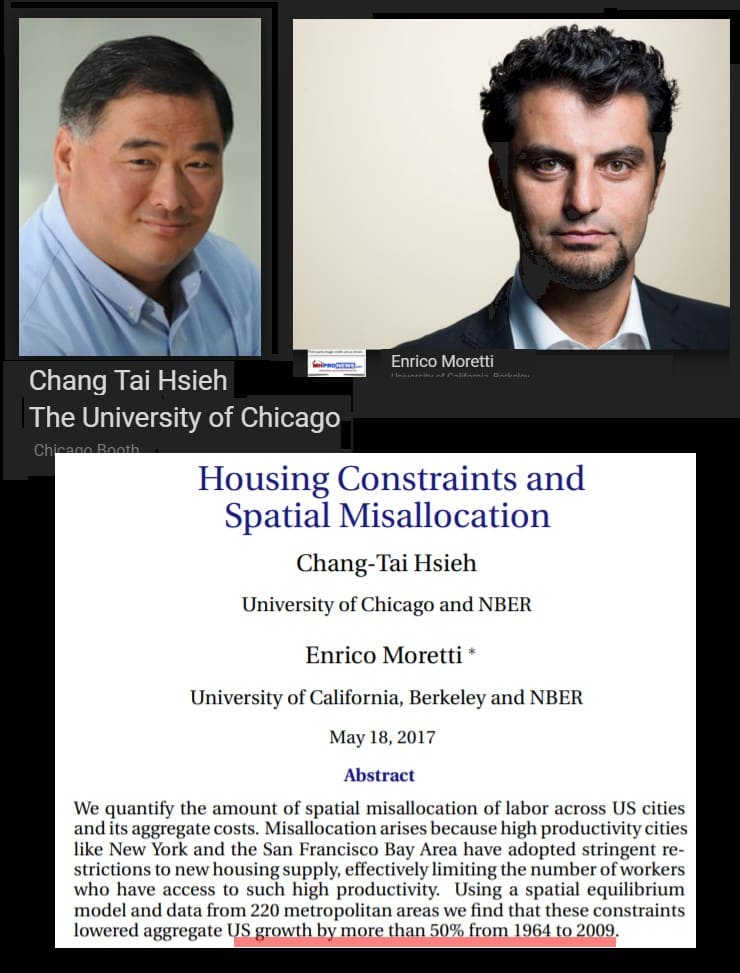 To sum up. Third party researchers have made clear the following.
More affordable housing where near where it is needed would create some $2 trillion dollars per year in gross domestic product (GDP), per NBER researchers Chang Tai Hsieh from the Univ. of Chicago and Enrico Moretti at UC Berkley.
James Schmitz Jr and his colleagues have repeatedly made the allegation that HUD and builders/special interests are undermining the widespread use of manufactured homes in what they have called an example of "sabotage monopoly" at work in this most affordable segment of factory-built housing.
Marge Clark made the astute observation that if not for subsidized housing, significantly more unsubsidized manufactured homes would be sold.
Samuel Strommen from Knudson Law made the evidence-based allegation that various parties involved in manufactured housing are involved in "felony" antitrust and possible RICO violations. Those allegations merit serious, objective probes of those parties named.
Maxine Waters and several colleagues have made similar allegations to that of Strommen.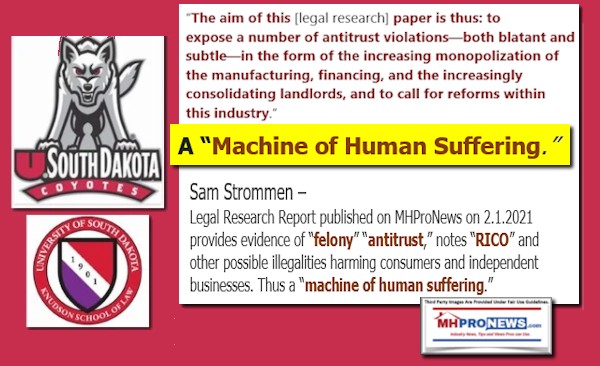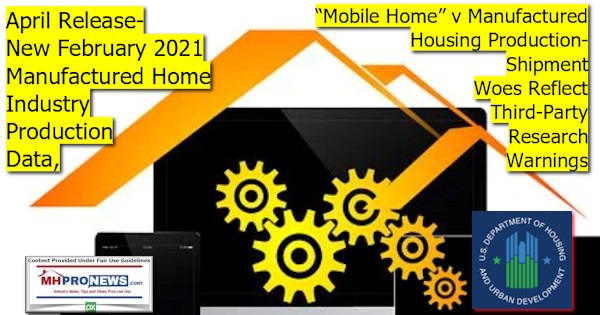 The solution to this pattern is blindingly obvious.
Enforce existing laws.
Certain trade associations should do what they claim and not posture efforts that arguably they fail to deliver on, to the benefit of consolidators.
Lawmakers and public officials should do what they say and what the law requires.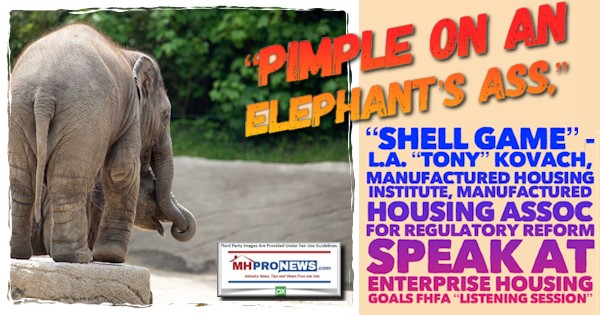 To learn more, see the related reports, starting with the one above and below.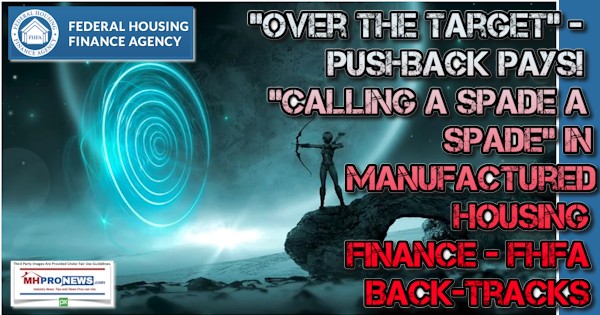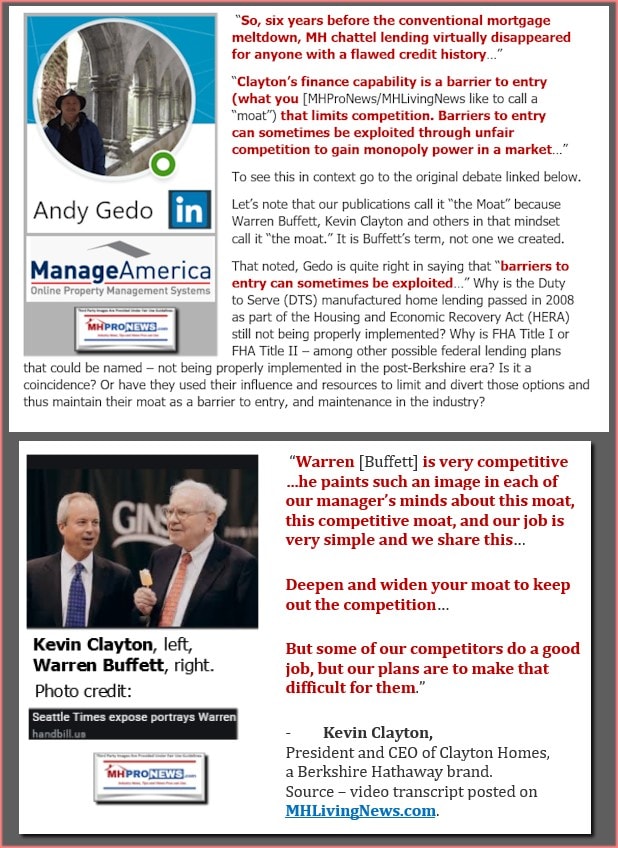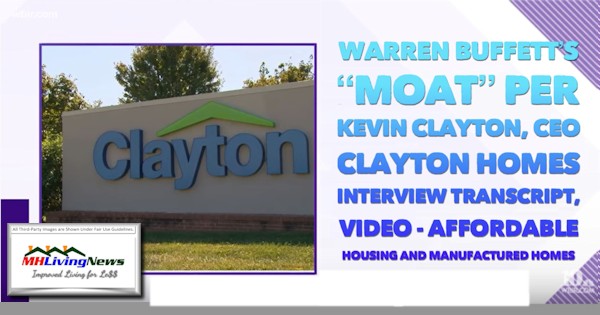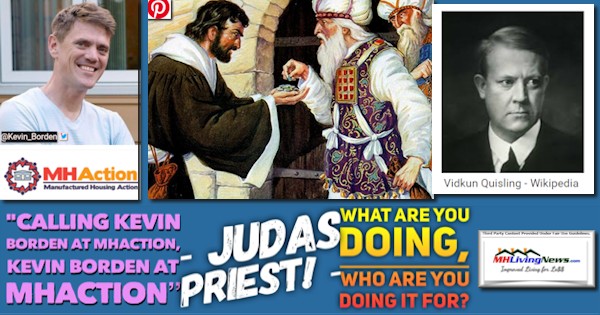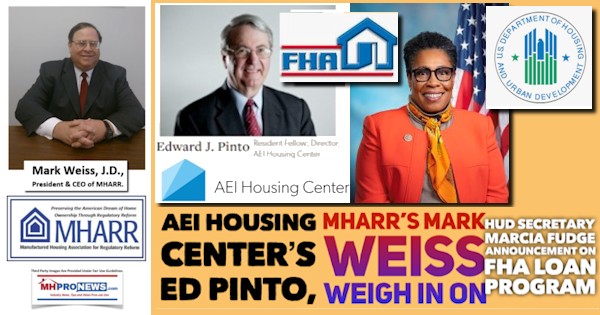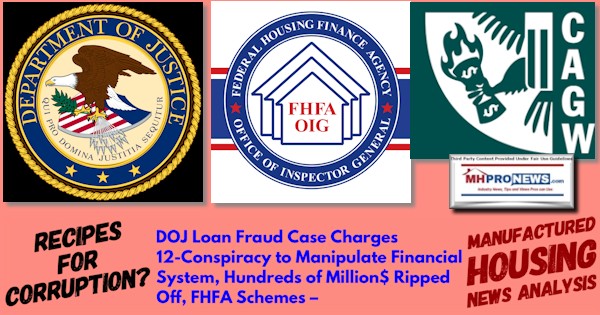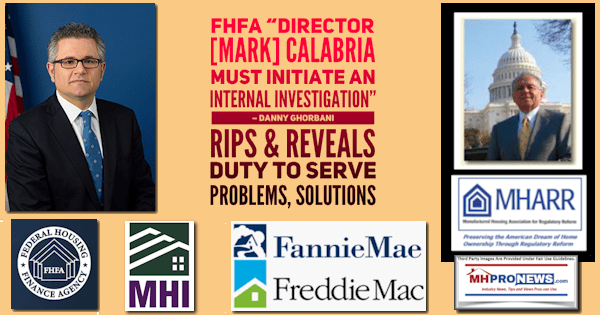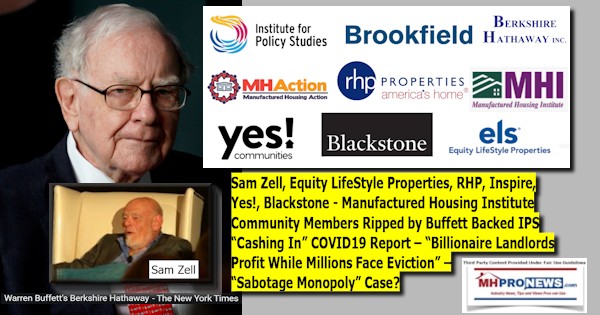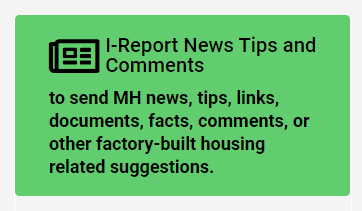 Stay tuned for more of what is 'behind the curtains' as well as what is obvious and in-your-face reports. It is all here, at the runaway largest and most-read source for authentic manufactured home "News through the lens of manufactured homes and factory-built housing" © where "We Provide, You Decide." © ## (Affordable housing, manufactured homes, reports, fact-checks, analysis, and commentary. Third-party images or content are provided under fair use guidelines for media.) (See Related Reports, further below. Text/image boxes often are hot-linked to other reports that can be access by clicking on them.)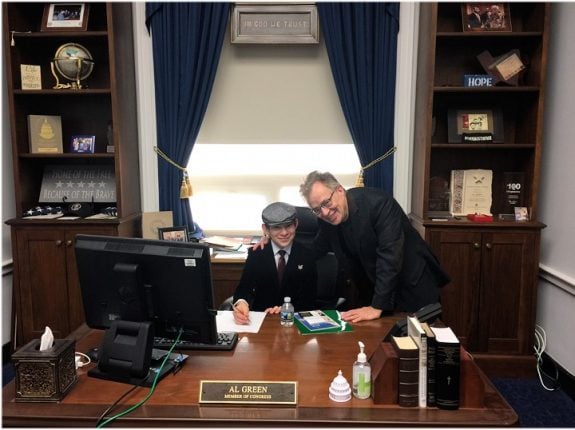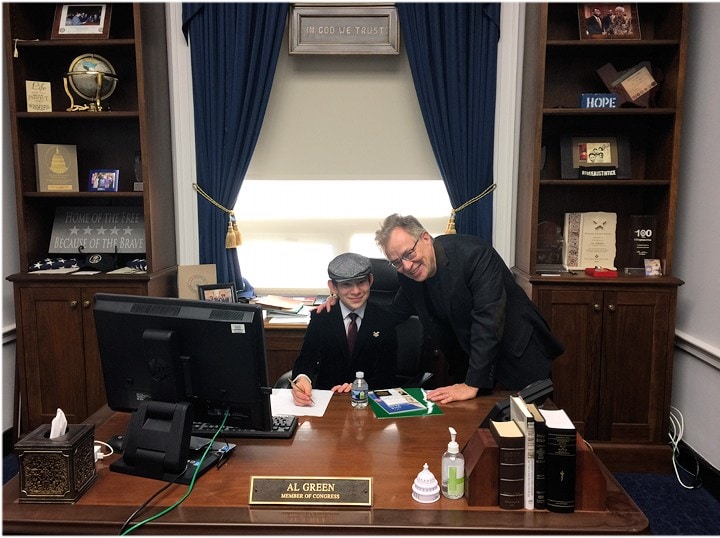 By L.A. "Tony" Kovach – for MHProNews.com.
Tony earned a journalism scholarship and earned numerous awards in history and in manufactured housing.
For example, he earned the prestigious Lottinville Award in history from the University of Oklahoma, where he studied history and business management. He's a managing member and co-founder of LifeStyle Factory Homes, LLC, the parent company to MHProNews, and MHLivingNews.com.
This article reflects the LLC's and/or the writer's position, and may or may not reflect the views of sponsors or supporters.
Connect on LinkedIn: http://www.linkedin.com/in/latonykovach
Related References:
The text/image boxes below are linked to other reports, which can be accessed by clicking on them.