The Job Creators Network (JCN) provided the following new research survey on the recovery rate of small businesses in the U.S. Additional information, plus MHProNews analysis will follow.
Washington, D.C. (May 27, 2021)—Today, the Job Creators Network (JCN), a leading small business advocacy organization, is launching a new monthly poll called the JCN Monthly Monitor. Pollsters, John McLaughlin and Scott Rasmussen, have teamed-up to conduct the regular survey of U.S. small business owners. Today marks the release of the inaugural edition of the survey, which gives insight into current and future economic conditions, as well as how small business owners view proposed Biden administration policies.
Questions around the economy will be reoccurring and therefore can track how small business views change overtime, but other questions will be switched out to record opinions on different policy issues or news events of the day.
According to the latest data, in general, small businesses (the ones who survived the pandemic) feel like they're in good shape, but many are still recovering from the economic problems of the last year. Although on the path to recovery, the small business community is in a vulnerable position and are concerned about the economic threats coming from Biden administration policies. Read the topline findings here or below.
75% of small businesses say their current financial condition is either good or excellent; 61% believe it will improve over the next three months.
45% of respondents rate the small business climate as good or excellent, while 43% rate it as fair and 12% as poor.
Many small businesses are still clawing their way out of the pandemic-induced hole. Among small businesses that were negatively impacted by the pandemic, only 6% say they have fully recovered; an additional 43% of respondents believe they will be fully recovered within six months.
Government lifelines—such as the Paycheck Protect Program—helped many small businesses avoid the worst-case scenario. Approximately 2 in 5 (38%) small businesses took advantage of a pandemic-era government grant/loan program; 69% of small businesses employing between 10 and 19 people benefited from one.
The top three biggest concerns for small businesses are 1.) Economy/Client Spending, 2.) General Operating Costs, and 3.) Taxes
35% of respondents say Biden's economic/tax policies will help small businesses, while 42% believe they will harm them.
53% of small businesses disapprove of raising the corporate tax rate.
There needs to be a lot more education on the PRO Act, small business employers don't know what it is.
View more polling details here.
Elaine Parker, JCN Chief Communications Officer, released the following statement:
"The JCN Monthly Monitor will be the go-to source to see how small businesses are feeling across the country. As the backbone of the economy, small businesses provide a good indication of where the U.S. stands broadly. Data from May suggests that although the small businesses that weathered the pandemic are optimistic about their current financial conditions, proposed policies from the Biden administration could pose a threat in the future. It's something Congress should keep in mind when considering components of the Biden agenda."
Market researcher John McLaughlin released the following statement:
"The results of the JCN Monthly Monitor reveal that, at this moment as the economy reopens, small business owners are feeling pretty good. Three-quarters of respondents believe their current financial conditions are good and six-in-ten business owners say it's going to improve over the next three months. It will be interesting to track how small business perceptions change as the economy returns to normal, but at the same time, policies of concern—such as tax hikes—are pursued by the current White House."
Market researcher Scott Rasmussen released the following statement:
"The Small Business Intelligence Quotient is designed so that any readings above 50 represent generally positive attitudes. The inaugural edition shows an SBIQ score of 59.8, modestly positive. Small business owners today might best be described as cautiously optimistic. Things are better than they were a few months ago, but small business owners are also wary of potential storms on the horizon."
##
The video above was not part of their media release, but is a quick snapshot of JCN's thinking on small business.
Additional Information, MHProNews Analysis and Commentary in Brief
Some of the JCN report is obviously new information in the launch of their new planned monthly survey of small business owners. That noted, several of the points raised in that survey mirror or are bookends to previously raised topics found on MHProNews. For example, Wally Comer with Adventure Homes told MHProNews that Biden policies on unemployment were making hiring new workers harder.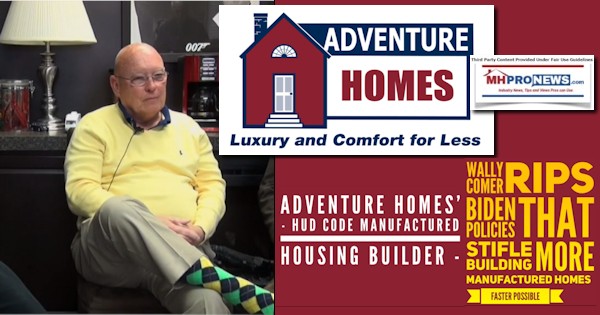 Regarding Biden-Harris tax policy plans, that has been quietly hailed by Sun Communities (SUI) Gary Shiffman. Why? For consolidators, looming tax hikes and other regulatory changes spells opportunities. On the flip side, that is a warning signal for independents and millions of consumers. Shiffman led-Sun is a prominent Manufactured Housing Institute (MHI) member, which claims to represent all segments of the industry, but upon closer examination is arguably a tool for the consolidators.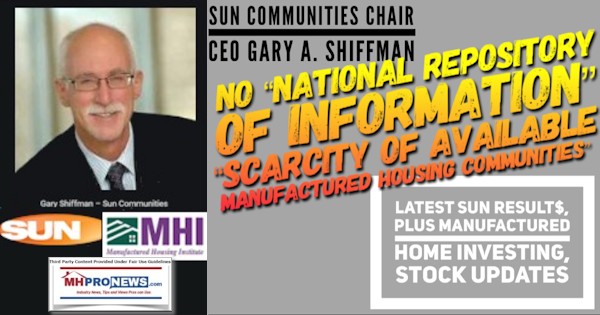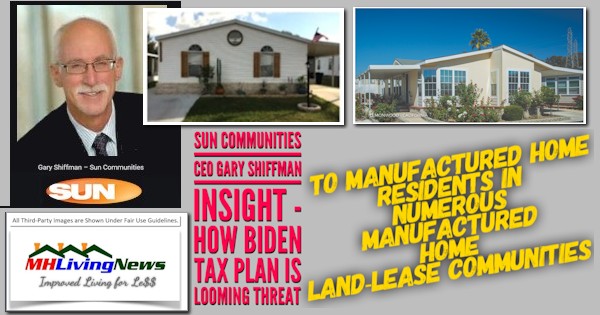 Shiffman's perspective noted, as the JCN survey reflected, many in manufactured housing oppose the idea of new taxes and more regulations.  The obvious case in point opposing more regulations is the independent producers trade group, the Manufactured Housing Association for Regulatory Reform (MHARR). Note that the MHARR release linked below has no known corollary from MHI. Once more, MHI claims to represent 'all,' but their own data reveals a steady industry consolidation in the Berkshire Hathaway era. MHI is dominated by Berkshire brands.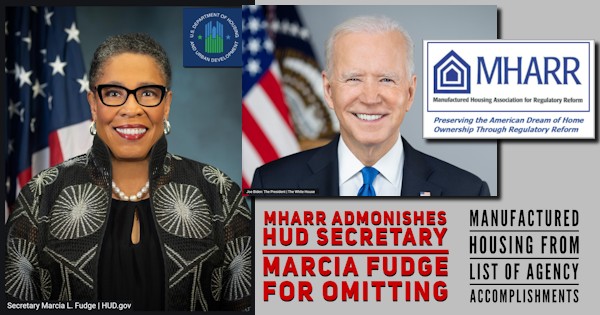 The JCN Foundation website says the following about their vision on the issues.
"American small businesses are under attack by over-taxation, over-regulation, and lack of access to credit. According to a nationwide poll of small business owners, the vast majority of respondents said that taxes and regulatory burdens are a challenge when it comes to expanding and creating jobs. Because of the outsized role small businesses play in the economy, creating two-thirds of new jobs and half of existing jobs, small businesses struggles are holding back the economy as a whole.
The Job Creators Network Foundation educates the public, the media, and employees about how bad government policies affect their livelihood and their pocketbook."
That is an echo of what Carol Roth and Dr. Richard Rahn have said.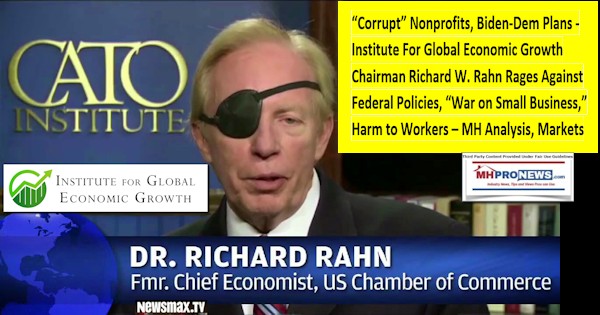 JCN was among those who promoted safe reopening of the economy in 2020.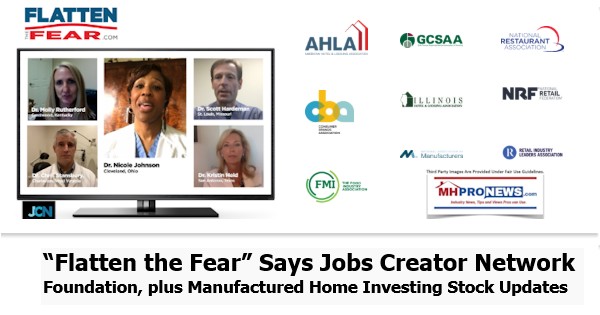 This inspirational pull quote from the JCN Foundation website says much.
"Entrepreneurs are problem solvers. Despite regulations and taxes, we overcome, but at a cost; dealing with attorneys, dealing with regulations slows down how fast we can create jobs." ~ Michael Holthouse, CEO of Prepared 4 Life.
Despite an apparently de facto pro-big business, anti-smaller and independent businesses stances being taken by the Resident Biden White House, there are those who are pushing back in an intelligent, evidenced-based, and pragmatic fashion. Outside of our industry, JCN and the National Federation of Independent Business (NFIB) are two of those groups. Inside our industry, the independent manufactured home producers trade group, Manufactured Housing Association for Regulatory Reform (MHARR) name and deeds speak volumes. MHARR alone among industry trade group's has sounded the alarm about a solar initiative that has MHProNews' research revealed has several ties to Clayton Homes and MHI.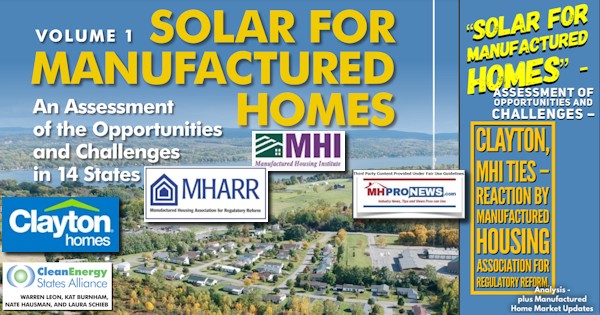 The battle for the American Dream is on. A key part of that battlefield is the realm of ideas and communications. In MHI, there are white hat brands, but they need to be willing to speak out loud and proud in opposing the various tactics and failures that have kept the industry underperforming since the beginning of the Berkshire era. Perhaps the most relevant data point at a glance is that manufactured housing is performing at a lower level today then when Berkshire entered the industry.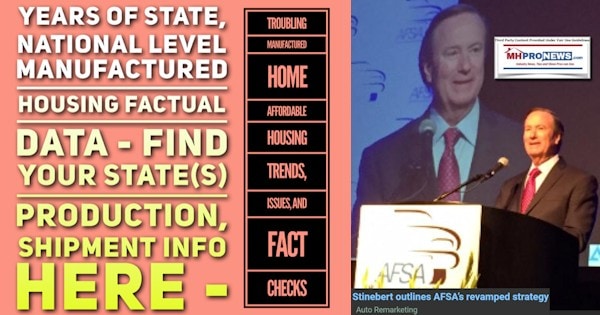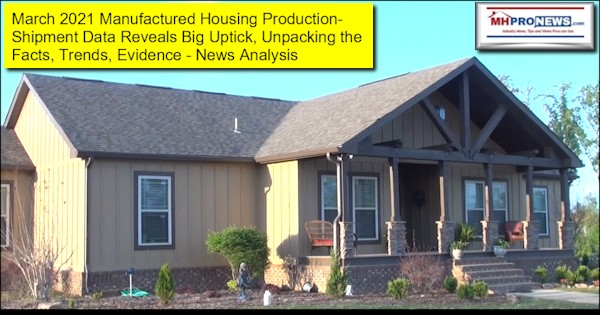 MHProNews will be reporting and providing industry-leading factual and evidence-based analysis on those topics.
Stay tuned.
Market transition notice: While the layout of this business daily report has recently been modified, several elements of the basic concepts used previously are still the same. The headlines that follow below can be reviewed at a glance to save time while providing insights across the left-right media divide. Additionally, those headlines often provide clues as to possible 'market moving' reports.
Market Indicator Closing Summaries – Yahoo Finance Closing Tickers on MHProNews…

Headlines from left-of-center CNN Business = evening of 5.28.2021 (note: typos in the CNN original, we get them too…)

A wake-up call
Cybersecurity pros are in huge demand. And they can command nearly any salary they want
Surging prices: Key inflation metric just hit a 29-year high
Why AMC shares are skyrocketing
This custom Rolls-Royce is likely the world's most expensive new car
Jamie Dimon: Some Americans 'don't feel like going back to work'
Best Buy CEO: 4 reasons why it's hard to hire workers right now
Larry Summers sends stark inflation warning to Joe Biden
States have been offering big prizes for those who are vaccinated. Companies are now doing the same
This $5 billion insurance company is in a mess thanks to AI
Potential gas shortage looms
Nike says it cut ties with Neymar over his refusal to cooperate in sexual assault investigation
Rolls-Royce will now build you any car you want, but it will cost millions
Signage outside SolarWinds Corp. headquarters in Austin, Texas on Tuesday, Dec. 22, 2020. A former security adviser at the IT monitoring and network management company SolarWinds Corp. said he warned management of cybersecurity risks and laid out a plan to improve it that was ultimately ignored.
Microsoft says SolarWinds hackers have struck again
Bitcoin is tumbling at the end of its worst month in nearly 10 years
Inside A Costco Wholesale Corp. Location As Earnings Figures Are Released
An employee fills cups with samples of Costco Wholesale Corp. Kirkland Signature brand organic lemonade at a store store in San Antonio, Texas, U.S., on Wednesday, May 30, 2018. Costco Wholesale Corp. is releasing earnings figures on May 31.
Costco is bringing back free sample
Headlines from right-of-center Newsmax – evening of 5.28.2021
Hunter Biden Reportedly Boasted About Smoking Crack with Ex-Mayor Marion Barry
The boast about drug use with the onetime mayor of Washington D.C., came in a January 2019 call to an unidentified friend that was recorded and found on Hunter's infamous laptop. The son of President Joe Biden is reportedly heard saying: "I actually smoked crack with Marion Barry."
Newsmax TV
Dan Bishop: 'Biden Is Compromised by China'
Nikki Haley: Determine COVID Source Before Another Outbreak |
Joni Ernst: 'Laughable' for Fauci to 'Plead Ignorance' About Wuhan Institute |
Mark Meadows: First Scandal, Then Joe Biden Soft on China |
Cammack: Immigration Crisis Exacerbated by Facebook Cartel Ads |
Alan Dershowitz: CNN 'Is Quaking in Their Boots' |
More Newsmax TV
Newsfront
Poll: 73% of Republicans Blame 'Left-Wing Protesters' for Jan. 6
A new poll reveals that 73% of Republicans pin either "some" or a "great deal" of the responsibility for the Jan. 6 incidents at the Capitol on "left-wing protesters" who were trying to make then-President Donald Trump "look bad." The Yahoo News/YouGov poll of 1,588 adults……
Related Stories
GOP Senators Block Bipartisan Probe of Jan. 6 Capitol Attack
Americans Will Hit the Road With Highest Fuel Price Since 2014
Americans will hit the road this holiday weekend with the highest
White House: Biden 'Remains Committed' to Jan. 6 Probe
The White House announced on Friday that President Joe Biden "remains
Dershowitz to Newsmax: CNN Lawsuit 'About Misleading Thousands'
Legal scholar Alan Dershowitz told Newsmax's "American Agenda"
Bill Cosby Refuses Sex Offender Program, So Is Denied Parole
Actor Bill Cosby won't be paroled this year after refusing to
Reopening Jerusalem Consulate, Funding Palestinians Will Embolden Hamas, Strain Israel Relations
Former President Donald Trump's decision to take the spotlight off of
Immigrant Found Guilty in 2018 Stabbing Death of Mollie Tibbetts
A jury found a farm laborer guilty of murder Friday in the abduction
Janice McGeachin: I Tried to Protect Personal Freedoms with Executive Order on Masks
Idaho GOP Lt. Gov. Janice McGeachin told Newsmax on Friday that she
Miracle Molecule Dissolves Dangerous Artery Plague
SPONSOR: Opens arteries, boosts energy, and restores circulation
Schumer Will Force Vote on Election Overhaul Bill in June
Senate Majority Leader Chuck Schumer, D-N.Y., intends to force a vote
Small Portion of College Athletes Who Recovered from Covid-19 Later Had Myocarditis
A small percentage of college athletes in the Big 10 Conference who
Trump Rips Paul Ryan, Fox News
It did not take long for former President Donald Trump to get wind
Costco Bringing Back Free Samples in June
The latest sign American will no longer bear the taste of living in
Hunter Biden Reportedly Boasted About Smoking Crack with Ex-Mayor Marion Barry
Hunter Biden reportedly bragged about smoking crack with late
CDC Loosens Mask Guidance for Summer Campers
Kids at summer camps can skip wearing masks outdoors, with some
What Gets Revealed in Brand New O'Reilly Interview
SPONSOR: Explosive interview just released
Bill Cosby Denied Parole After Refusing Therapy
The Pennsylvania Parole Board has turned down comedian Bill Cosby's
NEWSMAX PODCAST: Biden's ATF Nominee TRAIN WRECK!
PLUS: U.S. Sen. John Kennedy talks Dr. Fauci
DHS Walks Back Mayorkas' Claim US Taking 'Close Look' at Vaccine Passports
The Department of Homeland Security says there won't be any federal
Biden Unveils His $6T Budget
President Joe Biden on Friday unveiled a $6 trillion budget for next
Todd Starnes: Teacher Placed on Leave After Refusing to Affirm Biological Boys Can Become Girls
Progressive school boards are literally using our tax dollars to
First Major Teachers' Union Backs Israel Boycott
Voting members of the teachers' union for the San Francisco Unified
Judge Agrees to Appoint Special Master in Giuliani Case
A judge said Friday that he will appoint a special master to protect
Former Israeli Ambassador Oren: No 'Real Solution' for Gaza
There is "no real solution" for the Gaza Strip moving forward,
GOP Sen. Ron Johnson Calls Out Fly-by-Night Chip Spending Push
The Senate dug in for a Memorial Day weekend battle on $250 billion
NY Yankees Eject Fans for Hanging 'Trump Won' Banner
Two men were booted from Yankee Stadium after unraveling a banner
Cop Fired for Mocking LeBron James on TikTok
An Idaho cop has been fired for a viral TikTok video in which he
Russian Hackers Appear to Carry Out New Attack Through Emails
Hackers linked to Russia's intelligence organization were able to
DOJ: Durham Probe Spent $1.5M; Gowdy, Trump Wonder for What?
Just days after former President Donald Trump and former Rep. Trey
CEO Pay Rises Despite Pandemic; Typical Package Is $12.7M
As COVID-19 ravaged the world last year, CEOs' big pay packages
Chinese Demand Probe of US Labs In Response to Biden's Investigation
Chinese officials are answering President Joe Biden's call for the
Tech Trade Groups Sue Florida Over Social Media Law Signed by DeSantis
Two tech trade groups filed a lawsuit against Florida on Thursday
These US Restaurant Chains Have Announced They Are Closing This Year
More Newsfront
Finance
Unemployment Claims Fall to Fresh Pandemic Low of 406,000
Applications for state unemployment insurance fell for a fourth consecutive week as more Americans get vaccinated and businesses reopen to eager customers. Initial claims in regular state programs decreased by 38,000 to 406,000 in the week ended May 22, Labor Department data…
Pigs Are Hotter Than Bitcoin – or Why Commodities Are 2021's No. 1 Investments
Crypto v Gold Debate Rages on Wall Street as Flows Reverse
Companies Snub SPACs Amid Concerns They Cannot Deliver
Spending Ticks Up Slightly as Personal Income Falls 13.1 Percent
More Finance
Health
Common Arthritis Drug May Reduce Response to COVID-19 Vaccine
A widely used medicine for autoimmune diseases may lower people's immune response to the Pfizer mRNA COVID-19 vaccine, a new study suggests. The drug, called methotrexate, is often given to patients with immune-mediated inflammatory conditions such as rheumatoid arthritis…
OCD May Triple Risk for Stroke
Herd Immunity Possible by Summer
Debunking Myths About COVID Vaccine for Teens
For Better or Worse: How COVID-19 Affected Marriages
Manufactured Housing Industry Investments Connected Closing Equities Tickers
Some of these firms invest in manufactured housing, or are otherwise connected, but may do other forms of investing or business activities too.
NOTE: The chart below includes the Canadian stock, ECN, which purchased Triad Financial Services, a manufactured home industry lender
NOTE: Drew changed its name and trading symbol at the end of 2016 to Lippert (LCII).
NOTE: Deer Valley was largely taken private, say company insiders in a message to MHProNews on 12.15.2020, but there are still some outstanding shares of  the stock from the days when it was a publicly traded firm.  Thus, there is still periodic activity on DVLY.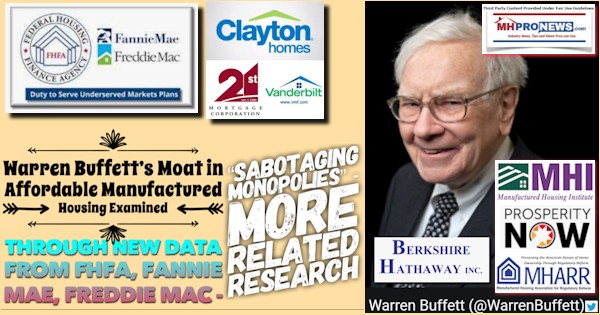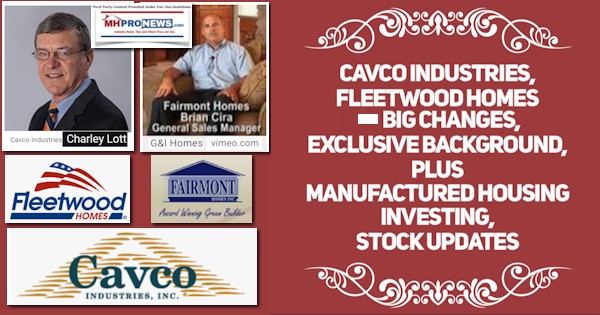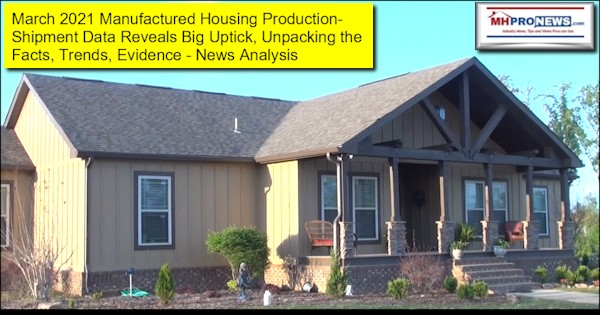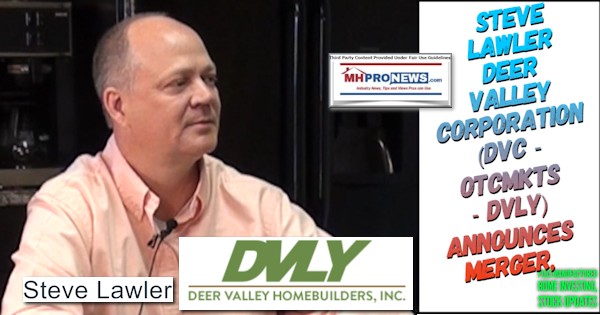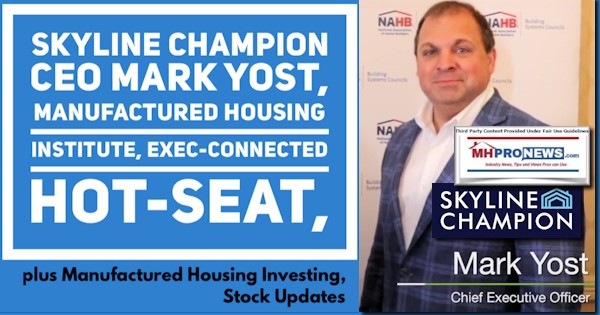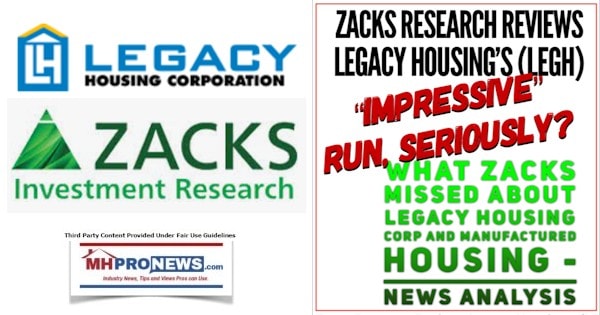 Spring 2021…
Berkshire Hathaway is the parent company to Clayton Homes, 21st Mortgage, Vanderbilt Mortgage and other factory built housing industry suppliers.
· LCI Industries, Patrick, UFPI, and LP each are suppliers to the manufactured housing industry, among others.
· AMG, CG, and TAVFX have investments in manufactured housing related businesses. For insights from third-parties and clients about our publisher, click here.
Enjoy these 'blast from the past' comments.
MHProNews. MHProNews – previously a.k.a. MHMSM.com – has celebrated our 11th year of publishing, and is starting our 12the year of serving the industry as the runaway most-read trade media.
Sample Kudos over the years…
It is now 11+ years and counting…
Learn more about our evolutionary journey as the industry's leading trade media, at the report linked below.
· For expert manufactured housing business development or other professional services, click here.
· To sign up in seconds for our industry leading emailed headline news updates, click here.

Disclosure. MHProNews holds no positions in the stocks in this report.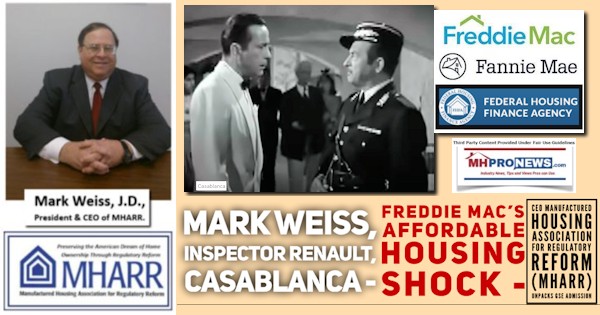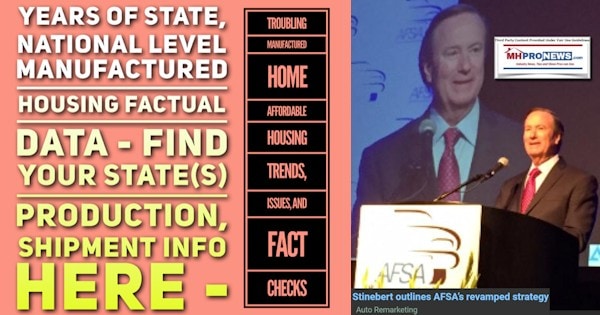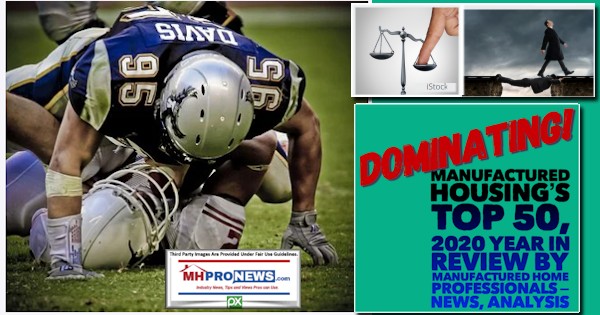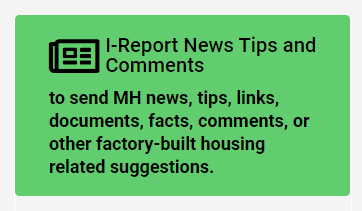 That's a wrap on this installment of "News Through the Lens of Manufactured Homes and Factory-Built Housing" © where "We Provide, You Decide." © (Affordable housing, manufactured homes, stock, investing, data, metrics, reports, fact-checks, analysis, and commentary. Third-party images or content are provided under fair use guidelines for media.) (See Related Reports, further below. Text/image boxes often are hot-linked to other reports that can be access by clicking on them.)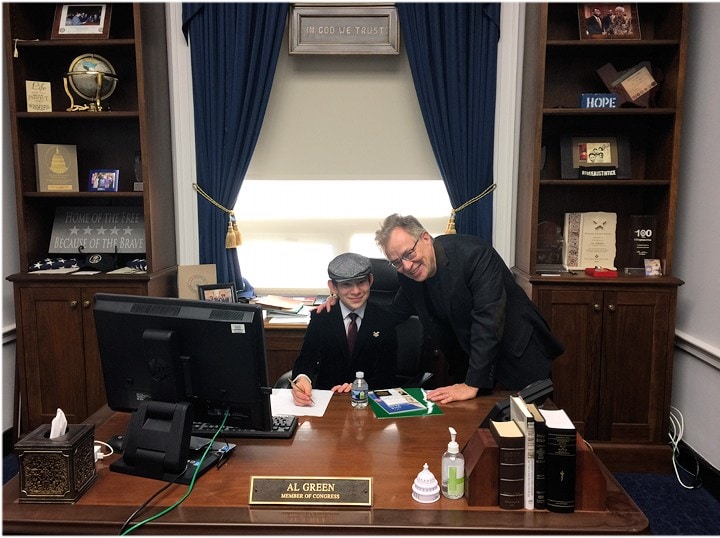 By L.A. "Tony" Kovach – for MHProNews.
Tony earned a journalism scholarship and earned numerous awards in history and in manufactured housing. For example, he earned the prestigious Lottinville Award in history from the University of Oklahoma, where he studied history and business management. He's a managing member and co-founder of LifeStyle Factory Homes, LLC, the parent company to MHProNews, and MHLivingNews.com. This article reflects the LLC's and/or the writer's position, and may or may not reflect the views of sponsors or supporters.