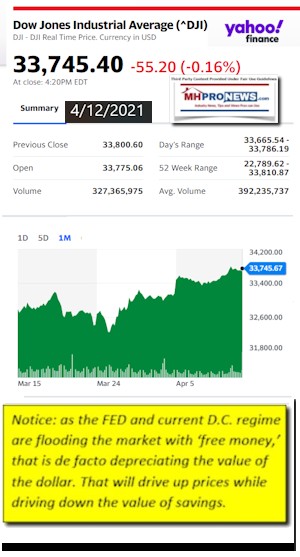 "Of course, Tim and OMHA support others in the industry who are working hard to build the viability of and the perception of manufactured housing." – Elizabeth Birch, General Counsel, Ohio Manufactured Home Association (OMHA), part of emailed comments to MHProNews received at 4:58 PM ET on 4.12.2021. The "viability of and perception of manufactured housing"…?
"Here, in the midst of what could be declared without the merest hint of shame or irony one of the most comprehensive affordable housing gluts in American history, pernicious forces are skulking in the (backdrop): consolidating power, subsuming an industry rife with lack of oversight, and preying upon the vulnerability of the impoverished in a gross, incestuous symbiosis." Samuel Strommen, Knudson Law, "The Monopolization of the American Manufactured Home Industry and the Formation of REITs: a Rube Goldberg Machine of Human Suffering" under the categories of "Antitrust & Consumer Protection."
That juxtaposition of that pull quote from Birch's letter to MHProNews and that pull quote from Strommen set the table for several items from Birch's letter, including that peculiarly reference: "…viability of and perception of manufactured housing…" Her matter-of-fact statement begs the logical question: why should manufactured housing's viability be at risk during an affordable housing crisis?
Or this: if the Berkshire brands and MHI are doing such a superb job, as OMHA's Tim Williams has claimed, why are there perception issues?
Manufactured housing is underperforming. That has regrettably been true for years. It has been admitted by MHI leaders. It is tacitly if not directly admitted by Birch's letter in that pull quote. More from Birch and Williams with added context further below in our featured focus segment tonight.

There should be an accountability regarding manufactured housing's underperformance. What explains the causes of what Birch says are: "…viability of and perception of manufactured housing…"? What are the cures for the industry's woes?  That this matters to investors, professionals, advocates, public officials, and others should be clear.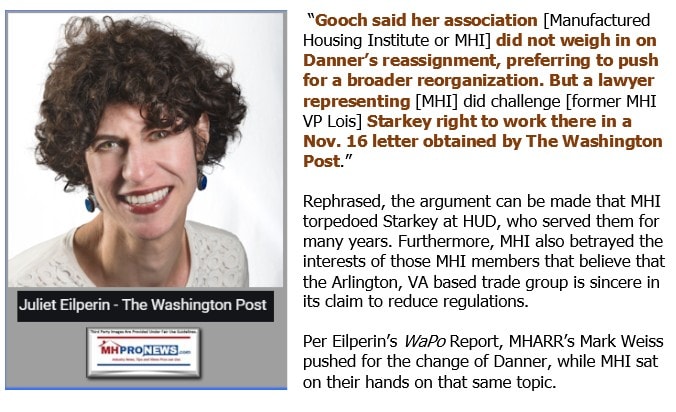 Part of the traditional role of media is to hold public, corporate, nonprofit, or others to account when evidence merits the need for accountability. Just as a coach for a sporting team is held accountable for the squad's performance, so other leaders are too.
Given the affordable housing crisis, while far more costly conventional housing is roaring, seeking answers and accountability for manufactured housing underperformance for over two decades is only natural. It would be a dereliction of journalistic integrity to ignore the big issues in our profession.
When a strong response occurs, military aviators as well as journalists are apt to say that it is an "over the target" reaction. While not responding to a pre-publication request he acknowledges was made several hours before publishing, the Ohio Manufactured Homes Association (OMHA) Executive Director Tim Williams made a pair of swift messages in sequence shortly after publication and apparently after he read the report.
One of those emails from OMHA's Williams was sent to the Manufactured Housing Executives Council (MHEC) and MHProNews.
In the emails, OMHA's Williams seemingly wants to have it both ways.
He complains that he is periodically asked for comments by MHProNews.
Then, he complains about the timing of this request for comment, and essentially demands his response be published. You logically can't have it both ways…
Williams today denied the charge that he did "PAID" writing for a pro-Trump group.  One of his message copied Elizabeth Birch, OMHA's attorney.
As noted, the other email OMHA's Williams sent addresses Birch but also addressed the MHEC Execs list, which is the Manufactured Housing Executives Council (MHEC). That list reportedly would include dozens of state and national manufactured housing industry association leaders, and perhaps others.
While Williams denies being compensated for writing to "a" pro-Trump, he does admit that he did do such writing. That hardly undermines the source when Williams' himself partially confirms part of what they alleged.  That noted, the original report was nevertheless updated at about 2 PM ET today to reflect his stated denial. Williams and Birch were so advised, while also noting that other substantive questions addressed to Williams and raised by the article were left unaddressed.
Those other, and substantive elements of their respective follow ups, are our featured focus this evening. Because the argument can be made that while the OMHA exec doubled down on defending Berkshire Hathaway brands and MHI, while failing to address the evidence that was laid out against specific industry leaders.
Then, Birch's letter has its own purported problems that will be examined below.
Put differently, Williams' and Birch's responses are likely to increase the attention to the very allegations against Clayton Homes, 21st Mortgage, other Berkshire Hathaway, and MHI connected brands/leaders that OMHA's executive director is once more not willing to directly address. If so, isn't that good if the viability and perception of the industry are at stake?
Doesn't that failure to address the specifics make them and those they are apparently covering for look worse?
If the OMHA exec had a reasonable defense or explanation for allegations of serious wrongdoing that harmed his members and thousands of others, why did they fail to make such a defense?
Additionally, MHProNews has once more asked MHI's outside attorney to weigh in. Why the ongoing silence from those sources?
So, the featured focus will deal with substantive issues. But briefly, on the denial by Williams.
MHProNews once more double-checked the source and the claim about Williams doing "…ghost writing for Trump affiliated groups." The tip or statement was specific. MHProNews accurately reported that concern. Given that Williams did not reply prior to publication when asked well in advance leaves the burden on himself, not this publication.
This point from Wikipedia: "A ghostwriter is hired to write literary or journalistic works, speeches, or other texts that are officially credited to another person as the author."
As Wikipedia stated a "ghostwriter is hired" – clearly implies payment or compensation. Per Meriam Webster, "hired" is a "transitive verb. 1 : to engage the personal services of or the temporary use of for a fixed sum…" A fixed sum would mean a certain amount of money or something else of value. Words have meaning.
Put differently, MHProNews report around noon today was faithful to the source. We gave more than one opportunity to Williams to address the issues, which he essentially admits.
It is fair – perhaps even obvious, given the charge – to say that Williams likely knows the source that tipped MHProNews. That in itself should merit an OMHA investigation into every aspect of the allegations, not just that one.
Given that Williams admitted that he did write for "a" Trump-affiliated group, it is hard for him to deny that the source was at a bare minimum partially accurate.
While Williams has demanded that the source be revealed, that violates journalistic principles, as he should know.
But perhaps more to the point, while the allegation of ghost writing is itself of interest for reasons and under the disclaimers noted in the original report earlier today, in some ways that is far from the biggest issue raised in the report linked below. That Williams and Birch are so focused on that ghostwriting for free or pay rather than the broader concerns is curious. To see that context, here is the report in question.
Tim Williams, 21st Mortgage + Tim Williams, OMHA – Each Accused of Conflicts of Interest, Legal Issues – One Accused of Betrayal of President Trump's Interests – Analysis
Regarding those larger issues, OMHA's Williams obliquely addressed while arguably dodging. Some of those follow up comments from him to MHEC, Birch, and MHProNews, more from attorney Birch – plus analysis and related commentary – will be part of our featured focus for tonight.
Before pivoting toward tonight's featured focus segment – and for the benefit our growing numbers of new readers – a few quick evening/nightly market report insights.
Every business evening/night, MHProNews provides a bullet list of left-right news headlines from CNN Business and Newsmax. In a matter of moments, savvy professionals can see at a glance news headlines and views across the political spectrum.
This is a time saving and insightful way to quickly grab insights from across the left-right divide.  It is a useful at-a-glance opportunity for those who are hooked on this market-nightly feature.
Our featured focus follows the quotable quotes, periodic political cartoons, those left-right headlines, and two of our three market summary graphics as reported at the closing bell.
After the featured focus, are some recent/related report links and the third manufactured housing focused stock equities graphic. There are some additional items that include the free signup for the manufactured housing industry's x2 weekly emailed news to the most-read trade publication in our profession:
On a mostly up day for manufactured home connected equities, let's advance toward our featured focus on Williams, Birch and their fascinating responses to MHProNews report earlier today.
Quotes That Shed Light – Industry, American, Social, National Issues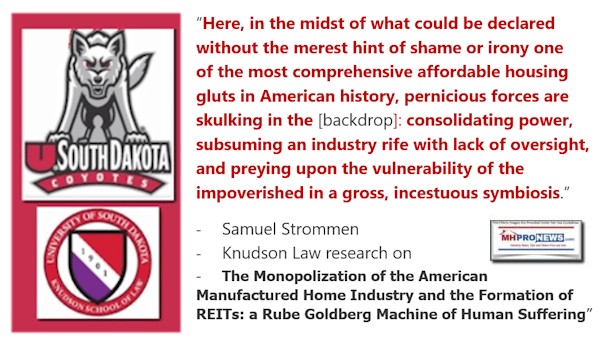 Headlines from left-of-center CNN Business
Crypto and taxes
Head's up: The IRS can tax bitcoin and other cryptocurrencies
Bitcoin is back above $60,000 as Coinbase gets ready for public debut
Cyberattacks are the number-one threat to the global financial system, Fed chair says
Small investors are taking an unexpected break. Here's why
Opinion: Why we shouldn't be so worried about runaway inflation in the US
Alibaba's record fine is a 'warning shot' in China's tech crackdown
Analysis: 100 days later, Brexit isn't working and business wants it fixed
Deal between Korean battery firms is a big lift for US EV makers
Opinion: Biden wants to make the US more competitive. His tax hikes will do the opposite
Microsoft buys Nuance for $16 billion in a major push into health care AI
English pubs can open again but 2,000 have already gone under
WASHINGTON, DC – DECEMBER 01: Chairman of the Federal Reserve Jerome Powell testifies during a Senate Banking Committee hearing about the quarterly CARES Act report on Capitol Hill December 1, 2020 in Washington, DC. Treasury Secretary Steven Mnuchin also testified at the hearing.
US economy is at an 'inflection point,' Fed chair says
Opponents of HB 531 & SB 241, Republican backed bills accused of purporting voter suppression, hold a protest outside the Georgia state capitol building on March 8, 2021 in Atlanta, Georgia.
CEOs vow to fight voting restrictions despite threats from Trump and McConnell
IBM spinoff joins a long list of questionable corporate names
THE FUTURE IS ELECTRIC
Forget SUVs. These auto makers think tiny electric cars are the next big thing
GM's electric pickup can go 400 miles on one charge
This will be last the Porsche model to go electric
BMW isn't counting out gas engines just yet
Audi's electric sports car takes on a world of SUVs
A WORLDWIDE SHORTAGE
The Ford Motor Co. Michigan Assembly plant stands idle in Wayne, Michigan, U.S., on Monday, March 23, 2020. The auto industry is escalating its push for U.S. assistance to help weather the impact of a global pandemic that has halted or will soon stop production at 42 out of 44 plants that assemble vehicles in the country.
How Ford will try to recover from a global computer chip shortage
Taiwan's TSMC pouring $100 billion into chipmaking
GM closes more plants during chip shortage
Computer chip shortage starts to delay car deliveries
Some GM truck will pay more for gas because of chip shortage
Headlines from right-of-center Newsmax 
Kennedy: Americans 'Not Morons,' Can See Through Biden Infrastructure 'Lies'
The American people are "not morons" and they are seeing through the Biden administration's claims on the president's $2.2 trillion infrastructure plan.
The Biden Presidency
Biden Tells Execs US Needs to Invest, Lead in Computer Chips
Mexico, Honduras, Guatemala Agree to Tighten Border Security
Ken Starr to Newsmax TV: Court Packing 'a Bad Idea,' Biden 'No FDR'
Cornyn Wonders if Low-Profile Biden Really 'In Charge'
White House Targets GOP Leaders' Home States in Infrastructure Push
First Dog Major to Get Extra Training After Biting Incidents
Blinken Heads to Brussels for Talks on Afghanistan, Ukraine
Cheney Warns Middle Class Will Ultimately Pay For Biden Infrastructure Plan
Newsfront
George Floyd's Brother Sheds Tears on the Stand
George Floyd's younger brother took the witness stand Monday and lovingly recalled how George used to make the best banana mayonnaise sandwiches, how George drilled him in catching a football, and the way George used to mark his height on the wall as a boy because he wanted….
Related Stories
Police: Minnesota Officer Meant to Draw Taser, Not Handgun
National Guard Called In as Violence, Looting Erupt After Fatal Police Shooting
Minnesota Twins Postpone Game, Citing Police Shooting of Black Man in Brooklyn Center
Harvey Weinstein Is Indicted in California, Appears at Extradition Hearing
Harvey Weinstein has been indicted in California on sexual assault
Biden Tells Execs US Needs to Invest, Lead in Computer Chips
President Joe Biden used a virtual meeting with corporate leaders
Study: Regeneron's COVID-19 Cocktail Helps Prevent Infection
Regeneron will seek U.S. approval for its COVID-19 antibody cocktail [Full Story]
Related
More Colleges Will Require COVID-19 Vaccines for Students This Fall
Chilly Weather Doesn't Dampen UK Joy at Lockdown Easing
China Admits Its Covid Vaccines Aren't Any Good
Scott Gottlieb: Resources Should Be Surged into Coronavirus Hotspots
Eric Greitens Likely Saved Man's Life at Mar-a-Lago, Witnesses Say
Eric Greitens, the ex-GOP governor of Missouri and a current Senate
Myanmar Coup Spreads West as US Struggles to Make Impact
Myanmar Coup Spreads West as US Struggles to Make Impact
Myanmar's brutal takeover by an uncompromising military junta had
Georgia GOP Lawmaker Plans Court Challenge to Metal Detector Fine
Andrew Clyde, R-Ga., is planning to mount a court challenge of a
Top Aide Ignores Gov. Whitmer's Warning, Goes to Florida on Spring Break
Gretchen Whitmer, D-Mich., continued to face blowback Monday
Prince Harry Remembers Grandpa Philip
Prince Harry praised Prince Philip on Monday for his devotion to
Cindy McCain Could Land Biden Ambassadorship
President Joe Biden is considering Cindy McCain, the wife of the late
Arizona Suing Administration: Immigration Policy Violates Environmental Laws
Arizona is suing the Biden administration on claims that its
Corporate Leaders Reconsider Campaign Donations Over Voting Restrictions
Most of the CEOs on a call to discuss a new push against U.S. state
Cockpit Recorder From Crashed Indonesian Plane Crash Recovered
The cockpit voice recorder (CVR) from a crashed Sriwijaya Air jet has
Iran Blames Israel for Natanz Nuclear Plant Outage, Vows Revenge
Iran on Monday accused arch-foe Israel of sabotaging its key Natanz
Trump: GOP Must Retake Senate, House in 2022
Former President Donald Trump vowed to help Republicans win seats in
Victor Davis Hanson to Newsmax TV: Institutions All 'Woke Now'
Hoover Institution senior fellow Victor Davis Hanson says the U.S. is
Black, Latino Army Officer Sues Police Over Traffic Stop
A Black, Latino Army officer is suing two Virginia policemen for
Suspect Dead After 10-Hour Standoff at Hawaii Hotel
An armed man who fired shots through the door of a luxury Hawaii
China's Digital Yuan Poses Growing Threat to US Dollar
China is forging ahead with a plan to launch a digital-version of
Police: Minnesota Officer Meant to Draw Taser, Not Handgun
The police officer who fatally shot a Black man during a traffic stop
US CEOs Poised to Join Black Peers in Voting Rights Push: WSJ
A consortium of chief executive officers and other leaders of major
Former DNI Ratcliffe: Hunter Biden Ukraine Controversy Not Russian Disinformation
The former Director of National Intelligence on Sunday rebutted the
Texas Gov. Abbott Says Americans Need Gun Rights 'Now More Than Ever'
Texas Gov. Greg Abbott on Sunday pushed back on President Joe Biden's
Russia and China Thwarting International Response to Myanmar Crisis: EU
Right-to-Life Movement Targets Abortions Done Through Medication
About 40% of all abortions in the U.S. are now done through
Gordon Chang: 'World Not Safe' With John Kerry Having 'Diplomatic Passport'
The Biden administration is pulling itself in a number of different
Thousands of Low-Level Inmates Released in Pandemic Could Be Headed Back to Prison
For Kendrick Fulton, the COVID-19 pandemic opened the door to an
Stocks Hardly Overvalued: Big Rally Ahead
Microsoft to Buy AI Firm Nuance Communications for $16 Billion
Goldman Sachs Warns Biden's Tax Package Will Cut Earnings Growth
WH to Zero in on Chip Shortage in Meeting With Company Officials
Health
Experts Warn of a Longer Pandemic If Vaccination Pace Slows
If we do not keep vaccinating against COVID-19 at the current rate, and the variants keep spreading, America may experience a long siege ahead dealing with the pandemic, experts fear…
Exercising for 30 Minutes Daily Slashes Risk of Death by 40 Percent in Older Men
The 7 Warning Signs of Colorectal Cancer
Is Your Spin Class Music Way Too Loud?
Healthy Living Helps Ward Off Deadly Prostate Cancers in Men at High Risk
Market Indicator Closing Summaries – Yahoo Finance Closing Tickers on MHProNews…
Featured Focus –
Where Business, Politics and Investing Can Meet
OMHA's Williams has made a formal denial, and while sent after we published the MHProNews report in question, a reasonable part of that denial was added to the original report linked here. However, our original source stated something quite differently than what Williams claims. Showing both the allegation and the denial is fairness in journalism. That also fits the guidelines suggested by the Society of Professional Journalists.

Additionally, Williams has commented several times on the record to MHProNews over a period of years. Among one of those comments, he said the following. Typos are in the original. "Thanks Tony for the opportunity to comment. I made slight revision in red. You can quote me with the revisions below. I appreciate your willingness to accurately report this issue. Too bad MSM doesn't get it right many times." MSM, is short for mainstream media. The fact that Williams has been on both sides of our reporting is arguably no excuse for him to make allegations that are unjustified and purportedly misleading.
There are more than one such statements by Williams, often public, that praises our fairness and accuracy in reporting. They stated something quite differently than what some of his message today said.
For instance, from Williams: "Tony, it is hard to believe it has been 9 years of publication [for MHProNews]. Congratulations! I have always appreciated your efforts to accurately report our Ohio industry news over the years. Your desire to seek clarifications when an Ohio issue may need such keeps the record straight. Now, if we could just see the same penchant for accuracy among the main stream media, Manufactured Home Living would be characterized as the quality and affordable homeownership option it truly is."
Once more, while someone can certainly change their views, it seems that Williams is trying to have it both ways. Williams admits he was asked, and he complains that he was asked previously but failed to comment about certain concerns. Sorry, but fairness has been applied.
With that backdrop, let's examine more of what Williams and OMHA's general counsel Birch said via email.
"Dear Mr. Kovach:
I am responding to your "alleged" / "allegations" and "unnamed sources" involving Tim Williams of OMHA and to remind you that ignoring you is not the same as "confirming" any of the allegations you spread throughout your articles. Ignoring you is not the same as agreeing with you or hiding from the truth." Actually, MHProNews' original report made a similar point. Not responding is the right of every individual.
That said, in the absence of a response, that only leaves an otherwise unchallenged allegation. In fact, when Williams did respond, he partially confirmed the allegation made. That buttresses MHProNews' source's claim. While there is now a dispute following Williams' belated denial, that alone does not undermine the allegation.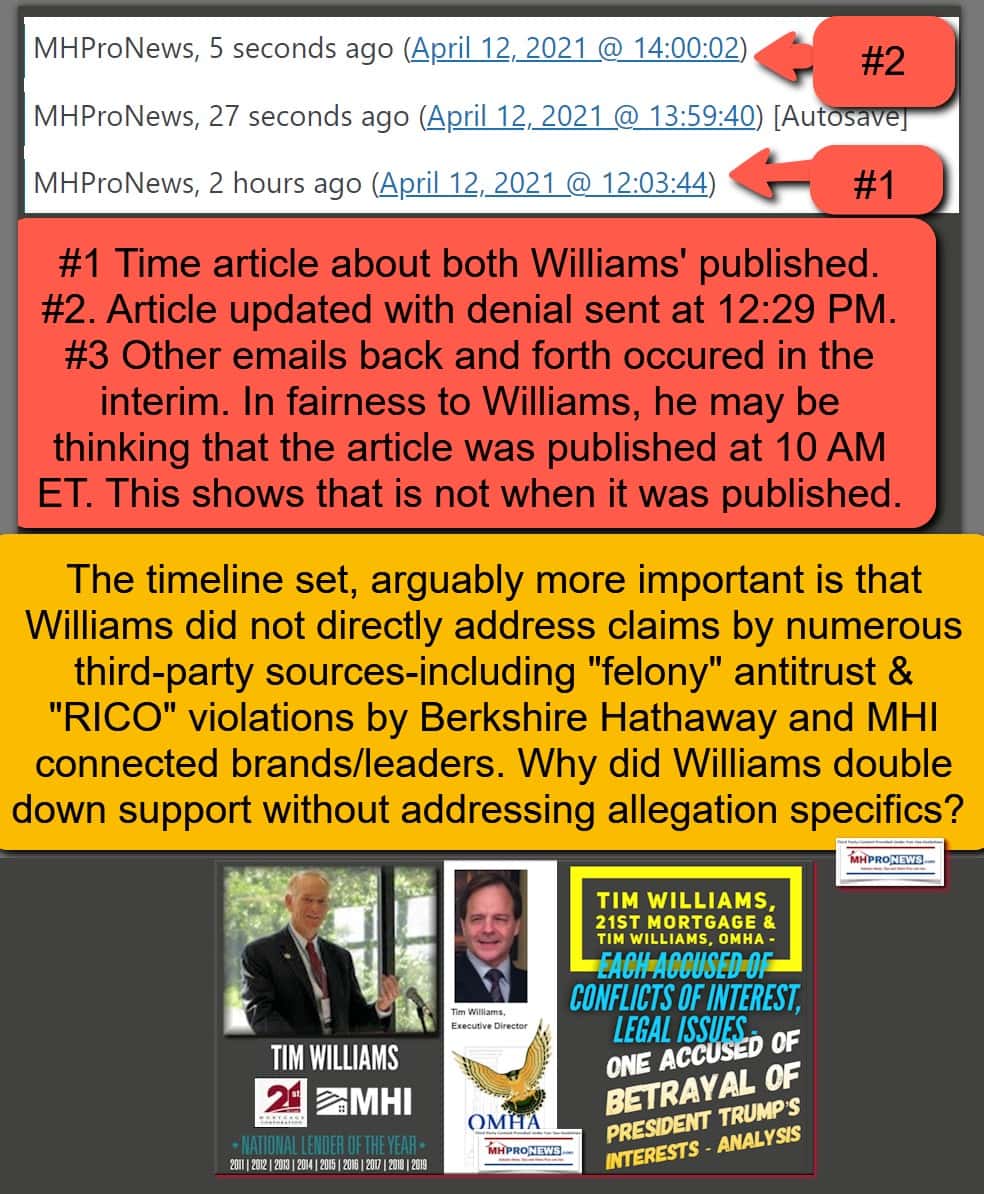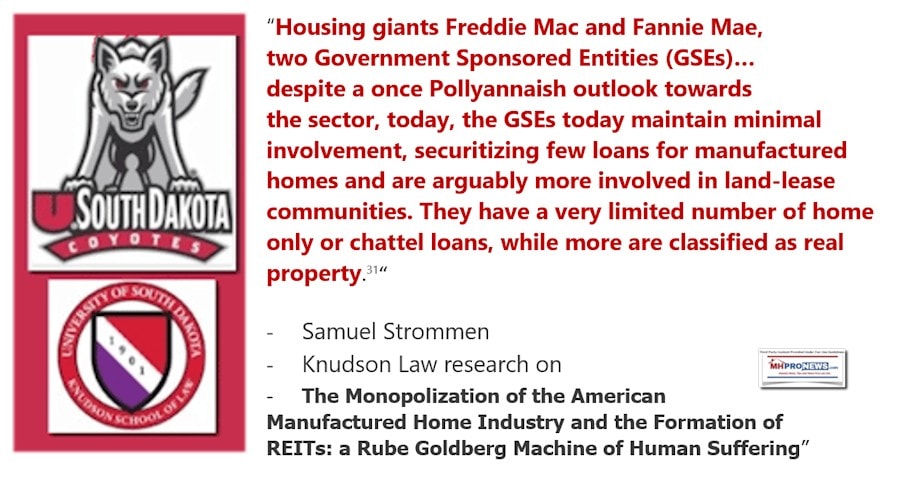 "Solving issues together is far more constructive than personal attacks for no other discernable reason…" wrote, Birch late this afternoon today. Per Zig Ziglar, the way to solve a problem is first to identify what the problems are. Then, once the problem is understood, the root causes should be addressed. Birch and Williams can hardly complain when Lesli Gooch admitted what Strommen alleged.
"Of course, Tim and OMHA support others in the industry who are working hard to build the viability of and the perception of manufactured housing," said Birch.
In the article in question, MHProNews outlined a range of voices, some from within MHI, others from outside of that group. The consensus of those quoted also happens to fit the known facts, which even Gooch admitted to in writing.  The problem that leaves Gooch, Williams, Birch and others are the allegations that the system has been rigged to limit lending. That and more were ignored in the by Birch and Williams. Why?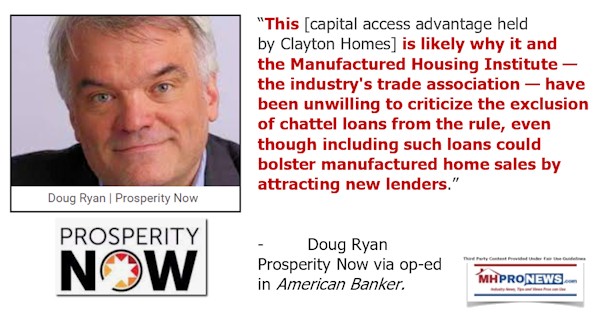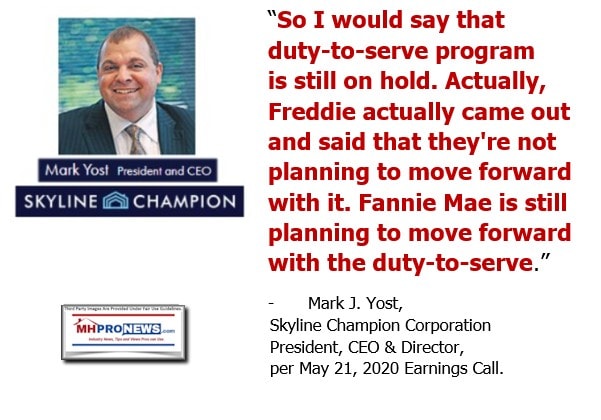 While Gooch denied that from Ryan, she has had to admit what other MHI members have said. Namely, that lending by the GSEs is minimal.  MHProNews is laser focused on the facts, evidence-based claims, and then provides relevant expert analysis. But that was not the only issue raised, another was MHI's failure to move the needle on zoning and placement. Once more, Gooch admits that this is an issue.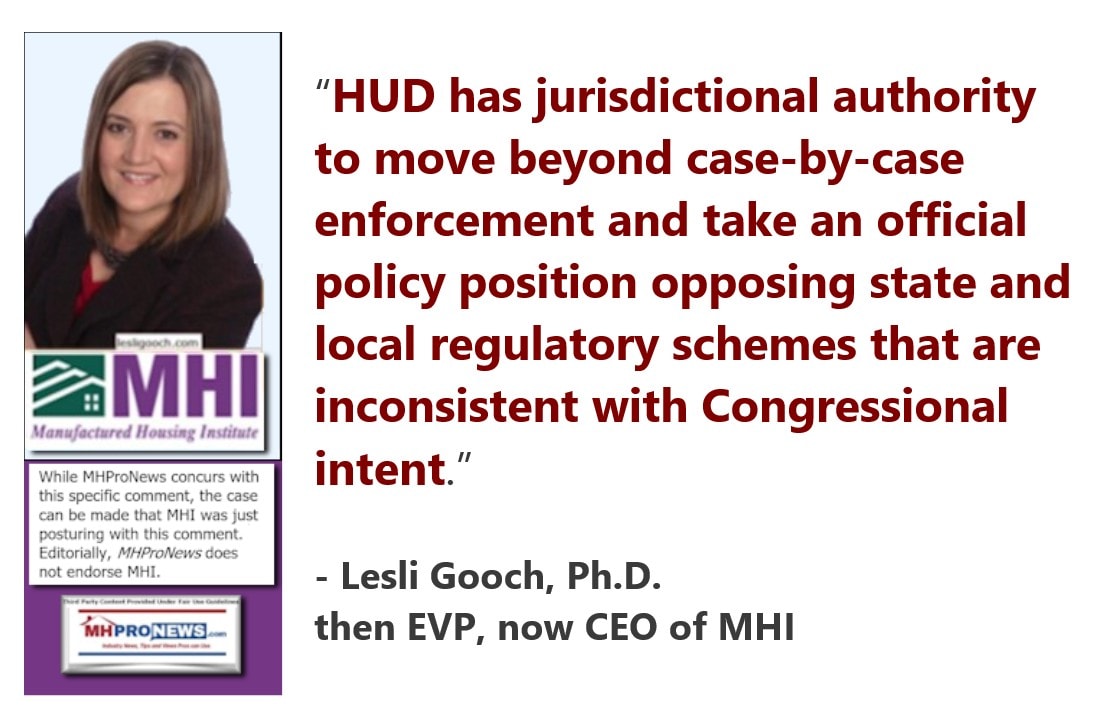 Birch said that there is "no basis to investigate [Tim Williams for conflicts of interest] and you have failed to present anything but "allegations" from "unnamed sources". That is arguably as false and misleading as what Williams did. That posture would ONLY be convincing to those who did not read the entire original article with care. Because, as noted, perhaps the least important claim was about the ghostwriting – which Williams admitted to doing! What Williams denied was being 'paid' for that ghostwriting.
Birch and Williams – is it not a conflict of interest to harm the interests of manufactured housing independents?
Sadly, that current state of play in this exchange leaves both Birch and Williams arguably:
Overly focused on the ghostwriting allegation, that was promptly and appropriately addressed as an update in the end of the article.
By contrast, they failed to apologize for Williams' purported misstatements and head-fakes.
The most important issues are Williams' – and essentially, now Birch – defending and/or deflecting from the concerns that the industry is being monopolized by manipulating the finance market.
Even Tim Williams, from 21st, and Kevin Clayton were quoted accurately and at length in a fashion that supports the allegations made.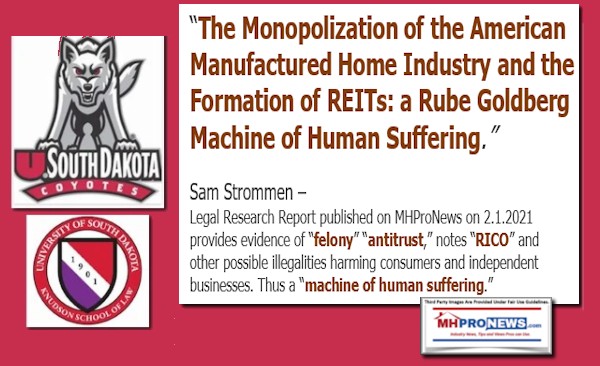 Why is manufactured housing underperforming? Instead of authentically dealing with evidence based realities, too many are turning a blind eye, or worse, giving cover and deflect from the case for demonstrably real and troubling issues. See the original report – with the 2 PM update at the end – at this link here.  Because the evidence-based case an be made that Williams' and Birch's responses, ironically partially confirm the ghostwriting, while claims far more serious leveled by numbers of CITED sources were once more ignored. Who is trying to head fake whom? Our reporting and analysis stand as updated, while their responses are being hereby called out for purported head fakes and red herrings.
Related, Recent, and 'Read-Hot' Reports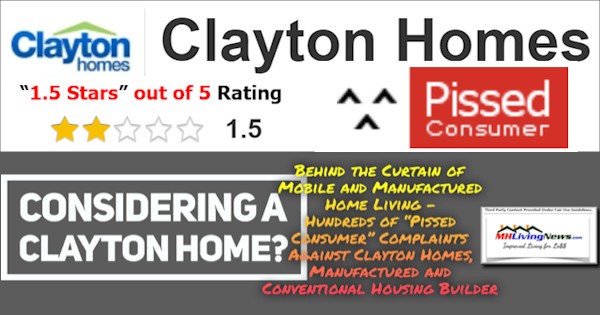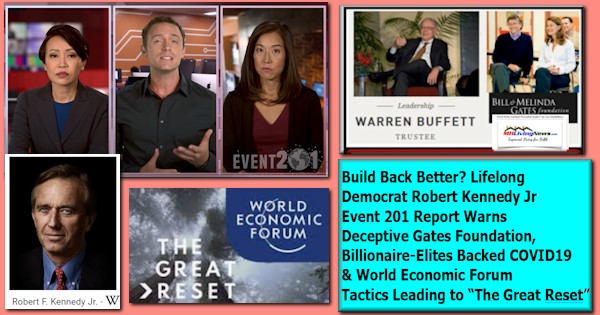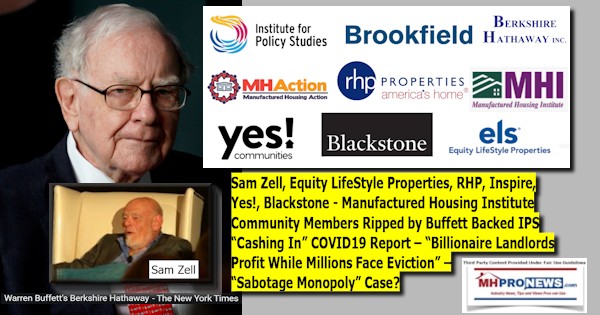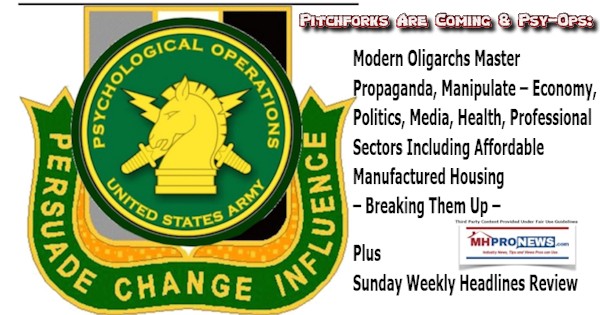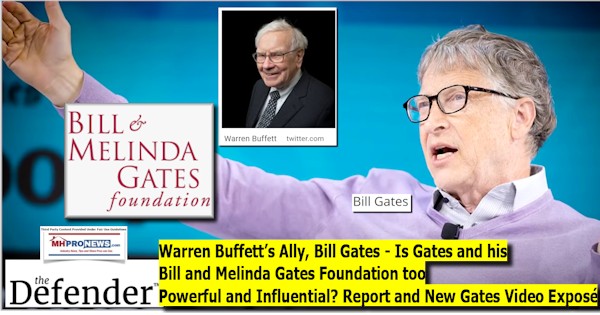 Manufactured Housing Industry Investments Connected Closing Equities Tickers
Some of these firms invest in manufactured housing, or are otherwise connected, but may do other forms of investing or business activities too.
NOTE: The chart below includes the Canadian stock, ECN, which purchased Triad Financial Services, a manufactured home industry lender
NOTE: Drew changed its name and trading symbol at the end of 2016 to Lippert (LCII).
NOTE: Deer Valley was largely taken private, say company insiders in a message to MHProNews on 12.15.2020, but there are still some outstanding shares of  the stock from the days when it was a publicly traded firm.  Thus, there is still periodic activity on DVLY.
Spring 2021…
Berkshire Hathaway is the parent company to Clayton Homes, 21st Mortgage, Vanderbilt Mortgage and other factory built housing industry suppliers.
· LCI Industries, Patrick, UFPI, and LP each are suppliers to the manufactured housing industry, among others.
· AMG, CG, and TAVFX have investments in manufactured housing related businesses. For insights from third-parties and clients about our publisher, click here.
Enjoy these 'blast from the past' comments.
MHProNews. MHProNews – previously a.k.a. MHMSM.com – has celebrated our 11th year of publishing, and is starting our 12the year of serving the industry as the runaway most-read trade media.

Sample Kudos over the years…
It is now 11+ years and counting…
Learn more about our evolutionary journey as the industry's leading trade media, at the report linked below.
· For expert manufactured housing business development or other professional services, click here.
· To sign up in seconds for our industry leading emailed headline news updates, click here.

Disclosure. MHProNews holds no positions in the stocks in this report.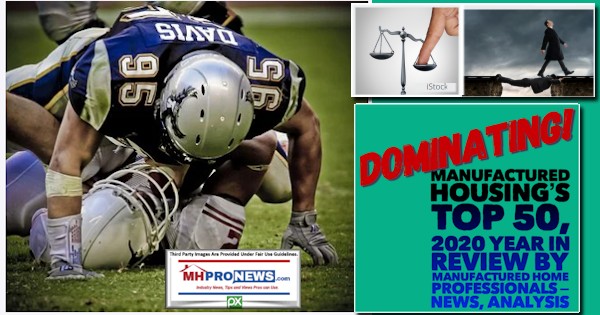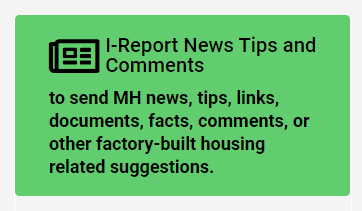 That's a wrap on this installment of "News Through the Lens of Manufactured Homes and Factory-Built Housing" © where "We Provide, You Decide." © (Affordable housing, manufactured homes, stock, investing, data, metrics, reports, fact-checks, analysis, and commentary. Third-party images or content are provided under fair use guidelines for media.) (See Related Reports, further below. Text/image boxes often are hot-linked to other reports that can be access by clicking on them.)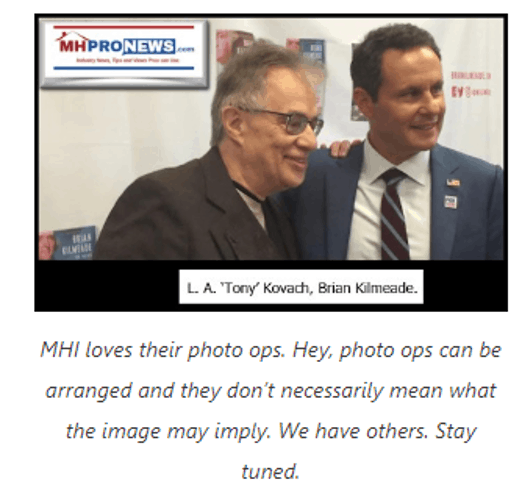 By L.A. "Tony" Kovach – for MHLivingNews.com.
Tony earned a journalism scholarship and earned numerous awards in history and in manufactured housing. For example, he earned the prestigious Lottinville Award in history from the University of Oklahoma, where he studied history and business management. He's a managing member and co-founder of LifeStyle Factory Homes, LLC, the parent company to MHProNews, and MHLivingNews.com. This article reflects the LLC's and/or the writer's position, and may or may not reflect the views of sponsors or supporters.