"Soon the industry will have a downturn for a variety of reasons and the non committed will suffer, maybe even fail." So said a Manufactured Housing Institute (MHI) member corporate leader in an off the record emailed statement this past weekend to MHProNews. By contrast, apparent MHI surrogate, "the Colonel" George F. Allen attempted to defend MHI from what he claims are the "baseless" "investigative reports" published by MHProNews. That wide disconnect between sources who are all within the MHI orbit are an either/or scenario. Allegations either have evidence – which if evidence exists would make a claim as anything but "baseless." Or if there is no evidence – as MHI surrogate Allen claims – that would fit the proper meaning of "baseless." What will be shown herein to be a head fake by an MHI surrogate aside, others inside MHI believe evidence and factual examples for concerns exist. Those include recent and prior sources on and off the record, as this report and analysis will examine.
Among the insights in the first block of this report from a self-described "good guy" (i.e.: white-hat) who is an MHI member corporate insider involve often lower-cost FHA lending.
That corporate leader said he and others "support your efforts and appreciate your [MHProNews] investigative reporting.  Soon the industry will have a downturn for a variety of reasons and the non committed will suffer, maybe even fail."
That well placed and highly informed source added that "I'm still convinced that an integrated approach to our industry, including finance and development, is paramount to our industry's viability.  But….. no one [at MHI] is walking the walk. With FHA financing increasing of late, maybe we can make the turn."
More from that highly placed sources insights will follow in the next block of this report that will explore the additional evidence for why a looming downturn exits. Beyond that MHI member's insights will be yet another MHI member cited herein who applauded the new MHI "Charade" analysis.
These mitigate against obvious MHI/Clayton/big corporate defender Allen, whose full statement will be shown herein. Other industry member's comments on these issues, past and new will be provided too. It must be stressed that all of this comes in the shadow of the report by former MHI VP and MHARR founding president and CEO, Danny Ghorbani. That report and analysis are shown below.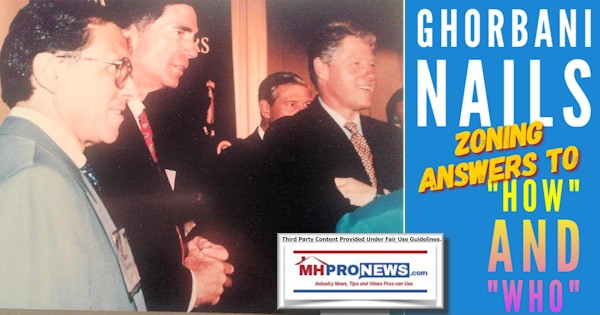 Each of these and other related elements are unpacked in a manner that should prove significant  to sustainable growth-minded industry members. Those seeking realistic equity for their business, or who desire a long-term career, and professionals who sincerely care about the need for millions of more units of affordable housing in America will be probed. How manufactured homes specifically could fill that need is explored too, because MHI connected sources, the Manufactured Housing Association for Regulatory Reform (MHARR), and other who believe in the industry's far greater potential are examined.
But none of the positive potential will occur if apparent MHI surrogate Allen is correct and if MHI fails to address the concerns raised in a direct and authentic fashion. Who says? That well placed MHI insider, along with others cited herein.
To Allen's purported smear/diversion, another self-identified MHI surrogates, Ohio Manufactured Home Association (OMHA) executive director Tim Williams, via a formal emailed defense of him by OMHA General Counsel Elizabeth Birch, stated the following (highlighting added). "Tim and OMHA support others [i.e. at MHI and their corporate leaders] who are working hard to build the viability of and perception of manufactured housing." It should be obvious that if the "viability" of manufactured housing is in doubt during an affordable housing crisis then the "perception of manufactured housing" can't possibly be good enough. What was meant as a defense of MHI, Williams and other defenders – think Allen – is thus logically debunked by their own statement.
In fairness and for accuracy, many but not all states have seen an uptick in manufactured home production and shipments.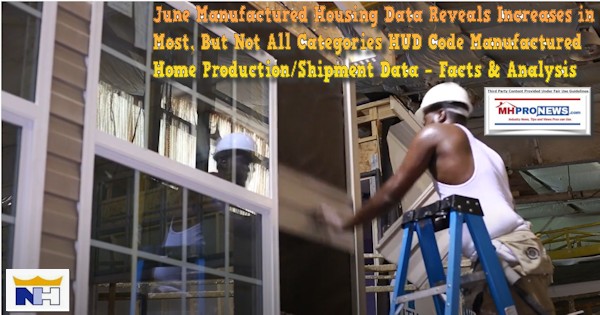 The data in the last four months finally reflects an overall upturn. But as the report above and the one linked below reveal, that is not due to the much hyped CrossMods or other MHI postured initiatives.
Rather, the evidence seems to suggest the hunger for any and all types of housing in America as many sought to escape cities during and since the start of the COVID19 outbreak. The 4 month uptick reported above follows 2 ½ years of declining sales.  That troubling data demonstrated a backslide of affordable manufactured homes during a highly documented and still growing U.S. affordable housing crisis.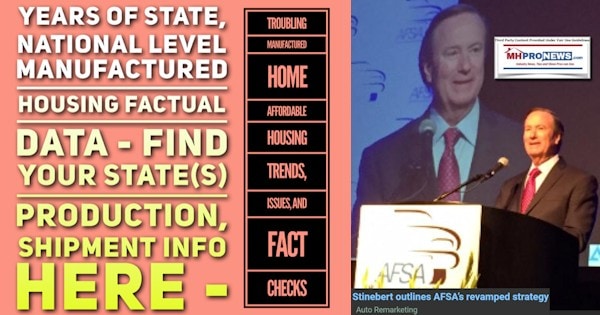 These facts are foundational to understand the balance of what that MHI corporate leader exclusively told MHProNews. 
The facts support the publicly voiced concerns of MHI member affiliate-executives such as Amy Bliss and Mary Gaiski.  Both Gaiski and Bliss have made on the record comments that clearly rely on facts and data, when they stated the reasons why the manufactured home industry has been in retreat during years of supposed MHI efforts that Birch claimed aimed toward "build[ing] the viability of and perception of manufactured housing."
To set useful background for the recent comments and reactions from various manufactured housing professionals, those facts and other evidence are necessary.
Allen and others reacted to various statements that MHI's leaders were given an opportunity to respond to facts, evidence, allegations and analysis reported by MHProNews.  That email to MHI leaders that triggered these comments will also be provided.
What A Well Placed MHI Corporate Exec Says Will Cause Next Industry Downturn, If Not Addressed
 In reply to a follow up inquiry from MHProNews, that major brand MHI member-executive said the following.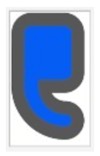 Its best if doom and gloom is not attributed to me.
On the downside:
The percentage of Americans choosing manufactured housing over alternatives continues to decline.
US population is not growing, especially among the 200% of poverty level that traditionally feeds our market.
With increased prices, increased space rent, increased insurance costs (without much improvement in financing rates), our monthly-payment advantage over alternative housing choices has significantly narrowed.
The $15-25k housing credit has so far been stymied by Congress.
Inventories at retail centers are growing.
…
On the positive side:
The housing credit may go through, benefiting our market.
FHA financing is growing for our product
…
Effective minimum wage is now high enough that two-earner households can easily budget for our products.
I'd give it a 70% chance that backlogs will be absorbed in about a year.
Meaning we will peak out at about 120,000 rate, after which we will see declining production.
…" ##
## Ellipsis … above were edited out by MHProNews to protect a well-placed source. ##
Analysis on these statements from that source will follow further below. But briefly, let's note that the claims above are supported by data and insights previously provided and linked from others above.  These are reasons why Allen's comments, be they sincere or agenda-driven, are factually a wide miss. Nevertheless, Allen's over the target reaction to defend MHI will be provided below for readers to discern his thinking and motivations for themselves – "We Provide, You Decide" ©
In the next segment of this report, the email to MHI leaders that 'triggered' the above and what follows from Allen and others in manufactured housing. The MHProNews email was addressed to the named MHI leaders with the specific invitation to respond, deny, or provide evidence that supports the claims of MHI and their apparent surrogates like Allen, Williams, or Birch.
Tom Hodges, currently MHI's chairman and also the general counsel for Berkshire Hathaway owned Clayton Homes. More on them shortly.
The MHProNews email to MHI shown below was also sent to Lesli Gooch, Ph.D. Gooch is MHI's controversial CEO who has been exposed by insider whistleblower documents to have a paid conflict between manufactured housing interests and conventional housing.
There were two MHI outside attorneys, David Goch, and John Greiner Both Goch and Greiner have said that MHI monitors publications and their comments about MHI, specifically mentioning MHProNews.
In part to document the outreach, but for other reasons revealed below too, several MHI members and certain state affiliates and other attorneys were also bcc copied.
As a brief segue with respect to Hodges, and Berkshire owned Clayton Homes, as millions know, Berkshire is led by Chairman Warren Buffett. Buffett is closely allied via investments, nonprofits and politically with mega-billionaire Bill Gates and other corporate/private equity giants. Berkshire owns a large stake in Apple's stock. That Berkshire stake in Apple will be examined in a planned upcoming MHProNews report. It will focus on specific Apple actions involving "neuralMatch" and related. The implications of Apple's neuralMatch has several possible impacts the U.S. in general, which may specifically have implications for manufactured housing.  Yet another pending report on MHProNews will unpack developments involving the National Housing Conference (NHC). MHI has periodically informed their readers and members they are an NHC member. MHI and NCC work as part of a "coalition" of housing nonprofits. NHC and others are plainly stating that they are supporting efforts working their way through Congress that are demonstrably harmful to manufactured housing. That is one of several issues that MHI has been oddly mute about, or otherwise diverts member/reader attention away from in their messaging.
Each of these elements play a role in why manufactured housing has long been underperforming during an affordable housing crisis, while MHI member Sun Communities Gary Shiffman noted in official statements that the RV industry is poised to have its best year ever.
Those facts and planned reports noted, now set the pivot back to the other puzzle pieces related to this recent email to MHI leadership, several MHI members, MHI affiliates, attorneys, advocates, and a few others.
It is useful to consider each of these quoted and referenced elements as a piece of a puzzle. When those puzzle pieces are assembled in a report like this one, it sheds light on the true nature of what is occurring with the largest national trade association – MHI. The evidence, facts, trends, and history will either confirm or conflict with MHI's repeated claim for years that they represent "all segments" of manufactured housing; or the similar MHI claim of "represents" "all segments" of "factory-built housing." Because if that MHI claim is demonstrably false, deceptive, or misleading – it can have civil and criminal legal implications.
Following text of the email to MHI, the balance of various replies, feedback, and exchanges will be published. That will include the potent insights from a major MHI corporate executive that believes that the industry is headed for an avoidable downturn if certain steps are not taken in the near term.
The Trigger – Email & Related MHProNews Report Documents Invitation for MHI Response
Note: that in the email below, the name of the person and organization may be edited in by MHProNews for reader clarity. That said, the email text is as shown. 
from:
L. A. Tony Kovach/MHProNews
to:
Tom Hodges, J.D. @ Clayton Homes
Lesli Gooch lgooch@mfghome.org (MHI)
cc:
David P. Goch @wc-b.com

John Greiner @graydon.law

bcc:
info@mfghome.org, et al.
MHI Leaders and attorneys,
There appears to be a multiple year pattern of MHI staff, attorneys, and certain corporate leaders of saying one thing, and doing another. Additionally, MHI's recent message to their own members and other industry professionals about manufactured housing zoning/placement related concerns is apparently either errant – and thus merits a public correction and explanation – and/or it is misleading paltering.
https://www.manufacturedhomepronews.com/former-hud-fha-trump-admins-brian-montgomery-manufactured-housing-expose-trump-derangement-syndrome-conflicts-of-interest-revolving-door-iron-triangle-case-study-analysis-plus-manufactu/
As the above and items below detail, this is not a one time issue. It appears to be a multi-year pattern. These communications, actions, and inactions routinely appear to benefit a few MHI connected brands that are focused on consolidation, while constantly undermining most independents.
Please email your feedback on these issues and concerns. Some of your colleagues are in the BCC to document this inquiry. We plan a follow up report.
Thank you
Tony
==== Forward of recent MHProNews emailed reports/analysis headlines followed. ====

MHI Declines Comment, But MHI An Defender Weighs in
Among those in the BCCs in the message to MHI leaders, staff [info@mfghome.org], and their attorneys were OMHA attorney Birch and OMHA's Executive Director Tim Williams.  They did not opt to weigh in to MHProNews.  Silence can speak, said civil rights icon Rev. Martin Luther King Jr.
Neither did several MHI affiliates or numbers of other members replied all, but some contacted MHProNews, as in the examples shown herein. That noted, some of those have been occasional sources for MHProNews.
That noted, a few hours after the email to MHI leadership, with enough time for MHI defender Allen to coordinate with MHI leadership, came the following response to MHProNews from their surrogate Allen.
"Your incredible, baseless, continuing claims of deceit and malfeasance on the part of industry corporations and leaders has, frankly, long ago destroyed your credibility as an investigative journalist. That's why I'm the only person who risks communicating with you from time to time. Want one single simple proof your email recipients all recognize and inwardly smile about? You never include MHARR among the cc folk. Seriously. One simple indicator; these four words: "constantly undermining most independents.". If you don't understand that connection, you don't understand anything.
 GFA
…## Note: Allen's self-promotional signature paragraph is edited out. ##

As the statements by MHI member/affiliates Gaiski, Bliss, and others cited herein reflect, the first sentence from Allen is contradicted by MHI backers, critics of MHI from inside the trade group, as well as by the evidence and MHI's behavior. Meaning the above is demonstrably hot air – a smear/ and read-herring style head fake. There are simply too many examples of on the record comments that make apparent Allen's deception and misdirection credible.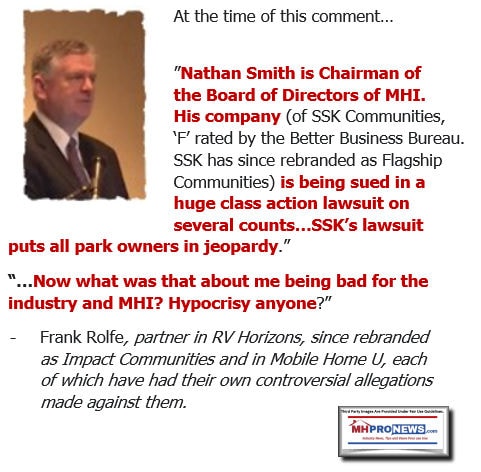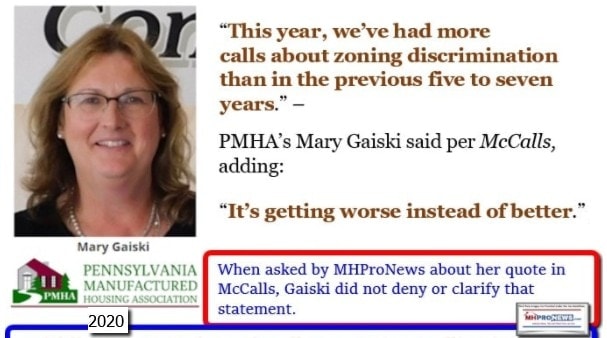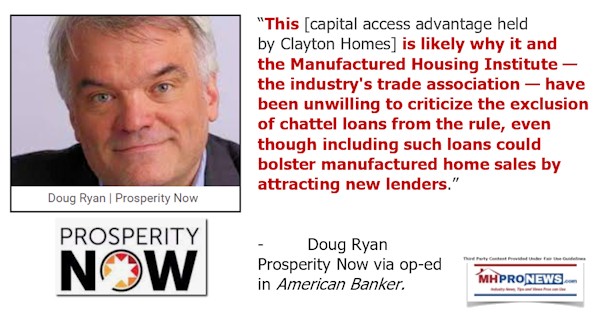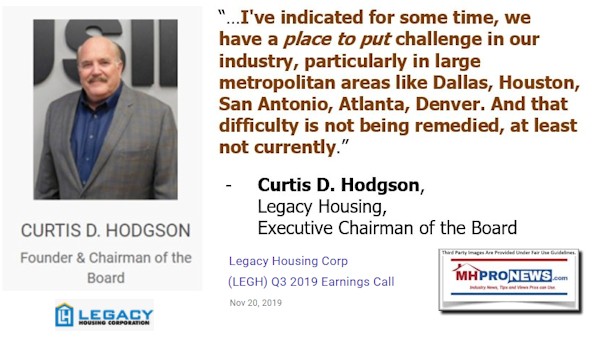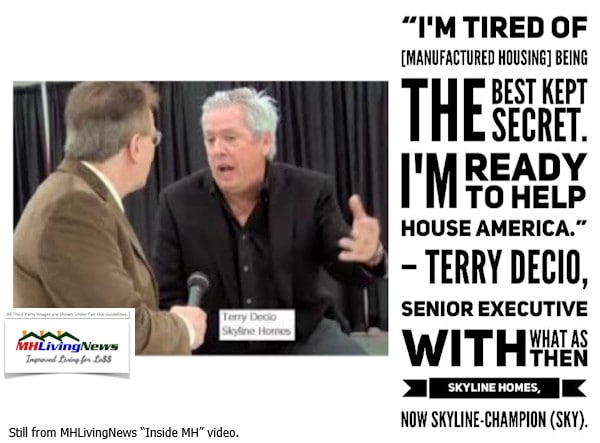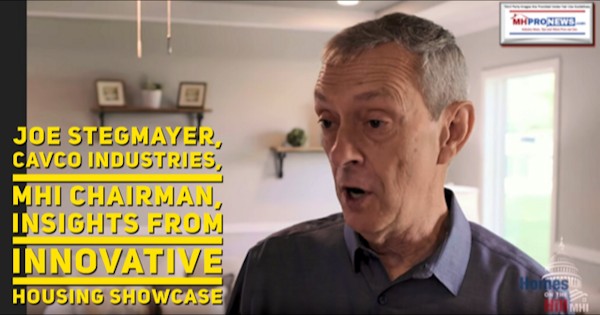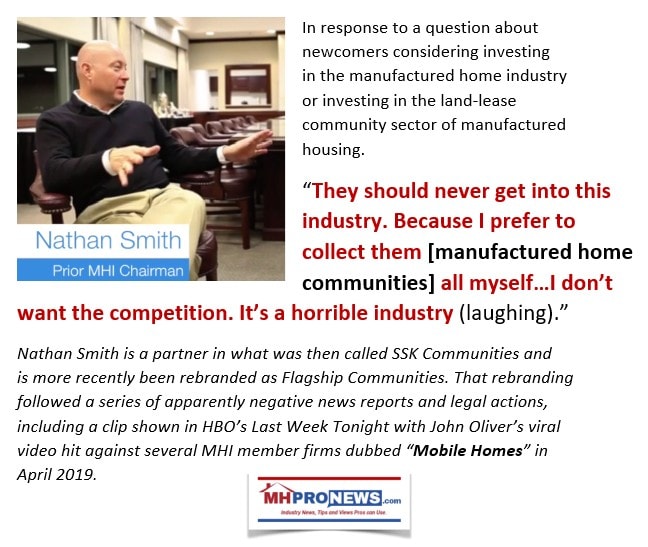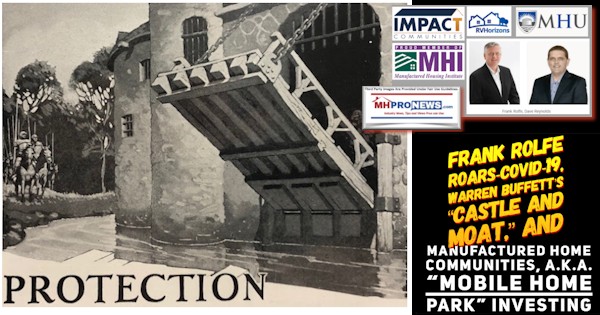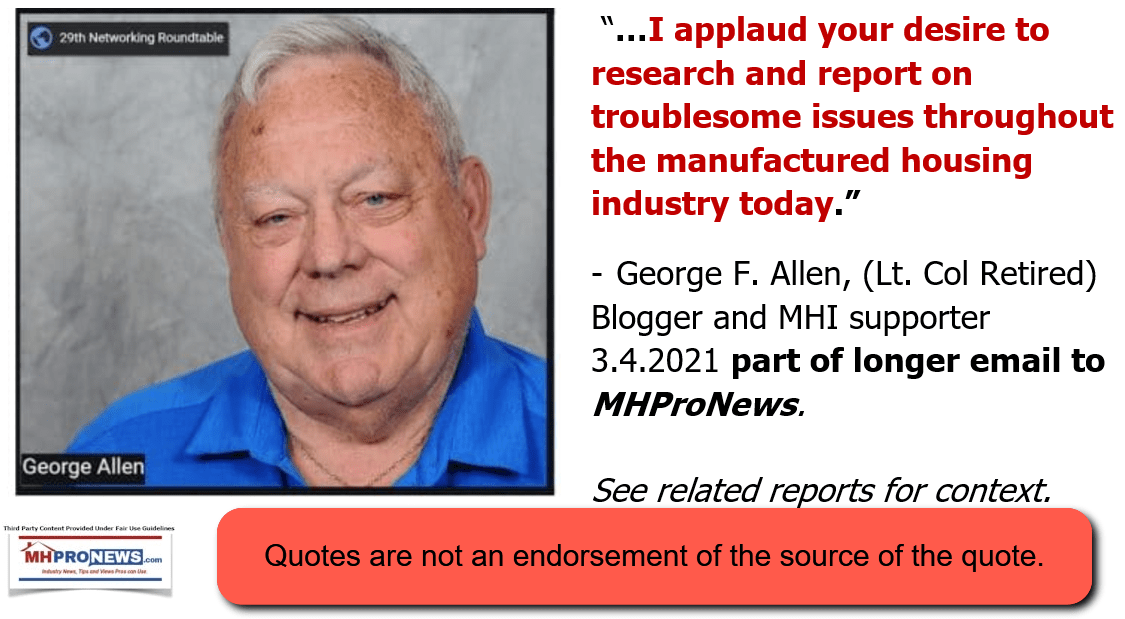 The above is a sampling that demolishes Allen's weak and transparently errant claim. As the final quote illustrates, it is Allen contradicting Allen, as well as numerous evidence-based voices in MHI.
Note after Allen's weak "the smear" effort, he then tried the red herring approach, as is noted in a follow up email by shifting the topic to MHARR, which is to ignore the point that MHI has independent companies as members too.
That said, as another email in this exchange states, Allen's initial reply was viewed on a handheld device in the dark hours well before dawn. MHProNews writer frankly missed the fact that Allen copied MHI leaders and his BCC readers list. That helps frame the initially private reply to Allen, shown below. Additional insights and another message will follow.

from:

L. A. "Tony" Kovach

 

to:

George Allen 




date:

Aug 4, 2021, 3:56 AM
Just me to you for now. No BCCs. Let's presume for discussions sake that you meant every word at face value, and have no agenda of your own or as a surrogate for anyone. Even if you believe what you sent, that doesn't make it true. Frankly interesting, but demonstrably errant. Let's look.
It's not MHARR that is the dominant association power. Who says? By inference, MHI. The vast majority of BCCs are to people involved at MHI. They are the ones who need – whatever kind of reality check someone wishes to call it.
There are risks involving illegal or immoral behavior. As one of our reports documented, attorneys say there are possible risks even for association members who do nothing but watch an association engaging in misbehavior.
We know from third-party data and feedback – you are not alone – that our traffic is good, that these articles and others are well read. That's not conjecture. Site metrics by third-parties just gather data. They do not lie, palter, or spin. They tell us how many page views, visits, hits, bytes, etc are occurring and they generate reports.
Next, a man name George Allen said a few months ago – with a qualifier you might recall – that you "applaud" efforts to expose the problems in our profession.
Thus the term "baseless" in your email is obviously errant.
When evidence is provided, when facts are provided, and quotes are correctly applied, someone might attempt to question the data or the source. Someone might question the interpretation of the data or the quality of the sources.
Indeed, someone you know did so publicly. Andy Gedo from MHI member ManageAmerica.
Gedo was overall quite fair. While there were what might be described as a light allegation here or there, Gedo routinely attempted to focus on facts, while willingly engaging in a robust look at the evidence. With no time limits, he finally withdrew, because his own statements and the accurately quoted in full context insights mitigated against his opening arguments.
What Gedo and Kovach did publicly, you, Tim Williams (both), Elizabeth Birch, and numbers of others decline doing.
Thus, if the claims made were "baseless," as you alleged, then why did the threats from MHI and the powers that be essentially – stop? Spencer Roane, your buddy, got a letter from MHI outside attorney Goch. At various times I got such items, but they stopped, or at least have paused for some time. Even those anonymous letters have stopped or paused.
Set those facts aside for now.
Pivot to state assistant AGs who find the research and claims credible. Or Congressional staff that find it credible. Outside attorneys and other researchers that find it credible. Or federal investigators who find it credible, and in one case, have already acted based on part upon evidence we – meaning MHProNews – provided.
Wishing our reports away, attempting mere name calling without a Gedo-like effort to debunk it won't do it either.
I do not doubt that some might tire of this or that, that's human nature. So in that limited sense you have in the background of your message what might be believed as a point. But that doesn't make your interpretation correct, as the above indicated. These are discussed. Who says? A rival you know said it.
There are good reasons to bcc others, plus you or this or that buddy or reader of yours. But we do so with others who blog or publish. MHProNews mixes and matches who is BCC'd. Some have asked to be BCC copied. But some have not.
This is about documenting evidence. That includes documenting Clayton, 21st, MHI, sometimes Berkshire board/attorneys, outside and inside attorneys, and then MHI members. They can not claim ignorance. They have been advised, as have you. If those outside attorneys are correct that association members may have residual liability in certain cases, then those who have been copied and BCC'd may be a bit more liable than those who know nothing at all. With knowledge comes accountability and responsibility.
What makes our MHProNews reports, IMHO and based upon feedback and data, compelling is the opposite of your message below or others claimed. Quotes are accurate. They are often provided with the entire transcript from which the quotes were taken. We quote MHARR less than we do MHI members or leadership, have you noticed that? Why? Because if you debate a Democrat it is better to quote a Democrat. If you debate a Republican, wiser to quote a Republican if you want to open minds and persuade someone.
We are in it for the long haul. Approaching 12 years of nearly nonstop publication, that's been proven. While traffic ebbs and flows, it is still the most read in our profession, and that includes topics that do not mention MHI.
So, whatever motivates your message, the premise and conclusion are demonstrably flawed.
That said, why not come out with a blog post that posts this reply? And then YOU suggest to your more modest audience that MHI or a designee publicly debate these evidence-based concerns. Do it or not. Either is more revealing than a mere excuse.
You claim to care about independents, right? Then, the very thing you applauded – raising concerns – merits an authentic examination.
When the Omaha-Knoxville-Arlington axis attorneys are unwilling to challenge the evidence, when the lawmakers staffers and Ast AGs say there is something there, and when federal investigators take action based in part on said evidence, well, that speaks for itself doesn't it?
"Your incredible, baseless, continuing claims of deceit and malfeasance on the part of industry corporations and leaders has, frankly, long ago destroyed your credibility as an investigative journalist. That's why I'm the only person who risks communicating with you from time to time. Want one single simple proof your email recipients all recognize and inwardly smile about? You never include MHARR among the cc folk. Seriously. One simple indicator; these four words: "constantly undermining most independents.". If you don't understand that connection, you don't understand anything.
GFA"
The above addresses each point you made.
Outside researchers and platforms do not dismiss the evidence, because it has documented harm to thousands of independents you claim to care about.
As or more important, what's occurring harms millions. You failed to mention the harm to residents, renters, taxpayers, and millions of conventional housing owners. We mention that routinely in articles.
Who says others besides independents are harmed?
Ironically – Joe Biden, President Donald J. Trump, and numbers of researchers who independent of MHProNews have claimed at times and/or come to a similar conclusions as our reports on MHProNews and MHLivingNews have. While the motivations of Biden's handlers are distinct from 45's, the broad concern about consolidation and antitrust is apparently growing.
The fact that our MHProNews/MHLivingNews research – which you called investigative journalism – is de facto as well as directly supported by others is the evidence of why we are followed in Washington, the heartland, and beyond.
Thanks,
Tony
…" ##
After checking other emails, and going to a laptop vs. the handheld some 85 minutes later, this writer realized that Allen had BCC'd his list and had addressed MHI chair Hodges, MHI CEO Gooch plus attorneys Greiner and Goch. That sparked the following – and sharper – follow up from MHProNews.

from:

L. A. Tony Kovach

to:

"Hodges, Tom" – Clayton Homes and MHI chairman,




Lesli Gooch <lgooch@mfghome.org>

,


John Greiner @graydon.law>,

David Goch @ WCB Law




cc:

George Allen


Mark Weiss, J.D., President and CEO of the Manufacture Housing Association for Regulatory Reform (MHARR),




DANNY GHORBANI, former MHI VP, MHARR founding CEO and senior advisor. 




bcc:

info@mfghome.org, et al…
Lady and Gents,
My apologies. I originally read this email from George on my handheld. It wasn't until after my reply and after looking at and reading other emails that I noticed and realized that GFA had copied Tom, Lesli, David, and John. That said, I've learned in steps that God works in mysterious ways. I would have replied differently had I seen others CC'd. That's what I'm apologizing for – having missed the others copied – but the reply to George still stands on its own merits. It is found below.
Indeed, let's spread the joy and invite Tom, Lesli, David, or John to weigh in as desired or able.
To George's point about not copying MHARR, I'm copying them in this now too. What someone like George may not realize is that MHARR has little to no clue what we publish next on MHProNews/MHLivingNews. They broadly know, for example, when a MHARR report from them comes out, that we will cover it. But how we cover it, they do not know until they read it online. Something similar was once true of MHI, as Dick Jennison or others now gone in Arlington could in theory attest.
Indeed, as we have demonstrated, we still cover MHI "news" – only we now do so with a different vantagepoint; one based on years of evidence and experiences that publicly questions the Omaha-Knoxville-Arlington and allied party line. That's a traditional role of media, to hold the powerful to account, isn't it?
If there is any inaccuracy in what follows or in our original message to MHI leaders and/or the one to GFA, by all means, please point them out.
If our publishing was as errant as George improperly alleged – and which was handily debunked in my previously private reply – then by all means, why not try to embarrass me in front of thousands of others in our profession with an authentic public discussion, debate, whatever you want to call it?
Why not prove me wrong with evidence instead of tawdry smears?
But my hunch is that you will not do so, arguably not for the reasons that GFA mentioned. Why not? Because if MHProNews/MHLivingNews were demonstrably wrong, one or more of you would have publicly challenged our evidence and analysis long ago. The fact that you have not done so speaks volumes. Silence speaks, and indirect replies speak too.
It was people like Samuel Clemens, a.k.a. Mark Twain, that realized long ago that debunking lies and misinformation takes far more effort that the original lie required.
But then, it was Abraham Lincoln who noted how difficult it is to sustain a lie over a long period of time. That's why our using quotes on MHProNews and MHLivingNews from the past and comparing them to the present are powerful – thank you, President Abe.
God works in mysterious ways. Don't believe ask me, ask Him, or pick up the Good Book.
George, at this point, I think you and we can share these messages since you apparently were proving one of the very points made in our report. Nose brown enough yet?
BTW, I normally pick who gets an email BCC somewhat at random. Sharing is fine. The point is to document the outreach to MHI and its leaders. Any other outcome is secondary to that goal of documenting the engagement. That is done so that numbers of industry pros realize what is occurring, not an unfounded claim. It is precisely to disprove cheap shots that motivate the BCCs.
Tom, Lesli, David, and John – it is time for one or more of you to show that you can stand up to the evidence in public and discuss/debate the issues GFA raised and was mentioned in my reply to him, below. IMHO, it will happen in some form or fashion sooner or later.  Ask Warren or Charlie what they think, will you?
There is more and different ahead. Which is why my original reply to GFA is perhaps more relevant in hindsight.
Feedback, follow up, welcome.
Thank you.
Tony
FWD….
| | |
| --- | --- |
| from: | L. A. "Tony" Kovach <latonyk@gmail.com> |
| to: | George Allen <gfa7156@aol.com> |
| date: | Aug 4, 2021, 3:56 AM |
| subject: | Re: MHI leaders and attorneys, an opportunity to respond to disturbing evidence and allegations |
###
Another With the above in mind, yet another MHI member corporate-leader said "I enjoyed your Charade comparison – what a great movie."  That report with analysis was based on this analogy/hinge:
Charade character Reggie Lampert, played by actress Audrey Hepburn, asks: "Why do people have to tell lies?" Peter Joshua, played by Cary Grant, wisely replies: "Usually it's because they want something. They are afraid the truth won't get it for them."
That sums up what has gone wrong in manufactured housing, but it also sheds light on what is amiss in other parts of American business, society, and politics too. See that report, and how it fits with the above at this link below.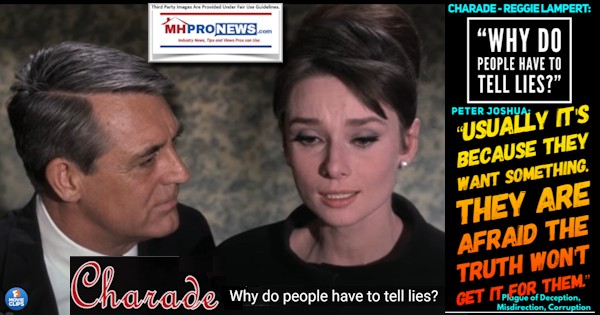 It should be noted that now – days after these emails above – there have been no on the record follow up from anyone with MHI, Allen, etc.  However, what the above sharply demonstrates, among several other takeaways that will be unpacked further below, is this. MHProNews has directly challenged MHI's so-called integrity, ethics, and track record. The same applies to numbers, but not all, MHI corporate leaders
Outside MHI past general counsel, Rick Robinson, or outside MHI attorneys Goch and Greiner, have at various times in a thinly-veiled or blunt manner have threatened legal action against anyone that impugns MHI's public image.
Their lack of a response speaks volumes. Perhaps at some point in time, MHI – after years of several different types of exposés and public comments to government officials might file suit, even if it is without merit. But until then, readers new and old alike must realize this obvious point. If MHI thought they could defend against the array of allegations against them, they would have done so months or years before. The fact that they have not is evidence that logically mitigates against them.
The absurdity of Goch's apparently posturing letter, quoted above and quoted and linked below, is clear because several tipsters have felt more comfortable sounding off quietly, off the record, instead of publicly.  If MHI authentically cared about "the most favorable, widely supported outcomes" then the industry would be roaring, not snoring. But instead, RVs are roaring, and per insiders, manufactured housing faces yet another downturn in the forgeable future if MHI and its leaders fail to do what they claim.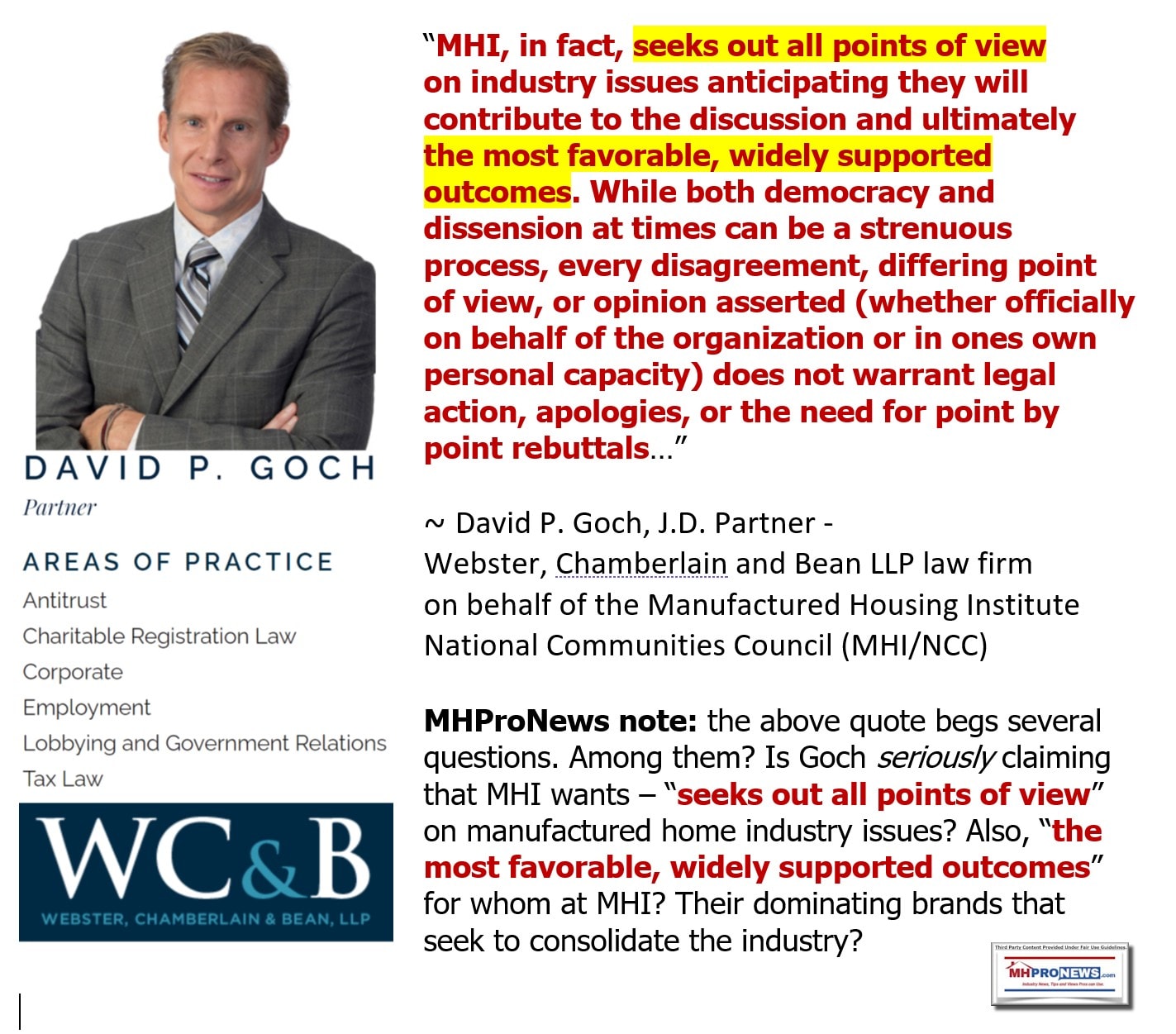 To grasp the evidence for that, see the legal analysis by industry outsider Samuel "Sam" Strommen at Knudson Law to learn more.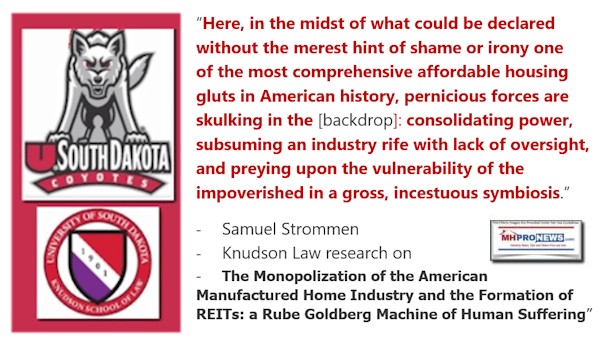 Then see the report and analysis about Minneapolis Federal Reserve reaches James A. "Jim" Schmitz Jr. and David Fettig. Properly understood, their fact-based thesis broadly supports the arguments and evidence that supports the evidence of federal corruption that is working in tandem with nonprofits and "sabotaging monopolies" corporate interests.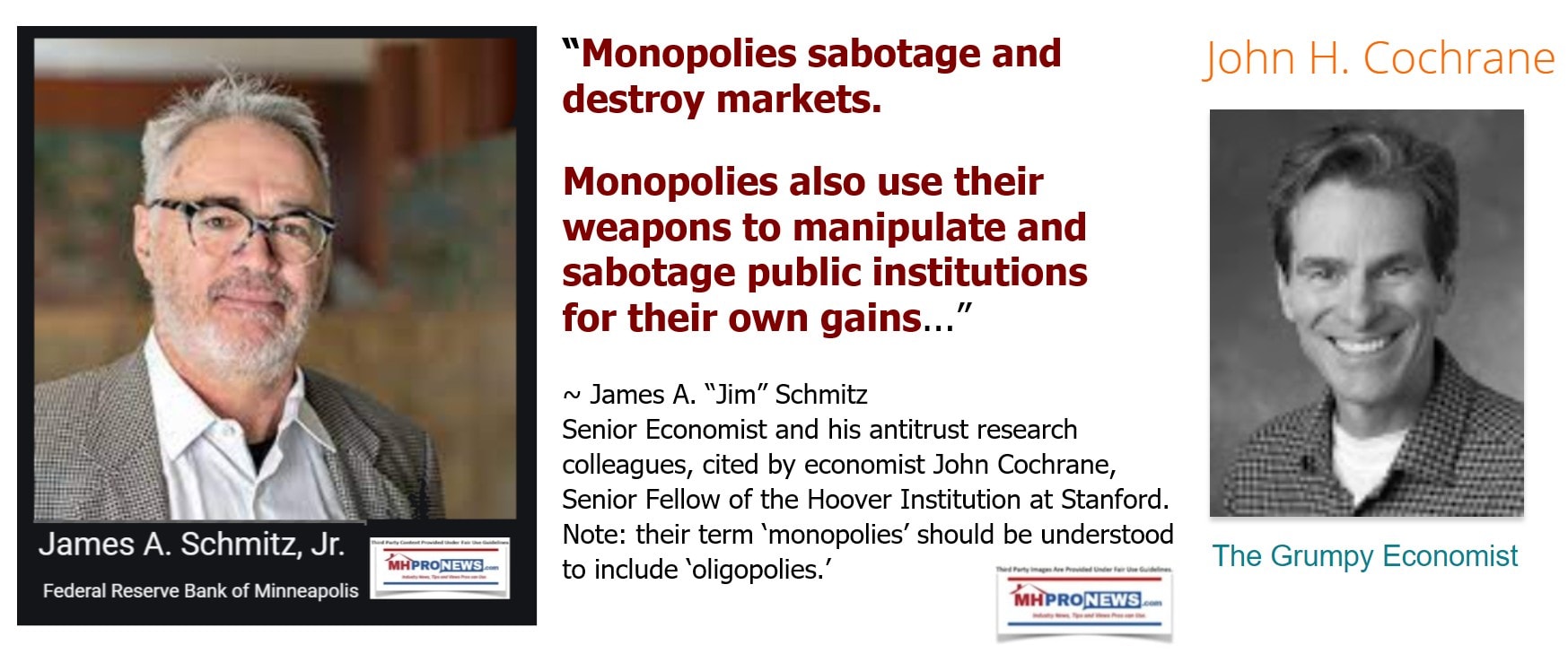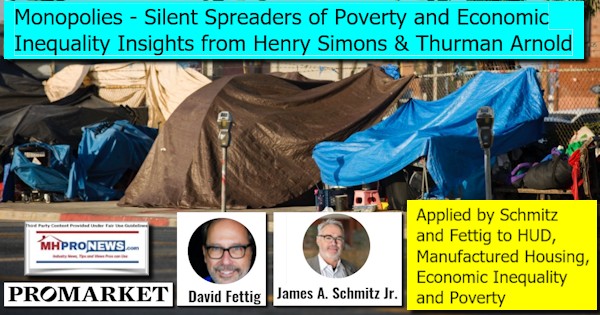 Putting Together the Puzzle Pieces That Sheds Evidence-Based Light on MHI, Stealthy Consolidation Schemes that Posture Efforts that Routinely Fail to Produce Measurable Results, and Manufactured Housing Industry Underperformance
As MHProNews' recent Masthead facts, evidence, report and analysis made clear, MHI has ducked public debate for about half a decade, going back to MHI President and CEO Richard "Dick" Jennison. It also included an example of then MHI general counsel Rick Robinson, who ducked out on a public exchange at Deadwood, SD. More examples are shown in the report linked below.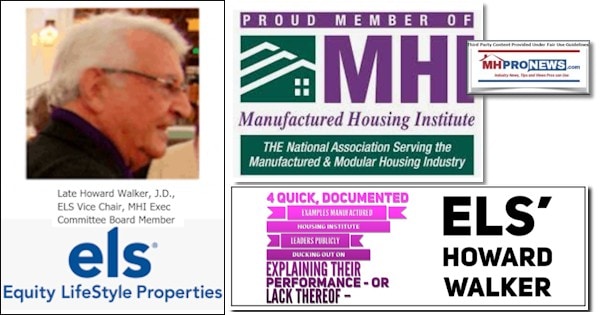 The Capital Research Center (CRC) in other analysis outside of MHVille but that includes Buffett/Berkshire/Nonprofits, calls Deception and Misdirection. For context, CRC developed, maintains and adds to their ground breaking project, "Influence Watch." Influence Watch has one of the largest databases of nonprofit activities in the U.S. They follow the money trail, connecting dots between specific nonprofits, the sources of their funding, and how those are often deployed in political issues that often benefits the sources of nonprofit donors. That matters, because Kevin Clayton referred to how education, nonprofits, and philanthropy fit into the Berkshire/Clayton vision of "the moat."  It is all in the video with transcript linked here and below.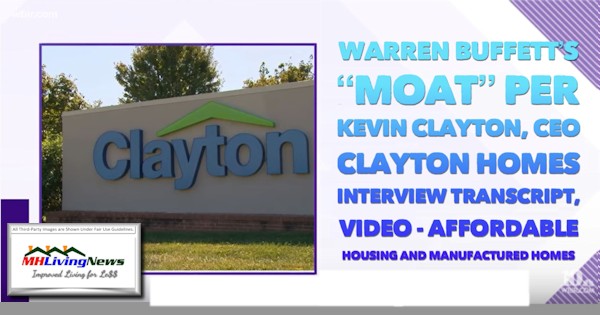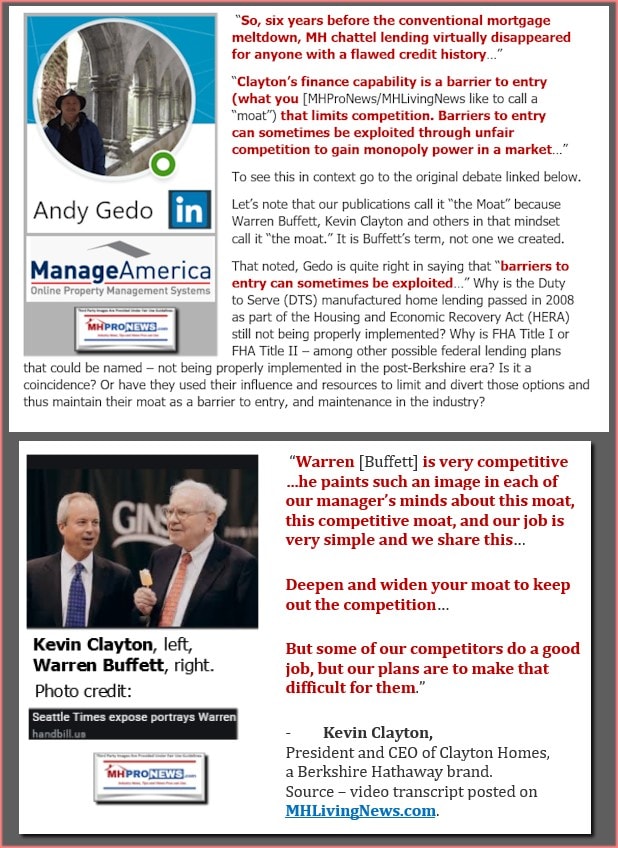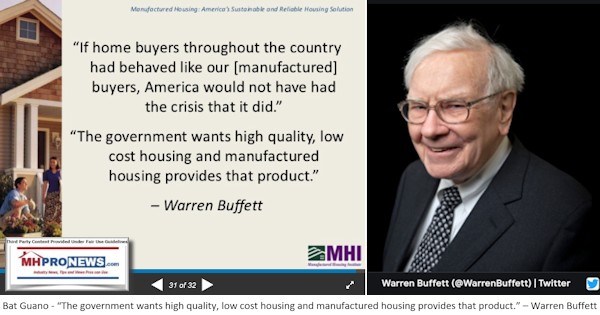 Warren Buffett's son Peter Buffett and his wife Jennifer operate the Buffett funded NoVo Foundation. The NoVo Foundation in turn supplies donations to a variety of largely leftist causes that routinely align with the Democratic Party's platform. Among those who have benefited from that funding are the leftist Tides nonprofit. The Tides in turn provides funding for MHAction, which in turn produces reports that attack as "predatory" brands that are commonly MHI members and/or are MHI state affiliate members. It was MHAction supported research that HBO's Last Week Tonight with John Oliver used to attack Buffett, Clayton Homes, their affiliated lending, Frank Rolfe, and several MHI members. These are facts evidenced by reports linked and sources cited by CRC, Influence Watch, MHAction, and others in the linked reports.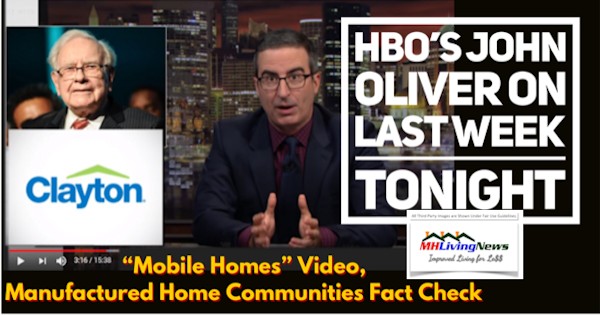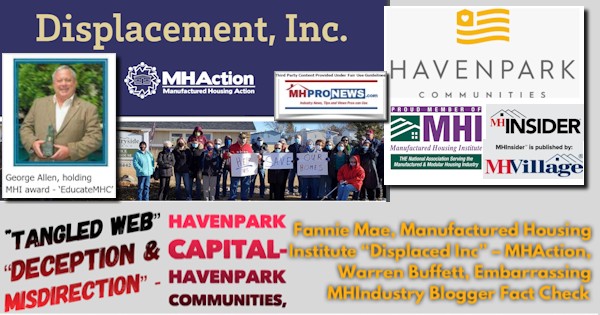 Peter Buffet confirmed to left-leaning media maven, Laura Flanders that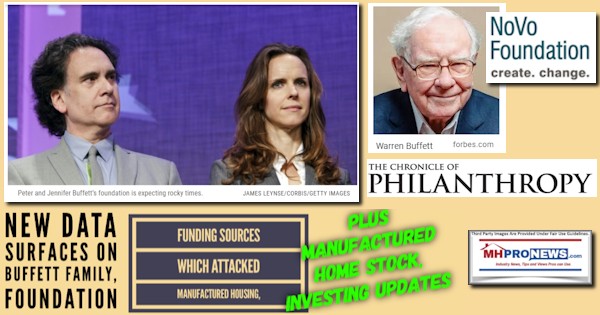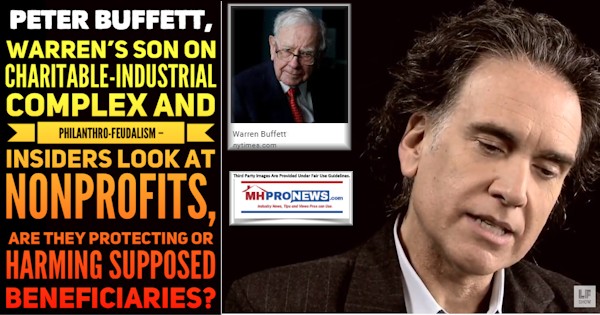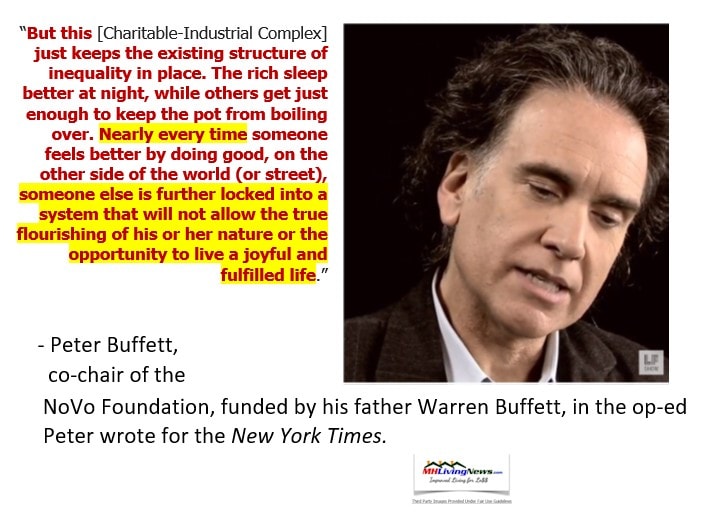 "MHI in Action" are an apparent form of what MHARR's Mark Weiss called the "Illusion of Motion." MHARR's Ghorbani has logically called out MHI's posturing without measurable results and then boxed MHI by an application of facts and reason.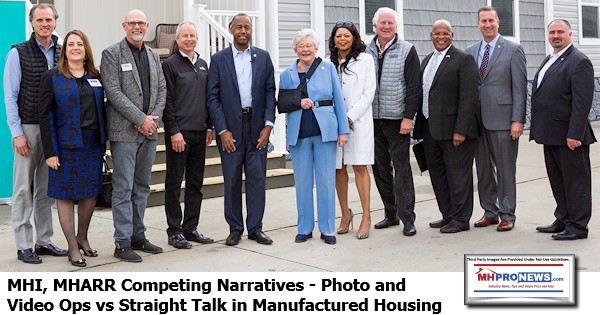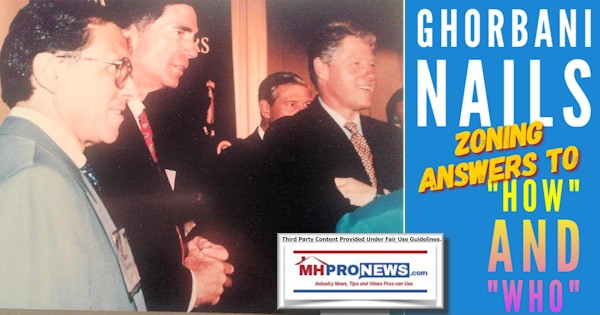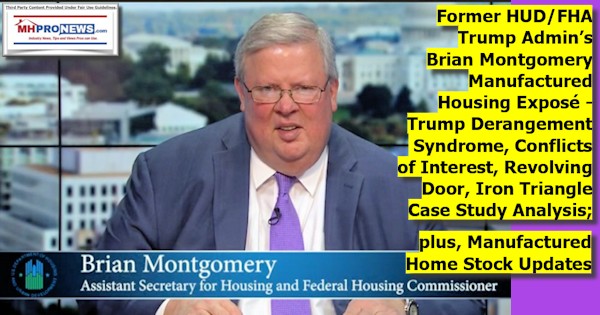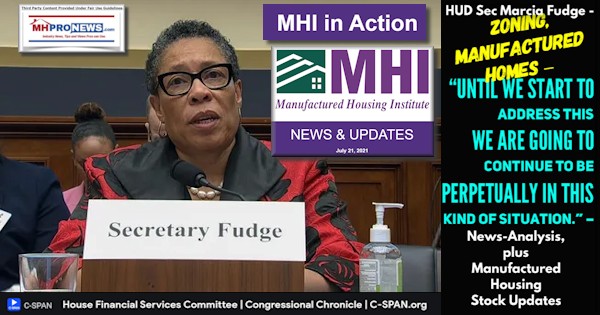 Summing Up and Conclusion
There has been only one serious public debate about the effectiveness of MHI, and that addressed the issues related to the true aims of MHI member dominating brands. Gedo's effort was in many ways a noble one, but he ended up conceding several of the points years of our reports and analysis have reflected.  Much could be said, but what is apparent is that while MHI dances and prances, the industry continues to consolidate.  Allen claims to care about that, but is proven to support those who are benefiting from that pattern.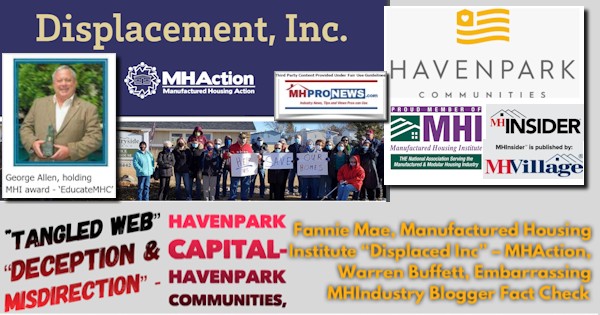 The conclusion to this report, commentary and analysis, should be what that MHI-connected source said.
"I'm still convinced that an integrated approach to our industry, including finance and development, is paramount to our industry's viability.  But….. no one [at MHI] is walking the walk. With FHA financing increasing of late, maybe we can make the turn."  That source says they are willing to help as possible to break the internal logjam. Stay tuned. ##
###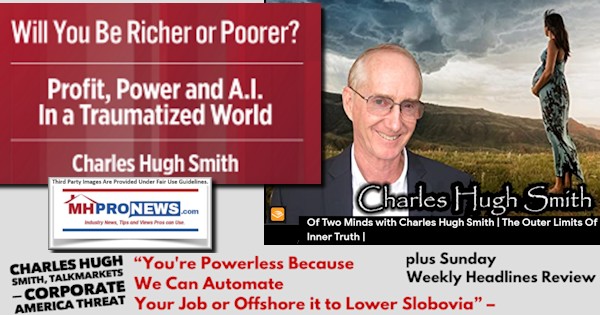 The big picture problems and solutions are outlined in 500 words in the snapshot linked below. That should be a brief, go to resource for those who want to press their elected officials into action.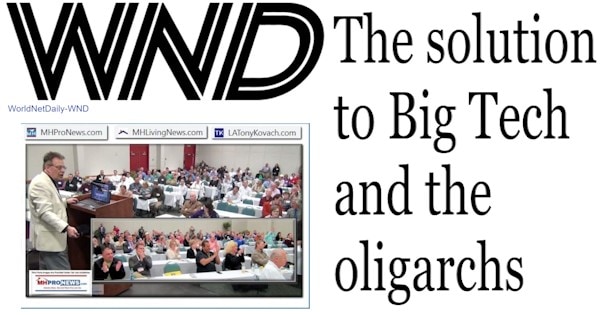 ###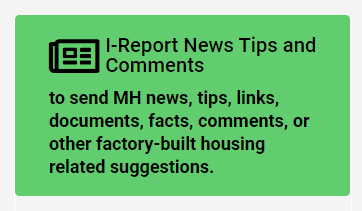 Our thanks to you, our sources, and sponsors for making and keeping us the runaway number one source for authentic "News through the lens of manufactured homes and factory-built housing" © where "We Provide, You Decide." © ## (Affordable housing, manufactured homes, reports, fact-checks, analysis, and commentary. Third-party images or content are provided under fair use guidelines for media.) (See Related Reports, further below. Text/image boxes often are hot-linked to other reports that can be access by clicking on them.)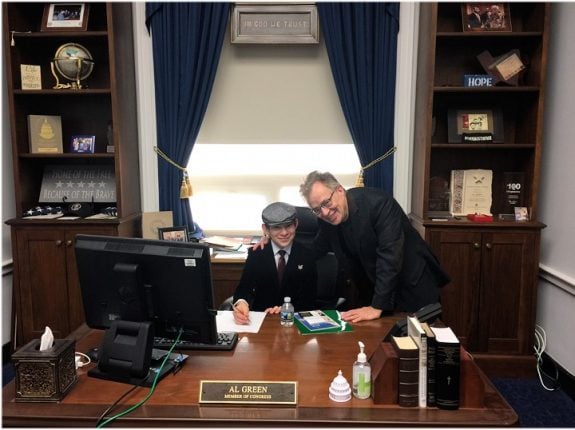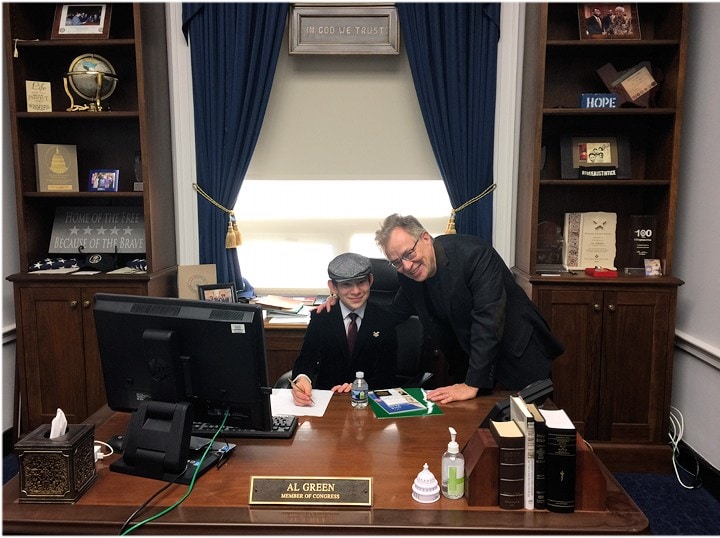 By L.A. "Tony" Kovach – for MHProNews.com.
Tony earned a journalism scholarship and earned numerous awards in history and in manufactured housing.
For example, he earned the prestigious Lottinville Award in history from the University of Oklahoma, where he studied history and business management. He's a managing member and co-founder of LifeStyle Factory Homes, LLC, the parent company to MHProNews, and MHLivingNews.com.
This article reflects the LLC's and/or the writer's position, and may or may not reflect the views of sponsors or supporters.
Connect on LinkedIn: http://www.linkedin.com/in/latonykovach
Related References:
The text/image boxes below are linked to other reports, which can be accessed by clicking on them.