Peter Buffett. Jennifer Buffett. Warren Buffett. The NoVo Foundation. Who they have donated money to support. How those donations impact and/or influenced manufactured housing. These will all be explored in tonight's featured focus.
Facts are what they are.
"Truth" could be defined simply as "that which is true or in accordance with fact or reality," per Oxford Languages. That same source says that "opinion" is "a view or judgment formed about something, not necessarily based on fact or knowledge."
Without getting too technical – there is also objective truth and subjective truth. Subjective truths are exemplified as matters of taste: for instance, it may be 'true' that you like or dislike some food or drink.
There are truths that have been 'hiding in plain sight' regarding manufactured housing for years. But by 'hiding in plain sight,' that does not mean that some of these truths are plainly or openly stated. It has taken months to years to discover certain facts, even though they are publicly available. This is true because of the nature of dark money, foundations, nonprofits, and so on.
Before proceeding, a few programming notes about what's ahead are in order.
There are industry specific topics that are looming, some of which include exclusive information gathered by MHProNews, and often provided by insider tips or other sources.
There are also more general topics which nevertheless have specific manufactured housing impacts and implications.
Stay tuned for those and other topics you won't find elsewhere in manufactured housing trade media.
Those points noted, tonight's featured focus will be some new insights from documents and third-party sources with respect to the headline. These are facts, not mere opinions.
Before glossing over the quotable quotes that follow, stop for a few moments and let them soak in, even if you've read them before.
The same should be noted about the production/shipment data. Don't just skip over them. Why?
Because there is an affordable housing crisis. Data is how performance is measured in business, right?
With official federal jobs data reflecting some 38.6 million Americans who have lost work since the pandemic and various degrees of economic shutdowns, there is likely to be even more need for affordable housing. Several sources have said as much.
There is no other trade media in manufactured housing that has pulled back the veil of evidence that explains the problematic performance of the industry than MHProNews. Who says? How about this academic, among numbers of others. As the third-party comments posted on the page linked here reflects, the National Association of Realtors, the Consumer Financial Protection Bureau (CFPB), an academic's doctoral dissertation, the Congressional Record and other sources are among those which have cited information published first on MHProNews and/or MHLivingNews. No one else in MHVille can make the same claim, not even close.
There are reasons that federal and state officials, investors, and more industry professionals read MHProNews than any other trade media. The evidence for that claims is here and here. Remember, when someone or some source will spin, hype or freely lie about something repeatedly, there are good reasons to think they may do so again.
Which is why authentic fact-checks and a look at the evidence are valuable. That's one of several reasons MHProNews for years has provided the evening 'left-right' headline bullet recaps. For those who are 'into this' nightly feature, it is truly an eye-opening experience.
Take a closer look at the quotable quotes, and the featured focus are beyond the left-right headlines, graphics, illustrations but before the manufactured home connected equities closing bell numbers.
Quotes That Shed Light…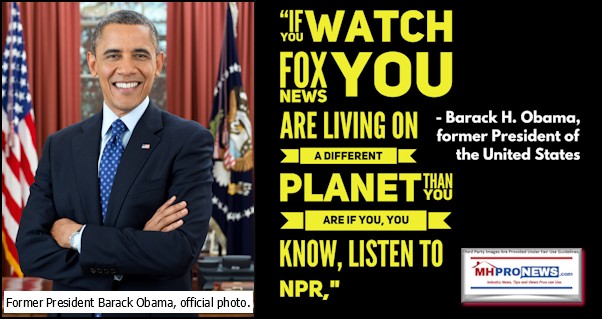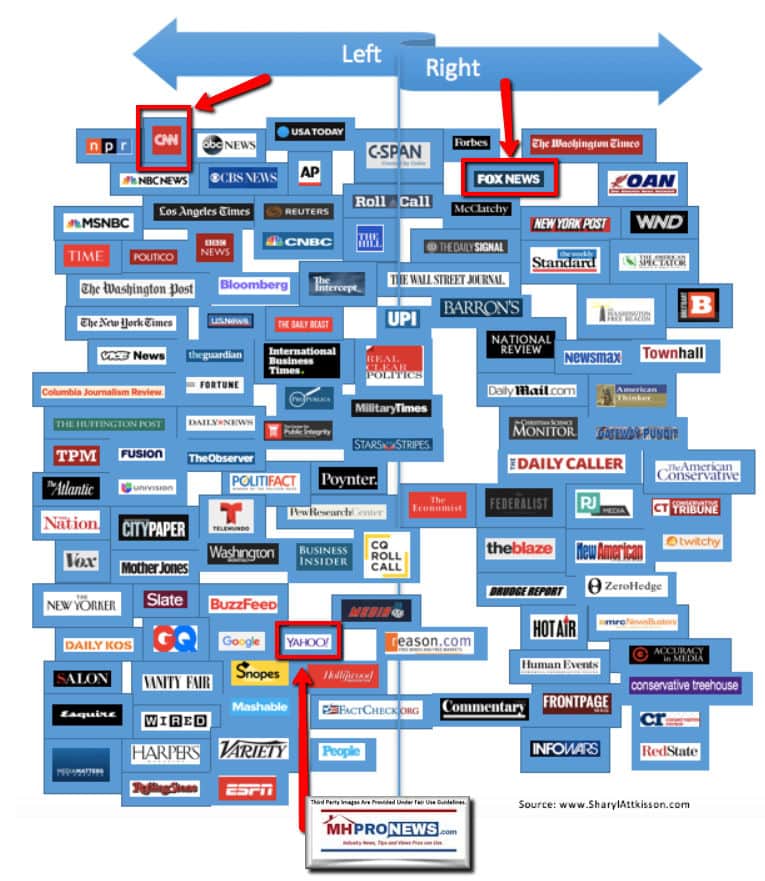 Headlines from left-of-center CNN Business
The new king of Wall Street
Pedestrians walk past BlackRock Inc. headquarters in New York, U.S, on Wednesday, June 11, 2018. BlackRock Inc. is scheduled to release earnings figures on July 16.
BlackRock is thriving, even as most financial stocks have been decimated this year
Everyone you know uses Zoom. That wasn't the plan
Macy's says it lost around $1 billion in a matter of weeks
Oil exec: It would be a mistake for the US government to bail us out
AstraZeneca CEO says $1 billion vaccine bet is 'absolutely worth it'
Another 2.4 million Americans filed for unemployment benefits last week
New Zealand's prime minister floats four-day work week
Facebook's Mark Zuckerberg says half of its employees might be remote
Victoria's Secret is closing a quarter of its stores
Travel slump could mean some luggage brands pack up for good
Volkswagen apologizes for racist ad
Fauci conspicuously stops doing TV interviews
I tried to delete myself from the internet. Here's what I learned
BEIJING, CHINA – MAY 20: A man wearing a face mask looks at his smartphone in front of a Luckin Coffee store on May 20, 2020 in Beijing, China.
Here comes the US crackdown on China stocks
An aerial shot of a neighborhood.
Homeowners are getting mortgage relief they didn't want
An Android smartphone with the Netflix logo visible on screen, taken on February 7, 2019.
Haven't used Netflix in a while? Your subscription could get canceled
MARKETS
TIKTOK'S RISE
Disney presents the new 2019-2020 lineups for Walt Disney Television via Getty Images, Walt Disney Television via Getty Images News, Freeform, ESPN, FX and National Geographic to the advertising and media communities at the DISNEY 2019 UPFRONT EXPERIENCE, live from Lincoln Center in New York City, with red carpet and reception at the historic Tavern on the Green.
KEVIN MAYER (CHAIRMAN, DIRECT-TO-CONSUMER & INTERNATIONAL)
ANALYSIS
Hiring a CEO from Disney won't be enough for TikTok to win over DC
Disney streaming chief is TikTok's new CEO
TikTok was downloaded 315 million times in 3 months
How the app can help with anxiety
Doctors use TikTok to share coronavirus news
HUNTING FOR A JOB
Cory Sanning wears his graduation cap and gown but there was no in-person ceremony for him.
Class of 2020 entering worst job market since Great Depression
A record 20.5 million Americans lost jobs in April
Here's when the US job market will recover
Unemployment claims are really low in these states…
… But are much higher in Kentucky, Hawaii and Georgia
Headlines from right-of-center Fox Business
Trump skips coronavirus mask during Ford plant tourTRUMP FACES AMERICA'S WORKERS
POLITICS
Trump skips coronavirus mask during Ford plant tour
Trump was set to tour the Ford facility, which was converted to manufacture much-needed ventilators during the COVID-19 crisis.
Stocks flounder on recovery concerns after coronavirus jobless claims near 39M
MARKETS
US, China move forward with trade deal
ECONOMY
EXCLUSIVE: Fed president's prediction about unemployment rate at end of year
MODERN RETIREMENT
Most US workers don't think they'll get to truly retire
Mnuchin: Congress could make change to small biz loan forgiveness timeline
OPINION
Silicon Valley CEO: 'Work from home' will be the new normal — what it should look like
SHUT DOWN A MISTAKE?
MARKETS
JP Morgan study: Infection rates actually fall after lock down orders lift
GOING AIRBORNE
LIFESTYLE
International flights threaten to keep these US cities COVID hot spots
WE'LL TAKE OUR CHANCES!
LIFESTYLE
Push to end NY's coronavirus business shutdown gains momentum
EASY MONEY
TAXES
3 tax-saving opportunities you must know
BIDEN NO LIKE MIKE
POLITICS
Bloomberg's digital agency Hawkfish flailing as Biden ices them out
PAID TO DO NOTHING
ECONOMY
Unemployment pay bump a huge raise for workers in these industries
UNHAPPY MEALS
MARKETS
McDonald's sends grim warning to restaurant operators
MAXXINISTAS REJOICE!
RETAIL
TJ Maxx, Marshalls, Home Goods reopen over 1,600 stores
ELON'S ESSENTIALS?
TESLA
Tesla employees required back at work despite coronavirus lock downs: report
THE FUTURE NEEDS TACOS
FOOD & DRINKS
Taco Bell to make 30K coronavirus hires this summer
HELL OR HIGH WATER
LIFESTYLE
Michigan Gov. calls flood devastating,' hopes Trump declares emergency
NOW YOU SEA IT, NOW YOU DON'T
ECONOMY
America's fishermen on the hook as lock downs spike demand for seafood
CORONA ROAD TRIP
LIFESTYLE
Coronavirus drives up RV rentals, sales
HIT THE BRAKES
CARS
Volkswagen apologizes for racist Golf 8 ad, promises public 'consequences'
SUMMER FUN
NEWS
Universal Orlando targets June 5 coronavirus reopening
MARKETS
With coronavirus precautions, Hard Rock reopens Tampa, Sacramento casinos
LIFESTYLE
TSA's coronavirus screening procedures revealed ahead of summer travel
MARKETS
Email delays PG&E bankruptcy vote
POLITICS
Trump says he plans to take 'very strong position' on church reopenings
AIRPLANES
JetBlue CEO on coronavirus protection: People should feel 'completely comfortable' on planes with new rules
ECONOMY
Fed's Powell says US economy faces 'whole new level' of uncertainty amid coronavirus pandemic
POLITICS
Meet Joe Biden's most lucrative campaign fundraiser
LIFESTYLE
Starbucks tempts customers with menu tweaks after coronavirus restrictions
LIFESTYLE
Kendall Jenner will pay thousands to settle suit over link to festival scandal
MONEY
Quarantine tensions boiling over into confrontations with delivery workers
REAL ESTATE
Real estate making 'stunning' coronavirus comeback: Expert agents
LIFESTYLE
Restaurant chains see sales improving as dining rooms reopen
LIFESTYLE
Lori Loughlin, Mossimo Giannulli to plead guilty in college admissions scandal
MARKETS
Varney: Coronavirus should make AOC, New York feel remorseful for squashing Amazon deal
TECHNOLOGY
Facebook to shift permanently toward more remote work after coronavirus
TECHNOLOGY
Amazon's big change to annual Prime Day
ECONOMY
Home sales see biggest crash in decade
DEVELOPING
MARKETS
NEWS
WATCH: Health department shuts down New Jersey gym that defied lockdown
POLITICS
Michael Cohen back in Manhattan after being released from prison
10 Market Indicator Closing Summaries – Yahoo Finance Closing Tickers on MHProNews…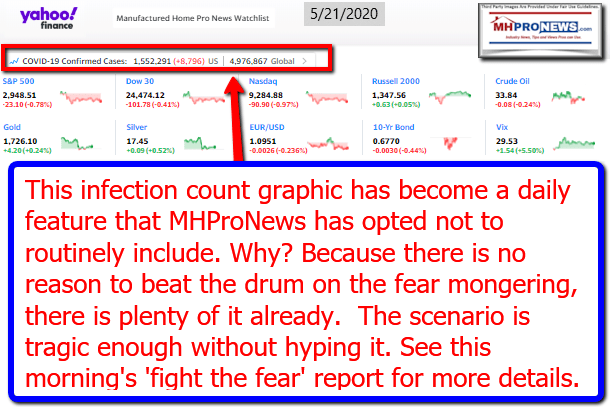 Featured Focus – Where Business, Politics and Investing Can Meet
To tee up the new information, new readers and longer term ones alike will benefit from going over some previously unearthed facts first reported on either MHProNews and/or MHLivingNews. Keep in mind that no one else in MHVille so far has had the chutzpah to tackle these topics. The others are too busy kissing the ample derrieres of certain insiders.
The Center for Public Integrity, along with the Seattle Times, did the original "investigative report" on Clayton Homes in 2015, their associated lending, and how that played out in the mainstream media thereafter.  Keep in mind that those reports, and the ammunition that created for opponents of the Preserving Access to Manufactured Housing Act no doubt had an influence on the debates on Capitol Hill. That's not speculation. It is known because those Seattle Times/Center for Public Integrity reports were cited by public officials.
The Tides Center has had as its top funder for years one Warren Buffett, through a dark money channels.
 Wikipedia defines "dark money" like this: "In the politics of the United States, dark money refers to political spending by nonprofit organizations — for example, 501(c)(4) (social welfare) 501(c)(5) (unions) and 501(c)(6) (trade association) groups — that are not required to disclose their donors." Perhaps more precisely, sometimes the funding source is known, but it takes effort to sift through data to find the facts.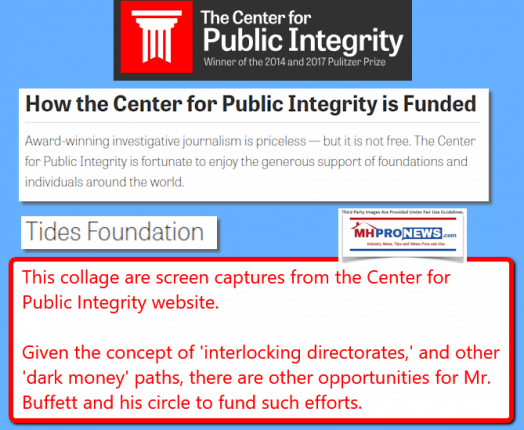 Please set aside any personal bias – for or against the Tides nonprofit – and their work you might have, because this is focused on manufactured housing and affordable housing, not their other efforts.

That document the arrow is pointing to is a research report co-branded with MHAction. MHAction didn't exist until about 4 years ago, but their roots are in progressive groups.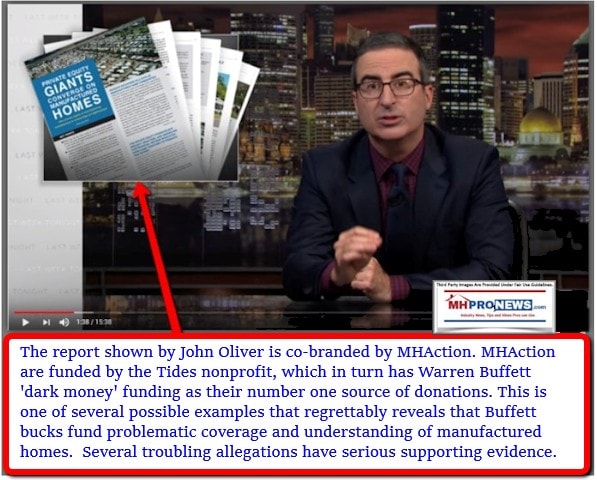 Once, again, Buffett's money (George Soros, and others too) is going from the NoVo Foundation to Tides, and from Tides to MHAction. MHAction then funds 'research' that makes manufactured home community living look bad.  Again, the research isn't necessarily flawed per se. But it is framed in a manner that will make many think of the industry as a whole, instead of specific purported 'bad actors.'
Those manufactured housing industry 'bad actors' routinely have ties to Clayton, their lenders, and Berkshire Hathaway or the Berkshire dominated Manufactured Housing Institute – see the evidence, linked here.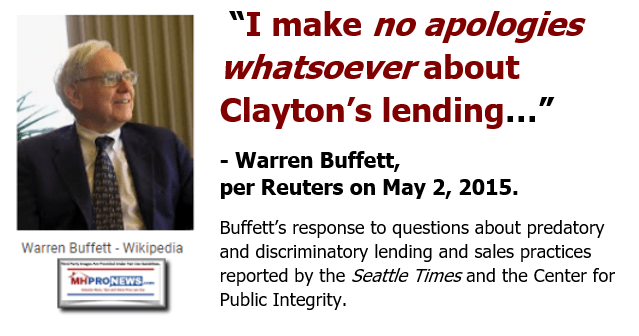 Next is this document below from the NoVo Foundation IRS form 990. Some readers will recall or know Democracy Now! They did expose videos on Clayton Homes in the post-Haitian crisis mess. Hold that in mind, as the new evidence follows this video.
Once again, Buffett bucks, via dark money channels, supported the organization that did the 'investigation' hit on Clayton Homes.  Hold this thought from Kevin Clayton, as in that same video interview, Clayton explains their use of foundations and nonprofits for 'education.'  Is it a coincidence that the 'education' or other 'philanthrophy' has benefited Berkshire and Clayton by deepening and widening their moat?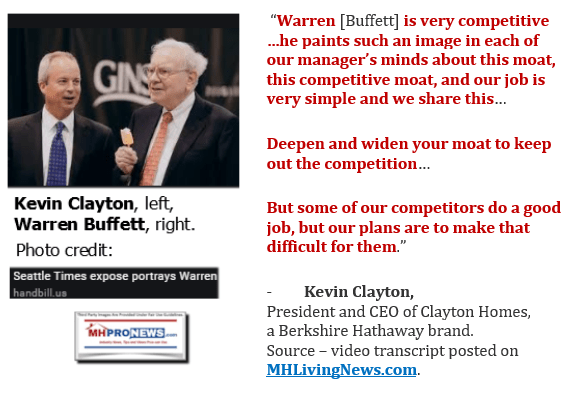 Peter Buffett, Warren's son, runs the NoVo Foundation with his wife Jennifer, as was noted above. Peter said the following.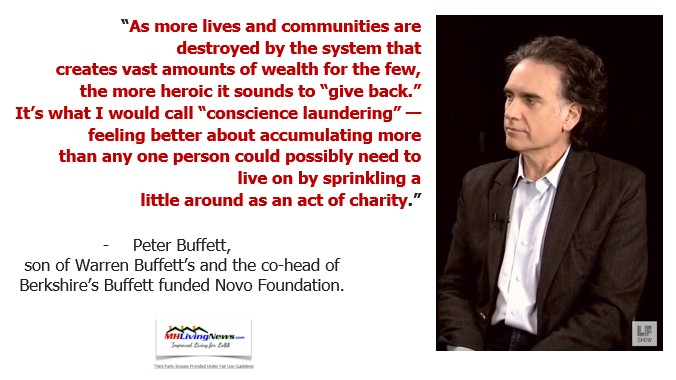 Here are example of what others, entirely from MHProNews, about how the Buffett "Castle and Moat."  Note: they may have read about some evidence here and/or on MHLivingNews, but if so, they failed to so indicate.
But even without those third-party observations, do we need much more than what Kevin Clayton said – as was quoted above – or what Warren Buffett himself have said in their own words?
Someone can make the claim that this is all coincidence, right? But really? How many coincidences does it take to make a pattern of activity and behavior?

A possible point is that there are barriers of entry, persistence and exit for any business in any industry. Make those barriers of entry and persistence harder, and you marginalize businesses. Manipulate the credit market, in a way that is arguably a violation of antitrust law, and you will also put people out of business or keep them from entering business.
This is a little blurry, but it largely cut off lending to independents who didn't carry Clayton products. It occurred in the wake of the 2008-2009 housing/credit crisis. Good cover. I'll save you time, Buffett's annual letter that year completely contradicts the claims that 21st – a Berkshire owned sister company to Clayton Homes – says in this letter below. More details are in the report linked here.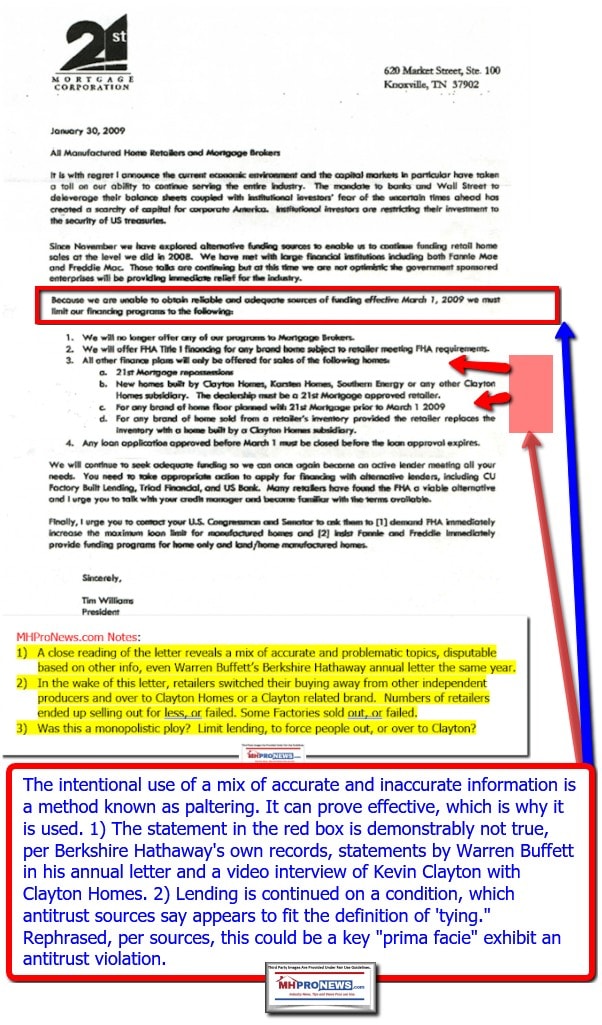 Clayton and their affilated lenders got what benefit from this? Let's see what the facts reflect.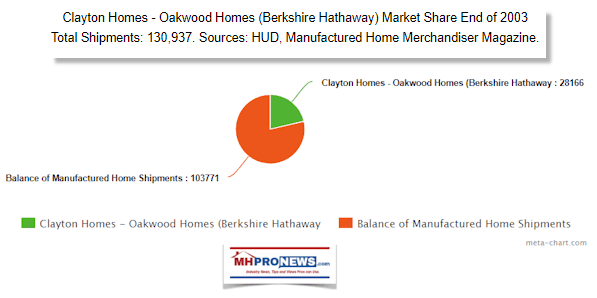 Clayton arguably wants to mask their market share. Here is what they claimed in a document.
However, that Clayton claim isn't accurate. At least, not according to Statistical Surveys.
As MHProNews has previously reported, attorneys, state and federal officials have been probing issues here on MHProNews and on MHLivingNews. Near the end of a call with an antitrust attorney, this writer asked her, what did she think? She said she saw indications of antitrust violations but also other possible legal violations.
Software tells us a few things, but not specific things. If you visited our website, I would have no clue, because there is no login. But software picks up .gov or other extensions. Generic information.
After one of our reports, Bill Gates stepped down from the Berkshire board. Might be a coincidence.
There is more to come. But there is an argument to be made for antitrust, deceptive trade practices, RICO and other laws at the state and federal level that involve the brands noted, along with others that appear to be involved.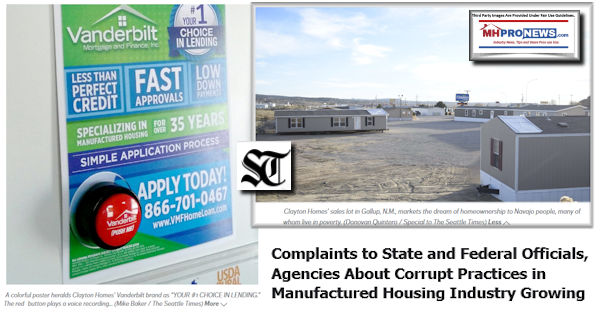 To learn more, see the related report below. Watch for an even bigger follow up to this report.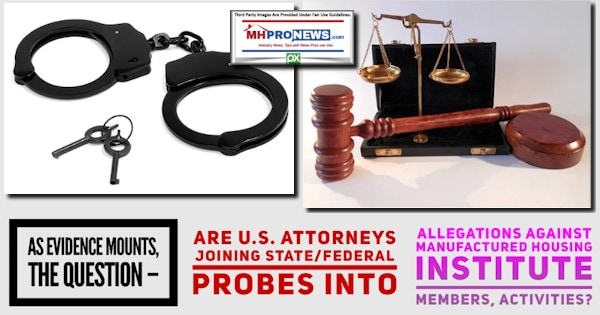 Related Reports: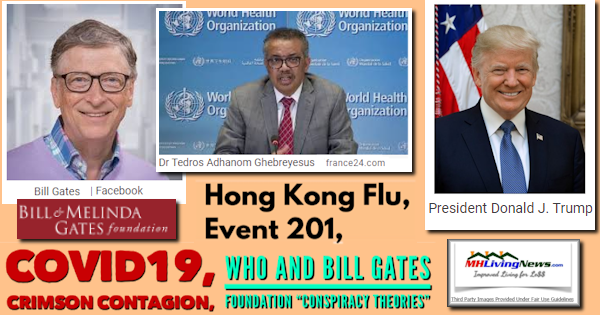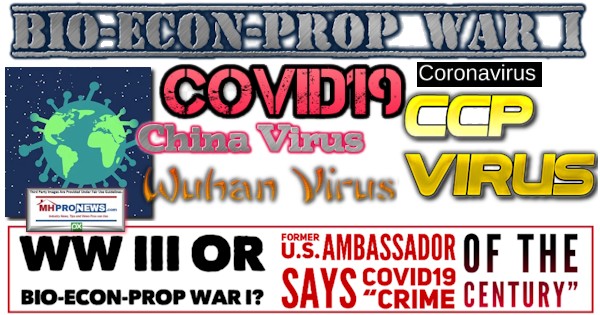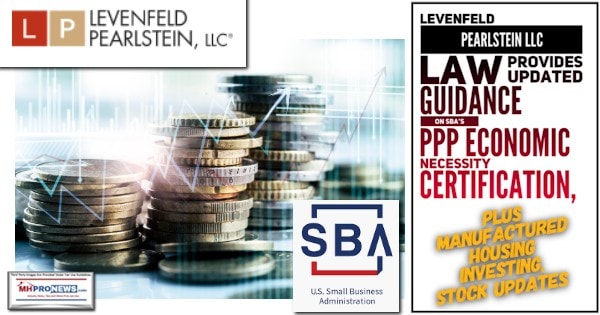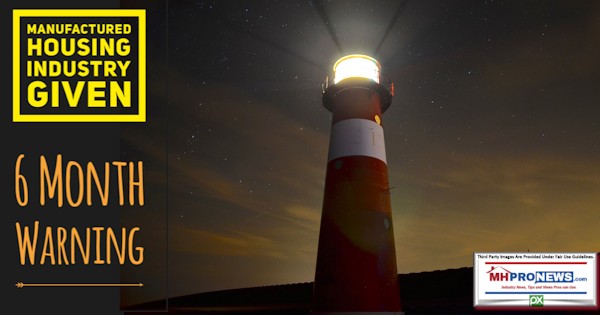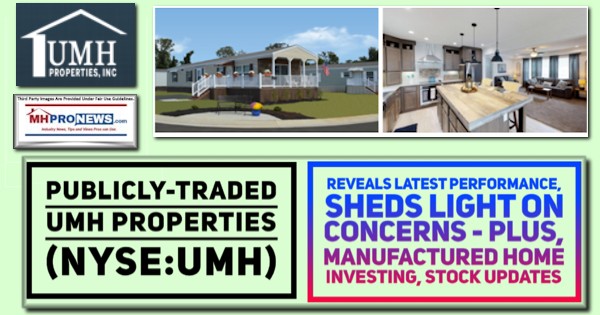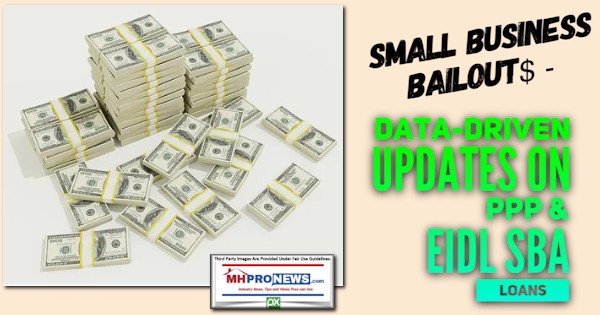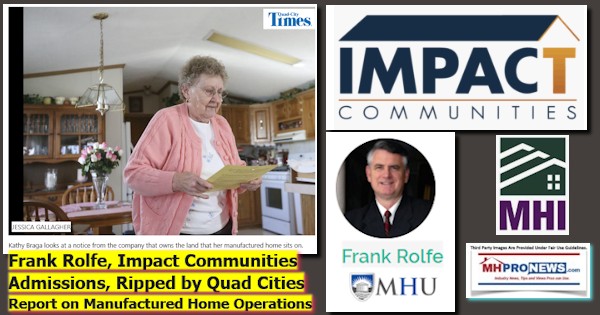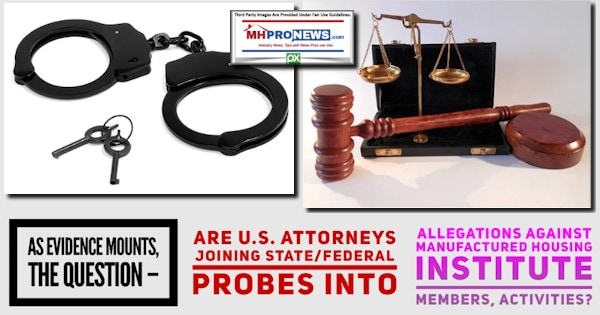 Manufactured Housing Industry Investments Connected Closing Equities Tickers
Some of these firms invest in manufactured housing, or are otherwise connected, but may do other forms of investing or business activities too.
NOTE: The chart below includes the Canadian stock, ECN, which purchased Triad Financial Services, a manufactured home industry lender
NOTE: Drew changed its name and trading symbol at the end of 2016 to Lippert (LCII).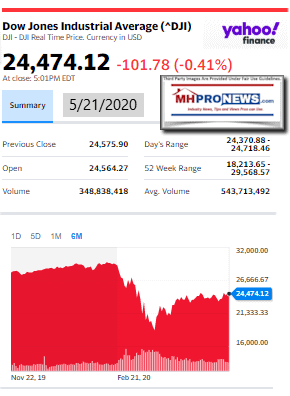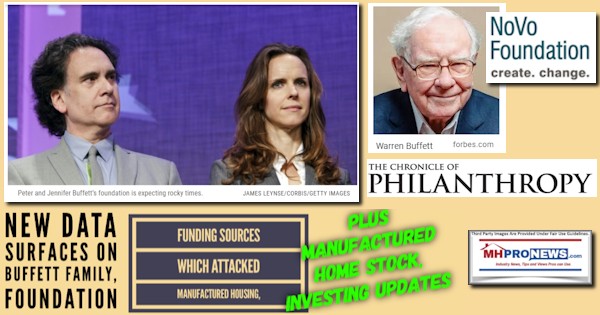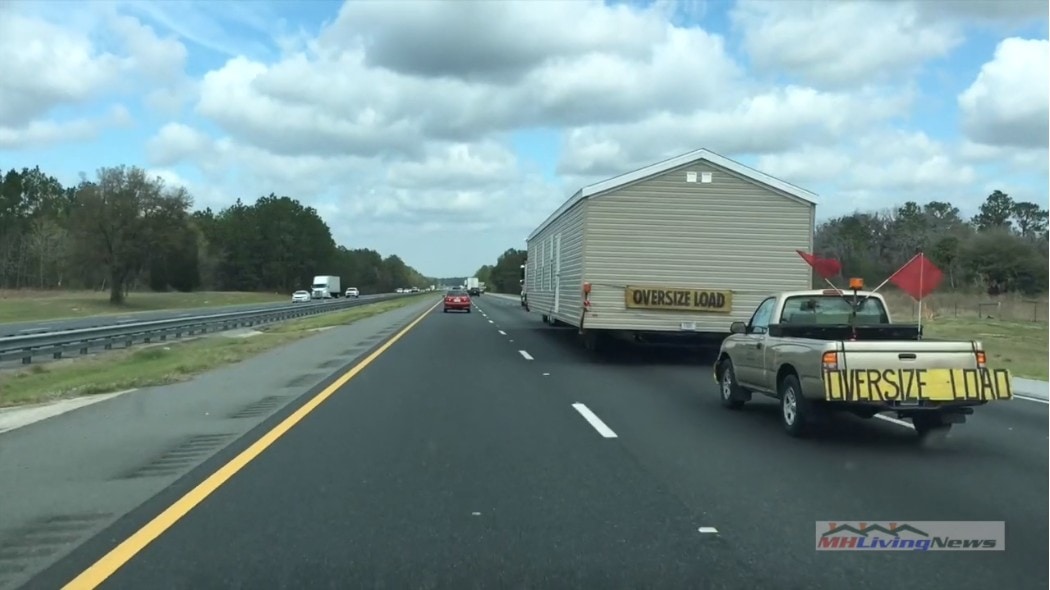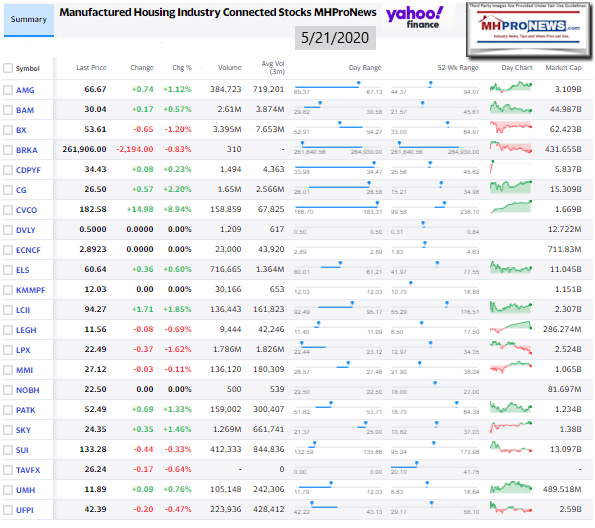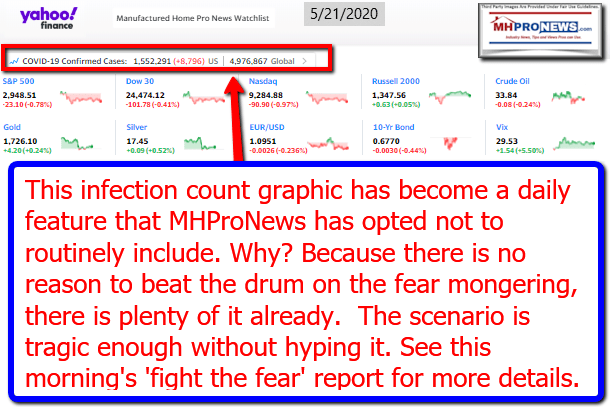 Spring 2020…
Berkshire Hathaway is the parent company to Clayton Homes, 21st Mortgage, Vanderbilt Mortgage and other factory built housing industry suppliers.
· LCI Industries, Patrick, UFPI, and LP each are suppliers to the manufactured housing industry, among others.
· AMG, CG, and TAVFX have investments in manufactured housing related businesses. For insights from third-parties and clients about our publisher, click here.
Enjoy these 'blast from the past' comments.
MHProNews. MHProNews – previously a.k.a. MHMSM.com – has celebrated our tenth anniversary and is in year 11 of publishing.


Learn more about our evolutionary journey as the industry's leading trade media, at the report linked below.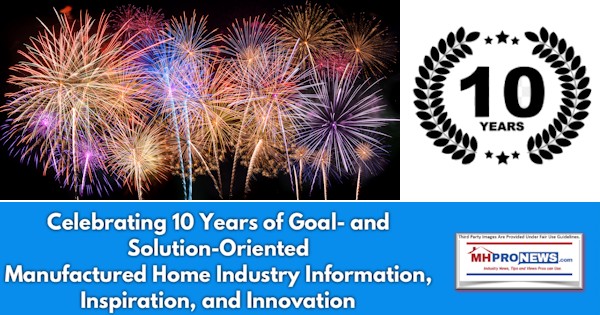 · For expert manufactured housing business development or other professional services, click here.
· To sign up in seconds for our industry leading emailed headline news updates, click here.

Disclosure. MHProNews holds no positions in the stocks in this report.https://www.manufacturedhomepronews.com/2019-year-end-totals-reveals-decline-in-new-hud-code-manufactured-home-production-shipments/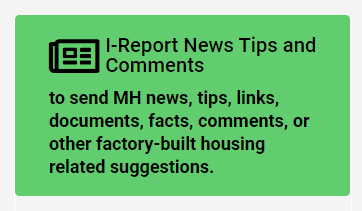 That's a wrap on this installment of "News Through the Lens of Manufactured Homes and Factory-Built Housing" © where "We Provide, You Decide." © (Affordable housing, manufactured homes, stock, investing, data, metrics, reports, fact-checks, analysis, and commentary. Third-party images or content are provided under fair use guidelines for media.) (See Related Reports, further below. Text/image boxes often are hot-linked to other reports that can be access by clicking on them.)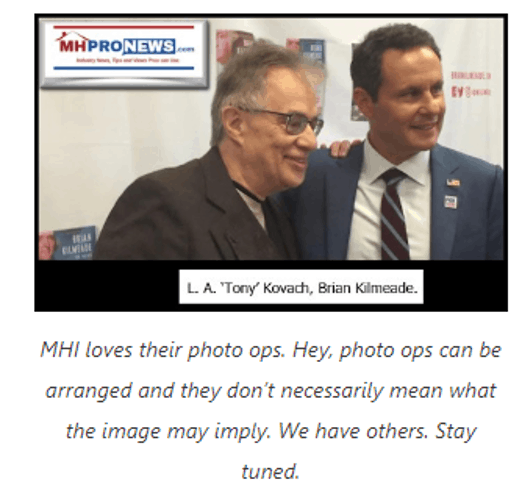 By L.A. "Tony" Kovach – for MHLivingNews.com.
Tony earned a journalism scholarship and earned numerous awards in history and in manufactured housing. For example, he earned the prestigious Lottinville Award in history from the University of Oklahoma, where he studied history and business management. He's a managing member and co-founder of LifeStyle Factory Homes, LLC, the parent company to MHProNews, and MHLivingNews.com. This article reflects the LLC's and/or the writer's position, and may or may not reflect the views of sponsors or supporters.
http://latonykovach.com Connect on LinkedIn: http://www.linkedin.com/in/latonykovach
AEI Flash Housing Market Indicators