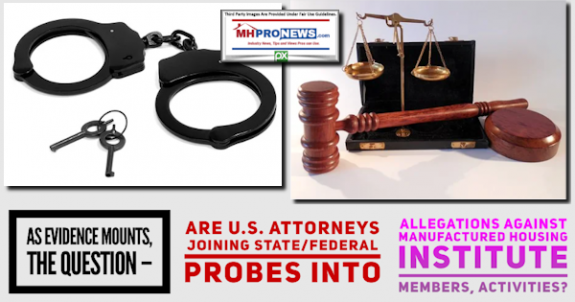 It goes without saying that no reporter or researcher knows it all. The same can be said of public officials who are pondering or are already engaged in the business of charging a person or entity with some aspect of state or federal law. The wise are humble enough to admit that they benefit from the insights others posses on topics of importance, but confident enough to move ahead based on evidence and reason.
It is no secret that information flows back and forth, by accident as well as design, between media, public officials and legal authorities.
While not the smoothest phrasing for a question, the headline is nevertheless timely and apt. There's no question that state and federal officials have considered and/or are already probing various issues involving the manufactured housing industry in general and the Manufactured Housing Institute (MHI) members specifically. We won't retrace that ground, ICYMI or need a refresher, the Masthead hereby refers readers to the prior reporting linked below. Note that report isn't mere speculation, as it includes public officials statements and documents, along with mainstream media reports on the allegations being investigated.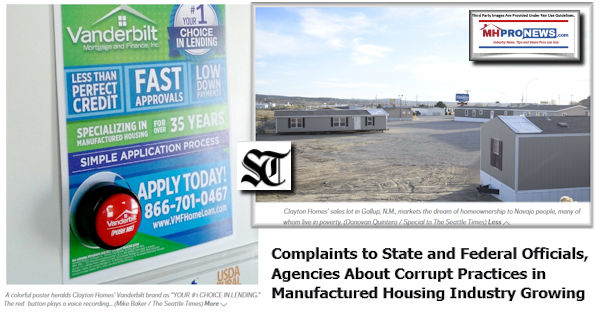 More recently a curious message was provided to MHProNews – a tip – by a historically reliable source with direct ties to various federal and state public officials.
That source has potentially been 'confirmed' by software which doesn't reveal specific names or other details, but does give generic insights. Webalizer reports that some 3000 hits on MHProNews will occur at the current pace of activity in May 2020 from visitors using a ".gov" – a 'federal' – web extension. Those .gov extensions could be HUD, FHFA, SEC, DOE, FTC, or other alphabet soup named agencies, that might include the DOJ. That specific detail is lacking.
Additionally, MailChimp noted that engagement from the Washington, D.C. metro surged with MHProNews in the current and prior emailed headline news updates.
The image below knits together part of the tip under a screen capture of that segment of MailChimp's report.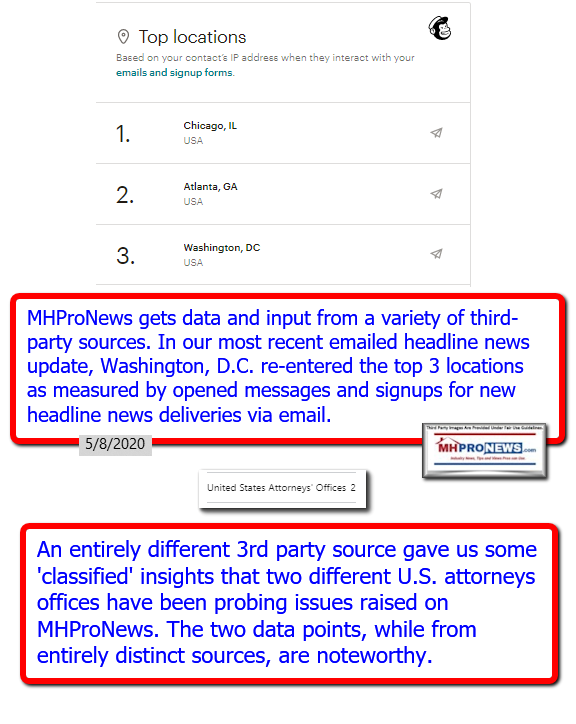 The Why Behind the What 
It is risky to pretend something that isn't true. So it is both stating the obvious and a sign of prudential humility to say that MHProNews is a modest sized organization, dwarfed in size by numbers of mainstream media outlets. While we as media ask questions deemed relevant to sources on a range of topics, information flows in more often in the form of tips from a range of sources.
Put differently, there is more that the Masthead would like to know about why U.S. Attorneys are digesting reports on manufactured housing? We have clues that we won't elaborate on at this time – it seems to involve members of the Manufactured Housing Institute (MHI) and/or that trade group itself.
Now, the Masthead can disclose certain contacts and communications with state and federal agencies. The extent of those contacts will not be the subject today.
But that's sufficient to establish for the thousands of daily regular, longer-standing industry professionals who have followed this website for years the following. Investigations have been requested by several public officials and industry personalities too.
It is high time and long overdue. Far too many white hat brands and consumers have been harmed already.
The Manufactured Housing Institute Connection
There are white hats that are involved in MHI member companies that have a black hat reputation. There are also white hat member companies involved in MHI. Those disclaimers noted, it irks or makes some uncomfortable when this publication states the obvious. Namely, that a common link in numbers of mainstream media reports as well as public officials seeking redress and answers often have direct ties to MHI.
When fecal matter finally hits the fan, the stench may draw attention to those firms that should have known better and had an option.
But in fairness and to shed light for public officials seeking insights, there are those who are MHI members who were politely 'pushed' into that organization. Others are MHI members out of habit or some (mis)guided loyalty based on what the trade group once was vs. what it now is today.
John Oliver doesn't say that every firm or person in the video below is connected to MHI member. That's MHProNews and MHLivingNews' insights, spelled out in the report linked below.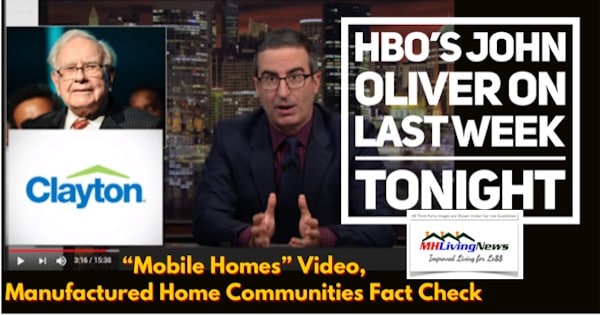 But without question, during an affordable housing crisis for the industry to have underperformed so badly while MHI touts their "clout" begs questions about deceptive trade practices and other issues that are often legal in nature.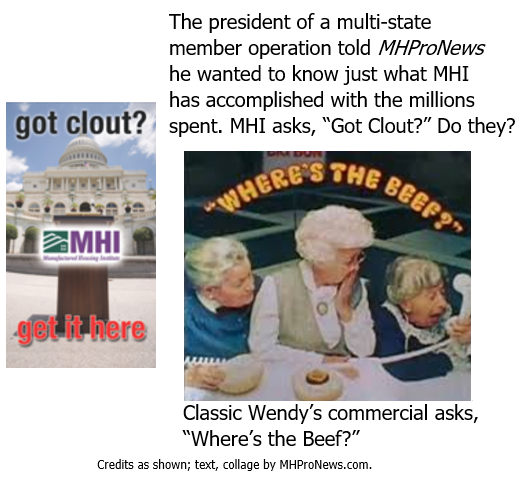 Some reports provide answers. This one is an outline that points to what is already known via prior linked reports. But it very specifically is hopeful that some federal and/or state officials with knowledge will shed more light on what specifically those U.S. Attorneys are looking into.
Have clear insights worthy of the industry's attention? Please, do tell. Your insights could help untold numbers of white hat brands and untold numbers of consumers. See the linked items above and below for examples.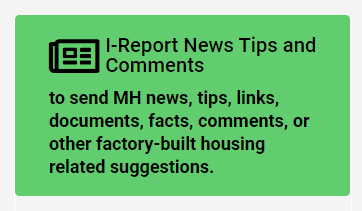 It never hurts to ask. Because it is surprising how one or more will step forward and speak up, on or off the record.
For more on the controversies and issues involving MHI and their 'big boy' members, see the linked reports above and the related reports below the byline and notices.
As a closing programming note. Fresh allegations and insights about two prominent MHI members firms will be planned in a report on the Daily Business News on MHProNews. Watch for it.
Because it is one of those topics that may involve the FTC and DOJ. Bear in mind that a request for such a probe of MHI member firms was made by elected officials, as one example linked here reminds readers. The report on that prior topic is linked below.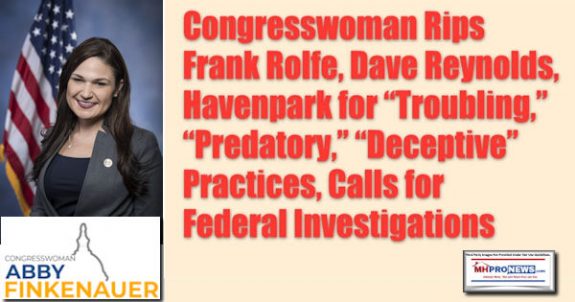 As MHI member Frank Rolfe openly – brazenly? – wrote "If you like competition – and relish hand-to-hand combat 24/7 – then mobile home parks are not for you. If you like having a monopoly, holding all the cards, knowing the tenants won't move their homes out, never worrying about someone building a new property near you, and taking one of the tenant's biggest assets if they default, then you're going to love mobile home parks."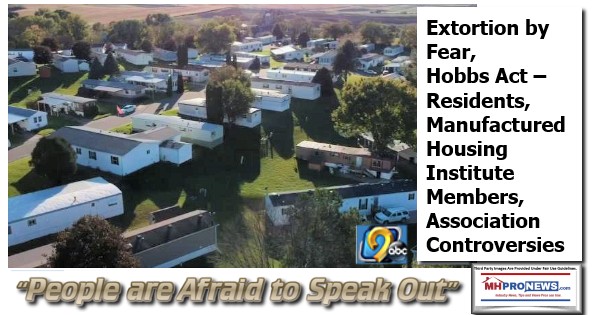 The argument can be made that besides antitrust or other legal issues that may breach state and/or federal laws, certain types of malicious and threatening behavior may involve Hobbs Act violations. Extortion by fear.
That's a wrap on this window into manufactured housing industry "News, Tips, and Views Pros Can Use" © where – "We Provide, You Decide." © ## See Related Reports, further below. Note that text/image boxes often are hot-linked to other reports that can be access by clicking on them. Any third-party images and content are provided under fair use guidelines.)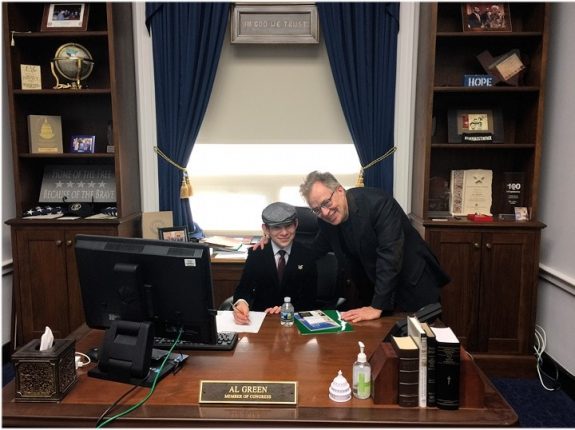 By L.A. "Tony" Kovach – for MHProNews.com.
Tony earned a journalism scholarship and was recognized with the prestigious Lottinville Award in history from the University of Oklahoma, where he also studied business management with a perfect 4.0 and made the Dean's List. Tony has earned multiple awards in manufactured housing and in history. He's a managing member of LifeStyle Factory Homes, LLC, the parent company to MHProNews, and MHLivingNews.com.
Office 863-213-4090 |Connect on LinkedIn: http://www.linkedin.com/in/latonykovach
Sign Up Today!
Click here to sign up in 5 seconds for the manufactured home industry's leading – and still growing – emailed headline news updates.
Related References:
The text/image boxes below are linked to other reports, which can be accessed by clicking on them.
Notice: the first related report below is an updated reference link posted on 5.13.2020. Others were posted at the time this Masthead was first published.