"People are afraid to speak out," KCRG cited Candi Evans as saying during an interview in a North Liberty, Iowa manufactured home community. In that state, a bill to provide protections for residents against predatory site fee hikes has died in committee just days ago. It is part of broader issue with respect to certain 'black hat' types of manufactured home community operators that has been sparking increasing outrage and concerns in states from coast-to-coast.
How manufactured homeowner and community resident Evans phrased it at the start of this video is slightly different than how KCRG reported it, but either way, the meaning is the same. It is certainly possible that while the video camera wasn't 'rolling' – or in a portion of the interview that was edited out – that Evan said the exact words the local news station reported.
With that noted, KCRG's video frames the issue and provides a useful background that will set the stage for the MHProNews report and analysis that will follow.
There are numerous topics that a mainstream news source can be unaware of that relate to these reports. Among them is the controversy within the industry that caused the Manufactured Housing Institute (MHI) to reassert their so-called code of ethical conduct, found at this link here.
That specific MHI/National Communities Council (NCC) code of conduct was issued in the summer of 2019. Other examples of problematic mainstream reports have arisen that on the surface appear to be clear violations of their code. Yet no known enforcement action has occurred. Furthermore, when asked about any enforcement of their code, MHI has declined comment. There are those in the industry that believe based on the evidence that MHI's code of conduct was mere window dressing, more posturing in the face of issues that are routinely tied to their own members. Havenpark Capital and "Frank and Dave" led Impact Communities are but two examples of those operations that have been cited by lawmakers and mainstream media.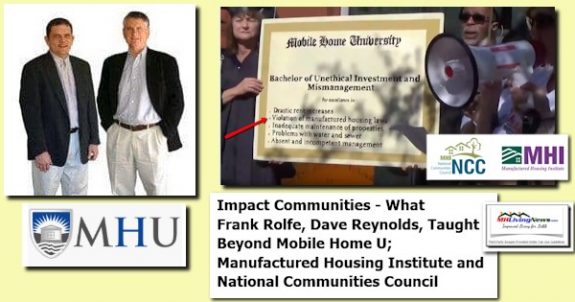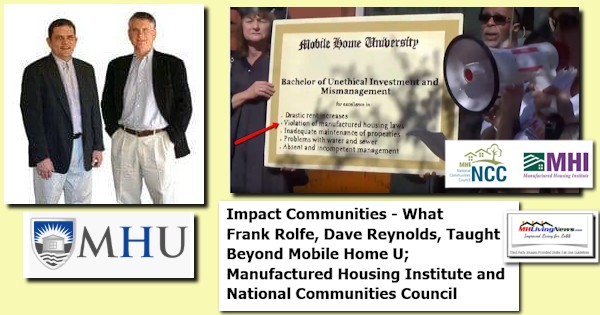 As attentive and longer-term MHProNews know, the companies in Iowa and beyond that are fueling the call for new laws and regulations are often MHI/NCC members.
"I'm going to keep fighting," KCRG cited Evan's saying. "I'm a realist and I just think if we fight hard enough it's going to win." What Evans and residents in dozens of other communities in her area alone may not realize is that the Hobbs Act could be but one example of existing laws that could benefit her and others like her.
"In the United States, the crime of extortion is usually statutorily defined. In some states, extortion is not limited to acts done by public officers, but includes actions of private individuals. Evans v. United States, 504 U.S. 255 (U.S. 1992)," says Stimmel Law regarding RICO (Racketeer Influenced and Corrupt Organizations Act) violations that include extortion by fear.
"Extortion is closely related to robbery and false pretenses. This is because all these crimes come under the common crime of theft…" per the same source cited above. "Extortion can be committed with or without the use of force and with or without the use of a weapon, " adding that "The punishment for extortion is a fine, imprisonment, or both."
Stimmel Law elaborates by saying that "Blackmail is a crime that involves a threat with an intention to compel a person to do an act against his/her will or to take a person's money or property. In blackmail, a threat may or may not consist of physical injury to a threatened person or to someone loved by that person. Sometimes a threat may be to injure a person's reputation. In some cases, the threat would be to expose an illegal act previously committed by the victim if the victim fails to submit to a demand. Punishment for blackmail can include a fine, imprisonment, or both.
Generally, blackmail is synonymous with extortion."
But what might be the elements of a possible case for extortion by fear with respect to manufactured home community residents?
A common concern raised by residents is that if they speak out they could face punitive action, such as eviction. When there seems to be a pattern of punitive actions by aggressive community operators, the argument could be made that it is extortion by fear.
"In its most basic definition, extortion is the obtaining of property from another, with his/her consent, induced by the wrongful use of actual or threatened force, violence, fear, or under color of official right. United States v. Hooks, 2005 U.S. Dist. LEXIS 37466 (W.D. Tenn. Dec. 12, 2005)," said Stimmel Law.
"The Hobbs Act provides for the criminal punishment of persons who interfere with commerce by the use of threats or violence.
There are two essential elements of Hobbs Act:
Interference with commerce;
Extortion."
As noted, there are federal and state variations on these issues. A look at the Hobbs Act will add some additional color to understanding the issue.
The Hobbs Act and Extortion by Force, Violence or Fear
The following is from the Justice Department website, which is certainly an authoritative source of information. It should be noted that this could apply to companies or whistleblowers in manufactured housing who may be silent out of fear, as well as to individuals like Evans.
2403. HOBBS ACT — EXTORTION BY FORCE, VIOLENCE, OR FEAR

In order to prove a violation of Hobbs Act extortion by the wrongful use of actual or threatened force, violence, or fear, the following questions must be answered affirmatively:
Did the defendant induce or attempt to induce the victim to give up property or property rights?
"Property" has been held to be "any valuable right considered as a source of wealth." United States v. Tropiano, 418 F.2d 1069, 1075 (2d Cir. 1969) (the right to solicit garbage collection customers). "Property" includes the right of commercial victims to conduct their businesses. See United States v. Zemek, 634 F.3d 1159, 1174 (9th Cir. 1980) (the right to make business decisions and to solicit business free from wrongful coercion) and cited cases). It also includes the statutory right of union members to democratically participate in union affairs. See United States v. Debs, 949 F.2d 199, 201 (6th Cir. 1991) (the right to support candidates for union office); United States v. Teamsters Local 560, 550 F. Supp. 511, 513-14 (D.N.J. 1982), aff'd, 780 F.2d 267 (3rd Cir. 1985) (rights guaranteed union members by the Labor-Management Reporting and Disclosure Act, 29 U.S.C. §  411).
2. Did the defendant use or attempt to use the victim's reasonable fear of physical injury or economic harm in order to induce the victim's consent to give up property?
A defendant need not create the fear of injury or harm which he exploits to induce the victim to give up property. See United States v. Duhon, 565 F.2d 345, 349 and 351 (5th Cir. 1978) (offer by employer to pay union official for labor peace held to be "simply planning for inevitable demand for money" by the union official under the circumstances); United States v. Gigante, 39 F.3d 42, 49 (2d Cir. 1994), vacated on other grounds and superseded in part on denial of reh'g, 94 F.3d 53 (2d Cir. 1996) (causing some businesses to refuse operations with the victim sufficiently induced the victim's consent to give up property, consisting of a right to contract freely with other businesses, as long as there were other businesses beyond defendants' control with whom the victim could do business).
Moreover, attempted extortion may include an attempt to instill fear in a federal agent conducting a covert investigation or a defendant "made of unusually stern stuff." See United States v. Gambino, 566 F.2d 414, 419 (2d Cir. 1977) (argument that FBI agent pretending to be extortion victim could not be placed in fear is not a defense to attempted extortion of the agent); see also United States v. Ward, 914 F.2d 1340, 1347 (9th Cir. 1990) (an attempt to instill fear included a demand for money from a victim who knew that the defendant was only pretending to be a federal undercover agent when he threatened the victim with prosecution unless money was paid).
However, the payment of money in response to a commercial bribe solicitation, that is, under circumstances where the defendant does not threaten the victim with economic harm, but only offers economic assistance in return for payment to which the defendant is not entitled, is not sufficient to prove extortion by fear of economic loss. United States v. Capo, 817 F.2d 947, 951-52 (2d Cir. 1987) (solicitation of money from job applicants by persons having no decisionmaking authority in return for favorable influence with employment counselors was insufficient evidence of inducement by fear); but see United States v. Blanton, 793 F.2d 1553, 1558 (11th Cir. 1986) (inducement by fear was proven by the defendant's solicitation of a labor consulting contract, to help employer stop outside union organizing, when the solicitation was accompanied by defendant's threat to form another union and begin organizing employees if the consulting contract was not accepted).
3. Did the defendant's conduct actually or potentially obstruct, delay, or affect interstate or foreign commerce in any (realistic) way or degree?
The Hobbs Act regulates extortion and robbery, which Congress has determined have a substantial effect on interstate and foreign commerce by reason of their repetition and aggregate effect on the economy. Therefore, the proscribed offenses fall within the category of crimes based on the Commerce Clause whose "de minimis character of individual instances arising under [the] statute is of no consequence." United States v. Bolton, 68 F.3d 396, 399 (10th Cir. 1995) (upholding Hobbs Act convictions for robberies whose proceeds the defendant would have used to purchase products in interstate commerce), quoting, United States v. Lopez, — U.S. —, 115 S.Ct. 1624, 1630 (1995); material in brackets added; see also United States v. Atcheson, 94 F.3d 1237, 1243 (9th Cir. 1996) (robbery of out-of-state credit and ATM cards); United States v. Farmer, 73 F.3d 836, 843 (8th Cir. 1996) (robbery of commercial business); United States v. Stillo, 57 F.3d 553, 558 n.2 (7th Cir. 1995).
Hobbs Act violations may be supported by proof of a direct effect on the channels or instrumentalities of interstate or foreign commerce, as for example, where the threatened conduct would result in the interruption of the interstate movement of goods or labor. See United States v. Taylor, 92 F.3d 1313, 1333 (2d Cir. 1996) (extortion of money, unwanted labor, and subcontracts on construction projects by threatened shutdowns and labor unrest); United States v. Hanigan, 681 F.2d 1127, 1130-31 (9th Cir. 1982) (robbery of three undocumented alien farm workers while they were traveling from Mexico to the United States in search of work); United States v. Capo, 791 F.2d 1054, 1067-68 (2d Cir. 1986), vacated on other grounds, 817 F.2d 947 (2d Cir. 1987) (scheme to extort local job applicants had a potential effect on interstate applicants who might otherwise be hired).
Indirect effects on such commerce are also sufficient, as for example, where the obtaining of property and resulting depletion of the victim's assets decreases the victim's ability to make future expenditures for items in interstate commerce.
Taylor, supra (depletion of contractors' assets). However, the Seventh Circuit has distinguished Hobbs Act cases involving depletion of a business' assets from those involving the depletion of an individual employee's assets which, the court has ruled, are not as likely to satisfy the jurisdictional requirement of the Hobbs Act. United States v. Mattson, 671 F.2d 1020 (7th Cir. 1982); United States v. Boulahanis, 677 F.2d 586, 590 (7th Cir. 1982). Other circuits have agreed where the extortion or robbery of an individual has only an "attenuated" or "speculative" effect on some entity or group of individuals engaged in interstate commerce thereby diminishing the "realistic probability" that such commerce will be affected. See United States v. Collins, 40 F.3d 95, 100 (5th Cir. 1994) (conviction for robbery of a computer company employee reversed on grounds that theft of victim's automobile with cellular phone had an insufficient effect on his employer's business); United States v. Quigley, 53 F.3d 909 (8th Cir. 1995) (upholding the acquittal, following guilty verdict, of defendants who beat and robbed two individuals in route to buy beer at a liquor store).
4. Was the defendant's actual or threatened use of force, violence or fear wrongful?
Generally, the extortionate obtaining of property by the wrongful use of actual or threatened force or violence in a commercial dispute requires proof of a defendant's intent to induce the victim to give up property. No additional proof is required that the defendant was not entitled to such property or that he knew he had no claim to the property which he sought to obtain. See United States v. Agnes, 581 F.Supp. 462 (E.D. Pa. 1984), aff'd, 753 F.2d 293, 297-300 (3d Cir. 1985) (rejecting claim of right defense to defendant's use of violence to withdraw property from a business partnership).
However, the Supreme Court has recognized a claim-of-right defense to Hobbs Act extortion in labor-management disputes.
In a 1973 decision, the Court reversed the conviction of union-member defendants who had used violence against an employer's property, during an otherwise legitimate economic labor strike, in order "to achieve legitimate union objectives, such as higher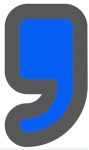 wages in return for genuine services which the employer seeks." United States v. Enmons, 410 U.S. 396, 400 (1973). The Court reasoned that the legislative history of the Hobbs Act disclosed that Congress had been concerned with attempts by union officials to extort wages for unwanted and fictitious labor, to which employees were not entitled, as contrasted with the policing of legitimate labor strikes in general. Therefore, the Court concluded that the union members' use of violence during the strike was not "wrongful" for purposes of Hobbs Act extortion. The Supreme Court also made a broadly worded statement that "wrongful" has meaning in the Act only if it limits the statute's coverage to those instances where the obtaining of the property would itself be "wrongful" because the alleged extortionist has no lawful claim to that property.
##
MHProNews Analysis and Commentary
MHProNews has made the argument for some time that extortion by fear and other elements of RICO law violations could apply to certain residents of manufactured home communities as well as to businesses in the manufactured home industry.
We've noted above that the fear of eviction or other punitive actions is mentioned by residents, who in many cases may not be aware of the possible implication of their words when considered in the light of extortion by fear or intimidation.
But something similar may be true for some members of the Manufactured Housing Institute (MHI) and/or their state association affiliates. MHProNews has established a series of examples that frame an argument that MHI has for some years not behaved in a manner that would make sense for a normal trade association. Manufactured housing has specific laws that would benefit the industry's independents, homeowners, and prospective customers.
But there are an array of actions, inactions and conflicts of interest that point to problems at MHI. That's not merely the editorial view of this publication but has been voiced by trade groups inside and outside of manufactured housing.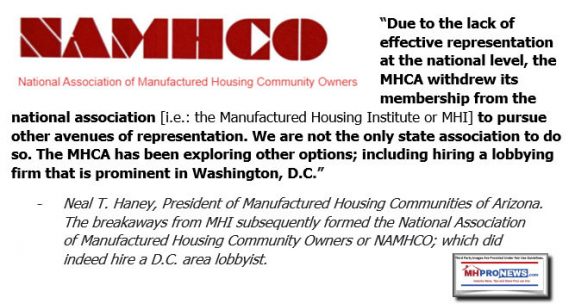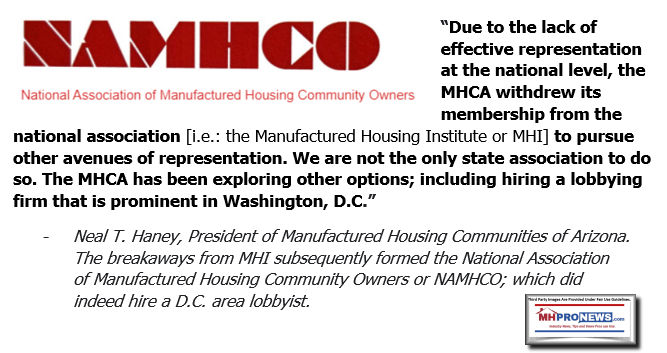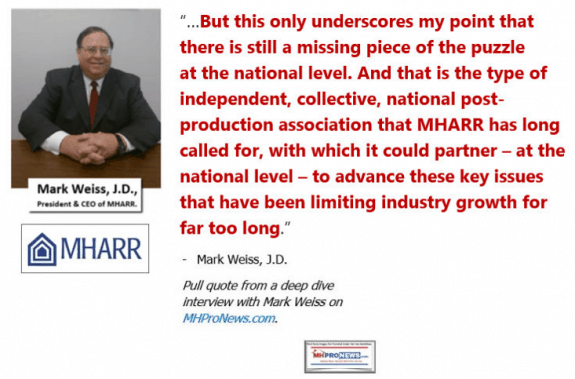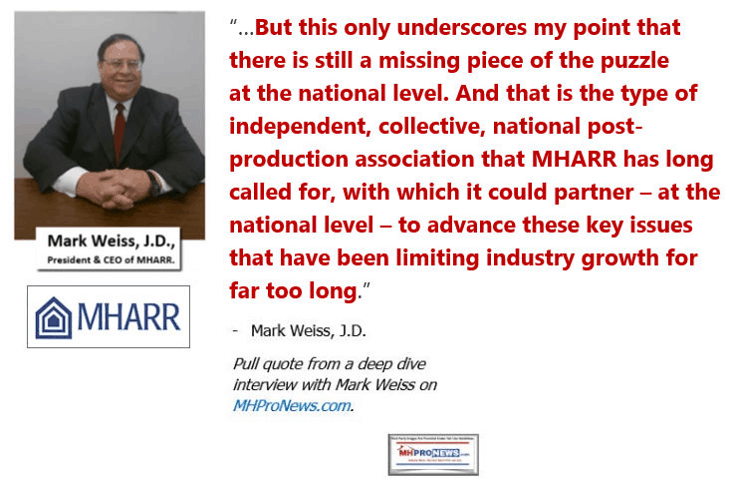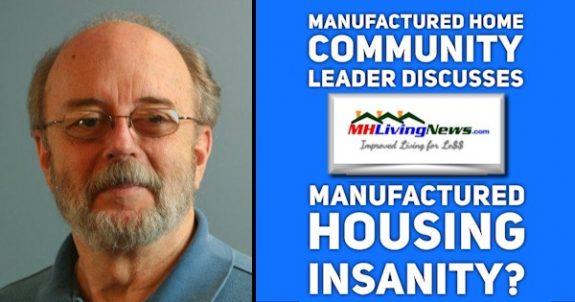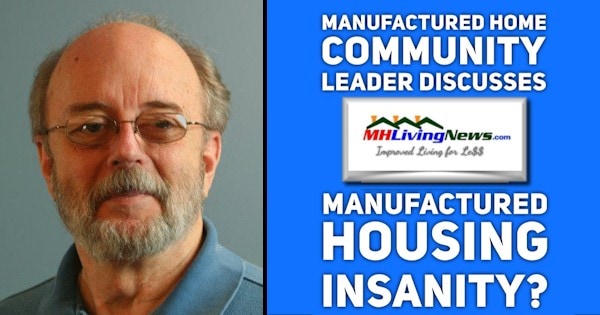 To go deeper on the growing track record of related issues that have arguably been keeping manufactured housing underperforming during an affordable housing crisis, see the timely reports further below. That's it for this report on manufactured housing "Industry News Tips and Views Pros Can Use" © – MHVille's runaway #1 news source, where "We Provide, You Decide." © (News, fact-checks, analysis, and commentary.) Notice: all third party images or content are provided under fair use guidelines for media.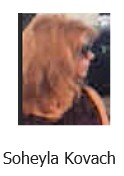 Submitted by Soheyla Kovach for MHProNews.com. Soheyla is a co-founder and managing member of LifeStyle Factory Homes, LLC, the parent company to MHProNews, and MHLivingNews.com. Connect with us on LinkedIn here and here.
Manufactured Home Communities Targeted by Lawmakers, AG Plans – Manufactured Housing Industry Alert
Destabilization in Manufactured Housing Market Ahead, plus Sunday Weekly Manufactured Home Headline Review 2.16 to 2.23.2020
Attorney General Tom Miller Slams "Predatory" Manufactured Home Community Operators, plus Manufactured Housing Investing, Stock Updates
Complaints to State and Federal Officials, Agencies About Corrupt Practices in Manufactured Housing Industry Growing
No Description
No Description
No Description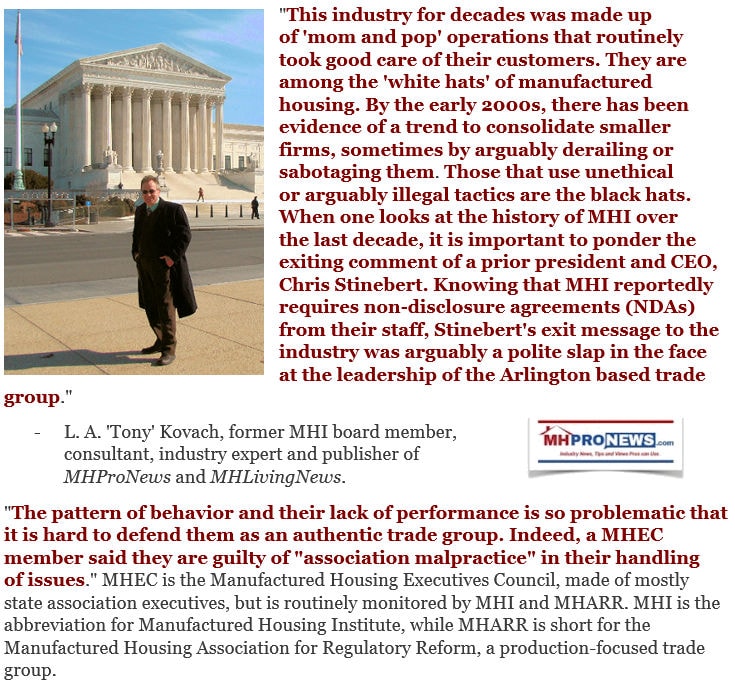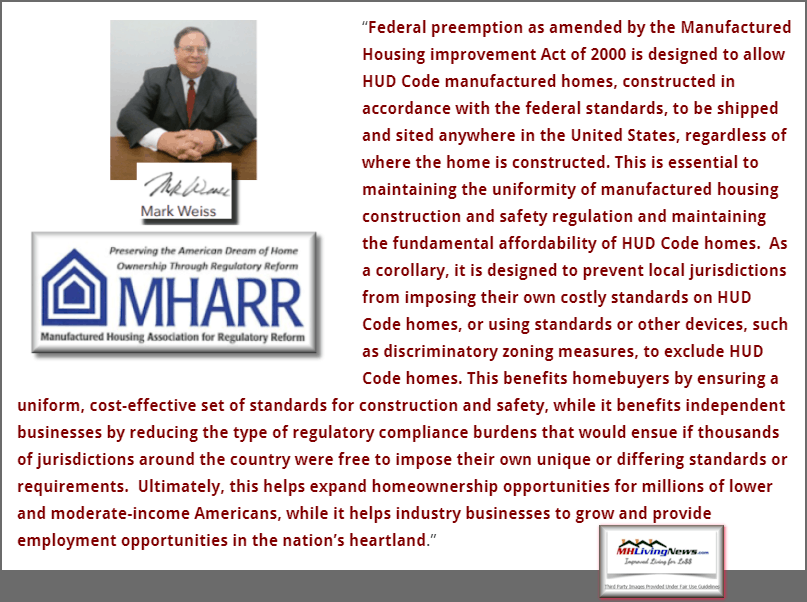 There is more than enough evidence that there is corruption, deceptive trade practices and other arguably illegal activities that are benefiting a few to the harm of the many. See the related articles below.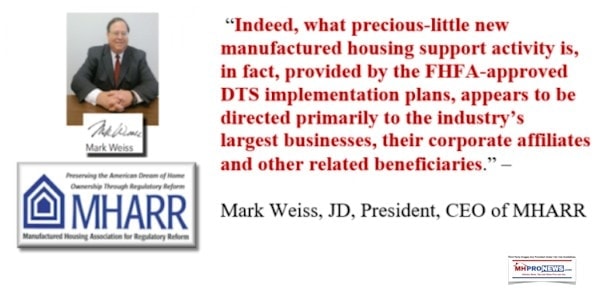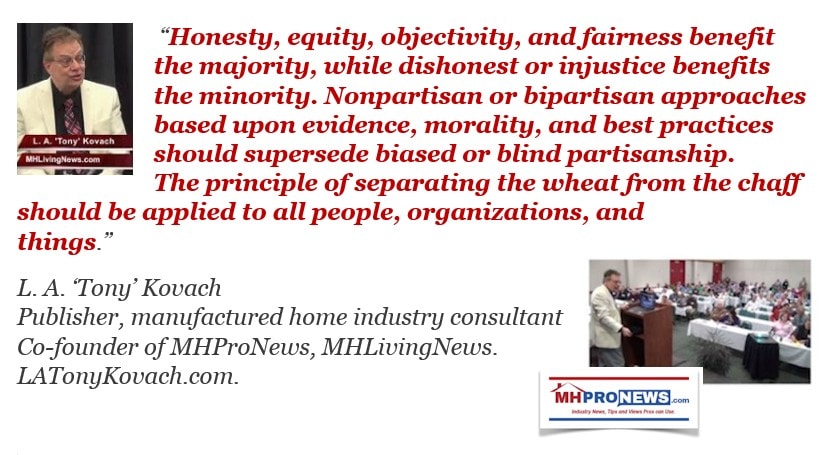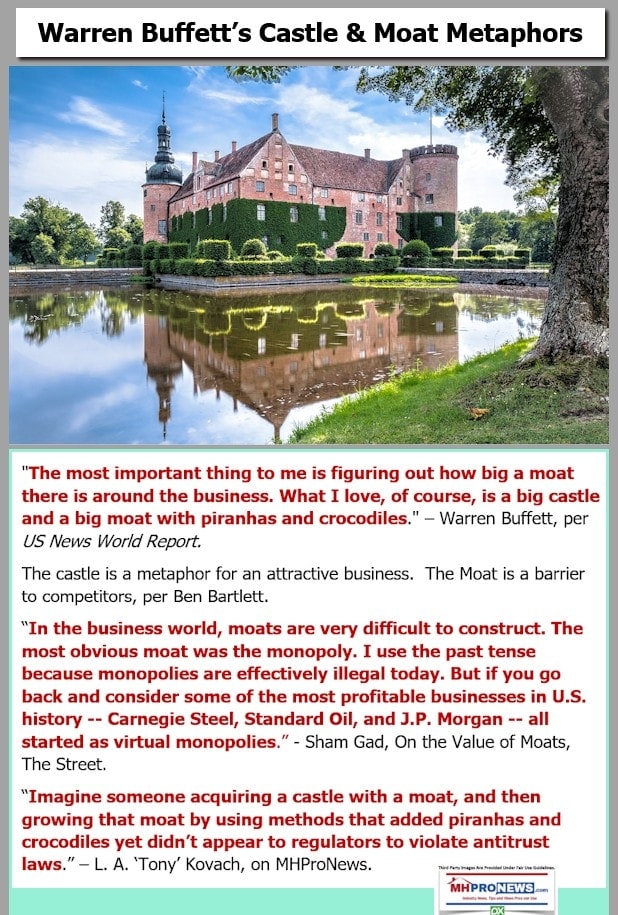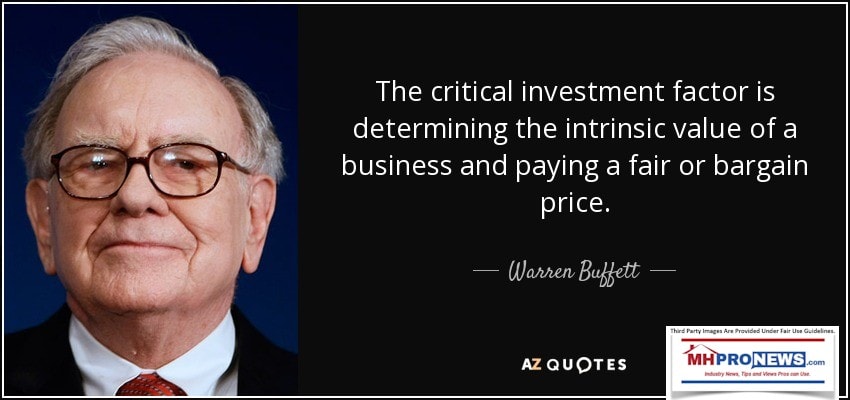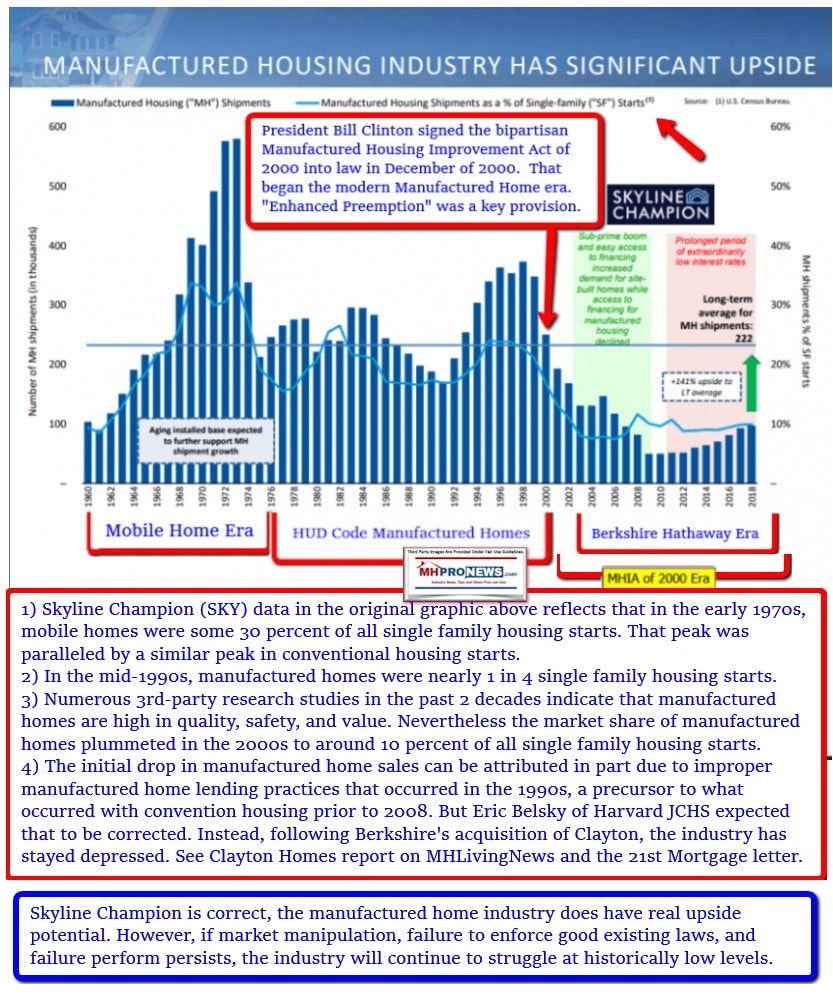 The bad news is that the opposition to ethical 'white hat' businesses, investors and other professionals have deep pockets and they are politically connected. But the good news is that Bernie Madoff could have once made that similar claim. Today, Madoff sits in a federal cell. It took persistence on the part of a few professionals with federal officials to finally topple Madoff's multi-billion dollar empire.
Revealing-FHFA Meeting on Duty to Serve Lending Called Manufactured Housing Institute, Manufactured Housing Association for Regulatory Reform, Others – Report, Analysis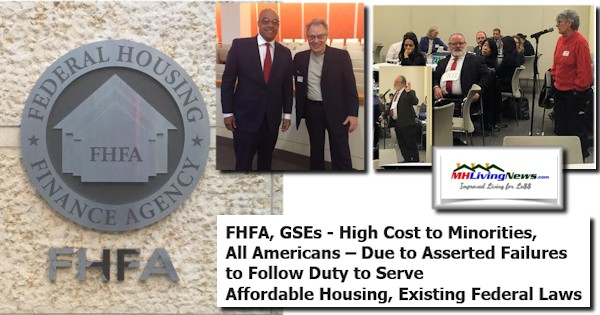 Retailer, Producer, Finance Exclusive – Interview with New Class of Manufactured Housing "CrossMod Homes" Developer-Seller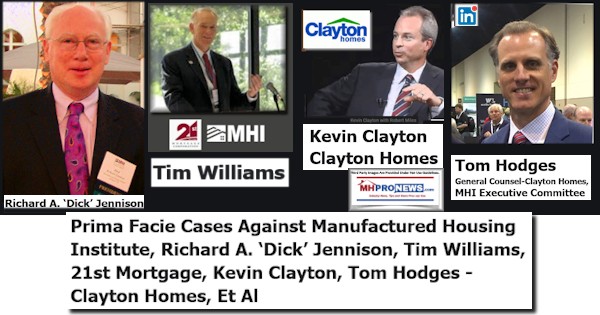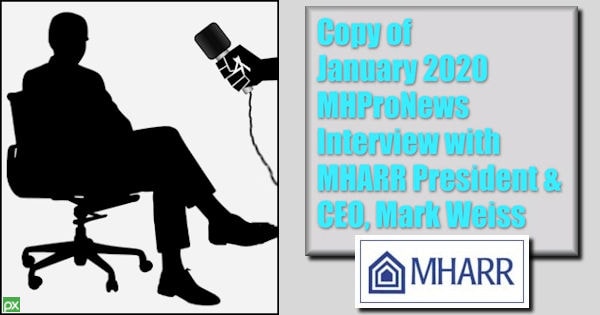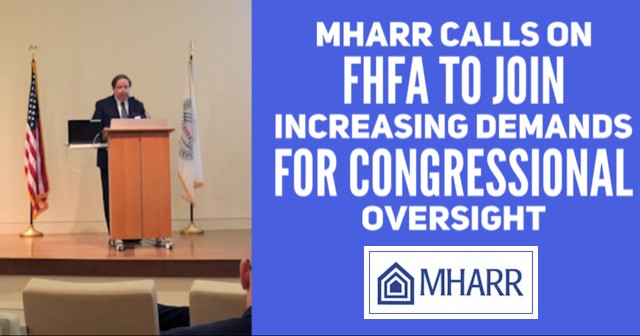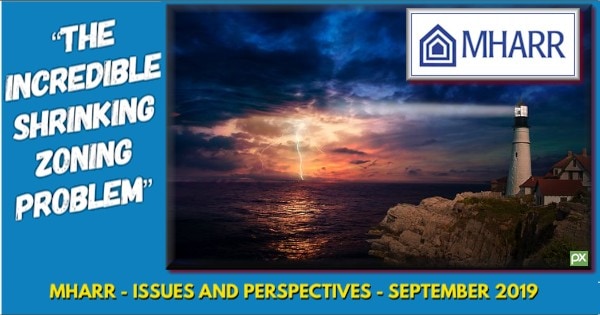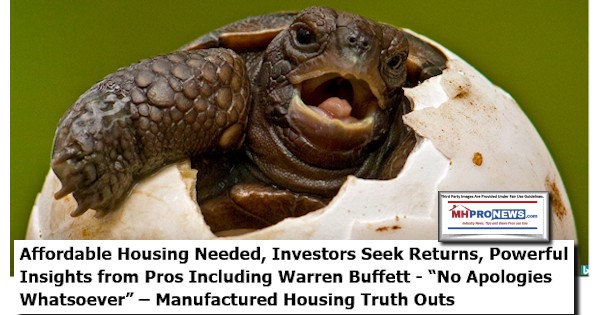 Association Leaders Spotlight, Blast-Zoning, Financing, CrossModsTM and Manufactured Housing Institute
2019 Year-End Totals Reveals Decline in New HUD Code Manufactured Home Production, Shipments vs. 2018
David Dworkin, National Housing Conference, Compared and Contrasted with Lesli Gooch, Manufactured Housing Institute on Fannie Mae, Freddie Mac Proposed Modifications to FHFA on Duty to Serve Finance Plans
$500 Million Axne-Khanna Plan, Manufactured Housing Legislation Introduced, But Manufactured Housing Institute Fails to Tell Members?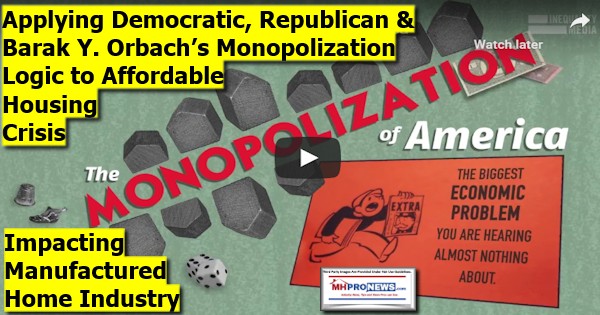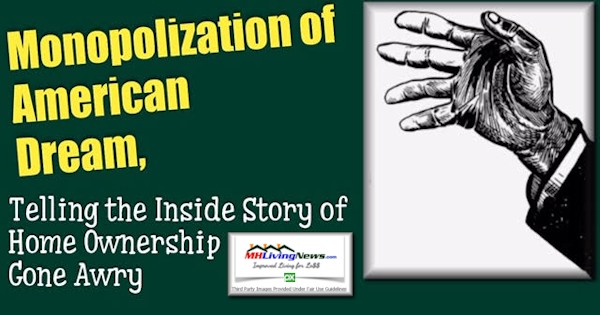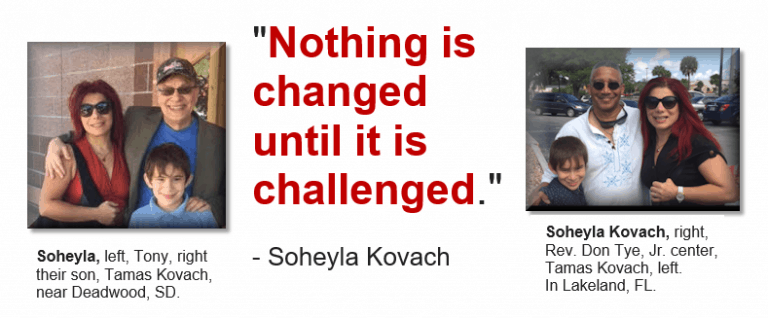 Jennifer Reingold Questioned Berkshire-Clayton Deal; MHI GSEs Rocked by Tip-Document Drop, plus Manufactured Home Investing, Stock Updates
What Warren Buffett, Kevin Clayton, Tim Williams, Berkshire Brands and Manufactured Housing Institute Leaders Fear
Huge "Landmark Case" – Law Firm Wins Millions for Manufactured Home Community Residents, Broader Industry Impacts Ahead?
Why is Skyline-Champion Giving Cover to Clayton Homes? Profitably QUESTIONING Manufactured Housing Institute Leadership for Professionals & Investors
Tim Williams Calls Lesli Gooch "Superb," But Latest Tip Reveals Additional MHI CEO Gooch Controversy Connected Documents