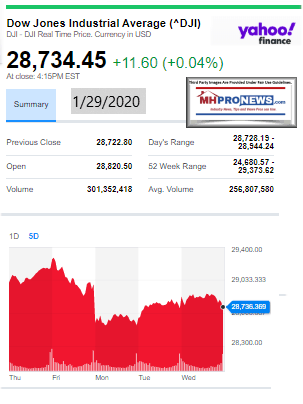 While some of the companies that has drawn Attorney General Tom Miller's ire are not publicly traded firms, there could well be reasons that investors should pay attention anyway. Why? Among other reasons, the firms in question have as their target brands that have three letters in common. Those three letters? MHI – The Manufactured Housing Institute. AG Miller's press release and related analysis and details will be found as our featured report, further below.
Periodic readers of this business-nightly feature should note there are new tweaks to some of the standard portions of our evening market/investing report. Read carefully as some changes of the 'standard text' that follows before our left-right headlines and also in other features near the end of tonight's reports.
Every evening our headlines that follow provide snapshots from two major media outlets on each side of the left-right news spectrum that reflect topics that influence or move investor sentiment. In moments on this business evening report, you can get 'insights-at-a-glance.'
This report also sets the broader context for manufactured housing markets, in keeping with our mantra, "News through the lens of manufactured homes and factory-built housing" ©.
We begin with headlines left-of-center CNN followed by right-of-center Fox Business. We share closing tickers and other related data courtesy of Yahoo Finance, and more. 5 to 10 minutes reading this MHProNews market report every business night could save you 30 minutes to an hour of similar reading or fact-gathering elsewhere.
Perhaps more important, you will get insights about the industry from experts that care, but also dare to challenge the routine narrative that arguably keeps manufactured housing underperforming during an affordable housing crisis.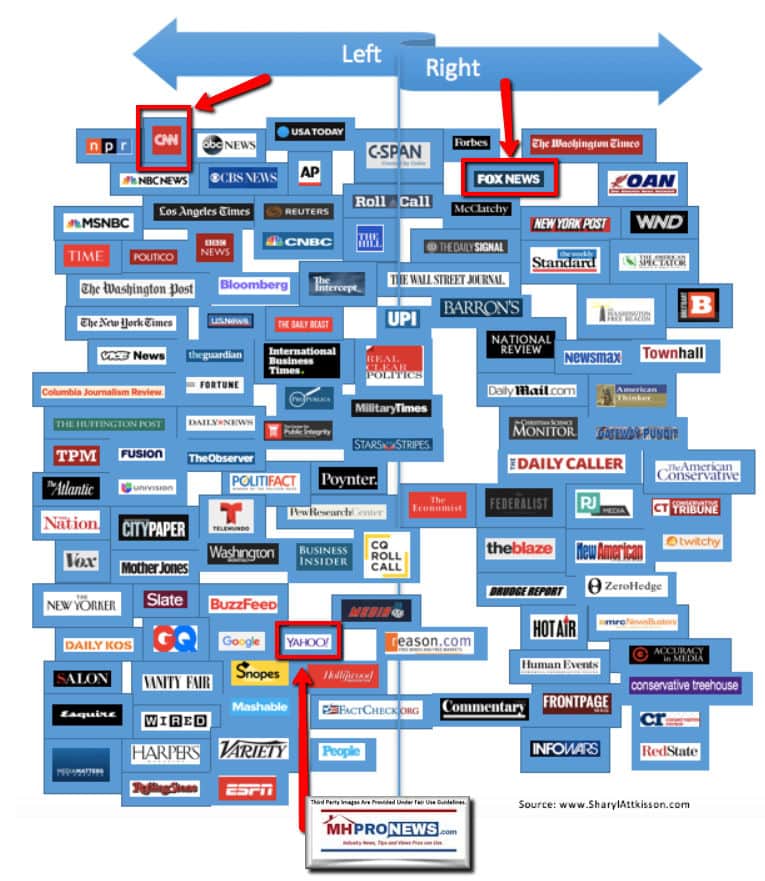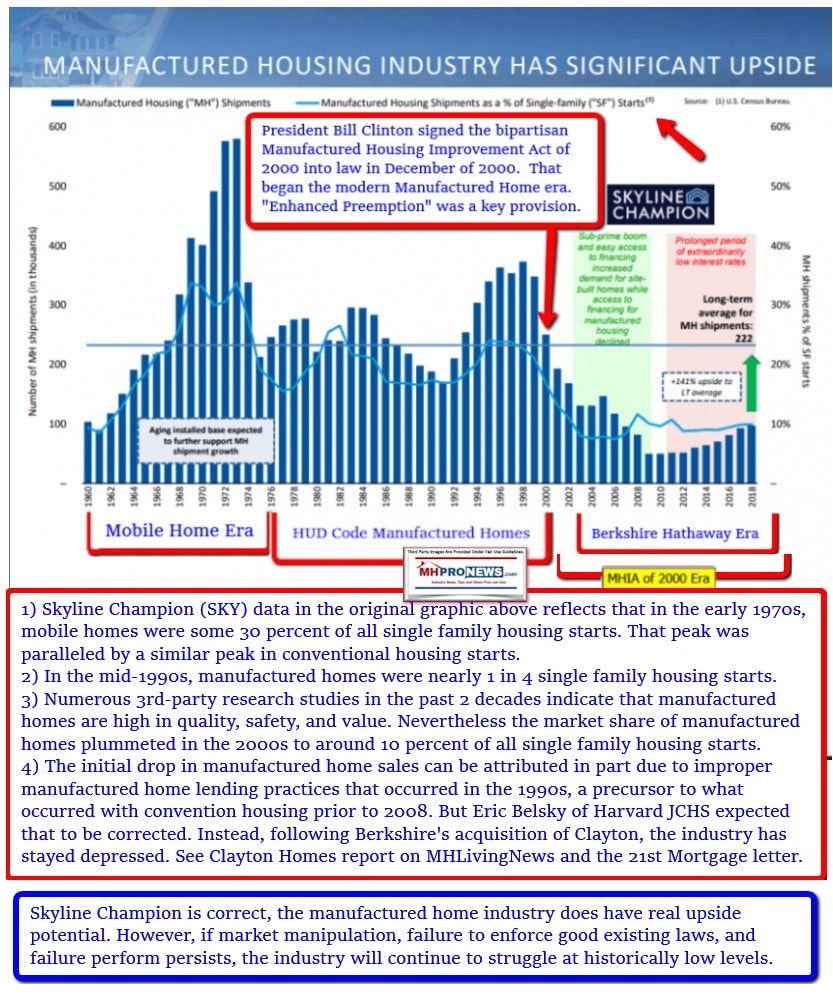 Mainstream vs. Trade News, Politicos, President Trump, Senator Sanders, Billionaire Bloomberg, Law Enforcement and Manufactured Housing's Unique Plight
Newsy, Peeling Back Media Bias, Manufactured Housing Sales, Investing, Politics, and You
Headlines from left-of-center CNN Business
Fed keeps rates steady
Federal Reserve Board Chairman Jerome Powell speaks during a press conference following the January 28-29 Federal Open Market Committee meeting, in Washington, DC on January 29, 2020. – The US central bank held its policy interest rate steady on Wednesday, but again said it is monitoring global developments to decide its next move. The Fed's policy-setting Federal Open Market Committee left the benchmark interest rate in the target range of 1.5 to 1.75 percent as expected, though it made no mention of the deadly virus outbreak in China which is feared to cause damage to the global economy.
Central bankers maintain interest rates despite renewed pressure from Trump
LIVE UPDATES Fed 'very carefully monitoring' coronavirus outbreak
As coronavirus spreads, so does online misinformation
Airlines around the world suspend flights to China
Analysis: Trump's super-charged GDP growth proves elusive
GE's comeback continues
Warren Buffett just got out of the newspaper business
Lyft is laying off about 90 staffers as part of restructuring
Uber is retooling its app for California drivers. Lyft isn't
Boeing posts first annual loss in 22 years
How McDonald's plans to win customers back
You're a leader. But you can't stomach what your company is doing
Nike has completely sold out of Kobe Bryant gear
Already struggling grocery stores have a new thing to worry about
HOUSTON, TEXAS – AUGUST 08: A view of the Victoria's Secret store during Victoria's Secret debuts new Fall Collection with Angel Martha Hunt on August 08, 2019 in Houston, Texas. (Photo by Bob Levey/Getty Images for Victoria's Secret)
Billionaire founder of Victoria's Secret may sell the company
The MoviePass application is displayed in the App Store on an Apple Inc. iPhone in an arranged photograph taken in Washington, D.C., U.S., on Friday, Aug. 17, 2018. Movie Pass, owned by Helios & Matheson Analytics Inc., said this week that the number of films would be narrowed to six, which followed an earlier announcement that members would be limited to three films for $9.95 a month. Photographer: Andrew Harrer/Bloomberg via Getty Images
MoviePass is shutting down permanently
TRYING NEW THINGS
Japan is going crazy over McDonald's first-ever rice burger bun
McDonald's adds two new breakfast sandwiches
Dunkin's new menu item comes with a donut bun
Goldfish crackers launches two new flavors
Coke unveils new Orange Vanilla flavor
New Genesis SUV could be a game changer for Hyundai's luxury brand
GM unveils its latest weapon in the SUV wars
Aston Martin unveils a $190,000 SUV
Ford's new Mustang is an electric SUV
See the first SUV with the Mustang name
Headlines from right-of-center Fox Business
Google shutting down all offices in China as deadly outbreak keeps spreading
Google joins wave of shutdowns in China as coronavirus concerns mount.
The best seat to avoid deadly coronavirus exposure on airplane
Starbucks shuts down half its stores in China amid outbreak
BEER FEAR: Outbreak causes spike in 'Corona beer virus' Google searches
Apple, Boeing earnings power Dow higher as Fed holds rates steady
US Labor secretary: 'Carefully crafted' USMCA deal could create 500K new jobs
Trump signs USMCA deal, paving way for job market boom
Study reveals how Warren, Sanders wealth taxes could impact US trade deficit
NFL Commissioner Roger Goodell addresses his potential retirement
Trump's USMCA is not just biggest deal ever — it's an international game-changer
Jeff Bezos refusing to answer senator's phone hack questions for now
Warren Buffett throws in towel on newspaper empire with massive sale
Fire rips through Los Angeles high-rise apartment, at least 1 critically hurt
Porn site offering protection to Chiefs, 49ers players ahead of Super Bowl
Organic grocer Lucky's Market files for bankruptcy, to sell some locations
Antivirus program sold users' browsing data, including porn habits
Warren, Sanders make last-minute plea to voters for donations: 'We fell short'
Americans flock to small home living, find creative solutions to tiny spaces
Actors' union issues new rules for sex scenes with 'intimacy coordinators'
Super Bowl halftime show's biggest moments of all time
Trader Joe's customers vote for their favorite products — Did yours make the list?
Luxury automaker building first electric vehicle with 'skateboard' tech
San Francisco 49ers CEO: Super Bowl live broadcast still king despite streaming popularity
Tesla, Musk hope to shock skeptics one more time
Coronavirus surpasses previous epidemic SARS in key metric
US government grounds drones over China fears
SpaceX launches 4th batch of Starlink satellites as it builds internet service
Varney: Trump turned a Jersey shore town into a heartland of support
'Antiques Roadshow' guest floored by value of old Rolex watch
StubHub donates proceeds of Lakers-Clippers game to Bryant's foundation
Boeing CEO says 737 Max will come back strong, compete with the best
Will Jeff Bezos attend Super Bowl LIV?
Coronavirus is now in Finland with 1 reported case
Cheescake Factory giving away free dessert. Here's how to take advantage
Barstool Sports sells 36% stake to Penn National for $163M
Nintendo's game revenue tops $1B — here are its big sellers
Defense contractor General Dynamics profit surges 12%
'Do or die': Nissan takes the axe to the house Ghosn built
Beyonce-esque Popeyes apparel line ruffles feathers on social media
L Brands CEO Leslie Wexner may step down, Victoria's Secret may be sold: report
Beyond Meat dropped by Tim Hortons in a rare miss
Boeing posts first loss in 20 years as 737 Max grounding grinds on
Trump's Blue Collar Boom: Earnings rising fastest for lowest-paid workers, president says
Restaurant honors 'Good Samaritan' who helped stop abduction
Huawei's threat to U.K. 'very dangerous': US National Security adviser
Women slam 'dirty old man' Weinstein in emotional trial
Coronavirus could be a problem for Starbucks
Why Taylor Swift bailed on the Grammys
California gig economy law could push freelancers to flee the state
Tom Steyer would pay $18M more in taxes under Democrats' proposals
10 Market Indicator Closing Summaries – Yahoo Finance Closing Tickers on MHProNews…

Featured Focus – Where Business, Politics and Investing Meet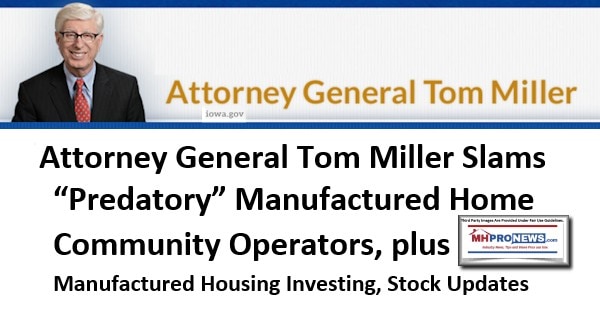 The following is the media release from the Iowa Attorney General Tom Miller. It will be followed by an MHProNews analysis and commentary.
Change Iowa's manufactured home laws, Miller urges
Legislators have opportunity to help residents as complaints increase 
The complaints from home owners living in manufactured-home parks have spiked in the last year.
Consumers have reported rent increases of up to 69 percent; utility fees that exceed the landlords' actual costs for service; arbitrary fees and fines that raise their costs even more; lack of clear title to their manufactured homes; being forced to move for no reason and then losing their homes; and other problems.
Concerns have grown as out-of-state corporations have purchased manufactured-home parks in several communities and drastically increased rent and fees. The Attorney General's Consumer Protection Division worked with lawmakers last session to propose new protections, but the bills stalled. In December, residents and advocates packed a public hearing at the state Capitol to urge lawmakers to change Iowa's manufactured-home laws.
"For years, our office has been a lone voice raising concerns about abuses to manufactured-home owners," said Attorney General Tom Miller. "Our ask to lawmakers is simple: Iowa law should recognize that these consumers own actual homes and treat manufactured-home park  residents as equal to apartment tenants, if not better."
Miller's office recommends several changes to Iowa Code Chapter 562B and other laws to strengthen protections for manufactured-home residents. The office asks legislators to:
Limit rent increases to only once each year, and set a cap on the percentage increase in annual rent. Increase the notice period for a rent increase to 180 days (from the current 60 days).
Add a "cause" requirement for termination of manufactured-home park lease. Amend the law so that a landlord may terminate tenancy only if there is a: a) material noncompliance with the rental agreement, b) material violation of the park rules or regulations, c) other violation of Chapter 562B for which termination is a remedy, d) legitimate and material business reason the impact of which is not specific to only one tenant, or e) change in the use of the manufactured-home park land, but only if the tenant's initial lease warned that a possible change in the use of the land could be grounds for termination or nonrenewal.
Increase manufactured-home park tenants' rights under the law preventing retaliation by landlords so that it matches the rights of residential tenants.
Give the attorney general the authority to protect home owners by enforcing the Manufactured or Mobile Home Landlord and Tenant Law in Iowa Code Chapter 562B.
Prevent a landlord from charging a tenant more than the actual cost of any utility service. Failure to pay utility fees that are in excess of the service's actual cost should not be grounds for eviction.
Require landlord to give park tenants the option to purchase the manufactured-home park before selling it for any use.
Give manufactured-home tenants the same ability to fix an issue when the landlord fails to maintain the property as the residential tenant has under Iowa law. Consider allowing a group of tenants to join together so that they can address larger issues in the park, such as roads or water delivery.
Increase manufactured home park tenant rights regarding eviction to match those of residential tenants.
Amend the Manufactured Housing Fund Program to provide money for tenants to purchase a park from a landlord, and for use in homes not sited in a manufactured-home park.
"We thank the lawmakers from both parties who have already shown a sincere concern for these consumers and are working for legislation that would be fair for both manufactured-home owners and good landlords," Miller said.
Consumer warning 
If you're considering buying a manufactured home, learn about your rights under Iowa law. Here is a guide from Iowa Legal Aid.
You should also understand the financial disadvantages: While the home itself may be less expensive than a traditional home, the manufactured home's value will quickly drop in value. In addition, financing a manufactured home purchase is more expensive. Although known as "mobile homes," most manufactured homes are not movable for financial or physical reasons. If located in a park, the home can be expensive to move and difficult to resell. Although you might own your home, your options are limited if you are evicted or you choose to leave the park.
Some other tips to consider before buying:
Investigate the history of park and its owners. Talk to current tenants about conditions. To see whether a landlord has evicted tenants or sued them for money (or been sued by them), go to: www.iowacourts.state.ia.us
Ask for a written annual lease. Correspond in writing with the landlord for all communications.
Determine the cost of utilities. Is in included in rent, does the lot have a separate meter, or is the park master metered? Do the fees reflect the actual cost of service?
If the manufactured home is used, have it inspected. Make sure that it is wired and plumbed to current standards and that there are no structural issues with the frame or flooring. If you are purchasing a home that is already in a park, make sure that it was properly installed.
How to file a complaint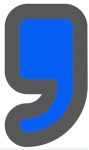 To file a complaint, go here or call 515-281-5926 (in Des Moines area) or 888-777-4590 (outside the metro area).
###
First, lets acknowledge that the larger players have calmly stated during investor calls that they are prepared for rent control or other issues. See that prior report, linked below.
Cavco, Sun, ELS Public Statements Point to Problems for MHI, Fannie, Freddie – Public Officials, Investor, Advocates, Professionals Alerts
Second, the above acknowledged, there is arguably a pattern of activity that traces back to members of the Manufactured Housing Institute. Given the growing firestorm of complaints, that MHProNews periodically pointed out were often tied to firms that were MHI members, MHI issued a new Code of Ethical Conduct. It said in part:
"Members agree to engage in conduct and actions that promote and enhance the public image of manufactured housing and land lease manufactured housing communities.
Members agree to promote positive customer and resident relations as an essential responsibility.
Members agree to engage in conduct that respects the interests of customers, residents, vendors, and the general public regarding the manufactured housing industry and manufactured housing community lifestyle…"
"… Members agree to be bound by this NCC Code of Ethics, as well as the MHI Bylaws, as a condition of membership.
If it is determined that a Member is not acting in accordance to this NCC Code of Ethics, a Member may be expelled from NCC and MHI membership pursuant to NCC Operating Procedures Section 5 and Article II, Section 5 of the MHI Bylaws."
However, there is no known enforcement effort by MHI on their so-called code of ethical conduct, which is linked here.
That the document was produced in the first place is a cautionary tale.
National Communities Council of the Manufactured Housing Institute "Code of Ethics," SSK Communities Update, Review
This press release by AG Miller follows in the wake of our recent report that made the point that complaints, legal, regulatory and legislative initiatives are growing. Rephrased, it confirms what our sources and research stated in the report linked below.
Complaints to State and Federal Officials, Agencies About Corrupt Practices in Manufactured Housing Industry Growing
This is obliquely related to the regulatory barriers that have arisen for manufactured homes and communities. With such an ongoing parade of bad news about manufactured home communities, often from association member firms, why would local zoning board want that in their cities or towns? All of that has blowback impact on each sector of the manufactured housing industry. That's just applied logic.
See the related reports that follow.
Related Reports:
White House Council on Eliminating Regulatory Barriers to Affordable Housing Requests Info, plus Manufactured Home Investing, Stock Updates
Time Sensitive Reading = Consumers, Nonprofit Advocacy, Manufactured Home Professional Comments on HUD-White House RFI Reducing Regulatory Barriers, plus Manufactured Housing Headline Reports 1.19 to 1.26.2020
Complaints to State and Federal Officials, Agencies About Corrupt Practices in Manufactured Housing Industry Growing
Manufactured Housing Industry Investments Connected Closing Equities Tickers
Some of these firms invest in manufactured housing, or are otherwise connected, but may do other forms of investing or business activities too.
NOTE: The chart below includes the Canadian stock, ECN, which purchased Triad Financial Services, a manufactured home industry lender
NOTE: Drew changed its name and trading symbol at the end of 2016 to Lippert (LCII).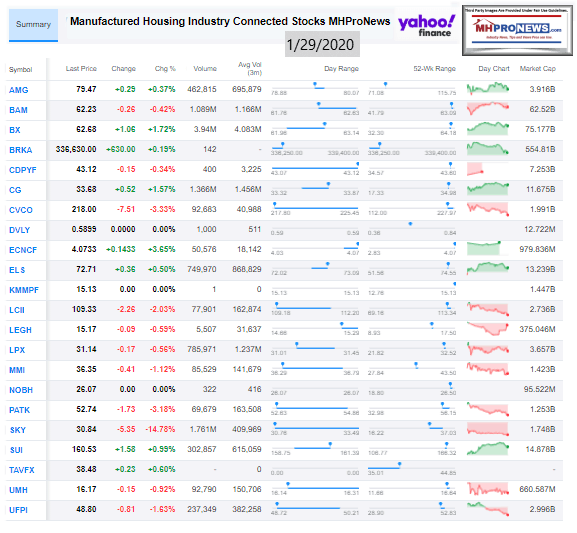 Winter 2020…
Berkshire Hathaway is the parent company to Clayton Homes, 21st Mortgage, Vanderbilt Mortgage and other factory built housing industry suppliers.
· LCI Industries, Patrick, UFPI, and LP each are suppliers to the manufactured housing industry, among others.
· AMG, CG, and TAVFX have investments in manufactured housing related businesses. For insights from third-parties and clients about our publisher, click here.
Enjoy these 'blast from the past' comments.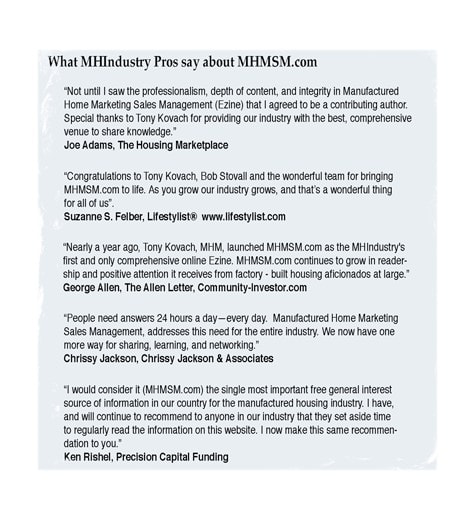 MHProNews. MHProNews – previously a.k.a. MHMSM.com – has now celebrated our tenth anniversary.
Learn more about our evolutionary journey as the industry's leading trade media, at the report linked below.
Celebrating 10 Years of Goal- and Solution-Oriented Manufactured Home Industry Innovation Information, and Inspiration for Industry Professionals
· For expert manufactured housing business development or other professional services, click here.
· To sign up in seconds for our industry leading emailed headline news updates, click here.
Disclosure. MHProNews holds no positions in the stocks in this report.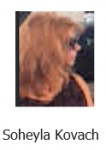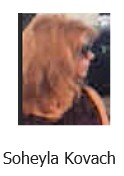 "We Provide, You Decide." © ## (News, analysis and commentary.)
(Image credits and information are as shown above, and when provided by third parties, are shared under fair use guidelines.)
Submitted by Soheyla Kovach, co-managing member of LifeStyle Factory Homes, LLC and co-founder for MHProNews.com, and MHLivingNews.com.

Connect with us on LinkedIn here and here.