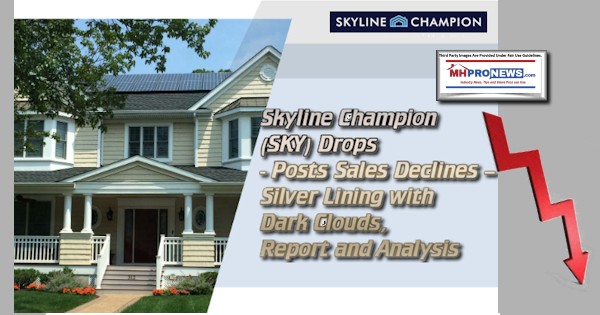 As the closing ticker below reflects, Skyline Champion (SKY) stock has dropped since the following press release was issued. As the headline suggests, there are silver linings, but the dark clouds that have formed bear a closer look.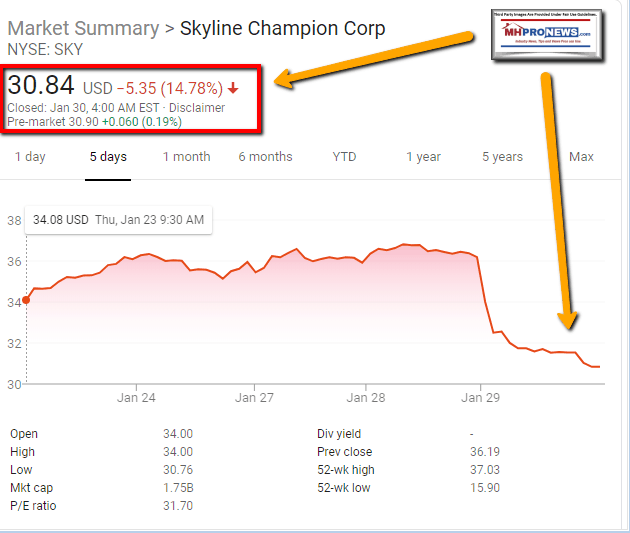 After the formal Skyline Champion (SKY) release below, there will be an MHProNews thumbnail report, analysis and additional linked information. The highlighting below was added by MHProNews, but otherwise their release is as in the original.
Skyline Champion Announces Third Quarter Fiscal 2020 Results
TROY, Mich.–(via Berkshire Hathaway owned BUSINESS WIRE)– Skyline Champion Corporation (NYSE:SKY) ("Skyline Champion") today announced financial results for its third quarter ended December 28, 2019 of the fiscal year ending March 28, 2020 ("fiscal 2020").
Third Quarter Fiscal 2020 Highlights (compared to Third Quarter Fiscal 2019)
Net sales decreased 3.5% to $342.2 million

S. factory-built homes sold increased 0.3% to 5,033
Gross profit as a percent of sales expanded by 180 basis points to 20.1%
Net income increased 62.0% to $17.0 million
Earnings per share ("EPS") of $0.30, an increase of 57.9% compared to EPS of $0.19
Excluding non-recurring expenses, Adjusted EPS was $0.32, an increase of 18.5% compared to $0.27
Adjusted EBITDA increased 12.6% to $29.7 million
Adjusted EBITDA margin expanded by 130 basis points to 8.7%
Generated net cash from operating activities of $20.9 million and paid down $5.0 million of revolving debt facility
"I am very pleased with our ability to improve profitability across several key metrics while generating solid cash flow during the third quarter," said Mark Yost, Skyline Champion's Chief Executive Officer. "We achieved these gains in a quarter in which our topline was lower as a result of our Canadian and Trucking operations as well as U.S. product mix changes."
"As we look forward, we continue to have a positive view about the underlying health of the market and demand for our product offerings. We are particularly excited about the favorable response to our homes at the Louisville Manufactured Housing Show and to our Genesis® brand of homes and accessory dwelling units (ADUs) which debuted at the NAHB International Builders' Show in Las Vegas. We believe that these products offer a cost effective and attractive solution for housing needs across the country."
Third Quarter Fiscal 2020 Results
Net sales for the third quarter fiscal 2020 decreased 3.5% to $342.2 million compared to the prior-year third quarter. The number of U.S. factory-built homes sold by Skyline Champion in the third quarter fiscal 2020 increased 0.3% to 5,033 compared to the prior year third quarter. The increase in number of homes sold was more than offset by a 2% decrease in average selling price ("ASP") per U.S. home sold to $60,600. ASP decreased primarily due to a shift in product mix between single and multiple wide units. The number of Canadian factory-built homes sold in the quarter decreased to 276 homes compared to 329 homes in the prior-year third quarter.
Total backlog for Skyline Champion was $133 million as of December 28, 2019 compared to $181 million as of December 29, 2018 as industry retailers have continued to normalize their order cadence.
Gross profit increased by 6.4% to $68.9 million in the third quarter fiscal 2020 compared to the prior-year period. Gross profit was 20.1% of net sales for the third quarter fiscal 2020, a 180 basis point improvement compared to 18.3% in the third quarter fiscal 2019. Gross profit expansion was driven by material pricing from synergies and market normalization as well as benefits from rationalization of product offerings.
Selling, general and administrative expenses in the third quarter fiscal 2020 decreased to $45.2 million from $48.8 million in the same period last year due to a reduction in equity-based compensation and acquisition integration costs.
Net income for the third quarter fiscal 2020 was $17.0 million, compared to net income of $10.5 million during the same period of the prior year. The increase in net income was driven by an increase in profitability from higher gross profit, a reduction in equity-based compensation and acquisition integration costs, and lower net interest expense. EPS improved to $0.30, compared to earnings per share of $0.19. Excluding non-recurring expenses, Adjusted EPS of $0.32 increased 18.5% from $0.27.
Adjusted EBITDA for the third quarter fiscal 2020 increased by 12.6% to $29.7 million compared to the third quarter fiscal 2019. The increase was primarily driven by gross profit improvement. The Adjusted EBITDA margin expanded by 130 basis points to 8.7%.
As of December 28, 2019, Skyline Champion had $171.3 million of cash and cash equivalents and $44.4 million of unused borrowing capacity under its revolving credit facility.
Conference Call and Webcast Information:
Skyline Champion management will host a conference call tomorrow, January 29, 2020, at 8:00 a.m. Eastern Time, to discuss Skyline Champion's financial results.
Investors and other interested parties can listen to a webcast of the live conference call by logging onto the Investor Relations section of Skyline Champion's website at http://skylinechampion.com. The online replay will be available on the same website immediately following the call.
The conference call can also be accessed by dialing (877) 407-4018 (domestic) or (201) 689-8471 (international). A telephonic replay will be available approximately two hours after the call by dialing (844) 512-2921, or for international callers, (412) 317-6671. The passcode for the live call and the replay is 13698124. The replay will be available until 11:59 P.M. Eastern Time on February 12, 2020.
About Skyline Champion Corporation:
Skyline Champion Corporation (NYSE: SKY) was formed on June 1, 2018 as the result of the combination of Skyline Corporation ("Skyline") and the operating assets of Champion Enterprises Holdings, LLC ("Champion"). The combined company employs approximately 7,000 people and is the largest independent, publicly traded, factory-built housing company in North America. With more than 65 years of homebuilding experience and 38 manufacturing facilities throughout the United States and western Canada, Skyline Champion is well positioned with a leading portfolio of manufactured and modular homes, park-models and modular buildings for the multi-family, hospitality, senior and workforce housing sectors.
In addition to its core home building business, Skyline Champion operates a factory-direct retail business, Titan Factory Direct, with 21 retail locations spanning the southern United States, and Star Fleet Trucking, providing transportation services to the manufactured housing and other industries from several dispatch locations across the United States.
Skyline Champion builds homes under some of the most well known brand names in the factory-built housing industry including Skyline Homes, Champion Home Builders, Genesis Homes, Athens Park Models, Dutch Housing, Excel Homes, Homes of Merit, New Era, Redman Homes, Shore Park, Silvercrest, Titan Homes in the U.S., and Moduline and SRI Homes in western Canada.
Presentation of Non-GAAP Financial Measures
In addition to the results provided in accordance with U.S. generally accepted accounting principles ("U.S. GAAP") throughout this press release, Skyline Champion has provided non-GAAP financial measures—Adjusted EBITDA, Adjusted EBITDA margin, and Adjusted Earnings Per Share—which present operating results on a basis adjusted for certain items. Skyline Champion uses these non-GAAP financial measures for business planning purposes and in measuring its performance relative to that of its competitors. Skyline Champion believes that these non-GAAP financial measures are useful financial metrics to assess its operating performance from period-to-period by excluding certain items that Skyline Champion believes are not representative of its core business. These non-GAAP financial measures are not intended to replace, and should not be considered superior to, the presentation of Skyline Champion's financial results in accordance with U.S. GAAP.
Skyline Champion defines Adjusted EBITDA as net income or loss plus (a) the provision for income taxes, (b) interest expense, net, (c) depreciation and amortization, (d) gain or loss from discontinued operations, (e) foreign currency gains and losses, (f) equity-based compensation awards granted before December 31, 2018, (g) restructuring charges and other, (h) impairment of assets, and (i) other non-operating costs including those for the acquisition and integration or disposition of businesses and idle facilities. Adjusted EBITDA is not a measure of earnings calculated in accordance with U.S. GAAP, and should not be considered an alternative to, or more meaningful than, net income or loss, net sales, operating income or earnings per share prepared on a U.S. GAAP basis. Skyline Champion believes that Adjusted EBITDA is commonly used by investors to evaluate its performance and that of its competitors. However, Skyline Champion's use of Adjusted EBITDA may vary from that of others in our industry. Adjusted EBITDA is reconciled from the respective measure under U.S. GAAP in the tables below. Adjusted EBITDA margin is calculated as Adjusted EBITDA divided by net sales reported in the statement of operations.
Forward-Looking Statements
Statements in this press release, including certain statements regarding Skyline Champion's strategic initiatives, and future market demand are intended to be covered by the safe harbor for "forward-looking statements" provided by the Private Securities Litigation Reform Act of 1995. These forward-looking statements generally can be identified by use of words such as "believe," "expect," "future," "anticipate," "intend," "plan," "foresee," "may," "should," "will," "estimates," "potential," "continue," or other similar words or phrases. Similarly, statements that describe objectives, plans, or goals also are forward-looking statements. Such forward-looking statements involve inherent risks and uncertainties, many of which are difficult to predict and are generally beyond the control of Skyline Champion. Skyline Champion cautions readers that a number of important factors could cause actual results to differ materially from those expressed in, implied, or projected by such forward-looking statements. Risks and uncertainties include, but are not limited to: general economic conditions; availability of wholesale and retail financing; the health of the U.S. housing market as a whole; federal, state, and local regulations pertaining to the manufactured housing industry; the cyclical nature of the manufactured housing industry; general or seasonal weather conditions affecting sales; potential impact of natural disasters on sales and raw material costs; potential periodic inventory adjustments by independent retailers; interest rate levels; the impact of inflation; the impact of high or rising fuel costs; the cost of labor and raw materials; competitive pressures on pricing and promotional costs; Skyline Champion's relationships with its shareholders, customers, and other stakeholders; catastrophic events impacting insurance costs; the availability of insurance coverage for various risks to Skyline Champion; market demographics; and management's ability to attract and retain executive officers and key personnel and other risks and uncertainties more fully described in Skyline Champion's Form 10-K for fiscal year ended March 30, 2019 previously filed with the Securities and Exchange Commission ("SEC"), as well as the other filings that Skyline Champion makes with the SEC.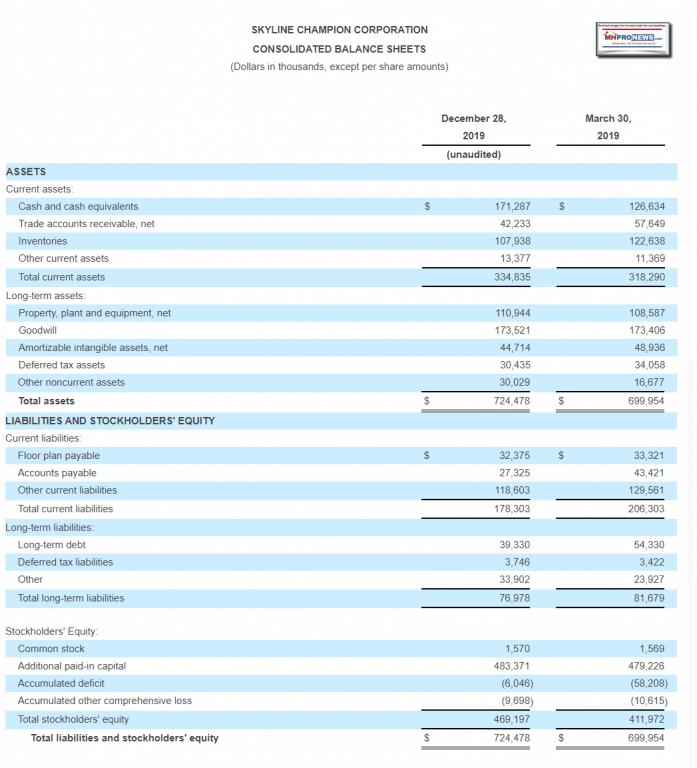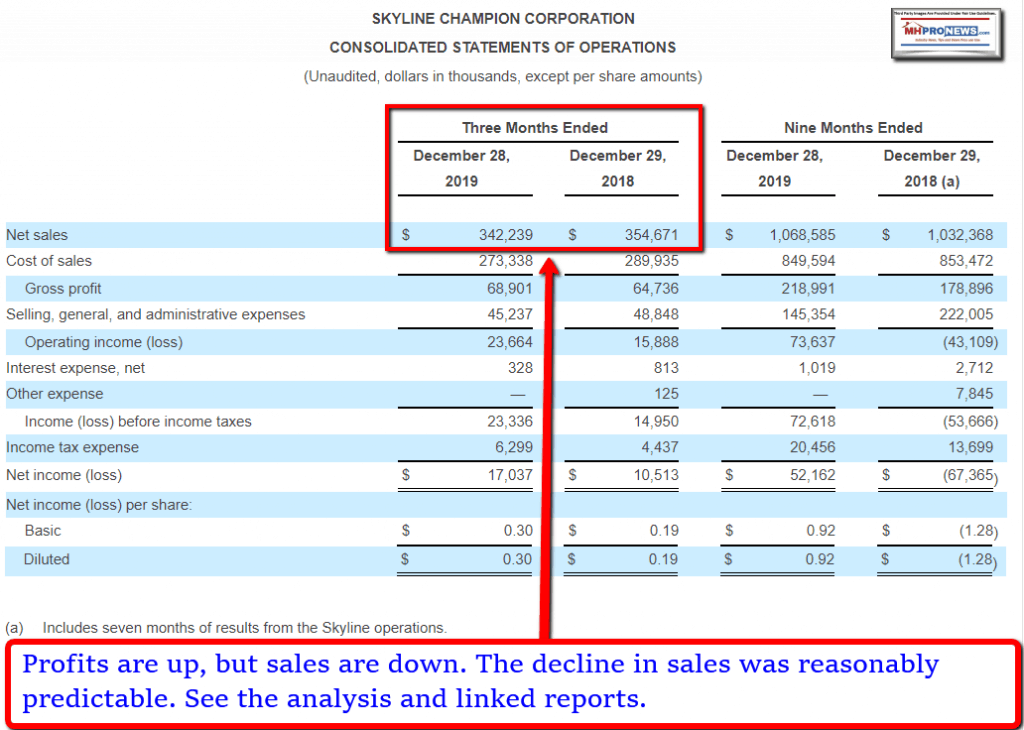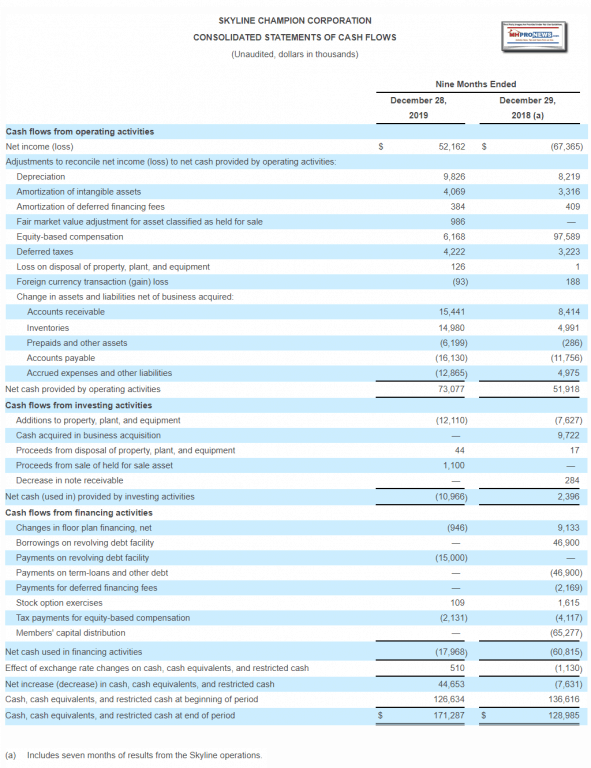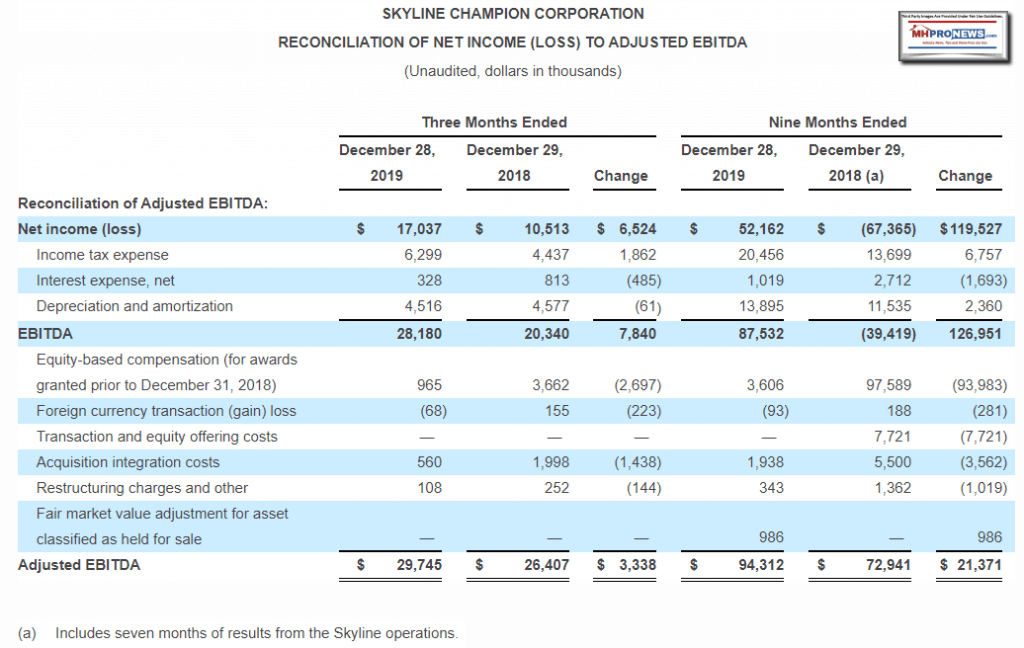 ###
Notice: this will be part 1 of at least a two-part report by MHProNews. Stay tuned for additional information coming in the near term
that goes beyond this report and analysis.
MHProNews Thumbnail Report, Analysis
Manufactured Home Professional News (MHProNews) has consistently been the lone voice reporting on troubling steps and statements made by not only by Mark Yost and Skyline Champion Corporation (SKY) leadership, but also by other key members of the Manufactured Housing Institute (MHI).
Skyline Champion (SKY) – CJS Securities Investor Conference January 8th, Plus Manufactured Home Investing, Stock Updates
This outcome was hardly a surprise to those who looked carefully at the reports linked from this article as well as from the related report information below by the bylines and notices.
Skyline Champion's Genesis URBANEER ADU 510, Investor Angle Explored, plus Manufactured Home Stock Updates
Investors are understandably often focused on bottom line profits. While profits moved up due to the expected increased efficiencies that followed the merger of Skyline and Champion on June 1st, 2018, the drop in sales and other items noted and linked from herein arguably signal an ongoing problem that investors, independents, public officials and others should scrutinize and formally investigate.
Paltering, Manufactured Homes, CrossModTM Homes, Manufactured Housing Institute, Clayton Homes, Berkshire Hathaway Manufactured Home Lenders, DTS, and You
On the issue of financing alone, Skyline Champion investors ought to lean in and ask questions. Why? Because what the Manufactured Housing Institute (MHI), which Skyline Champion is actively involved in, is arguably pumping out BS in a manner that is harmful to the industry at large, hurts consumers, and thus investors too. Once that is understood, then a raft of additional concerns arise.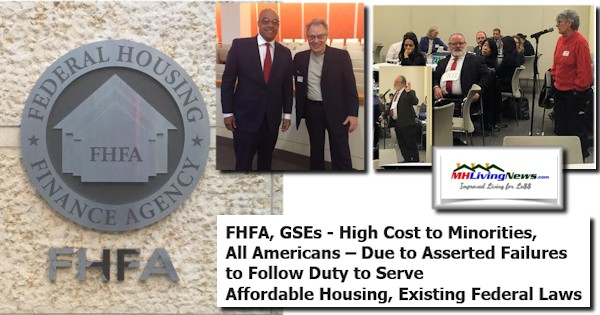 Each of these linked items arguably provides significant insights on what is going wrong in sales at Skyline Champion – and beyond – during what should be a boom time in the well-publicized affordable housing crisis.
Investor Alert – Manufactured Housing Institute Paltering Concerns, Fannie Mae's Duty to Serve, plus Manufactured Housing Investing, Stocks Updates
Note the dates on the linked reports reflect that the consistent concerns that MHProNews has signaled are indeed coming to pass.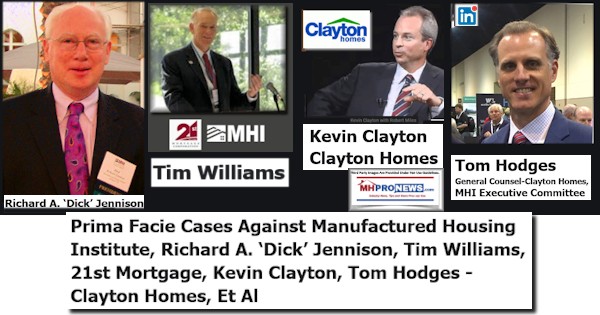 Whistleblower's Documents on Lesli Gooch – Manufactured Housing Institute CEO – New Discoveries
Exposé – Manufactured Housing Institute Ducker "Research" Cost$, Salaries, Other Spending & Program$ Revealed
For regulators, public officials or those with skin in the game, each of these related reports are not mere 'click-bait' – as longtime readers here know, they are significant items that shed light on the performance of Skyline Champion, as well as other manufactured housing industry connected companies.
The L. A. "Tony" Kovach submission to the White House Council on Eliminating Barriers to Affordable Housing – arguably quite relevant to this outcome by Skyline Champion is found below or at this link here.
No Description
MHARR's comments letter to the same White House Council RFI is also very detailed, and plows some similar but also distinctive ground from the report linked above.
No Description
Stay tuned for part two of this Skyline Champion report. That's a wrap on this exclusive installment of manufactured home "Industry News, Tips and Views Pros Can Use" © – MHVille's runaway #1 news source, where "We Provide, You Decide." © (News, fact-checks, analysis, and commentary.) Notice: all third party images or content are provided under fair use guidelines for media.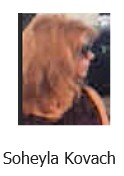 Submitted by Soheyla Kovach for MHProNews.com.Soheyla is a co-founder and managing member of LifeStyle Factory Homes, LLC, the parent company to MHProNews, and MHLivingNews.com. Connect with us on LinkedIn here and here.
Manufactured Housing Comparisons – Data Sets Vs. Existing and New Single-Family Housing Sales, RVs, Auto Facts – Potent Insights for MH Professionals, Investors
Why is Skyline-Champion Giving Cover to Clayton Homes? Profitably QUESTIONING Manufactured Housing Institute Leadership for Professionals & Investors
Time Sensitive Reading = Consumers, Nonprofit Advocacy, Manufactured Home Professional Comments on HUD-White House RFI Reducing Regulatory Barriers, plus Manufactured Housing Headline Reports 1.19 to 1.26.2020
MHARR Fingers Fannie Mae, Freddie Mac, and FHFA – "Profoundly False" "Misleading" – Duty to Serve Manufactured Housing Revised Plans
Initial Reactions from MHI, Other Industry Members to Manufactured Housing Institute CrossMod Homes Announcement
Are Big VW, Fiat Chrysler, BMW Automotive Lawsuits with SEC Signaling Woes for Publicly Traded Manufactured Housing Institute (MHI) Members?
Illusory vs Authentic Opportunities, Historic Struggles Then, Now for Affordable Housing, Sunday Manufactured Home Headlines 1.12 to 1.19.2020
Pitchforks Coming – Billionaire Nick Hanauer Unpacked – Bridging Economic, Political and Moral Gaps – Affordable Housing and Manufactured Homes
Congresswoman Rips Frank Rolfe, Dave Reynolds, Havenpark for "Troubling," "Predatory," "Deceptive" Practices, Calls for Federal Investigations