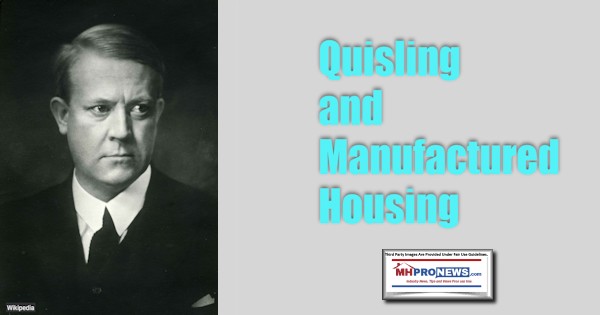 The names Benedict Arnold or Quisling (Vidkun Quisling) have here in America or in Europe become synonymous with being a traitor.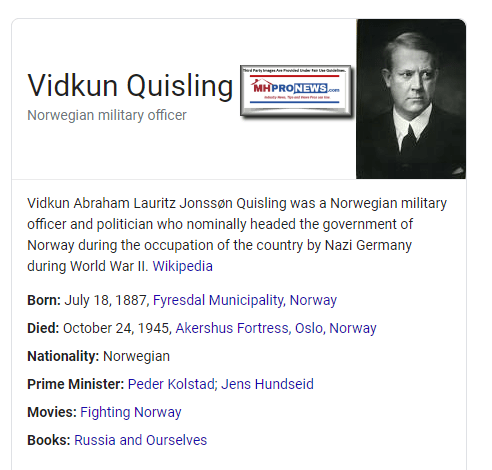 Bernie Madoff was once widely respected. But he now sits in federal prison. While his specific crime is thought to be operating a so-called Ponzi scheme, what he did is defraud people of their money by the billions. That fraud arguably included several other crimes in the process.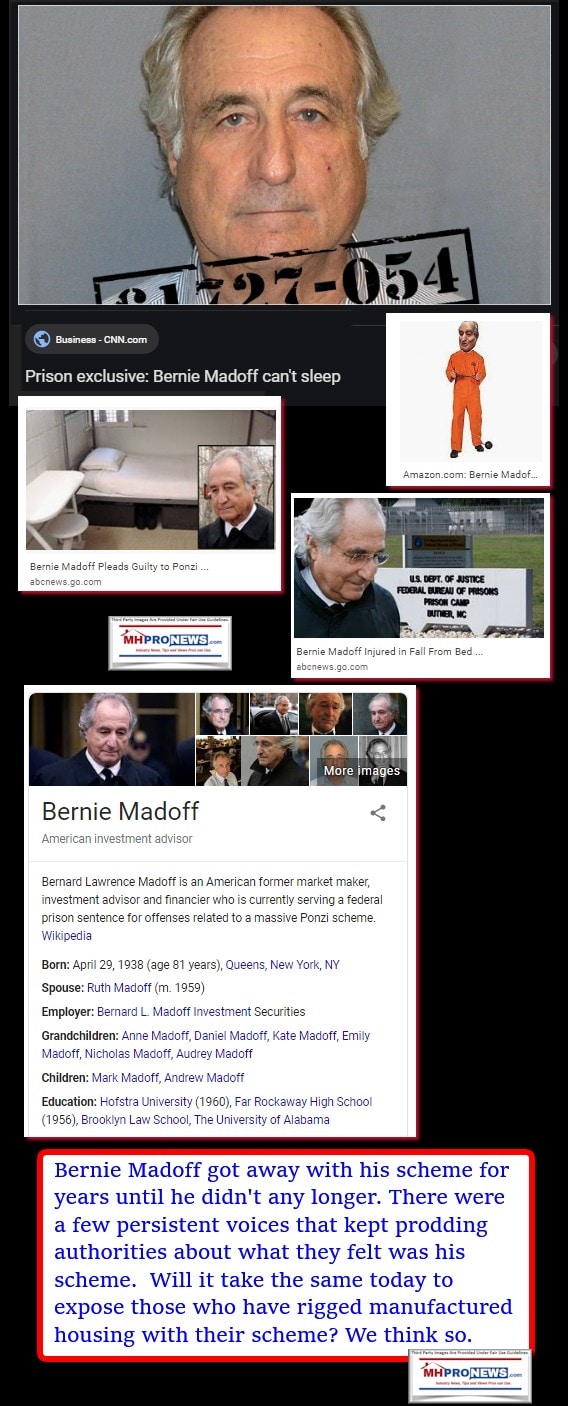 People who may seem trustworthy often turn out not to honest or honorable. Those willing to break laws and take advantage of others may be dressed in overalls, have a uniform, wear a dress or pantsuit in an office, or might sport a 3-piece suit.
Manufactured housing is underperforming. It is fair to say that it has been sabotaged or undermined from within. There are public officials that evidence suggests are involved in that purported treachery. That sounds tough, but is there any evidence to back that up?
Against that backdrop is this from the introduction to the comments from L. A. "Tony" Kovach to the "White House Council on Eliminating Regulatory Barriers to Affordable Housing; Request for Information."
You too can submit a formal comment at this link below. There is as of this time only 172 comments shown on the Regulations.gov comments site. That means that your thoughts could get added attention compared to other such RFIs in the past.
https://www.federalregister.gov/documents/2019/11/22/2019-25388/white-house-council-on-eliminating-regulatory-barriers-to-affordable-housing-request-for-information
Document Citation:
84 FR 64549
Agency/Docket Number:
Docket No. FR-6187-N-01
Document Number:
2019-25388
While you can refer to or quote others, it is strongly encouraged that in introducing or stating your views that you use your own words as much as possible to make the comments truly your own. Otherwise, the comments will be shown as a 'mass mail' campaign by Regulations.gov.
Note that some comments have been published "anonymously," where the name of the submitter is not shown. See our Sunday report for examples.
The comments period has been extended to the end of the day – 1.31.2020.
Start of RFI Comments Introduction
Despite numerous examples of headlines, stories or websites that mistakenly conflate the terms 'mobile home' or 'trailer house' with 'manufactured home' by law, there have been no mobile homes built in the United States since June 15, 1976.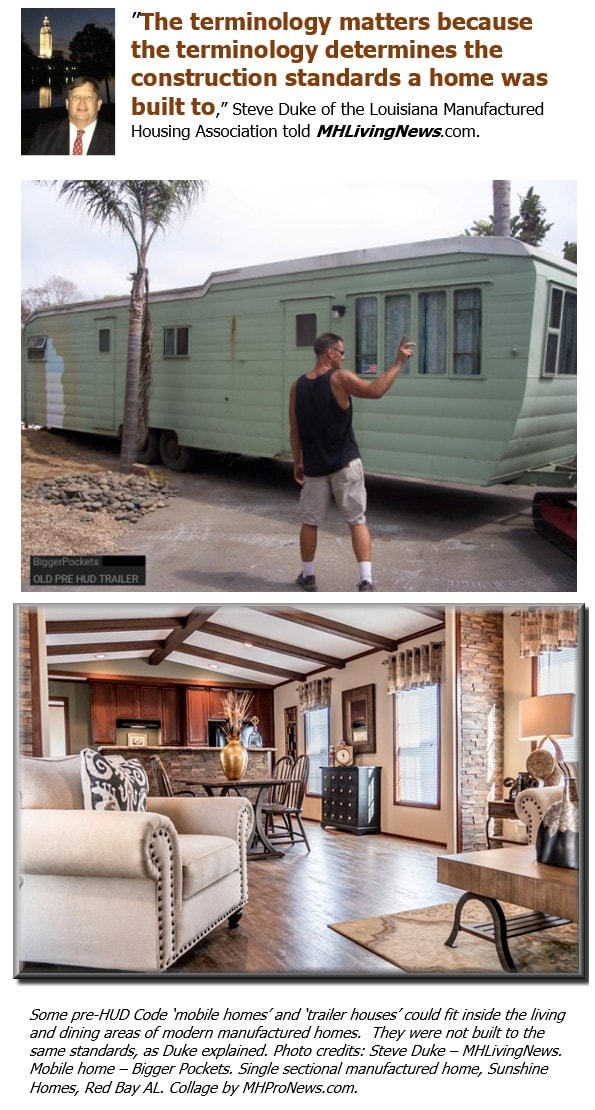 On that date, due to Congressional action, HUD Code manufactured homes formally came into existence.
Just as we correctly might cringe at some race-related terminology from decades passed, similarly, people of good will should recognize the proper terminology with respect to pre-HUD Code mobile homes and post-HUD Code manufactured homes. The distinction is summed up by Steve Duke, J.D. in the phrase above which includes an illustration to make the point clear.

It is further illustrated in this pull-quote above from the National Fire Prevention Association (NFPA). The effectiveness is demonstrated by the contrast between mobile homes and manufactured homes illustrated in the graphic below.

The purpose of the HUD Code – the only federal building code, largely administered by the Department of Housing and Urban Development (HUD), from which it derives its name – was and remains to create consumer safeguards that result in affordable housing. Once more, the NFPA provided that example of hard data that demonstrates that the law has worked.
Rephrased, while there are several possibilities in affordable housing, the HUD Code transformed the mobile homes of yesteryear into not just a new moniker, but into a federally regulated system of affordable housing produced and sold by the free market. Manufactured homes isn't just a clever marketing name, it is a system of construction that provides strong consumer protections not found in the pre-HUD Code mobile home era.
Note that those federal regulations have state counterparts that make this in some ways into a federal and state partnership with the producers, sellers, transporters and installers of HUD Code manufactured homes.
Because of that system, manufactured homes have been given a special status under the law which includes "enhanced preemption." Understanding that phrase and how Congress intended it to be used would with respect to HUD Code manufactured homes rapidly begin the reforms needed to eliminate local and state regulatory or other barriers.
In fairness, the mobile homes of yesteryear evolved from 'trailer houses' that were more like a recreational vehicle (RV) into larger structures that were less mobile, but still bore the name "mobile home."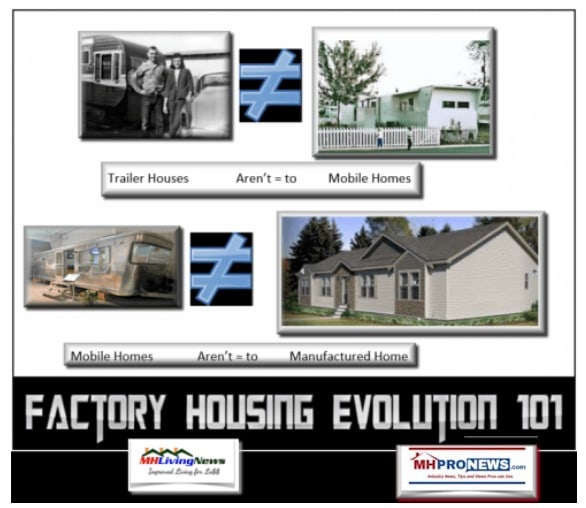 Those mobile homes of the late 1960s into the early 1970s were sometimes built to ANSI or UL standards, but others were not. It was those homes built to little or no standards that resulted in an expose by CBS' 60 Minutes. That CBS news report created a firestorm of controversy at that time which resulted in several industry leaders asking for federal regulations that would protect the reputations of good builders from the problematic work of those who might cut corners that put consumer interests at risk.
Both ethical businesses and consumers were supposed to benefit from these early laws with respect to the establishment of what is now known as the HUD Code.
The reports linked below shed light and include videos that illustrate the points being made herein. Those linked items, and the illustrations, videos, downloads and cross-linked items should all be construed as part of this submission.
The context for the RFI – Request for Information – from the White House Council on Eliminating Barriers for Affordable Housing uses these words:
"III. Purpose of This Request for Information
The purpose of this Request for Information (RFI) is to solicit feedback that will assist the Council in identifying Federal, State, local, and Tribal laws, regulations, and administrative practices that artificially raise the costs of affordable-housing development and contribute to shortages in housing supply. It also seeks data, other information, analyses, and recommendations on methods for reducing these regulatory barriers."
It is in the spirit and letter of that phrase from the RFI that much of what follows will be predicated on.
While there may be legislative efforts needed on other aspects of affordable housing, the legal work with respect to HUD Code manufactured homes has been accomplished. What is sadly lacking is a wider proper understanding of manufactured homes, about what Congress intended, and how those laws have often been ignored, diverted, or subverted by accident or design. To be accurate, there are people in government that get it, but many others that do not. The same is true in the private sector.
There are several misunderstood – and thus for millions 'untold stories' – with respect to HUD Code manufacturing homes. These are homes that have attracted the rich, famous and frugal as well as the middle and working classes.
https://www.manufacturedhomelivingnews.com/sky-high-opportunities-stevie-nicks-lawrence-welk-kid-rock-elvis-presley-art-linkletter-mobile-or-manufactured-home-living-2020-and-you/
https://www.manufacturedhomelivingnews.com/lifestyles-of-the-rich-and-frugal-manufactured-mansions-take-their-place-in-the-california-sun/
President Donald J. Trump and several Democratic hopefuls for their party's 2020 presidential nomination have made visits to manufactured home communities and/or have spoken directly about realities both good and problematic with respect to manufactured homes and pre-HUD Code mobile homes.
https://www.manufacturedhomelivingnews.com/i-knew-right-from-the-beginning-when-president-trump-first-lady-melania-vp-pence-toured-manufactured-home-community/
https://www.manufacturedhomelivingnews.com/open-letter-kurt-kelley-joanne-stevens-frank-rolfe-manufactured-housing-review-about-senator-elizabeth-warrens-request-for-information-from-manufactured-home-community-owners/
https://www.manufacturedhomelivingnews.com/presidential-hopeful-campaigns-in-manufactured-home-community-congressional-rep-cindy-axne-raising-concerns-over-bbb-f-rated-havenpark-capital-management/
HUD Secretary Ben Carson, M.D., and others are correct in stating that the supply of more affordable housing is needed. But what must be done to make that possible is to fully grasp how manufactured housing came to be, how it worked for decades, but how particularly in the roughly last 16 years (+/-) has slowly been eroded and subverted.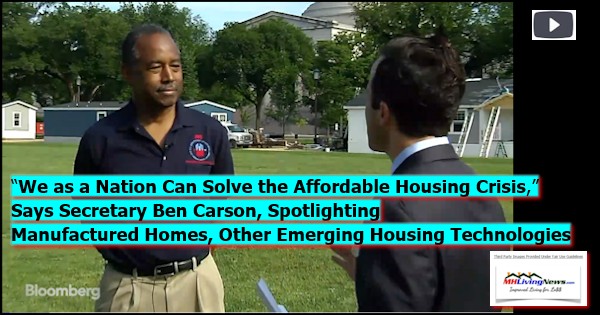 The federal laws that exist with respect to manufactured homes are fine. It is what has been done – or left undone – by people of arguably selfish, shortsighted, or ill will that needs to be addressed. To the degree that some may merit investigation and consequences at law, those who have acted with ill or selfish intent in ways that have arguably violated one or more laws and duties that need to be dealt with legally. But others, as in any profession, who have not crossed legal or moral lines should be allowed to pursue their trade with honor and the support of public officials.
The evidence for the concerns noted and more are in the attached submission, which like this introduction should construe all links, downloads videos and related illustrations as being part of the RFI.
To sum up before diving in:
The laws needed to address the affordable housing crisis already exist with respect to HUD Code manufactured homes. A key phrase from that is "enhanced preemption" that was made part of federal law under the Manufactured Housing Improvement Act of 2000 (MHIA or 2000 Act).
The laws were enacted after careful study of manufactured housing by public officials. That research has been ongoing, there is reams of third-party research available. No new research studies are needed.
Those laws – the MHIA and the Duty to Serve manufactured housing provisions of the Housing and Economic Recovery Act (HERA) of 2008, among others – have in several well documented instances noted in the attached or linked have purportedly been thwarted. That is evidenced by the data. It is also made plain by the fact that we have an affordable housing crisis. If the laws that already exist were being fully enforced the affordable housing crisis would not be as severe. Those nuanced and in-your-face realities must be understood. But that understanding can occur in a matter measured in so many hours or days, not months or years.
Put differently, with respect to manufactured housing, there is no need for years of delays or more studies. Federal, nonprofit, and university-level research has been done. The facts are available, even if they have too often not been widely disseminated.
The mantra of ethical manufactured housing professionals and investors ought to be this. Understand the facts. Enforce existing laws. When laws have been ignored, subverted, or otherwise improperly diverted, those responsible should be held to account. The regulatory and legal resources needed to hold those who have improperly undermined aspects of good laws also exist; and those laws for accountability should likewise be enforced.
Understanding. Enforce the law. Repeat.
There is more to know on MHLivingNews, MHProNews and additional information with respect to the RFI is attached.
Finally, additional resources and links that illustrate what many will find to be the surprising facts about manufactured homes are linked below.
Please see the attached.
Respectfully,
Tony
L. A. "Tony" Kovach
The Tony Kovach submission is found at this link here.
There's more insights ahead, but that's a wrap on this installment of "Industry News, Tips and Views Pros Can Use" © – MHVille's runaway #1 news source, where "We Provide, You Decide." © (News, fact-checks, analysis, and commentary.) Notice: all third party images or content are provided under fair use guidelines for media.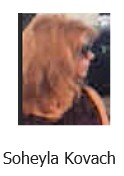 Submitted by Soheyla Kovach for MHProNews.com.Soheyla is a co-founder and managing member of LifeStyle Factory Homes, LLC, the parent company to MHProNews, and MHLivingNews.com. Connect with us on LinkedIn here and here.
Whistleblower's Documents on Lesli Gooch – Manufactured Housing Institute CEO – New Discoveries
Applying Democratic, Republican & Barak Orbach's Monopolization Logic to Affordable Housing Crisis Impacting Manufactured Home Industry