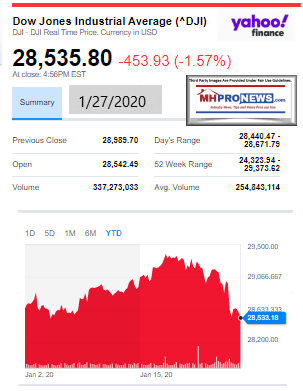 MHProNews periodically explores the issue of antitrust and the growing concerns over what has been described as de facto monopolization. Tonight's features is different in this respect. It presents a prominent, credible former federal attorney who acknowledges problem areas but makes his case for why that pattern of years of problems are outweighed by other factors.
That expert's commentary has potential parallels to manufactured housing, so that will be our focus for this evening.
Periodic readers of this business-nightly feature should note there are new tweaks to some of the standard portions of our evening market/investing report. Read carefully as some changes of the 'standard text' that follows before our left-right headlines and also in other features near the end of tonight's reports.
Every evening our headlines that follow provide snapshots from two major media outlets on each side of the left-right news spectrum that reflect topics that influence or move investor sentiment. In moments on this business evening report, you can get 'insights-at-a-glance.'
This report also sets the broader context for manufactured housing markets, in keeping with our mantra, "News through the lens of manufactured homes and factory-built housing" ©.
We begin with headlines left-of-center CNN followed by right-of-center Fox Business. We share closing tickers and other related data courtesy of Yahoo Finance, and more. 5 to 10 minutes reading this MHProNews market report every business night could save you 30 minutes to an hour of similar reading or fact-gathering elsewhere.
Perhaps more important, you will get insights about the industry from experts that care, but also dare to challenge the routine narrative that arguably keeps manufactured housing underperforming during an affordable housing crisis.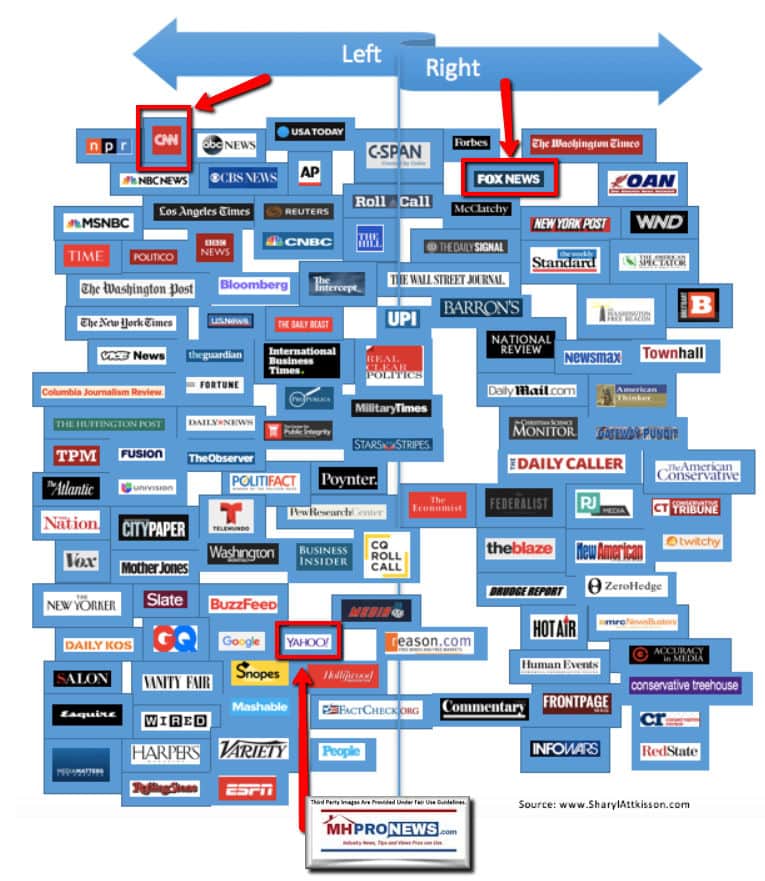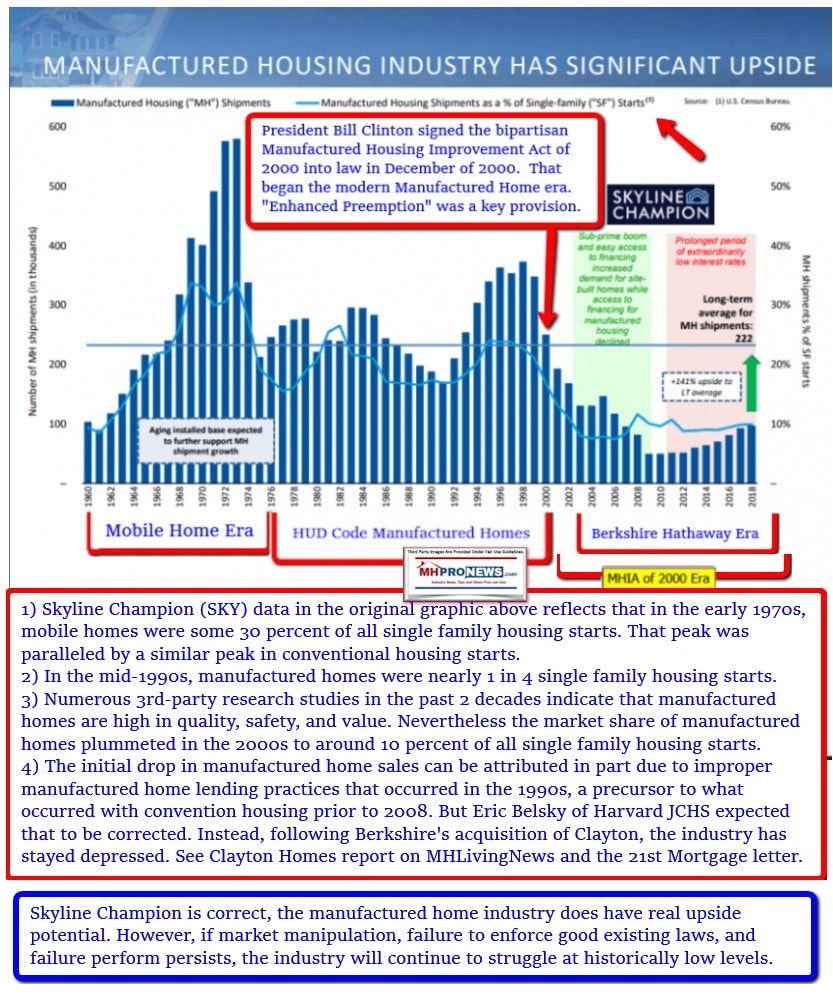 Mainstream vs. Trade News, Politicos, President Trump, Senator Sanders, Billionaire Bloomberg, Law Enforcement and Manufactured Housing's Unique Plight
Newsy, Peeling Back Media Bias, Manufactured Housing Sales, Investing, Politics, and You
Headlines from left-of-center CNN Business
Gold surges on fear
It's trading at its highest level since 2013, and analysts say it could hit $2,000
Dow finishes sharply lower as the coronavirus outbreak worsens
Stocks tanked on coronavirus. But cleaning product companies got a boost
Oil prices have fallen 10% as coronavirus raises fears for global growth
FDA to Purell: Stop claiming your hand sanitizers eliminate Ebola & flu
How the coronavirus is already hurting global business
Economists are even more optimistic about the US economy
Police scold TMZ after outlet was first to report death of Kobe Bryant
Opinion: 5G will fundamentally change our lives for the better
John Bolton goes from Fox News contributor to subject of criticism
Gaming's biggest names are ditching Twitch for $10 million contracts
Casper's sales are surging but it can't stop losing money
Walmart takes a step toward owning the food chain
Kobe Bryant #24 of the Los Angeles Lakers reacts in the third quarter against the Utah Jazz at Staples Center on April 13, 2016 in Los Angeles, California.
Kobe Bryant leaves behind an empire that stretched beyond basketball
Planters dials back on Mr. Peanut's death following Kobe Bryant news
Miami, Bar Louie restaurant. (Photo by: Jeffrey Greenberg/Education Images/Universal Images Group/Getty Images)
Bar Louie files for bankruptcy and closes one-third of its restaurants
The beauty industry is bigger than ever, but mascara is struggling
Instagram is changing the way people buy things
Amazon wants influencers to help it sell clothes
This teen's beauty tutorial is really a critique of China
The skincare industry is booming
A pedestrian walks by a Papyrus store on January 22, 2020 in San Francisco, California. Greeting card and stationery chain Papyrus announced plans to shutter all of its 254 retail stores in the next four to six weeks. Papyrus employs on estimated 1,400 people.
Papyrus, another mall staple, is closing all its stores
Fast food chain Krystal files for bankruptcy
Bose is closing more than 100 stores worldwide
Macy's is closing 28 stores and one Bloomingdale's
Pier 1 will close up to 450 stores
Kobe Bryant #24 of the Los Angeles Lakers looks back in the first half while taking on the Utah Jazz at Staples Center on April 13, 2016 in Los Angeles, California.
Kobe Bryant was a business powerhouse
Smart watches help this factory customize cars
Buildings in San Francisco downtown. Median rent in the city is more than 1,353.63 per month. That's higher than every other major city in the U.S.
This self-driving car has no steering wheel or pedals
These energy leaders disagree over how to deal with coal
President Donald Trump shakes hands with Chinese Vice Premier Liu He, after signing a trade agreement in the East Room of the White House, Wednesday, Jan. 15, 2020, in Washington. (AP Photo/Evan Vucci)
The trade war with China is far from over
Changes are coming to your credit score
Will living in this mansion improve your health?
What 12 minutes with a famous CEO can teach you
Randy Garutti, chief executive officer of Shake Shack Inc., poses for a photograph following a Bloomberg Television interview in Shanghai, China, on Thursday, Jan. 24, 2019. Shake Shack opened the burger chain's first store in mainland China.
Four-day workweeks and stock options: How Shake Shack lures workers in a tight market
A Chinese man wears a protective mask, goggles and coat as he stands in a nearly empty street during the Chinese New Year holiday on January 26, 2020 in Beijing, China. The number of cases of a deadly new coronavirus rose to over 2000 in mainland China Sunday as health officials locked down the city of Wuhan earlier in the week in an effort to contain the spread of the pneumonia-like disease. Medical experts have confirmed the virus can be passed from human to human. In an unprecedented move, Chinese authorities put travel restrictions on the city, which is the epicenter of the virus, and neighboring municipalities affecting tens of millions of people. The number of those who have died from the virus in China climbed to at least 56 on Sunday, and cases have been reported in other countries including the United States, Canada, Australia, France, Thailand, Japan, Taiwan and South Korea.
Video game company urges players to avoid Plague Inc. game for information on coronavirus
com founder and CEO Jeff Bezos demonstrates the company's first smartphone, the Fire Phone, on June 18, 2014 in Seattle, Washington. The much-anticipated device is available for pre-order today and is available exclusively with AT&T service.
The rich are different, but their smartphones aren't
CEO of Amazon Jeff Bezos (R) and his girlfriend Lauren Sanchez (L) pose for pictures as they arrive to attend an event in Mumbai on January 16, 2020. (Photo by Sujit Jaiswal / AFP) (Photo by SUJIT JAISWAL/AFP via Getty Images)
Jeff Bezos' girlfriend reportedly sent her brother text messages that were leaked to the National Enquirer
Byte, the sequel to Vine and potential competitor to TikTok, launches on mobile
'SNL': Trump's lawyer goes to hell
Former National security adviser John Bolton gestures while speaking at the Center for Strategic and International Studies in Washington, Monday, Sept. 30, 2019. (AP Photo/Pablo Martinez Monsivais)
John Bolton's memoir, 'The Room Where It Happened,' gets March 17 release date
Adam Driver reprises 'Undercover Boss' role on 'SNL'
Alan Miller says National News Literacy Week is about solving the misinformation 'pandemic'
Headlines from right-of-center Fox Business
NBA postpones Lakers game as team reels from Kobe Bryant's sudden death
Bryant and his daughter were among nine people killed in helicopter crash on Sunday.
DOOMED CHOPPER: Inside safety record of helicopter involved in Kobe Bryant death
Planters halts 'Mr. Peanut' campaign following Kobe Bryant tragedy
Miami taxpayers fork over millions for Super Bowl LIV, but won't reap rewards
Brands, politicians spending record-crushing amounts on commercials
Super Bowl 'Radio Row' to include college stations despite steep cost
Stocks take ugly beating as global virus sickens thousands, deaths spike over 80
MERCHANTS OF DEATH: Retailers cashing in on knockoff Gucci masks, T-shirts
Exxon Mobil closes at lowest price in years
Attention, Boeing: Marketing isn't risk management
Hunter Biden makes concession in ongoing legal saga with ex-stripper
House lawmakers warn of Huawei threat amid push toward 5G future
Jailed Martin Shkreli slapped with another lawsuit over life-saving drug
WATCH: Troubled NFL star previews potential new career after jail release
Retirees reveal their top money regrets
Sobbing production assistant reveals Weinstein rape horror in trial testimony
Delta worker found gunned down in employee parking lot, officials say
Gold will explode if Bernie Sanders wins in 2020: Peter Schiff
Saudi crown prince reportedly tricked Jeff Bezos about Amazon plans
Inside mystery crash: US military aircraft goes down in Afghanistan, Taliban says
Fielding candidates: Iowa farmers with crucial votes reveal key election issue for them
The highest-paid players set to face off in Super Bowl LIV
USMCA trade deal ratification process begins in Canada
Major home builder improves 2020 home sales forecast
Boeing reportedly secures $12 billion in loans over 737 Max jet crisis
Instagram-viral milkshake shop taps into vegan food market
Kobe Bryant death: Prices for Tuesday's Lakers game skyrocket
Miami Dolphins not playing in Super Bowl LIV ⁠— but team owner set to rake in payday
Prince Andrew uncooperative in Jeffrey Epstein probe, officials say
China virus outbreak rams global tourism, costing BILLIONS
Farmers back Trump as tariff uncertainty weighs
Wegmans making big change to become more eco-friendly
When Trump and Netanyahu will announce Middle East peace plan
Denny's banking on Beyond Meat
Bezos sexting scandal: 'No crime' if gal pal's brother leaked pics
Coronavirus: Wuhan mayor willing to resign if it helps contain outbreak
Varney: Iowa caucuses could be a win for Trump
Super Bowl fans to devour 1.4B chicken wings: Report
2019 home sales strongest since 2006
Oprah slammed by Russell Simmons accuser after CBS interview
SpaceX delays 4th Starlink satellite launch due to high winds
GM to invest $2.2B in Detroit to build electric vehicles
Bartiromo: Trump to sign USMCA trade deal into law Wednesday
Budgeting app tracks subscriptions, monitors spending, lowers bills
Michael Avenatti googled 'Nike put options,' 'insider trading' before allegedly trying to extort $25M
Amazon employees criticize company over climate change, say they're risking termination
10 Market Indicator Closing Summaries – Yahoo Finance Closing Tickers on MHProNews…

Featured Focus – Where Business, Politics and Investing Meet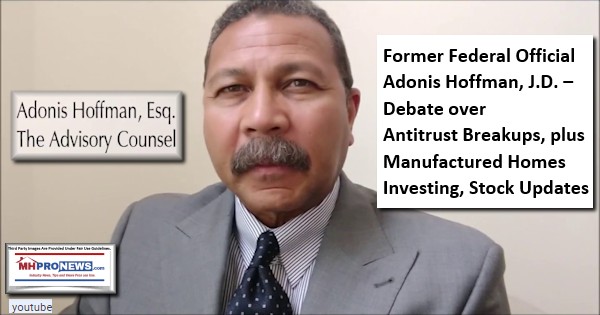 "Adonis Hoffman, Esq. is CEO of The Advisory Counsel, Inc. and a former FCC official. He leads the Initiative on Responsible Technology at Business in the Public Interest, Inc.," says the brief bio at the end of an opinion column this evening by The Advisory Counsel's CEO Hoffman on Fox Business.
While it is about big tech, there are certainly parallel arguments that could be made to what has occurred in manufactured housing. While there are voices in the industry that have dodged discussion of the problematic behavior by Berkshire Hathaway brands and their MHI allies and surrogates, the evidence, whistleblowing, leaks and tips are increasingly making the case that several things have gone purportedly gone wrong.
So, Hoffman's arguments could shed light.
The following bullets are quotes from Hoffman's thesis. Note, how he talks in terms of regulation, not antitrust breakup. But that is the ultimate regulatory step that can be taken under law. In your mind's eye, substitute Clayton Homes, 21st Mortgage Corp, Vanderbilt Mortgage and Finance (VMF) for the tech firm's being named, mindful that MHI and/or other industry firms could also fall afoul possible antitrust or other regulatory steps.
the prospect of government regulation continues to gain momentum.
Every time a Big Tech company takes a misstep, the rhetoric on tech regulation grows louder, bringing Google, Amazon, Facebook and Apple (GAFA) under the glare of Congress.
Of course, Big Tech's own tin ear on important issues has not helped.
Separate investigations [i.e.: antitrust probes] by Congress, the Department of Justiceand the Federal Trade Commission have prompted Big Tech leaders to boost their presence and spending in Washington.  Amazon spent over $12.4 million in 2019. Facebook spent over  $12.3 million and Apple spent $5.5 million over the first nine months of the year — an 8 percent boost from the previous year. Notably, Google's parent company, Alphabet Inc., spent over $9.8 million on lobbying, which was 41 percent less in lobbying expenses after it overhauled its government affairs operation.
Federal actions have been matched by state attorneys general who have launched their own independent investigations into Google and Facebook.
Citing antitrust and competition concerns, the EU has been both pro-active and aggressivein the effort to hold Big Tech accountable.
This is the ultimate question: has tech become too big and too pervasive in society to effectively control?
In April 2019, Facebookexposed 540 million records on unprotected servers. The total number of breaches was up 33 percent over 2018, according to research from Risk Based Security.
From a debating and persuasion perspective, the approach Hoffman takes is arguably clever. Hoffman doesn't hide big tech's misdeeds, unlike those in MHVille who may face parallel concerns that may want to pretend or posture that they've never pooped and it doesn't therefore their poop doesn't stink.
But that debater's technique is then followed up by Hoffman's true point, which is as follows.
Here's Hoffman's pivot and closing argument.
In fairness, it would be a travesty if the debate on tech regulation was confined to misdeeds, however egregious they have been.  For all the negative reports surrounding the technology sector, there are many more positives.  On the balance sheet of technology pros and cons, there should be little doubt that technology – as evinced by GAFA—has been a positive force in society.
If Congress and the regulators want to solve the problem, they should take a more balanced view of the role of technology in our society.  They should adopt measures that chasten bad action without chilling the momentum of the industry.
Big Tech is now worth over $5 trillion. Even with the specter of regulation, investors are drawn to technology stocks, pushing the five most valuable U.S. tech companies to account for over 17 percent of the S&P 500, up from 11 percent in 2015.
Thus, we must ask: "What is right with technology and at what cost"?
In fact, this may be the ultimate question that policymakers must address if they are to credibly balance the competing public interest with the promulgation of new rules to police, patrol or punish Big Tech. We must embrace the notion that technology is neither good nor bad, but necessary.
In our earnestness to undue the wrong, we cannot abandon what is right.

Hoffman likely has multiple goals with this op-ed, not the least of which is current and potential client focused. As CNBC's "Street Cred" bio of him reflects, he is the quintessential example of a person who has done their time in federal service; now he wants to cash in by working for the other side.
The above is akin to saying, yes, yes, yes, big tech has done wrong, but please overlook it because there is more social and economic good than bad that has come from it.
But that's a false 'straw man' style argument. Breaking up big tech doesn't mean the end of the technology business. Scott Galloway with New York Stern has said quite the opposite will occur if there is a break up.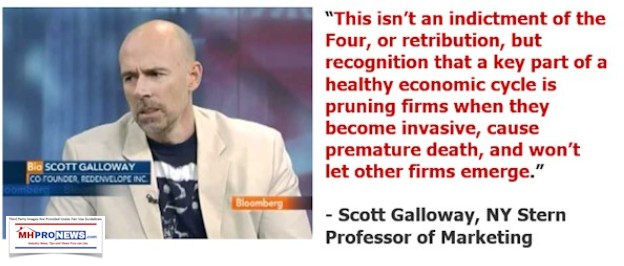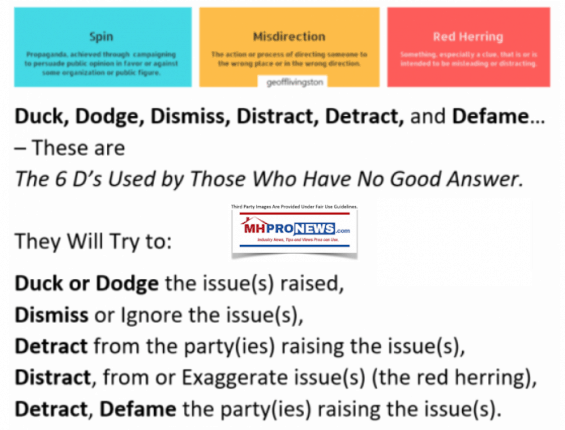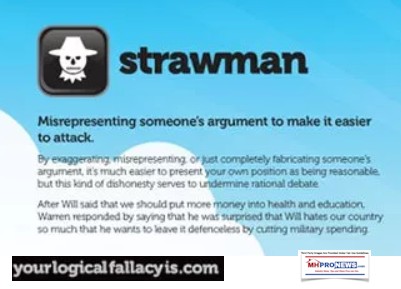 By analogy, the argument Hoffman made – where it hypothetically applied to Berkshire Hathaway or possibly other MHVille firms by parallel analogy – is, yes, yes, of course Berkshire and their allies did what they've been accused of doing in the report linked below or others.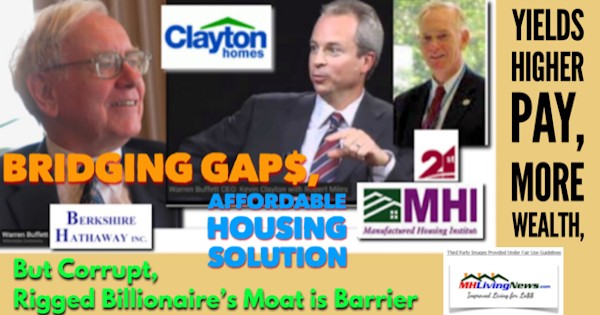 This is the runaway #1 trade media report in all of MHVille in January, 2020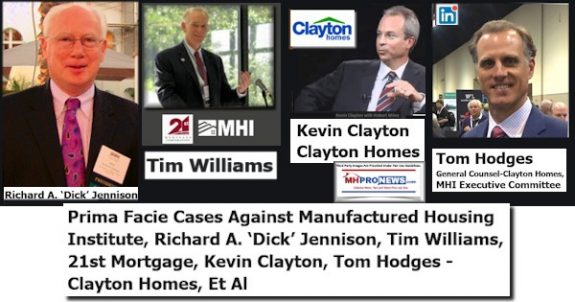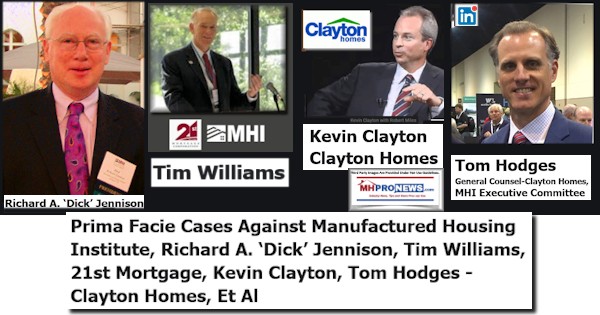 But there is more good arguably being done by Clayton, 21st, VMF et al than bad, so slap their wrist with a nice fat fine and forget the harm that they've done in the marketplace.
It is a classic case of clever admission followed by a false premise that is a de facto appeal for leniency.
We'd argue that Hoffman missed including other tech stocks, it should be FAANG plus BM.
Applying Democratic, Republican & Barak Orbach's Monopolization Logic to Affordable Housing Crisis Impacting Manufactured Home Industry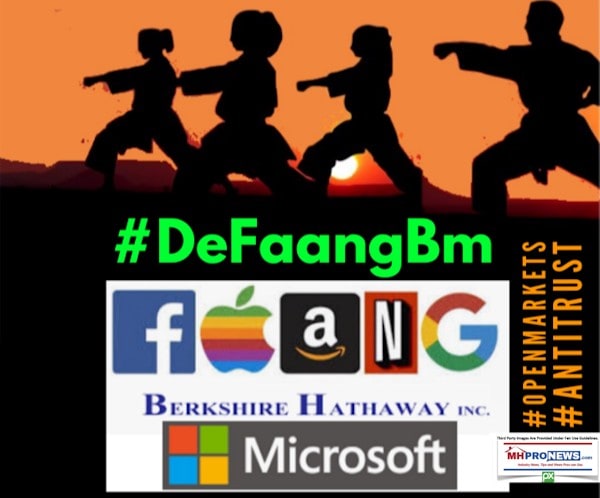 Bad behavior shouldn't be rewarded. America suffered through a prior gilded age and the robber barons of that era were to a significant degree brought to heel by the original antitrust laws and related issues since. The time has come for the robber barons of our time, including FAANG-BM – should get the full weight of antitrust and any other laws that they have arguable violated.
Doing so would fuel growth, not stunt it. Yes, perhaps for a time some Chinese or other company may be 'bigger' then American companies after a big antirust bust up. But our antitrust laws could keep international firms trying to operate in the U.S. equally at bay on our shores. Rephrased, enforcing the law could work and should work.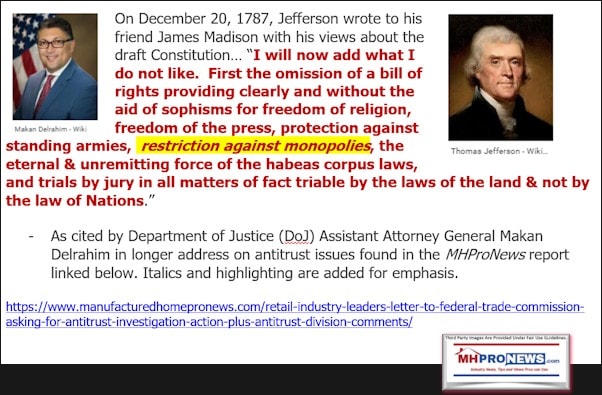 Bottom line, the when what's wrong is spotted, properly examined, a chance for a legal defense is made, and presumably prima facie antitrust or other violations are proven, those involved should suffer the full force of the law.
When that happens, when existing federal laws like Duty to Serve (DTS) and the MHIA, including enhanced preemption are fully enforced, then manufactured housing independents will flourish anew. There will be more business, not less. More people will be served, not fewer. More jobs will be created, not less. That's the lessons of history.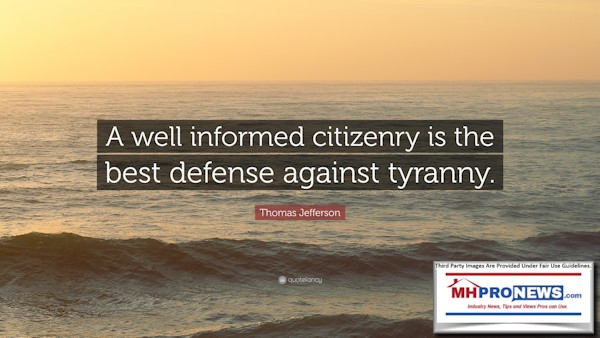 Complaints to State and Federal Officials, Agencies About Corrupt Practices in Manufactured Housing Industry Growing
Related Reports:
Time Sensitive Reading = Consumers, Nonprofit Advocacy, Manufactured Home Professional Comments on HUD-White House RFI Reducing Regulatory Barriers, plus Manufactured Housing Headline Reports 1.19 to 1.26.2020
Big MH Community, MH Home Lender – Wells Fargo Former CEO Settles for $17.5 Million, More Woes Ahead – plus Manufactured Housing Investing, Stock Updates
Whistleblower's Documents on Lesli Gooch – Manufactured Housing Institute CEO – New Discoveries
Congresswoman Rips Frank Rolfe, Dave Reynolds, Havenpark for "Troubling," "Predatory," "Deceptive" Practices, Calls for Federal Investigations
What's Up? Cavco Industries (CVCO) Looming Announcement, plus Manufactured Home Investing Updates
Federal Official, Manufactured Housing Institute, Manufactured Housing Association for Regulatory Reform and Certain MHI Member Firms
Can Negative Publicity Help Some Companies? Lessons from VW, Buffett for MHVille, plus Manufactured Housing Investing, Stock Updates
What Warren Buffett, Kevin Clayton, Tim Williams, Berkshire Brands and Manufactured Housing Institute Leaders Fear
Manufactured Housing Industry Investments Connected Closing Equities Tickers
Some of these firms invest in manufactured housing, or are otherwise connected, but may do other forms of investing or business activities too.
NOTE: The chart below includes the Canadian stock, ECN, which purchased Triad Financial Services, a manufactured home industry lender
NOTE: Drew changed its name and trading symbol at the end of 2016 to Lippert (LCII).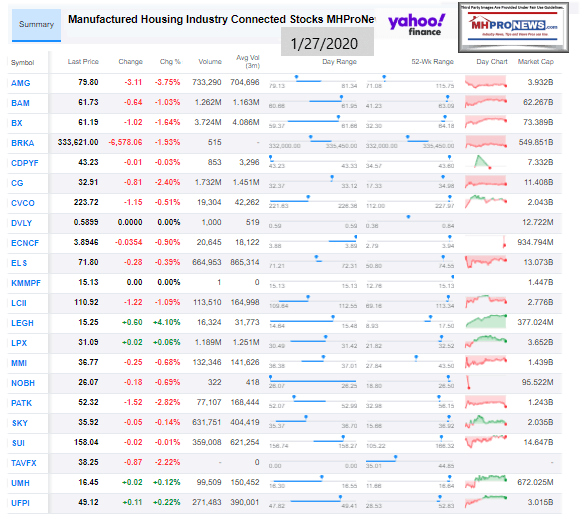 Winter 2020…
Berkshire Hathaway is the parent company to Clayton Homes, 21st Mortgage, Vanderbilt Mortgage and other factory built housing industry suppliers.
· LCI Industries, Patrick, UFPI, and LP each are suppliers to the manufactured housing industry, among others.
· AMG, CG, and TAVFX have investments in manufactured housing related businesses. For insights from third-parties and clients about our publisher, click here.
Enjoy these 'blast from the past' comments.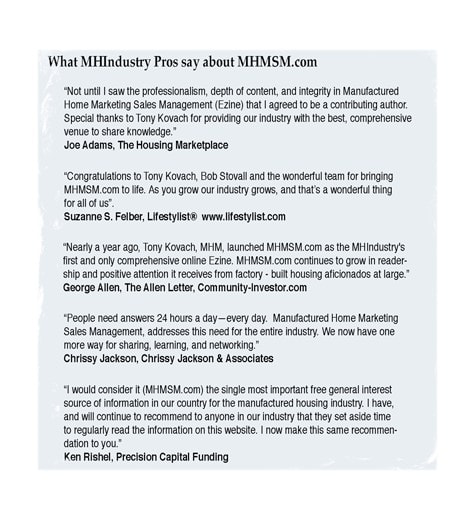 MHProNews. MHProNews – previously a.k.a. MHMSM.com – has now celebrated our tenth anniversary.
Learn more about our evolutionary journey as the industry's leading trade media, at the report linked below.
Celebrating 10 Years of Goal- and Solution-Oriented Manufactured Home Industry Innovation Information, and Inspiration for Industry Professionals
· For expert manufactured housing business development or other professional services, click here.
· To sign up in seconds for our industry leading emailed headline news updates, click here.
Disclosure. MHProNews holds no positions in the stocks in this report.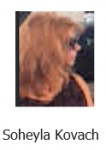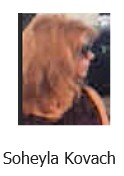 "We Provide, You Decide." © ## (News, analysis and commentary.)
(Image credits and information are as shown above, and when provided by third parties, are shared under fair use guidelines.)
Submitted by Soheyla Kovach, co-managing member of LifeStyle Factory Homes, LLC and co-founder for MHProNews.com, and MHLivingNews.com.

Connect with us on LinkedIn here and here.