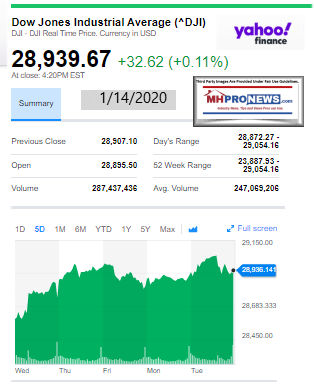 It's isn't news to some in business, but it may be news to some in manufactured housing. Negative publicity, in certain conditions, can be 'useful' for those brands that attract problematic news. Who says? Dating back to Oct 29, 2010, the New York Times and others have pointed to research that makes that point. This isn't a black and white issue, but it sheds light on some nettlesome issues that face manufactured housing. There are specific Warren Buffett-Berkshire Hathaway ties to this headline topic. That will be explored as headline's featured focus section following our broader market snapshots and left-right headlines bullets this evening.
Periodic readers of this business-nightly feature should note there are a few tweaks to some of the standard portions of our evening market/investing report. Read carefully as some changes of the 'standard text' that follows before our left-right headlines and also in other features near the end of tonight's reports.
Every evening our headlines that follow provide snapshots from two major media outlets on each side of the left-right news spectrum that reflect topics that influence or move investor sentiment. In moments on this business evening report, you can get 'insights-at-a-glance.'
This report also sets the broader context for manufactured housing markets, in keeping with our mantra, "News through the lens of manufactured homes and factory-built housing" ©.
We begin with headlines left-of-center CNN followed by right-of-center Fox Business. We share closing tickers and other related data courtesy of Yahoo Finance, and more. 5 to 10 minutes reading this MHProNews market report every business night could save you 30 minutes to an hour of similar reading or fact-gathering elsewhere.
Perhaps more important, you will get insights about the industry from experts that care, but also dare to challenge the routine narrative that arguably keeps manufactured housing underperforming during an affordable housing crisis.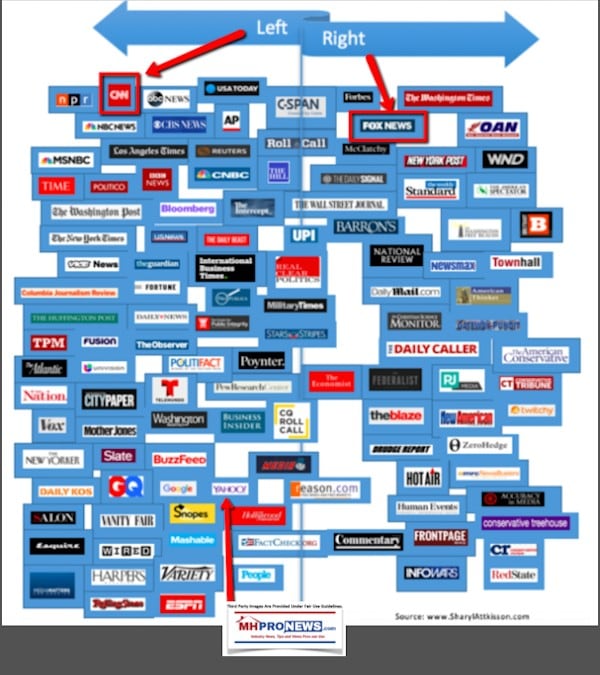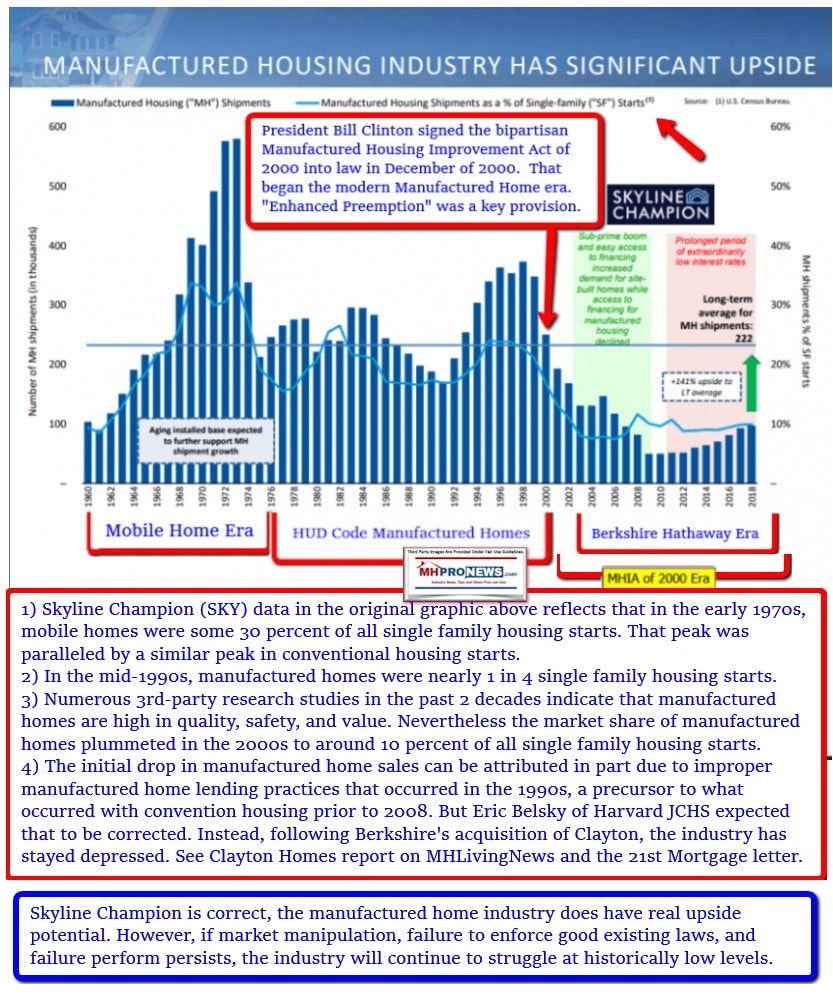 Newsy, Peeling Back Media Bias, Manufactured Housing Sales, Investing, Politics, and You
Headlines from left-of-center CNN Business.
A $350 million payday – Elon Musk is about to start collecting on his massive stock package
Boeing reports more cancellations than new orders for 2019
The world is drowning in debt
NSA alerted Microsoft to major Windows security flaw
This could be biggest year for bank mergers since the late 90s
Wells Fargo's rough quarter sours new CEO's earnings debut
Americans' wine consumption dropped for the first time in 25 years
SpaceX's Crew Dragon set for final key test before astronaut launch
Atlanta Braves stadium will officially be called Truist Park
Quantum computing could be the next big thing for cloud providers
How CEOs can use body language to be less intimidating
James Murdoch denounces father's news outlets for climate change denial
Nintendo theme park will take you 'inside' your favorite games
One key to Delta's success: It doesn't fly Boeing's 737 Max
Vera Bradley wants to make paisley cool again
Your PC is in danger if you use Windows 7
Headlines from right-of-center Fox Business.
Mitch McConnell reveals when Senate is expected to approve USMCA trade deal
Senate approval would send the USMCA to Trump's desk to be signed, the last step before it begins to be implemented. The House voted 385 to 41 to approve it in December.
Steven Mnuchin says USMCA critics 'don't know what they're talking about'
China appeals to US companies ahead of deal, hoping to revamp sluggish economy
Why 'phase one' China trade deal doesn't need congressional approval, unlike USMCA
Stocks seesaw ahead of US-China 'phase one' trade deal signing
Jet dumps fuel on playground near LA airport, injuring young kids, officials say
Governor doubles down on millionaire's tax despite state's record-setting exodus
Face it Elizabeth Warren, drug companies are saving millions of lives
Massive chemical plant explosion rocks northeastern Spain
Pop star makes history by recording theme for upcoming James Bond movie
Harry, Meghan's 'Sussex Royal' trademark owned by California lawyer
WATCH: College football championship hero struts off field with $100K, cigar
Hankering for Popeyes' chicken sandwich serves up sales feast
Why right now is best time to book a cruise
Millennials threatening fine china industry
UBS banker sues luxe Caribbean hotel after 'nightmare' attack, legal battle
Top 10 bedbug cities: The price you'll pay
Amazon reverses ban on FedEx shipments — what it means for you
US, EU, Japan target China with new subsidy regulations
$7T BlackRock responds to youth outrage over climate change
National Security Agency tips off Microsoft to major security flaw
Florida fish farm to take over America's salmon market
Why the FTC may crack down on non-compete agreements
Stocks tentative as looming bank earnings set to make or break record bull run
Digital death: Are GameStop, Blockbuster going down in identical dust?
Ryanair offers Boeing glimmer of hope amid 737 Max nightmare
'Jeopardy!: Greatest of All Time' could all come down to tonight
Elizabeth Warren says she'd bypass Congress to eliminate student loan debt
Famous daughter at center of college admissions scandal lands new TV role
MGM Resorts to sell Vegas strip's MGM Grand, Mandalay Bay for massive price
Walmart expands robotic workforce in hundreds of stores nationwide
GE joins Boeing suppliers paring workers amid 737 Max hiatus
Don't shop this way in 2020 if you want to save
'Jeopardy!' producers explain cause of 'Where's That Church?' gaffe
Elizabeth Banks to be honored as Harvard theater's 'Woman of the Year'
Eli Lilly to launch half-priced versions of two more insulin products
American Airlines extends Boeing 737 Max flight cancellations through early June
Customer leaves over $2,000 for 2 bartenders 'because he can'
DOJ ups heat on Apple to unlock iPhones in Naval Air Station shooting
Wells Fargo profit sinks 13% while new CEO prioritizes resolving regulatory issues
Chick-fil-A giving away free chicken nuggets. How to take advantage
Feds blasts PG&E's $13.5B deal with fire victims that may see money clawed back
Kind enters plant-based ice cream industry
Flooding risk model to become available to US homeowners, buyers
Beyond Meat's surging stock leaves short-sellers with $587M loss
Steve McQueen 'Bullitt' Mustang sold in Florida to mystery bidder
Doctor charged with 25 murders after prescribing unusual fentanyl doses
Barstool Sports may be next for the latest gambling & media marriage
Betting on Trump: Bookie shares the odds the president wins reelection
Volkswagen posts record sales numbers in fight for top automaker crown
10 Market Indicator Closing Summaries – Yahoo Finance Closing Tickers on MHProNews…

Featured Focus – Where Business, Politics and Investing Meet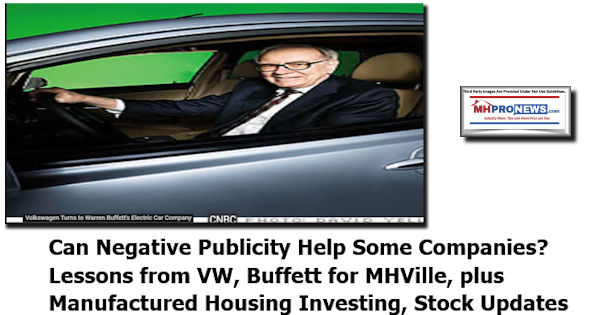 Part of our thesis for understanding the dynamics in the manufactured housing industry – or those operations/organizations that are influenced, owned, or dominated by Warren Buffett led Berkshire Hathaway involves – his principle of 'the Moat.' As part of the Buffett-Berkshire brands Moat, one must keep in mind that paltering and head-fakes are arguably part of their ploy. Some statements mean precisely what they seem to, while others may or may not be applied by Buffett or by one of his brands.
This evening a report about VW offered a reminder – and a good reason – to spotlight how a firm that has suffered years of rough publicity as a result of their "dieselgate" scandal can still be the world's top automaker?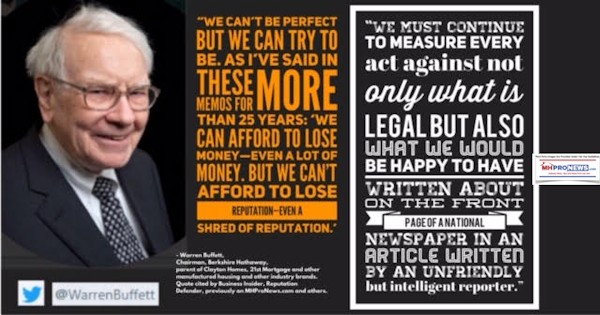 The notion that bad publicity may or may not hurt someone is actually not new.
On October 29, 2010, New York Times published an article – "Can Negative Publicity Help?" "The research says yes — under the right circumstances."
On February 1, 2011 a study from Stanford Graduate School of Business (GSB) explored that issue under the headline, "When Is Bad Publicity Good?"
Let's note going into this brief review that our point isn't to encourage seeking bad media to gain some benefit from it. Agree or not, our view is that best practices and treating customers properly still matters. Not lying, paltering, or deceiving others are good things.
But to some, such notions may seem to be medieval morality. That segue noted, some pull quotes from the Stanford's GSB to see what light it may shed on such issues.

"Negative publicity can increase sales when a product or company is relatively unknown simply because it stimulates product awareness.
In 2009, after months of scathing media reports of cars that could accelerate out of control, Toyota had an extremely expensive problem on its hands. Recalls, fines, and plunging sales resulted in losses to the auto manufacturer in the neighborhood of $2 billion. But bad news isn't always bad for business. After the movie Borat made relentless fun of the nation of Kazakhstan, Hotels.com reported a 300% increase in requests for information about the country, and a wine described as "redolent of stinky socks" by a prominent website saw its sales increase by 5%.
In a new study from Stanford Graduate School of Business, researchers say in some cases negative publicity can increase sales when a product or company is relatively unknown, simply because it stimulates product awareness.
"Most companies are concerned with one of two problems," says Alan Sorensen, associate professor of economics and strategic management at the business school and one of the authors of the study. "Either they're trying to figure out how to get the public to think their product is a good one, or they're just trying to get people to know about their product. In some markets, where there are lots of competing products, they're more preoccupied with the latter. In that case, any publicity, positive or negative, turns out to be valuable."
Looking at 240 fiction book titles reviewed by the New York Times, investigators found that positive reviews, not surprisingly, always increased sales by anywhere from 32 to 52%. For books by established authors, negative reviews, also not surprisingly, led to a 15% decrease in sales.
For books by relatively unknown authors, however, negative publicity had the opposite effect, increasing sales by a significant 45%. Follow-up studies affirmed the reason: Even bad reviews drew attention to works that otherwise would have gone unnoted. Moreover, the "negative" impression bad reviews created seemed to diminish over time."
With that backdrop, let's see what AP and Fox Business said this afternoon.

"Volkswagen has announced record annual sales that could determine whether it keeps its crown as the world's largest automaker.
The company based in Wolfsburg, Germany, said Tuesday that it delivered 10.97 million vehicles in 2019. That compares with 10.83 million in 2018, when Volkswagen edged out the Renault-Nissan-Mitsubishi alliance and Toyota, although the alliance was slightly ahead when trucks are removed from the totals.
The alliance and Toyota will report their figures in coming weeks. Toyota in December estimated its 2019 total would be 10.72 million, which would leave it behind Volkswagen.
General Motors held the title for more than seven decades before losing it to Toyota in 2008 and no longer has a shot at the top spot after selling its European business and closing other money-losing operations…
…The company's diesel scandal, in which it rigged cars to cheat on pollution emissions tests, came amid a push under former CEO Martin Winterkorn to dethrone Toyota as No. 1 in sales. The company has since pivoted in the wake of the 2015 scandal toward electric cars as the industry seeks to meet tougher limits on greenhouse gases.
Volkswagen was able to increase sales despite shrinking global auto markets. That means its market share increased against the competition…"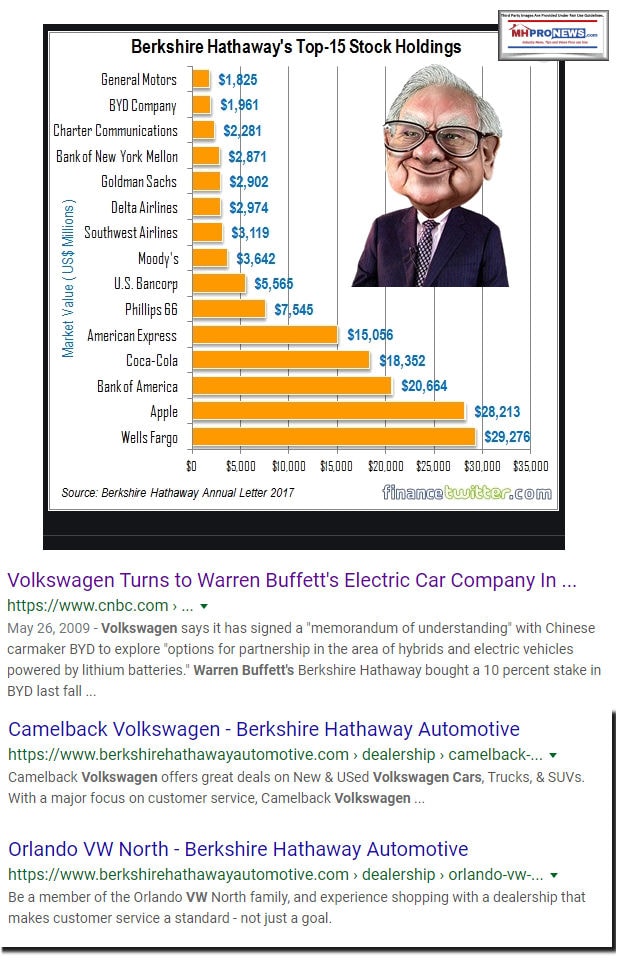 A non-Berkshire examples of this phenomenon in MHVille is arguably "Frank and Dave," who have stirred up years of controversy which seemingly has made them into dark celebrities. What happened to MHI's enforcement of their so-called code of ethical conduct?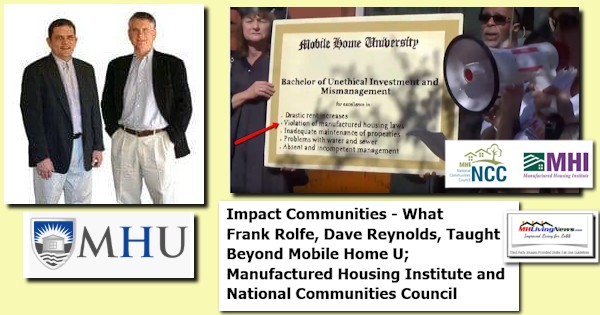 MHProNews already noted that MHI's 'big three' have grown during this period of time when often MHI member company bad news has proliferated.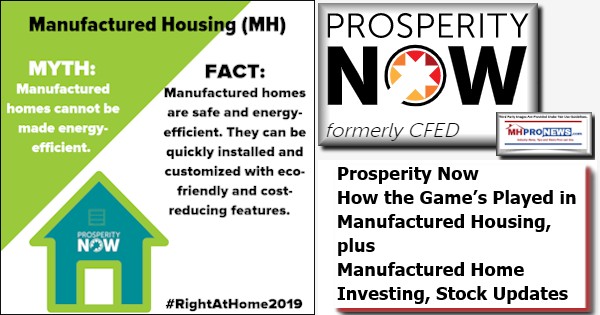 While this methodology has measurably hurt interest in manufactured housing in general, it has purportedly delivered oblique benefits – the sharks in the moat concept – to allies of the Omaha-Knoxville-Arlington axis.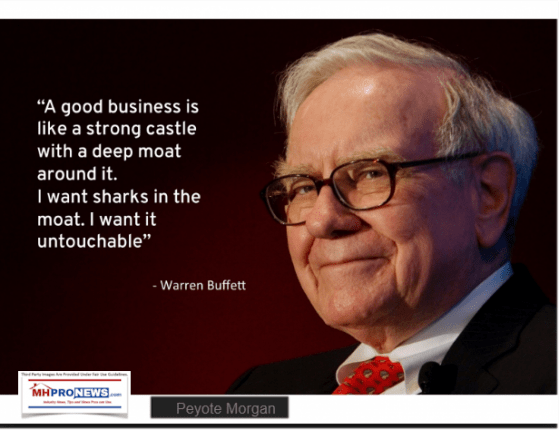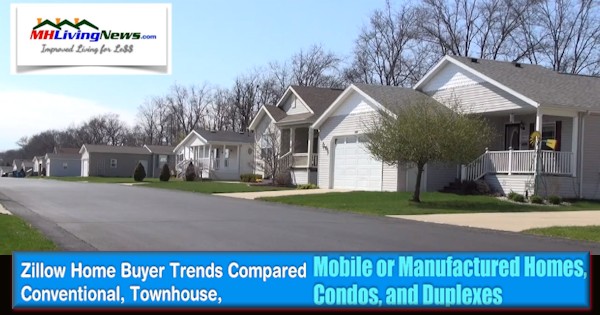 When white hat investors, regulators, professionals or others think about the harm done to the industry and its image, often the first place to look is purportedly to MHI member companies.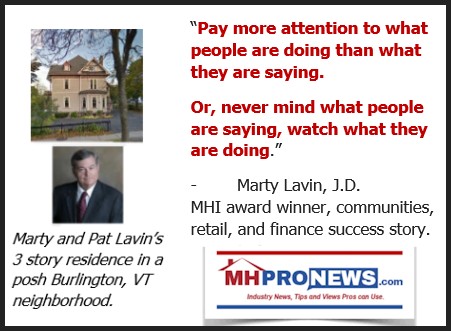 The industry is underperforming. Is that accident, bad luck, or part of a devious plan that involves consolidation of the industry?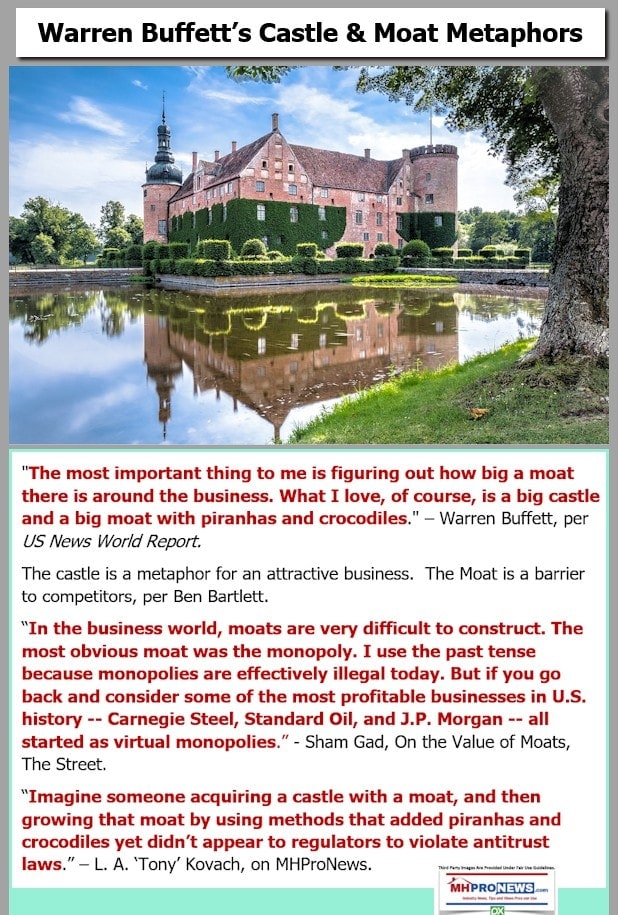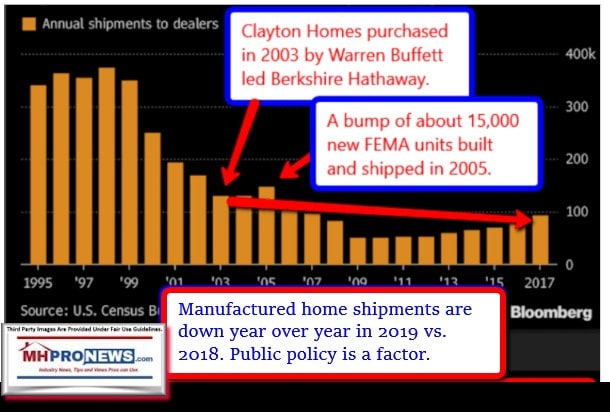 Jennifer Reingold Questioned Berkshire-Clayton Deal; MHI GSEs Rocked by Tip-Document Drop, plus Manufactured Home Investing, Stock Updates
The shipment graphic near the top or linked here makes that point aptly and factually. To get a glimpse into a method to reverse this problematic pattern, see the 6th report linked below.
See any or all of the related reports for more insights into why the industry is underperforming, and why it could be doing many times its current level of performance. As a reminder that there are political events tonight, this quote seems apt.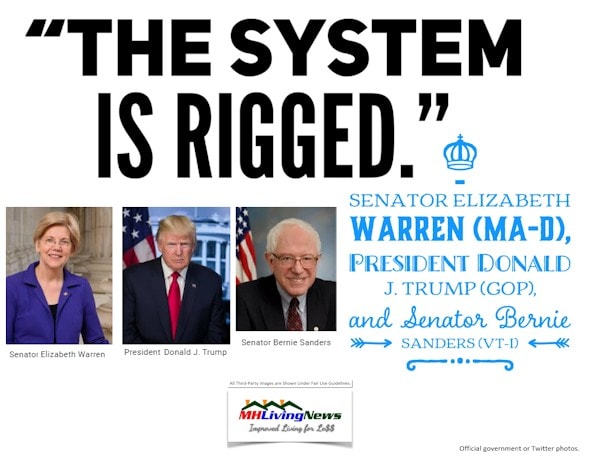 Related Reports:
Explosive – Veteran MH Insider Interview Delivers Vital Insights, plus Unpacking "Manufactured Housing Institute 2.0" Announcements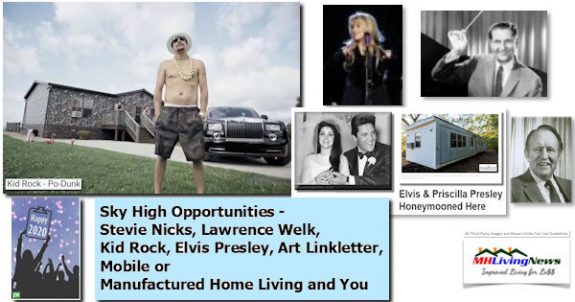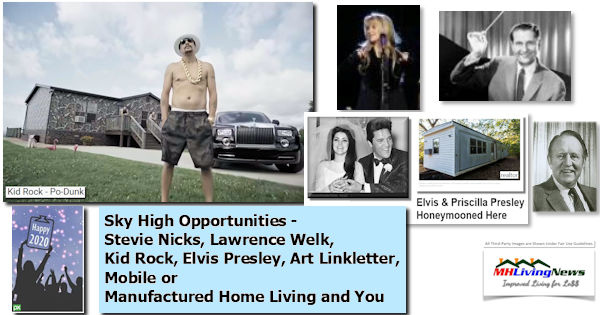 Secretary Carson Chaired White House Council Official Manufactured Housing Input
Then there is the runaway #1 trade media report in all of MHVille in January, 2020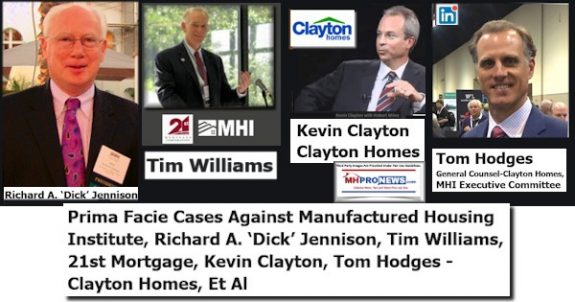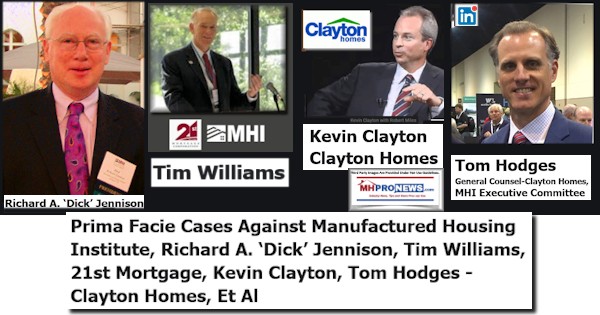 Blood. Brains. Why 2020 Could be Different than 2009-2019 in MHVille, plus Sunday Weekly Headline News Recap 1.5 to 1.12.2020
Manufactured Housing Industry Investments Connected Closing Equities Tickers
Some of these firms invest in manufactured housing, or are otherwise connected, but may do other forms of investing or business activities too.
NOTE: The chart below includes the Canadian stock, ECN, which purchased Triad Financial Services, a manufactured home industry lender
NOTE: Drew changed its name and trading symbol at the end of 2016 to Lippert (LCII).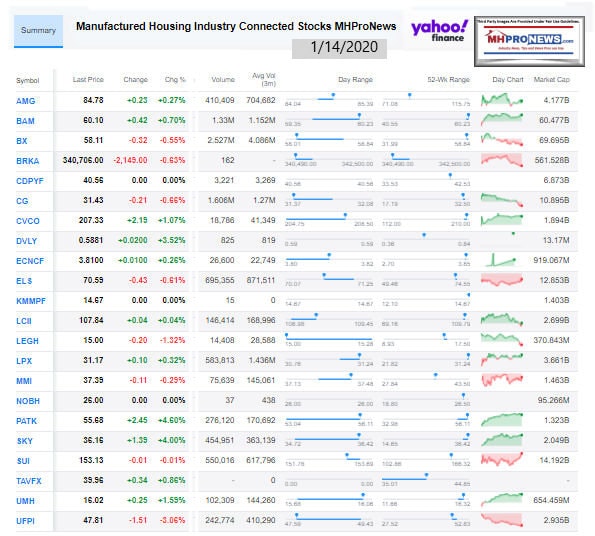 Winter 2020…
Berkshire Hathaway is the parent company to Clayton Homes, 21st Mortgage, Vanderbilt Mortgage and other factory built housing industry suppliers.
· LCI Industries, Patrick, UFPI, and LP each are suppliers to the manufactured housing industry, among others.
· AMG, CG, and TAVFX have investments in manufactured housing related businesses. For insights from third-parties and clients about our publisher, click here.
Enjoy these 'blast from the past' comments.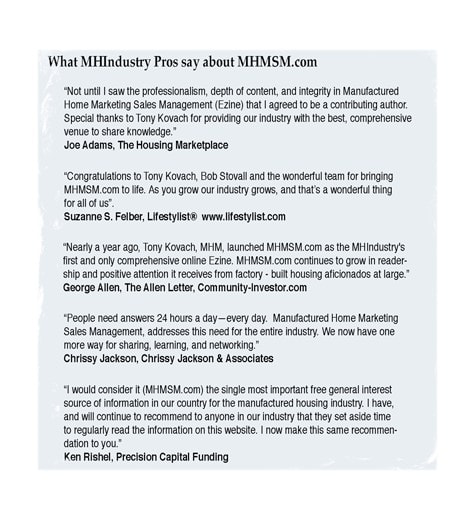 MHProNews. MHProNews – previously a.k.a. MHMSM.com – has now celebrated our tenth anniversary.
Learn more about our evolutionary journey as the industry's leading trade media, at the report linked below.
Celebrating 10 Years of Goal- and Solution-Oriented Manufactured Home Industry Innovation Information, and Inspiration for Industry Professionals
· For expert manufactured housing business development or other professional services, click here.
· To sign up in seconds for our industry leading emailed headline news updates, click here.
Disclosure. MHProNews holds no positions in the stocks in this report.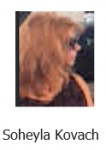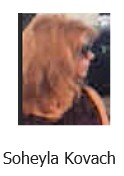 "We Provide, You Decide." © ## (News, analysis and commentary.)
(Image credits and information are as shown above, and when provided by third parties, are shared under fair use guidelines.)
Submitted by Soheyla Kovach, co-managing member of LifeStyle Factory Homes, LLC and co-founder for MHProNews.com, and MHLivingNews.com.

Connect with us on LinkedIn here and here.