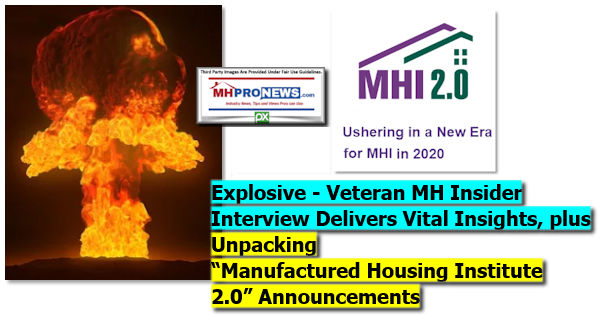 "Journalists look for consistency and inconsistencies," said South African born reporter Lara Logan. Logan was a correspondent for CBS for several years, contributed to respected publications like the Hill and is now doing reports for Sinclair Broadcasting, Fox News and Fox Nation. As a multiple Emmy-award winner in journalism, Logan's quoted point is an important one for all news reporting and analysis.
That's noted because it arguably particularly valuable for manufactured housing trade media, which is often agenda and/or self-promotion driven.
That tees up the headline topics.
The following is one of several powerful pull quotes from a new interview on MHProNews, that goes well beyond the ground-breaking Cup of Coffee series in its scope and depth. The interview dives deeply into several key issues that face manufactured housing.
"And this abject failure [to properly implement the Duty to Serve (DTS) by Fannie Mae and Freddie Mac] has only been compounded by efforts within the industry itself, to divert DTS support from mainstream HUD Code manufactured housing to much more costly "new generation" or "new class" type homes produced primarily by the industry's largest corporate conglomerates."
Ouch.
That interview has over 2 dozen questions and answers with a well-informed named source and is linked here.
It also makes for a useful segue to an analysis of some interesting parts of the latest from the Arlington, VA based Manufactured Housing Institute (MHI), which in their latest email said they are now rolling out MHI 2.0.
Per their email:

"Welcome to MHI 2.0
Ushering in a New Era for MHI in 2020

MHI is starting off the New Year with new leaders at the helm, to usher in what we are referring to as "MHI 2.0." Building upon the momentum gained in recent years, MHI's CEO Lesli Gooch and President Mark Bowersox are focused on providing MHI members the tools they need to grow the manufactured housing market. MHI 2.0 will support market growth by telling the industry's story to media and policymakers, providing worthwhile engagement and networking opportunities for MHI members, and developing the team of MHI's leaders. As we enter the new decade, we have an unprecedented opportunity for the industry and MHI 2.0 is built around the idea that the future of our industry is the future of housing in America. MHI 2.0 is designed to support our members' efforts to bring manufactured housing to more homebuyers everywhere. We look forward to working with each of you to make MHI 2.0 a great success."
Before we unpack that portion of their message, let's add another section from the same MHI email dated 1.8.2020.
In Case You Missed It…

MHI is excited to introduce CrossMod™, the official name for the new class of manufactured homes.
 CrossMod™ is a reflection of our commitment to elevate the industry by bringing the quality and innovation that can be found in all off-site built housing, including Manufactured Homes, Modular Homes and now CrossMod™ Homes, to even more home buyers. The term was developed with involvement from multiple professional agencies and teams of industry participants for use by MHI members as a certified mark to identify this new HUD Code home category…
MHProNews Analysis
In reverse order from the above, let's start with the second plug from MHI for their plan.
Apparently, MHI's "ICYMI" indicates that their prior rollout landed with less than a warm or broad welcome. Even one of their own purportedly rewarded blogging toadies said as much, in saying that the name "CrossMod™ Homes" was problematic. Clearly, they are reading MHProNews prior analysis on the MHI-Clayton Homes backed concept. A recent report and analysis that cited prior history on this problematic plan is linked below.
Next, does MHI realize that their MHI 2.0 is a self-contradictory proposition? How so? Let's look.
"

Ushering in a New Era for MHI in 2020

" suggests that something new is needed, and indeed it is. After 2 decades in the doldrums, with over 10 years of new HUD Code manufactured home shipments under 100,000 new sales and shipments, there is obviously a need for something new.
Compare and contrast that with what the followed with, again, quoting MHI 2.0 announcement:
"…Building upon the momentum gained in recent years, MHI's CEO Lesli Gooch and President Mark Bowersox are focused on providing MHI members the tools they need to grow the manufactured housing market. MHI 2.0 will support market growth by telling the industry's story to media and policymakers…" Ponder that Lara Logan quote on consistency and inconsistency. When you do, it become apparent that the claim is arguably pure BS, to be blunt. If there was "momentum," then the industry would collectively be at or over 500,000 shipments, as their own prior president Richard "Dick" Jennison said was the goal.
The gap from under 100,000 shipments for a decade to that MHI goal of 500,000 shipments, that's a pretty big inconsistency, isn't it?
MHI CEO Dick Jennison's Pledge – 500,000 New Manufactured Home Shipments
What momentum, when 2019 year to date production and shipment data is a step back from 2018 production and shipment data? Keep in mind what they previously said in 2018, and then what's occurred since.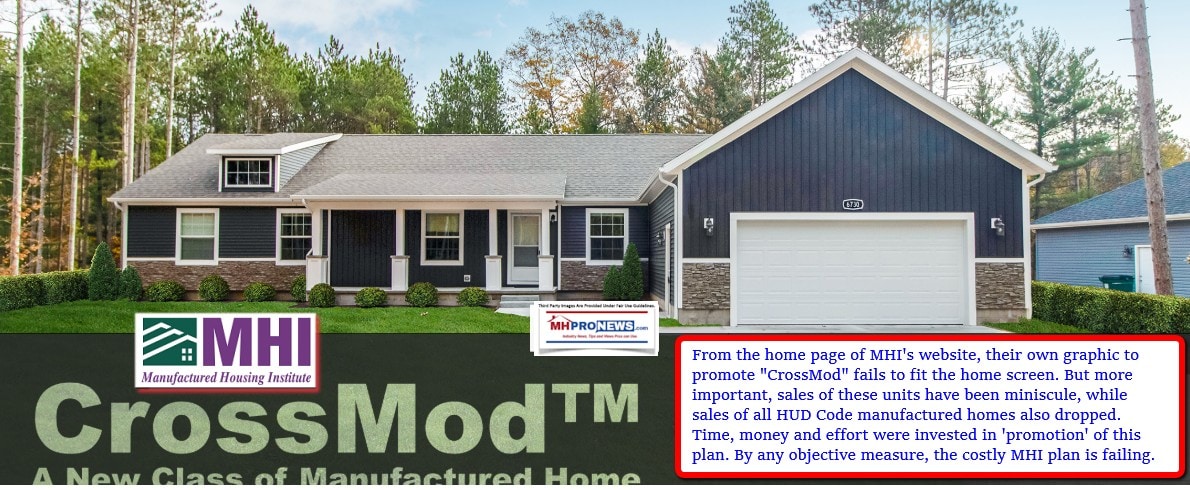 MHI's purported effort at gaslighting is bordering on the absurd. If the tools that they've given for the last several years were working as promised, then what would be the need for an MHI 2.0?
Prior MHI chair Nathan Smith admitted on camera that the association had failed to be pro-active and then pledged to change that going forward. How has that promised worked out for manufactured housing independents?
MHI promised with great fanfare that their new class of homes was going to bring more growth. It hasn't, has it? If it did, then wouldn't we be at over 500,000 new HUD Code manufactured home shipments?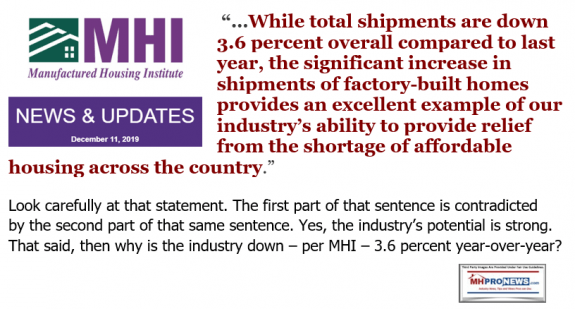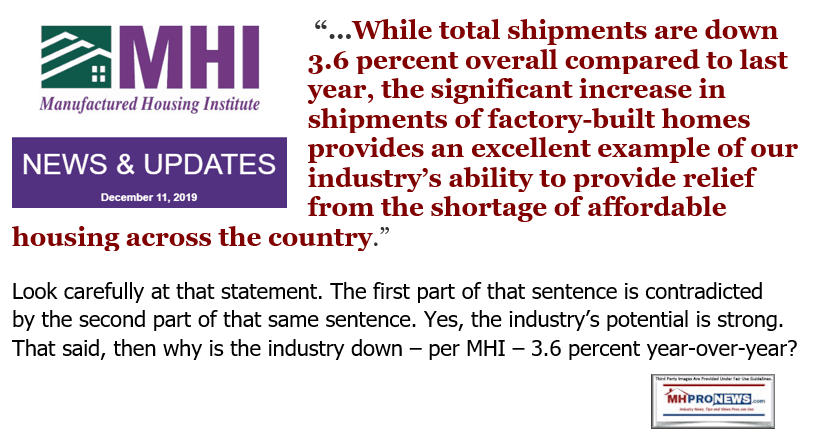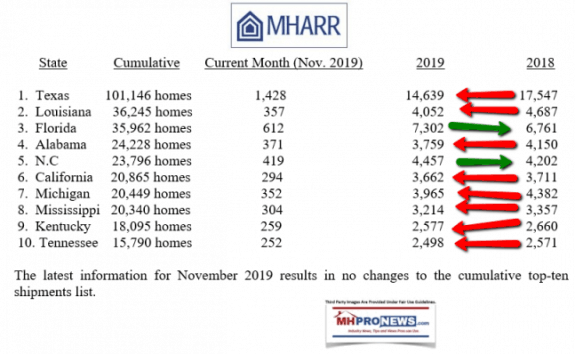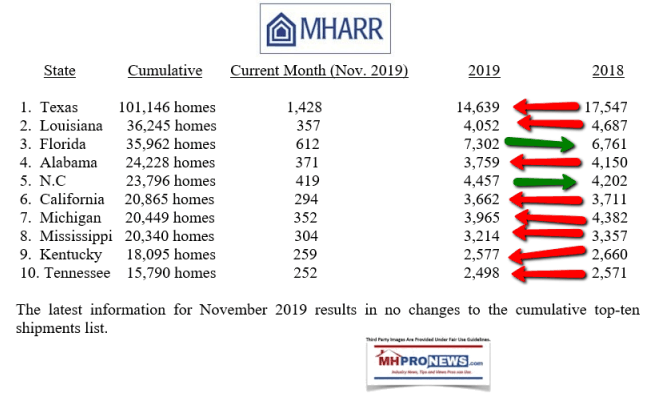 See the related reports, linked below for more.  Don't miss the very relevant insider interview linked here. It is worth noting that the interview was started before the MHI 2.0 announcement, which makes the insider insights all the more revealing and timely. Set aside about 12 to 15 minutes for a careful reading.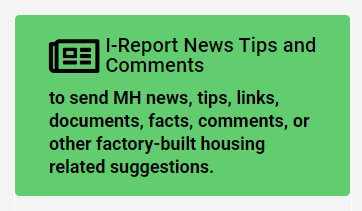 When asked again to respond to recent concerns, MHI and its leaders have remained mute. But in the wake of that, there are other insights coming in from various sources. That said, MHI is correct about this. There is large upside potential. But the facts demonstrate time and again that they are not tapping into that potential. See the related reports, below the byline and notices.
As usual, there is always more information and insights ahead. That's all she wrote for this installment of manufactured housing "Industry News, Tips and Views Pros Can Use" © – MHVille's runaway #1 news source, where "We Provide, You Decide." © (News, fact-checks, analysis, and commentary.) Notice: all third party images or content are provided under fair use guidelines for media.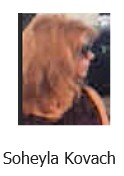 Submitted by Soheyla Kovach for MHProNews.com.Soheyla is a co-founder and managing member of LifeStyle Factory Homes, LLC, the parent company to MHProNews, and MHLivingNews.com. Connect with us on LinkedIn here and here.
Related References:
The text/image boxes below are linked to other reports, which can be accessed by clicking on them.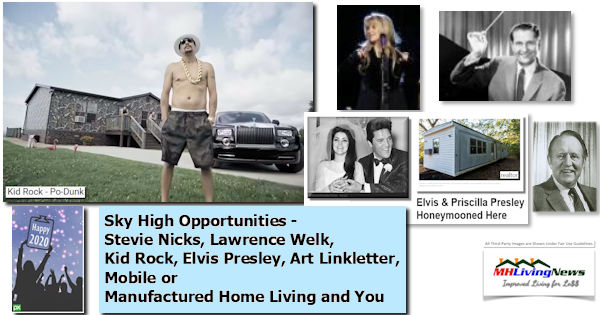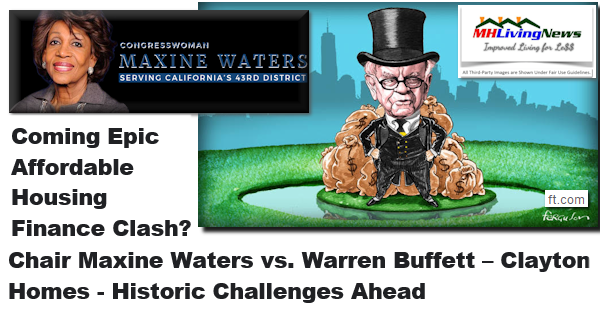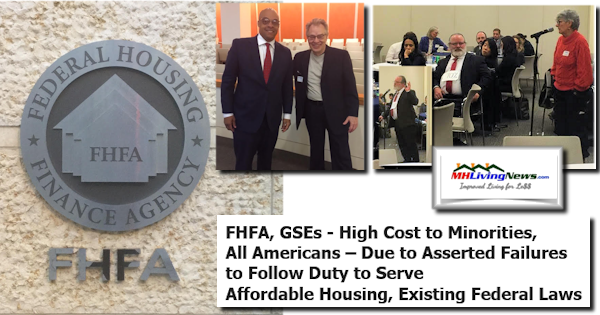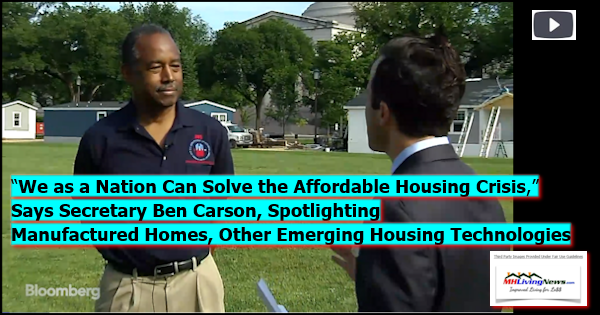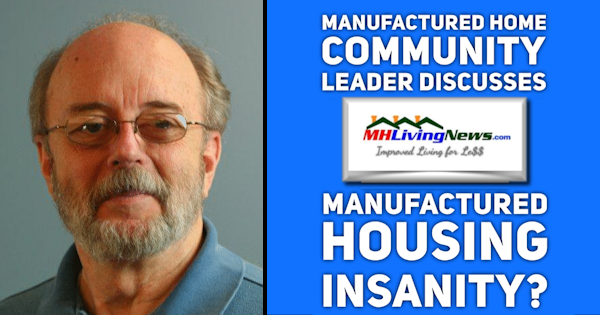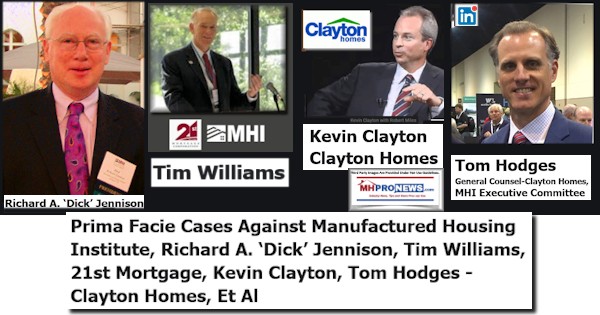 Blood. Brains. Why 2020 Could be Different than 2009-2019 in MHVille, plus Sunday Weekly Headline News Recap 1.5 to 1.12.2020
MHI CEO Dick Jennison's Pledge – 500,000 New Manufactured Home Shipments