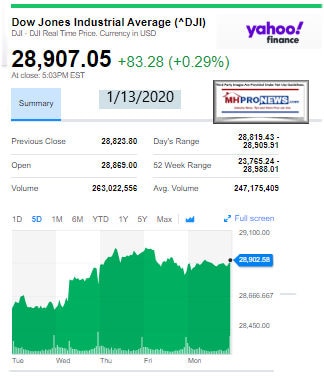 Billionaire Michael Bloomberg (D) has made an admission that should make Senators Elizabeth Warren (MA-D) and Bernie Sanders (VT-I, but self proclaimed "Democratic Socialist") happy. Meanwhile, Steve Hilton celebrates the 'death' of the Establishment Republican Party, but that may be a bit premature. Pundits across the left-right divide are speculating that House Speaker Nancy Pelosi is playing kingmaker (sorry), by forcing the Senate trial so soon before the Iowa caucuses, a move that might help the current number four in the state, former Vice President Joe Biden. All of that and more in our featured focus this evening, where business and politics meet again tonight.
Periodic readers of this business-nightly feature should note there are a few tweaks to some of the standard portions of our evening market/investing report. Read carefully as some changes of the 'standard text' that follows before our left-right headlines and also in other features near the end of tonight's reports.
Every evening our headlines that follow provide snapshots from two major media outlets on each side of the left-right news spectrum that reflect topics that influence or move investor sentiment. In moments on this business evening report, you can get 'insights-at-a-glance.'
This report also sets the broader context for manufactured housing markets, in keeping with our mantra, "News through the lens of manufactured homes and factory-built housing" ©.
We begin with headlines left-of-center CNN followed by right-of-center Fox Business. We share closing tickers and other related data courtesy of Yahoo Finance, and more. 5 to 10 minutes reading this MHProNews market report every business night could save you 30 minutes to an hour of similar reading or fact-gathering elsewhere.
Perhaps more important, you will get insights about the industry from experts that care, but also dare to challenge the routine narrative that arguably keeps manufactured housing underperforming during an affordable housing crisis.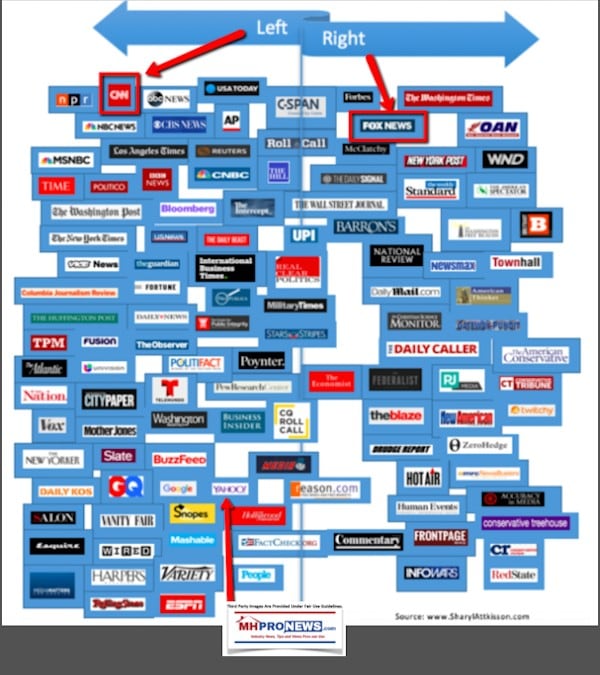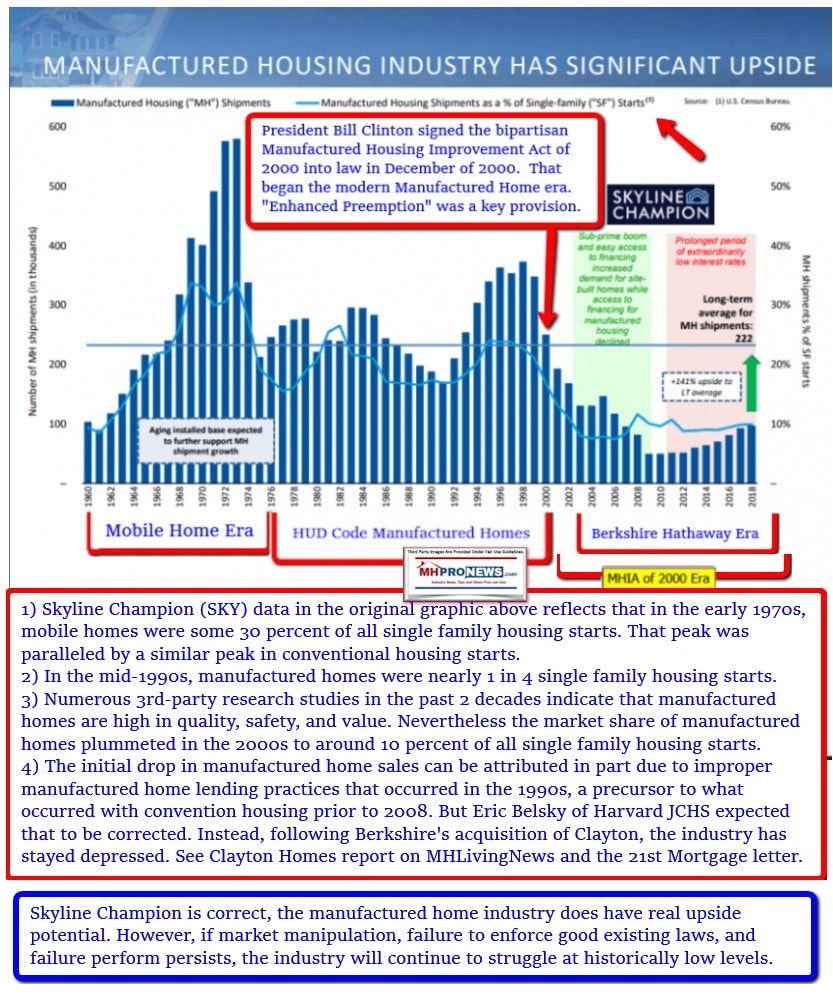 Newsy, Peeling Back Media Bias, Manufactured Housing Sales, Investing, Politics, and You
Headlines from left-of-center CNN Business.
America's new favorite restaurants – Convenience stores are reinventing themselves to adjust to the changing ways we eat
Unresolved tensions over technology could divide the world, Janet Yellen says
Analysis: China is doing whatever it can to avoid mass layoffs
The moral dilemma of doing business in China, explained
Billionaire seeks 'life partner' to fly with him to the moon
Abby Huntsman quits 'The View'
Snoop Dogg made a sandwich for Dunkin'
Tribune Publishing is offering buyouts after private equity firm became largest shareholder
How to stay invested if you're a worrier
Microsoft is killing off support for Windows 7, which is still used on a third of PCs globally
The world is drowning in debt
Corvette wins North American Car of the Year Award
On 22 and 23 November, a selection of highly developed robots from various fields will be shown, giving an insight into the current possibilities of artificial intelligence.
The technology of the future paints a very lonely picture for all of us
AN ONGOING CRISIS – Dave Calhoun, head of private equity portfolio operations for Blackstone Group LP, speaks during a Bloomberg Television interview in New York, U.S., on Tuesday, Oct. 17, 2017.
New Boeing CEO says company must do much better
Fixing Boeing won't be easy
Ousted Boeing CEO exits with no severance
Boeing releases troubling internal documents
Biggest supplier lays off 2,800 workers
Uber and Hyundai team up to put flying taxis in the sky
The far out and futuristic cars of CES
Self-driving scooters are coming to city sidewalks
Boeing and Porsche are developing a flying car
Opinion: What we need to get right for a self-driving future
Headlines from right-of-center Fox Business.
How much money the British royals rake in every year — and where it comes from
Queen Elizabeth II has three main sources of income.
READ: Queen's statement after summit to discuss Harry, Meghan plans
Royal drama already financially benefiting Meghan Markle project
New Jersey to keep squeezing wealthy for taxes despite high-earner exodus
Florida pulls in billions amid high-tax state exodus
Former 'SNL' cast member slams show's new screening process after slur firing
Fired Astros manager AJ Hinch could lose MILLIONS in salary over cheating scandal
ESPN could make former star quarterback highest-paid sportscaster in history
Not just about paychecks: 4 surprising Gen Z facts every employee should know
US takes major step to de-escalate China trade war
Why former Obama aide supporting Pete Buttigieg over Joe Biden
WATCH: Chinese delegation arrives at DC hotel ahead of 'phase one' signing
SEE PICS: Snoop Dogg drops new Dunkin' menu item
SEE IT: Stock jumps on photo of model Kendall Jenner sipping tea
Why Americans are drinking less wine for the first time in 25 years
Supermodel Gigi Hadid called as potential juror in Weinstein rape trial
Las Vegas hotel fires back at 'unruly' OJ Simpson defamation claims amid ban
Expert reveals steps to 'no regrets' retirement
S&P, Nasdaq soar to new records ahead of US-China trade deal signing
Seahawks star goes viral giving 'chicken' advice to young players
Police: General Motors workers caught racing new 2020 Corvettes
Art Laffer: China is 'natural trading partner' for US
Houston Astros manager, GM fired after MLB suspension for sign stealing
'Hillbilly Elegy' author, Peter Thiel partner on VC fund
Jerry Jones congratulates ex-coach Jimmy Johnson on Hall of Fame news
CEO fights back after 'social media mob' forces her to leave her own company
Moms' group wants Burger King ad off air over 'cuss word'
Federal budget deficit running 11.8% higher this year
China shows more trade war wounds in auto market
Popeyes awards 'Family Feud' contestant $10K for viral gaffe
Patriots star arrested for trashing car in California
Tesla shares speed past $500 as competition left in dust
Car of the year awards go to eclectic mix including Corvette, Kia
Former top stockbroker goes on trial for fleecing clients
Massive Wisconsin mansion near Green Bay Packers QB Aaron Rodgers' home up for auction without reserve
Bloomberg's money could win 2020 race even if he doesn't
Trump's labor regulations creating clarity for employers: Eugene Scalia
Australia brushfire relief gets $690K from Bezos, millions from other celebs
Panera bringing back French onion soup after national outcry
Pompeo to dine with tech leaders, including Oracle co-founder in San Francisco: Report
Varney: Trump giving Iranians their 'best opportunity' to return to freedom
Staggering amount of Americans don't do the right thing when sick
Family says 'criminal' Amazon won't investigate soiled diaper shipment
Bloomberg, Bezos and the Clintons reportedly have unclaimed money waiting at state office
Panera bringing back French onion soup after national outcry
DoorDash delivering Popeyes chicken sandwiches for free. How to get your hands on one
Biogen to buy experimental Alzheimer's, Parkinson's treatment from Pfizer for $75M plus incentives
Cory Booker suspends 2020 presidential campaign
Oscar best picture nominees include '1917,' 'Once Upon a Time … in Hollywood,' 'Joker'
Gas prices rise to start the new year
Apple robot will extract valuable minerals from recycled iPhones
10 Market Indicator Closing Summaries – Yahoo Finance Closing Tickers on MHProNews…

Featured Focus – Where Business, Politics and Investing Meet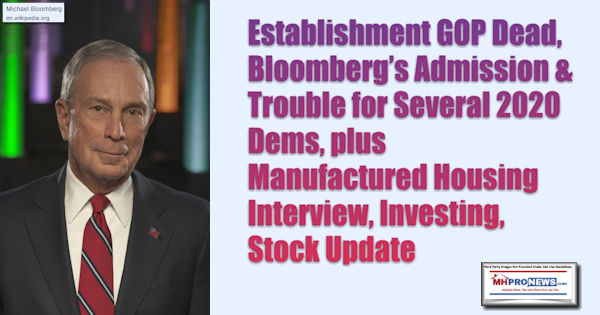 It goes without saying that the political winds will shape regulations and public policy. So MHProNews will continue to periodically spotlight the evolving 2020 race.
Michael Bloomberg (D) is already surprising some political observers who predicted his campaign would go nowhere, despite his wealth. MHProNews doesn't claim a crystal ball, but we did say months ago that he could be a force to be reckoned with among Democrats and against the Republican party too. Bloomberg is obviously intelligent and successful. He's building the best campaign his money can buy.
Speaking of buying, the New York Times reports he has some 800 on his campaign staff. The Hill said 5 days ago that "Former New York City Mayor Michael Bloomberg has spent more than $147 million…" and the Washington Examiner says he's spending about $4.2 million daily just on ads.
His deep pockets are buying him data and more. From CNN today, ponder this statement from Bloomberg to his fellow Democrats. "But right now, we are in danger of repeating 2016 in large part because, as Democrats focus on Iowa and New Hampshire, Trump is operating at full-speed in the battleground states, with field staff and targeted television and digital advertisements. Tuesday, while Democrats are on stage in Des Moines, he'll be speaking to thousands of supporters in Wisconsin — a state Democrats need to rebuild the Blue Wall."
Bloomberg effectively admits he's trying to buy the nomination. So what some of the left wing of the Democratic party are alleging, Bloomberg is just admitted in writing. "I'm sometimes asked if I'm trying to buy the election. My answer is simple: Know a better use for my money than defeating Donald Trump?"
But the billionaire media mogul is still in single digits, about 5th place per several national polls of 2020 Democratic White House nomination hopefuls.
Said left-of-center Axios on January 9: "Peter Schweizer, the controversial author of the massive seller "Clinton Cash," will be out Jan. 21 with a new book going after several of the 2020 Democratic contenders, "Profiles in Corruption: Abuse of Power by America's Progressive Elite" (HarperCollins).
The state of play: Schweizer, who spent a year and a half on reporting the book, told me that it is "a sweeping, detailed look at how the leading figures of progressivism have leveraged the power of their positions."
"Progressives are unique on the current political landscape because unlike moderates, conservatives, and libertarians, they want to rapidly expand government power, thereby creating new opportunities for an even greater abuse of power," he added.
The big picture: The book includes chapters on Joe Biden and L.A. Mayor Eric Garcetti — as well as Sens. Cory Booker, Elizabeth Warren, Sherrod Brown, Bernie Sanders and Amy Klobuchar…"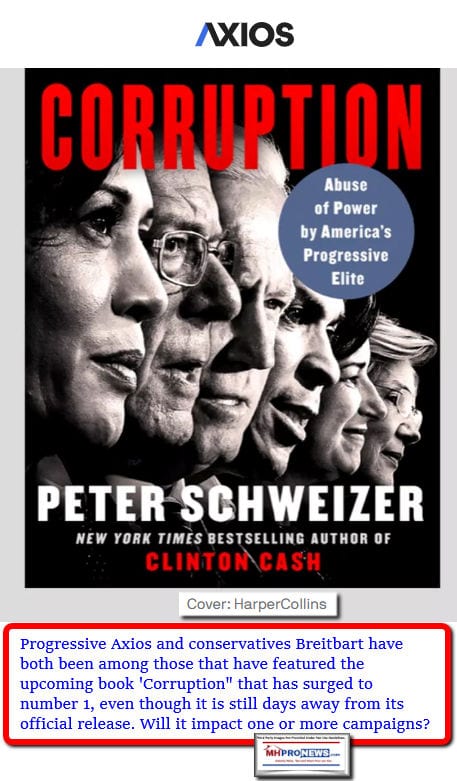 Right-of-center Breitbart, which Axios noted is increasingly being depended upon by Team Trump, noted yesterday that "The highly anticipated investigative bombshell book Profiles in Corruption: Abuse of Power by America's Progressive Elite hit #1 on Amazon Saturday, despite the fact that the book's official release is still over a week away."
Disclosing Schweizer's ties to their own publication, they noted that if his "next book is anything like his four previous consecutive New York Times bestsellers, Washington will feel its shockwaves. Secret Empires exposed Joe and Hunter Biden's Ukraine and China dealings, touching off a firestorm of coverage about Hunter Biden's $83,000 a month work on behalf of Ukranian energy giant Burisma while Joe Biden led U.S.-Ukraine policy as vice president. Clinton Cash sparked an FBI investigation into the Clinton Foundation and uncovered the Uranium One scandal. Extortion led to lawmakers retiring. And Throw Them All Out pulled back the curtain on insider trading by members of Congress and led to the passage of the STOCK (Stop Trading on Congressional Knowledge) Act.
Profiles in Corruption: Abuse of Power by America's Progressive Elite is scheduled to hit bookstores January 21."
Steve Hilton on right of center Fox News said that: "The GOP establishment is dead, thanks to the Trump Revolution. And that's fantastic news."
That's arguably a bit premature, as there are absolutely still numbers of anti-Trump "Establishment Republicans." But hyperbole aside, there is little question that Hilton is correct that the party is becoming more Trumpian.
While certain Democrats say there is no logic to President Trump's foreign policy, Hilton seems to have no trouble articulating what he sees as the plan and the results. Some pull quotes:
"It doesn't fit into the establishment's traditional ideological boxes and that's why they waste our time with pointless political games like impeachment.
We saw the new approach clearly with Iran. The Democrats, never-Trumpers and their media lackeys lurched wildly from calling Trump weak to branding him a warmonger.
But his strategy has been consistent from day one. He is anti-war, but he is also anti-weak. No, he doesn't want to invade deserts of sand like the neocons, but he doesn't want to put his head in the sand, like the isolation nuts, either.
It was the same over Syria — withdrawing troops from a conflict that is someone else's business, but a missile strike if you use chemical weapons.
You saw it with North Korea — fire and fury and then historic negotiations.
The same with China. Tough tariffs, but look at what's happening this week. They're coming here to sign a deal.
This is the Trump Revolution: Pragmatic, non-ideological. He approaches issues as a problem-solving businessman.
It's actually a revolution in ideas and it goes way beyond foreign policy. He is combining the best of traditional conservative ideas with positive populism, appointing conservative judges andleading the way on criminal justice reform, cutting taxes and boosting family leave.
Cutting regulations, by the way, given a massive boost last week with new plans to reform the environmental bureaucracy that's blocking infrastructure construction and cutting low wage immigration."
Then there is the practical reality of a Senate impeachment trial. Senators are required to be there. Does that give an edge to candidates in Iowa like Mayor Pete Buttigieg or Joe Biden? There are Democrats who fear that Senator Sanders, or now to a lesser degree, Warren might win the primary, but would get mowed down in the general election. Former President Barack Obama's circle are among those who have whispered or said as much.
What does that array of political punditry mean for investors? There are increasingly those who think that the 45th president is cruising to re-election. But the reality is that while the president is on a roll at this time, it's still over 10 months to election day. The president himself says you run a campaign like you are behind, even if you are ahead.
Senator Cory Booker is the latest on the Democratic side to dropped out. The final pre-Iowa Democratic debate is looming. While there are those that think that Democrats will be divided post-convention, that too ignores a President Trump standard line on the campaign trail. Democrats unite.
Will Dems nominate someone from the far left?
Will Bloomberg surge on a billion-dollar potential campaign spending spree?
Will the hapless Biden somehow emerge, despite being behind in Iowa and NH polling?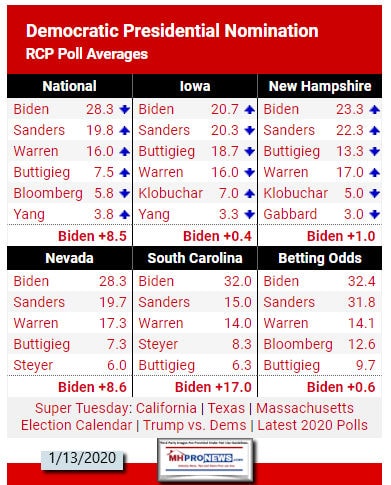 As the Real Clear Politics (RCP) average suggests, it may be the most wide-open Democratic primary in some time. Meanwhile, President Trump and Vice President Mike Pence are running their campaign as they move their agenda ahead in Washington and beyond.
Not unrelated on how all of this may play out in MHVille, see the related reports, which includes a hot new interview that ought to make the Omaha-Knoxville-Arlington folks think about their 2020 plans and hopes.
Stay tuned.
Related Reports:
Explosive – Veteran MH Insider Interview Delivers Vital Insights, plus Unpacking "Manufactured Housing Institute 2.0" Announcements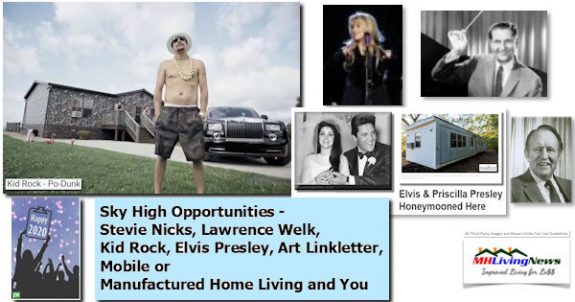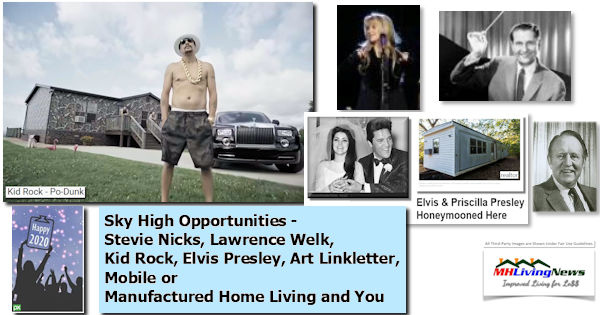 Secretary Carson Chaired White House Council Official Manufactured Housing Input
Then there is the runaway #1 trade media report in all of MHVille in January, 2020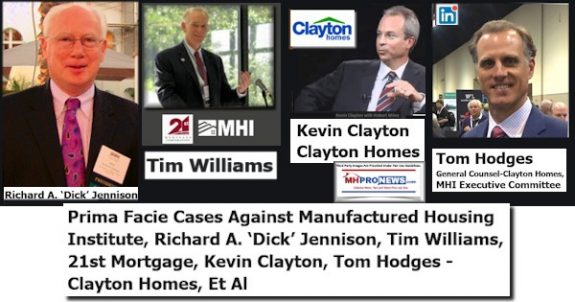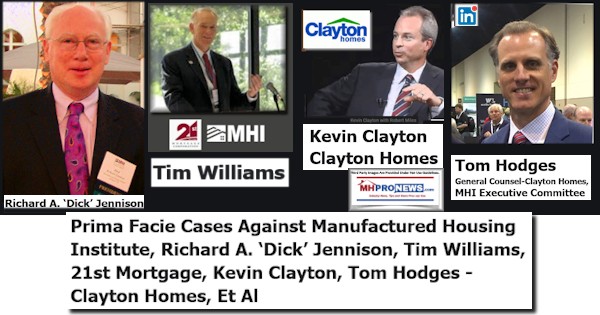 Blood. Brains. Why 2020 Could be Different than 2009-2019 in MHVille, plus Sunday Weekly Headline News Recap 1.5 to 1.12.2020
Manufactured Housing Industry Investments Connected Closing Equities Tickers
Some of these firms invest in manufactured housing, or are otherwise connected, but may do other forms of investing or business activities too.
NOTE: The chart below includes the Canadian stock, ECN, which purchased Triad Financial Services, a manufactured home industry lender
NOTE: Drew changed its name and trading symbol at the end of 2016 to Lippert (LCII).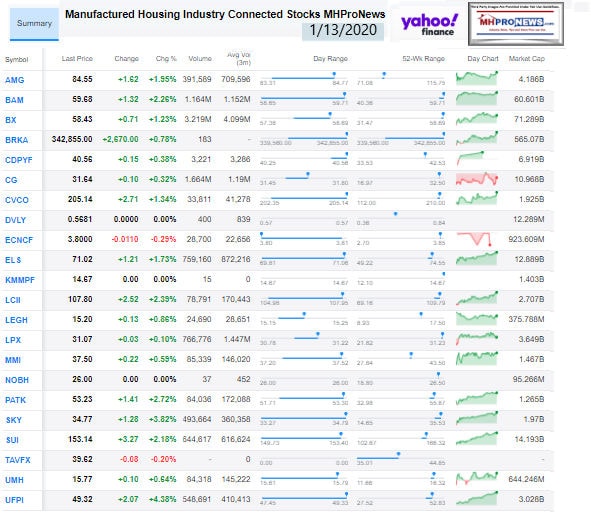 Winter 2020…
Berkshire Hathaway is the parent company to Clayton Homes, 21st Mortgage, Vanderbilt Mortgage and other factory built housing industry suppliers.
· LCI Industries, Patrick, UFPI, and LP each are suppliers to the manufactured housing industry, among others.
· AMG, CG, and TAVFX have investments in manufactured housing related businesses. For insights from third-parties and clients about our publisher, click here.
Enjoy these 'blast from the past' comments.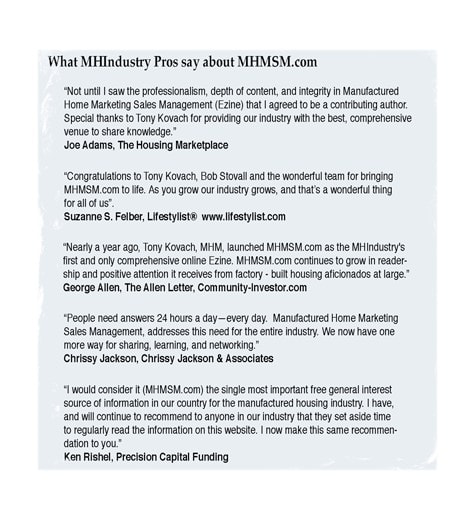 MHProNews. MHProNews – previously a.k.a. MHMSM.com – has now celebrated our tenth anniversary.
Learn more about our evolutionary journey as the industry's leading trade media, at the report linked below.
Celebrating 10 Years of Goal- and Solution-Oriented Manufactured Home Industry Innovation Information, and Inspiration for Industry Professionals
· For expert manufactured housing business development or other professional services, click here.
· To sign up in seconds for our industry leading emailed headline news updates, click here.
Disclosure. MHProNews holds no positions in the stocks in this report.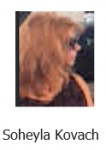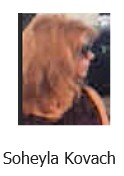 "We Provide, You Decide." © ## (News, analysis and commentary.)
(Image credits and information are as shown above, and when provided by third parties, are shared under fair use guidelines.)
Submitted by Soheyla Kovach, co-managing member of LifeStyle Factory Homes, LLC and co-founder for MHProNews.com, and MHLivingNews.com.

Connect with us on LinkedIn here and here.