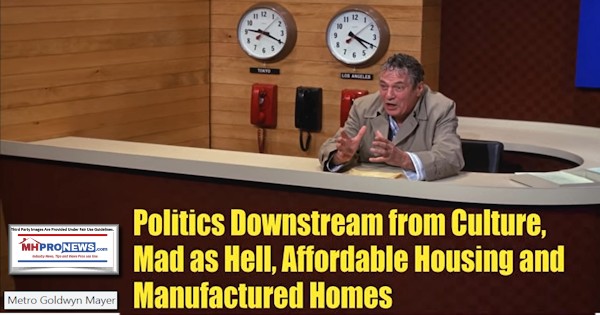 Andrew Breitbart is among those cited as saying "politics is downstream from culture."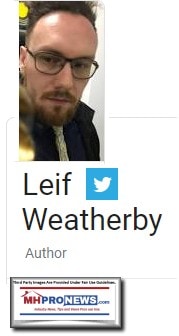 In commenting on that notion, the Hedgehog Review says, "Our lives—indeed, our very species—has storytelling wound into our DNA. From the earliest cave drawings, man has expressed himself in terms of story. Ancient civilizations understood that stories are vital to understanding our place in the world, so much so that they codified storytelling and found base rules that form it. Oral histories are a part of every culture across the globe."
That same Hedgehog Review article by Lief Weathersby also observed "…Lawrence Meyers, appeared in a 2011 article headlined "Politics is Really Downstream from Culture." It was an elaboration of Andrew Breitbart's mantra, "politics is downstream from culture." The slogan—a nice inverse of James Carville's "It's the economy, stupid!"—means what it says: Change the culture, change the government."
Continuing, "Now, six years later, national politics, we might say, is culture, and maybe even only culture. Steve Bannon, Breitbart's successor, is not only in the White House, but, for the time being at least, enjoys a front-row seat on the National Security Council…"
That 2.22.2017 observation was prescient. Bannon and the White House subsequently parted ways. For a time, shots were fired in both directions. There now seems to be a truce if not a new understanding between Bannon and 'all the president's people.'
Weathersby is, listed as an assistant professor at New York University. Jumping down a bit in that same column, he said that President Bill Clinton's advisor James "…Carville's famous quote ["It's the economy, stupid!"] about the fundamental nature of the economy. It wasn't fashionable to say this twenty-five years ago, but Carville's story, condensed in his quote, was recognizably a Marxist one, that other parts of social and cultural behaviors flow from economics. Carville's target then was Newt Gingrich and his "contract with America" and the result was a style of punditry that Bannon has been since been seeking to replace. There's no substantial disagreement, it's just that Bannon and his cohort are more explicitly prepared to borrow tools from the other side of the aisle.
So on both sides of the aisle, politics is downstream from culture, as we saw when it became apparent that Bill Clinton needed someone like Carville with his slogan to overcome George H.W. Bush and his Thousand Points of Light."
Said Weatherby, "In 1979, Jean-François Lyotard, a would-be vanguard of the academic left, defined the postmodern age as the end of the "grand narrative." But maybe Lyotard was simply seeing the end of one kind of narrative, one that stretches all the way back to the French Revolution, and the many optimistic theories of history of the first two centuries of unrestrained capitalism. And while the left was busy having the last laugh at this kind of narrative, the right has been developing another for some thirty years…"

Breitbart News has been deemed 'alt-right' by those on the left, arguably in a similar fashion that some progressive publications are deemed socialist by conservative media. It is precisely to aide our MHProNews readers in sorting out the tilt of a news media outlet that we've routinely shared Emmy award winning Sharyl Attkisson's left-right media bias chart which is shown below. Breitbart is toward the far right. Both left and right wing media often bash each other, as those who watch CNN and MSNBC noted in commentary about Fox News, or those who watch Fox hear about the problems with reporting on the left.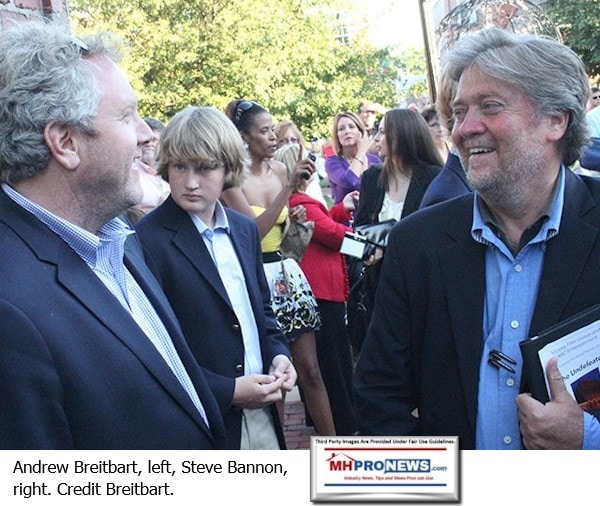 But the point isn't as much about media bias, MHProNews sources information across the spectrum citing sources and providing Attkisson's bias so our readers can discern for themselves the reasonableness of a statement or source. It is the insight about culture being upstream from politics that is being explored in this report.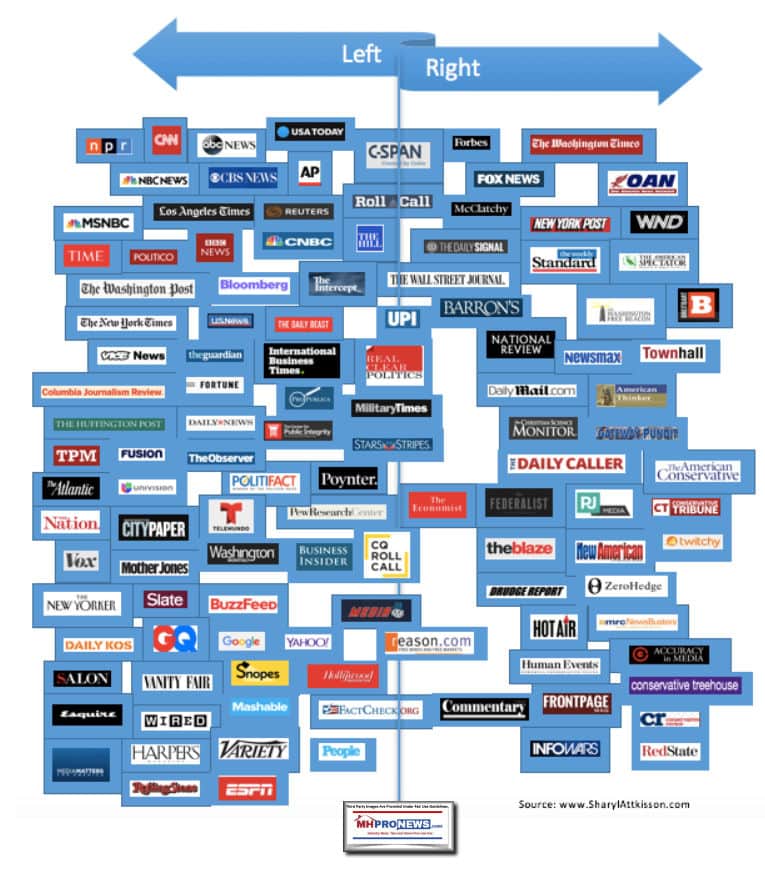 The Washington Monthly on March 19, 2018 also had an article headlined: "Politics Is Downstream From Culture."
"Avram Noam Chomsky is an American linguist, philosopher, cognitive scientist, historian, social critic, and political activist. Sometimes called "the father of modern linguistics", Chomsky is also a major figure in analytic philosophy and one of the founders of the field of cognitive science," says Wikipedia.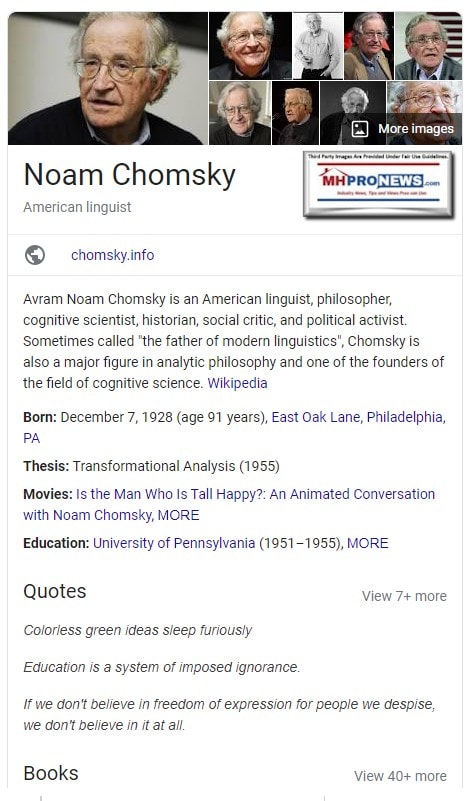 He is one of the individuals quoted in docum-drama Shadows of Liberty, which MHProNews probed along with documentary video The Corporation in a recent report linked below.
Mainstream vs. Trade News, Politicos, President Trump, Senator Sanders, Billionaire Bloomberg, Law Enforcement and Manufactured Housing's Unique Plight
Cognitive science leader Chomsky isn't shy about his views on media, or other issues that shape serious numbers of people's thinking.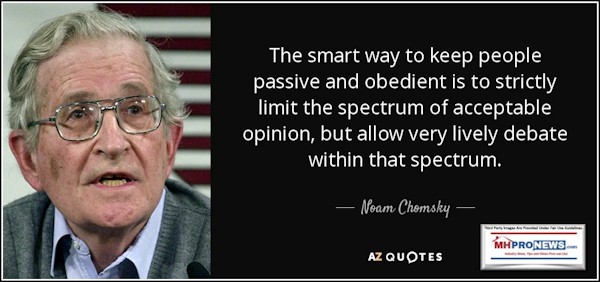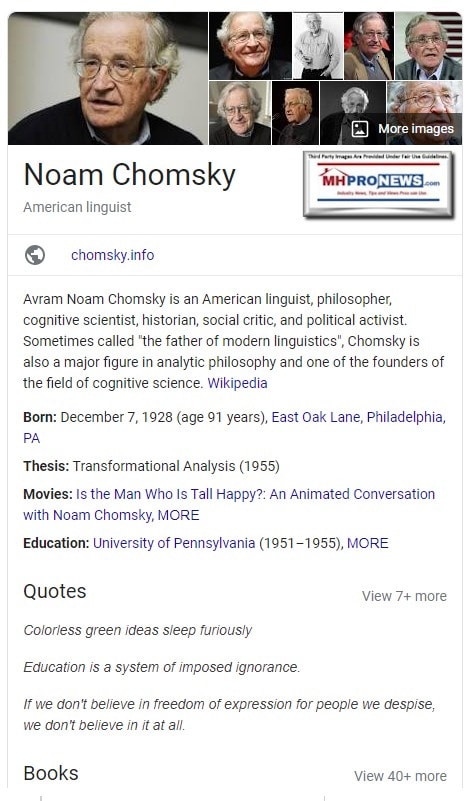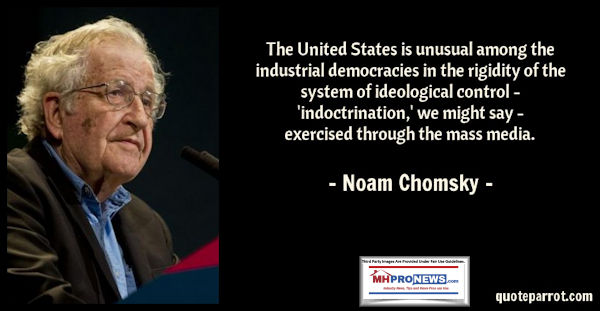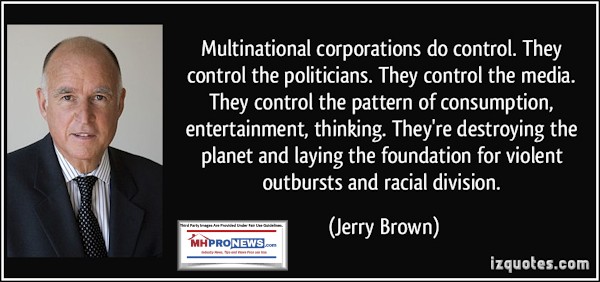 If Chomsky is correct, and MHProNews is not saying that he is, then it fits a narrative that was advanced at a critical point in the movie, Network.
Indeed, Network was a brilliant piece of dark fiction that shed light on the notion that news is a business which is made up of people and corporate interests. It included this classic clip of actor Ned Beatty's speech about corporate interests, money and political systems. It is kind of response to the fictional newscaster Howard Beale's 'meddling' in how corporations do things.
There are those who frame candidate Trump's victory in 2016 in terms of a rebellion of voters against that globalist system that Beatty's character described. While that could be debated, it is interesting that Wikipedia said – "A study by the Democracy Fund Voter Study Group found that 9.2% of Obama voters voted for Trump in 2016. According to the American National Election Study, 13% of Trump voters had voted for Obama in 2012." Per Ballotpedia – "Collectively, Trump won these Pivot Counties by more than 580,000 votes…" They were the voters who decided to reject the notion that they were a basket of deplorables who clung to their bibles and guns.
Political campaigns in the modern era run to a significant extent on media, including social media and internet searches. Getting elected costs money. That requires for many candidates campaign contributions. Even wealthy candidates may want contributions if they lack sufficient liquidity. But for candidates, who for whatever reason, can grab mainstream media attention, that news coverage could make or break their candidacy. Even with largely negative media coverage, the Trump campaign in 2016 was able to break through a field of Republican contenders that included former Florida Governor Jeb Bush. Bush widely outspent his GOP rivals, but rapidly failed because he didn't get the media coverage.
Media matters, as manufactured housing professionals well know.
Politics influences culture, while education, culture and media influence people and thus politics too. It isn't either or, rather, it's both and.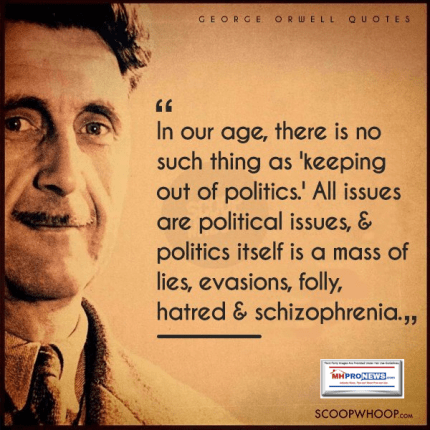 Most Americans have relatively simple desires. They want a roof they can call their own. They desire an income sufficient to provide for their family and allow for leisure without high stress. They want to be able to afford healthcare the basics of life and some fun. Parents routinely want to make the lives of their children better than own.
While the majority are religious, many practice their espoused faith only periodically. That said, religion likewise influences politics and the reverse is also true.
When the "White House Council on Eliminating Regulatory Barriers to Affordable Housing; Request for Information," the title had already to some degree already framed the issue. Indeed, that is often the case with debates or discussions. The headline or title can begin forging the narrative. As has been noted, that comments period was extended to January 31st, 2020, per the Federal Register.
When HUD Secretary Carson announced recently that there would be a second Innovative Housing Showcase on the National Mall, but this time in September 12-14, to a certain degree that could be seen as electioneering. It's a signal that Team Trump understands that affordable housing is a swing issue that could pull millions of voters to the polls.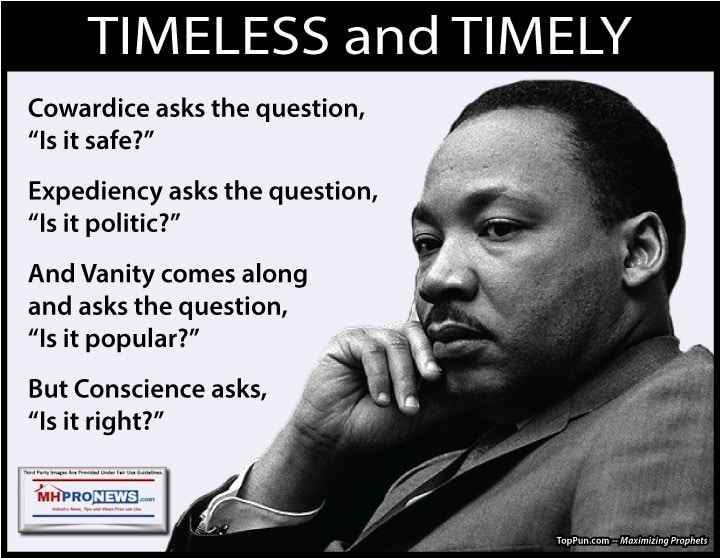 It is thus also an opportunity in plain sight for manufactured home professionals to frame their own arguments on why our industry ought to be at the table, and hopefully one that isn't solely led by the Omaha-Knoxville-Arlington axis and their allies.
MHProNews and MHLivingNews were talking about the importance of storytelling significantly before MHI and their allies created their scantly view storytelling series of videos.
Our industry has a compelling story. It's being twisted and diverted, as the new home shipment data clearly indicates.
Manufactured Housing Production for November 2019 Up, But Total Results Still Mixed
To get beyond the status quo, one must understand the facts and then challenge the status quo.
Manufactured Housing Comparisons – Data Sets Vs. Existing and New Single-Family Housing Sales, RVs, Auto Facts – Potent Insights for MH Professionals, Investors
Culture, faith, history, politics, media and business all have an interconnected ebb and flow. Storytelling matters.
The time for the forward-looking independents of the industry to prepare for November 3rd, 2020 and the related voting is now. part of how that is accomplished is by professionals, advocates and others telling their stories.
The White House Council Request for Information has clearly allowed even anonymous comments, not just those under someone's own name. See yesterday's report for more insights and details.
Time Sensitive Reading = Consumers, Nonprofit Advocacy, Manufactured Home Professional Comments on HUD-White House RFI Reducing Regulatory Barriers, plus Manufactured Housing Headline Reports 1.19 to 1.26.2020
To understand the currents that are moving your business or investment interests, the big picture and the local picture ought to be understood. Day by day, MHProNews provides the insights that help professionals navigate the landscape.
Our publisher plans on submitting comments later today. When that occurs, it will be linked up here. Until then, see the related report linked here.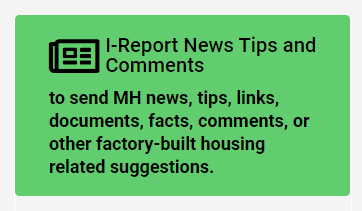 Voices across the political spectrum have forged their platforms to get their respective messages out. Thanks to forward looking sponsors, whistleblowers, insider comments and our researched reports, this platform has been and continues to be a resource for independents and other white hats that are seeking to get manufactured housing to its ethical and sustainable potential during this affordable housing crisis.
The point of Howard Beale's character in the 'mad as hell' part of the fictional movie Network was that there was apathy that needed to be met with action. That action, in Beale's view, began with admitting that the world was going mad and that people ought to be angry about it. That movie was made in 1976, and it is still a classic.
Media, politics, business, culture, faith and more influence our decisions. There's more insights ahead, but that's a wrap on this installment of "Industry News, Tips and Views Pros Can Use" © – MHVille's runaway #1 news source, where "We Provide, You Decide." © (News, fact-checks, analysis, and commentary.) Notice: all third party images or content are provided under fair use guidelines for media.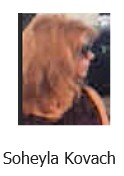 Submitted by Soheyla Kovach for MHProNews.com.Soheyla is a co-founder and managing member of LifeStyle Factory Homes, LLC, the parent company to MHProNews, and MHLivingNews.com. Connect with us on LinkedIn here and here.
Whistleblower's Documents on Lesli Gooch – Manufactured Housing Institute CEO – New Discoveries