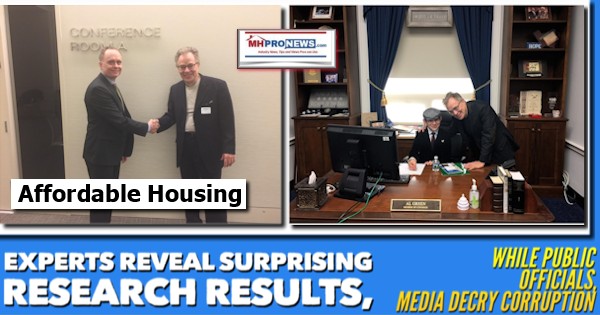 There are officials across the political divides that have said that the intersection between special interests, big money and politics have led to de facto corruption. One common description is the following. While their approaches are quite different, each of those political leaders have made that statement repeatedly.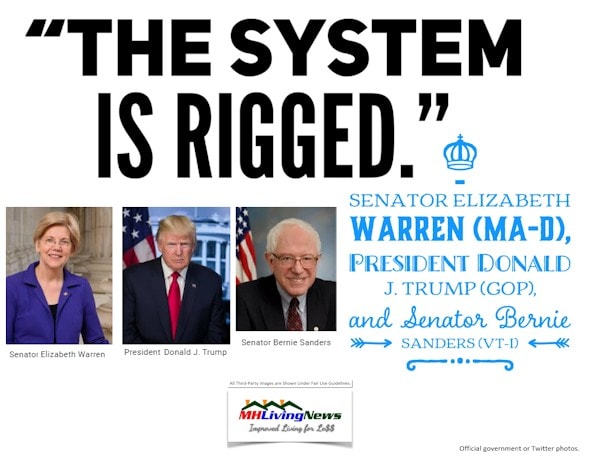 Author and speaker Tim Connor, CSP, has addressed audiences in some 2 dozen nations. He's published over 80 books and thousands of articles on business and personal development topics, which includes bestsellers translated into several other languages. Among his volumes are Soft Sell: The New Art of Selling and Corporate Disconnect.
Connor says that all learning occurs in four stages.
Awareness
Understanding
Integration
Mastery
No one article on a topic as important as affordable housing can hope to achieve the pinnacle of the final two stages. So, this report and analysis must be viewed through the lens of the first two stages. However, articles linked from this report will take readers and researchers into a deeper dive into a specific issue. Sources are cited so you or others can double check figures, quotes and claims.
Congress and experts have studied the issues described herein that have impacted millions of Americans for decades. The problems span Democratic and Republican Administrations.
Based upon pragmatic research, laws have already been enacted. That legislation occurred after experts, researchers and testimony in hearings resulted in 2 key bills signed by a Democratic and Republican President by widely bipartisan margins.
Those laws aimed at addressing the core issues of housing affordability in a practical fashion. But some readers may be surprised to read that laws exist that were supposed to provide largely market-driven solutions that required little public expense.
Which begs the question. How is it possible that 1 or 2 decades after studies and legislation – with well over a trillion dollars spent on federal housing related programs – that those same issues have continued to fester?
Congress held hearings on one of those two laws in 2012 to explore that question.
Views from across a variety of nonprofits and political vantage-points will follow that when properly understood shed light on such vexing issues that's attracted bipartisan interest.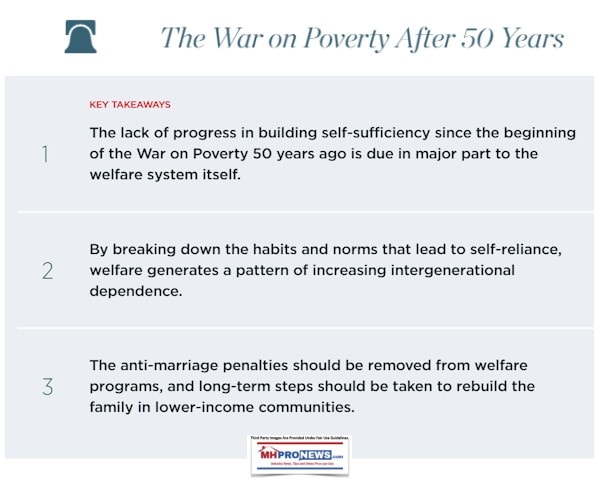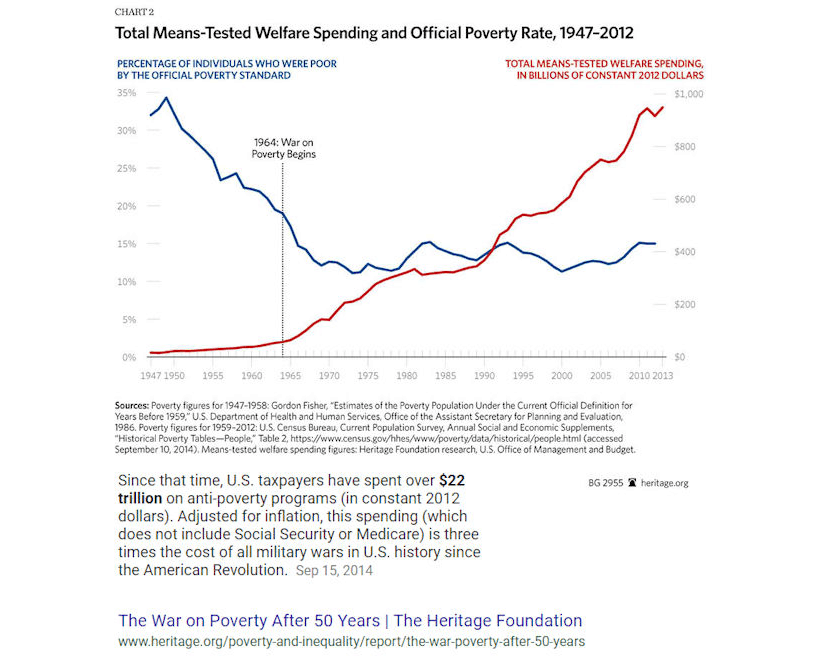 Surveying Expert Views
Housing is a basic necessity of life – along with food, fluids, education/information, healthcare and transportation. Each of these tend to be trillion-dollar industries. That means big money, special interests and politics are involved.
Lawrence Yun writing in Forbes said of the affordable housing crisis the following,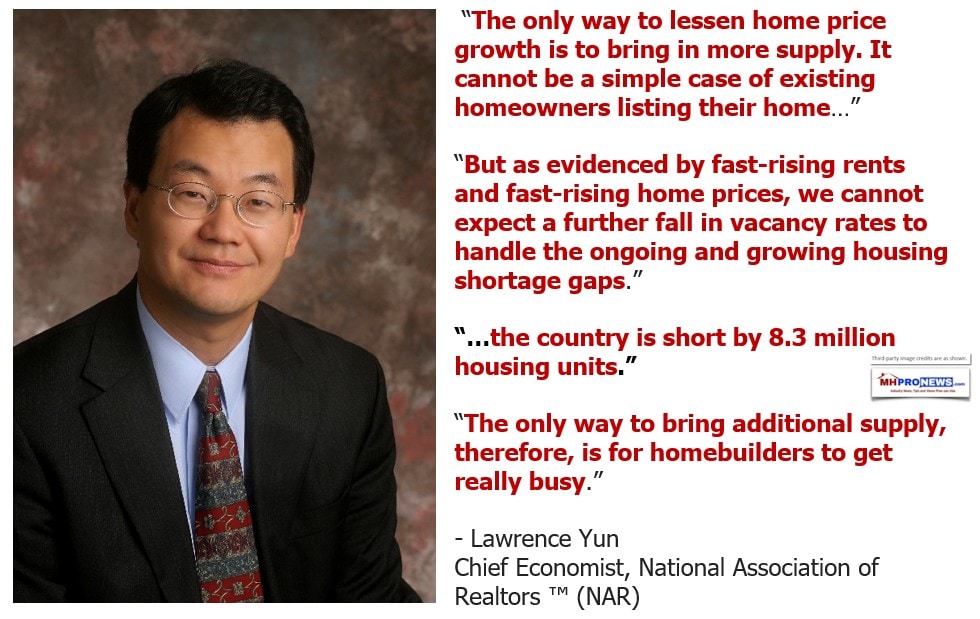 Depending on the source, organizations like the National Association of Realtors (NAR) or the National Low Income Housing Coalition (NLIHC) have identified a need of some 7 to 8 million housing units.
Others have said that conventional builders cannot possibly keep up with the ever-growing demand. Nor can conventional builders meet the affordable housing price-point needed. These are findings of those in housing but also are a common conclusion of tech giants that have studied the issue of affordable housing. Big tech and pros connected with it have concluded that some form of industrialized building that mimics what brings down the cost of cars, cell phones, clothes or other items can logically close the gap. Note that Amazon's Alexa fund has invested in Plant Prefab.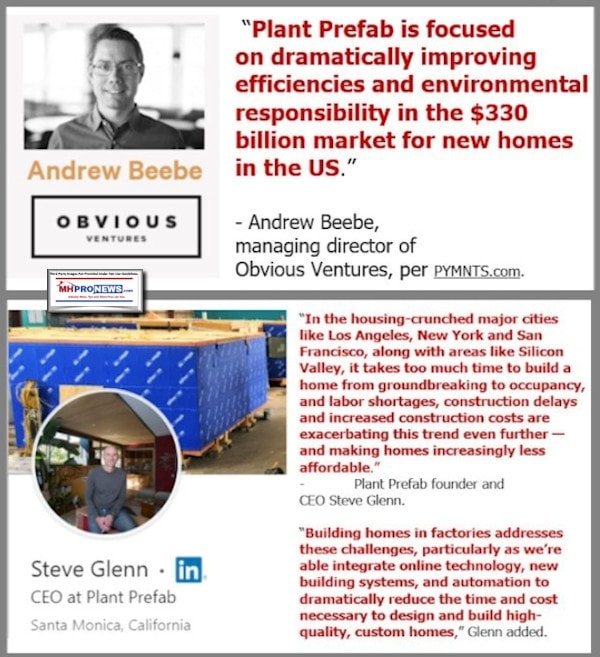 During the Obama Administration, two National Bureau of Economic Research (NBER) said that the cost in lost GDP to this nation for not having affordable housing near where it is needed is some $2 trillion dollars annually.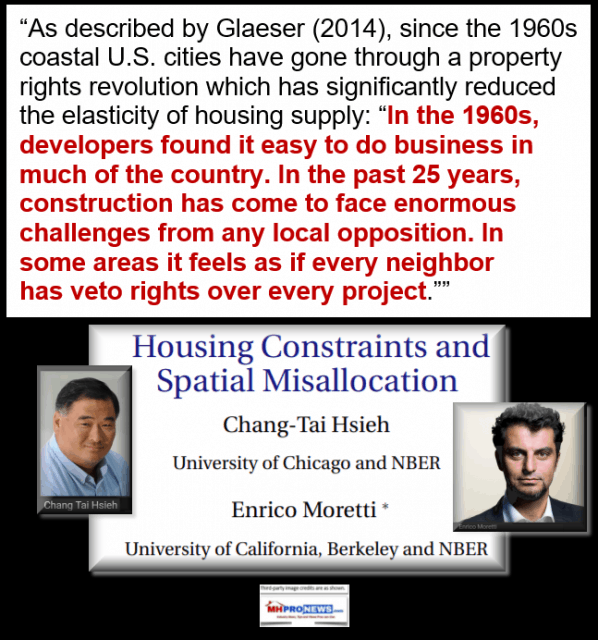 The Inclusive Communities Supreme Court ruling made it clear that fair housing must meet affirmative tests.

With respect to affordable building, research commissioned for the Fannie Mae Foundation during the Clinton Presidency said this.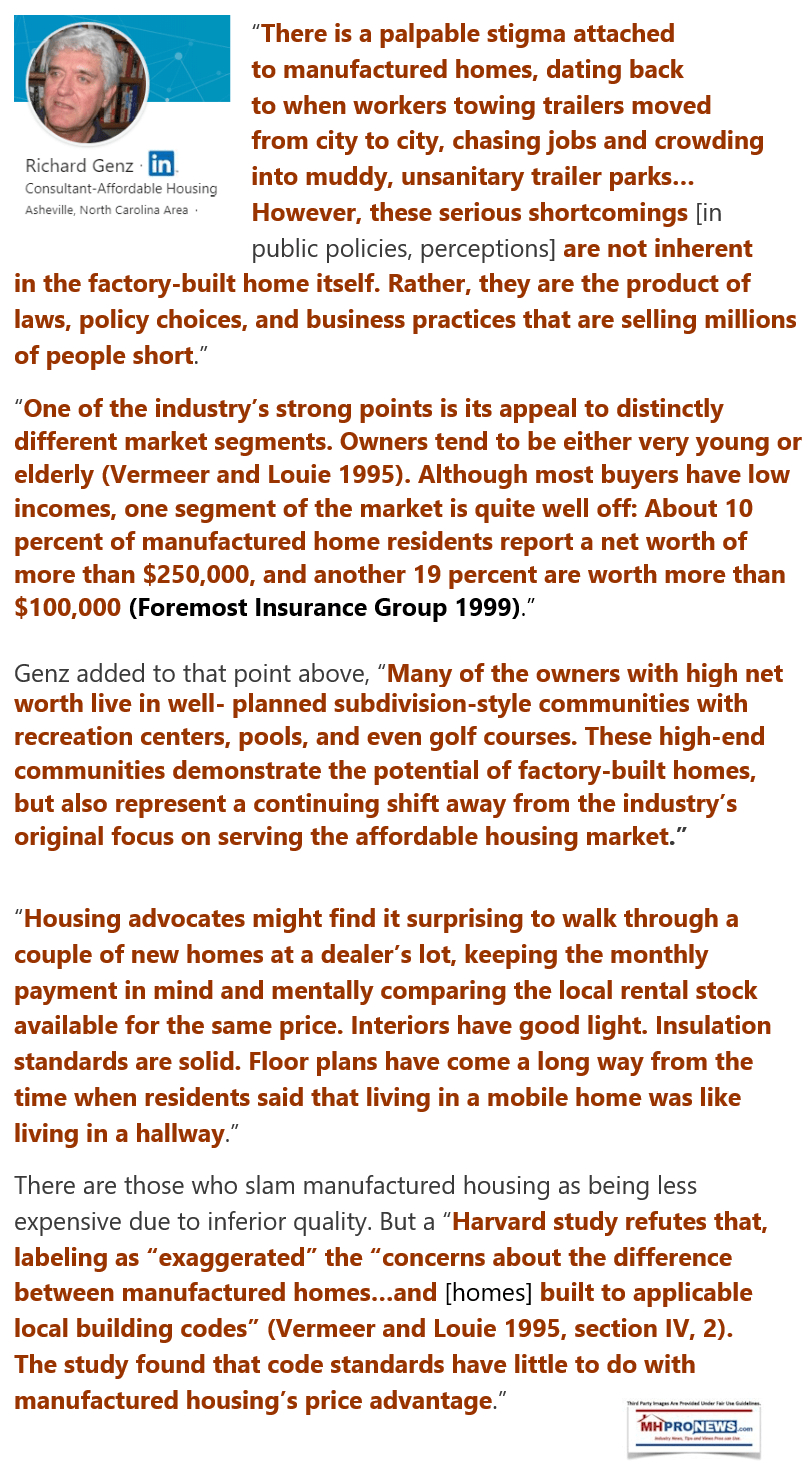 In Obama era research commissioned by the Department of Housing and Urban Development (HUD) in 2011 found that manufactured homes installed in various cities as infill in residential neighborhoods appreciated side-by-side with conventional housing.
More recently in the Trump Administration era, with NAR's Chief Economist Dr. Yun's specific encouragement, Certified Business Economist (CBE) Scholastica 'Gay' Coronation did research that resulted in an article entitled "Making the Case for Manufactured Homes." Her article linked to a deep dive research published in the Journal of the Center for Real Estate Studies Vol. 6, No. 1 in May 2018. Her report is entitled "THE MARKET FOR MANUFACTURED HOMES." In the first footnote, she cited this author, as well as a now former Manufactured Housing Institute (MHI) Vice President, and Mark Weiss, J.D., the President of the Manufactured Housing Association for Regulatory Reform (MHARR).
She said "The views and findings in this report are those of the author and should not be attributed to nor viewed as a policy of the National Association of Realtors®. The author thanks Dr. Lawrence Yun, Chief Economist and Senior Vice-President, Research, NAR, for initiating this study…" That in depth research begins on page 48 of a report linked here.
Among the pull quotes is this item.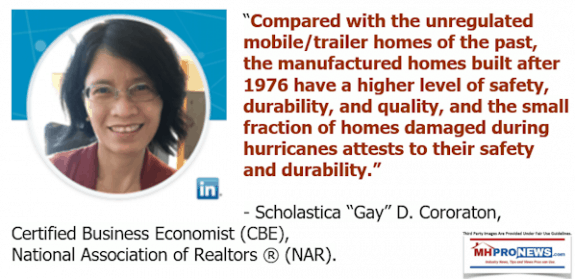 Among the graphics is this one which documented this startling-to-some factoid. Millions of renters could be paying less to own a manufactured home than they currently pay in rental housing.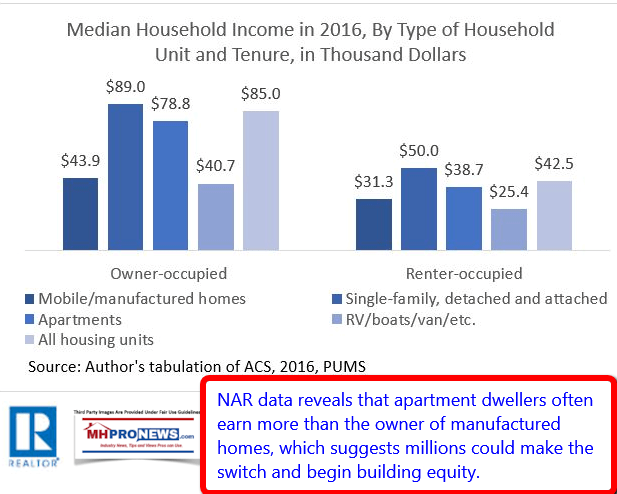 Pause and ponder those points. Cororaton found that despite the sensationalized stories of manufactured housing and windstorms, that very few are harmed every year. HUD Secretary Carson and others have cited similar information.
Cororaton's research data was preceded by an Obama-era study from the Government Accountability Office (GAO) in 2014. One of their graphics made this point, with the arrows added by MHProNews.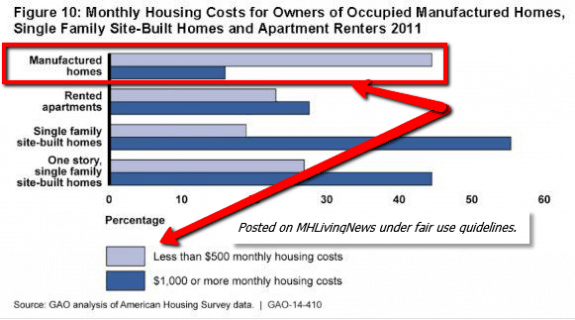 In the same general timeframe as that GAO research was a report by the Consumer Financial Protection Bureau (CFPB) which issued a white paper on manufactured housing. In footnote 15 they cited Manufactured Home Living News (MHLivingNews).
Dr. Lisa Tyler said the following about manufactured homes. Note the quote below was part of her doctoral dissertation, which by academic standards must meet specific criteria for being current and is peer reviewed. As an aside, her final acknowledgement in the foreword includes a kind word of thanks to this writer.


Before pressing onto to the next quotation, let's pause for a moment to make the following point.
We subscribe to a simple and time-tasted view that one can find good information and behavior from people or organizations as well as problematic ones. Since people and organizations – including this writer – are imperfect, one should consider the wisdom of separating the wheat from the chaff, the good from the problematic. So, quoting this next source or others is not to be construed as a blanket endorsement of the person or organizations involved. Rather, it is merely accurately applying a statement that is relevant to this discussion of affordable housing, manufactured homes and the growing inter-related problem of wealth inequality.
Tim Williams is the former chairman of the Manufactured Housing Institute (MHI), who per sources is still involved in board activities, and is at this time is still president and CEO of Berkshire Hathaway owned 21st Mortgage Corporation. He's said this, which demonstrates that at one point he and that organization agreed with the contentions being made here.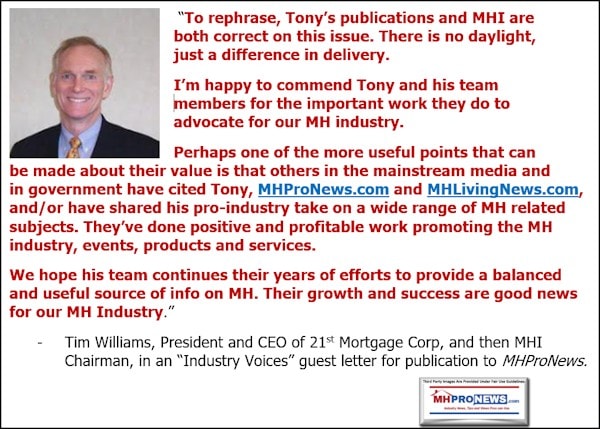 A look back in time reveals our perspective on access to financing as well as enforcement of provisions in law such as those found in the Manufactured Housing Improvement Act (MHIA) of 2000 has been consistent.  What has shifted is our evidence-based realization that MHI has postured support of those efforts, while in fact being part of the problem of their lack of enforcement. Rephrased, our view of MHI and some key players there has evolved, based upon evidence, but our views on manufactured homes or the principle that would advance more affordable housing has been consistent.  More on that below and linked from this article. If it seems fantastic that a trade group might be working to benefit a few to the detriment to the many, the report linked here sheds light on that topic. But there are numerous illustrations of that, the one below is an example.
Ken Johnson is the associate dean of graduate programs and professor of finance in the College of Business at Florida Atlantic University (FAU). Professor Johnson said in 2018 the following about housing, investing and manufactured home ownership.
Let's sum up this segment before proceeding.
There are decades of research by a wide array of sources that documented that factory built or industrialized housing is needed in order to close the gap in housing needed.
Decades of third-party research that spans Democratic and Republican Administrations have documented that the common concerns about modern manufactured homes are unfounded.
A collection of such third-party research including those already cited and others, are found below.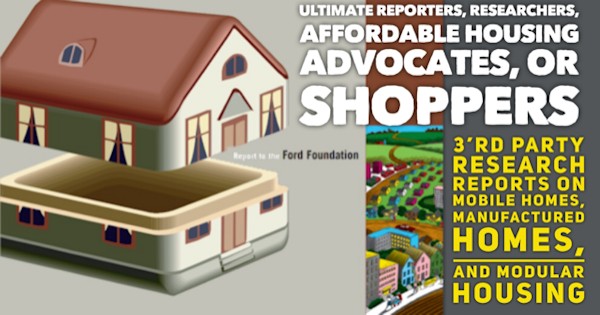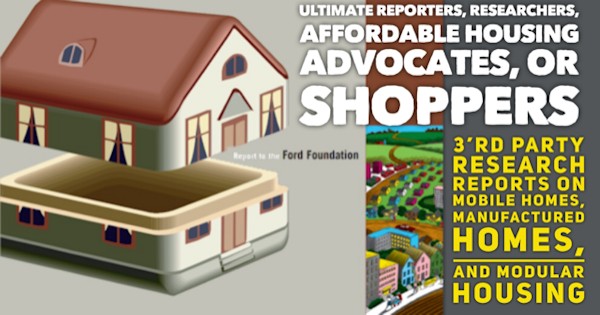 Overcoming Ignorance, FEAR and Related
In 2018, Value Penguin published a snapshot that tied together several of these items in their FEAR report. It made the case that fear of manufactured homes was False Evidence Appearing Real (FEAR). It stated that manufactured homes properly understood and utilized could increase the personal wealth of millions of Americans over time. That means that the need for public support for affordable housing and increasing economic growth for the vast majority of Americans would decline.
Rephrased, the vast majority could benefit. There was nothing for the majority to FEAR from manufactured housing and much to embraced. That said, the status quo is clearly favored by a minority that believes the system works fine for them.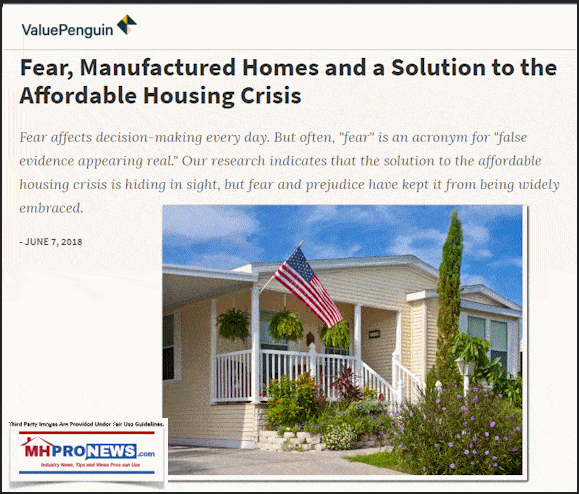 An infographic illustrates several key points that could be eye opening. Take a few moments and consider each of the factoids shown.

These items beg several questions. Among them is this. How is it possible that with reams of useful, routinely dispassionate research that manufactured homes could be a solution to the affordable housing crisis that they are still so misunderstood?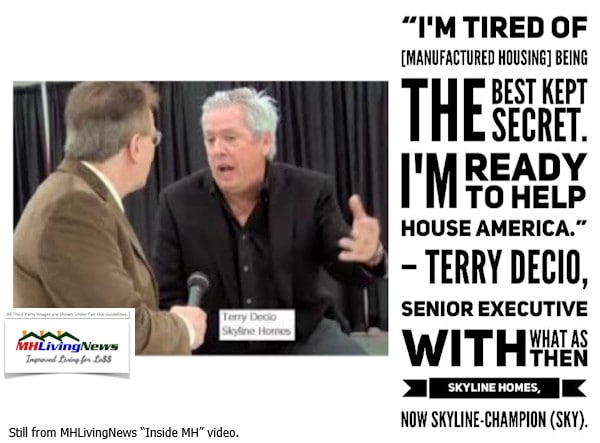 To debunk some of those fears are the videos above and below. The video interview above includes the first non-career administrator for HUD's Office of Manufactured Housing, William 'Bill' Matchneer, J.D. As a document further below will reflect, MHI once had reports that listed him. Now, though he is a believer in manufactured housing, his name is no longer found on the MHI website using their own site-search tool. Why hide someone that knows the industry product and could be a credible witness for skeptics?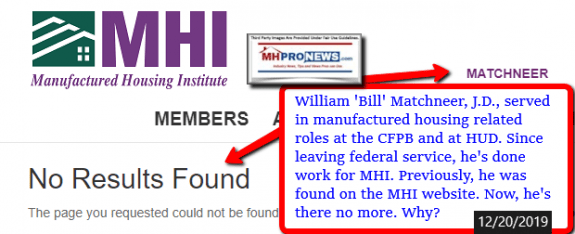 The video below includes a professional whose award-winning career covers the evolution of trailer houses to mobile homes to manufactured homes.
Like Matchneer, Dick Moore makes the point that manufactured homes are misunderstood. That misunderstanding includes terminology. To address the terminology problem, our trade media has applied the following quotation with related images to illustrate.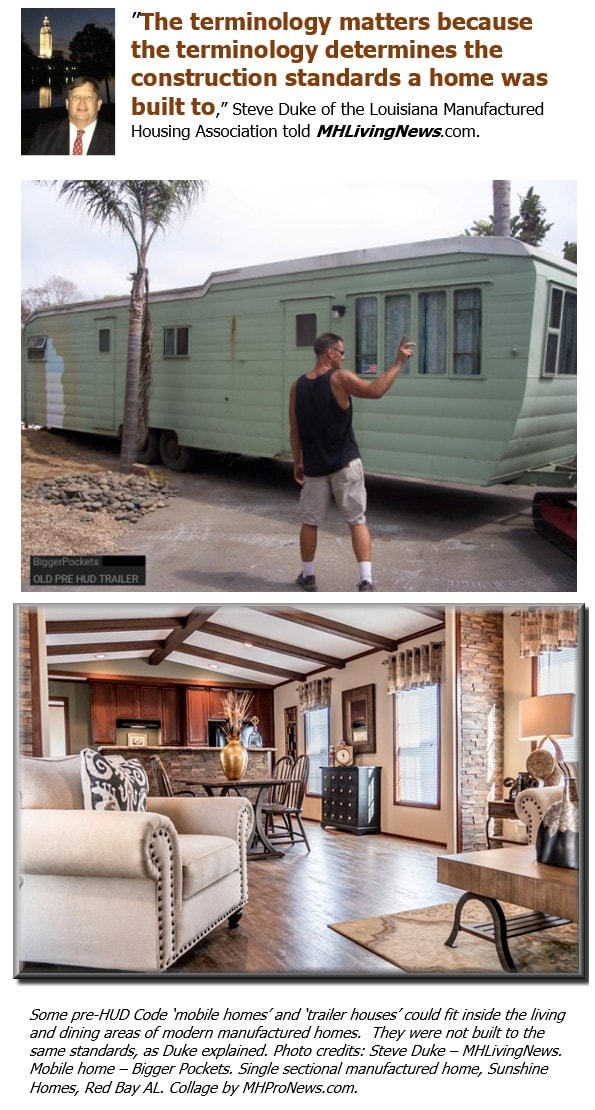 How could so much useful information be somehow overlooked, 'forgotten' or buried by MHI? Keep in mind that they claim to be working to promote the industry and the acceptance of manufactured homes. Hold those thoughts.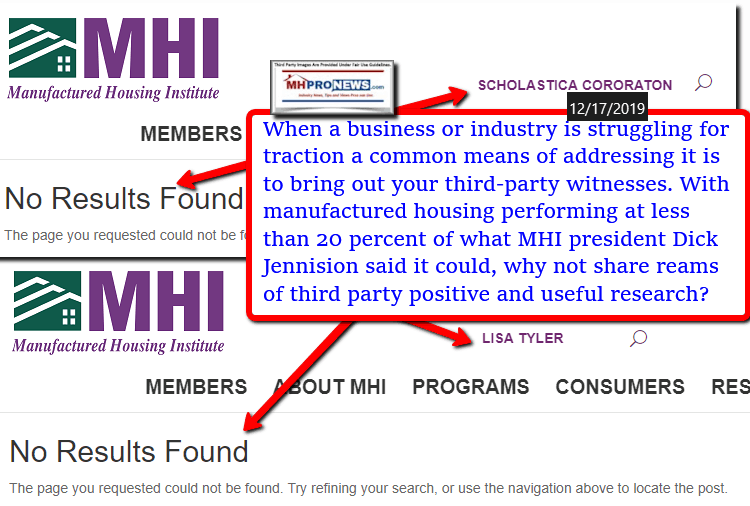 Because a variety of state and federal agencies along with certain media – including our industry-leading trade media of MHProNews and MHLivingNews – have reported on or are investigating issues that point to deliberate corrupt practices. Those practices involve some allegations also reported in mainstream media and alleged by public officials that involve predatory practices within the industry that often have clear ties to MHI. MHI has a larger staff and a broader mission than MHARR.
MHI's staff and lobbyists involve corporate, nonprofits and key public officials. Specific individuals in the federal government are for whatever reasons failing to do a job that the law requires them to do.
Those and more will be examined.
Good Provisions of Useful Laws Under-Enforced, Thwarted or Perverted Harming Millions
If you are a local, state or federal official, this research matters to taxpayers and you. Ponder for a few moments that:
instead of talking about wealth inequality, laws that already exist could – if properly applied – foster solutions to that problem with minimal taxpayer cost, while generating more tax revenues over time.
Laws are going under-enforced or per sources are perverted that exist to help address housing affordability.
The Obama-era HUD PD&R and other research already debunked fears that manufactured homes somehow are a drag a conventional housing values. The data disproved that concern.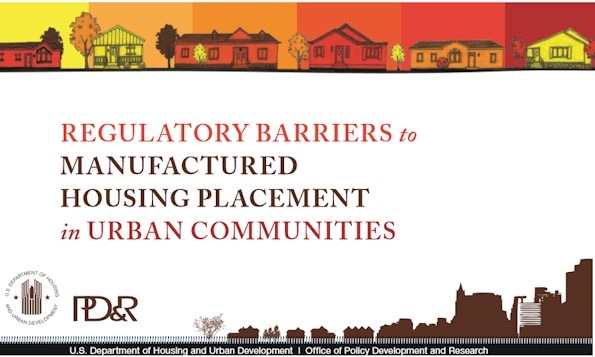 But more recently, the Urban Institute said in 2018 that manufactured homes could ease the affordable housing crisis. So why isn't more of it being utilized?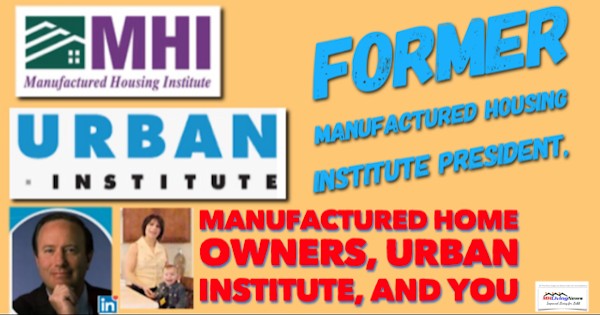 That Urban Institute research said that manufactured homes could appreciate more rapidly if more robust lending options were available.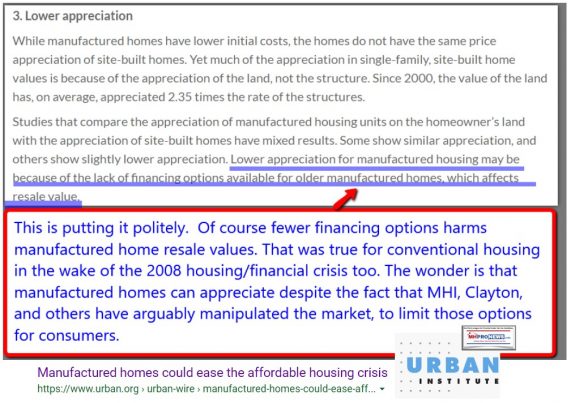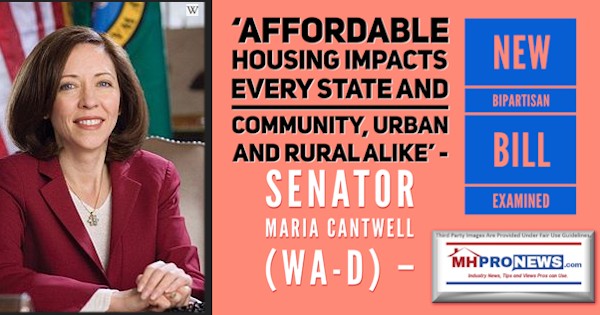 Note that a bipartisan panel of lawmakers found in their research that manufactured homes are less costly per unit, less costly to develop with and are less costly to redevelop communities too than conventional, multifamily housing.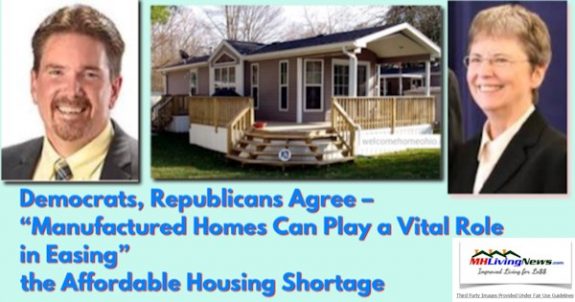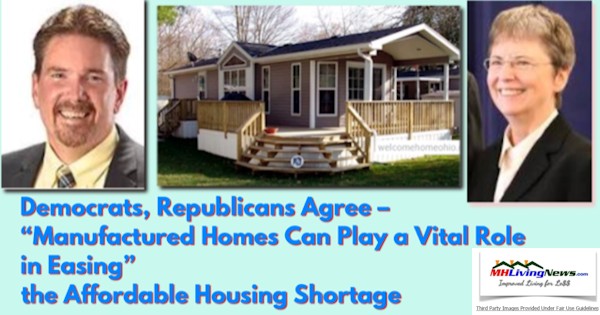 While some projects like this have been more modest and were only rarely done, there are designs for use of manufactured homes in multiple unit configurations involving multiple level housing where that may desirable.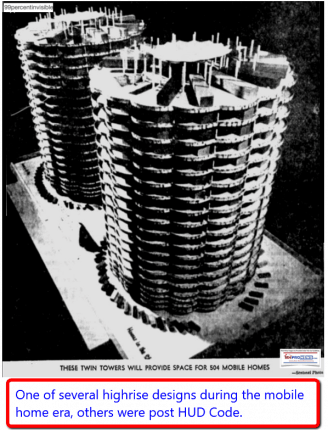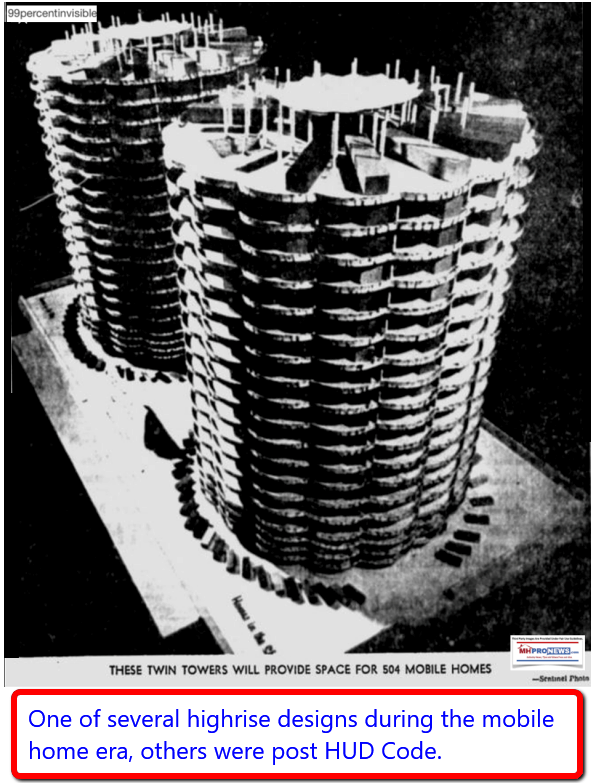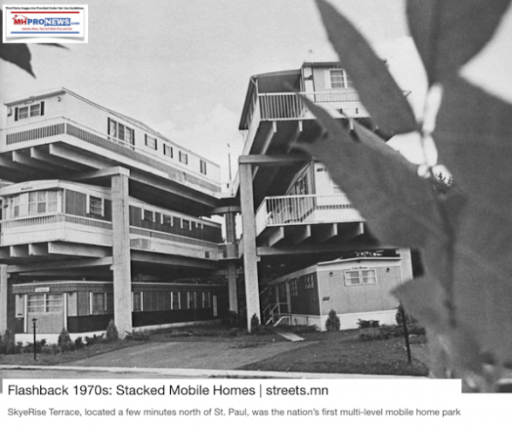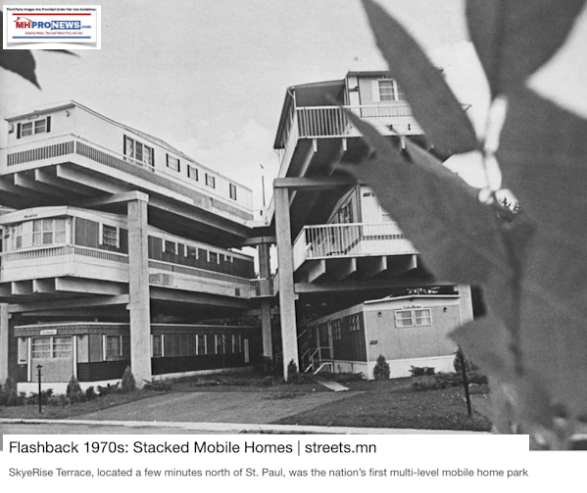 Perhaps among the more common areas of concern regarding manufactured homes revolves around lending and related problematic practices. From the CFPB, to Democratic lawmakers, to third-party media or nonprofits, financing concerns are common. They often involve seemingly discriminatory behavior, as a researcher for the Minneapolis Federal Reserve said as part of her report, cited below.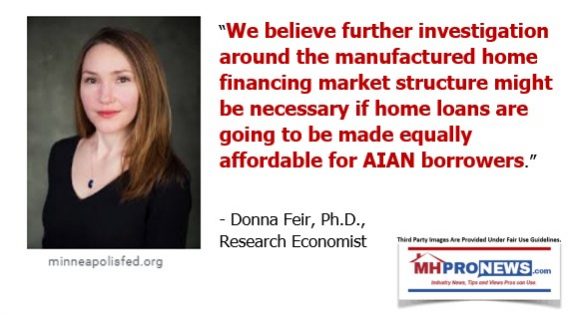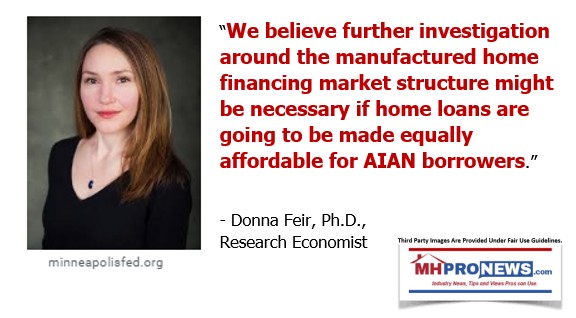 Native American, Racial Minorities in Housing and Manufactured Homes, per FED, Harmed by Lending Practices, Clayton Homes, Berkshire Hathaway Affiliated Lenders Cited
Congress in 2008 passed as part of the Housing and Economic Recovery Act (HERA) of 2008 the Duty to Serve (DTS) Manufactured Housing, Affordable Housing Preservation and Rural Housing. DTS mandates that the Federal Housing Finance Agency (FHFA) – the conservator/regulator for the Government Sponsored Enterprises (GSEs or Enterprises) – of Fannie Mae and Freddie Mac the following.


So how are the GSEs doing? Let's briefly explore what others had to say.
In the Room While Dozens of Experts and Everyday Americans Sounded Off
This writer was one of some 40 professionals invited to address that issue at the Washington, D.C. "listening session" at FHFA's headquarters on 12.2.2019. I listened to every presentation, not just those involving manufactured homes. At the end, the final speaker – Maurice Jourdain-Earl at ComplianceTech said the following quote shown in the following headline. That report from the text image box should be accessed later for increased understanding of the specific issues and concerns involved. But in brief, Jourdain-Earl said that listening to the stories of those harmed by laws that are going under-enforced or turned on their head was a tear-jerking experience.
"I was Moved, Literally Crying" – Duty to Serve Manufactured Housing, Underserved Markets DC Meeting – plus Manufactured Home Investing, Stock Updates
On 12.11.2019, this writer incorporated several findings by others into an updated 10 minutes snapshot of these issues. That 5 page PowerPoint with hotlinks to more is linked here. If includes this stunning factoid.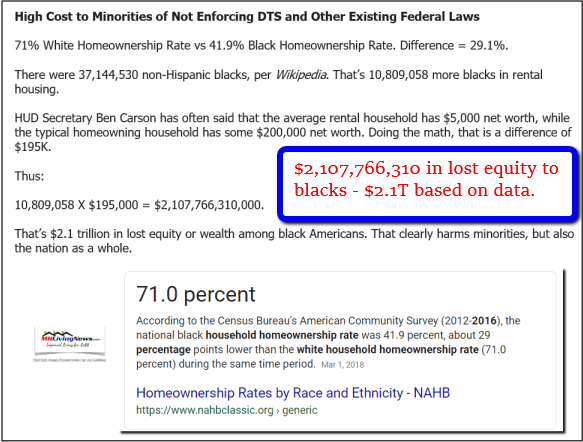 Failure to enforce good aspects of existing laws has disproportionately harmed minorities. But it has also harmed millions of renters of all backgrounds and numbers of existing homeowners and manufactured homeowners too. One example is linked below who sounds off about his experiences.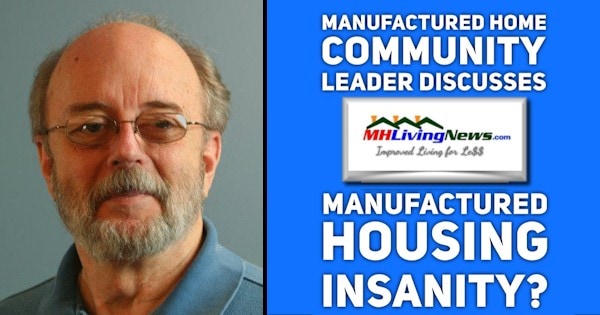 Bear in one that these listening sessions were reportedly recorded. Sources say that more than one copy of those audio recordings exist. The FHFA has promised to publish those transcripts. In an era when transcripts can be produced within a few hours of an event using technology, the FHFA has so far produced no transcripts of any of the 4 listening sessions held in recent weeks. Why?
At the end of the virtual listening session on 12.11.2019, a question and answer period occurred. Only two questions were taken. Some of the meatier questions were deliberately avoided, why?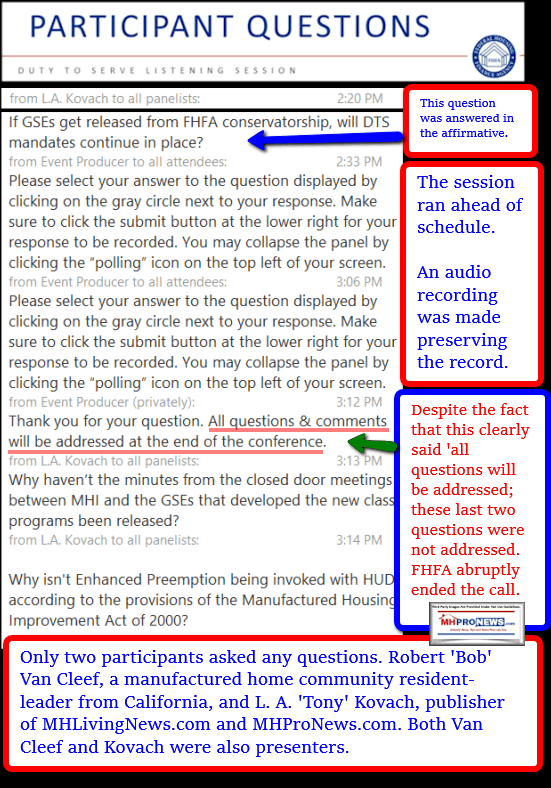 I frankly said to the faces of those on stage in Washington on 12.2.2019 that corrupt behavior was arguably occurring. My 5 page PowerPoint laid out a complimentary outline useful with this report. The Duty to Serve (DTS) could help turn millions of renters into homeowners. To the extend that DTS would be used to buy more new construction, the supply of housing would rise which would in turn reduce the pressure on existing housing.
The logic of increasing supply is a point that NAR's Yun or HUD Secretary Carson – among others – have made. So why are DTS and manufactured homes being frustrated?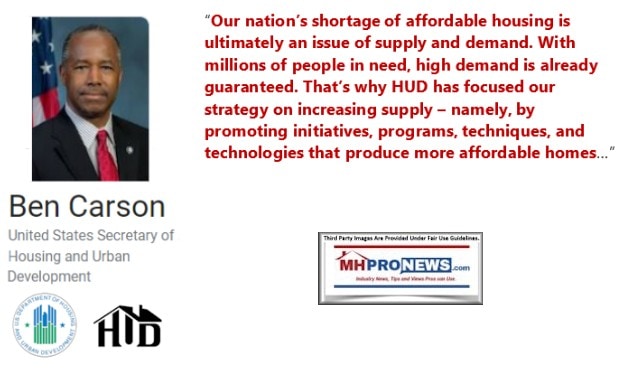 Concerns about the nature, extent and backdrop about allegedly illicit, illegal, predatory and corrupt behavior by a variety of sources follows.
Evidence of Corruption Hiding in Plain Sight
Before pressing deeper, a snapshot of another existing law is merited.
Having been exposed to research such as this report outlines, Congress in a widely bipartisan fashion enacted the Manufactured Housing Improvement Act (MHIA) of 2000. A key provision of the MHIA act is known as "enhanced preemption."
A document below was provided as a news tip that included other materials from the Arlington, VA based Manufactured Housing Institute (MHI). MHI and the Manufactured Housing Association for Regulatory Reform (MHARR) – in conjunction with various state associations – worked collaboratively to pass the MHIA with its "enhanced preemption" provision.
The importance of that provision is explained in the quotation below by Mark Weiss, J.D., President and CEO of MHARR.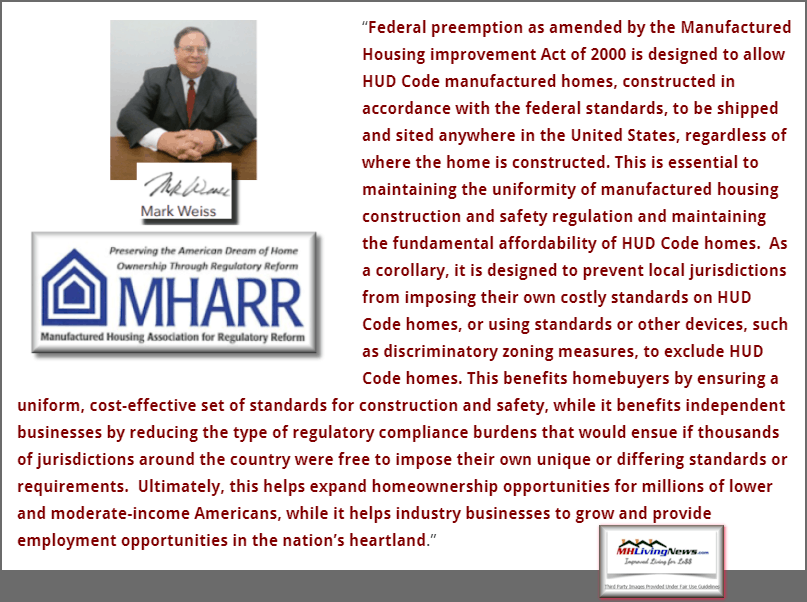 Note that Weiss helped draft the language of the law, which is relevant to legal minds. That said, is Weiss and MHARR's view unique? Hardly, as Bill Matchneer recently told MHProNews the following.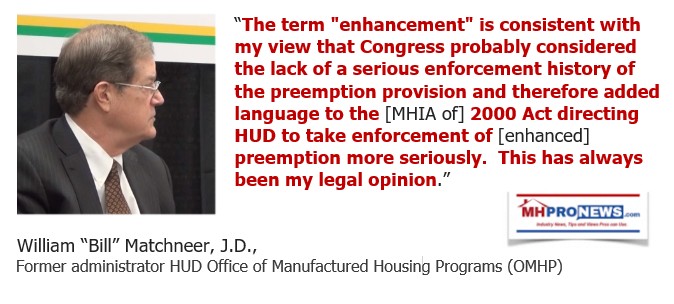 Previously, several state association executives had pressed for the implementation of HUD's "enhanced preemption" authority. One example is enough to make the point.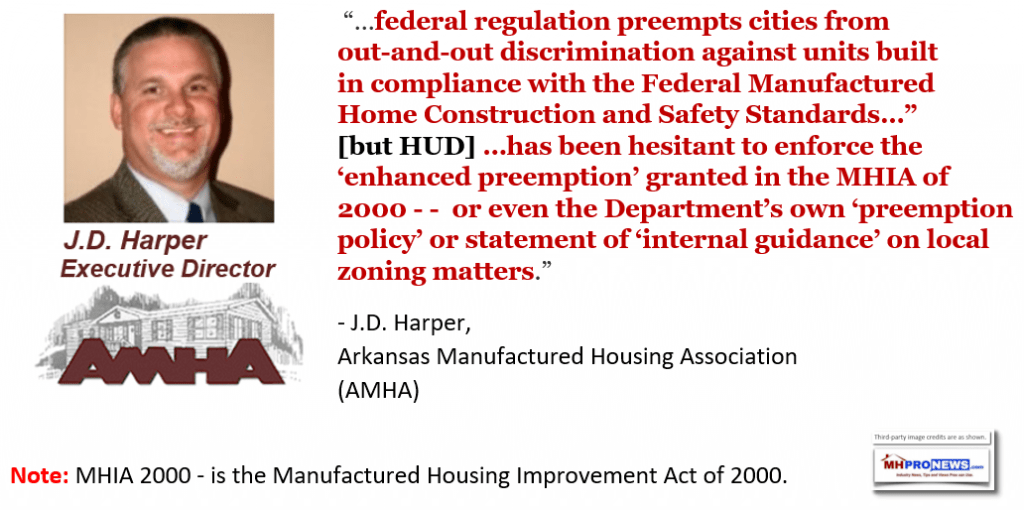 The Reverend Donald Tye, Jr. raised his family in a factory-built home that pre-dated the HUD Code. The HUD Code for Manufactured Housing went into effect on June 15, 1976. Tye's parents were in the factory-built home industry until local officials – pre-HUD code – put a halt to their more affordable factory-built housing that blended in with others in conventional housing neighborhoods.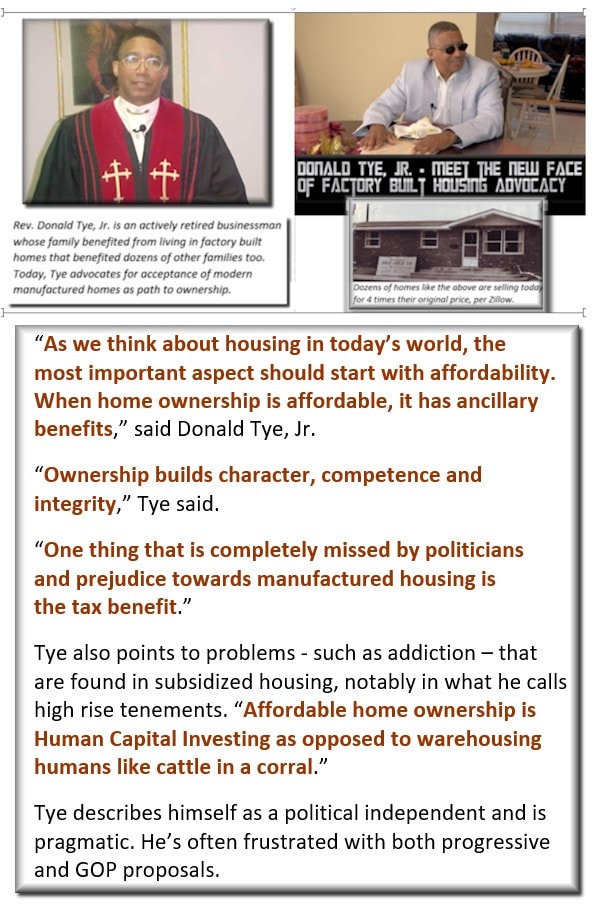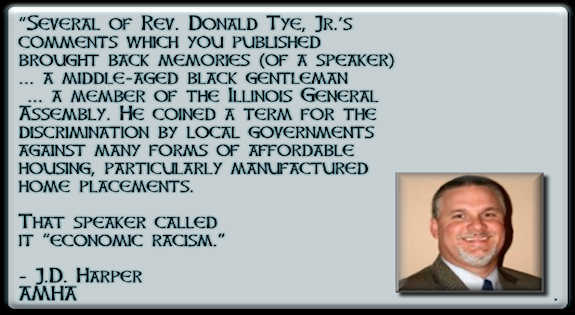 Tye has made the argument that manufactured homes are more humane than 'warehousing people like cattle' in high-rise structures that inevitably deteriorated and cost taxpayers billions. Tye has also said that homeownership is the fastest way to build wealth in America. Note that Tye is a self-proclaimed independent politically.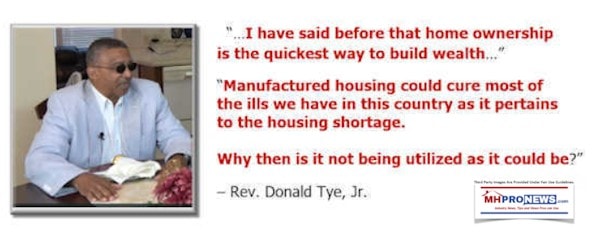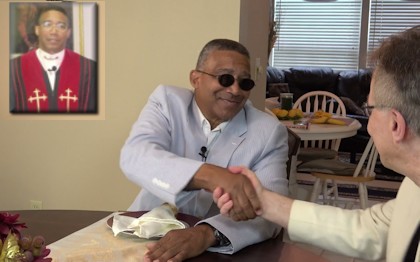 That is similar to a statement repeated several times by HUD Secretary Ben Carson.  This is a longer version of the quote above that hits several key facts.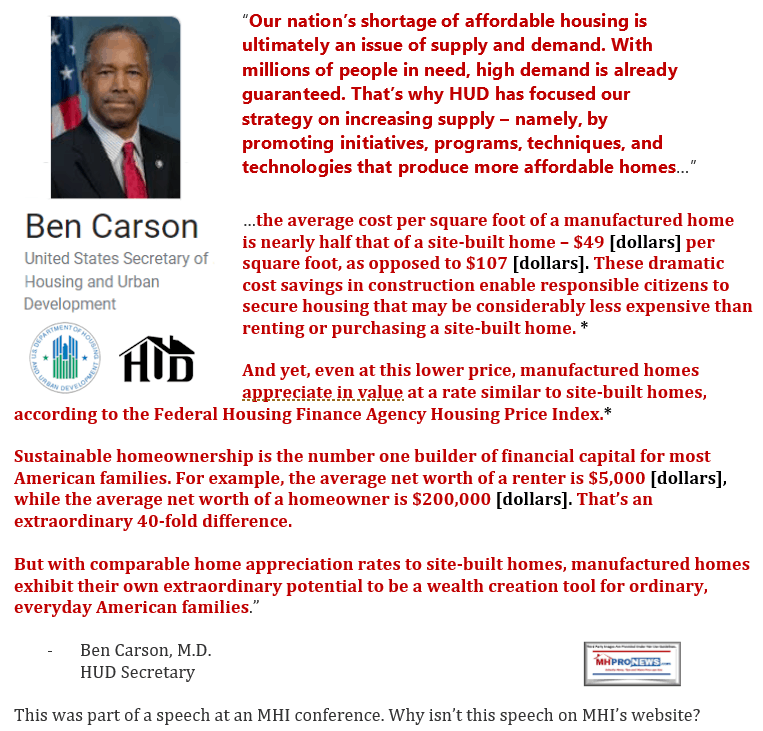 Carson, despite criticism on certain issues, merits separating "wheat from the chaff" credit for numerous efforts to better educate the public on manufactured homes.
He's done interviews in news media that spans the left right media divide, as the two examples shown here reflects.
But that begs the question. Why has Dr. Carson – who has demonstrably done more to elevate the discussion on manufactured homes than anyone in his role in the 21st century – failed to publicly use of those two key words, "enhanced preemption" in any known public address to date?
There are many possible reasons. Some sources suggest that he's in the dark about the law. Either way, a possible answer to the timely question points to possible corruption and/or conflicts of interest from within HUD.
In support of that concern, consider this.
Bill Matchneer said in a conference call last summer reported in the article linked below that key federal officials at HUD had stymied the critical enhanced preemption application for years.
Bombshells! Former HUD Manufactured Housing Program Administrator Bill Matchneer, Cavco's Manuel Santana Statements
Informed sources tell MHProNews that Brian Montgomery is 'in the know' about federal enhanced preemption. He's an attorney, has worked in the program for years, and is the person up the ladder from the Office of Manufactured Housing Programs (OMHP). It's logical that Montgomery would know.
So, while Secretary Carson may be in the dark, Montgomery can make no similar claim, per multiple sources inside the D.C. beltway.
Furthermore, sources say that Teresa Payne, J.D., the current administrator for OHMP also knows the enhanced preemption law. That too is logical. After all, it is part of her job.
Keep those concerns in mind, in pondering what follows.
In a letter from MHARR's CEO to Secretary Carson, Weiss attached a letter from Democratic lawmakers dating back to 2003. Those lawmakers helped enact the MHIA and "enhanced preemption." They asked the then HUD Secretary, why wasn't that federal preemption being more robustly applied? See that from the report that includes that letter as a download via the following linked text-image box.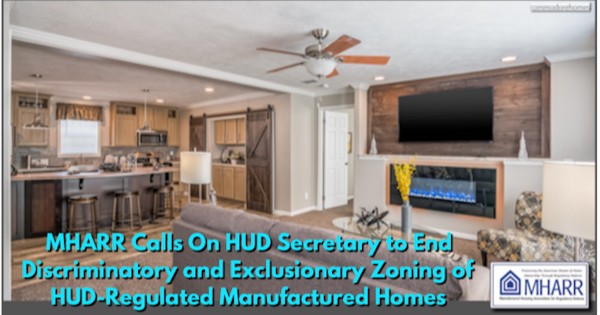 In fairness to Dr. Carson, letters are read by staff. Letters are not always passed on to the person addressed. Did Carson even see the MHARR letter? It's an open question.
Among the documents recently provided to MHProNews as a news tip is the one below. Note that it comes from the same timeframe as the letter MHARR's Weiss sent Dr. Carson in that document circa 2003  from Democratic lawmakers.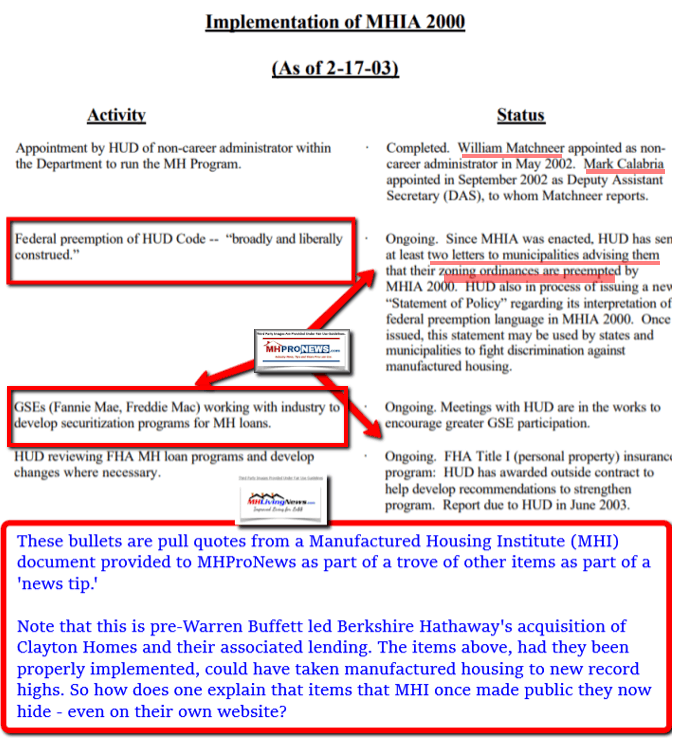 Note the above contains a reference to GSEs – Fannie Mae, Freddie Mac – and FHA loan programs. Rephrased, 5 years before HERA and DTS became law, MHI and MHARR were pushing for the GSEs to fulfill the need to support manufactured housing lending.
Why was that document above and below – both from MHI's archives – leaked to MHProNews? Because inexplicably to some, since those days of collegiality between MHI and MHARR, the two trade organizations have drifted apart on several issues. Many in the industry today could be unaware of that time in late 1990s that continued to that point 2003 when the two trade groups often worked together.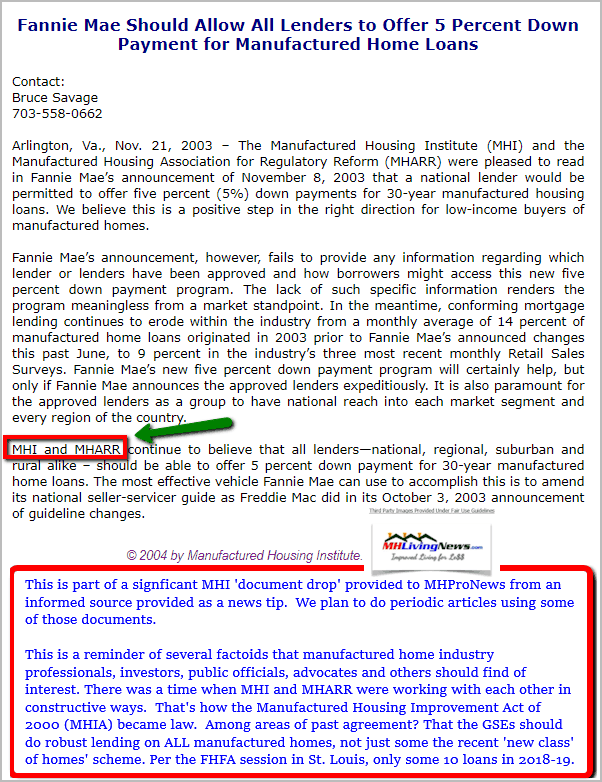 There are additional documents from MHI that were also provided, but those two are enough to make this point.
While both MHI and MHARR, as evidenced from the above, once worked together to pass MHIA or to promote more lending on manufactured homes. But the two trade groups have since taken increasingly different stances. We will return to that issue later. What will be noted for now is that while MHARR has stayed consistent in it approach, the evidence is clear to objective observers that MHI has slowly but steadily pivoted to practices that have benefited a few larger players at the expense of smaller ones and the general public.
Those pivots are problematic for manufactured housing, says MHARR and as well as sources inside MHI member companies.
Noteworthy for now – illustrating the points just made – while the documents above were once published on the MHI website, they no longer are found there. Why not?
In fact, the very words "enhanced preemption" do not appear on the MHI website as recently as this week. Tests and reports akin to this have previously been done. MHI has been asked about these items, so has their leadership and outside counsel. While MHI and their leaders until the early part of 2017 routinely replied promptly to MHProNews inquiries, they have since increasingly declined comment on issues of importance.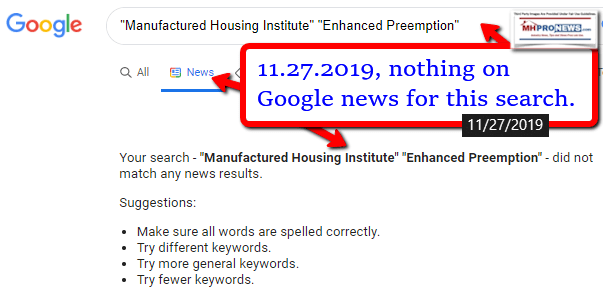 Why would information once published on MHI's own site now be purged, or perhaps is hidden behind a firewall?
What possible logic could explain hiding an important provision of a good law that could potentially help hundreds of thousands every year become homeowners instead of renters? Where is the logic for that posture?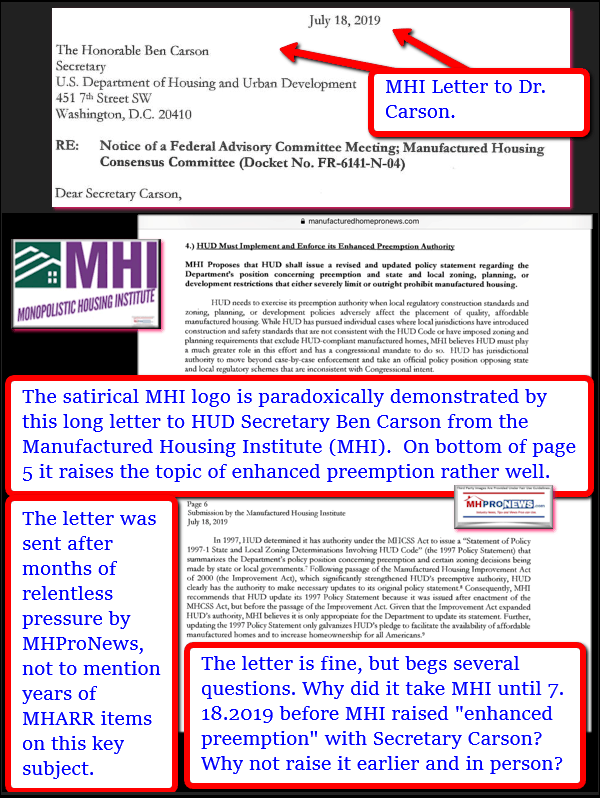 In pondering those questions, note that MHI has been online for over 2 decades. By contrast, MHARR has been online for less than 3 years. The two are very different types of trade groups, and until recently, based on their mission, MHARR felt no need have the expense of being online. With that backdrop, a search earlier this year revealed that "enhanced preemption" turns up in numerous searches on MHARR's website. Multiple results using those specific words, while MHI – which is the self-proclaimed umbrella or post-production trade group has no results for that search?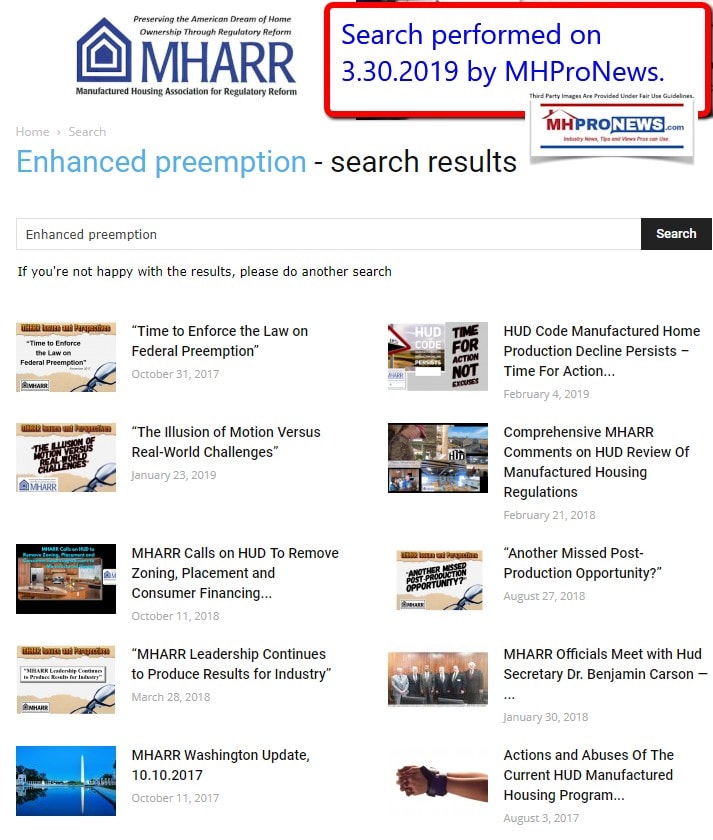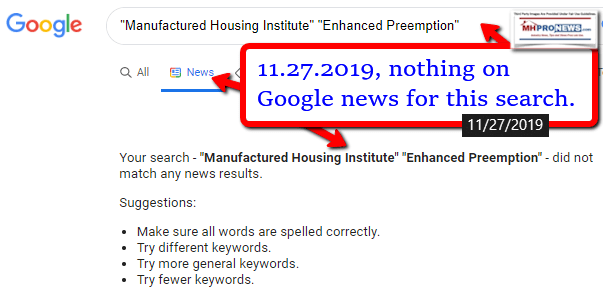 What's going on? MHI knows of the evidence for the proper understanding of federal enhanced preemption. So too does HUD.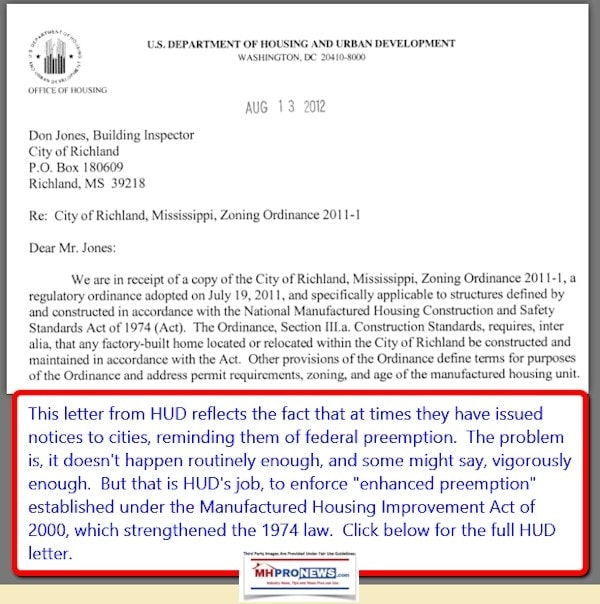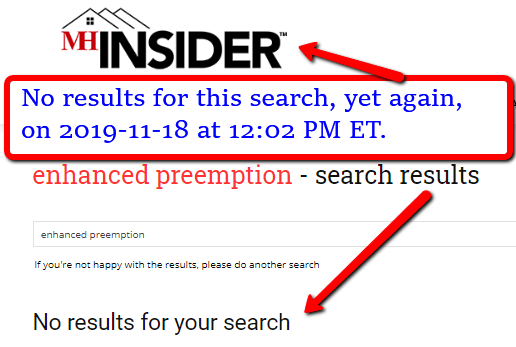 For outsider looking in, MHARR's mission is for producers of HUD Code manufactured homes. By contrast, depending on the document, MHI says of themselves that they represent 'all segments of manufactured homes' – or that they 'represent all segments of factory-built housing.' So MHI is a production and a post-production – they're an 'umbrella' association.
By way of contrast, the National Association of Home Builders (NAHB) is a production trade group. NAR – Realtors – are a post-production trade group. The typical way associations works in automotive, RVs, mainstream housing or a range of industries is to have niches that have their own trade group. Small businesses have the National Federation of Independent Business (NFIB), which specifically won't allow a larger business to be a member. Larger U.S. companies may be a member of the United States Chamber of Commerce or other trade groups. The interests of NFIB and the US Chamber may not always align.
Understanding that comparison is relevant for this discussion. Because in recent years, MHI has increasingly insisted that they should be the only trade group in order to properly represent the industry. HUD disagreed. MHI's view is contrary to what occurs in other industries or professions. One might say that MHI's and their allies stance is akin to a monopolistic view of manufactured home association work.
Words matter. Laws matter. Claims of what an organization or company does matters too. People and professionals rely on laws and commitments that are made. If a private company promises customers something that they routinely fail to deliver on, they may get sued, and rightly so. But they may also face state and/or federal authorities for an array of possible legal issues.
Deceptive trade practices
False advertising
Fraud,
possible RICO violations and more
are among the kinds of legal issues that may arise when a person, company or organization deceptively says one thing and then does something quite different.
Thus, while MHI insists that represent all segments of the industry, that's not the view of some of their own members. Some privately say that they feel compelled or forced into being a member, if they want to do business with a larger member company. If so, that's possible extortion.
Note that current and former MHI members have made statements like these.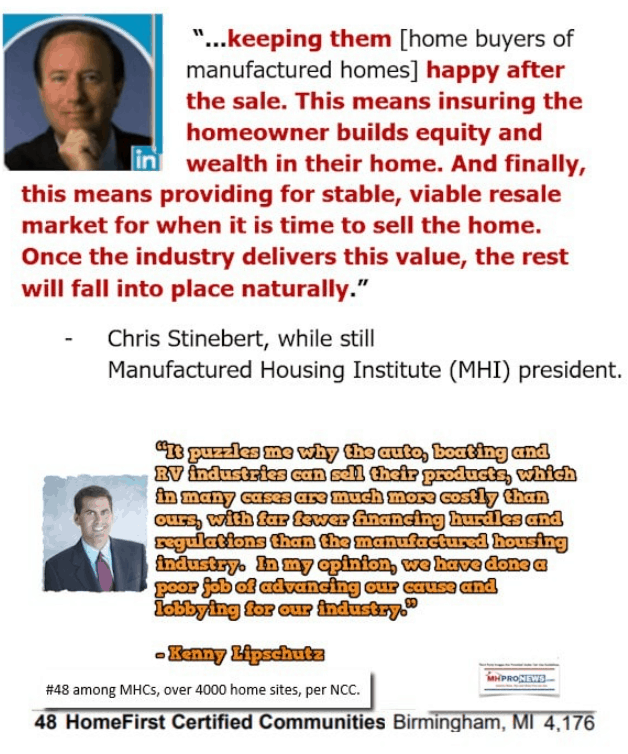 Aware of these types of concerns, MHARR pondered the notion of broadening their membership to include non-production related companies. After a rigorous internal discussion, they decided instead to stay focused on their core mission. But they also encouraged the industry to form their own post-production trade group.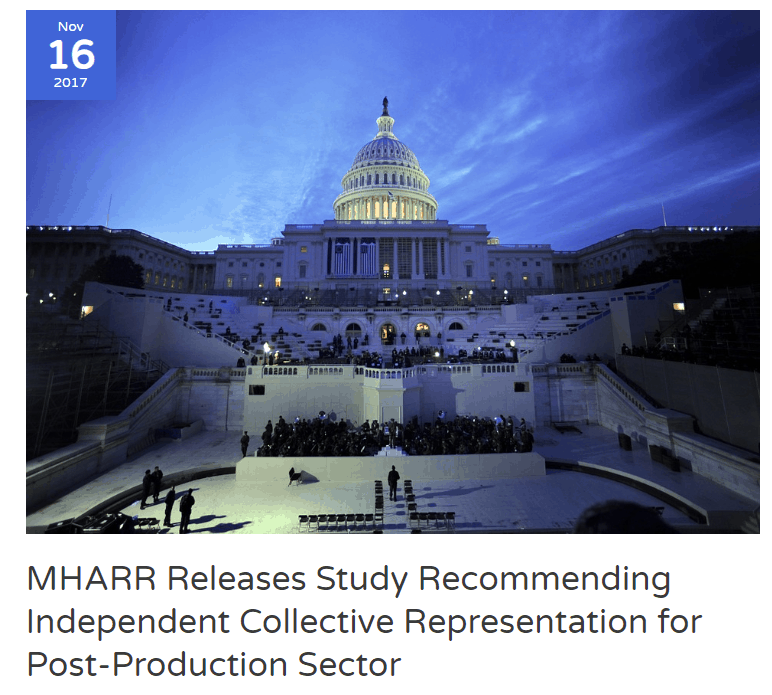 All of that may sound like inside baseball.
Hardly. Why are such concerns even be raised? Why don't people just walk away from MHI as Neal Haney and others did?
Because thousands of industry firms feel like they have an economic gun pointed at their heads. In a big ticket industry, one must have financing. Who said?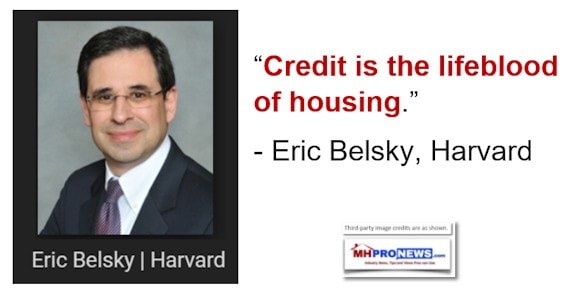 Congress knew this to be true. That's why there is both DTS and the MHIA of 2000.
But what Congress may not have been aware of at the time is the following which occurred after HERA was passed. HERA passed in 2008. To grasp the dynamics of manufactured housing, one must take a deep dive into the report linked below.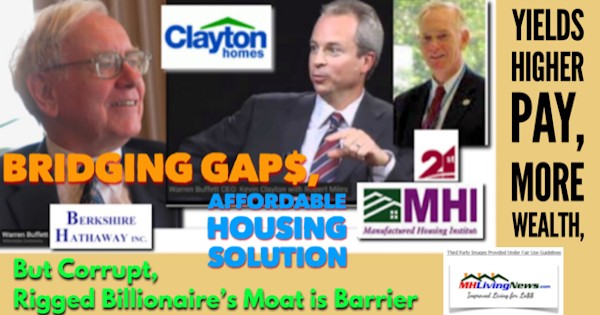 The allegations made in that report could be boiled down to this.
21st Mortgage President and CEO Tim Williams sent out a letter to independent retailers.
It cut off lending unless certain specific actions were taken.
In antitrust law, per attorneys, that has several problematic elements.
But beyond antitrust law, those messages went out via the U.S. Mail and/or via 'the wires.'
The statements made by Williams were demonstrably untrue. Who says? Warren Buffett's annual letter, also shown in the report linked above, plus Kevin Clayton's statements in a video interview posted in the article above, both disprove Williams' claims.
That could trigger an array of laws including, but not necessarily limited to U.S. Postal regulations, RICO, fraud, extortion and more.
The upshot of that move was described years later by IBIS World and the Atlantic.
Examining Derek Thompson's Atlantic Report on 'Mobile Home' Retail Market as Fastest Dying Business In America
Sources say over 10,000 manufactured home retailers were eliminated by resultant fall out of that infamous 21st letter. That letter is shown below. The annotation in yellow is by MHProNews, but what is above it is an accurate representation of the original letter.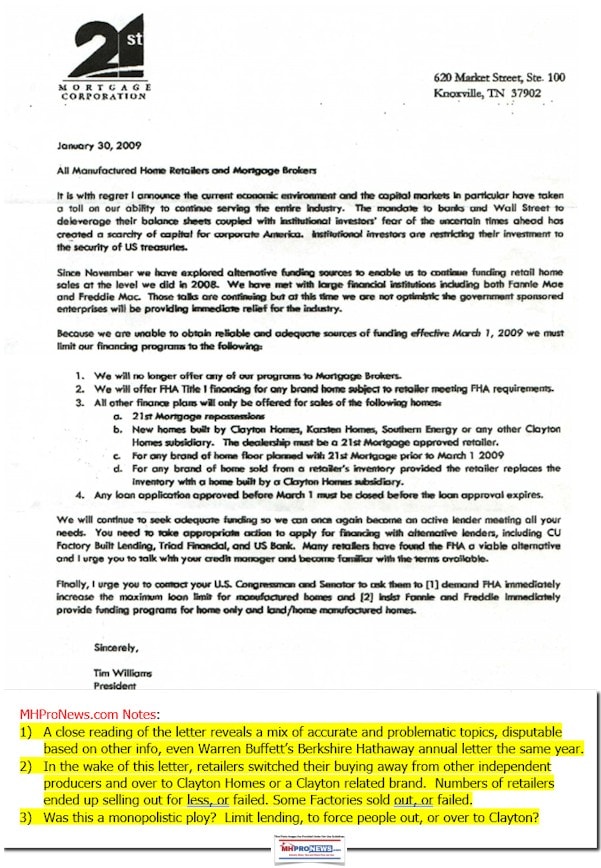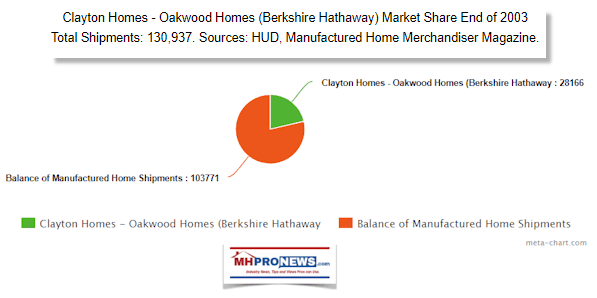 Not Just Retailers, But Communities, Producers and Others Were Harmed
The failure of so many retailers meant that the business model of thousands of manufactured home communities was also adversely impacted. What that meant over time is that thousands of independent communities that historically depended on manufactured home retailers selling homes to consumers who would often opt to move into their land-lease community properties, was slowly eroded. That in turn over time caused a growing number of those properties to be acquired at discounted valuations by 'consolidators.'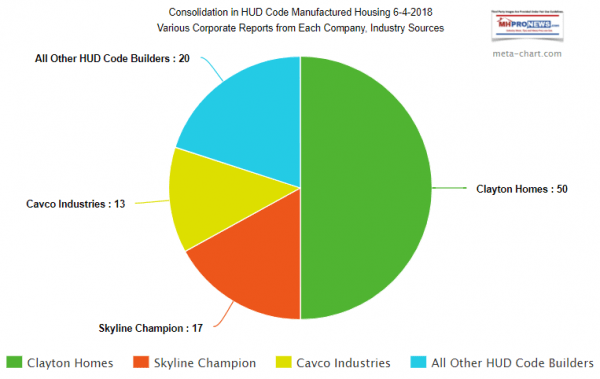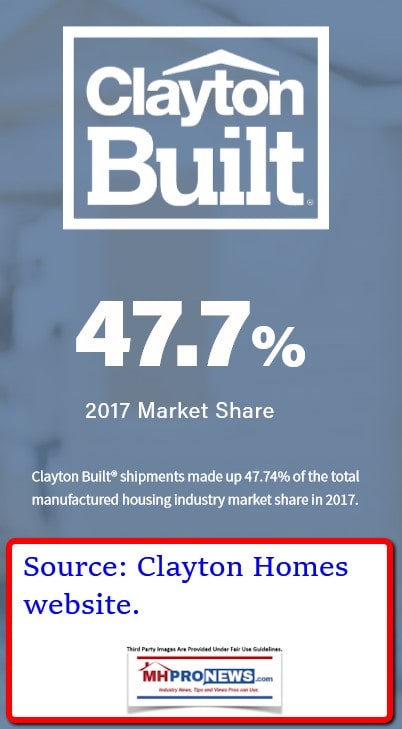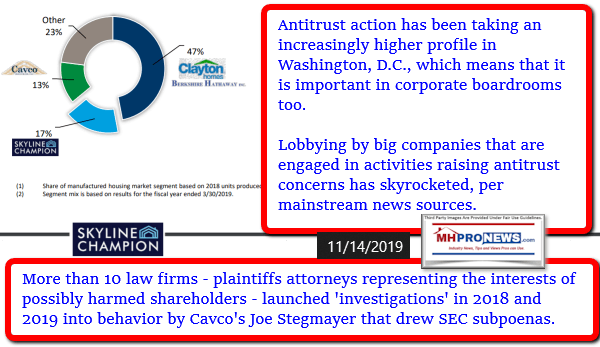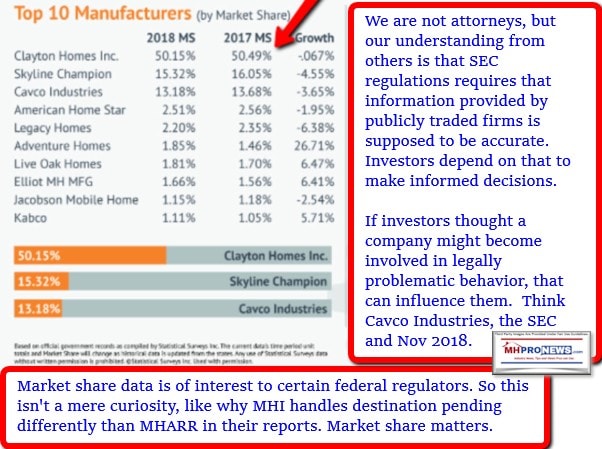 Many of those consolidators were MHI members. Coincidences?
MHI has an antitrust statement that they've published. It is referenced during meetings. But is that antitrust statement mere window dressing? Has MHI become a de facto or intentional vehicle for consolidation and monopolization? Why didn't MHI act when Berkshire owned 21st, in apparent collusion with Clayton Homes, caused so many independents that were often successful for years to tip into instability, insolvency or had to be sold out at a discount?
New Data from 'Swiss' Independent Data Provider Casts Shadow Over Publicly Traded Manufactured Housing Institute Member Firm Claims
Cavco was run for years by a former Clayton division president, Joe Stegmayer.  They've thoughtfully documented the impact these tactics have had.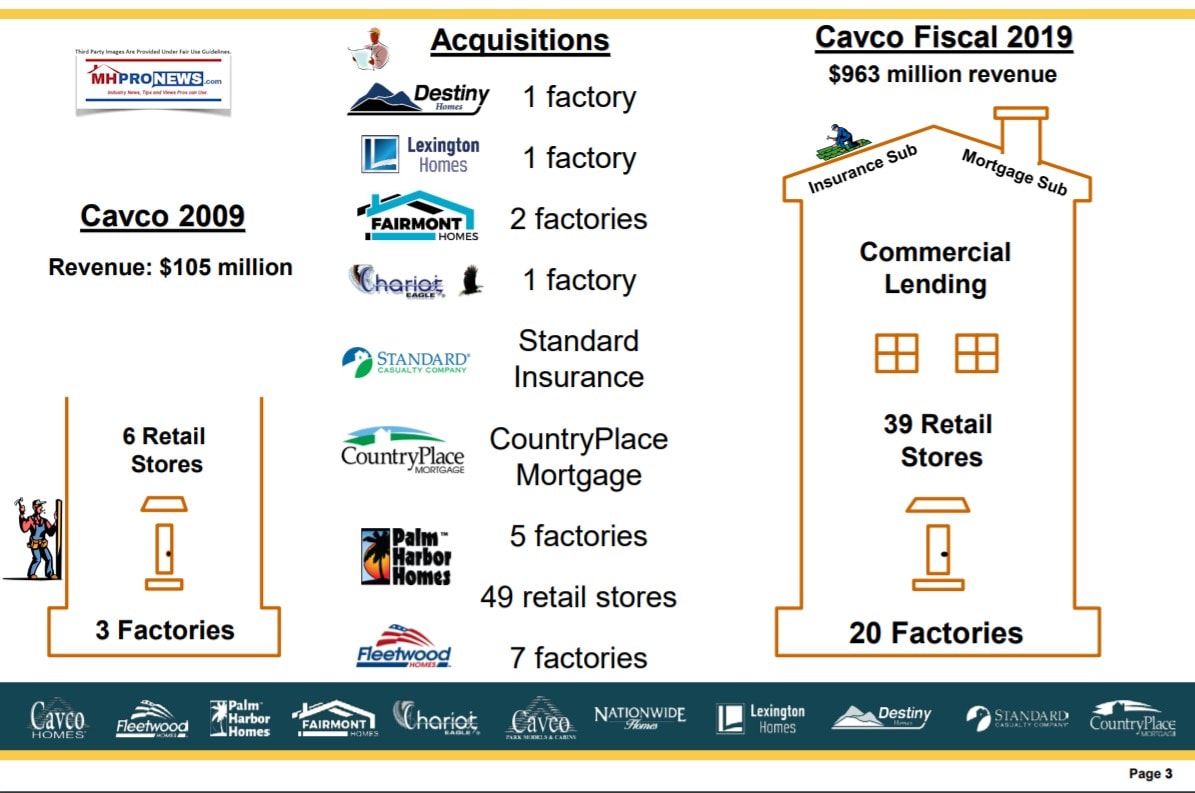 By coincidence or design, that happens to fit a mantra of one Warren Buffett.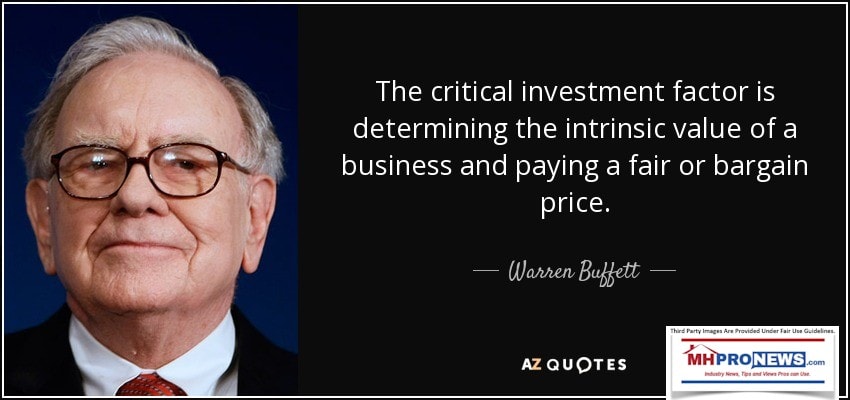 Note that sources say that:
without the dues revenues from the Berkshire brands, that MHI would rapidly tip into insolvency.
The executive committee is routinely made up of either Berkshire Hathaway brand management and/or by those with clear ties to Berkshire for their own operation's needs.
The argument can be made that MHI has become protection racket that serves Berkshire and consolidators.
Note that among our sources are current or former MHI staff, as well as people working for an MHI and/or Berkshire brand company that are disgusted by what has and continues to occur.
But these people are often individuals who've worked for years in manufactured housing. They may know nothing else.
In considering these concerns, look at the MHI Executive Committee. Why is it that so many have legal clouds over themselves and/or their company?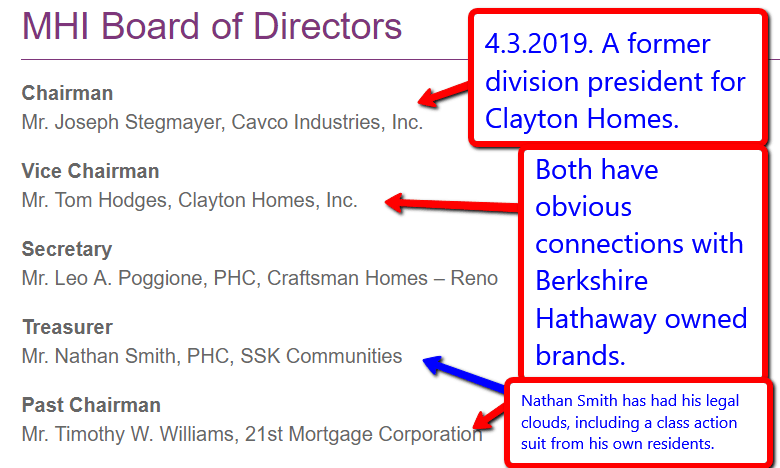 With that backdrop, some of MHI's pivots away from the days of relative collegiality with MHARR begin to come into focus. Note that the same points about MHI routinely apply to state associations too. Who says?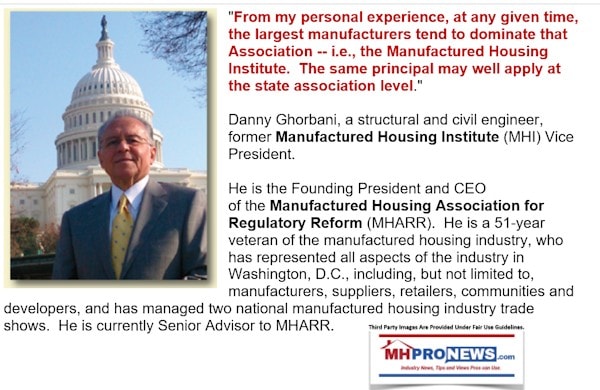 MHARR has asked Congress to investigate issues like DTS and more.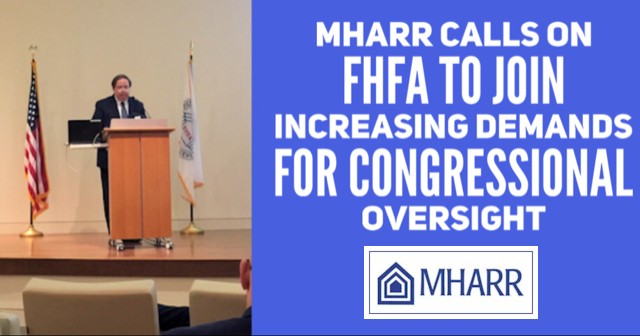 It is no surprise that so have their members.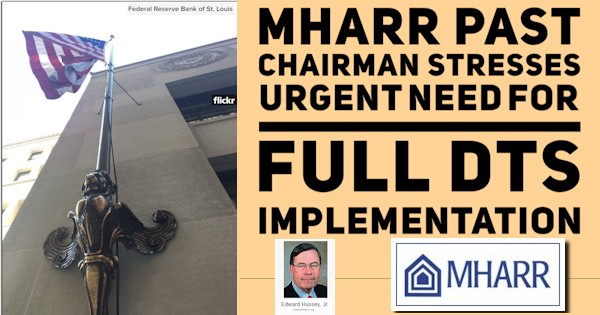 They are not alone.
These same issues create pressures for residents of manufactured home communities. When those properties were once operated by 'mom and pops' that often-lived side-by-side with their resident/customers, the consolidators who are routinely in MHI have no such ties. As a result, once cherished community living has been turned on its head by purportedly predatory practices.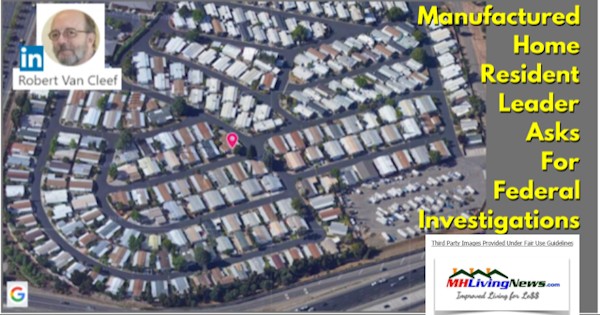 People like notorious community operator/consolidators Frank Rolfe and Dave Reynolds 'Frank and Dave' have steadily grown until they are now in the top 5 of all consolidators. An array of mainstream media accounts have spotlighted legal and ethical concerns about the two and their operation. Rolfe earlier this year published a missive that advocated that new manufactured home communities should never be built. Why not? Because by keeping new communities from being built, their twisted logic could be, allows them, their 'Mobile Home University students,' and others to continue to consolidate once independently owned properties at an alarming rate.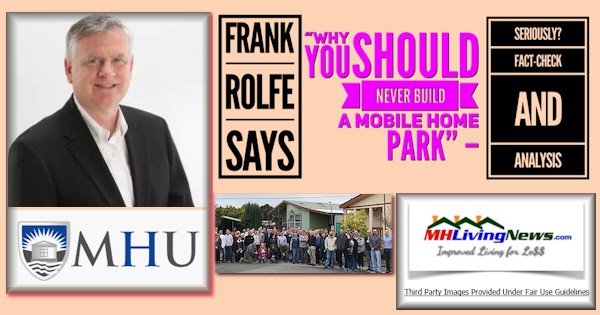 As media, public officials and others increasingly spotlighted the concerns about allegedly predatory practices, MHI's National Community Council (NCC) issued a new 'code of ethical conduct.' But when problematic behavior by MHI members have continued, how many have actually been held to account?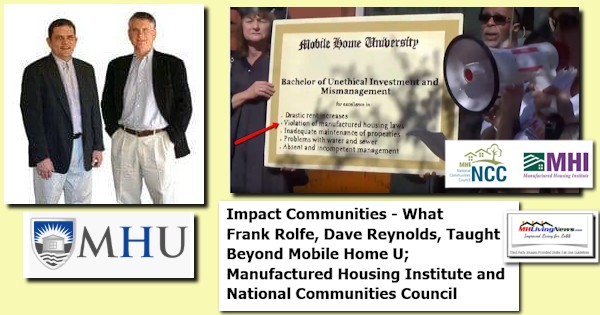 Several pattern begin to emerge once such facts are understood. One might think they are coincidental. But if you flip a coin 10 times and it comes up tails each time, isn't that a clue that someone needs to examine the coin?
As residents face purportedly predator site fee (a.k.a. 'lot rent') hikes of often double digit rates during a period when inflation is in low single digits, they often call reflexively for rent control. Whatever one believes about rent control, at least we can agree that the desire for protect is understandable. Having economics 101 quoted to you while you face economic eviction gives no comfort.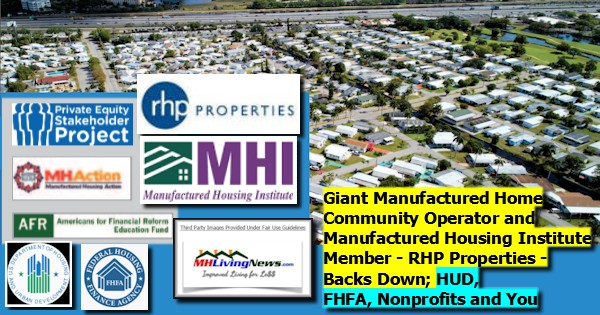 But as reports on MHProNews and MHLivingNews reflect, industry insiders have admitted that they know how to navigate those rent control laws.
Cavco, Sun, ELS Public Statements Point to Problems for MHI, Fannie, Freddie – Public Officials, Investor, Advocates, Professionals Alerts
Rephrased, consolidators that routinely happen to be MHI members, by accident or design, are behaving in ways that increase calls for more rent control. Indeed, national rent control is being advocated. That harms smaller operators, which struggles with added regulatory burdens. By contrast, that means it de facto benefits larger operators, even if they may publicly complain.
Manufactured Housing Institute 'Studies' Threat of National Rent Control, Allen Shivvies MHI, Berkshire Brands
Yet, the White House Council on Affordable Housing has said that rent control is a problem causing more affordable housing to not be built. Rent control, says the White House is not a solution.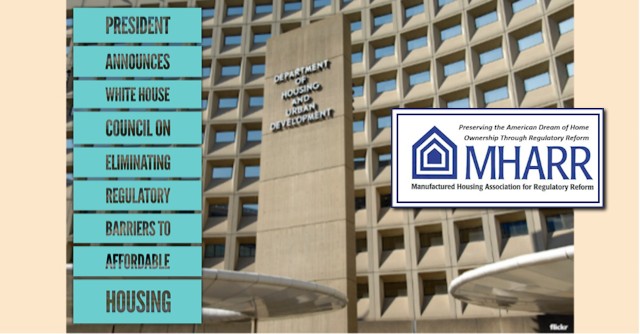 As this increasingly dark picture emerges, bear in mind that state associations were once far more independent than they have now become. Like MHI itself, state associations are often beholding to Berkshire Hathaway owned brands. The report linked below examines that concern.

It's a vicious cycle.
Frankly, as the report linked below outlines, for some time – as an award winning industry veteran – while many things in manufactured housing seemed hard to explain, the powers that be at MHI or those who pull their strings have a credible cover story.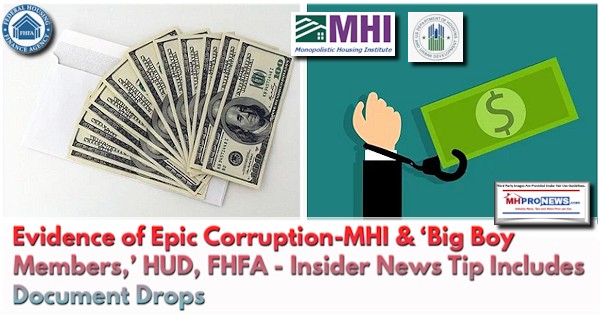 So, it took me – as an industry professional – years before an understanding of the true cause of the underlying causes of manufactured housing underperformance began to emerge.
Hindsight can be 2020. Warren Buffett has said so. While we disagree with much that Buffett has said and done, on that item, we'd concur.
At the time the video below as made, Nathan Smith led SSK communities had not yet had the string of legal reports and bad news stories emerge.
In hindsight, that video speaks volumes. Smith himself says the following, in no specific order of importance.
That MHI has often failed to be proactive about issues that face the industry.
That he pledged to change a reactive association into a proactive trade group.
That he wanted to consolidate as many manufactured home communities for himself as he can.
At the time, that last point seemed to be a kind of joke. But now, it is more evidently a sincere statement by himself and others that want to consolidate underperforming communities.
Meanwhile these same companies are often the ones that spark problematic media reports.
Who says? How about HBO's Last Week Tonight with John Oliver in their errantly dubbed viral vide dubbed "Mobile Homes." See that report linked below.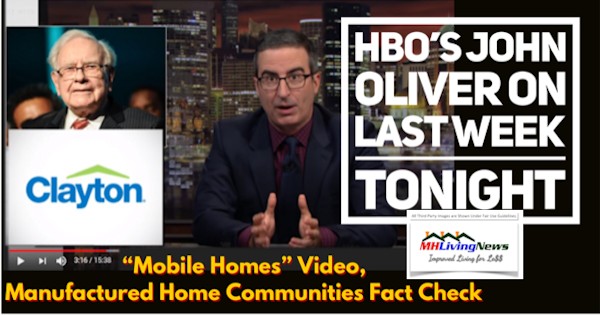 A closer look at the above reveals that a nonprofit group that claims to advocate for residents named MHAction was involved in spotlighting those problems. Another resident group, Golden State Manufactured-Home Owners League (GSMOL) provided the insight that MHAction was funded by the Tides nonprofit.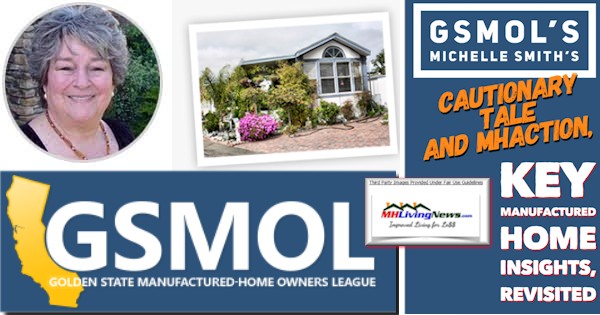 Let's note that some of these issues may seem to be partisan. Facts are what they are. Frankly, while Warren Buffett happens to prefer Democrats and has for years, that doesn't mean that he doesn't obliquely support through his brands and nonprofits Republicans too. That said, what GSMOL's apt tip revealed is this. The number 1 source for funding for the Tides for several years is a nonprofit exclusively funded by one Warren Buffett.
Coincidence? How many coincidences are we supposed to believe in?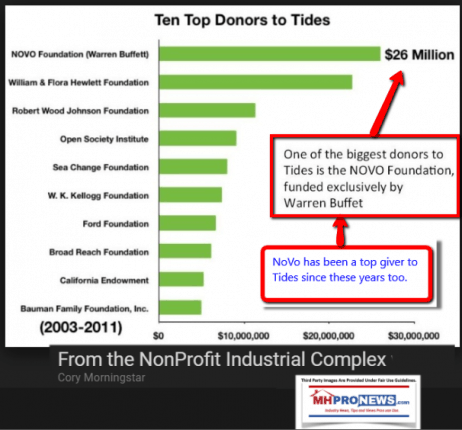 The report linked below goes further. Several nonprofits that Buffett has clear ties to per third party sources, including progressive George Soros supported Open Secrets and more conservative Influence Watch, reveals that Buffett has been funding organizations that seem to routinely attack his own brands.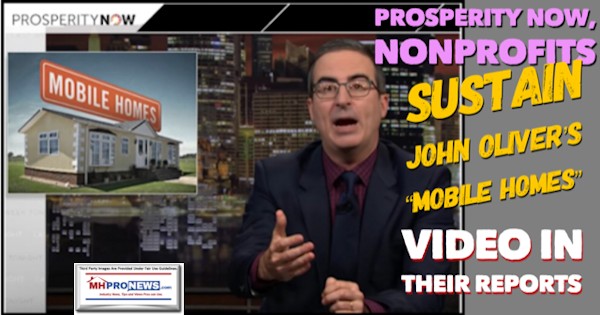 How is that logical?
Ponder this. Every industry and business faces barriers of entry, barriers of maintained and barriers of exit.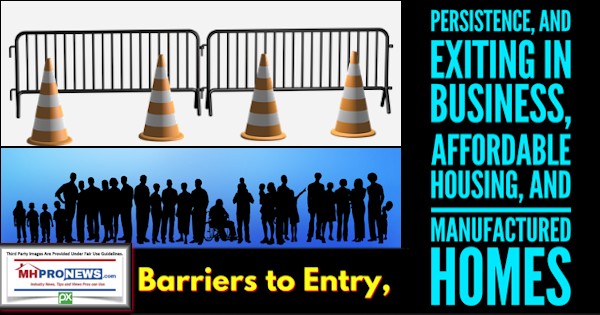 Bad news, like high taxes and high regulations, are easier for bigger firms to endure.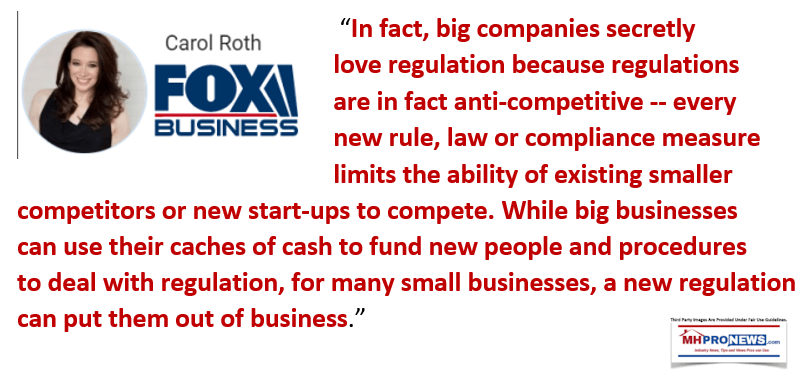 Rephrased, Buffett can effectively manipulate both sides of issues in a way that keeps manufactured housing businesses facing regulatory headwinds. That may look to a casual observer as a market or natural occurrence. Upon closer examination, a more sinister pattern evolves.
When MHI, the Berkshire owned brands and their toadies in the industry media are asked about such concerns, they are silent.
Clayton Homes, 21st Mortgage, MHVillage, Manufactured Housing Institute Leaders Challenged
Several manufactured home connected bloggers or trade media seem to be directly connected to these efforts. While we absolutely respect the right of freedom of the press and freedom of speech, some of that speech is reportedly being used to influence investors. Is that a possible SEC issue?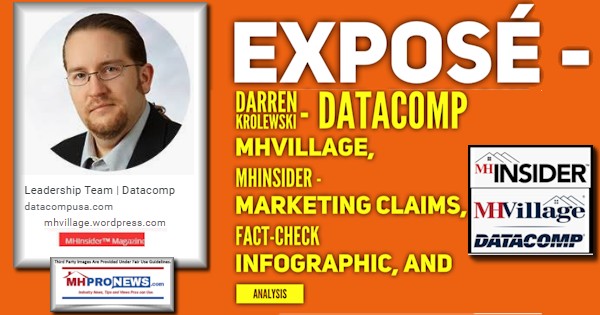 Furthermore, that same source linked above uses business practices that are also arguably deceptive and arguably harm smaller businesses and consumers.
That's a lot to digest and even more to unpack. Let's look at something that should get media and regulators to sit up.
The Bernie Madoff Parallel?
Once upon a time, now federal prisoner Bernie Madoff was highly regarded for his investing acumen. But one Harry Markopolos looked at one of Madoff's claims. He said that inside of 5 minutes, he knew something was wrong.
Watch that short docu-drama movie trailer. A key point made is summed up in the graphic below.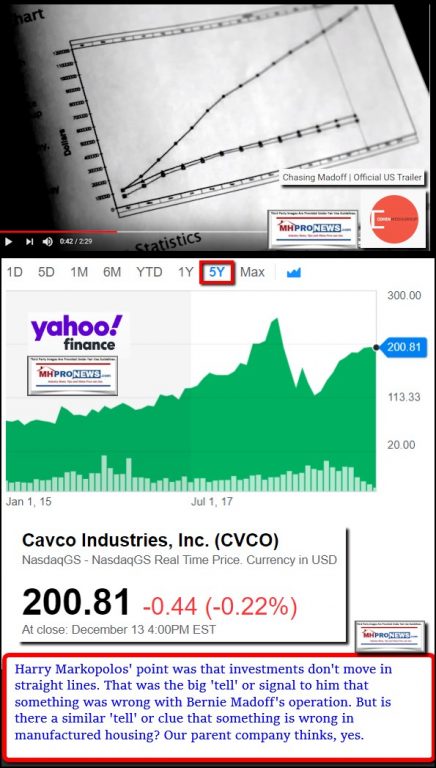 As a disclosure, this writer and our colleagues don't claim to have had that same level of 'aha' moment. We have had instead a series of epiphanies. That said, as one tries to describe this purported scheme to rig the affordable housing market, is there a similar tell or clue that should make someone sit up and say, 'Yes, that is odd. That merits investigation?'
We think so. Here it is.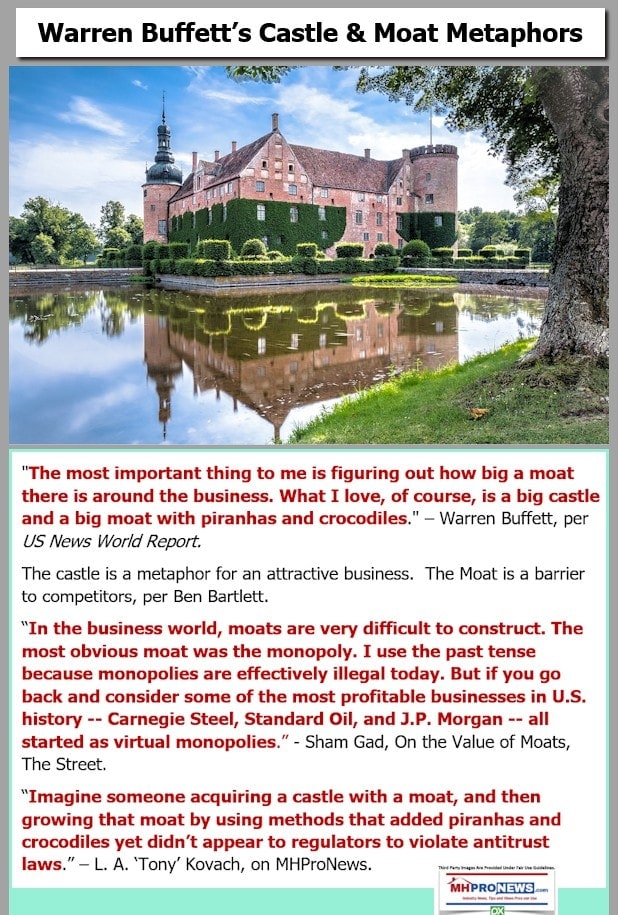 Then think about what has happened since Buffett acquired Clayton Homes.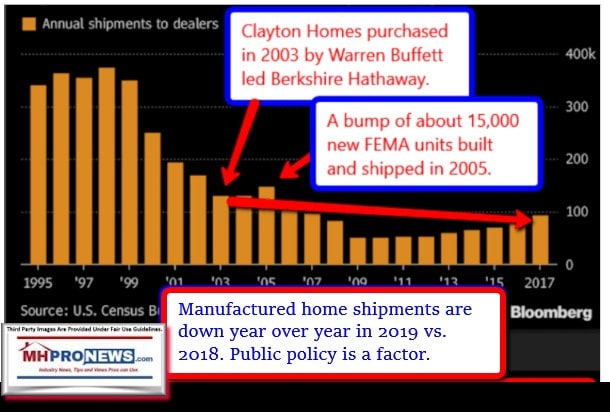 Then, look at what was said by the author of a report on Clayton in Fast Company.
Jennifer Reingold Questioned Berkshire-Clayton Deal; MHI GSEs Rocked by Tip-Document Drop, plus Manufactured Home Investing, Stock Updates
In the wake of years of negative media, Zillow reports that interest in manufactured housing has declined.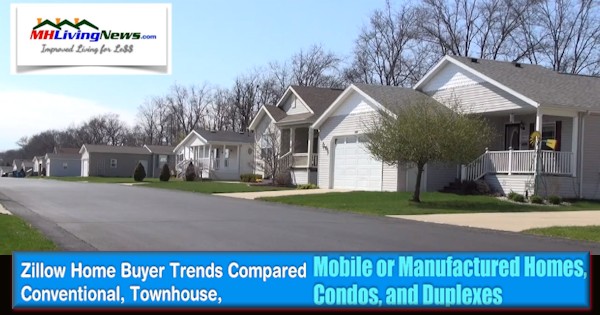 Meanwhile, MHI claims to be promoting the industry. If so, please stop promoting, because the data reflects that MHI's promotion has not performed as advertised.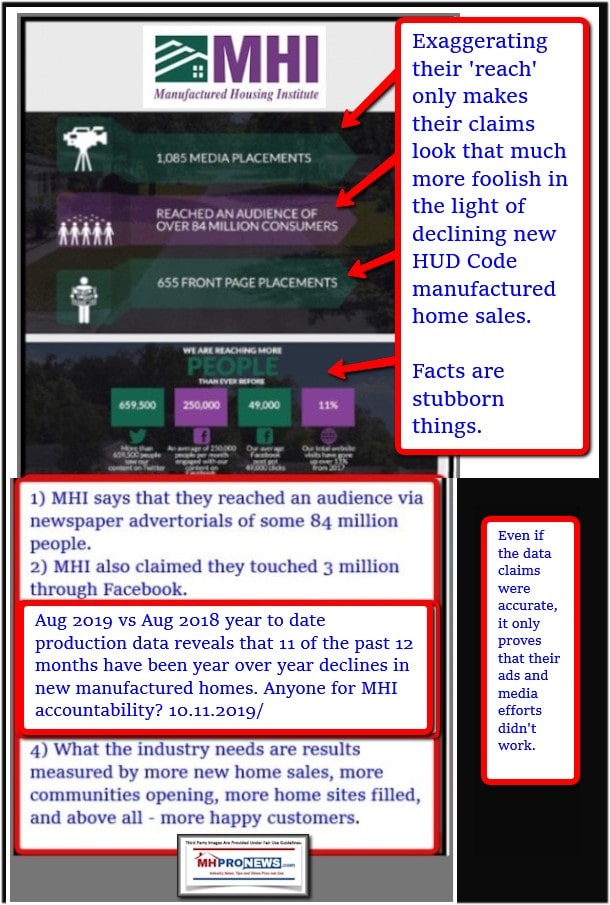 In fact, sales of manufactured homes have declined during an affordable housing crisis.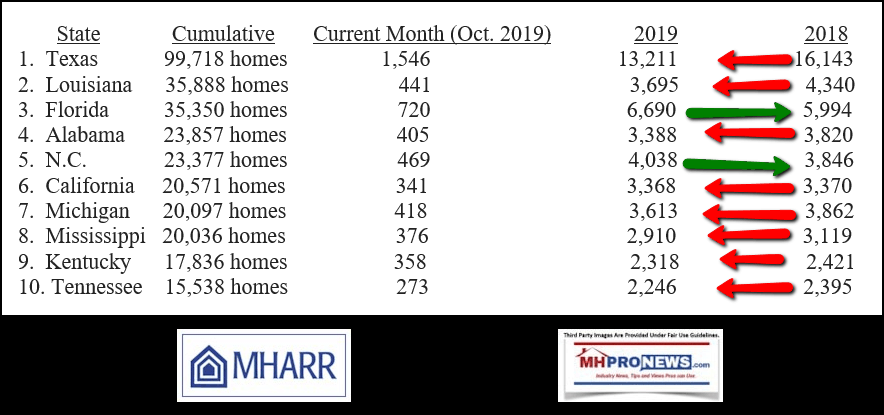 Even MHI admits that is true, although they routinely bury that lead. This was not their open, it was near the close of their shipment report. Note the double speak? Can you spell 'spin' and 'paltering?'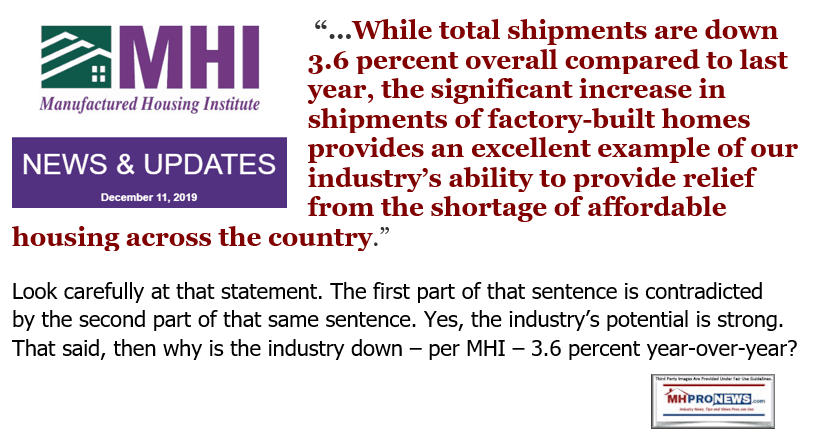 Homelessness is growing, while the obvious solution is hiding in plain sight. Perhaps because it is so misunderstood and regulatory barriers are so high, that growing resistance to manufactured housing is a factor.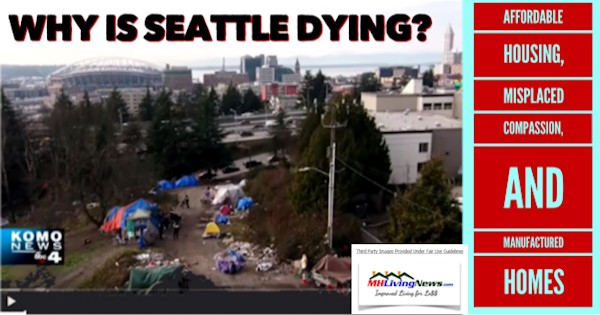 While good existing laws were going under-enforce or where being twisted by powers within manufactured housing, MHI spent years pursuing a bill that never passed. That bill was the Preserving Access to Manufactured Housing Act. It was poorly sold, as its failure to pass makes clear. But more important, in hindsight, there is a question if it was ever intended to pass at all? Was it just one more headwind, one more shark and alligator in the Buffett moat designed to wear out manufactured home independents? Ponder these quotes.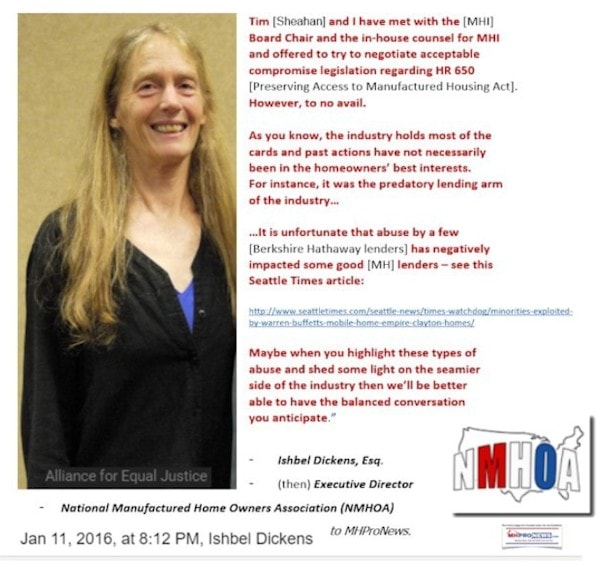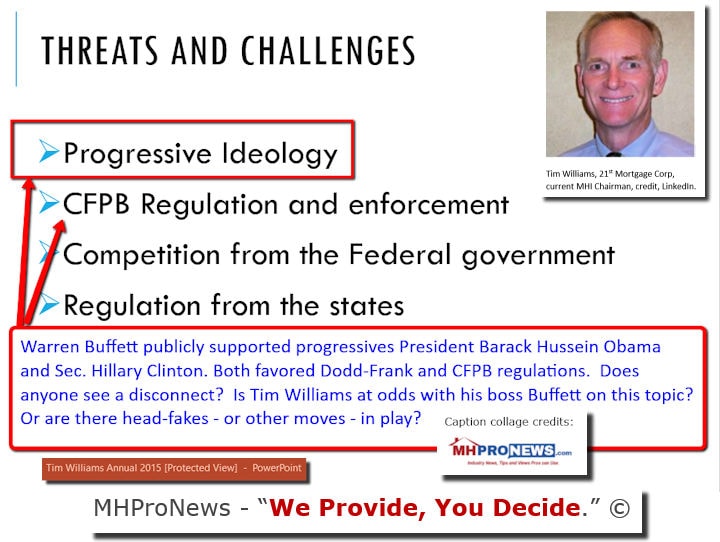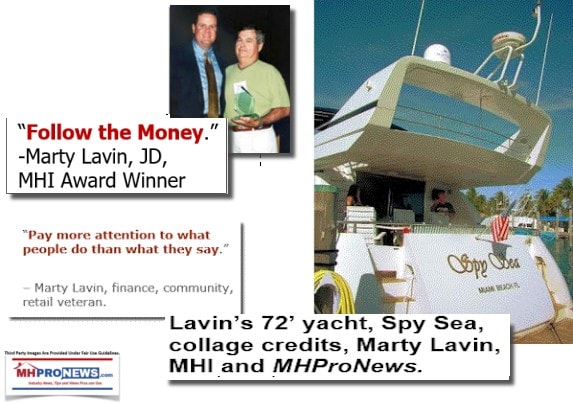 So, let's sum up and draw reason and evidence-based conclusions.
Summary, Logical Conclusions and Suggested Next Steps
There are:
numerous sources that say that affordable housing is in crisis.
Today, a new federal report says that homelessness is up.
Decades of third-party research and evidence that support the value of modern manufactured homes. This snapshot provided a few examples of that above and linked from herein.
Experts that have studied the issue have said that only factory building can close the gap.
Manufactured homes are the most proven form of affordable housing.
Widely bipartisan bills have been enacted that should support more affordable housing in genera and manufactured homes in particular.
Oddly, despite the positive research and favorable laws, manufactured housing is struggling during an affordable housing crisis.
Those good laws – if properly implemented – could reverse this trend. There is no reason to wait for more studies, more legislation, etc.
It could all come down to enforce existing laws.
As we've heard many times in recent years, no one is above the law.
What must happen?
There are an alphabet of state and federal agencies that must be made aware of this. Some reportedly already have a clue about purported racist, predatory and otherwise illegal behavior involving Berkshire Hathaway brands in manufactured housing.
Democratic lawmakers are among those who have made known publicly there concerns. But there are Republicans aware of this issue too. As was previously reported, a source at the White House told MHProNews that the White House is looking at this problem.
But if so, there are obvious officials who should be doing a job that they are not. How is that squared?
Brian Montgomery
Teresa Payne and others at HUD
Jim Gray and possibly others at FHFA have job titles that make it their business to enforce these laws, regardless of favor or impact. The fact that they are not bears investigations.
These agencies should consider or reportedly already area investigating issues:
HUD,
CFPB,
DOJ,
FTC,
FHFA,
SEC,
State attorney generals
Mainstream media, advocates and others.
This source has been hammering away at these issues for years. In recent weeks, interest from Washington, D.C. has increased, per metrics generated by third-party MailChimp.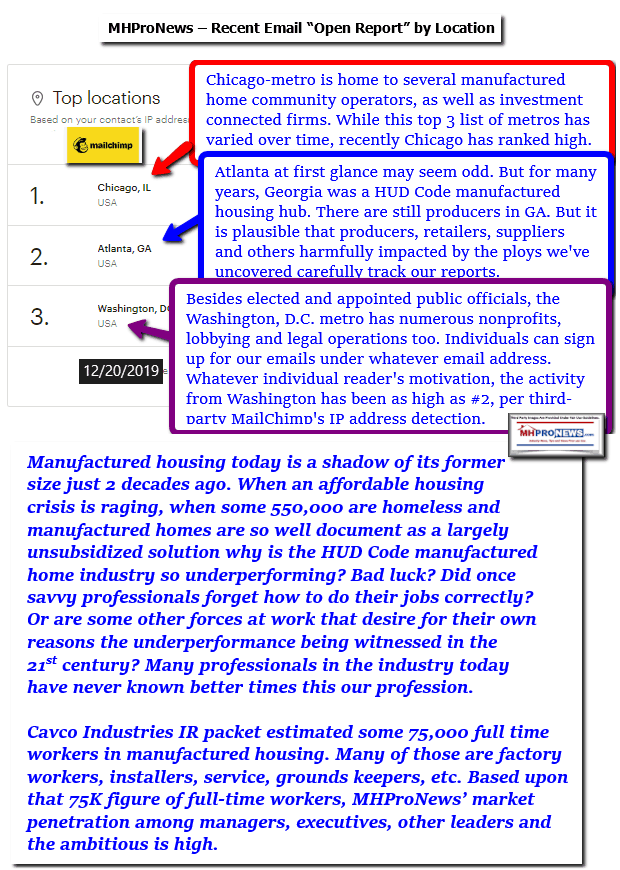 While we don't see individual visitors on our site, Webalizer detects .gov extensions. Per that third-party data, .gov visitors on MHProNews jumped 50 percent over last month, and it was already in the thousands of hits monthly. Keep in mind that spike has occurred going into the holiday season, not something someone would normally anticipate.
It has never been my ambition to go out of my way to find trouble. That said, when an apparently illegal or problematic matter comes to light, I've given law enforcement and public officials tips before. Those tips resulted in arrests, convictions, and the dismissal and/or separation of public officials, individuals and organizational employees. In working with attorneys, I've been told that I make a good witness.
If so, let me say this. It is my sincere belief that Warren Buffett and a fairly tight group connected to him have arguably violated several laws. Some of that would be difficult to achieve unless specific federal officials are looking the other way.
That cumulatively has impacted our nation to the tune of trillions of dollars per the applied logic of NBER researchers and others.
The solution can be summed up like this.
Enforce good laws, regardless of how connected the person may seem to be. Recall Madoff.
Report, Spotlight the Issues and Educate.
Congress and state lawmakers should hold public hearings using subpoena powers to shine a light on these concerns.
Where the evidence merits, prosecute.
Don't let those who have done wrong merely with fines. Use antitrust powers to break up those who violate the law. Use criminal statues where appropriate to prosecute those who have harmed millions to the tune of trillions.

That's a lot to unpack and digest. That's years of research from someone that has been on the inside of this industry for years. I've sat in numerous relevant meeting rooms. I've look at some of the victims of this scheme face to face and eye to eye. I can see why at first it may seem fantastic. But several attorneys and public officials who have taken the time to read such reports have said, this looks credible.
We think it is or I would not be putting my name or that of our LLC's trade media to these reports.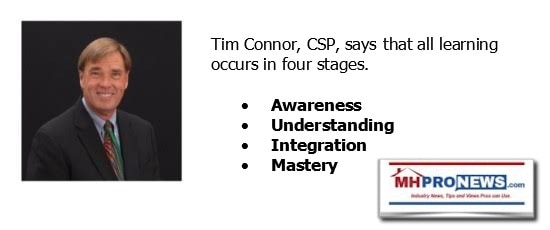 We thank those sponsors, clients, tip sources, and readers like you for making and keeping us the manufactured housing industry's runaway biggest and most-read source for "Industry News, Tips, and Views Pros Can Use," © where "We Provide, You Decide." © (Affordable housing, manufactured homes, reports, fact-checks, analysis, and commentary. Third-party images or content are provided under fair use guidelines for media.)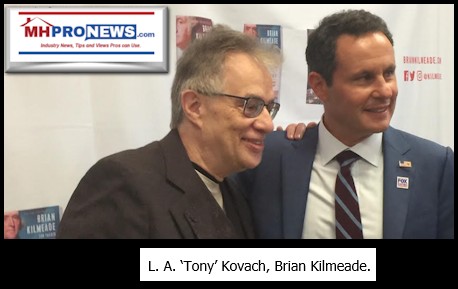 (See Related Reports, further below. Text/image boxes often are hot-linked to other reports that can be access by clicking on them.)
By L.A. "Tony" Kovach – for MHLivingNews.com.
Tony earned a journalism scholarship and earned numerous awards in history and in manufactured housing. For example, he earned the prestigious Lottinville Award in history from the University of Oklahoma, where he studied history and business management. He's a managing member and co-founder of LifeStyle Factory Homes, LLC, the parent company to MHProNews, and MHLivingNews.com. This article reflects the LLC's and/or the writer's position, and may or may not reflect the views of sponsors or supporters.
Connect on LinkedIn: http://www.linkedin.com/in/latonykovach
Related References:
The text/image boxes below are linked to other reports, which can be accessed by clicking on them.
Pragmatic, Positive Profitable Vision in a Negative World, Plus Manufactured Housing Sunday Headlines Review, 12.8 to 12.15.2019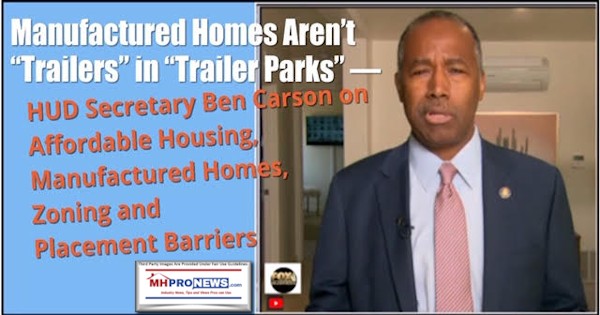 Does Misinformation Matter? Revealing But Misleading 'News' by MHInsider and the Manufactured Housing Institute?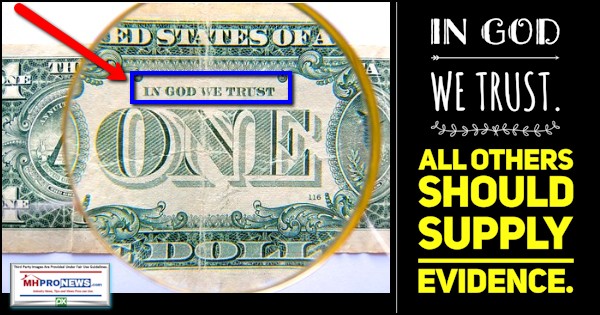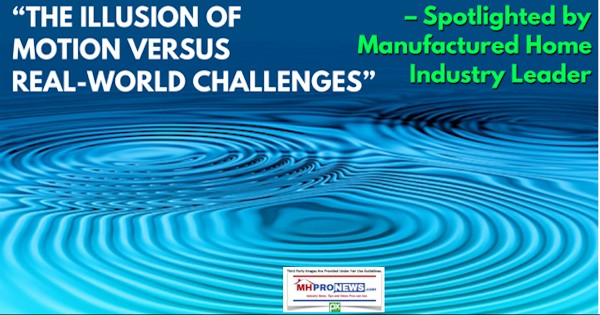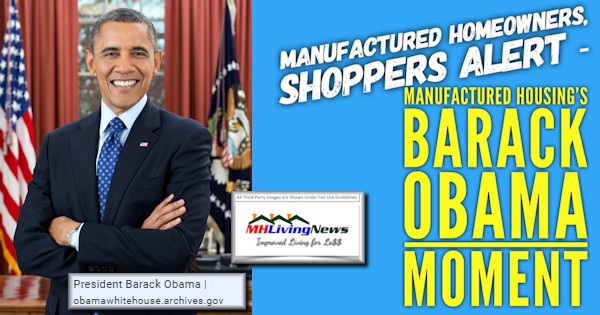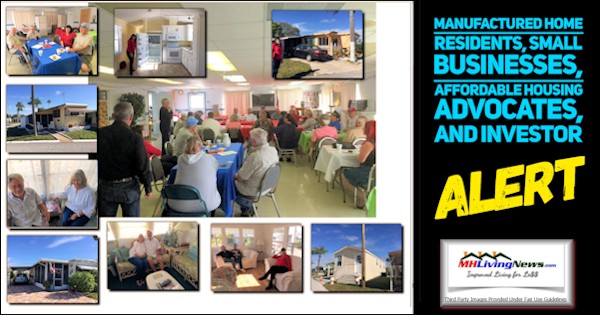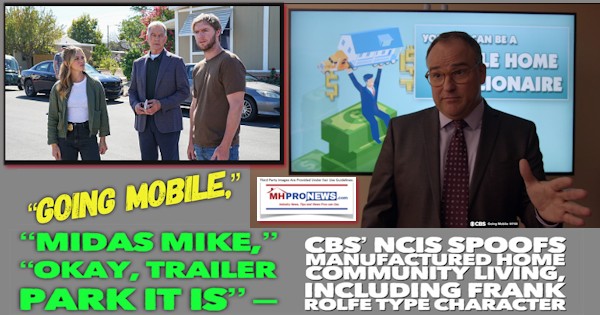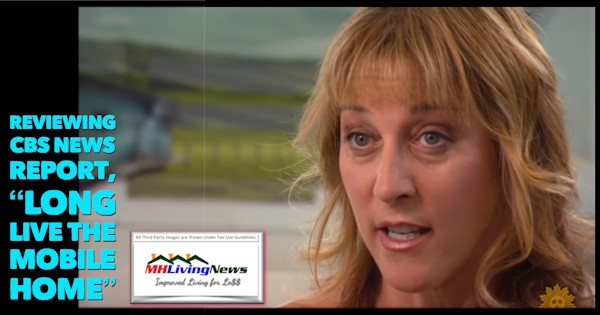 Saturday Satire and Executive Summaries for Manufactured Housing Professionals, Investors, Advocates, Researchers, Public Officials, and Investigators